Choosing colors for the exterior of your house is a tricky process. The right colors will go with the other elements and textures of the building as well as suit your personality. And while searching for unique colors out there, most people tend to miss out on the classic combinations.
A black and white house is perhaps the most timelessly classy exterior that you can ever find. It looks brilliant in every combination, and no matter how old your home is, it will give it a brand new life. But there are many ways to combine the 2 colors to get the appropriate results.
And here are some ideas that will inspire you to change the look of your home.
1. White Bungalow with Black Panes
Small homes like bungalows are often chosen for their compact yet beautiful features. The usual one-story houses lack stairs but are full of flair and often welcome a bold aesthetic to make them stand out. In most cases, a black and white house creates a statement without any effort.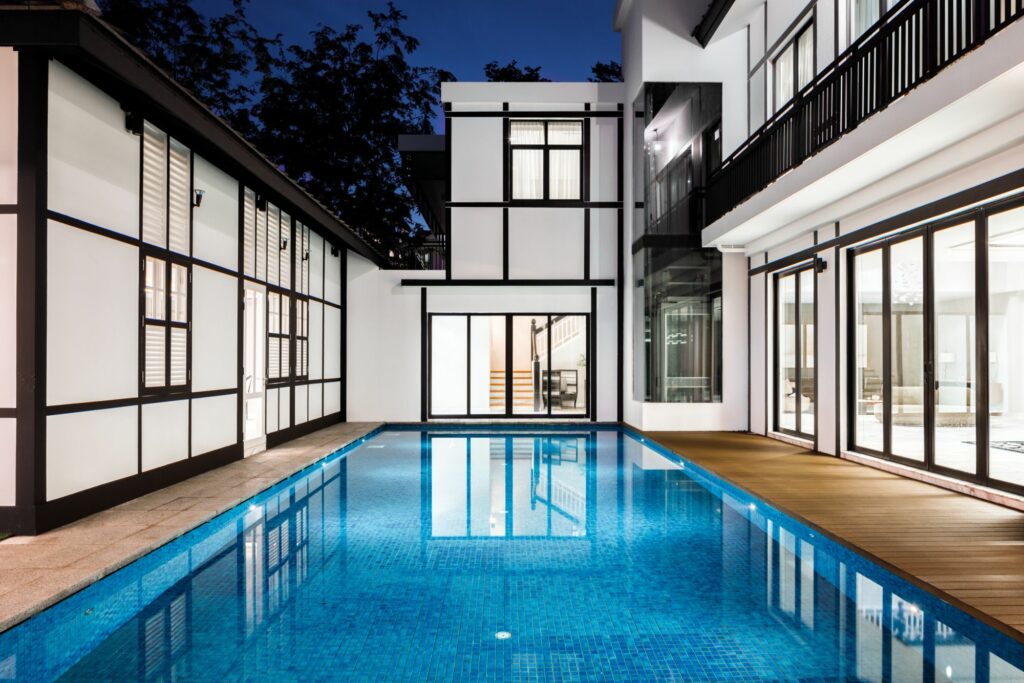 Like this nifty U-shaped house, the initial view is nothing spectacular. But the overall white walls make it look fresh and timeless. The black accents only accentuate its boxy shape and give the space dimension. The house does not lack other colors, as the glistening pool more than makes up for it.
For modern bungalows, the exterior is all about balance. They might not be symmetrical in design, but the open layout and connected rooms never look clunky. In this case, the simple black-and-white palate is complemented by the neutral interior. It also helps hide the uneven proportions of the house.
2. Farmhouse with Black Trims
The most apparent thing about a farmhouse-style home is its size, along with its surrounding land. The large piece of land comfortably houses a big family, and the big porches and gables are a testament to that. Functionality is the main aim, so you will never find a farmhouse without large windows and garage doors.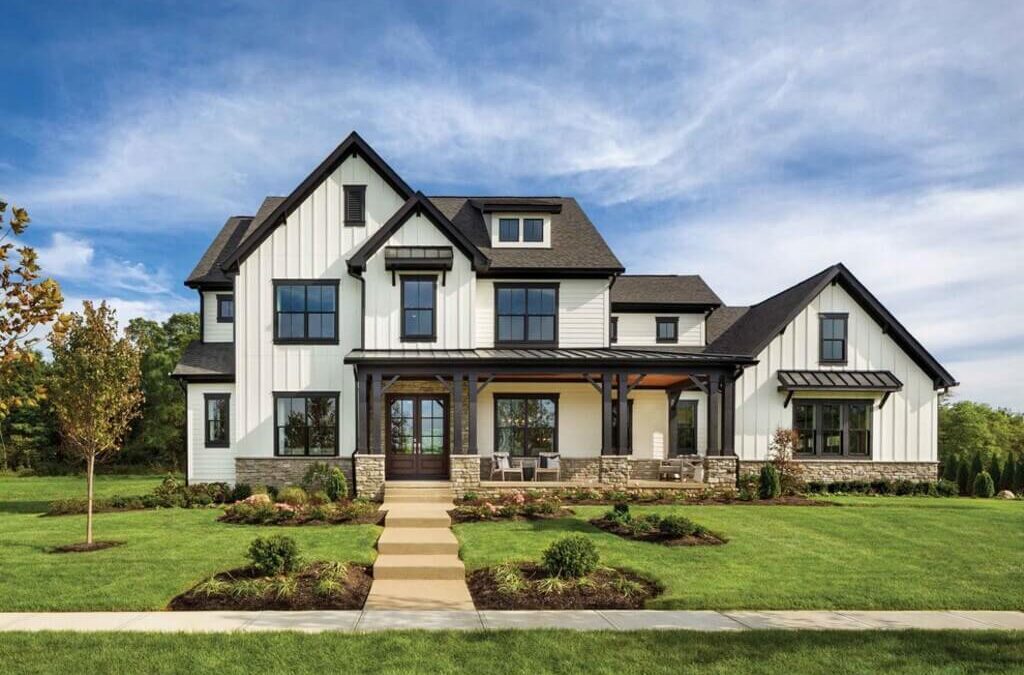 Another distinguishable feature of a farmhouse is its big gabled roof that creates the perfect accent. The usual all-American farmhouse is constructed of different materials like brick, wood, and shingles, painted white. And to turn it into a black-and-white house, all you have to do is add black to the trim.
A black A-framed roof will highlight the clean lines of your home and make it stand out. You can also add dark touches to the window shutters, and the porch covers to complete the look. The contrast also goes well with the light stone walls and the green lawn.
3. Modern Layers
Modern houses are all about efficiency, where more ornate aspects are cut out of the construction. They are renowned for their geometric shape and edgy outlook instead of arches, columns, or shutters. The simple yet intentionally asymmetric structure often stands out, yet they are boring without a bold exterior.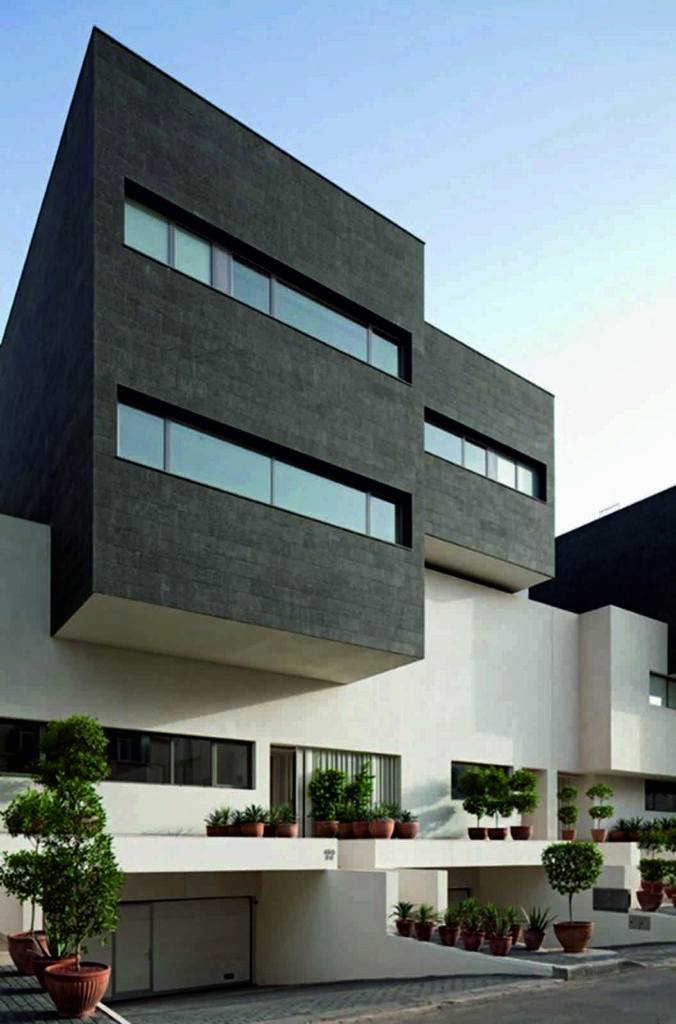 Choosing black paint for the entire building may be a surprising way to go, as the result is entirely too dramatic. A way around that is to add a little white that softens the lines. Black is exotic, but white accents will go well with the textures and greenery around it.
A black and white house with a modern structure focuses on the expansive volume instead of ornaments. In this homestead, the owner decided to color in layers instead of accents. The upper floor is stark black, while the white and more natural elements are kept grounded on the lower layer.
4. Two Sides of a Coin
In modern houses, functionality is the topmost priority, but that doesn't mean you cannot have fun with the decor. While the large box-like shapes offer very little opportunity to ornate, you can always opt for a fun color. This will help you add personal touches to an otherwise generic house. And the most common color that adds drama to a house is black.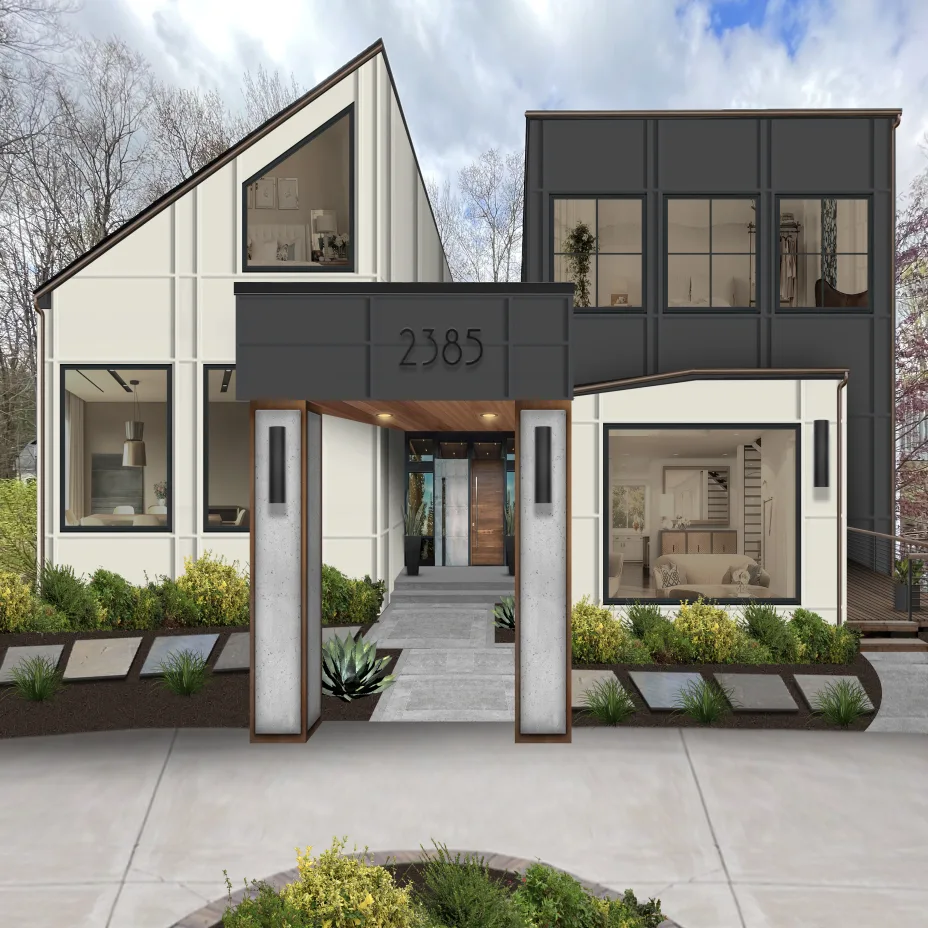 A bold black wall will add depth to your entire house and make for a strong visual. The color goes very well with outside elements and textures and will highlight the architectural design. Black is also chosen in cold territories for its heat absorption properties. But it is the black and white houses that truly create awe.
In this homestead, we see equal distribution of the contrastive colors creating harmony. The U-shaped house may be asymmetrical, but the black and white together make a compelling yin and yang.
5. Black House with White Interior
Black and white houses are a current trend, and their natural classiness is incomparable to any other color. However, if you want to do more than paint a house black and white, all you need is creativity. The process is a bit complex, but it is also highly rewarding, especially if you have a plain modern house.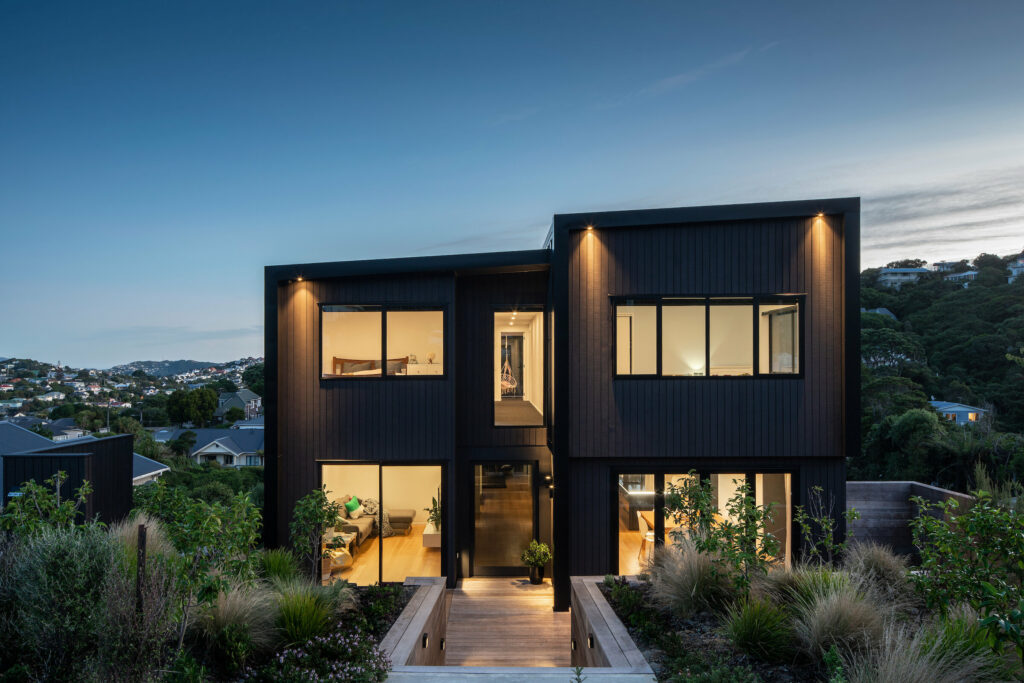 The first thing people notice in modern houses is the size of their windows. Their large size means every room gets more light during the day. But you can use these windows alone to make a statement and have a house that makes people envious.
If you have large windows, keep your interior decor cool and white. Then, even if you paint the whole exterior black, the result will be a mesmerizing mix of white in the dark. This way, your black home will have a unique look and stand apart from the other houses in the neighborhood.
6. European Style Black and White
Aesthetics play a big role in architecture, especially when the European style of homes is considered. We find stunning art all over the continent, so it is no wonder that their houses are a treat for the eyes. For a European-style house, the focus lies on 3 integral factors: The texture of the walls, the archway, and the ceiling.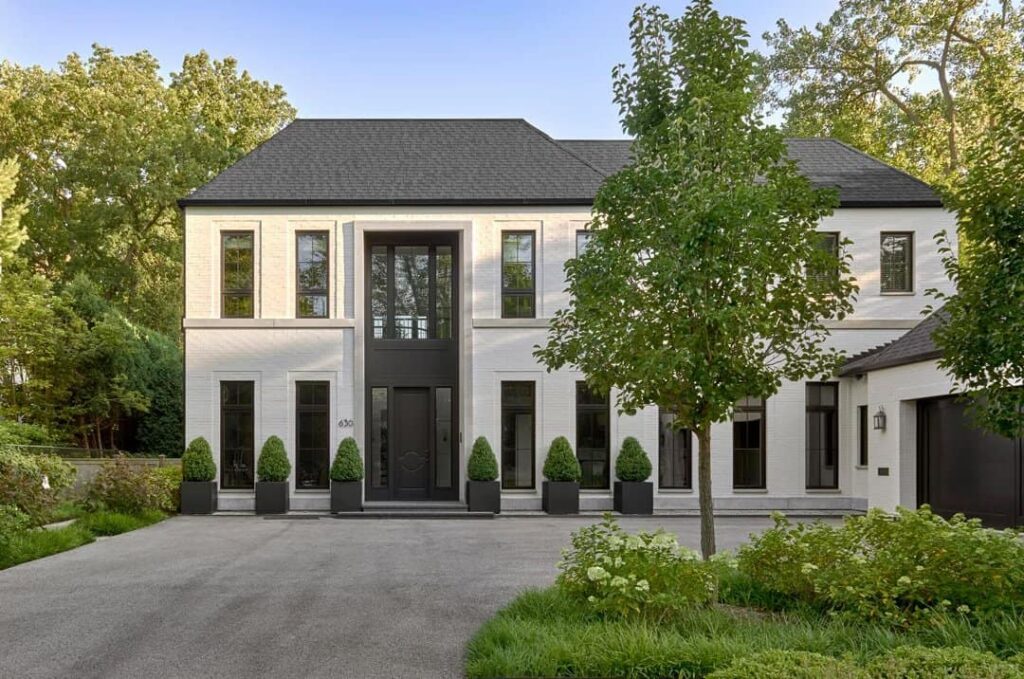 High ceilings in European houses are accompanied by giant windows and doors that lead to grand foyers and sweeping staircases. And the overall exterior can easily be made into a stately affair if the house becomes a picture in black and white.
In this particular two-story homestead, the windows and doors are the focal points around which the rest of the house is structured. By painting them black, the owner makes them look impossibly large and full of authority and power. The garden provides a nice but understated foil to the outdoors, complimenting but not overshadowing the house.
7. Bold Black Roof
It is common for most homes to have a black roof, especially in colder regions. The A-shaped roof, most often seen in traditional American homesteads, makes for a beautiful backdrop. But it looks especially stunning when the color of the roof compliments the rest of the house. And with the benefit of warmth absorption, it automatically becomes the perfect choice.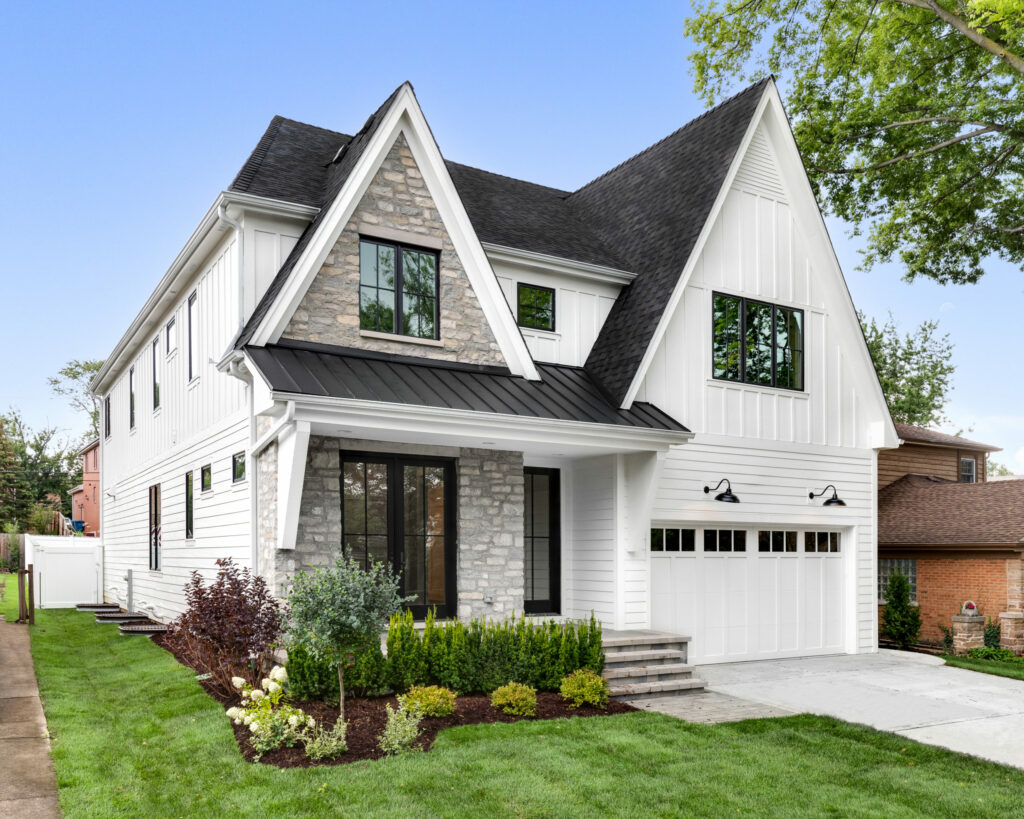 However, the shingles depend on the kind of roof you have. The basic black roofing shingles are made of asphalt and are named after their black or dark gray appearance. And based on the aesthetic alone, this particular type has never been out of fashion since it was first invented.
The black shingled roof of an otherwise white exterior converts the home into the ideal black-and-white house. And in this particular case, the wall around the windows accentuates the stark black roof very well.
8. Colonial Monochrome
The first thing you notice about colonial houses is their structure. The square or rectangular exterior creates a balance attained through precise planning and effort. Colonial houses are all about achieving perfect symmetry in both the interior and exterior of the house. And what better way to make your house symmetrical than by meticulously painting it black and white?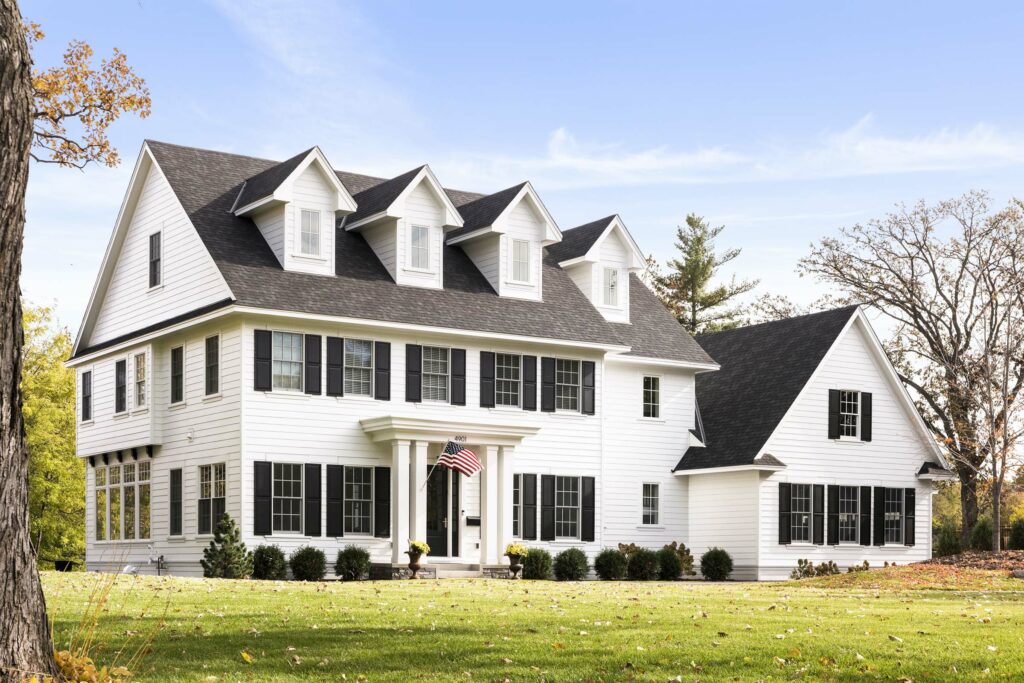 The classic look with tall columns makes the house look stately in white. But it looks even more eye-catching when the main entrance is in black. The big dark entryway creates the perfect aura of strength and authority for a house of that size.
A black and white house in colonial style has an expansive silhouette. But it has more than enough windows to cover each front as well. And when the windows are painted black, like in this particular home, the result is a study of balance, unity, and movement.
9. Black with White Trims
There are many safe colors to consider when painting an exterior wall, but black is not among them. Creams, dove grays, and ivories are fine, but they will never have an ounce of the elegance a black house provides. Therefore, designers now recommend not being afraid of dark colors for walls.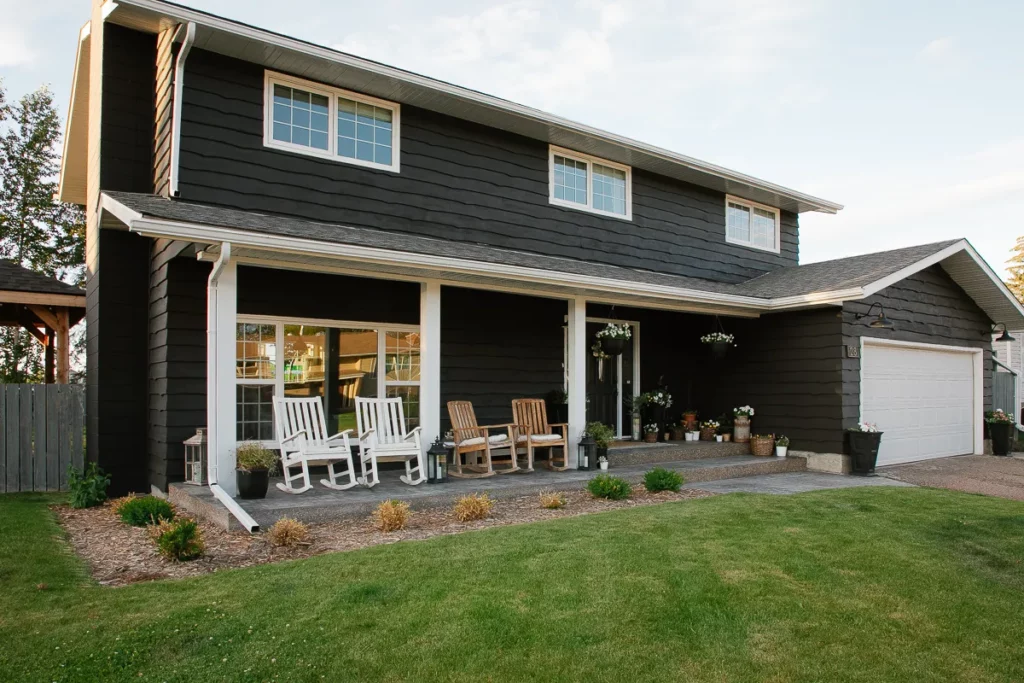 While painting a house black, you should always remember that just like white, it too is a neutral color. Meaning it goes well with the different textures and materials around it. But like everything else, it needs a few accents to dress it up. And for those little touches, you will find white a great option.
Thus, a black house with white trim will rock no matter the surroundings. The white will bring out the architectural details of traditional homes. And for modern houses, it will make the geometric lines look fresh and crisp.
10. Black Shutters on White
If your home requires a makeover, but you don't know what to add, go for something small. For example, a plain white house might look frumpy from the outside, but to change it, you can just add some dark shutters. It will instantly change into a fashionable black-and-white house.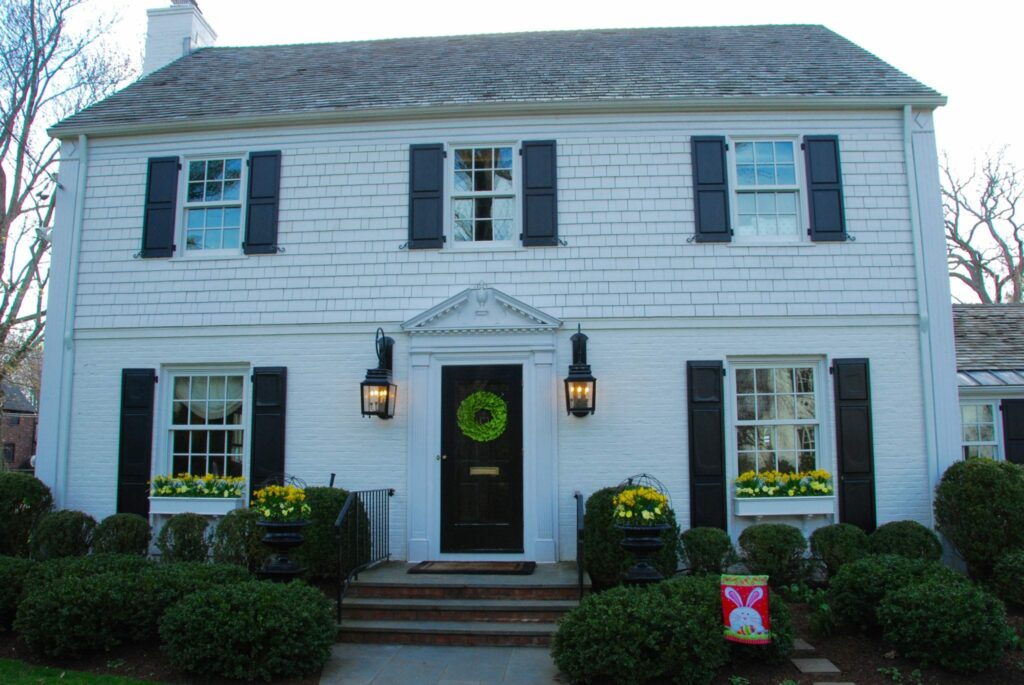 Black shutters are often chosen for the bold statement they make against generic windows. They change the windows without being the center of attention. The black aesthetic also helps draw the eyes toward the texture of the house rather than the color. In the case of this homestead, the tall black shutters, along with the door, provide relief against the monotonous black.
Black shutters are not just formed without function; they have great benefits as well. Black absorbs light, so your room is sure to remain dark when the windows are closed. The dark color also hides whatever scratches and dents the material may acquire over time.
11. Bright White Windows
The windows of a house are integral to its design and aesthetic. They can make or break your entire facade if not planned accordingly. But windows are not just known for their aesthetic appeal; they also set the entire mood and appearance both indoors and outdoors. So, if you consider a house painted black, the windows need to stand out.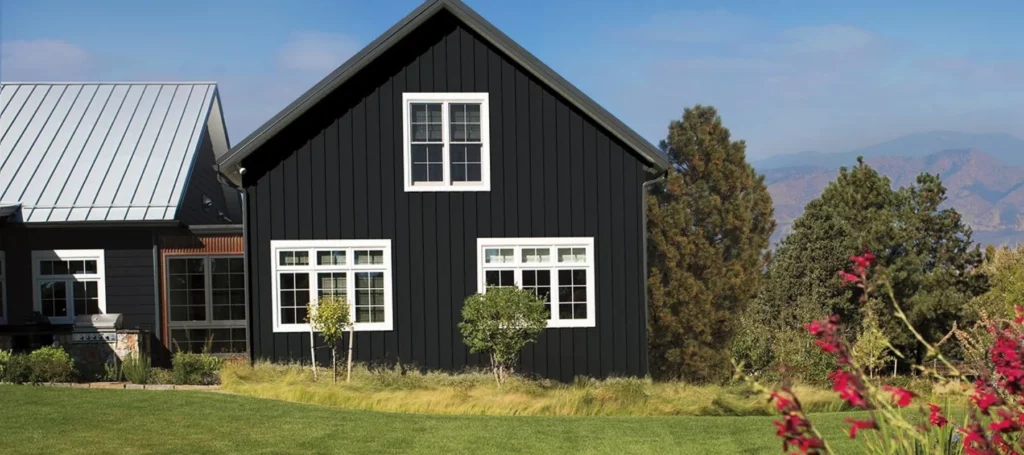 Windows are the main source of light and ventilation indoors. They allow the homeowner to enjoy the external light, air, and sound peacefully. And such an important construction should always be distinguished from the rest of the wall, whether by panes, paint, or shutters.
In black-and-white houses, the windows are the place that most designs highlight. A black exterior, while very uncommon, can look even better if you color the windows white. It will prove to be a nice break from an all-black exterior and make the house look more neat and clean.
12. Minimal Style Front
A minimalistic house is known for its clean and sharp lines in a monochromatic color palette. So it is no wonder that most homes built with this facade opt for a black-and-white exterior. It helps keep the exterior free of excess decor while maintaining the aesthetic beauty of the place.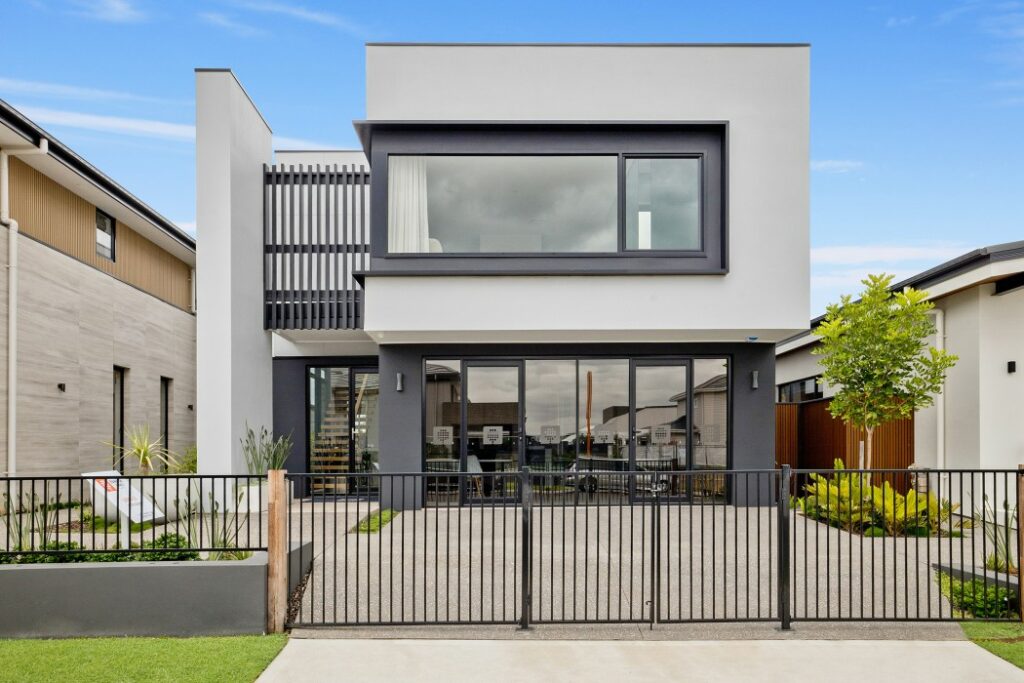 So, if you are planning on painting your modern house in a minimalistic fashion, choose black and white. The black exterior will give it an interesting outlook, while the white trim softens the lines. Black and white houses with grey sofas and green plants also look very inviting and comfortable.
13. Straight Out of A Novel
Traditional cottage-style homes look cute and stately when they are wrapped in black and white. The small porch, along with the steep roof, makes it look like something out of a fairy tale. The designs mainly focus on the ornate aspects of the house, like the sweeping front door with a pendant chandelier.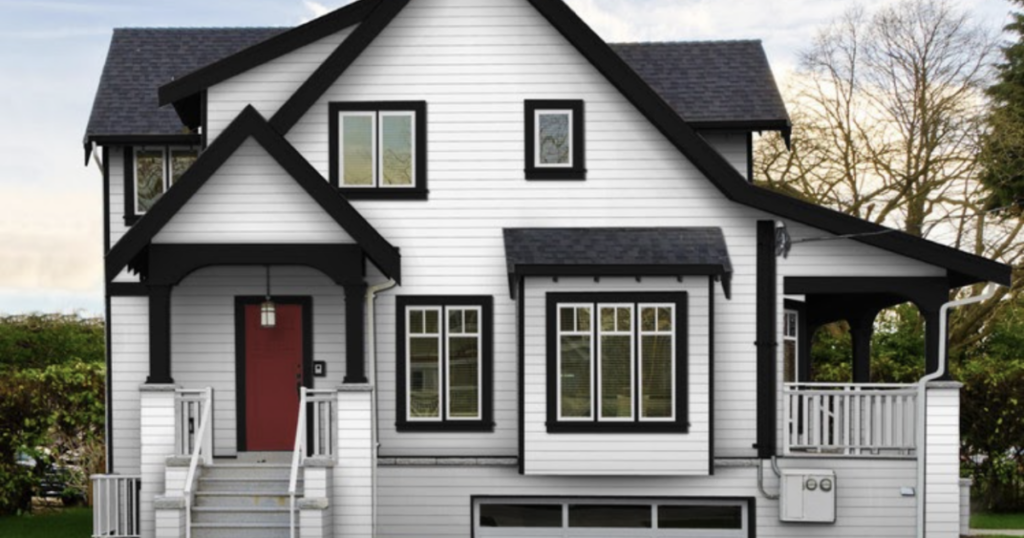 An old-fashioned black and white house will have the entire walls in a soft white color. But the contrast is brought on by the black slate, dark awnings, and black iron features. This, surrounded by a lush green garden, will look picturesque and uniform, especially with the help of a concrete staircase.
The gabled roof of the house gives it a sense of enchantment and whimsy while being a practical option. You can also rim your windows and doors with black to make them look edgier and more modern.
14. White Porch with Black Doors
Modern Houses are not impressive in terms of exterior, but there is one way to change that, get an impressive door. It works for every kind of house, be it traditional, farmhouse style, or even a ranch. A beautiful front door becomes the focal point of a house as it invites your guests in.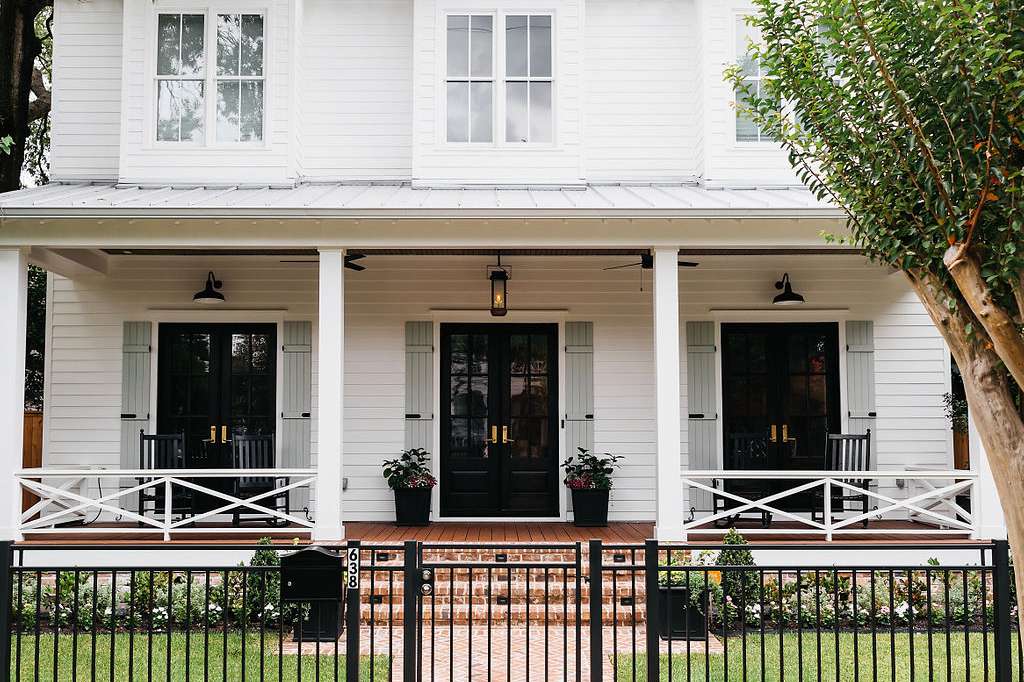 If you are thinking about incorporating black and white elements on the exterior of your house, get a unique door. The usual emblems are black on white or vice versa to make a statement.
Black doors give a greater sense of privacy and look crisp against most white or cream colors. And it will also go well with the other materials of the house, be it stone, wood, or concrete.
In this particular black-and-white house, we see that the multiple black doors are all painted black. And it gives the entire porch a look of balance and unity.
15. Small and Cozy Cabin
Most inspirations in this list have been about large houses with a flurry of windows and doors. But that doesn't mean that the black-and-white exterior only works on large estates. A small cabin can also make the best of the limited space with this palette. And, as a bonus, the combination will make the walls look bigger than they are.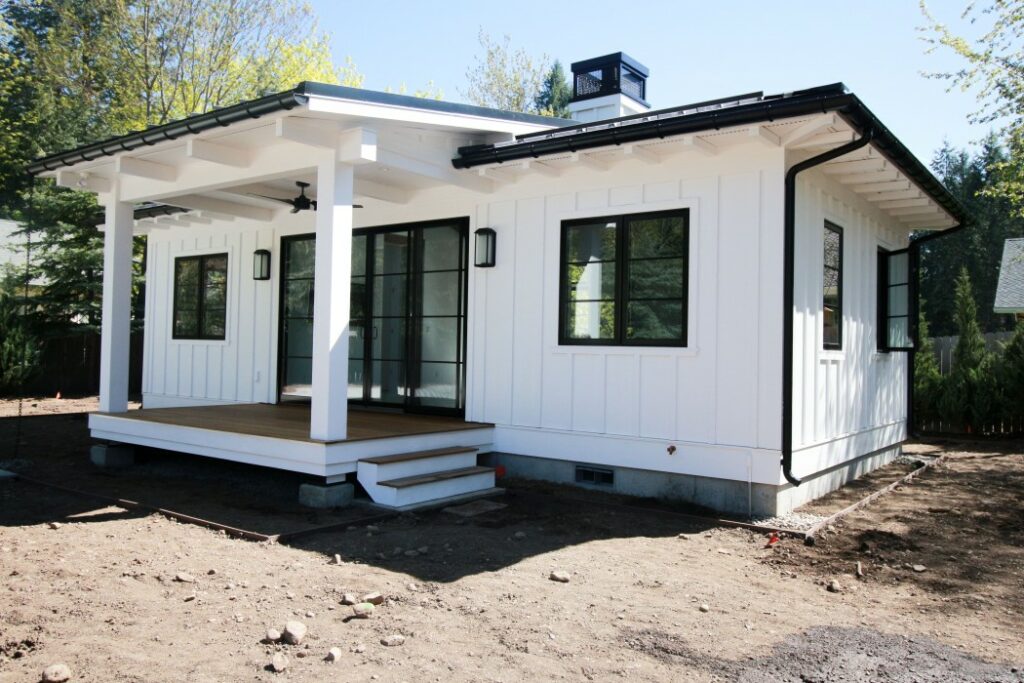 In this cabin-style homestead, we see that the owner makes use of the limited number of windows to make a statement. The black panes, along with the rain gutters, make the white wall pop and give the house a sharp look.
Final Thoughts
A house is not a home till you have put your personal touches on it. And that includes deciding everything, especially the color palette and the right vibe for the exterior. One combination that looks great no matter the kind of house you have is black and white.
A black and white house comes in many forms, the generic white farmhouse with a dark trim or an ultra-modern one. But there is no doubt that black accents pop on the most on a white background.
And if you have any other queries about decor tips and trends, tell us your thoughts below!
Frequently Asked Questions
What Colors Go with a Black and White Room?
Black and white decor is magnificent, but that doesn't mean your entire set must be in monochrome. Many brighter colors like red, lime green, fuchsia, and turquoise look beautiful as pops of color in a black-and-white room. You can choose one piece of furniture in color against the whole decor or sprinkle it around the room.
Is Black and White Decor in Style?
A black and white house is a timeless trend that is ever-present in decor choices. The colors go well together and create a mesmerizing effect on the whole. And these contrasting shades have proven that you can elevate any space using just two colors. Therefore, black and white in decor options have proven to be an enduring trend.
Why is Black and White Design Good?
Black and white together works great in creating a visual that is different and enticing. The colors by themselves are simple, but they have an understated feel of luxury in them. The combination also fleshes out a space and makes a statement.