Enter the magical realm of Spanish-style homes for a truly interesting experience where architectural beauty and old-world charm are combined. They stand out from other architectural styles because of their special charm. These homes are renowned for their cozy, welcoming atmosphere, rich cultural heritage, and distinctive design features.
Spanish-style homes have a way of capturing our attention and motivating us to design a home that showcases our appreciation of fine design and craftsmanship. Its exterior is essential in establishing the mood and generating a welcoming atmosphere. It is the first impression visitors and passers-by will have of your house, and it creates the mood for the fascinating interiors that are within.
So, here we come up with the most inspiring ideas for a Spanish-style home with beautiful exteriors. But before exploring the 12 inspiring ideas, let's get to know more about Spanish-style homes and their architectural elements.
Spanish Style Homes – What Makes the Difference from Other Styles
Spanish-style homes stand out from other architectural designs due to their distinct features and cultural influences. There are a few elements that set Spanish-style homes apart, such as courtyard design, earthy colors, ornate details, stucco walls, rich cultural elements, etc.
Below listed the 12 Spanish-style homes with exterior design ideas that will inspire you to remodel your own house. From charming balconies to captivating lash gardens, each idea is designed to bring a sense of elegance.
Spanish Style Homes with Exterior Ideas
1. Front Yard Landscaping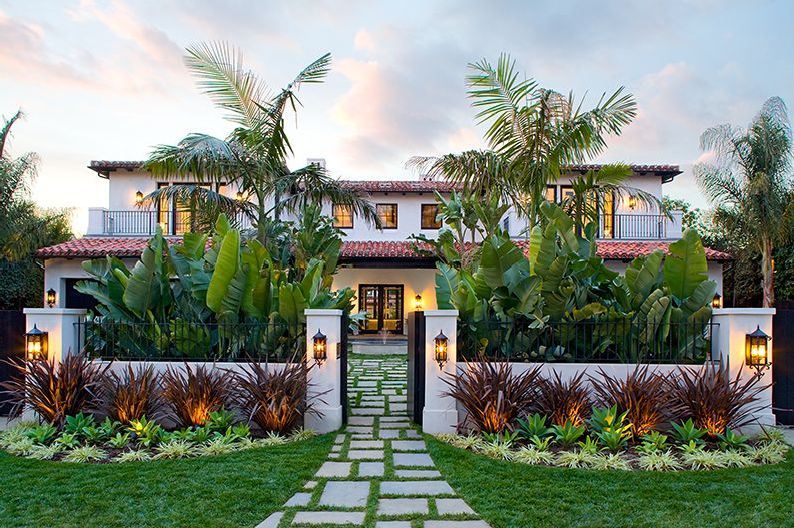 Your Spanish-style home will make a wonderful first impression with a carefully planned front yard garden. Include components that highlight the striking colors and stunning natural beauty that are frequently found in Mediterranean landscapes. Succulents, bougainvillea, and other drought-tolerant plants that do well in warm climates and use little water are recommended for the look of a Spanish courtyard. Layer on greenery with palm, olive, or citrus trees.
To complement the Spanish look, incorporate decorative components such as vibrant ceramic pots, wrought iron trellises, and pebble paths. To create a calm and welcoming ambiance, think about using a water feature, such as a fountain or small pond.
You can create a front yard that perfectly embodies Spanish-style homes by blending lush greenery, colorful flowers, and thoughtful hardscape features.
2. Relaxing Porches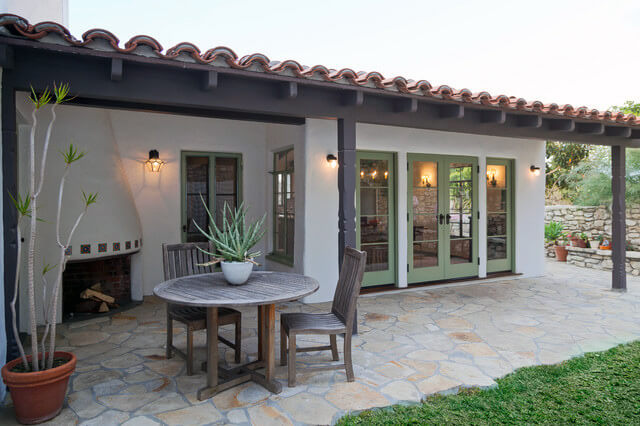 Create a porch that is warm and inviting in the same way as Spanish-style homes are. Choose cozy seating configurations to create a spot where you can unwind and enjoy the outdoors, such as wrought iron chairs with plush cushions.
To add a touch of classic Spanish flair, think about choosing ornamental tiles with elaborate designs for the porch flooring. For shade and a cozy environment, install arching awnings or above pergolas. To make the porch usable later into the night, add gentle outdoor lighting, such as string lights or lanterns, to create an atmosphere.
To enhance natural beauty, place potted plants with vibrant blossoms and cascading greenery. In addition to being a place to repose, a porch exhibits the warmth and friendliness of Spanish-style homes by extending your living area.
3. Outdoor Mosaics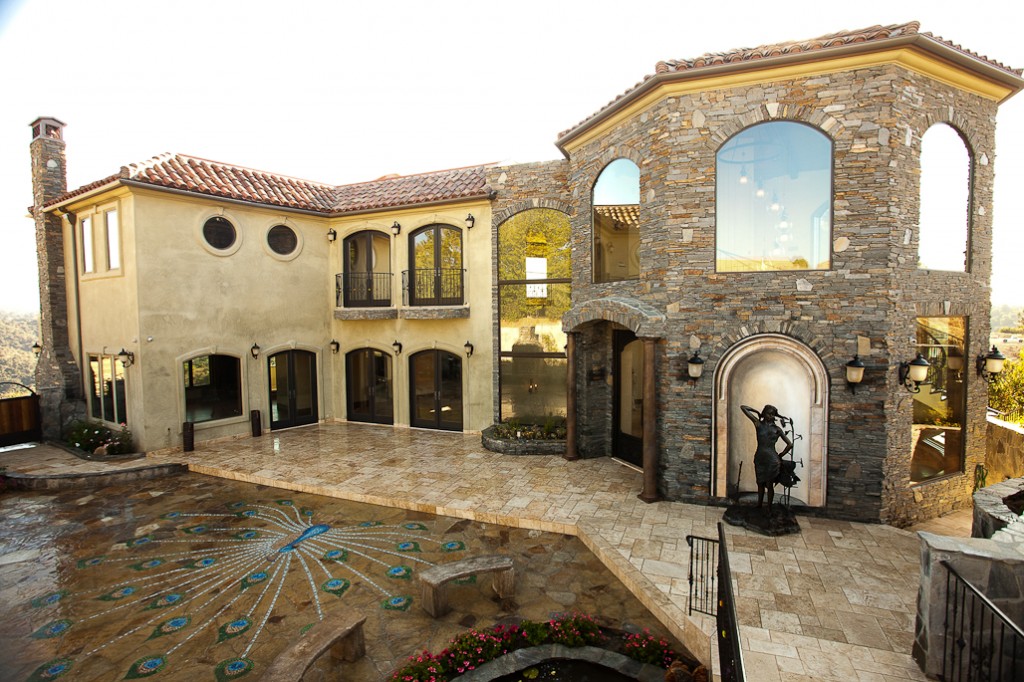 To add aesthetic beauty and visual intrigue to the exterior of your Spanish-style home, incorporate outdoor mosaics. Mosaics can be utilized in a variety of ways, including to decorate outdoor seats and tables as well as to make elaborate designs on outside walls and stairs.
Choose mosaic tiles with vivid colors that are reminiscent of the blues, yellows, and greens of the Mediterranean. Select designs with geometric motifs like the quatrefoil or the arabesque that are frequently seen in Spanish architecture.
In addition to adding a splash of color, these mosaics exhibit the fine craftsmanship and attention to detail typical of Spanish style homes. Mosaic accents are sure to stand out and spark interest in your outdoor settings, whether you use them in tiny or large-scale applications.
4. Red Barrel Tile Roof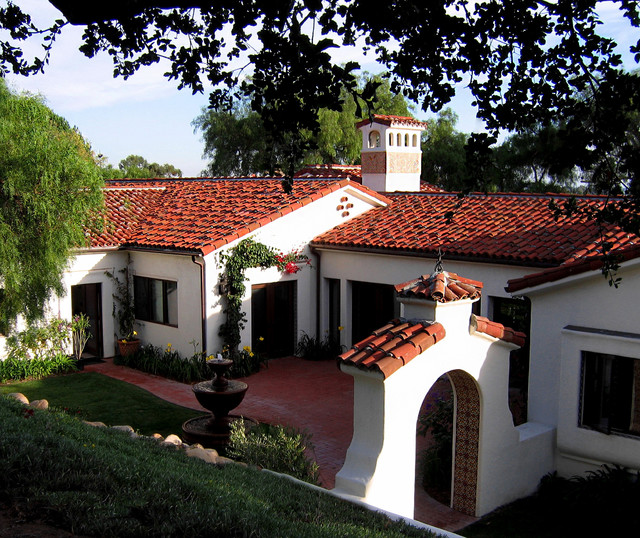 The red barrel tile roofs are iconic features of Spanish-style homes. This unique roofing material gives the exterior's overall appearance a touch of warmth and personality. These curved tiles are purposefully made of clay or concrete to have the same appearance as ancient Mediterranean roofing. It offers exceptional durability and weather resistance.
The earthy colors are the most commonly used color to bring out the richness in the red tones of the tile to complement the Spanish-style architecture. Your home will stand out in the neighborhood if it has a red barrel tile roof, which not only makes it more authentic.
5. Exposed Beams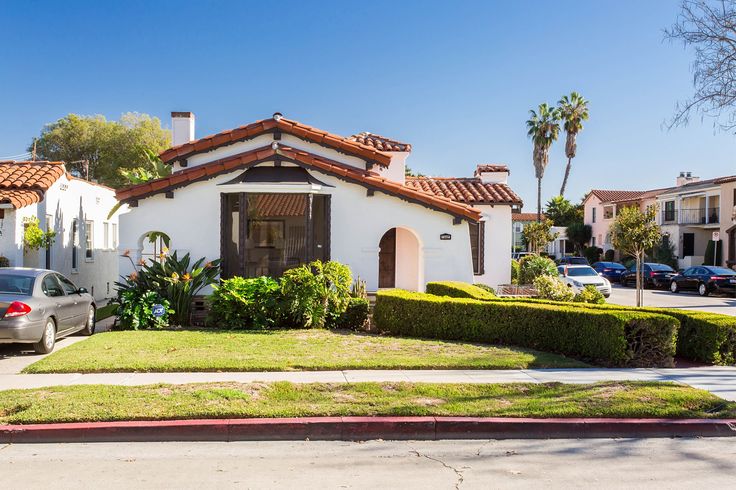 It is one of the key features that gives Spanish-style homes a rustic charm and visual appearance to the exteriors. These beams can be observed in a number of places, including pergolas, porch ceilings, and eaves. Usually, these beams are made of wood being exposed to enhance their natural beauty and craftsmanship!
For a more traditional appearance, the beams can be left unpainted. However, they can also be painted a dark color to contrast with the lighter stucco walls. In addition to adding architectural complexity, exposed beams also convey a sense of authenticity and a link to the outside world. Exposed beams give your Spanish-style home a bit of warmth and character, whether you use them prominently or subtly.
6. Arched Windows and Doorways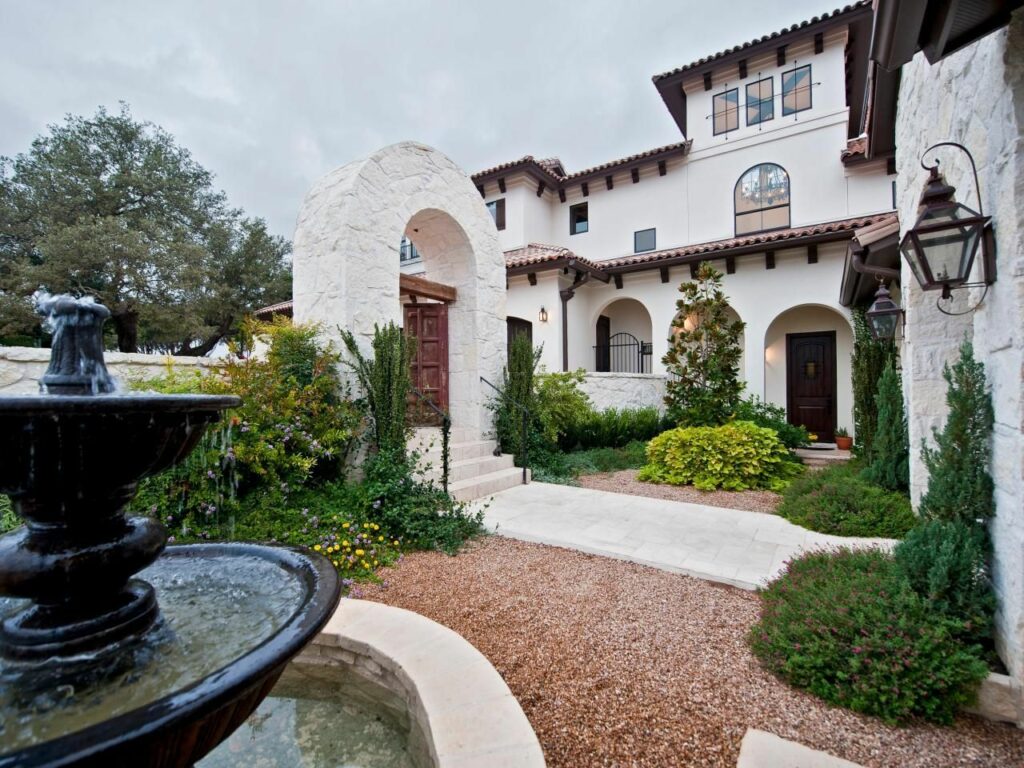 Spanish-style homes are known for having arched windows and doors, which add to their distinguishing elegance and charm. The Moorish and Mediterranean influences that are prominent in Spanish architecture serve as inspiration for these architectural features. Arched windows and doors give a room a sense of elegance while also letting in plenty of natural light.
To increase aesthetic appeal, choose timber frames with elaborate carvings or embellishments made of wrought iron. To add a touch of color and texture, think about placing ornamental tiles around the arched openings. This Spanish-style home is a true architectural gem because of the lovely curves of arched windows and doorways, which give it a romantic and timeless quality.
7. Carved Dark Wood
The Spanish-style home facade will have a touch of traditional workmanship and beauty with the addition of carved dark wood accents. For doors, shutters, pergolas, or decorative items, think about utilizing dark wood. Richly colored and beautifully carved dark wood adds depth and aesthetic appeal by striking contrast to the lighter plaster walls.
The Moorish and Spanish influences on the architecture are reflected in these carved features, which frequently have geometric or floral themes. This carved dark wood adds elegance and authenticity to your Spanish style homes as it elevates overall appeal.
8. Suitable Color Scheme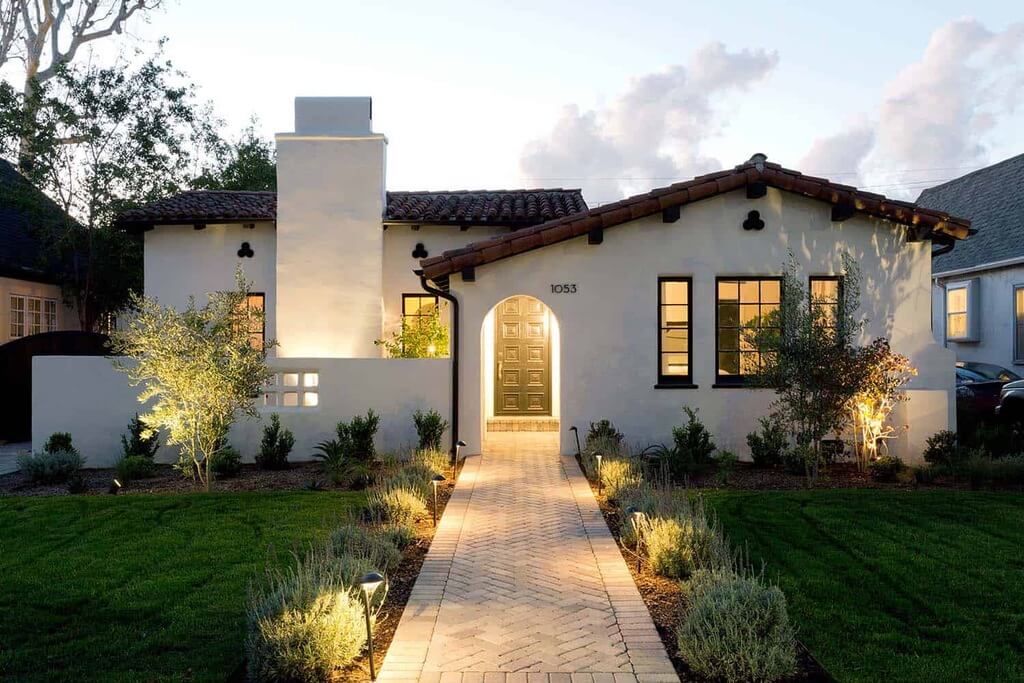 When designing the Spanish-style home exterior, selecting the right color palette is essential. The proper shades can help to evoke the Mediterranean mood, warmth, and vitality that are distinctive to this architectural style. Choose warm hues and earthy tones to complement the surrounding environment. To produce a harmonious and welcoming color scheme, take into account employing terracotta, creamy whites, rich blues, and olive greens.
Use these hues for accents, trim, doors, and walls made of stucco. The exterior of Spanish-style homes should be balanced and visually appealing. The chosen color scheme should reflect the timeless beauty and cultural legacy of these residences.
9. Wrought Iron Features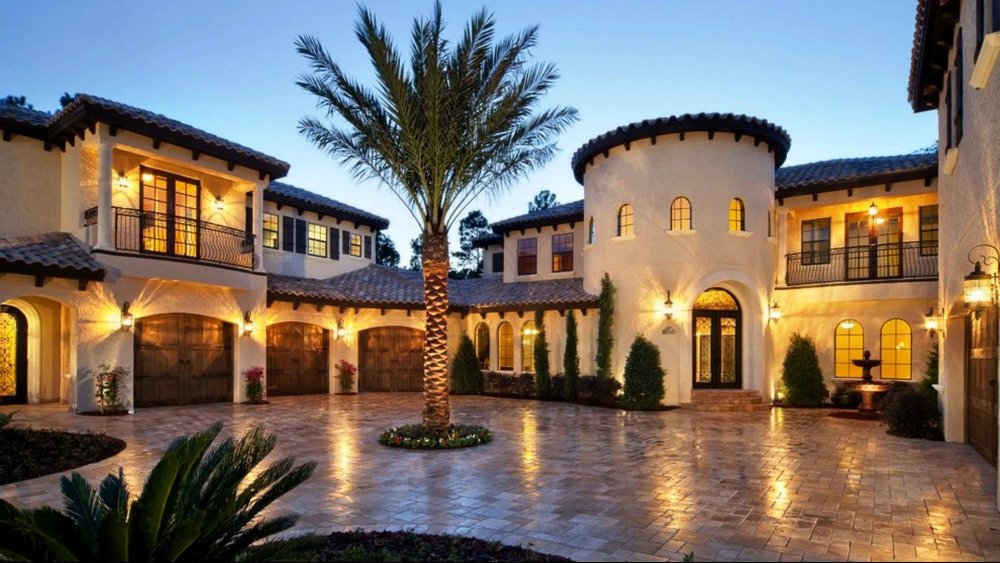 Spanish-style homes are known for their wrought iron accents, which can be employed to enhance external design. To add a sense of class and authenticity, use wrought iron in the form of gates, railings, light fixtures, and window grilles.
Go for black or dark bronze against the light shade walls to make it a focal point to your exterior. These wrought iron features are not only for security purposes. This functional feature makes a statement to the Spanish-style home's overall aesthetic appeal.
10. Add Siding Accent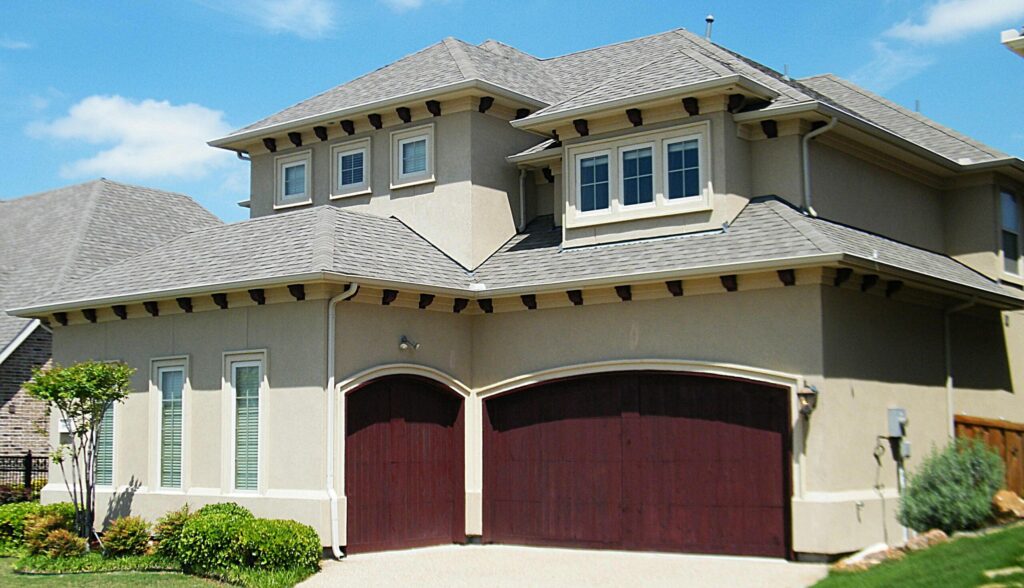 Spanish-style homes' exterior siding accents can add visual appeal and draw attention to particular architectural details. To create accent walls or borders, think about using materials like stone veneer, brick, or ornamental tiles.
These siding accents can be used along the exterior or in specific places, such as around windows. You can highlight special features of a home's design and add depth and texture to its overall external appeal by choosing contrasting materials and colors. Siding accents offer a chance to display the fine craftsmanship and meticulous attention to detail that is distinctive of Spanish-style homes.
11. White or Off-White Stucco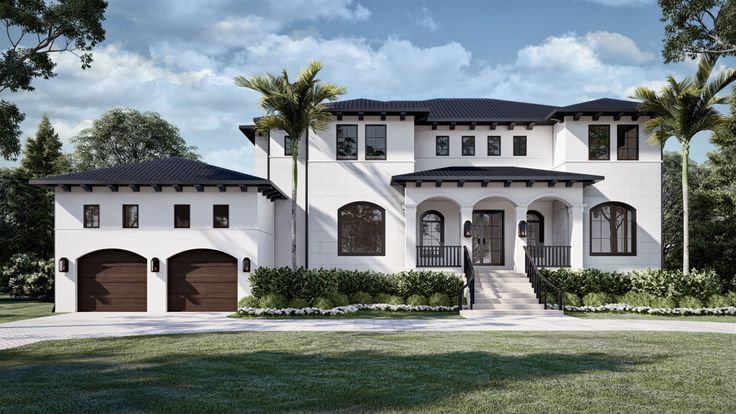 Stucco in shades of white or off-white is a timeless classic for exterior walls of Spanish-style homes. This traditional color creates a harmonious and welcoming facade by enhancing the warm and earthy tones usually found in Spanish architecture.
This stucco reflects sunshine that gives a bright and airy atmosphere to your Spanish-style homes. This color shade will highlight all other features like arched entries, iron accents, exposed beams, etc.
12. Small Balconies
Small balconies provide the facade of Spanish-style homes with a romantic and unique touch. These charming elements offer a private outdoor area where you can look at the scenery, soak up the sun, or enjoy a coffee. Install balconies that echo the architectural traditions of Spanish-style homes by designing with wrought iron railings.
Conclusion 
A Spanish-style home's exterior is an important component that highlights its distinctive charm, cultural heritage, and architectural beauty. Every element of these Spanish-style homes adds aesthetic appeal and authenticity.
The exterior of this architectural style displays warmth, brightness, and Mediterranean influence by using a thoughtful selection of materials, colors, and design elements. You can further improve the exterior looks by adding suitable color palettes, siding accents, stucco, and modest balconies.
With these 12 inspiring Spanish-style homes with exterior ideas, you can create a welcoming exterior that captures the essence of architectural design.
Let's try and create a new style in your home today!!