Choosing the right paint color for your home is a crucial decision that can greatly impact the overall atmosphere and aesthetic appeal of your living space. It's an exciting yet challenging task, as you want to find the perfect color that reflects your style and creates a harmonious environment.
When it comes to creating a serene and refreshing ambiance, green paint colors emerge as an excellent choice. Green is a versatile color that symbolizes growth, harmony, and connection with nature. It has the power to transform any room into a tranquil oasis. From soft pastels to vibrant jewel tones, the spectrum of green paint colors provides endless possibilities for your home decor.
In this article, we will explore 10 amazing green paint colors for the home that will elevate your space and create an enchanting environment.
Gorgeous Green Paint Colors to Glam Up Your Home
Let's look at some ravishing green color palettes for your home that will make your space look earthy and natural.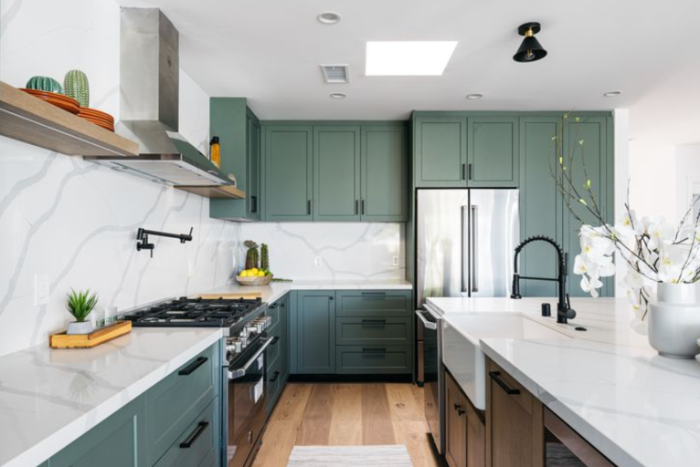 This luscious avocado color would enhance the look of your room by making it look more spacious and filled with light. This color looks great when combined with white, so your furniture would contrast very well with this shade. Avocados have a very subtle but powerful shade that depicts a calm and controlled aura.
Alternatively, it can also be paired with black or grey furniture or shades on the opposite wall, which would make it stand out. You can adjust the shade of the avocado to make it lighter or darker as per your preference.
2. Vibrant Turquoise Green for The Kitchen [IBENA]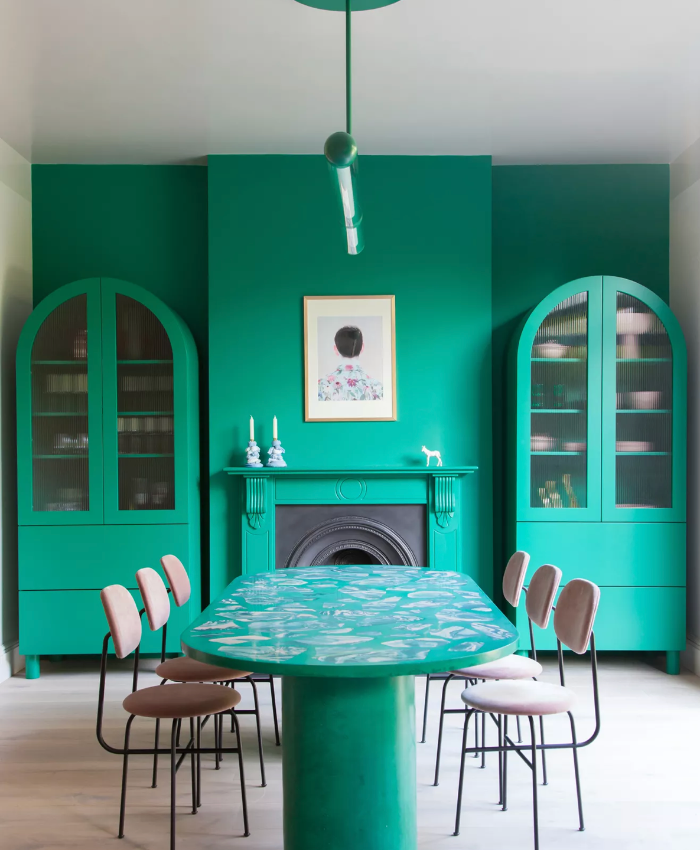 Turquoise green is mainly considered a rare color to choose when it comes to painting homes with it. Being an eye-catching color, turquoise green would look splendid in the kitchen, especially if you live in a small-size apartment where the kitchen is one of the most used spaces and is also used to socialize. This shade of green paint would make the kitchen appear more decorative and presentable. You can set up a small dining table in the kitchen area as well to enhance the look.
Cream colors would compliment the turquoise green when you don't wish to overdo the kitchen decoration. Keep the decoration minimum to enhance the appearance of your kitchen.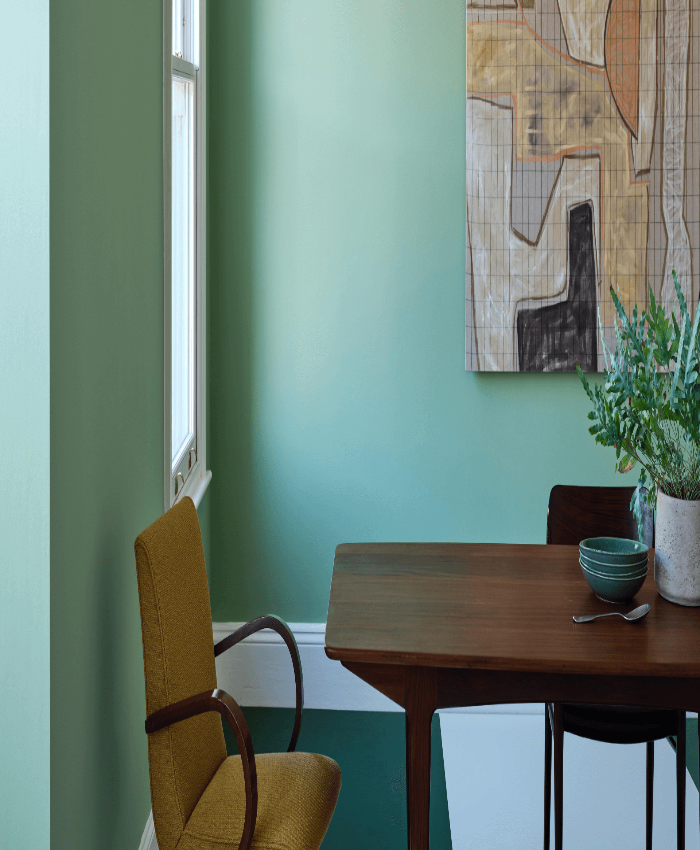 If you want to use green color without overemphasizing it subdued green color can be the ideal choice. This greyish-green hue can be used to paint kitchen cabinets. Ideally, a darker version of the Farrow and Ball Green, this color is called Treron, and it gives a very natural, cool, and finished appeal to modern homes.
It will be an ideal choice if you're looking to revamp your kitchen with some lighter shades of green.
Alternatively, you can also use this green paint in your bedroom to give it a tranquil edge. As this color asserts a calming feel, it would look splendid when paired with pearl white linens and rustic bedroom furniture. It would also add a luxurious feel to the kitchen when this color is paired with white marble and tiles.
4. Calming Green for The Bedroom [Benjamin Moore]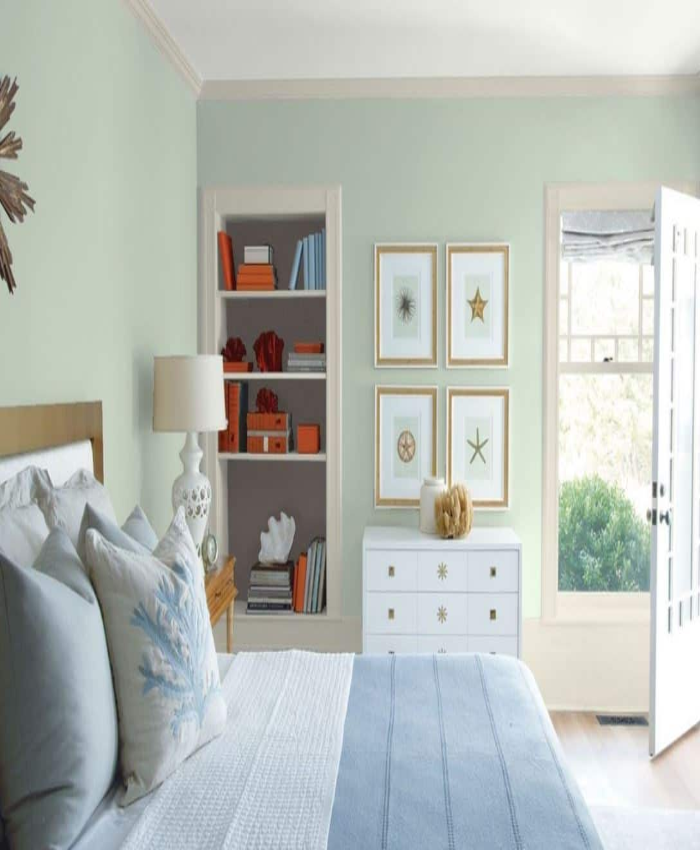 Hazel green paint color has become the favorite of interior designers because it has a very calming impact on the mind. It is considered a great choice for bedrooms. The color is very calm and restful and is also associated with improving emotional connotations and bringing positive vibes to the room. It is a lighter shade of green, mixed with some bluish hints, making it more subtle and calming.
It also helps to increase the brightness and vibrancy of the room, making it appear more soothing and spacious. You can use black and white wall decorations to enhance the look of your room but try to keep it minimal.
5. Pale Sage Green Paint Color [Benjamin Moore]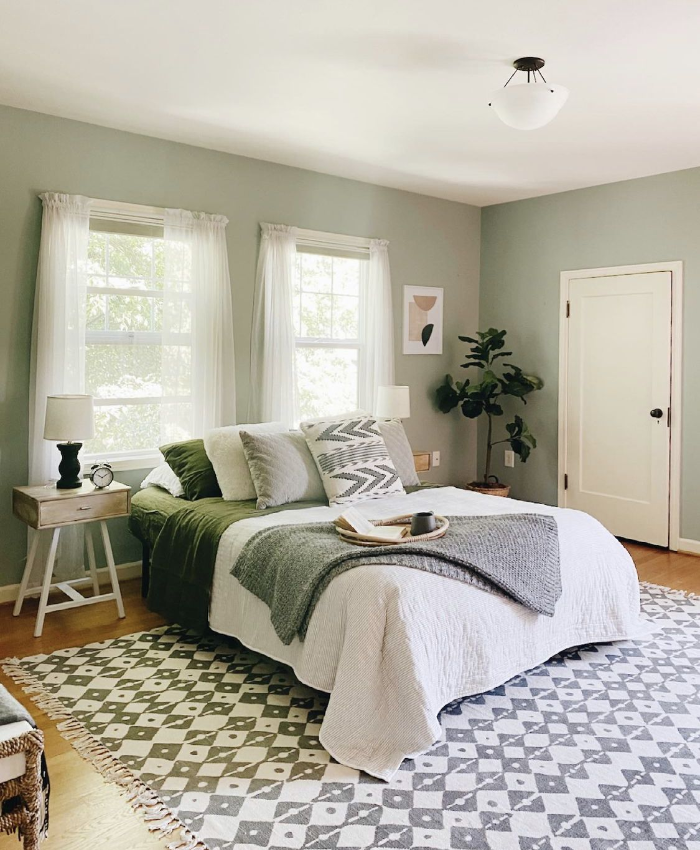 This muted mint green color adds a natural feel to the room, making it the perfect place to relax and unwind after a tiring day. For people who don't want strong or saturated shades on their walls, this would be the perfect choice. This color is the perfect shade of green, neither too warm nor too cold.
You can combine this green paint color with furniture of saturated color, or you can go with boldly printed carpets as well. Graphic paintings on the walls would also contrast well with the wall's color. One of the best reasons to select this minty pale green color for your wall would be that it goes adequately well with beige and cream colors and dark and deep jewel tones.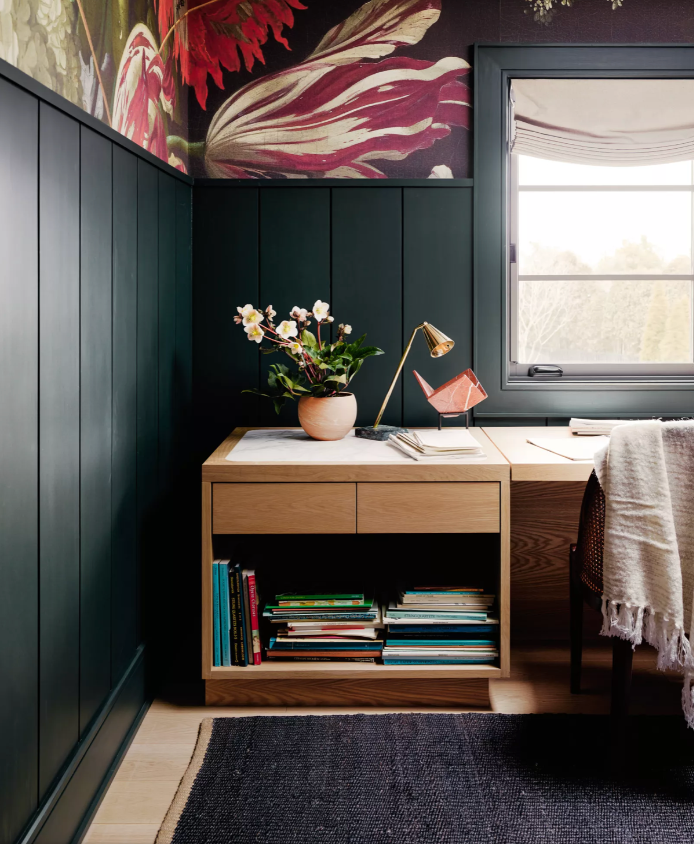 For bedrooms, dark green paint color would be an ideal choice if you wish to flaunt some interesting architectural elements or vintage furniture pieces. To balance out the deep emerald color, you can go with a vibrant wallpaper to tone down the extravagance and moody effect of the wall color.
A green backdrop would also look great in the bathroom, combined with floral wallpapers and pearl white tiles and cabinets. While the color might feel a bit overpowering for a while, and people may not like it at first glance, with time, they will fall in love with it.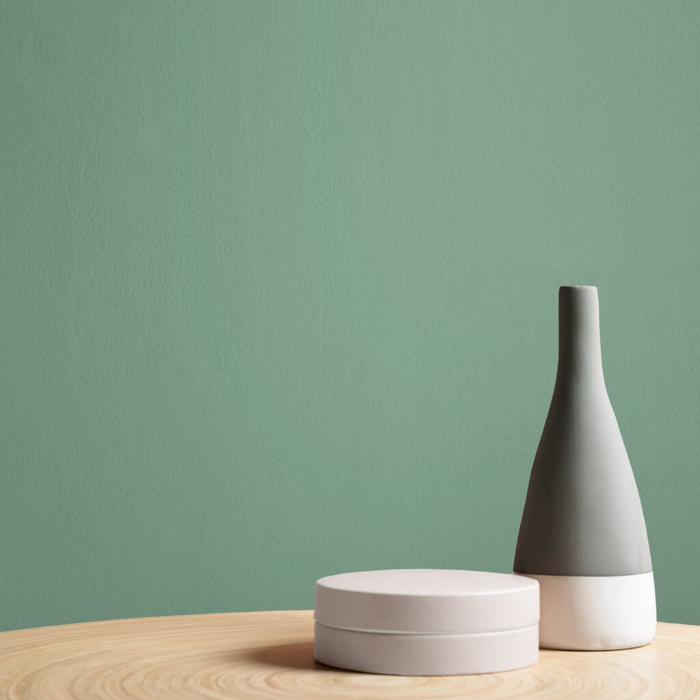 Serene Sage is a timeless green paint color that brings a sense of calmness to any room. This pale green shade brings a soothing ambiance, making it ideal for bedrooms, living rooms, or any space where you seek peace and relaxation. Serene Sage color pairs exceptionally well with neutral tones such as creams, beiges, and soft grays.
If you're considering using Serene Sage in your bedroom, it can transform your space into a serene and elegant retreat. Painting the walls with Serene Sage sets the foundation for a tranquil atmosphere.
To enhance this soothing vibe, pair it with white bedding and light wood furniture. The combination of Serene Sage green paint colors with crisp white creates a refreshing contrast that promotes a restful and rejuvenating sleep environment.
8. Enchanted Emerald [Valspar]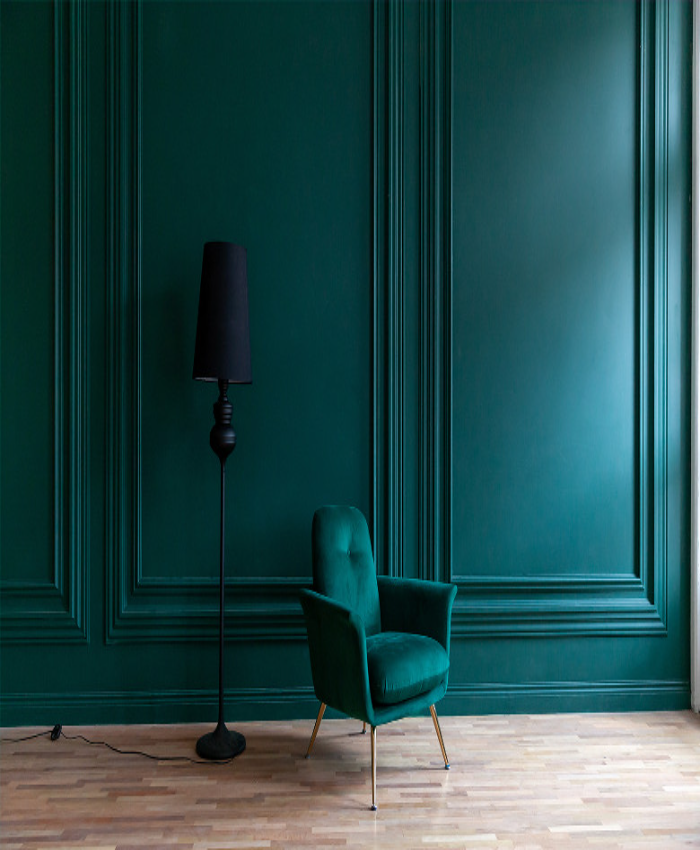 If you desire a touch of luxury and drama in your home, you can opt for the Enchanted Emerald shade. This rich and vibrant green paint color captures the essence of nature's lush beauty, instantly adding depth and lavishness to any room.
Enchanted Emerald works exceptionally well as an accent wall or for statement furniture pieces. Its bold and enchanting presence creates a visual focal point that draws attention and adds a sense of grandeur to the space.
When incorporating Enchanted Emerald green paint colors into your decor, consider complementing it with rich textures and materials such as velvet, silk, or marble. These elements further enhance the luxurious feel of the space, creating a cohesive and harmonious design.
To enhance its charm, pair it with gold or brass accents. This combination creates a stunning contrast and elevates the overall aesthetic of the room. Consider using Enchanted Emerald in dining rooms, home offices, or any space where you want to create a visually striking and captivating atmosphere.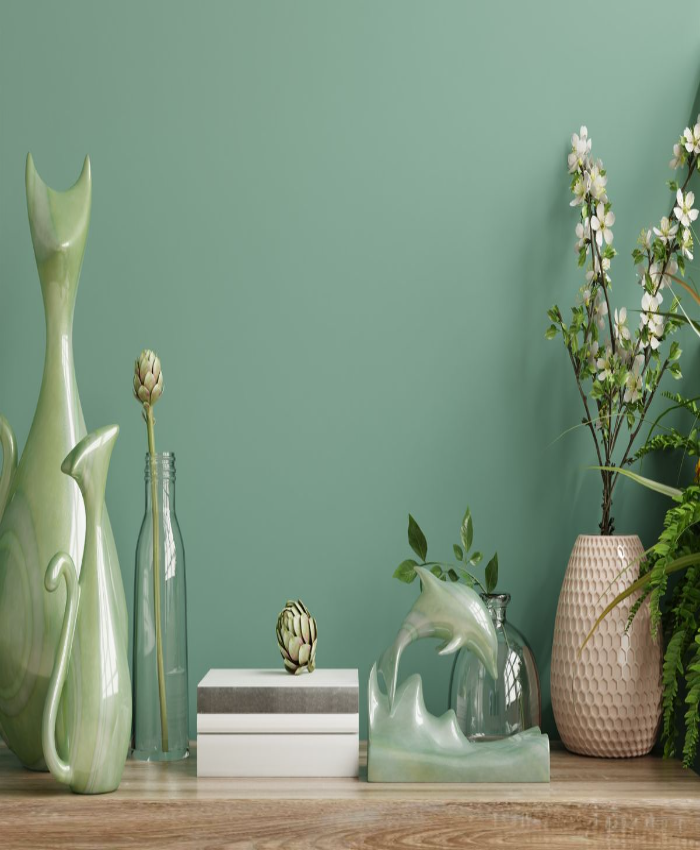 For those seeking a lighter and more refreshing green paint color, Minty Fresh is an excellent choice. Its pale, mint green shade adds a subtle pop of color without overwhelming the space. Minty Fresh works wonders in kitchens, bathrooms, or any area where you want to create a clean and refreshing ambiance. Minty Fresh's light and airy nature create a sense of openness and freshness.
You can pair it with white cabinetry and marble countertops for a fresh and soothing look. The combination of green and white creates a harmonious and balanced environment that feels inviting and welcoming.
To further enhance the organic feel of Minty Fresh, consider incorporating natural elements into the decor.
You can try adding potted plants or hanging botanical prints on the walls to bring a touch of nature indoors.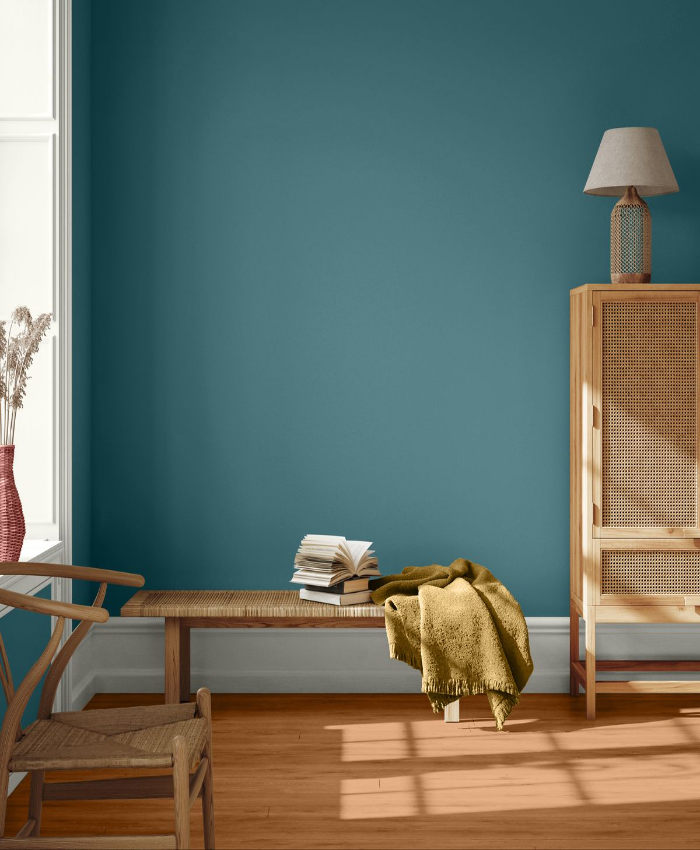 Do you like a balance between boldness and tranquility? In that case, Tranquil Teal is the perfect green paint color that can enhance the vibe of your home. This deep blue-green shade brings a sense of depth and sophistication, which makes it a versatile choice for various rooms in your home.
The best areas to use Tranquil Teal are bedrooms, home libraries, or cozy reading nooks. Teal's rich and soothing tone creates a serene and intimate atmosphere that promotes relaxation and contemplation. To add an extra touch of luxury and coziness to the room, consider incorporating plush textiles like velvet or faux fur.
A velvet accent chair or a faux fur throw pillow will not only enhance the visual appeal but also create a soothing experience. Pair Tranquil Teal with warm, earthy tones like sandy beige or rich brown. This combination evokes a connection with nature and creates a sense of comfort.
Conclusion
Green paint colors offer a multitude of possibilities to transform your home into a sanctuary of beauty and tranquility. You can choose from various options such as the soothing Serene Sage, luxurious Enchanted Emerald, refreshing Minty Fresh, and the balanced Tranquil Teal to elevate your living space.When selecting a green paint color, consider the mood and ambiance you wish to create. You can freshen up things using a cool green tone and create a zen-like ambiance using warm green hues. Use the power of green and bring the beauty of nature indoors with these amazing green paint colors for your home.
Your space will be transformed into a haven of tranquility and style with the help of these green shades.
Frequently Asked Questions
Why is Green an Ideal Color Choice for My Home?
The color green is one of the best color options for homes as it is welcoming, airy, and natural. As the color symbolizes rebirth and renewal, it gives out a very positive vibe to the room, making it feel very spacious and optimistic. Green is a universal color and can be used to paint walls, interiors, cabinets, countertops, or even ceilings.
How Do I Know Which Green Paint Color Will Suit My Home?
Lighter tones are more universal and can go well in almost all places of the house. You can also choose the shade of green depending on the mood you want to give the room. For example, if you wish to give a cozier vibe to the room, go with a darker green shade. Or, if you wish to make the area appear light and airy, go with lighter shades.
What Colors Go Well with Green?
As green is a very versatile color, it goes really well with almost all of the colors in the designer's palette. From soft coral shades to enigmatic golden colors, natural tones to electric colors, green can be paired well with most colors perfectly.
What Would Be the Best Green Tone for My Kitchen?
Vibrant shades of green will be the perfect choice for the kitchen if you wish to make it look airy and spacious. When combined with white tiles and rustic centerpieces, your kitchen will look stunning, making it a modern cooking space that is cool as well as inviting.