Are you looking for a TV console that serves its purpose and enhances the aesthetics of the space?
Then, you must explore the options available at the IKEA media console. A modern TV stand does not limit itself to serve as a typical stand. It extends as a functional piece of furniture and becomes an integral part of the interior design.
The TV stand offers many more benefits with a better viewing angle. It provides extra storage space and ties the whole room together through its design. An IKEA media console keeps the surrounding decluttered and safeguards your television and other media equipment.
This article explores hand-picked BESTA IKEA media consoles in various colors and sizes to suit your needs. Before we step into the exploration journey, here are some interesting facts about the BESTA TV stand from IKEA.
Besta Ikea Media Console Features
Here are the benefits you will get when you select an IKEA media console. The BESTA collection comprises living room storage series that has flexible and adaptable solutions with a neat look. The BESTA storage units are multipurpose and can play the role of a TV unit, kid's room storage, or bedroom storage.
Unique facts about IKEA BESTA TV units you need to know.
The small structure of the table brings ample storage area when you select IKEA BESTA. It can fit neatly in most spaces and is sturdy enough for an adult to sit on it.
The BESTA collection uses natural wood, which protects the surface from unsightly scratches and dirt.
Some parts of the IKEA BESTA unit are attachable to the wall. Some cabinets sit on the floor. It saves a lot of floor space when you can create sufficient storage on the wall cabinets.
It takes about 30 minutes to an hour to build an IKEA BESTA TV Unit.
The BESTA media console collections have many options with different colors and shapes.
You can customize your IKEA BESTA unit and modify it with the help of their planner tool
Hand-Picked Besta IKEA Media Consoles for Your Living Space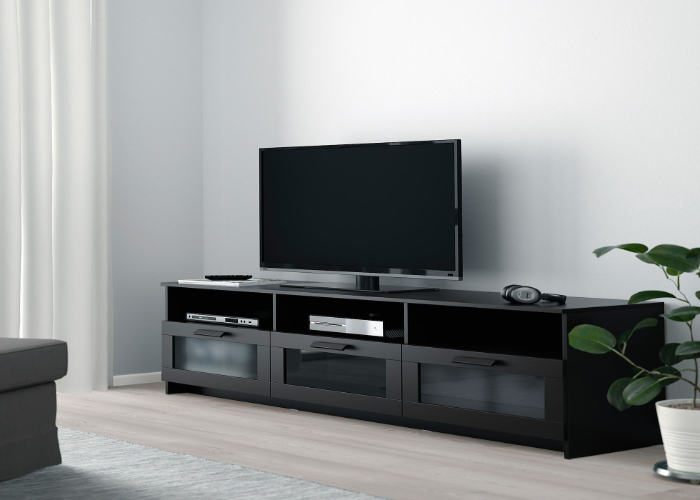 With this stylish console, you can free your space from messy cables and wires. The white unit comes with three storage compartments that open through doors. The cable panel on the surface allows you to pass any wires and cables inside the storage space. You can store the devices in the cabinet and connect them to the television through this small space. If you need less storage space, this unit is perfect.
This console has a lower height and is best suited for living rooms with low-height sittings. The classic white shade matches almost every interior making this unit the best for any theme.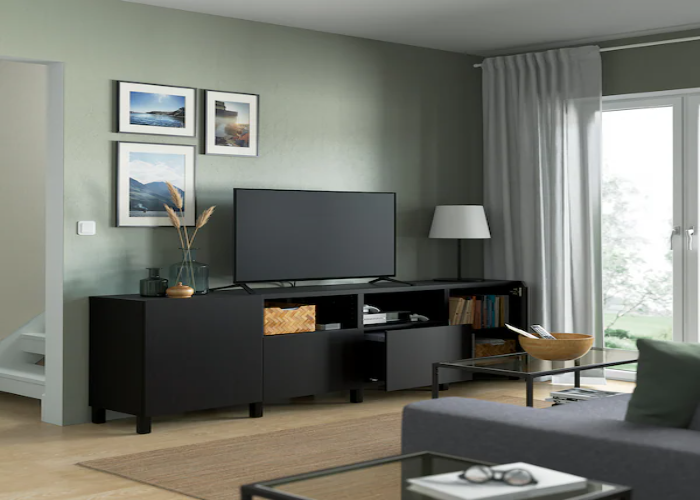 The powerful and bold shade of black makes this console the center of attraction in your living room. This black TV unit has two drawers, two cupboards, and two open storage spaces. The vast storage space allows you to keep your living room free from mess. The larger surface area enhances the aesthetics by adding unique decor items.
This IKEA media console will suit an interior theme with lighter or neutral shades. It perfectly combines contemporary design with functionality to give your space utility and style. A clutter-free space allows easy cleaning and keeps dust particles at bay.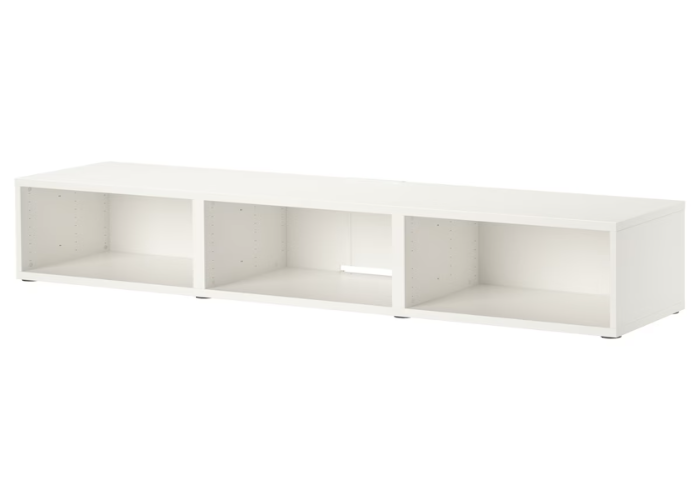 It is one the simplest TV unit with three open storage spaces and a horizontally long surface. The white shade in this TV unit gives it a simple yet modern look. Such units are perfect for small living rooms and studio apartments. They perfectly fit in the space providing a better viewing angle from any area of the room. The open cabinets can be used to place books, remote control, or magazines.
If you are television is extremely small and needs simple support, this is the perfect unit for you. This unit is inappropriate for large television units with multiple wirings and equipment. It weighs around 52 pounds with a width and height of 16" and 4-1/4", respectively.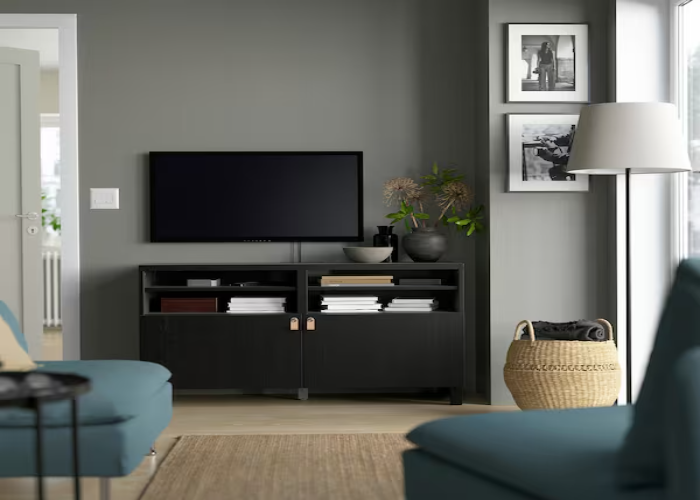 Keep your living room free from wiring with this contemporary black medium-sized TV unit from IKEA. You can store accessories in your living room with two closed storage and four open cabinets. The top of the unit is made with recycled honeycomb structure paper filling, fiberboard, paper foil, plastic edging, and particle board. The strong legs are a result of solid wood with the support of steel.
The structure is beautifully colored with acrylic paint to give the royal vibe. After assembling the parts, keep tightening them regularly for your safety. Simply clean the surface with a damp or dry cloth to remove dust particles.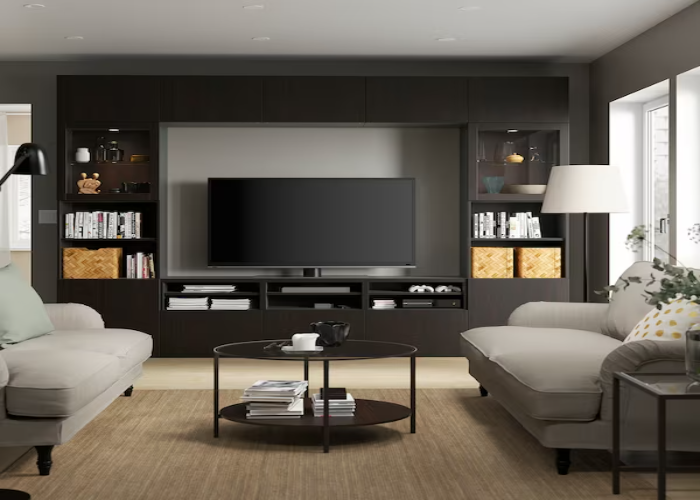 This Ikea unit is perfect for a large living room with a majestic interior. The large size and multiple wall cabinets will complement your royal interior theme. This tv unit is suitable for a television up to 72 inches. The marvelous unit has a height and width of 91" and 118-⅛", respectively. The view of this media console itself emits luxurious vibes in the room.
It has ten closed storage and eight open cabinets around the television. The six small rectangular spaces below allow you to store media-related units and wirings. The sofa or the chair in your living room should be higher enough to match the height of this tv unit for a better viewing experience.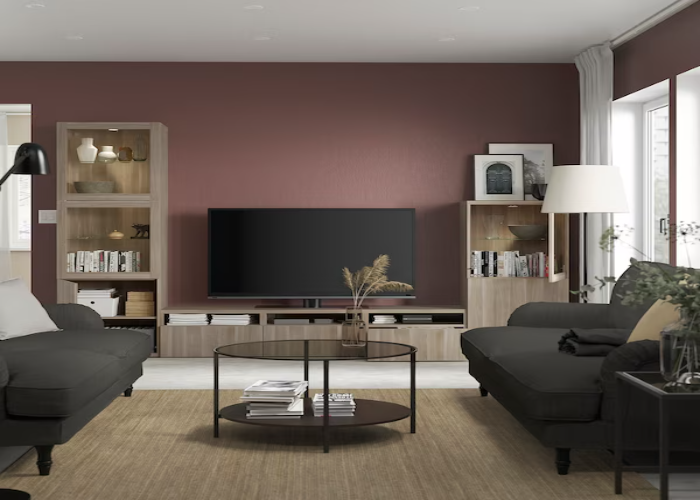 This unique walnut-shade ikea tv storage unit is what you need to add a rustic look to your living room. The hazy walnut shade will mesmerize every visitor when combined with a suitable background wall. With multiple closed and open storage options, it has a glass surface to place antique decor items in your living room. The glass doors allow those accessories and decor to be visible throughout the day.
Store the books and other accessories in the closed cabinets. Show off your most aesthetic collection through the glass door cabinets. This set-up beautifully utilizes the top layer of the unit by placing multiple pictures that contrast the background wall. The transparent vase and a few branches are a creative addition to the space. The walnut shade in the television unit and the dried branches complement each other in the living room.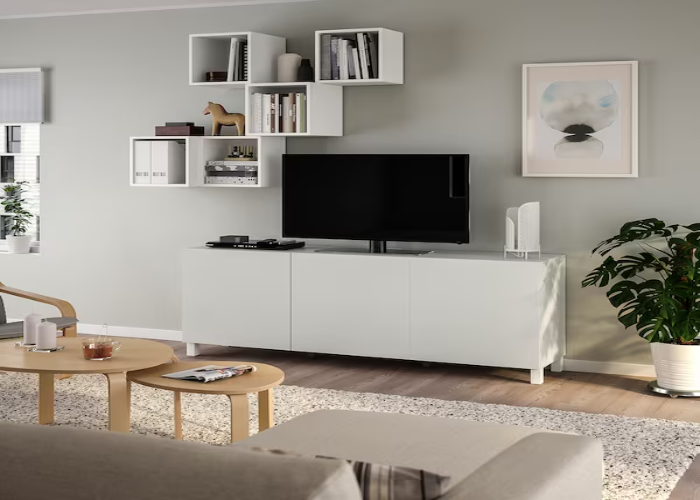 Add a pinch of creativity to your living room wall with this Ikea unit wall shelf. Along with a unit, it also has 5 square open storages attachable to the wall. It adds a unique look to your living room interior and gives ample space for storage.
The three closed cabinets in the bottom are large enough to store all your accessories. You can use the above shelves to show off your creative curiosity and crazy collections. As a piece of furniture, this tv unit perfectly contrasts the wooden table and gray sofa set in the living room.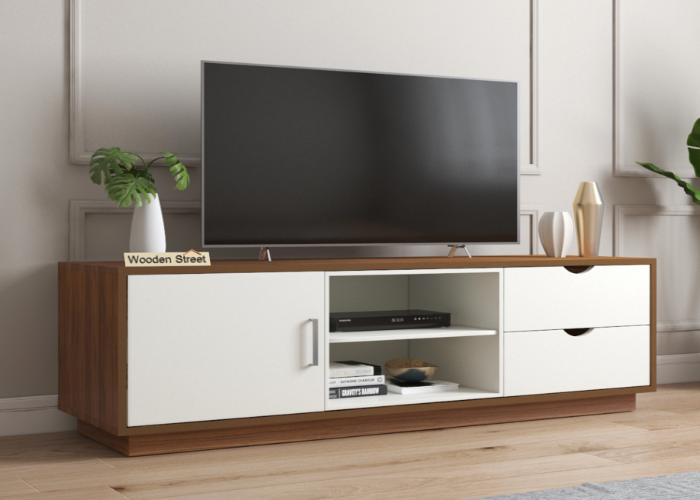 This walnut-white tv bench is suitable for tv up to 45 inches. However, you can choose a large television if its weight is within the limit of max load that the upper surface can handle. In this case, the max load is 110 pounds. So, if you choose a television beyond 45" but it weighs less than 110 pounds, this tv unit will serve the purpose.
The white and walnut shade beautifully contrast each other, making the unit look like a beautiful piece of modern furniture. The two open storage and two closed cabinets are enough to store the DVD player, modem, set-top box, or any other adjoining device.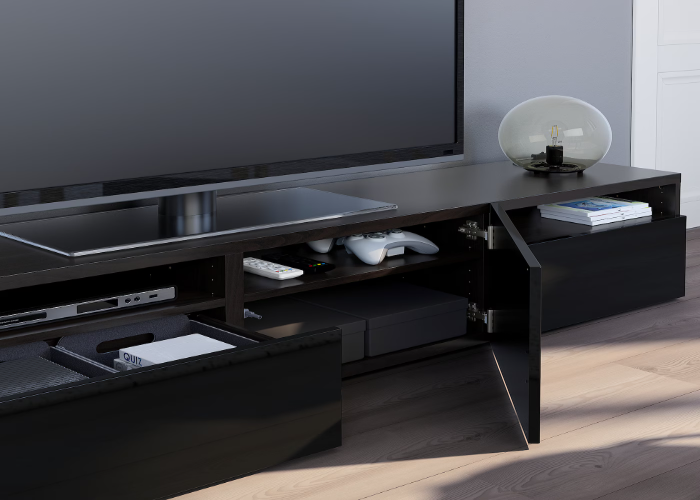 With a perfect finish and glossy look, this Ikea media console Gives your living space a luxurious and majestic feel. The stylish unit has clean edges and a sharp look that serves multiple functions in your living room. The base storage and adjoining cabinets help in keeping the living room clean and tidy.
The glass door cabinet adds to the elegance of this tv unit with its delicate design. Perfect for a medium-sized living room, this unit goes best with light shades on the wall. The top panel of this unit can withhold a maximum weight of 110 pounds. The adjoining furniture must be attached to the wall with an enclosed wall anchoring device for a sturdy structure.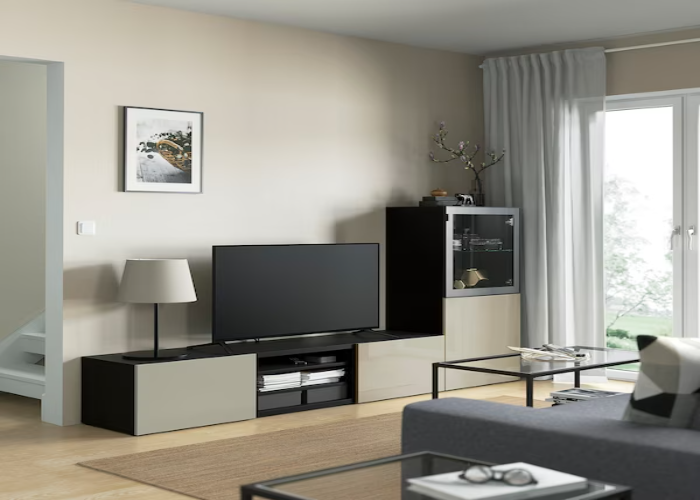 This tv unit has a similar structure to the above unit except for the color combination. This black and beige shade brings a contrasting look to the television unit. If you want to add a little bit of mildness to the powerful black, this is the perfect television unit for you. Black, combined with beige, has the element of power and calm in the single television unit.
It gives a calmer look to the tv corner of your home. Top it with creative decor items like a beige/white lamp, neutral-colored artistic pictures, and unique structures to enhance the beauty of this unit.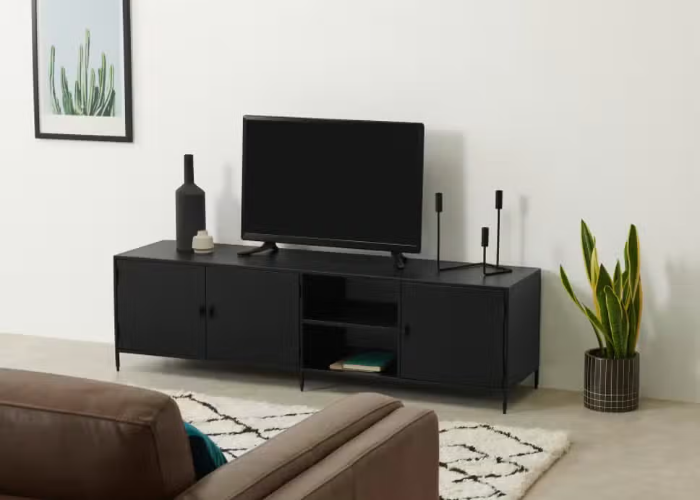 After exploring large and majestic structures, we come to this simple yet powerful black Ikea media console. With 2 drawers, 1 closed cabinet, and 2 open storage, it has a length of 70-⅞". The top panel can withstand a maximum load of 110 pounds, and a shelf can withstand a weight of 44 pounds.
The less heightened tv unit allows for decorating the upper part of the wall with unique hanging decor or suitable paintings. The white paintings and lamps in the surroundings perfectly contrast the black television on the console. Store your headphones, remotes, keys, and other small accessories in this small unit.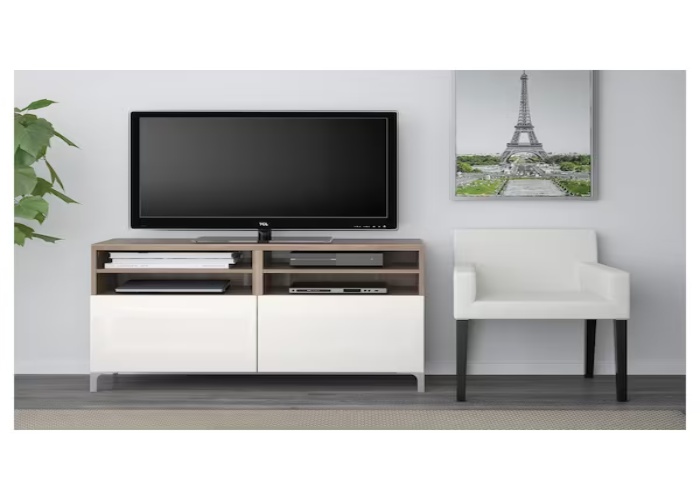 It is yet another amazing Ikea Besta Media Console in walnut and white shade. The two closed cabinets and four open spaces allow you to store your daily utility items. It can withstand a top maximum load of 110 pounds, and the whole product comes in 12 packagings. The cable outlet at the top allows you to pass the wires down to your devices smoothly.
The greenery around the tv unit and an aesthetic painting enhance the grace of this small piece of furniture. This multi-functional tv unit is suitable for small to medium-sized living rooms.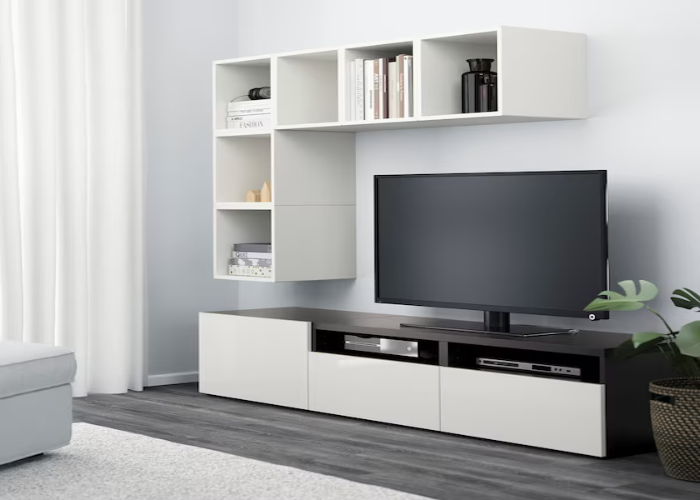 The timeless combination of black and white never goes out of fashion. This tv unit is a perfect vintage combination with a modern touch. The square cabinets and glossy finish make it suitable for modern homes. The six open storage spaces attached to the wall create utility and enhance the creativity of the empty walls.
The black top panel and white cupboards at the bottom give a classic vibe to the space. The whole unit perfectly complements the theme of the room. White curtains, gray couch, neutral wall, and this tv unit emit a calm vibe through the neutral shades.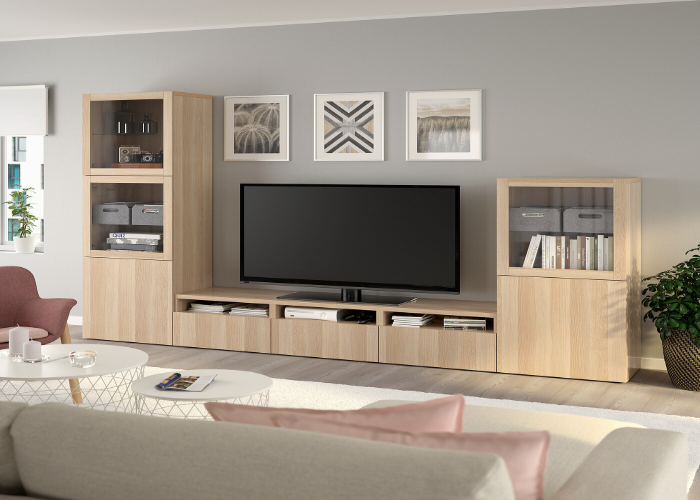 This walnut-shade 'Ikea Besta Media Console' is a simple unit with three storage cabinets and a large top panel. Fulfill all your storage needs with this smooth and graceful tv unit. The darker walnut shade makes it a perfect match for houses with light-colored walls.
The top panel of this tv unit can lift a weight of up to 110 pounds. So make sure to place the things accordingly. The weight of the television, decor, and accessories should be within the limit. Use an appropriate fastener suitable for your wall to make the structure sturdy.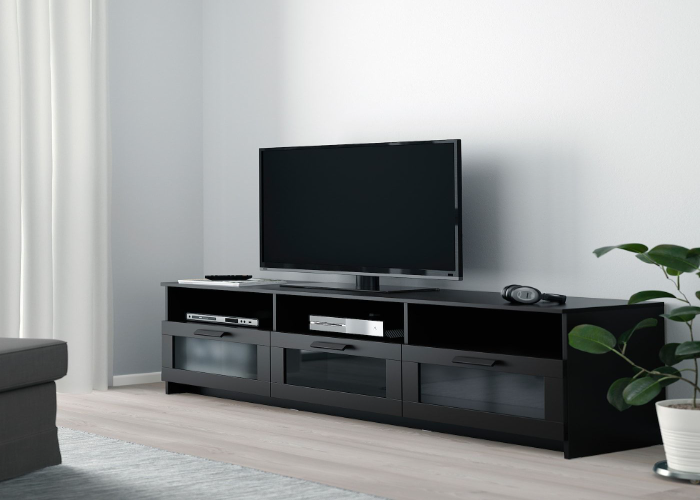 This black-grayish ikea tv unit is perfect for a living room with neutral-shaded walls. It has a height and width of 29-⅛" and 47-¼", respectively. The closed and open storage option keeps certain things visible and some out of sight. Closed doors are helpful when you have toddlers roaming around in the house.
Bring a concrete effect to your living room with this black & gray television unit from Ikea. The neutral shades of white, blue, and brown in the background enhance the black-grayish shade of the television unit. The beautiful plant in a grayish vase is a beautiful addition to this Ikea media console.
Things to Consider While Selecting a TV Unit Console for Your Home
Width of The Console: The media console should be at least a few inches wider than the base of your screen. It will give your television a comfortable space to sit on the top and leave space around. This space can further be used for placing decor or placing equipment.
Choose a Proper Height: Height is a crucial factor for a comfortable viewing angle. It should be considered based on the kind of sofa and chairs in your space. The eye level and the center of the tv should be in alignment. For the best viewing experience, you must select the right height.
Storage & Drawers: Are you planning on having multiple things like speakers, wires, or books on the tv console? Then you should select an Ikea media console With many cabinets and drawers. If you want your collection to be visible, choose open shelving. If you want to keep the dust away from your storage, go for closed storage cabinets.
Color Palette: Ikea Besta media console comes in neutral shades like white, gray, and walnut. Some units also come in darker shades like brown and black. Depending upon the design of your room, select a console that enhances the aesthetics of the space instead of making it look like a mess.
IKEA Media Console from Besta Collection
Selecting the right Ikea media console For your living room depends upon your choice. If you want a larger storage space for your equipment and accessories, go for a console with multiple doors and drawers. Select a simple tv unit with minimal storage if you want something small and classic.
The elegance in every piece of ikea besta will add to the beauty of your interiors. And Ikea is the best go-to partner for your tv unit console because of its easy delivery and building options. Order online and enjoy building your console with your loved ones.
Give your home a trendy, stylish, and sturdy media console by selecting an appropriate color from the 15 best Ikea media consoles, and do let us know how'd you proceed with your next home renovation project