Do you do the mandatory decluttering of your home once in a while? Just the thought of having the clutter gone is so therapeutic. Does your desktop look like a heap of folders, files, and screenshots, and you have no idea where to start? Ever wondered what it would look like to have a decluttered desktop where you know exactly where what is and which task to tackle first?
Then welcome this article will help you sort all your queries; here, we will show you how to keep your desktop organized aesthetically with 15 desktop organizer wallpaper, which you can download easily.
With most of us getting back to work and umpteen tasks to juggle digitally, having your task list ready is ideal. A desktop wallpaper organizer is a great way to keep the random icons on your desktop all organized and aesthetically looking.
So it's important that you take the time frequently to deal with this clutter and keep it all organized, and a desktop organizer really comes in handy in these situations.
What is a Desktop Wallpaper Organizer?
A desktop wallpaper organizer is an image that you upload as your desktop wallpaper which is separated into sections to help organize the files on your computer. Once you finish setting up the image as your wallpaper, all you have to do is drag the icons into the correct areas/ sections, and voila, you now know at a glance what you need to get to on your checklist.
How to Download Desktop Organizer Wallpaper?
Downloading a wallpaper organizer for your desktop is very easy. If you are still unsure how to go about it, take a look at our helpful guide below.
For the Desktop
Find an image that suits your needs and sensibilities. Make sure it has the right sections as per your requirement. Now right-click on it, select "Save image as," and save it to your computer folder.
For Mobile
Find the right image which you want to set as your wallpaper. Tap on 'click to download,' which will open the image in a new window. Follow the options menu to save it to your device gallery.
Sections Your Desktop Organizer wallpaper Must Have
The ideal category sections in your desktop wallpaper organizer will depend on the use case of your desktop. If it's mainly for work, then ideally, you should have 'to-do lists,' 'in progress,' and 'done' categories. If you are a student, then ideally, you should have your submission deadlines and project schedules worked into your organizer. Some broad category ideas include sections for work docs, photos, in-progress files, to-do lists, etc., along with a handy calendar to go.
Whatever your need, there are tons of options available, but here is a shortlist of the most aesthetic desktop wallpaper organizers.
1. Minimalist Desktop Organizer Wallpaper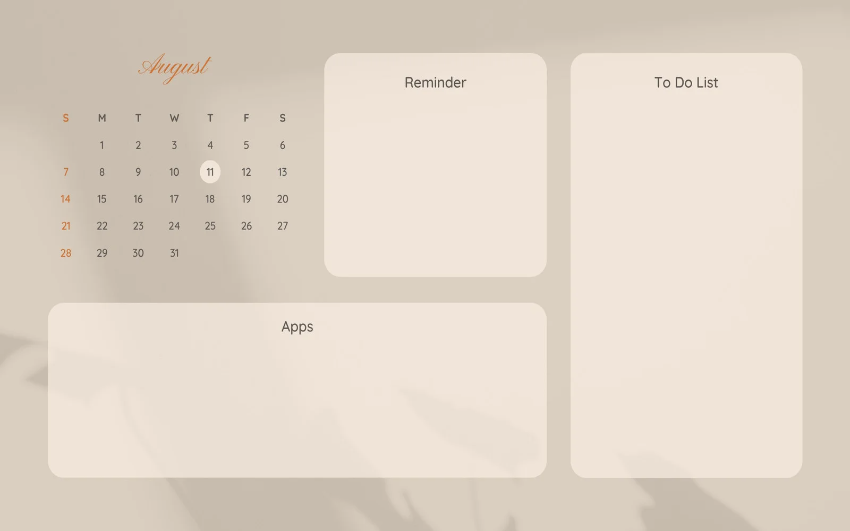 This simple and efficient desktop wallpaper organizer will ensure that all your files are neatly tucked in while also maximizing your productivity. The soothing color palette ensures that you are never overwhelmed with your task list. There are 4 major sections for 'to-do,' 'reminders,' 'apps,' and a calendar to help keep track of your progress.
With a stunning minimalist palette, this wallpaper organizer is sure to invoke a sense of nostalgia and calm for a productive and fruitful day.
2. Fuss-Free Aesthetic Desktop Organizer Wallpaper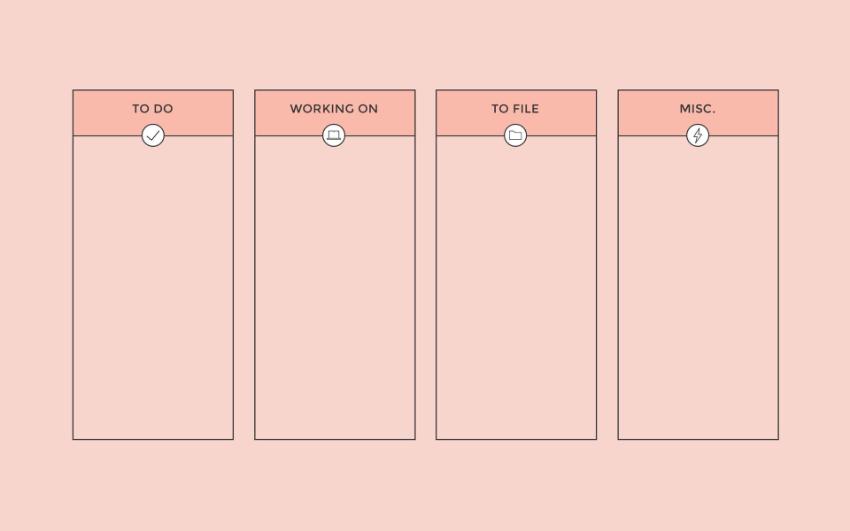 When organizing the clutter, it makes sense to keep things fuss-free and minimal. This minimalist desktop wallpaper organizer comes with 4 distinct sections to keep you organized with your tasks. A pastel pink palette is the right amount of brightness with an adequate mix of calm to get on to your tasks.
This one is handy when you want to keep all your files handy to know your progress and status at a glance.
3. Maximise Productivity with This Organizer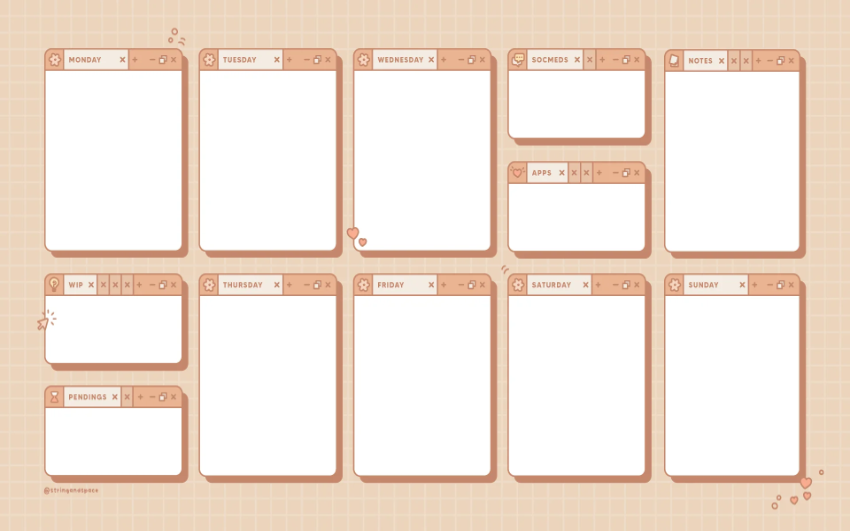 This neutral palette organizer ensures that you plan ahead for your entire week so that all your tasks are clearly marked before the start of the workweek. Not only does it ensure maximum productivity, but it also ensures that there is minimal tweaking around all-day-everyday. You can set this up at the closing of your work week so you are all set for Monday without the Monday blues, or even set it up on Monday morning and be rest assured for the week.
It also has some handy sections for WIP and pending lists, which make it highly useful.
4. Clean and Aesthetic Desktop Organizer Wallpaper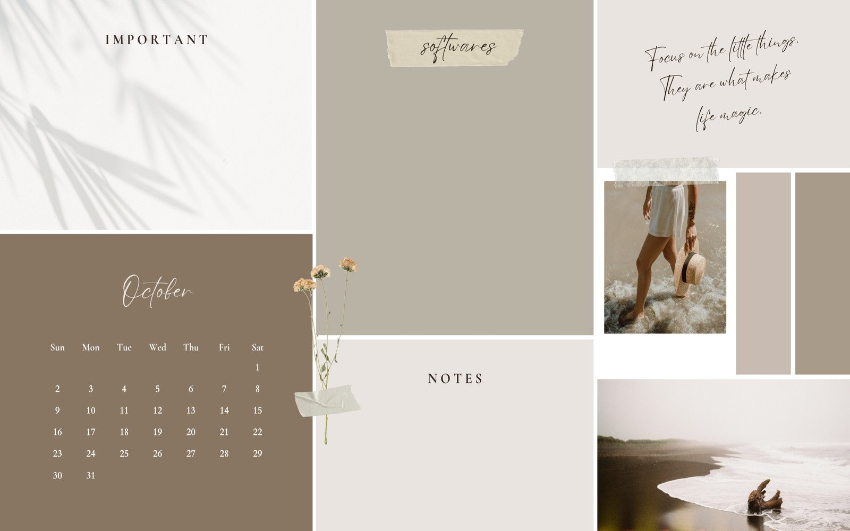 With a stunning palette of soothing browns and classic greys, this minimal desktop wallpaper organizer ensures that your work desk is clean and aesthetic to ensure productivity. A cluttered desktop can reduce your productivity and add to your stress. This organizer gives you effective solutions to keep your desktop tidy and organized.
The distinct sections for 'important' and 'notes' ensure that nothing important is ever missed out on.
5. Self Customizable Organizer Wallpaper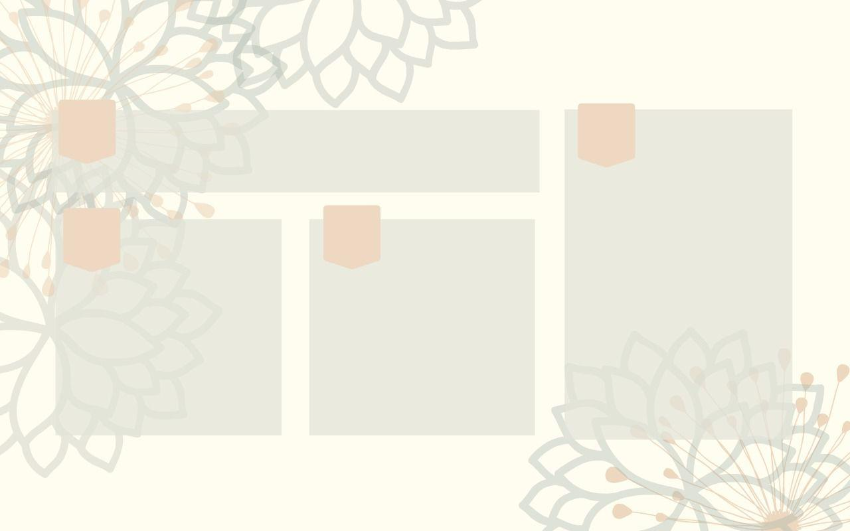 While desktop organizers with neat little sections are highly useful, sometimes one needs the leeway to organize as per their needs. This aesthetic desktop wallpaper organizer ensures you have clear sections that you can customize to your needs. So whether you need a neat corner for your pending projects or a section for your favorite pet pictures, you have them all.
The pleasing palette with custom art keeps things light and minimal for maximum productivity.
6. Monochrome Desktop Wallpaper Organizer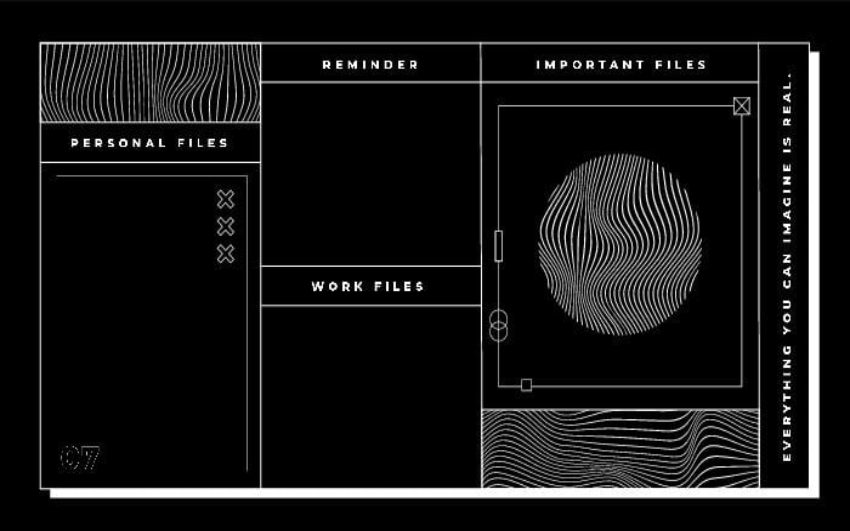 If monochrome is your preferred choice for desktop wallpaper, then this is the organizer just for you. The clean lines and minimal palette keeps things clear and fuss-free. With neat little sections for your work files, personal files, and reminders, this organizer ensures that your day is well organized, with no missing tasks.
7. Soothing Pastel Palette Organizer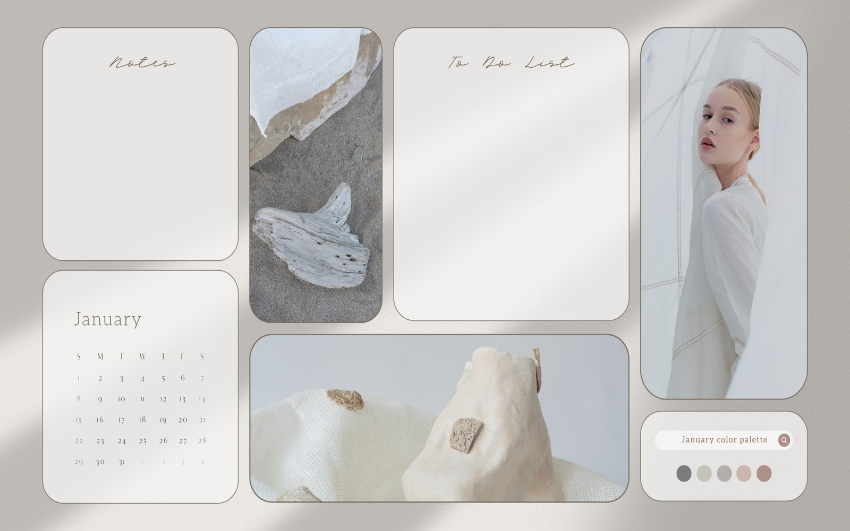 Pastels are both soothing and calm when used as our desktop wallpaper. This desktop wallpaper organizer in soothing pastels comes with a custom folder design to keep it all chic and cohesive. With clear sections for understanding your day at a glance, this organizer can keep your day planned and organized. The custom art keeps things interesting and light.
8. Aqua Magic Wallpaper Organizer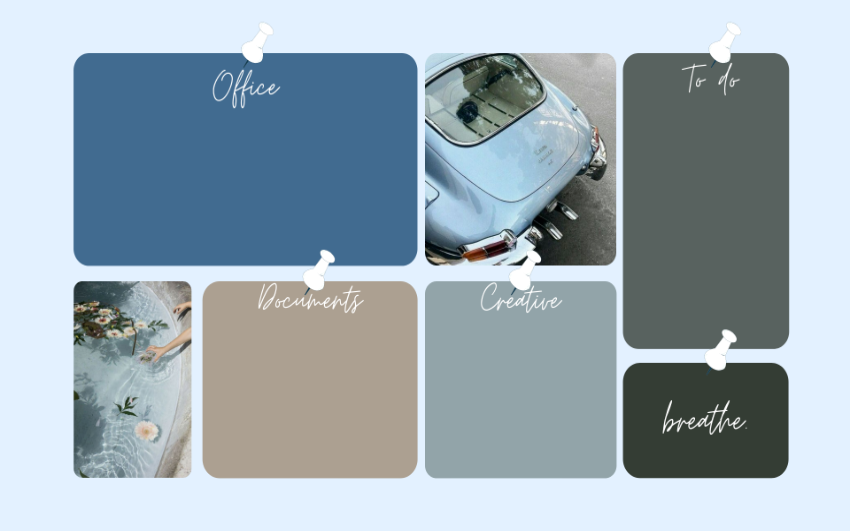 There is something about blue that makes it instantly uplifting and happy. This wallpaper organizer comes in a stunning palette of blues and greys, sure to calm you and help you get organized instantly. What we love is the section for 'breath,' which is so important to get through a workday. You can pin up favorite photos or affirmations to help overcome the overwhelm.
9. Desktop Wallpaper Organiser for Students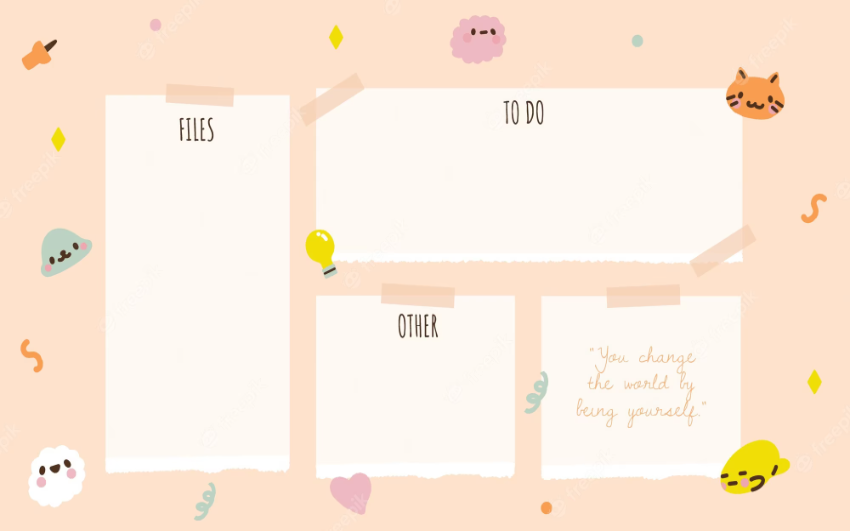 Being organized when in school comes with the territory. You need clear goals and a view of your upcoming or pending projects, your submission deadlines, and so on. This nifty desktop wallpaper organizer can ensure you are always organized and make your school day much more productive.
10. Neutral Aesthetic Desktop Wallpaper Organizer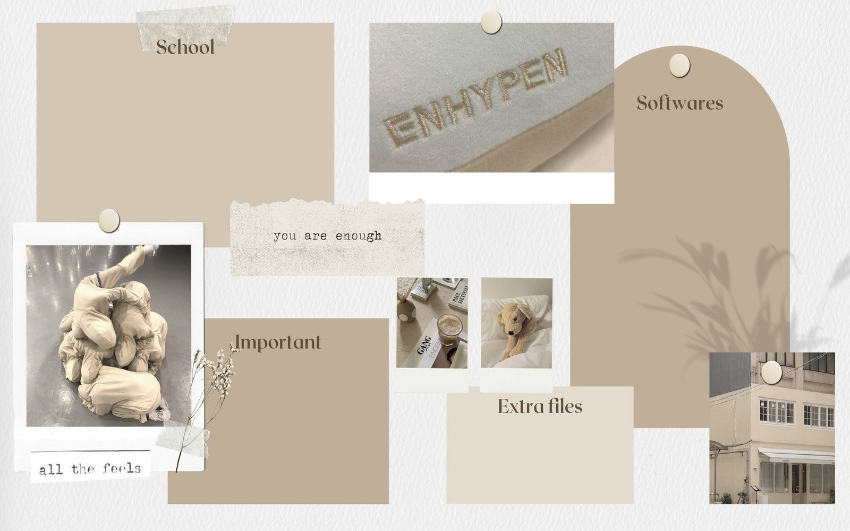 A neat desktop wallpaper organizer in a neutral palette for every student looking to get organized. The sections for school work, important tasklist, extra files, and software ensure that your desktop is well organized for a busy school day. The soothing neutral palette helps bring some serenity to your setup.
11. Boho Desktop Wallpaper Organizer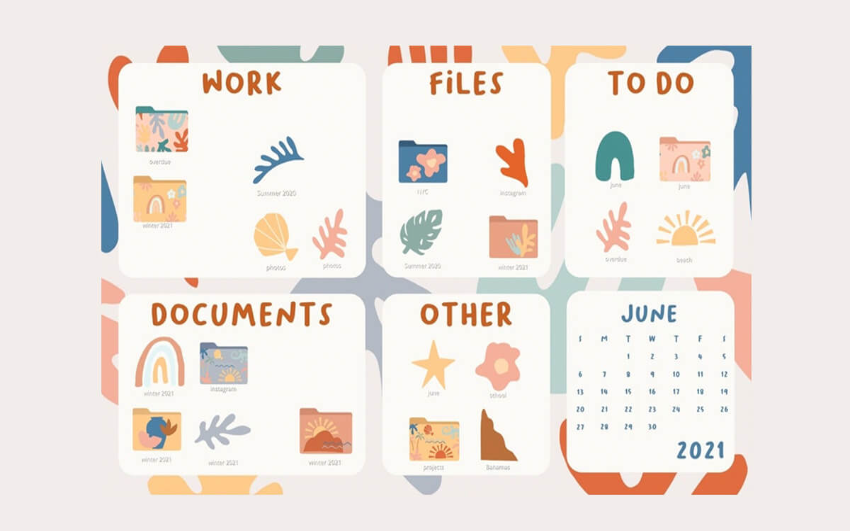 This bright and colorful wallpaper with cute artwork is a great option for getting your desktop organized and clean. It comes with custom folder designs, which you can download to keep it all cohesive and spunky. So keep your work files, documents, to-do lists, and other essentials organized in this nifty desktop organizer.
12. Simple and Soothing Aesthetic Wallpaper Organizer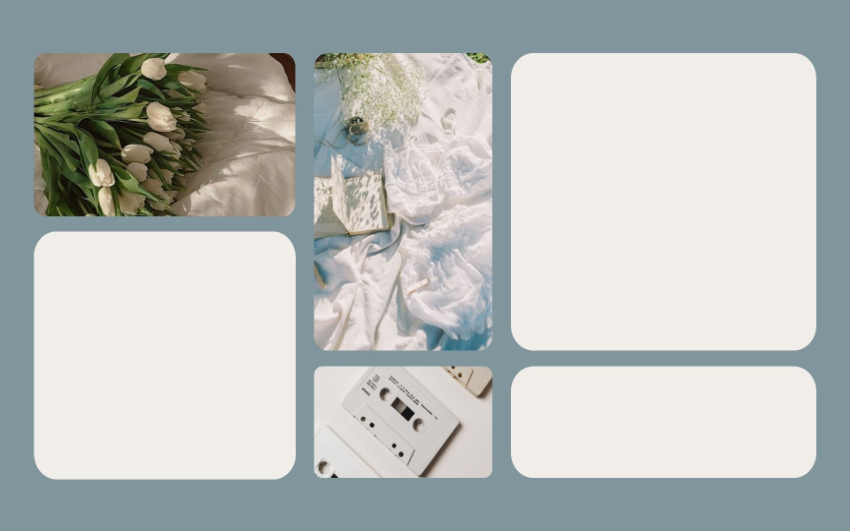 Keep it simple and clutter-free in this desktop wallpaper organizer in the baby blue palette with fully custom sections. You can play around with the sections and organize them as you please, as there are no hard-defined sectional headings. This is ideal for the creative person who likes an organized mess while also being aesthetic.
13. Clean Lines Wallpaper Organizer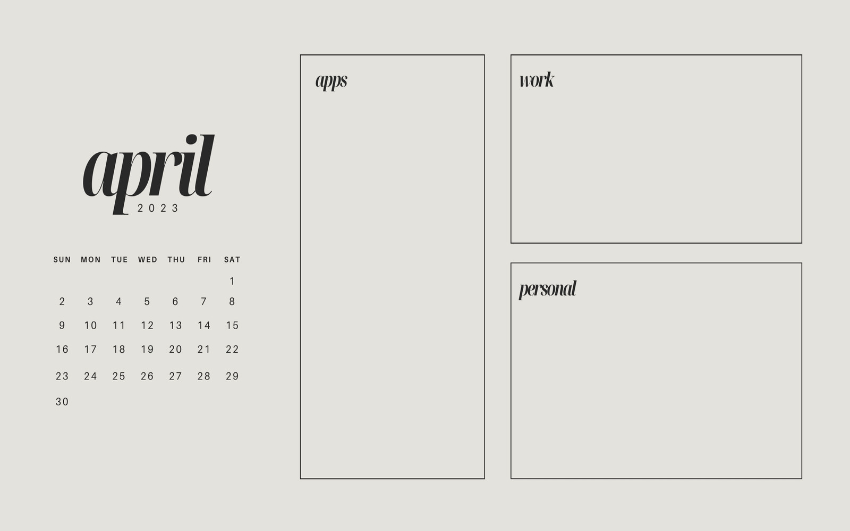 The clean lines and gentle palette of this wallpaper organizer are both functional and productive at the same time. It has sections for current and ongoing projects, miscellaneous files, and important files. There is plenty of space for keeping all your files organized and looking neat while also ensuring that the entire workspace is not busy. This is ideal for anyone who likes clean lines and simple designs.
14. Blush Pink Aesthetic Wallpaper Organizer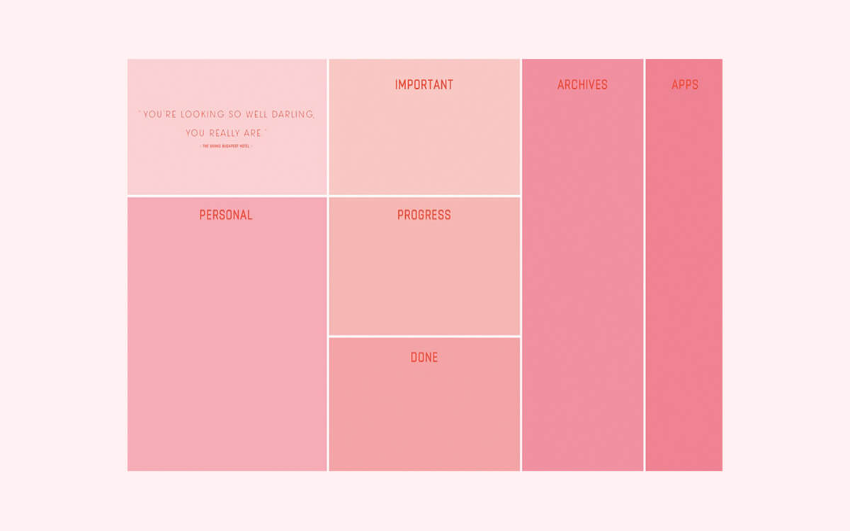 The clean lines and solid color of this wallpaper organizer are super handy for keeping your desktop organized and clutter-free. With multiple sections for keeping all your files organized, this even has a section for archives and apps, and also know your progress at a glance. The color palette is modern and aesthetic, and the gentle ombre effect keeps it interesting without cluttering it.
15. Minimal and Efficient Desktop Wallpaper Organizer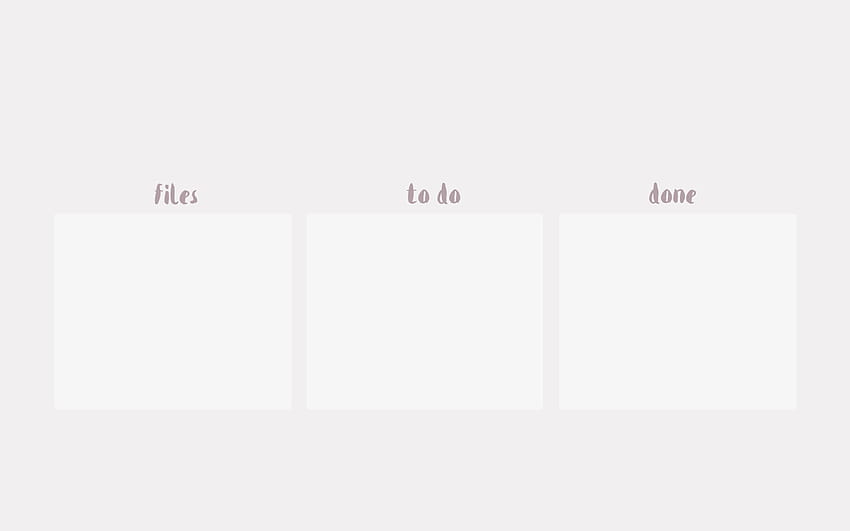 This clean wallpaper design comes in a neutral palette with a clear, focused goal on the desktop organization. All your files can be organized into neat sectionals on files, to-do, and make lists, which can help you track your work progress while also keeping your morale high with the 'done' list. This wallpaper is ideal for someone who likes clean lines and minimal fuss.
Frequently Asked Questions
How to Set up a Desktop Wallpaper on Your Mac?
You can easily set up any of these wallpapers as your desktop organizers in these simple steps.
Click on the Apple menu & System Preferences
Click on the Desktop and Screen Saver option
Choose the picture from your saved folder or click on the + sign to add your wallpaper of choice and set it as your background.
How to Set Up a Desktop Wallpaper on Your Windows Computer?
Click on Start Menu > Settings > Personalisation
Click on Background and choose the image you need to set
Final Thoughts
Keeping our desktops organized and clutter-free is one of the first steps to becoming organized with your work life. It makes life easier when you know what you need to get through to ensure nothing is missed. You can do without an organizer too, but the digital clutter tends to add on and sneak into a zillion files, which can really overwhelm you if you sit down to organize them.
And what's more, it can take you ages to organize and waste your precious time.
Aesthetic desktop wallpaper organizers keep your desktop organized and neat while also looking pleasing and chic. Some things tend to spark joy, and having a neatly organized desktop with clear to-do lists and reminders, and deadlines is a joy that can keep giving. We hope you have enjoyed our neat little organization hacks to keep your desktop organized and help you declutter your digital clutter.
So which of these wallpapers did you like the most? Share your thoughts with us!