A disorganized kitchen is no less than a nightmare! Just imagine a kitchen with all sorts of clutter to randomly placed small appliances; it can be a real challenge. Are you also struggling with something similar?
Fortunately, it is now possible to make your kitchen clean, tidy, and mess-free most easily by using the pantry organization. A properly organized pantry not just saves time but also makes the kitchen accessible. Moreover, it elevates the look, feel, and vibe of your kitchen to the next level.
Pantry organization doesn't mean simply storing bulk goods in dark holes, but it can be classy and stylish. Explore some of the most inspiring and simple pantry organization ideas to turn your kitchen into a storage dream.
Effective Pantry Organization Ideas for Your Kitchen
1. Ziplock Bags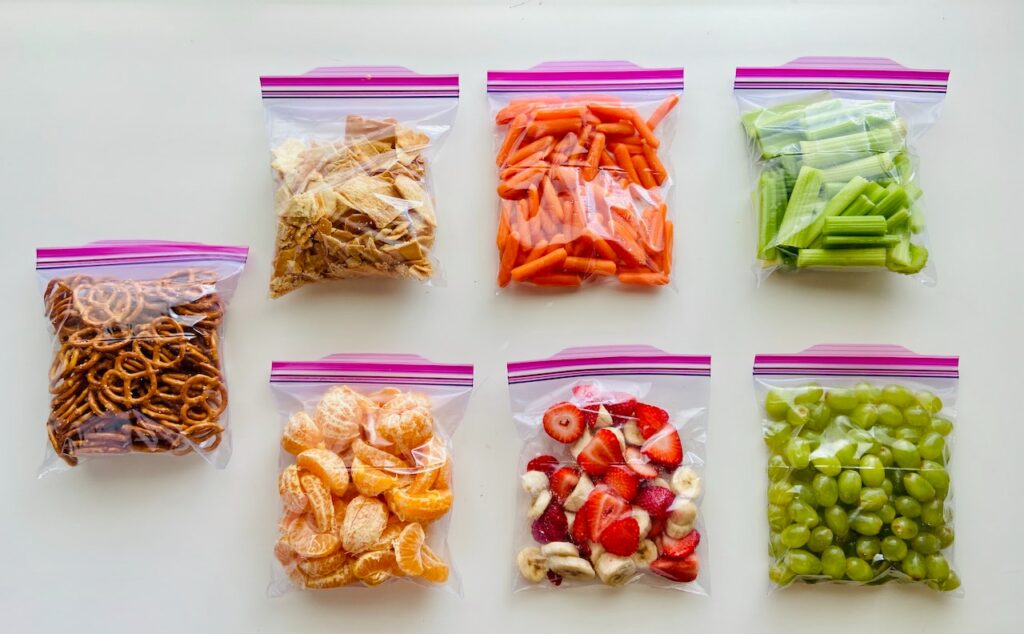 Ziplock bags are one of the most popular, common, and cost-effective pantry organization methods. They can be used for both wet and dry ingredients as they ensure moisture-free storage. Moreover, these ziplock bags can be used to store kitchen essentials, household stuff, and pantry items.
Additionally, as these zip lock bags are available in different sizes, they can be easily stored in the available space. You can store every individual pantry item in a separate ziplock bag without any worries. However, you should be careful while sealing the ziplock bags to keep the pantry items safe and fresh for the maximum time possible.
2. Wicker Baskets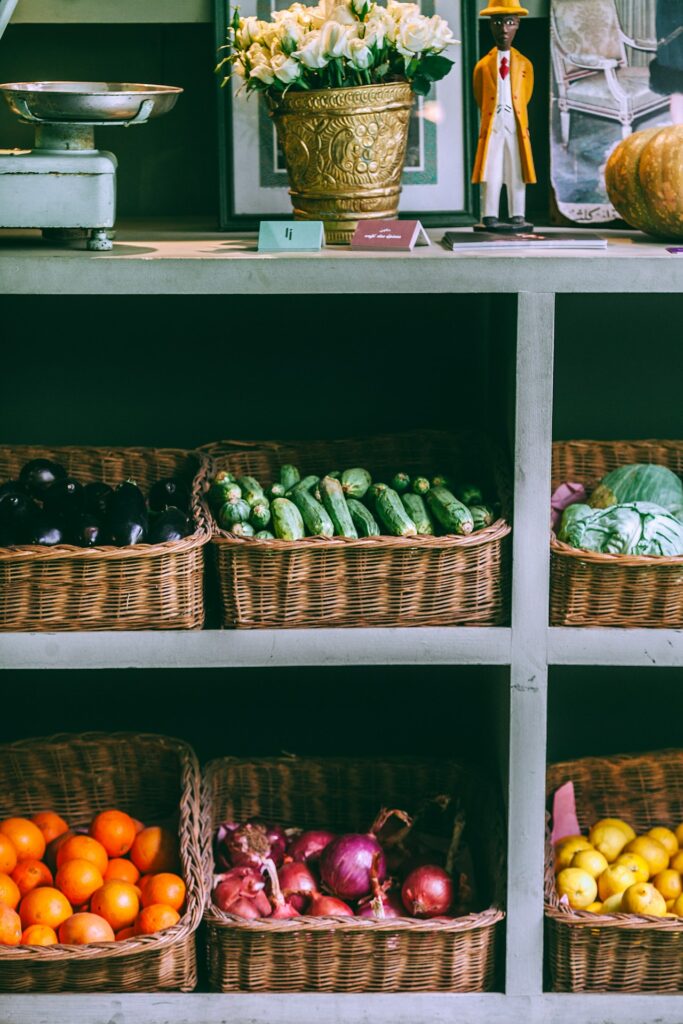 If you want to try a pantry organization idea that is authentic, optimizes saves, and enhances aesthetics, wicker baskets should be your choice. These baskets are made with synthetic fibers, bamboo stems, etc., and can hold the weight of fruits and vegetables without any hassles.
You can choose the wicker baskets in any shape and size according to your liking, preference, and space availability. These are generally considered ideal for storing dry kitchen ingredients and pantry items.
Quick Tip: You can place these baskets anywhere in your kitchen to get more free space in the kitchen cabinets for storing other essential items.
3. Drawers with Labeled Bins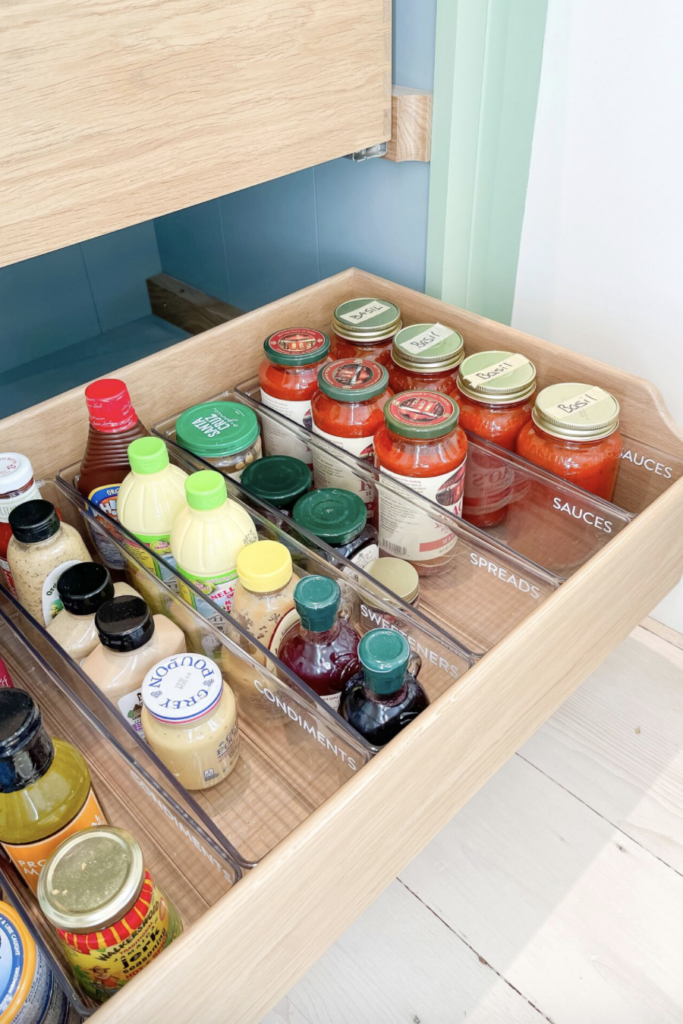 For all those who want to stick to the basic pantry organization ideas, nothing can be better than organizing pantry items in a drawer. It is one of the most popular and well-known ways common in almost every household.
For quick access to the stored pantry items in the drawers, you can label the storage bins. You can easily make separate drawer sections for individual pantry items to avoid unwanted mess and crowd.
Suggestion: you should frequently organize and clean the drawer to avoid messing up your pantry items. Moreover, you should plan to store the pantry items in the drawer to save time.
4. Plastic Containers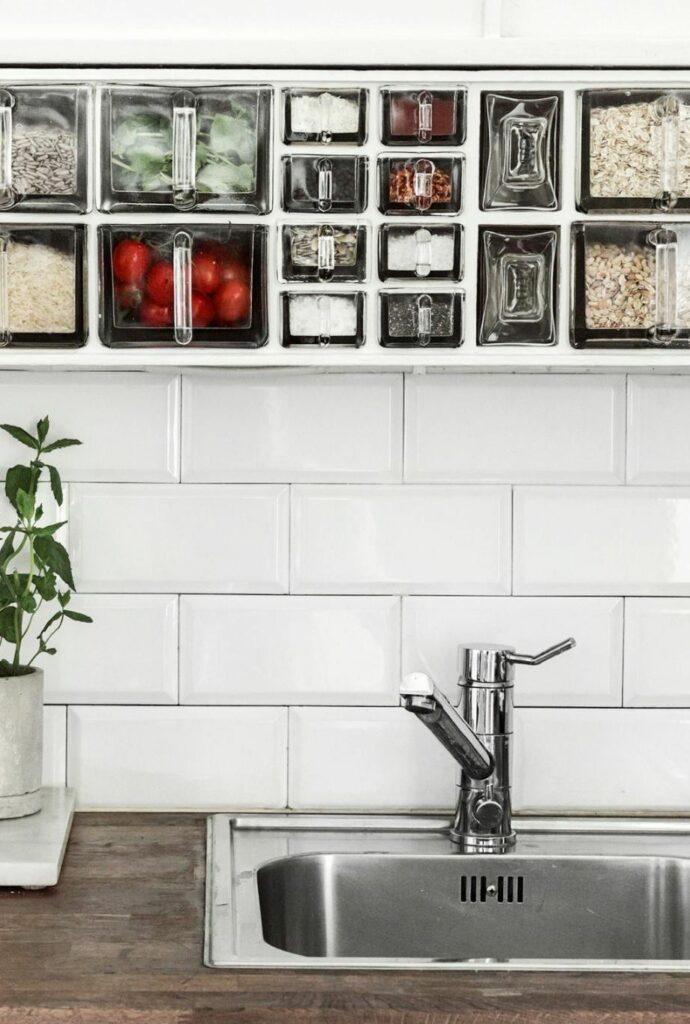 Who hasn't used plastic containers for storing the pantry in the kitchen? Well, everyone surely has.
Plastic containers are quite common to store different pantry items in the kitchen cabinets without any worries. Use different plastic containers for storing different items and then stack them up in the available space.
Plastic containers come with an added advantage; they easily occupy every bit of the available space. Thus, you can be sure to optimize your kitchen storage space without any waste. Besides using the available plastic containers, in different sizes and shapes, you can also customize them for easy storage and access.
5. Pull-Out Cabinet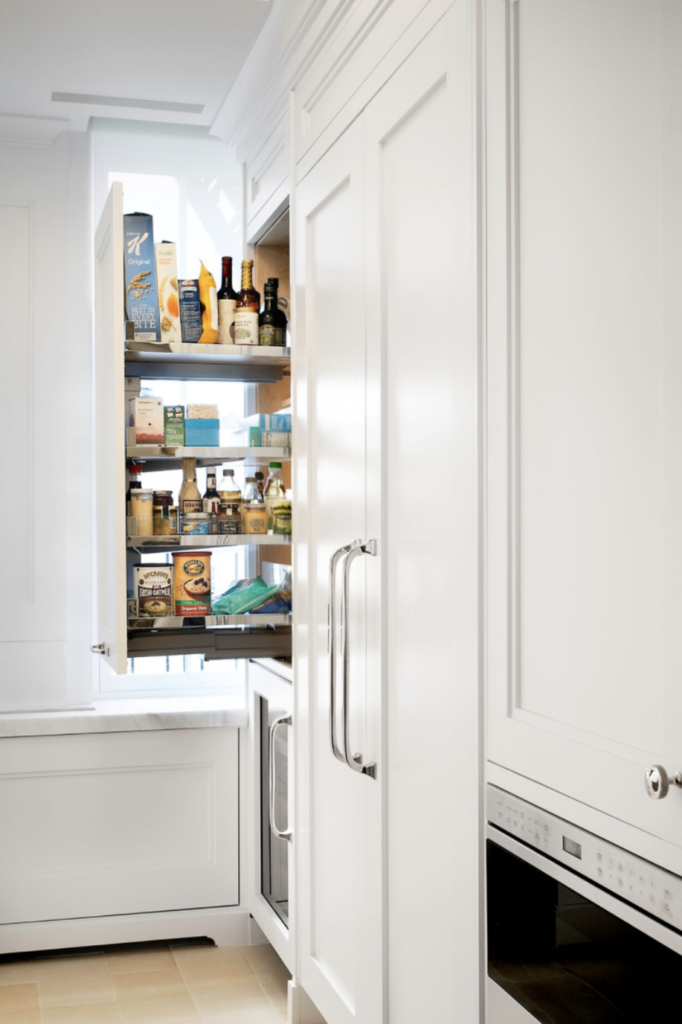 There is a brilliance in pull-out cabinets that is hard to miss and resist. In recent times, pull-out cabinets have become one of the trends in pantry organization for different pots, pans, ingredients, etc. Apart from saving maximum space, these cabinets are best known for impressing everyone around with their classy appearance.
The pull-out cabinets are the ideal choice for kitchen ingredients that are often buried at the back of the dark cabinets. Such pull-out cabinets offer easy access to such ingredients and items without any hassles. You get the luxury of looking for the desired essentiality from both sides of the pull-out cabinet.
6. Kitchen Rack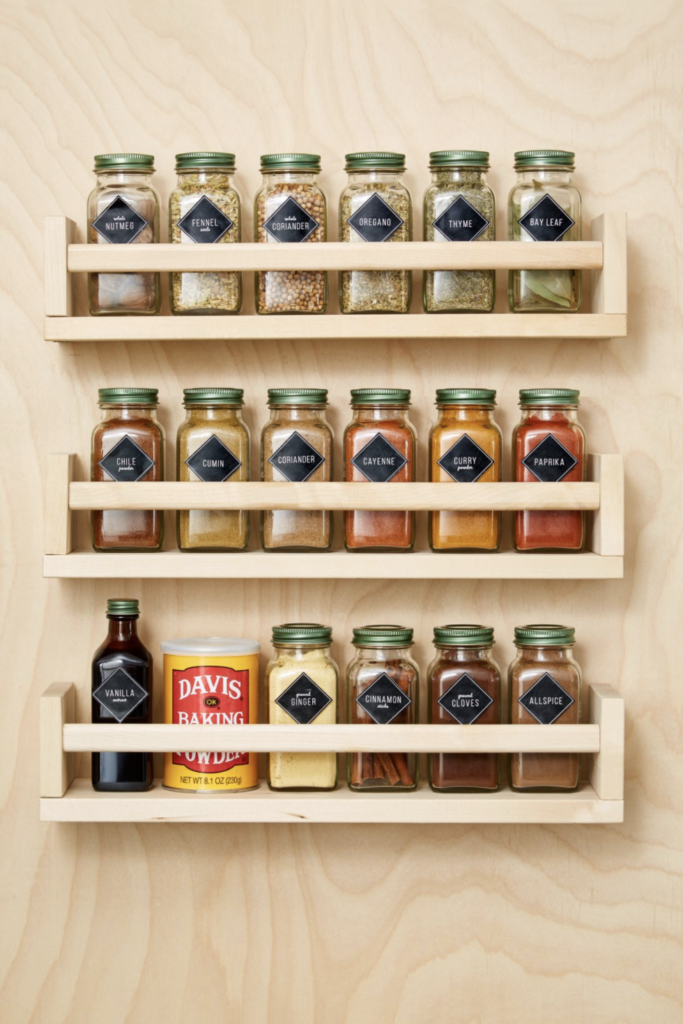 If you want to keep the cabinet storage for large storage items, you can choose the kitchen rack option. These racks can be assembled as and where needed, thereby keeping the maximum kitchen space free for other use. Additionally, if you want to overlook the confusion between similar pantry items, you can take advantage of this vertical storage.
According to the available space, you can either hang the rack on the kitchen wall or place them inside the kitchen cabinets. As every pantry item is placed upright, you get clear, quick, and hassle-free access to everything.
7. Vertical Cabinet Dividers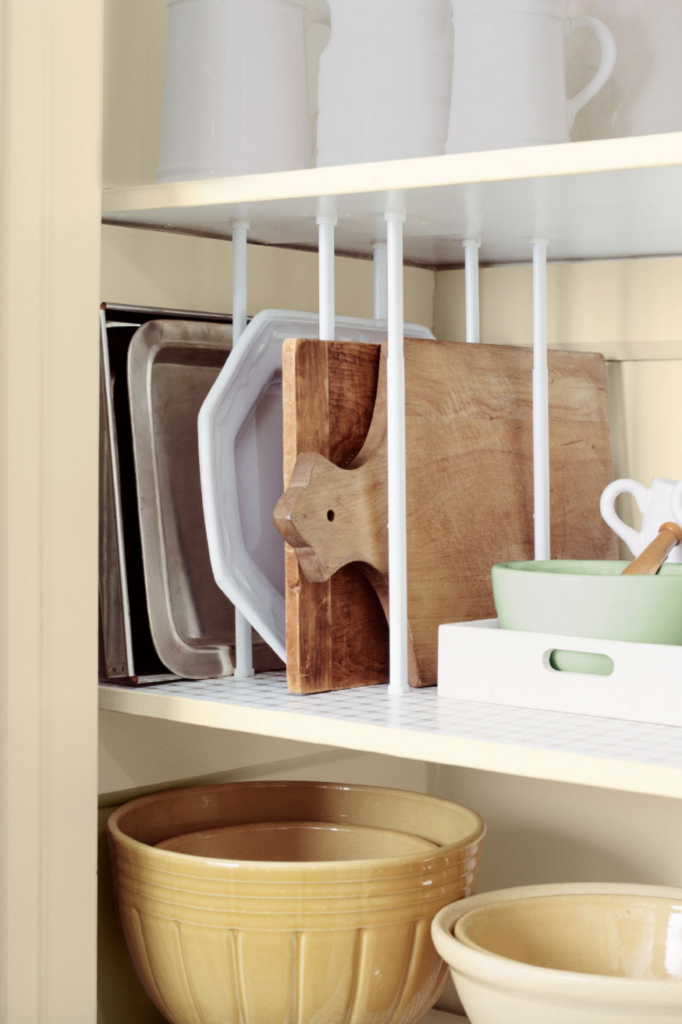 One of the easiest ideas for pantry organization is to use vertical cabinet dividers. These dividers are very handy and useful as they can easily be placed as and where needed. Moreover, you can also customize the space between the dividers depending on the quantity and type of the storage item.
You can use these dividers to segregate the cutting boards, pans, baking sheets, and other utensils without creating a mess. If you want to keep the pantry organization subtle and cost-effective, these dividers will make the best choice. Besides offering easy storage, they are also super quick and convenient to clean and maintain.
8. Pot Rack
It can be a real challenge to store all the kitchen pots individually without creating chaos with overlapping. However, the pot rack makes it pretty convenient to overcome this challenge and enjoy seamless storage of kitchen pots in a single place. Upgrade the vibe of your kitchen by using a metal rack to easily hang the required pots, pans, and other essentialities.
One of the major advantages of using a pot rack is that it frees up the maximum storage space in your kitchen drawers and cabinets. Moreover, you get quick access to all the important cooking appliances. What more can you ask for?
9. Glass Cabinet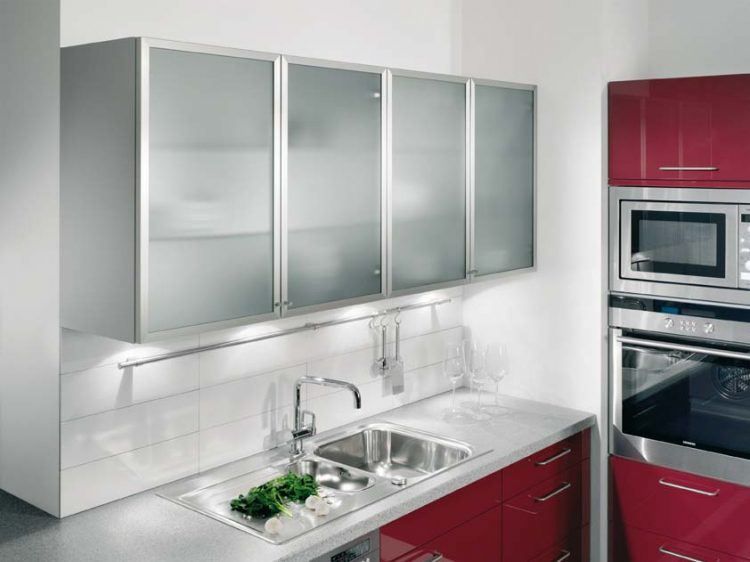 Along with using glass jars and containers in your kitchen, you can also use the glass cabinet for pantry organization. Believe it or not, glass cabinets make one of the most attractive storage cabinets in the kitchen. They do not just help in organizing the kitchen properly but also enhance its overall look with their classy design.
Another advantage of using a glass cabinet is that you can easily see through the stored items and essentialities. As a result, it helps in avoiding any mess in the kitchen while preserving your time and effort. Kitchen storage that adds as a decoration, glass cabinets are surely a must-have for pantry organization.
10. Rolling Cart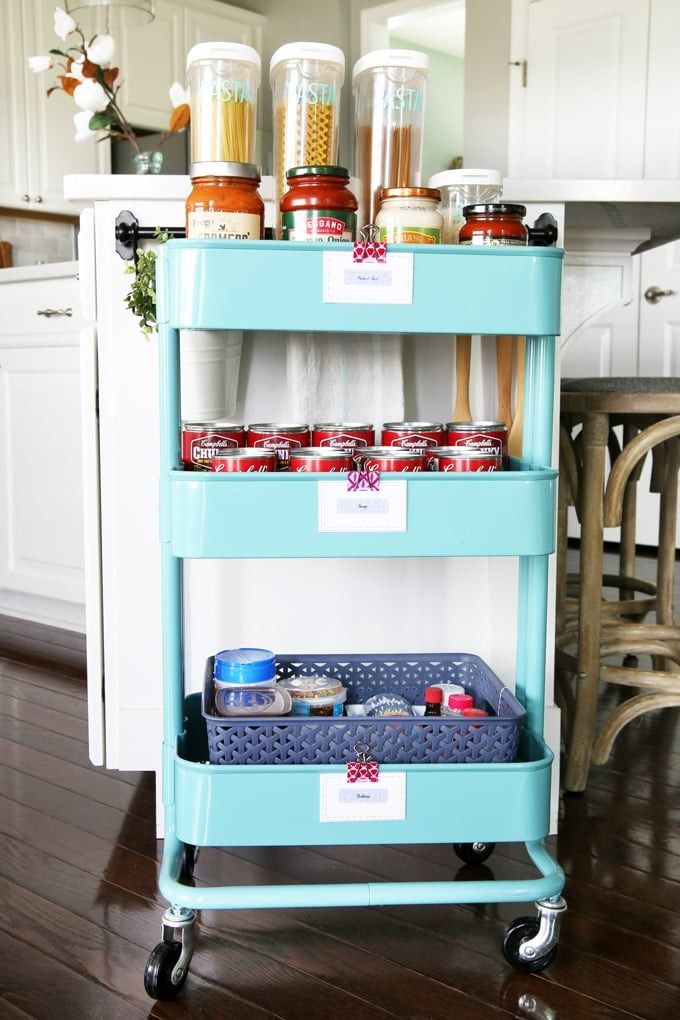 Using a rolling cart is a great choice for kitchens that have limited or small storage space. The rolling cart can easily be wheeled anywhere needed and then tucked inside after use. As a result, they are an effective space saver when you are running short of storage space.
Quick Tip: the rolling cart also makes a great attraction as additional storage for house parties and get-togethers. It extends the maximum convenience to the guest to reach and grab the item they need. Moreover, as it is lightweight and cost-effective, it won't demand much of your effort or affect your monthly budget.
11. Pegboard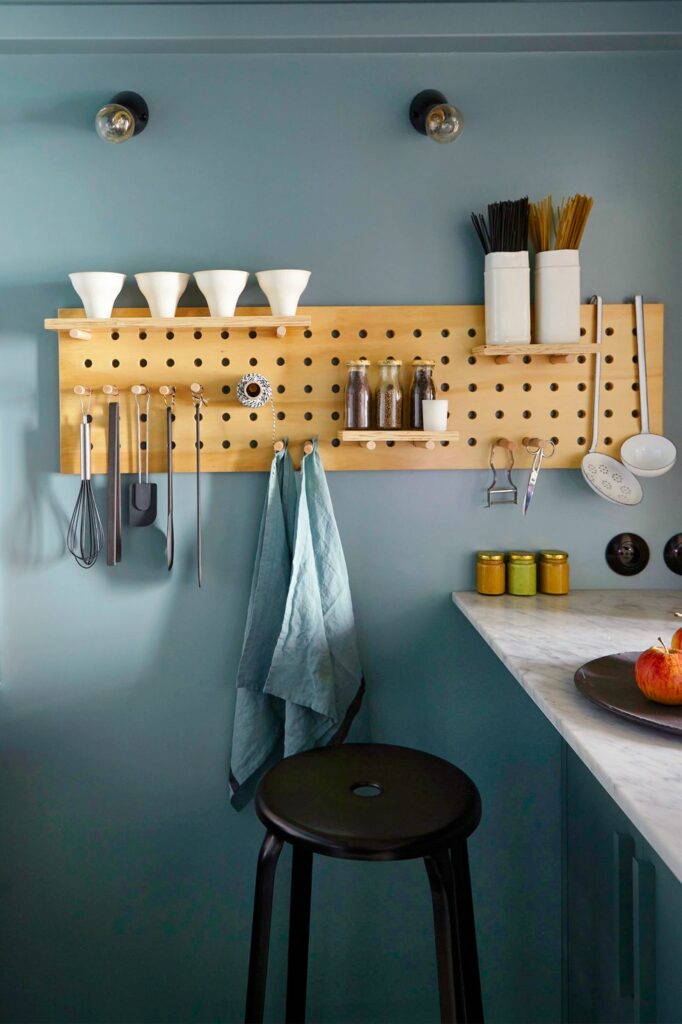 Are you still storing all your heavy pots, pans, and kitchen utensils on top of one another? Do you want to know a simpler way of storing and organizing these kitchen essentials? Just install a pegboard on your kitchen wall, and you are sorted.
Pegboard is one great pantry organization idea allowing heavy appliances and items on display. Moreover, you get the ease to grab them as and when needed without messing up the other items in the kitchen. You can also customize the pegboard with some shelves and hooks to create additional space for storing other kitchen items without any hassles.
12. Traditional Pre-Labeled Jars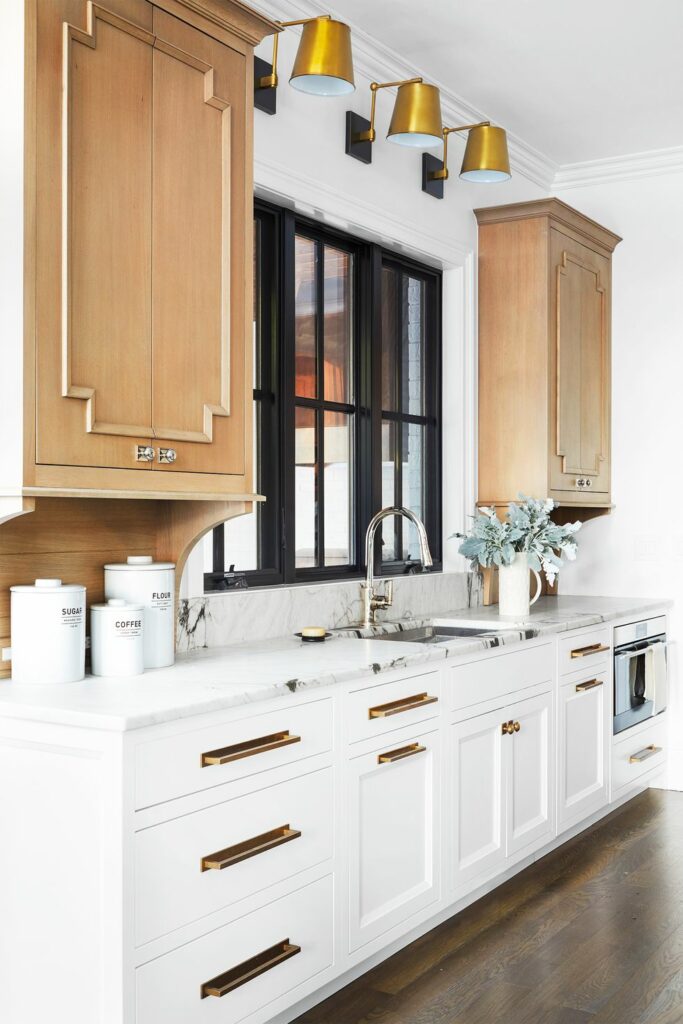 What can look more elegant and smart than using the traditional pre-labeled jars in your kitchen? These jars are one of the smartest ways of organizing the kitchen without overcrowding the available space. You don't need any extra jars, containers, or pots, as you can simply organize the kitchen items in the pre-labeled jars. Choose the right shape and size of the pre-labeled jars, and you are all sorted to organize your kitchen items.
However, it can sometimes be difficult to find the pre-labeled jars that go with your kitchen decor. Thus, it is suggested to choose neutral or white pre-labeled jars that match their vibes with everything and anything.
13. Double Cabinets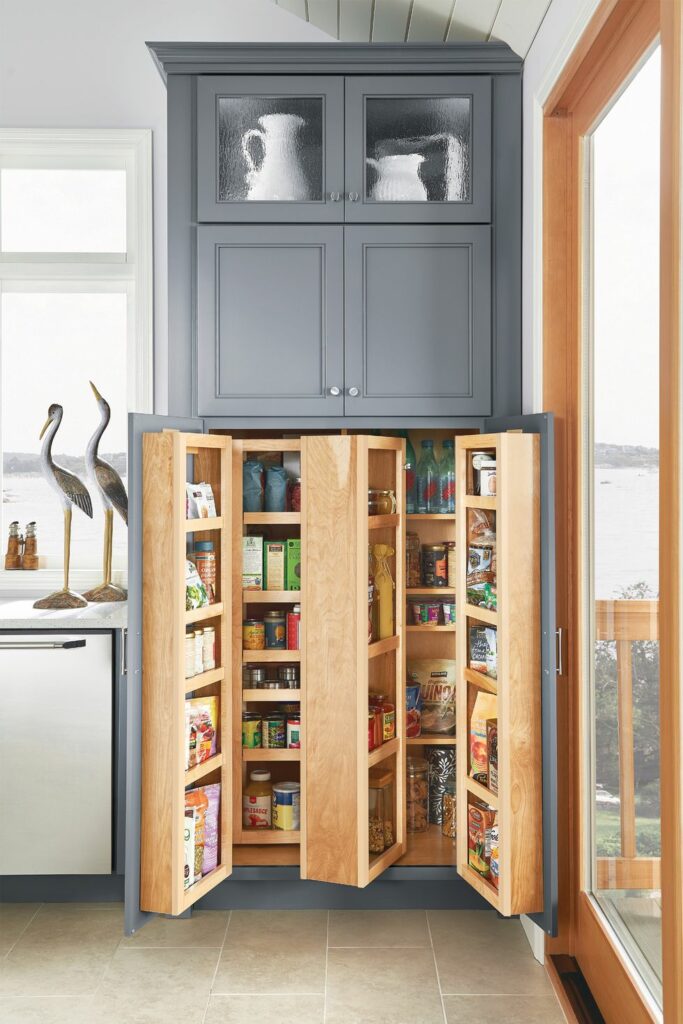 If you have a lot of kitchen essentials to store in a limited space, double cabinet space is something that you should definitely try. According to interior experts, double cabinet spaces are an excellent and genius choice for modern kitchen decor. The ample storage space in these double cabinets makes pantry organization super convenient.
These double cabinets are also a great blessing for small kitchen items that otherwise get lost in storage. You can easily categorize the items and the available space in the double cabinets to organize everything at the right desired place to avoid confusion.
14. Varying Containers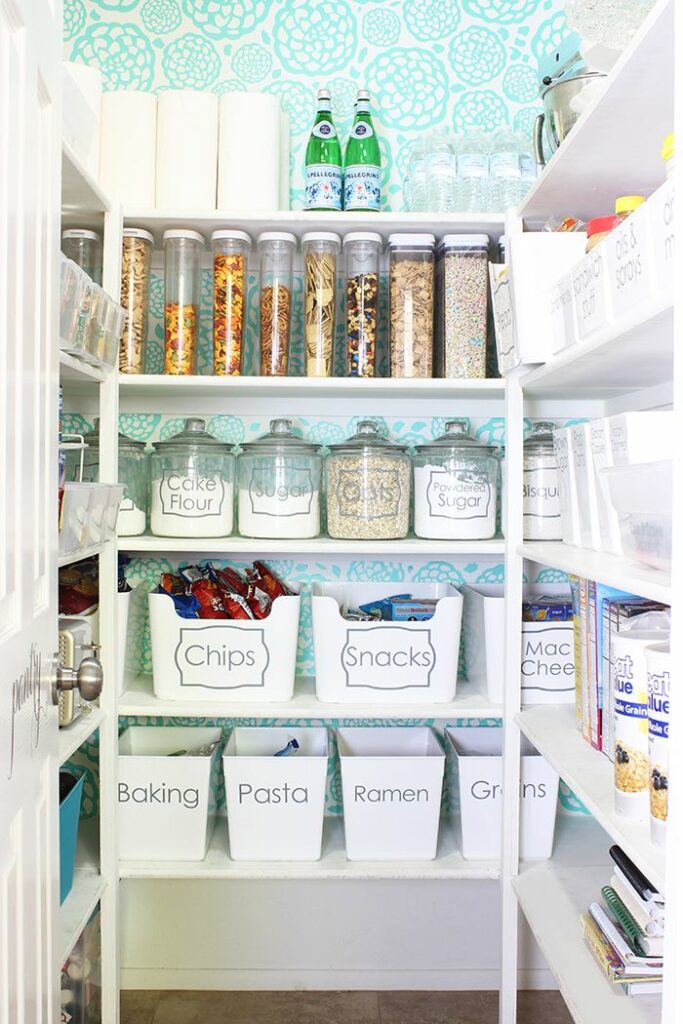 If you don't want to get into any hassles of organizing your kitchen with anything extra, simply use varying containers for storage. The varying containers in different shapes and sizes make organizing your space super simple and convenient. Moreover, as it is a one-time investment, it is also cost-effective to invest in such varying kitchen containers.
Instead of transferring the ingredients directly into the containers, you can put the entire package of the item in these varying containers. As a result, you can collectively store large quantities of kitchen essentials items and ingredients to have a clear and tidy kitchen arrangement.
15. Hanging Clips in Pantry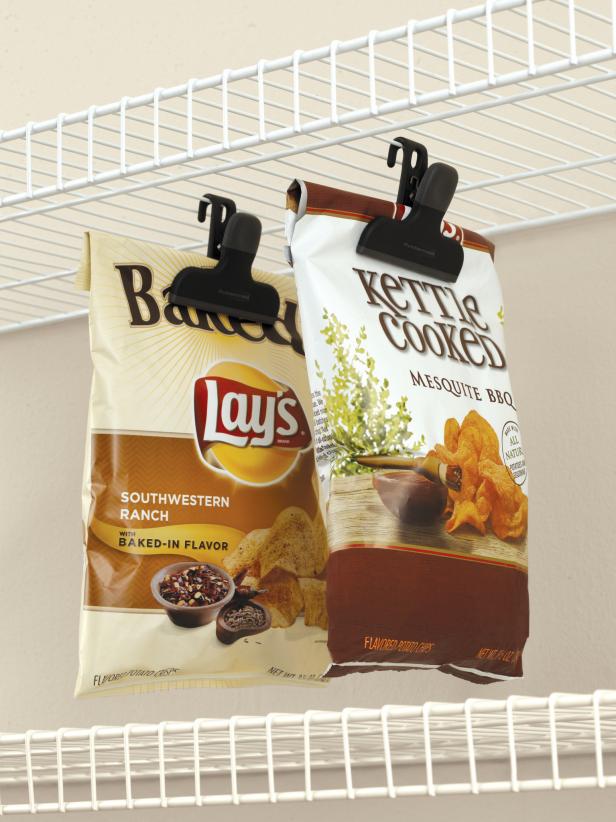 Lastly, if you are always bothered about storing half-eaten chips or cookie packets, then these hanging clips are the best solution. Thanks to these hanging clips, you can easily store or hang the half-eaten packets that might otherwise be stale on your kitchen shelf.
Additionally, with these hanging clips, your snacks will stay fresh and tasty for the maximum time. Moreover, it won't consume much of your kitchen space and obviously will not get crushed. You can use as many hanging clips as you want; however, it is suggested to avoid crowding and messing up the pantry organization.
Final Thoughts
Pantry organization is an art and should be done with the best efforts to get the desired expected result. You can save the maximum of your time with the careful planning and organization of the pantry. A well-organized pantry also enhances the experience of preparing a meal for your loved ones, friends, and family.
You can use any of these above-mentioned pantry organization-inspiring ideas to transform your messy kitchen into a settled storage space. If you still have doubts about effectively organizing your kitchen pantry, you can write to us in the comment section.
Also, let us know your secrets of pantry organization in the comments.
Frequently Asked Questions
Should You Have a Kid-Friendly Section in Your pantry organization?
Having a separate kid-friendly section as a part of your pantry organization is a great way to avoid any unwanted mess. Your kids can easily reach the kid-friendly section to grab their favorite snack without messing up the other kitchen arrangements.
How to Organize Your Pantry Within Limited Space?
Pantry organization within a limited space can be an issue. If not done right, it can further crowd the space and create a mess within no time. Thus, you can try – under-sink storage, behind-door cabinets, wall spaces, etc., to organize your pantry.
What Should Be the Order for The Pantry Organization?
Pantry organization should start from the middle shelf as it often clutters easily. Once you have sorted the middle shelf, you can then move to the bottom shelf and finally organize the top storage shelf. So, the correct order is moving from the middle, bottom to the top shelves.