Color choice plays a crucial role while designing a home exterior as it complements the overall aesthetic to make a lasting impression. Although neutral and earthy tones have long been in trend, there is a growing trend toward vibrant, outlandish colors that push the limits of design. One such alluring trend is the choice of black for modern houses' exteriors, which are also known as modern black houses!
Black houses have a refined, elegant, and contemporary feel to it. This dark color against the neighborhood or surrounding landscape creates a striking contrast that draws attention and makes a dramatic statement.
It ignores traditional thinking and adopts an innovative approach to architectural design.
What Makes the Black Such a Good Choice for a Home Exterior?
Black is a classic and versatile color that easily creates intense elements in any architectural design. Here are a few more reasons why black is a preferable choice:
Architecture: Black can bring attention to a home's specific lines, angles, and textures, highlighting its architectural elements. It gives the overall design more depth and dimension.
Visual Appeal: Black houses grab attention and have a striking aesthetic presence. The significant difference between the surrounding landscapes and structures produces dramatic and attention-grabbing effects.
Energy Efficiency: Black exteriors are good for colder climates because they can absorb and hold onto heat, which helps to increase energy efficiency.
Timeless Elegance: Black is a classic color that radiates elegance and sophistication. It can enhance the traditional charm of an old house or offer timeless beauty to modern architecture.
Low Maintenance: Because black conceals dirt and stains better than lighter colors requires less maintenance. Additionally, it keeps its sleek appearance over time and tends to fade less.
Modern Exterior Ideas for Black Houses
1. Rustic Twist with Black Exterior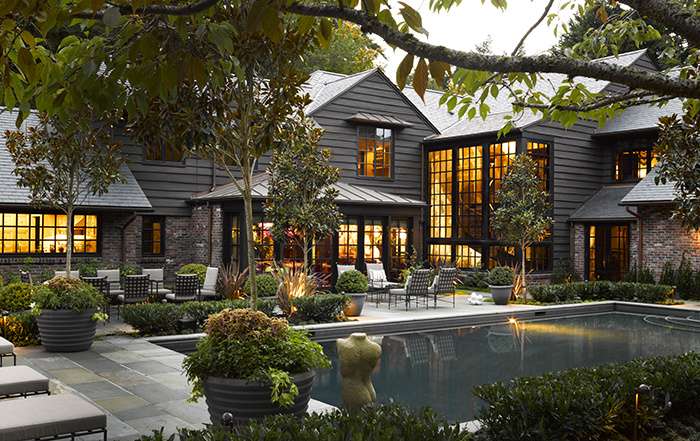 Rustic-inspired black houses produce a harmonious, appealing and visually captivating balance by fusing nature's beauty with the sleekness of black exteriors. Adding elements like cedar shingles, wood sidings, and stone Accenture can help give a rustic feel to the black exterior. All these elements give the facade more depth, texture and improve overall appeal.
These rustic black houses will stand out and leave a lasting impression, whether they are located in lush greenery or mountain landscapes!
2. Black Siding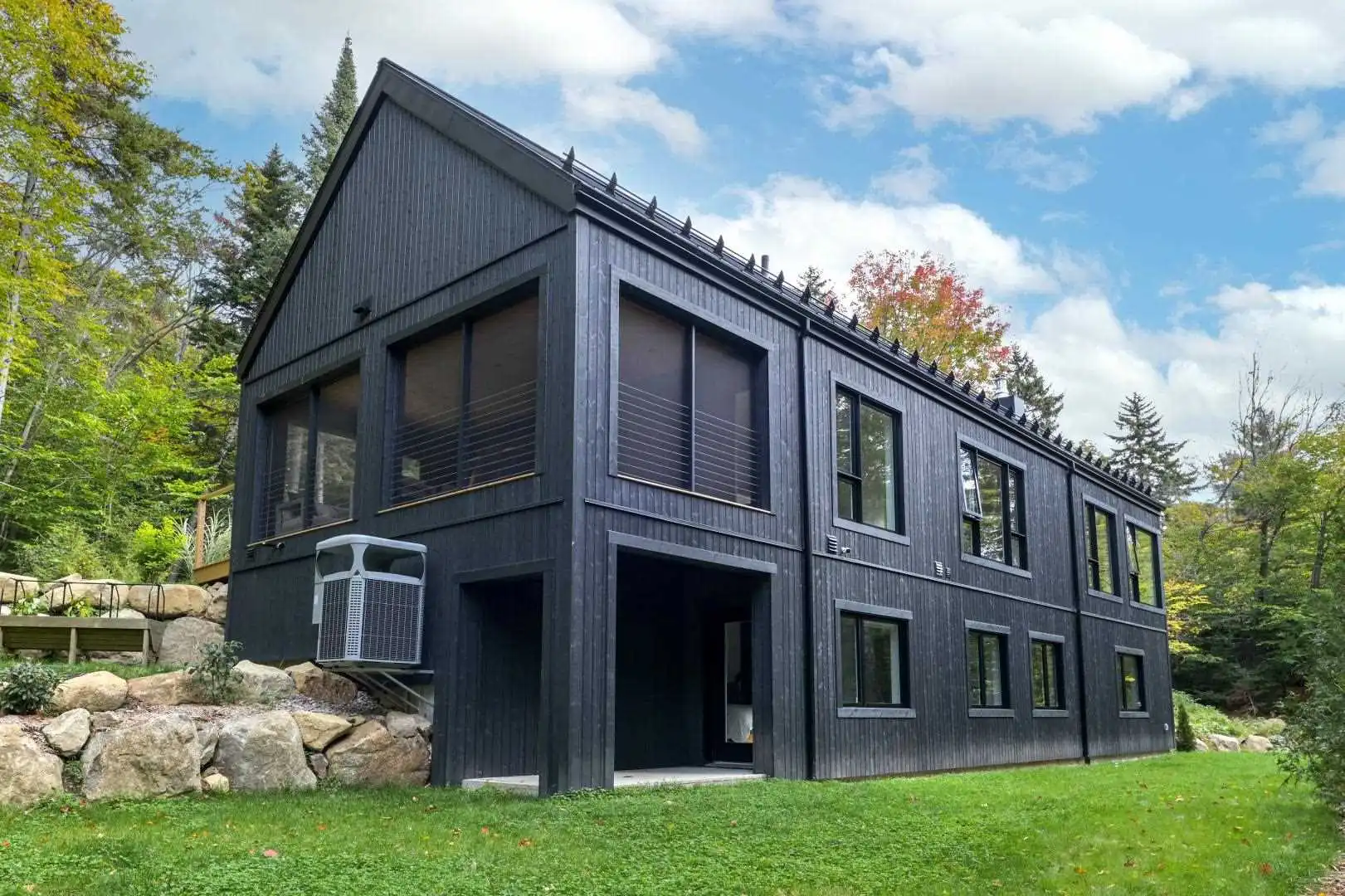 It has become a popular choice for those who love to make a bold statement with their home's exterior. Its sleek and modern look obviously adds modernity and sophistication to any architectural design. Its striking contrast against surrounding elements creates a visual appeal to make them all stand out. Also, it comes with many practical benefits, such as absorbing heat, making it perfect for cooler climates, as it enhances energy efficiency by absorbing warmth.
Black siding should be used with consideration when selecting the balance of the overall design. The home's architecture is further enhanced by the spectacular play of light and shadow created by the black siding combined with the large windows and ample natural light.
Black siding is a statement-making choice that adds depth and visual intrigue to the overall aesthetic, whether it is utilized on a contemporary-style home or to give a sense of drama to traditional design.
3. Modern Brick Black Houses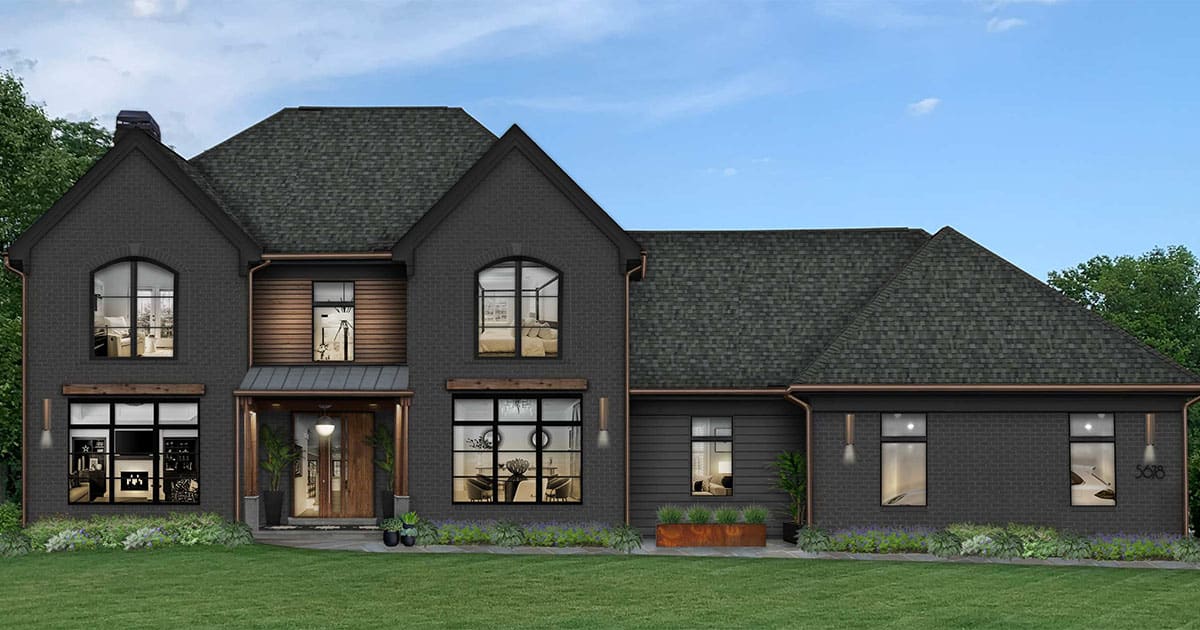 Brick is a well-known and durable building material that produces an elegant combination of tradition and contemporary when combined with a black exterior. The boldness of black contrasted with the rich texture of brick results in an impressive exterior that oozes elegance and charm.
Brick and black exteriors can be combined in a variety of ways. Some houses have an entirely black exterior with brick accents, using black as a background to highlight the intricate beauty of the brickwork. Other designs include exposed brick in some places and a partially black exterior to give them a distinctive and modern appearance.
Also, it is essential to choose the brick type and color. Darker brick colors, like deep reds or charcoals, are very effective with black exteriors because they enhance visual contrast and design depth. Herringbone or stacked bond brick patternsare two examples of brick patterns that can offer visual interest and architectural appeal. Moreover, clean lines, little plants, and modern outdoor seating are all possible landscaping options to go with the contemporary brick-black exterior.
4. Asymmetrical Exterior
Asymmetrical exteriors produce a compelling and contemporary appearance that challenges conventional ideas of symmetry and balance when paired with a black color palette.
Black houses that are asymmetrical incorporate unusual forms, angles, and shapes. The exterior can include bulging volumes, offset windows, or changing rooflines, which together create an eye-catching and dynamic visual composition. Due to the lack of strict symmetry, architects are given more flexibility to express their creativity, resulting in unique homes.
The exterior's asymmetry is further highlighted by the use of black as the dominating color. Unconventional design components can also stand out against black's strong and dramatic backdrop. These houses are architectural marvels that leave an enduring impression because of their striking black exteriors and alluring asymmetry.
5. Retro-Inspired Black Houses Exterior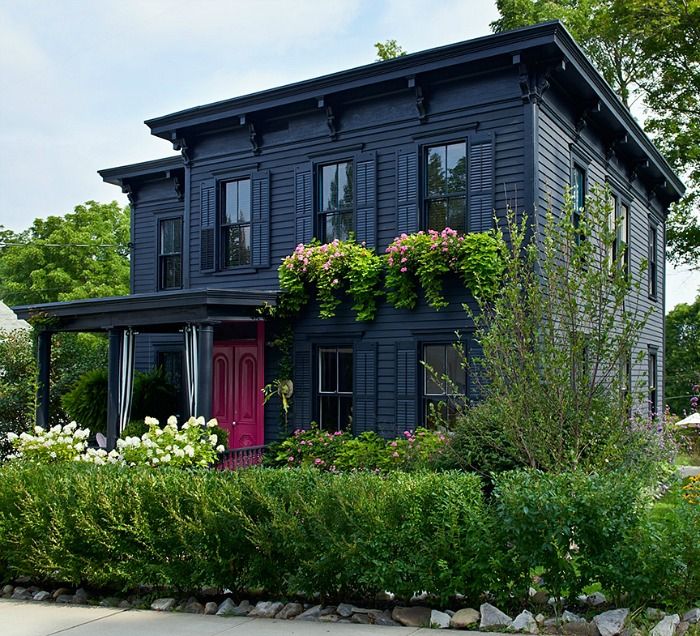 Black houses with a retro aesthetic pay respect to the past while adopting contemporary design aspects. These houses have a distinctive and alluring exterior aesthetic because they capture the spirit of a bygone age and add contemporary flair to it.
Using popular architectural features from different eras might help you create a retro-inspired black house exterior. These homes have a nostalgic feel while still having a modern edge, as it has a sleek black façade with vintage lettering, a neon-lit entryway, or lively color accents.
Additionally, you can incorporate vintage-inspired plants, vintage outdoor furniture, and other components that represent the preferred era. The outside design also effortlessly merges with the surroundings, creating a seamless and immersive experience.
6. Farmhouse Style Black Houses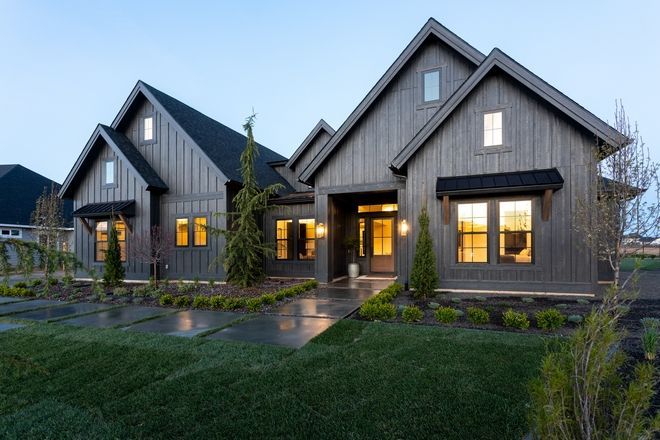 Black farmhouse-style homes provide the traditional charm of rural life with a contemporary twist. These houses have a striking and modern appearance that is both warm and fashionable by combining the rustic characteristics of farmhouse design with the boldness of black exteriors.
This style is usually characterized by its practicality, simplicity, and connection to the natural environment. But when it's paired with the black exterior, it gives the traditional farmhouse design a sense of sophistication and modernity.
The dark color contrasts with the natural elements, such as the stone features, metal accents, and wood beams, giving the house a distinctive and alluring aspect. While yet maintaining the coziness and hospitality that are characteristics of farmhouse architecture, this minimalist approach to design conveys a feeling of elegance and refinement.
7. Rural Style Exterior of Black Houses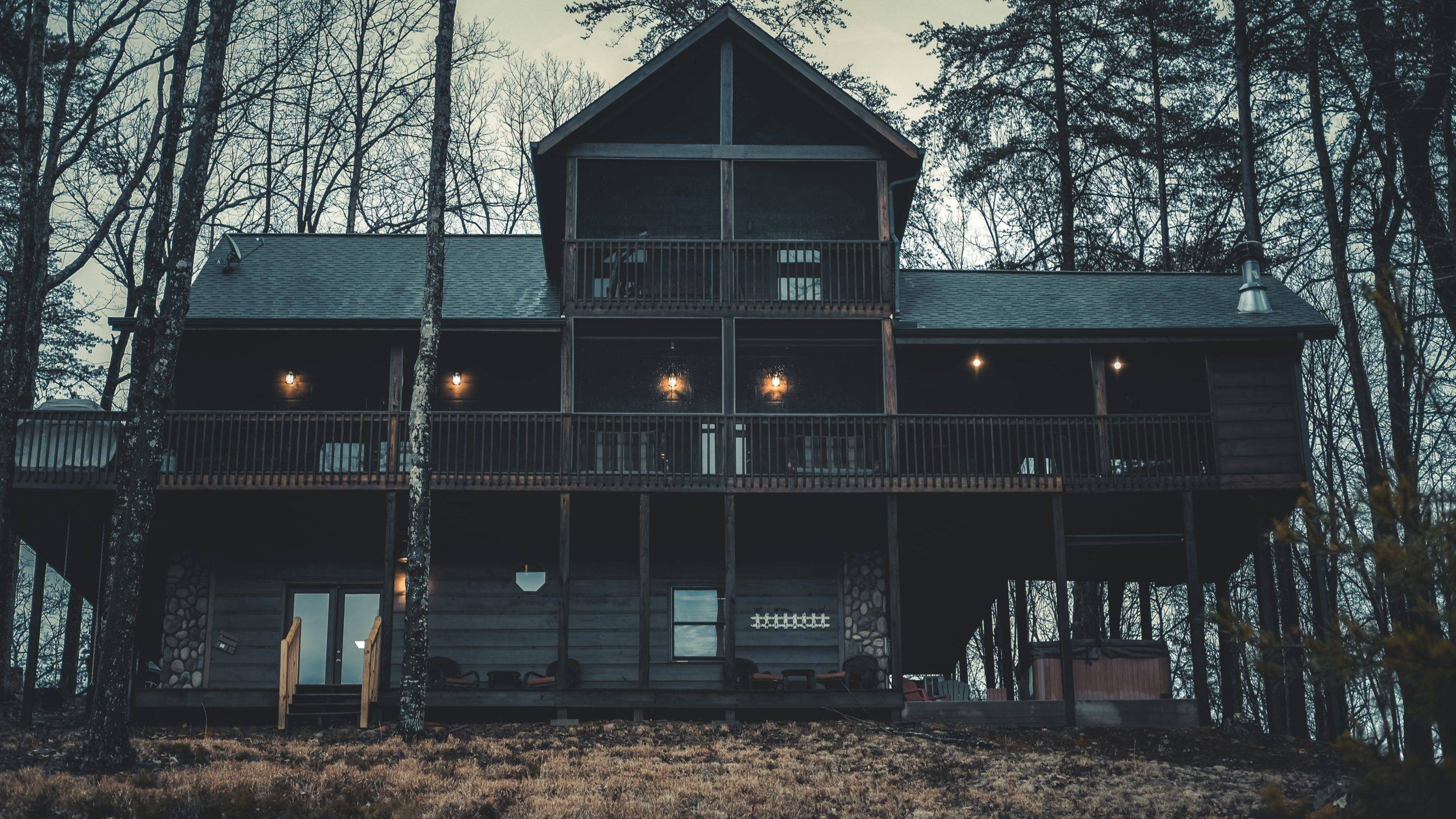 Rural-style black houses in architectural design embrace and elevate the beauty of rural living. The exteriors of these houses perfectly combine with nature to create a quiet and welcoming exterior that reflects rustic charm and tranquility.
The use of natural materials and a connection to nature is the characterization of the rural style. It creates a compelling contrast with the black exterior that brings out the beauty of the surroundings.
Also, the use of environmentally friendly and sustainable materials promotes harmony and improves our connection to the environment. Native plants, meandering walkways, and water features can all be used in landscaping to enhance rural design. These components improve the aesthetic appeal overall and produce a peaceful, welcoming ambiance, which is the style of rural living.
8. Modern Two Story Black Houses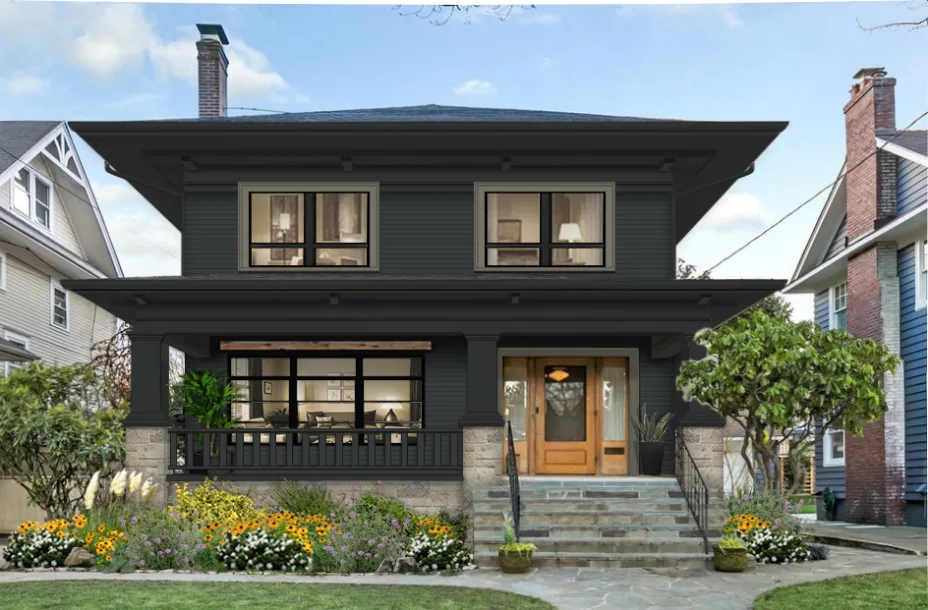 Modern two-story black homes radiate elegance and beauty with their streamlined designs and stunning color schemes. These houses stand out and attract attention with their verticality and modern design.
The large living space that a two-story design offer is one of its benefits. This vertical layout creates a practical and effective floor design by clearly separating both private and public sections. These homes become architectural icons that capture the essence of modern life thanks to their verticality, sleek lines, and contemporary style.
Modern two-story black house designs can be complemented with landscape options like minimalist gardens, modern patios, and structural elements that blend in with the overall appearance.
9. Backyard Minimalism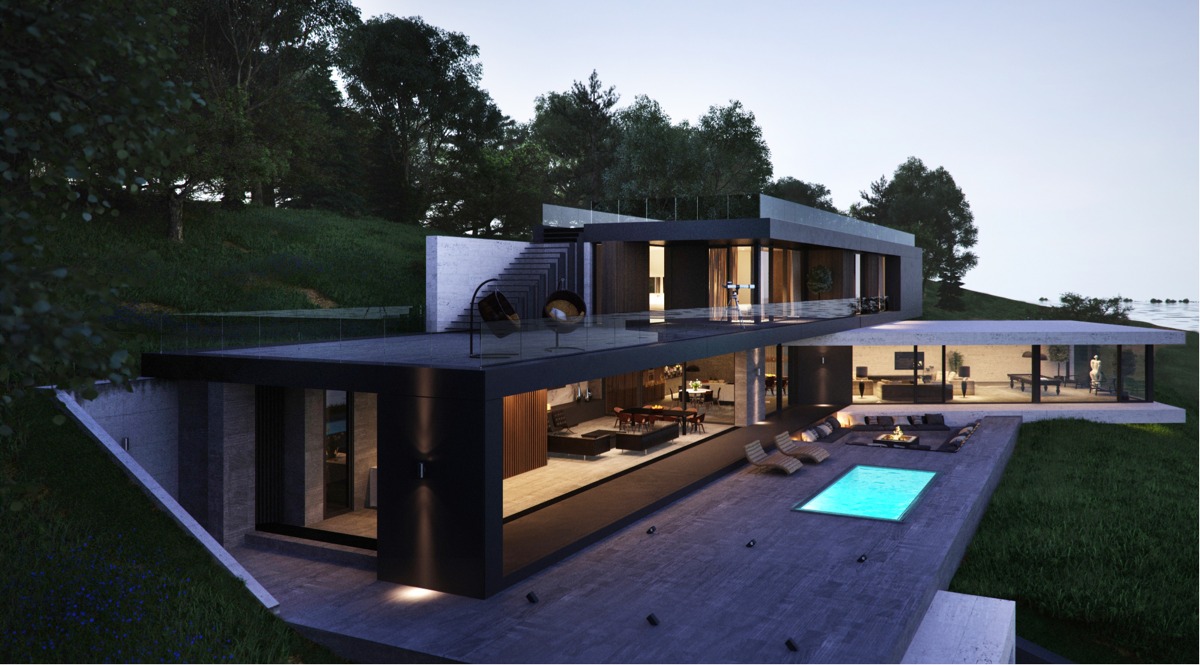 Backyard minimalism is a design concept that values clarity, simplicity, and uncluttered outside spaces. It produces an aesthetically appealing and cohesive look that oozes contemporary elegance when matched with a black house exterior.
The creation of an atmosphere of tranquility and openness is a key component of backyard minimalism. Design helps the natural beauty of a space shine through by reducing unnecessary details and emphasizing key ones.
Simple geometric shapes, neat and tidy lawns, and thoughtfully chosen plants can all be used as landscaping elements in minimalist backyard designs. Natural elements, such as stone or wood, lend warmth and texture to a space, resulting in a harmonious and welcoming feel. Outdoor furniture with simple lines and minimalistic design further enhances the sense of simplicity and elegance.
10. Deep Tones to Highlight the Exterior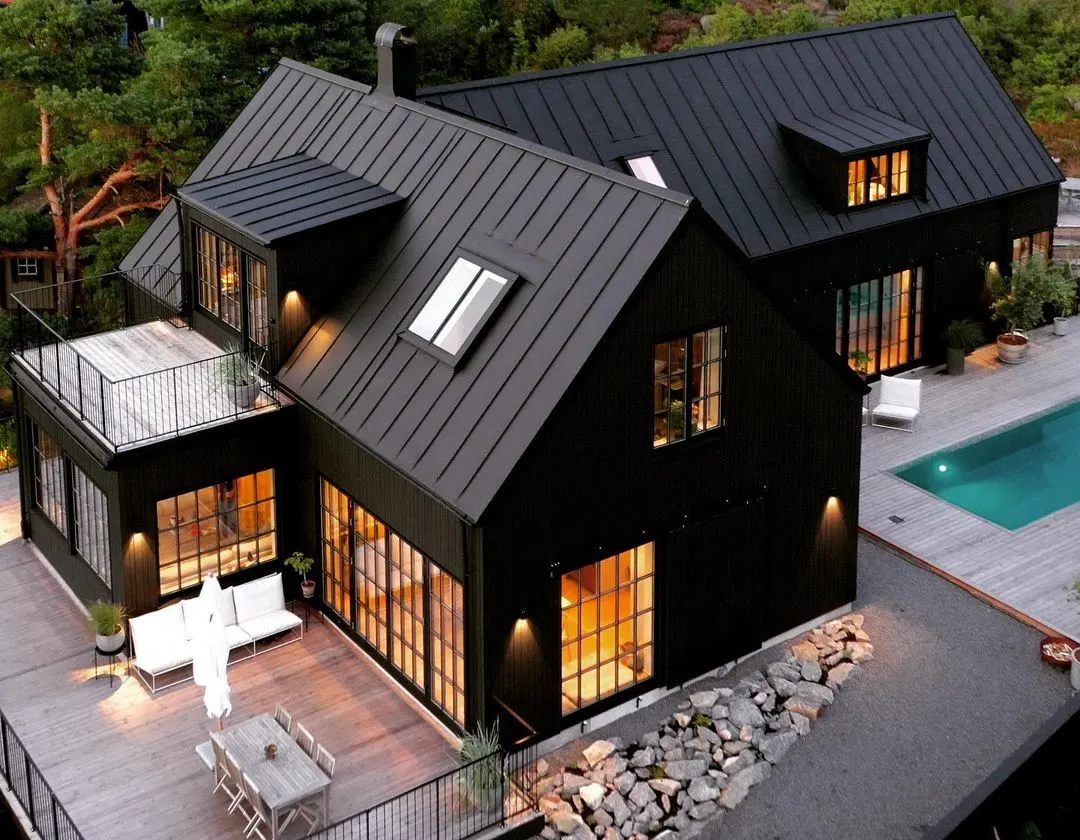 The use of deep tones in the exterior design of a black house gives the look more depth and richness. Homeowners can build an impactful and visually appealing exterior by combining complimenting colors with high pigmentation or choosing darker tones of black.
It enhances the home's architectural details while adding a sense of passion and sophistication. They produce a striking visual contrast with a black exterior, highlighting distinctive design aspects like textures, forms, and materials.
Deep tones can be used in external design using a variety of strategies, including material selection, paint colors, or accents. Warm and welcoming lighting fixtures can also be used to improve the atmosphere overall and emphasize outside elements. By adding these deep tones, you can create a striking appearance for the entire home exterior to make it stand out with its allure in the neighborhood.
11. High Elevation for Elegance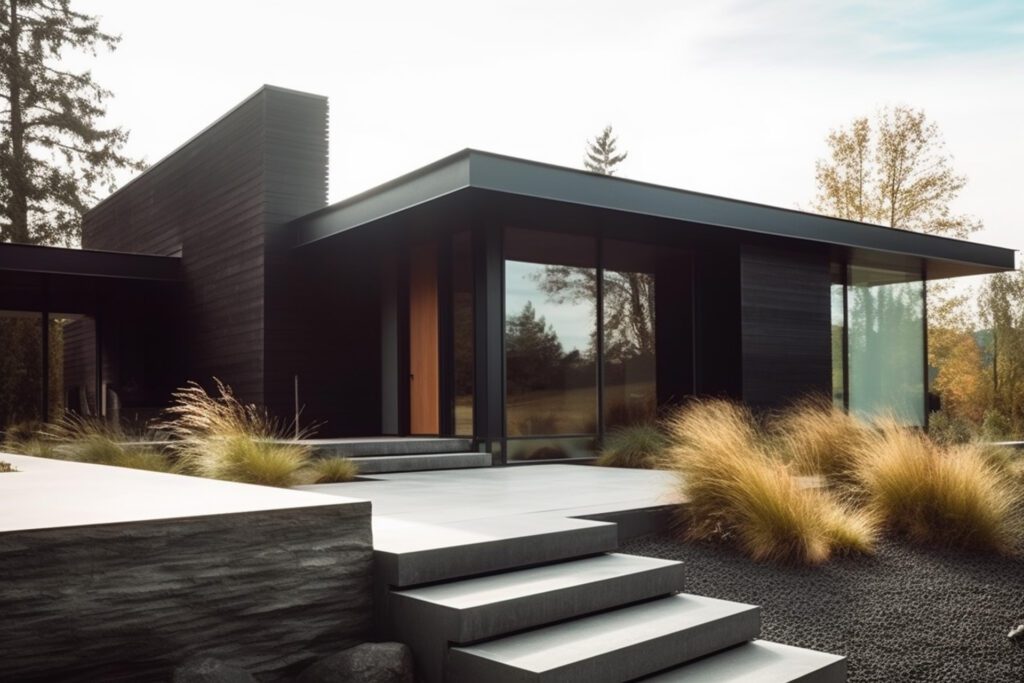 Black houses with high elevations have a vibe of elegance and grace surrounding them. These homes produce a sense of significance and refinement that is extremely alluring by including multi-level structures, architectural features, and raised platforms. This highlighted elevation improves aesthetic appeal and offers useful benefits, including better views of the surroundings, enhanced privacy, and better ventilation.
The elevated design creates a stunning contrast when coupled with a black exterior, highlighting special architectural features. Its vertical layout provides visual fascination and establishes a strong presence.
Well-maintained gardens, winding pathways, and water features that draw attention upward are a few examples of landscaping options. All these are used to compliment the high elevation of the house's surrounds, to make it connected in a unified and visually pleasing way.
12. Ranch Style Gateway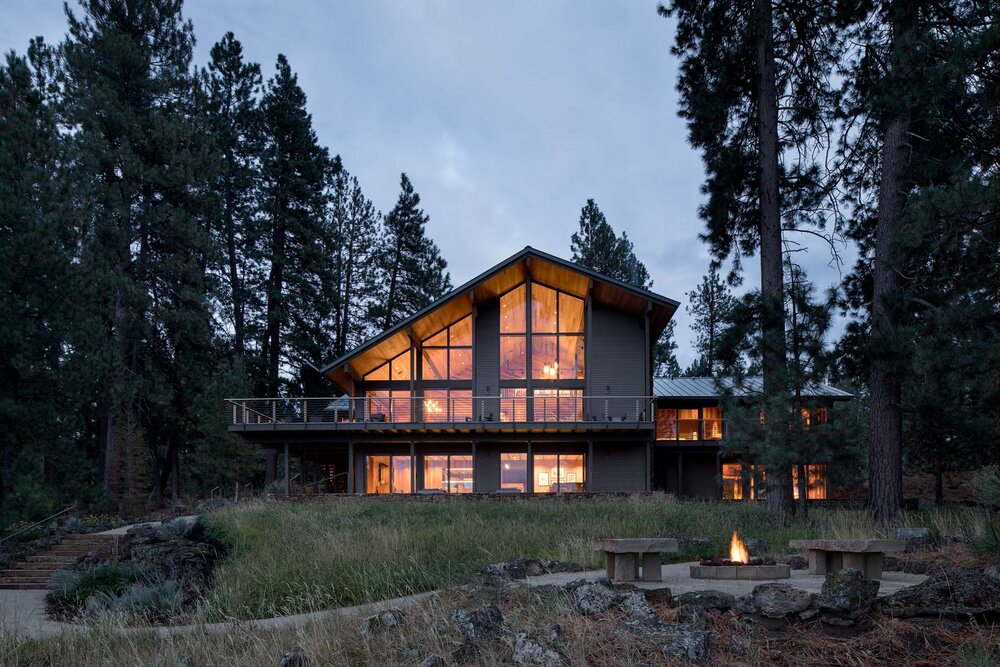 Ranch-style black homes, which are influenced by the natural beauty of the American West, offer a special combination of simplicity and charm. These houses have a single-story design, a low-pitched roof, wide eaves, and a spacious layout that encourages a relaxed and comfortable style of life.
The horizontal orientation, simplicity of design, and connection to the natural surroundings are traits of ranch-style architecture. These elements create an eye-catching and contemporary aspect that differentiates it from typical ranch-style homes when matched with a black exterior. They build aesthetically appealing and welcoming houses by fusing modern style, comfort, and simplicity.
13. Wooden Style Black Houses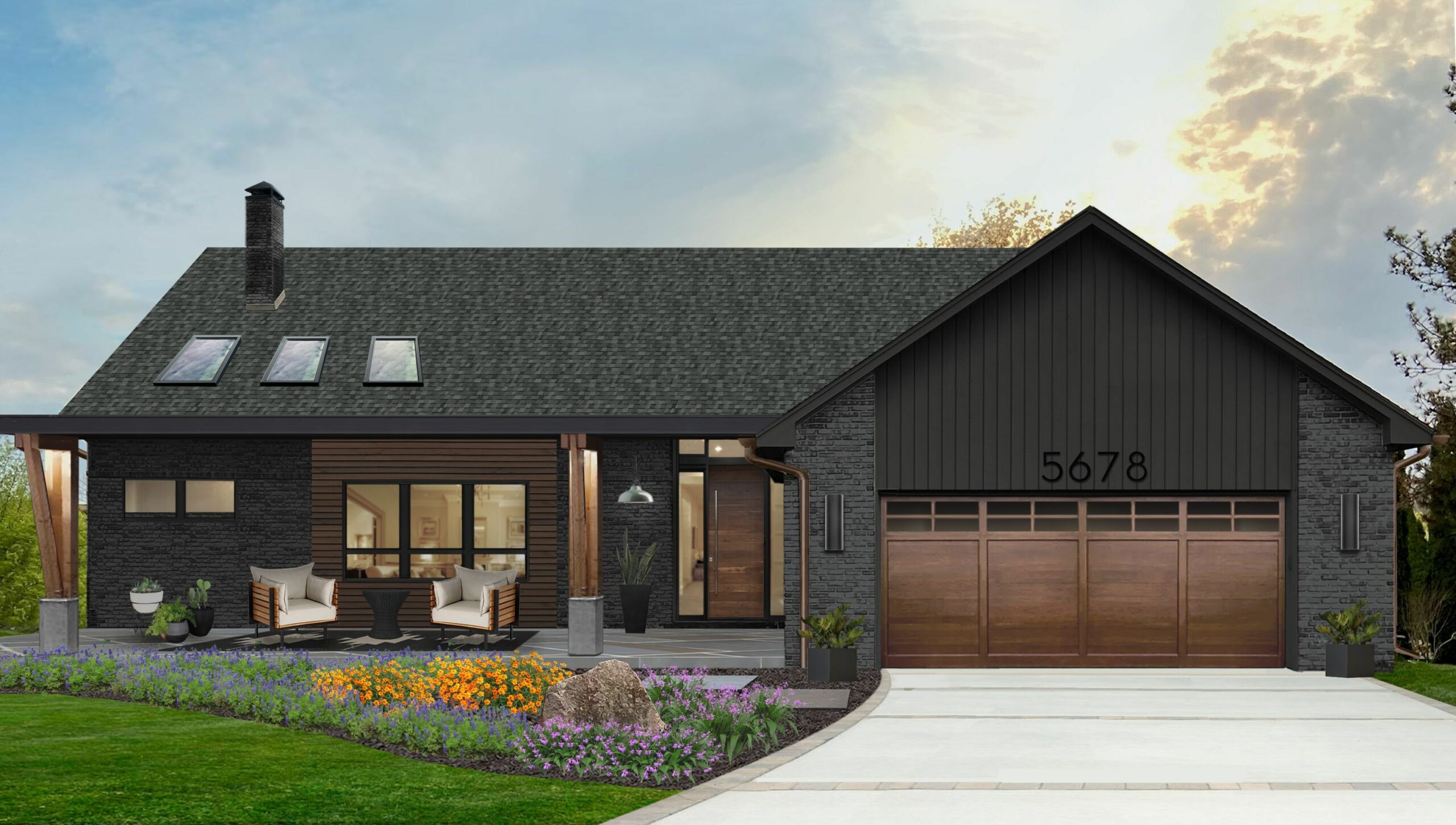 Black houses in the wooden style combine the boldness of black exterior with the coziness and natural beauty of wood. This design adds texture, depth, and character to the black houses with its architectural elements.
The use of cedar siding, exposed wooden beams, or elaborate wooden decorations all add richness and warmth that balance of the dark appearance. Natural variations in wood texture and color create this unique and inviting style.
Black and wood together also produce a striking contrast that highlights the house's architectural elements. In comparison, the black color acts as a backdrop to make the wood shine with its natural beauty to become a focal point.
14. Sylvan Style Rock Homes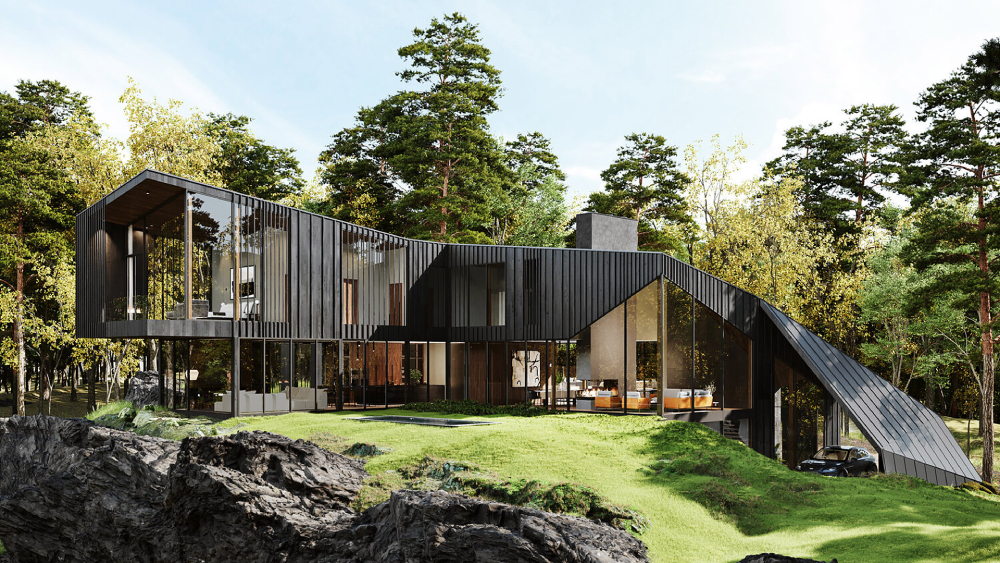 Black homes in the sylvan style embrace the beauty of the outdoors by including natural rock components in their external architecture. In this architectural style, natural rock provides texture, depth, and a sense of organic beauty to external designs. Stone walls, rock facades, and accents all have a striking visual impact and give buildings a unique, distinctive appearance.
Native plants, rich greenery, and unaltered rock formations can all be used in landscaping to highlight the sylvan aesthetic. These homes transform into tranquil retreats that enable homeowners to appreciate the beauty of the surroundings thanks to their distinctive textures, compelling contrasts, and seamless connectivity to the outdoors.
15. Cottage Style Black Houses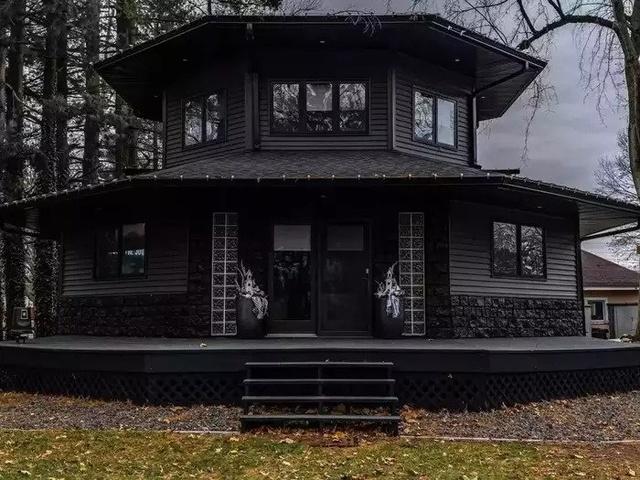 Black cottage-style homes have a charming, homely, and timeless quality. These houses mix traditional architecture with a sleek black exterior to create a distinctive and alluring appearance that combines the charm of a cottage with a modern twist.
The charm, simplicity, and connection to nature are known to characterize cottage-style structures. It creates a striking and contemporary look of a classic style when matched with a black exterior. Even the use of natural accents like wood or stone reinforces the cottage aesthetic by adding warmth and character to the outside.
Landscape options that go well with the cottage style include vibrant flower gardens, meandering walkways, and inviting outdoor seating spots. These components give the house a fun and welcoming ambiance that enhances its curb appeal.
16. Meadow Black Houses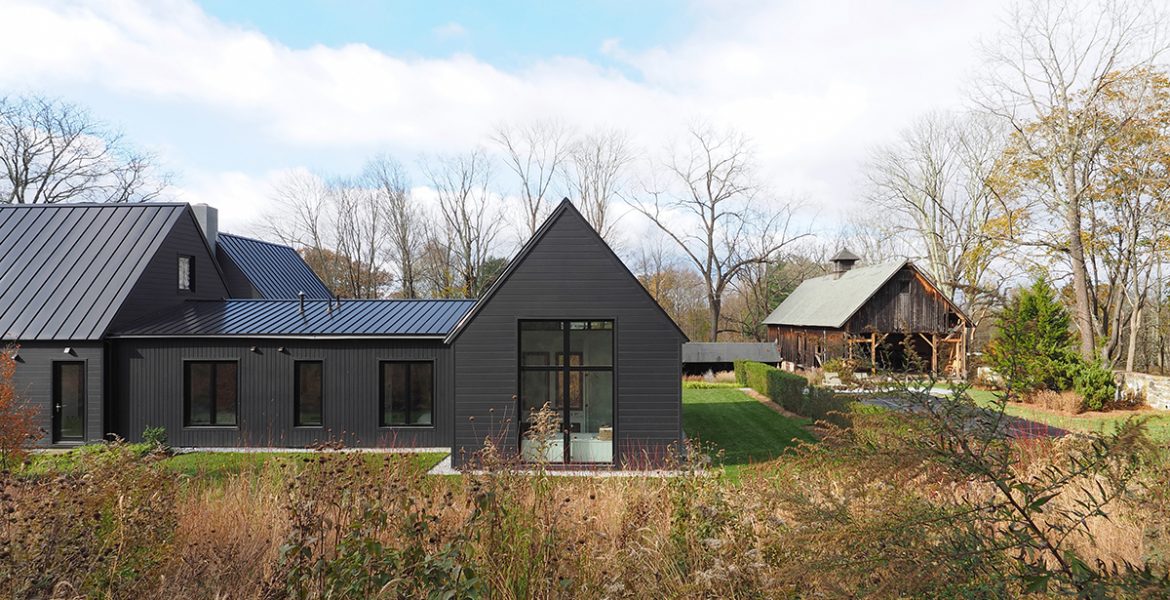 Meadow-style black houses incorporate design features that easily integrate with the surrounding meadows to enjoy the beauty of the outdoors. Usually, the use of organic shapes and materials and connection with the outdoors define the meadow style.
They frequently have big windows and open floor designs that make the most of meadow views. This creates a strong bond between the interior and the exterior, removing boundaries and enabling people to enjoy the surroundings to the fullest.
Native grasses, wildflowers, and natural stone accents can complement meadow design as landscaping elements. These homes transform into peaceful sanctuaries with all the additional components, enabling homeowners to completely appreciate the natural beauty of their surroundings.
17. Black Houses with Curb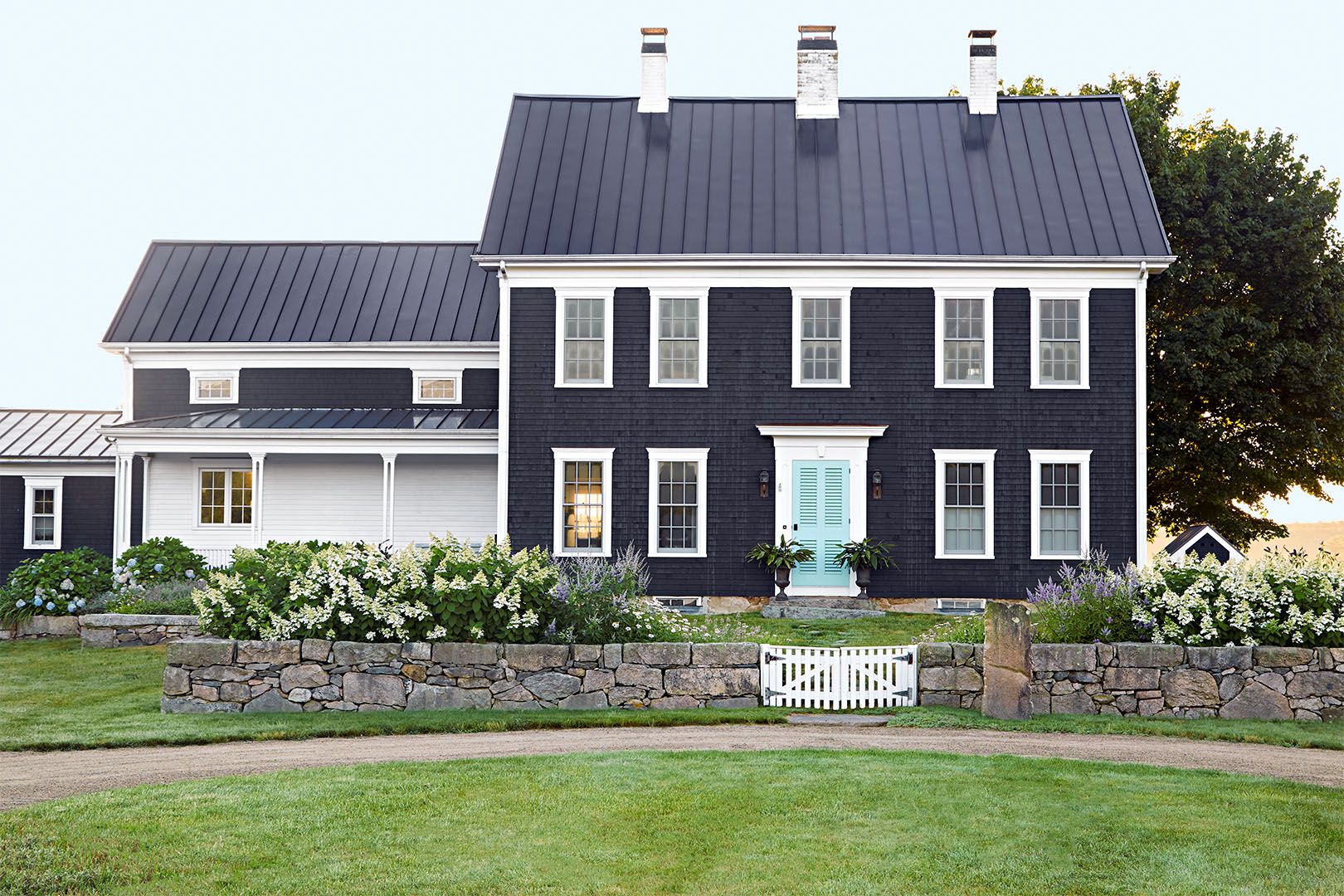 Black homes with good curb appeal are made to command attention right away you see them. The house's lines and contours are emphasized, accentuating its unique qualities, and a sense of drama is created with its architectural style.
Landscape design choices frequently feature well-maintained lawns, colorful flower beds, and well-defined pathways to contrast the black exteriors. The use of contrasting materials like white trim or metal embellishments increases the effect of the black exterior.
They capture attention and entice guests to discover what is located beyond the front entrance by evoking a sense of elegance, refinement, and modernism. These homes transform into architectural masterpieces that radiate confidence and style thanks to their dominating architectural presence and thorough attention to detail.
18. Go Big with Glass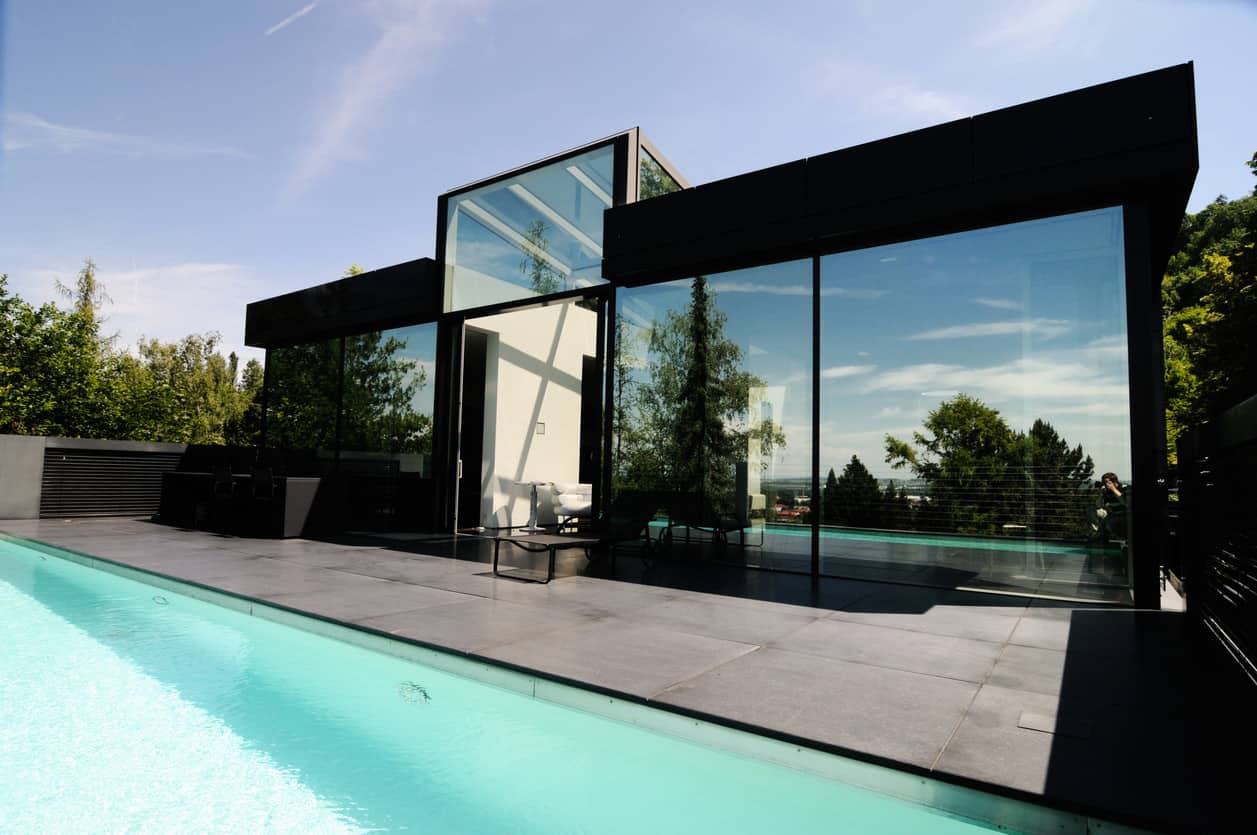 Large glass pieces added to black houses produce a magnificent visual impression that is both contemporary and elegant. A seamless transition between the interior and outdoor spaces, as well as an abundance of natural light, are made possible by the use of large windows, glass walls, or floor-to-ceiling glass panels.
Glass components are set off against the sleek and opulent black surface by a stunning contrast that heightens their effect. Black and glass work well together because they evoke a sense of openness, modernism, and transparency while also giving the whole design a hint of luxury and refinement.
Black homes with lots of glass provide a contemporary and elegant way to live. They provide stunning views, a seamless connection to the outside, and an ample amount of natural light within.
19. Goth Fashion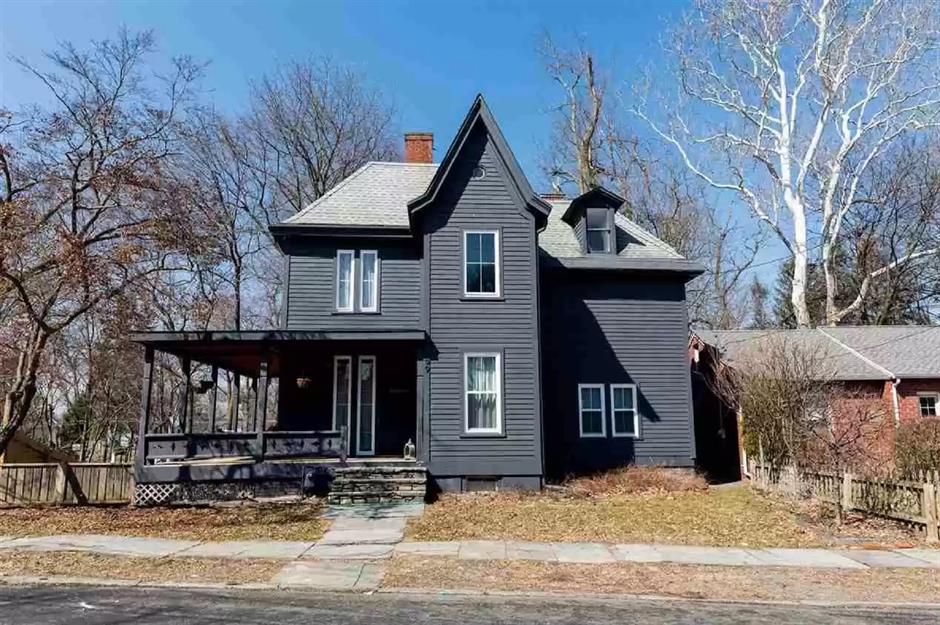 Black houses with a Gothic influence embrace an unusual and distinctive look that is striking, dramatic, and alluring. These homes have gloomy, moody aspects that convey a sense of mystery and intrigue, drawing inspiration from gothic architecture and design. The gothic-inspired elements, like the delicate window tracery, pointed arches, or decorative trim, are displayed against the black facade.
Black homes with gothic influences provide a distinctive and alluring way of life.
In addition, to complement the gothic aesthetic, dark-colored foliage, sculptural plants, and moody lighting are frequently used in landscaping. With its exquisite architectural elements and dramatic black shades, the houses become heaves of gothic beauty.
20. Castle Like Black Houses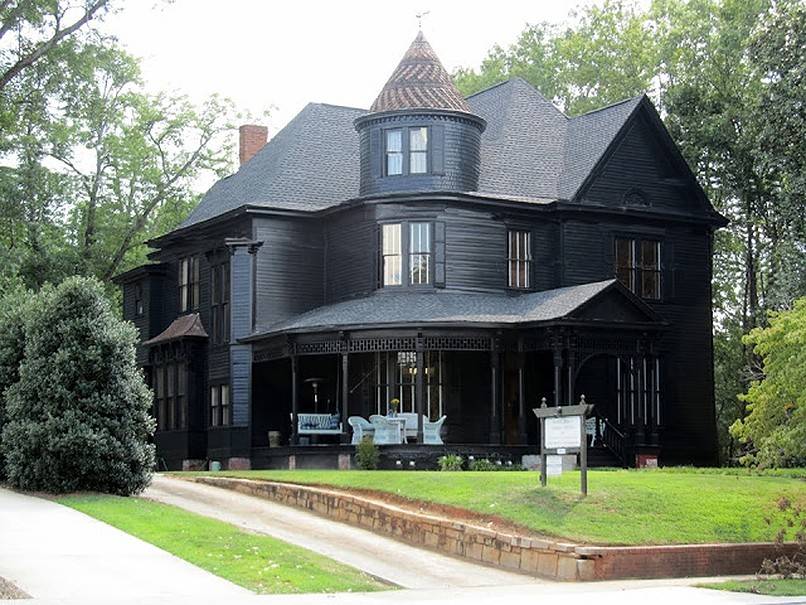 Castle-like black houses appear and emit the grandness of magnificence, majesty, and beauty in all eras. These homes combine architectural features that generate a sense of power, splendor, and enchantment and are inspired by medieval castles.
The exterior's dark color provides a dramatic backdrop for elements like turrets, battlements, or stone accents, which forms the basis for the castle-like style. These homes represent the modern-day castle, where dreams and imagination come to life, with their intimidating presence, elaborate architectural details, and royal black exteriors.
Conclusion
In a nutshell, it is impossible to deny the appeal of contemporary black homes with striking exteriors. Black is a stunning exterior color choice that emphasizes architectural details, produces a striking visual effect, and gives a home a hint of class, refinement, and modernity.
Modern black homes come in a wide variety of styles, from farmhouse-inspired to retro-inspired, from minimalist backyards to gothic and castle-like, from rustic twists to rising altitudes. Each design highlights its own distinct personality, resulting in a compelling and aesthetically attractive house.
These 20 modern black houses, with their magnificent exteriors, provide limitless inspiration whether you're seeking a modern retreat, a statement-making home, or a blend of elegance and boldness.
Therefore, consider these modern black house ideas if you're ready to make a big statement with a design that stands out from the crowd. These black houses will leave a lasting impression with a sense of style to give a striking appearance overall.