The infamous Arts and Crafts movement, which began in Britain in the nineteenth century and eventually extended around the world, provided craftsman-style homes a head start. They arose as a reaction to the Victorian era's mass-produced and extravagant architecture.
You can easily spot a craftsman-style home for its simplicity, dedicated craftsmanship, and usage of all-natural elements, which is just the greatest thing about these homes.
As with every great architectural discovery, the craftsman-style home has also evolved and is now emerging as a fusion of traditional craftsmanship and contemporary elements. In short, they are called "modern craftsman houses."
Best of Modern Craftsman Style Home Exteriors
Choosing the exterior of your home can be one of the most important decisions you make in your life, with implications that last. Going for modern craftsman houses is a fantastic choice, but choosing the proper exterior model can be difficult, and we are here to help. In this post, we will look at 15 modern craftsman home exteriors that embody the finest of everything. So, let's skip the details and get started!
1. More of Gables
Take a look at the exterior of this stunning craftsman-style home that you will undoubtedly adore. The various gables that give the architecture a multi-dimensional appearance are what make it stand out; they also give the residence a multi-layered aesthetic. The peaks are framed with off-white trim, which draws attention to them even more.
One of the design's unique interpretations is the use of Urbane bronze sliding with Sea Pearl trim, which gives it a warm and inviting appearance.
These colors are typically employed to give craftsman-style homes a more modern feel. The use of cultured stone provides a raw touch to the home's façade. The warm wooden door, which is connected to a glass frame with wooden trim, appears subtle and is a functional and contrasting color for the home's overall coloring scheme.
2. Castle Rock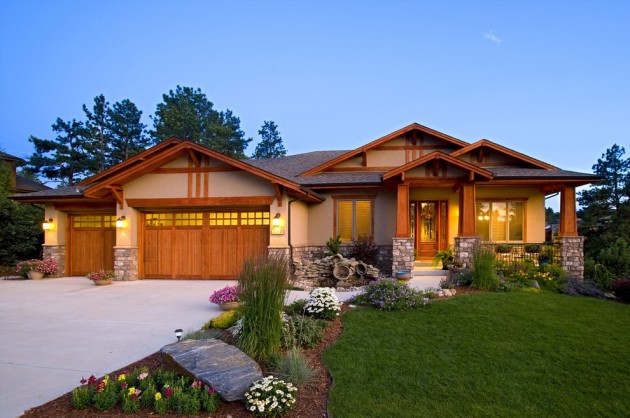 This castle-rock craftsman-style home appears to be a refuge from the stresses of daily life. It's the ideal combination of welcoming wood and infamous castle rocks put on the home's base columns. This design divides the house into two pieces, with exquisite cable layering on the right side. The camel shadeemphasizes the warmth of the wood, adding to its rustic appeal. The wooden peaks are classic and inspired by traditional craftsman-style homes.
The wooden peaks are classic and inspired by traditional craftsman-style homes. There is half-wall paneling with castle rocks used in the middle of the exterior to keep the look constant and continuous.
This style is appropriate for broad, open areas where you can do a decent amount of landscaping.
3. Craftsman Style Farmhouse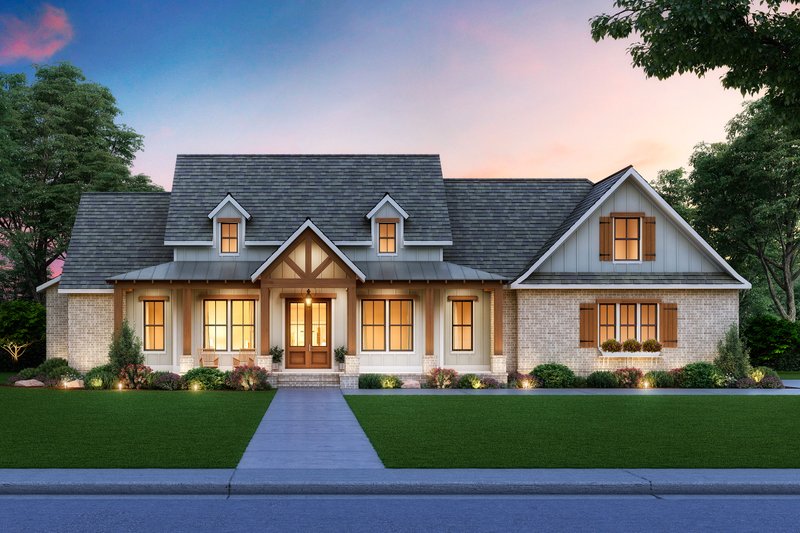 Farmhouse homes are lovely places to live, and both one- and two-story farmhouse homes include a large outside space with pitched gable roofs. Porches, lanais, and wrap-around porches are prevalent on a farmhouse's perimeter, providing excellent indoor-outdoor movement and a pleasing visual appeal.
If you enjoy rustic accents, have a look at this craftsman-style farmhouse design, which features traces of wood and stones and a harmonious color scheme. We love how the outdoor lanterns are used to highlight the house by encircling it. This farmhouse is large enough for a huge family.
The whole home oozes a warm ambiance that is soothing.
4. Scarlet Ridge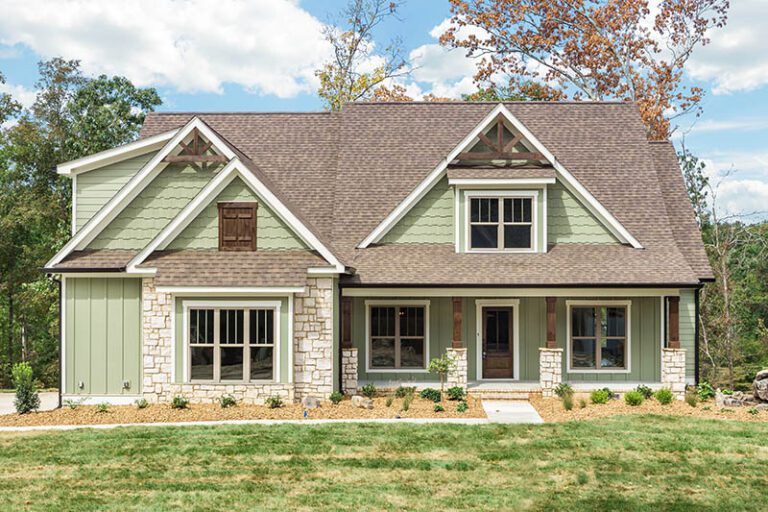 This modern craftsman-style home has a unique mix of present styles and timeless features. The scarletridges are a unique color that can catch the eyes of people passing by. The peaks have white trim, which accentuates the color theme of the home and highlights the gables. The unique wood carvings on the cables show traces of great craftsmanship.
An accent wall is made with a large slide and stone embeddings. The slides have vertical window lines.
The combination of powerful crimson, soft pastel green, and rustic woods generates unique color combinations that are difficult to lose sight of.
5. Symmetrical Peaks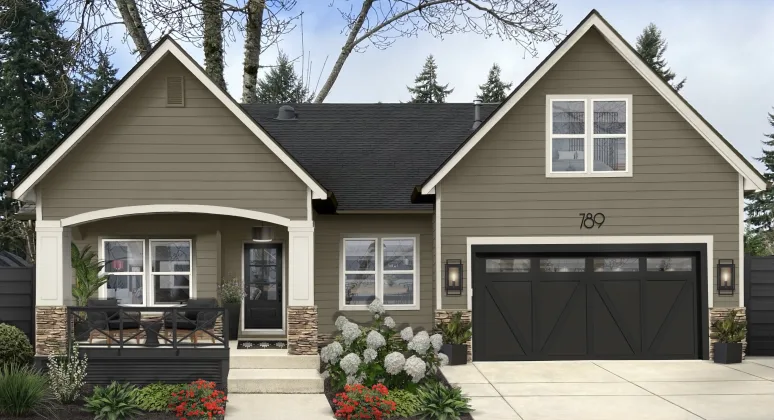 This modern craftsman-style house has a very neat, symmetrical form with twin peaks created by two cables. In this house, the peaks are also quite functionally added. The peak on the right towers over the garage, while the one on the left looms over the entrance and covers the porch. This home design appears to be quite minimalist and can be completed in a medium-sized space.
This design also has an excellent balance of bright and dark features. We love how the porch window provides a glimpse of what's inside the house.
There are well-padded porch accent chairs, which are a popular décor highlight in craftsman-style homes.
6. Craftsman Bungalow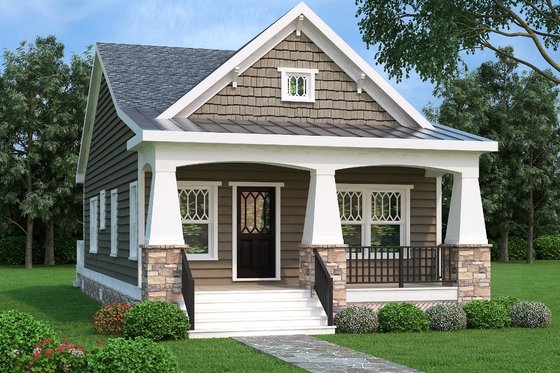 Bungalows are one of the most common craftsman-style housing subtypes. They also have the smallest sizes when compared to the other craftsmen's styles. Bungalows are a fantastic alternative if you want to save money while yet having a stylish home in a little space. This house has a porch gable with white trim on the peaks. We adore the one-of-a-kind black door with a white frame and the glasswork that matches the windows.
The whole atmosphere of the home is quite tranquil, and if you build a bungalow in an open space, as shown in this model, we are confident that a reclining chair on the porch will make your nights more enjoyable.
7. White Exterior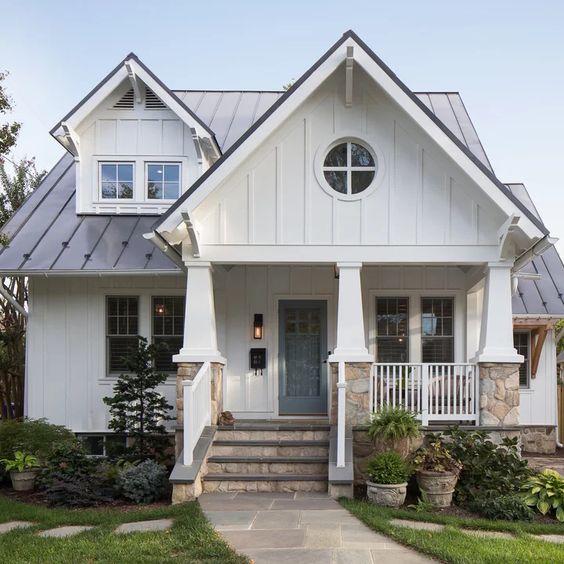 This craftsman-style home has a striking white exterior that would draw the attention of any passersby. The gables contribute to a great visual of layering while being functional. Both gables have windows that let light in, and the left cable has additional ventilation. This home is the perfect combination of traditional and modern craftsman-style architecture. Hand-sewed wood brackets support the distinctive floating rafter eaves.
The columns of the foundations have masonry. The ridge is aluminum, and the entire color palette is neutral.
The wall-mounted lantern beside the door stands out among the other features.
8. Open Layout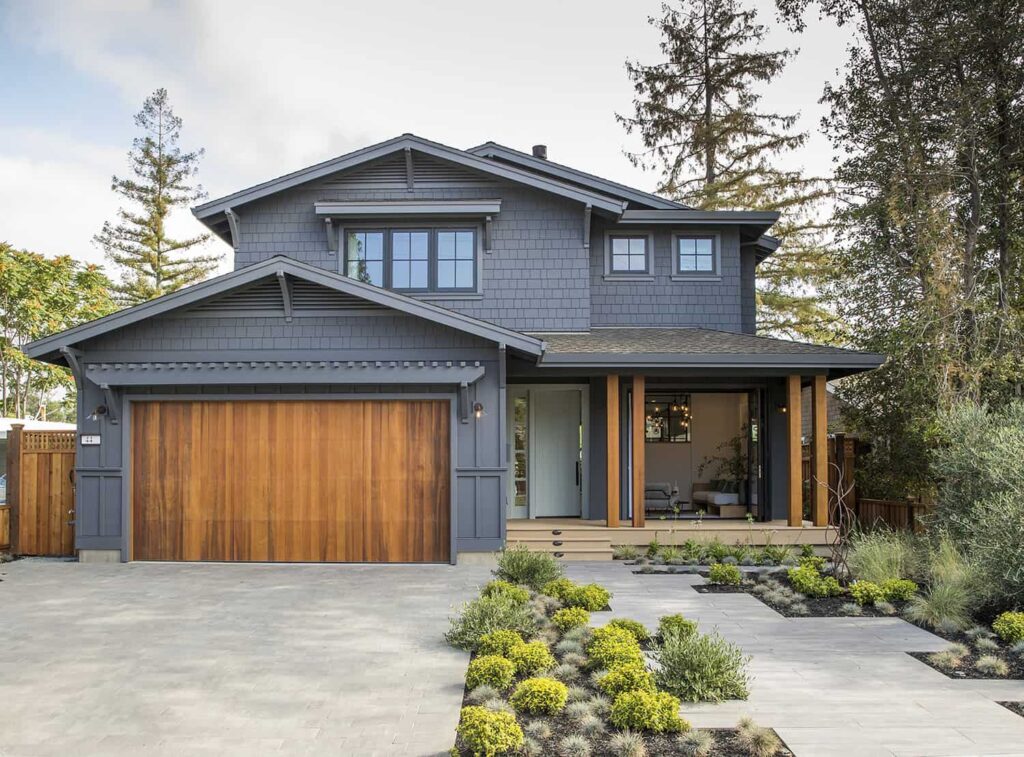 This two-story house looks absolutely inspiring. This modern craftsman house is designed with an open layout in mind, which will bring in a good amount of natural light and maximize indoor and outdoor living spaces.
The color scheme is monochromatic, and you can spot a matte black modern chandelier that gives the warmest welcoming light in the living room. There is some inspiration from vintage paints for the color scheme of this craftsman-style house.
Even though the design looks modern and casual, you can spot traditional craftsman-style touches, such as the wooden garage door.
9. Landscaping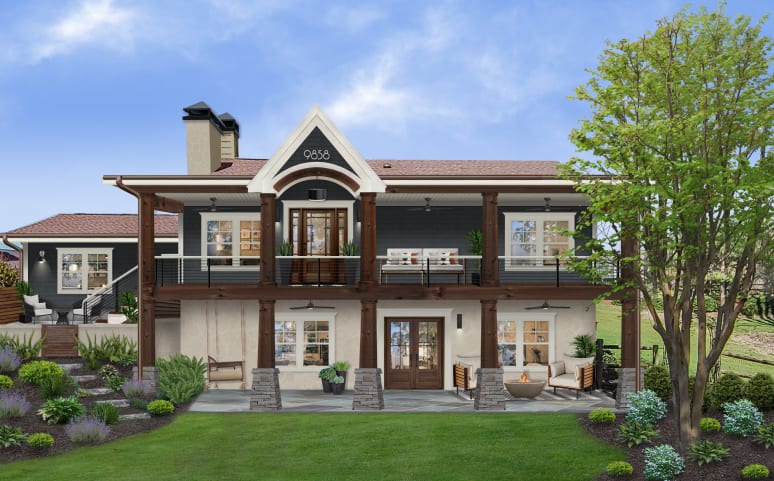 This modern craftsman-style home has a fascinating architectural design that has a lot to offer. This home is intended for a large space, with landscaping and hardscaping filling in the gaps. The white wire trim brings the eye to the heart of the house's facade. The exposed wooden rafters and columns highlight the architectural lines of the home.
For a more organic feel, there is stonework. The house is built to provide a pleasant balcony and porch experience with adequate space and seating choices. A well-cushioned accent chair and a patio sofa can be found on the porch and balcony.
10. Rustic Details
This house is a beautiful blend of craftsman style and contemporary architectural components. The dominant sight is a beautiful interplay of rustic characteristics of a craftsman home with huge windows and an enormous outdoor living area, which is a fairly frequent feature in modern contemporary-style homes.
The wire and balcony float over the entrance, giving it a distinct appearance. The lowest floor is dominated by stonework that appears to be extremely neutral. This is a three-story mansion with the illusion of progressive stacking on each floor.
For an outdoor dining experience, there are rattan chairs on the main balcony and a matte black dining table and chairs on the right balcony.
11. Layering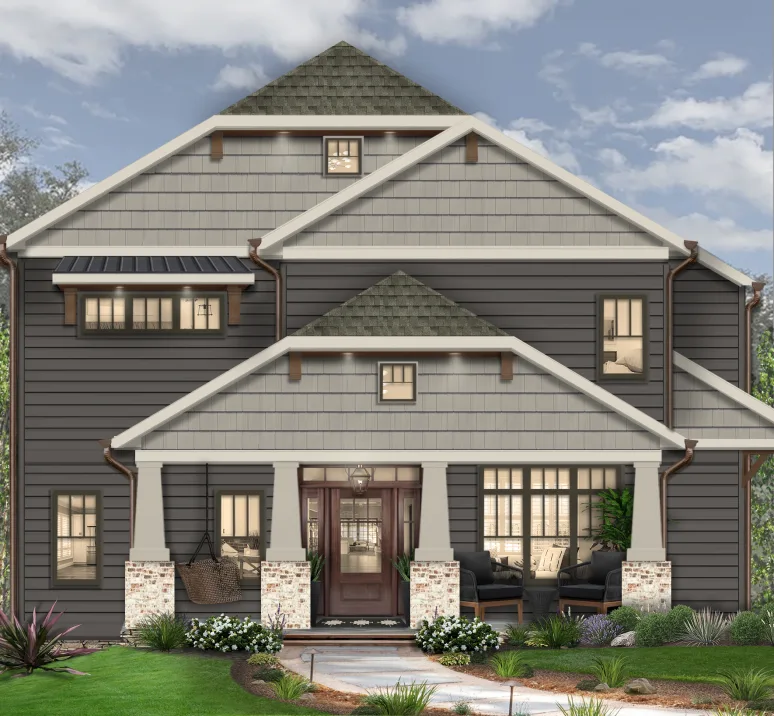 If you like layering in architectural designs, look at this modern craftsman-style home, which combines colors and textures to create a layered impression on the exterior. Basic grey paint is employed for the cladding, while more saturated charcoal is used for the siding, creating a fantastic mix.
Lime-washed bricks distinguish the porch columns' bases. Copper gutters and wood accents are employed to provide dimension to the house. This house is designed for a medium-sized space and can be easily built in congested regions. A caged light is placed on the entrance, which looks vintage and contrasts with the home's overall appearance.
The porch provides plenty of areas for you to arrange your favorite furniture.
12. A Serene Home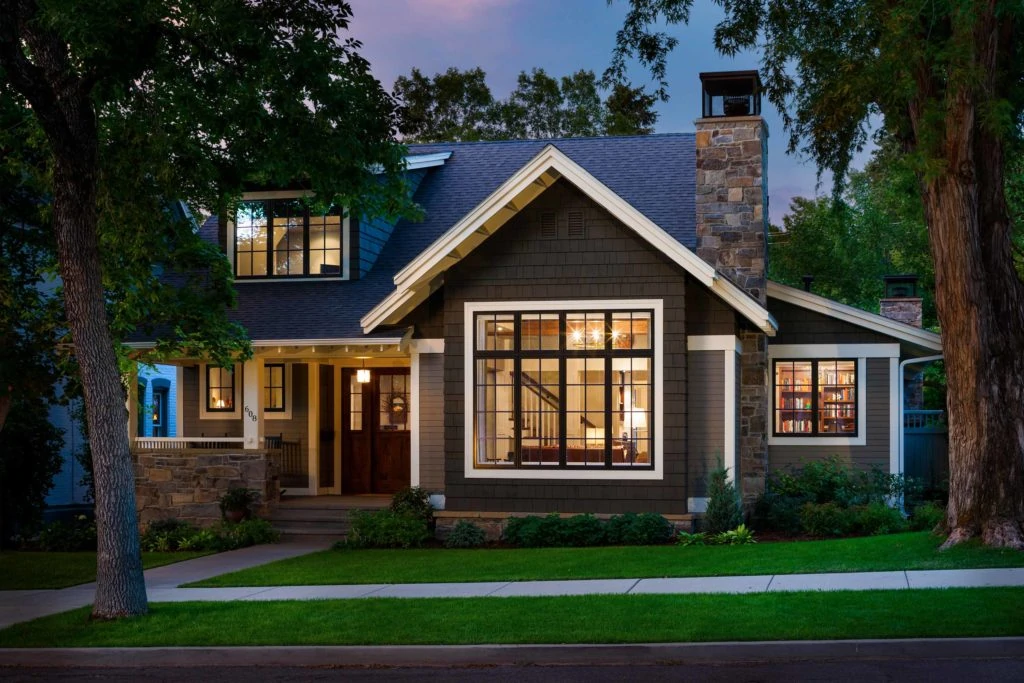 This lovely craftsman-style bungalow exudes tranquillity and the warmth of natural woods and stones. This cottage has a lot of little features that make it look pretty cute. There is a vintage-looking custom-made chimney. The windows are darkly painted, and every fifth course has a small band of wall shingles.
A contemporary chandelier illuminates the living room. The light at the entry and the wooden rocker on the porch are utilitarian and rustic touches added to the house. The abundance of windows will let in plenty of light during the day, giving this craftsman-style home a light and airy vibe.
The magnificent cottage will undoubtedly be the talk of the town.
13. Sage Green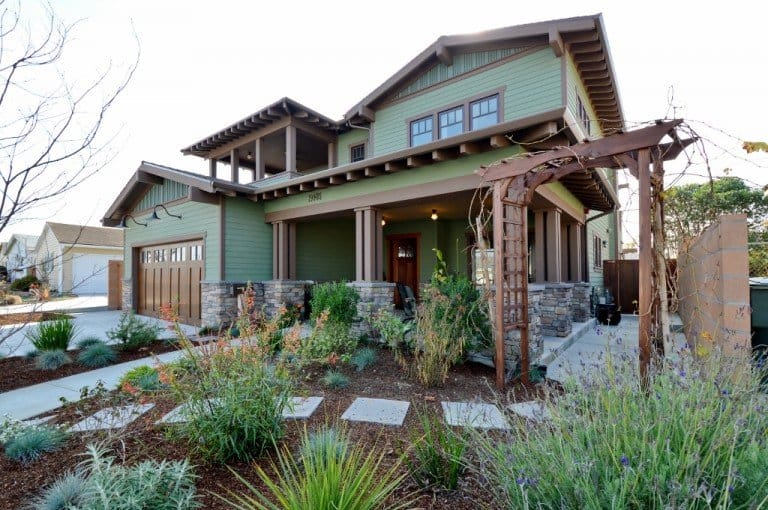 This contemporary-style craftsman home has a really unusual and experimental design that looks very much in touch with nature with its design and stunning sage green color that dominates the home. The gaps in the front area are filled with an environmentally friendly meadow garden that is currently in its early stages of development.
This two-story home features a lot of wood and stone construction. The gables have rustic wooden peaks, and the wooden archway that leads from the house to the garden is one of the house's most remarkable features.
A semi-open porch has plenty of room for anyone to set up porch accent chairs and relax.
14. Wood Paneling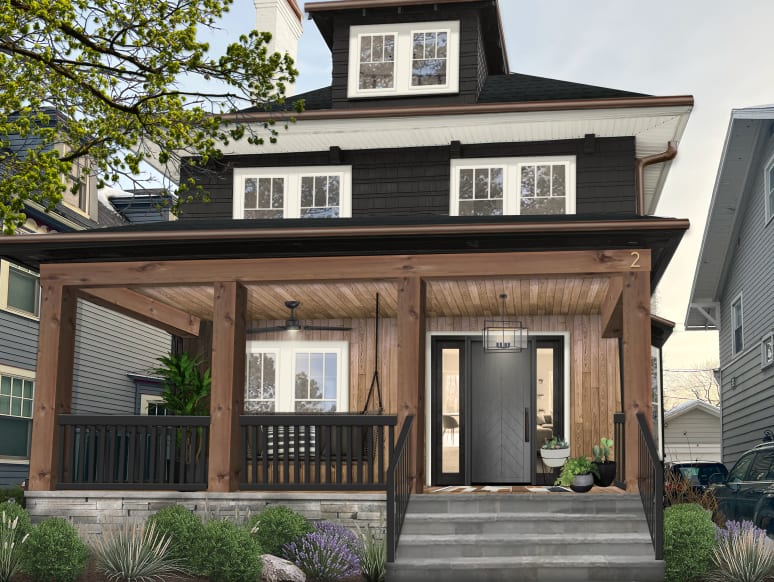 Black is always thought to be a fascinating and distinctive shade in design, and it is commonly used in current, contemporary decors and works. This modern craftsman-style home features contrasting black and white color schemes as well as a classic-looking lower storey with wood paneling. The hue combinations of this property are timeless and iconic.
There are also black highlights on the main level, such as a black swing bench, a matte black fan, and a black caged light that looks excellent against the hardwood backdrop. There is a modern-looking custom-made chimney.
This building method is ideal if you want a house that can accommodate a large number of people while taking up a minimal amount of room.
15. Beautiful Wood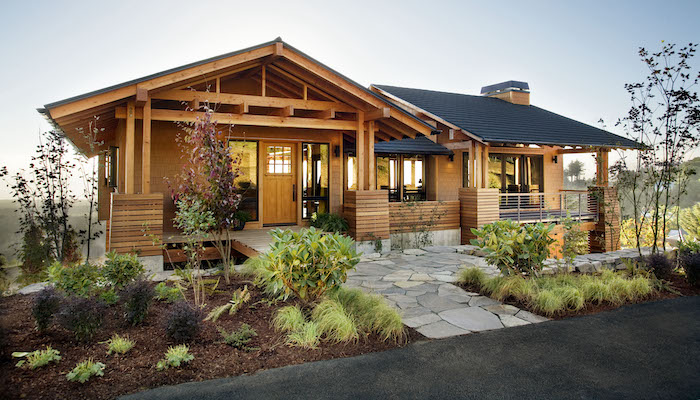 This is a traditional craftsman-style home with current, contemporary touches. The majority of the exterior of this property is made of mahogany wood, resulting in a really attractive and warm color palette. A giant cable hangs over the porch, and enormous windows with sliding doors are installed in all portions of the house, giving it a highly modern appearance. The dark blue ridges, which are a really unique mix of mahogany, are what we admire.
The pavement is formed of stones, which creates an unusual design. The entry to the basement through the porch area, which is such an innovative approach to saving space, is one of the best features of this home design.
Embracing the Artistry
Each design in the modern craftsman-style homes is visually appealing and has a lot of detailing. These homes are the consequence of ongoing architectural growth and the combination of contemporary and classic features to make a residence more functional.
We hope you enjoyed our collection of modern craftsman home exteriors and have a better concept of what you want in your home now. You can attain your dream home by finding the correct design and style by considering numerous variables such as color scheme, functionality, artistic touches, and an ideal model.
In the comments section below, tell us which home exterior you'd prefer to live in.