The dark decor has been taking over the internet because of its edgy appeal. And while it is true that a dark exterior can turn a simple house into an inspiration, there are other factors to consider.
The primary of it is the material and color to be used. The most beautiful way to change your home's exterior into something darker would be to make it with black bricks.
A house made with dark-colored bricks needs forethought during the construction stage. However, you can also paint the bricks black to attain a similar result. Whatever you choose, your house will look more sophisticated and luxurious.
And on that note, here are some brick houses in black that turn quite a few heads.
1. Black Brick with White Accents
A house painted black from top to bottom can be hard to swallow for many people. The color is purely dramatic, which will turn every eye toward it. But if you want something a bit more subtle, you can add accents to the building to soften the look. It will also keep you in the embrace of a dark theme without going all-black.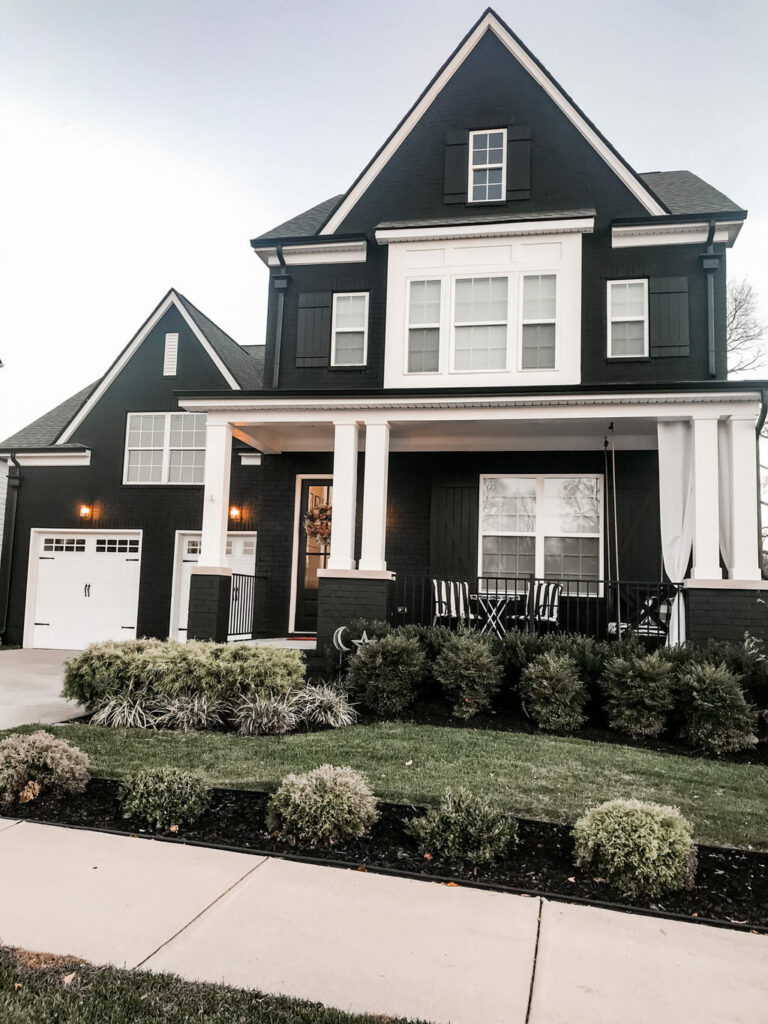 The first color anyone can think of, which goes hand in hand with black, is white. Many shades of off-whites and ivories are available to nicely complement a black brick wall.
For this homestead, we see the owner has chosen a crisp white color to go with black. The white pillars add to the stateliness of the house, accentuated by the sloping dark roof. The white windows are a delicate touch that softens the harsh lines. The contrasting colors with matching furniture make the home look picturesque.
2. Modern Black House
Modern houses often opt for an overall black exterior to make up for the lack of flair in the design. This kind of architecture relies on function over aesthetics; ornamental features like sweeping stairways and columns are often nixed. But still, beauty is a big part of designing homes, and that is easily attained by adding dark colors to the mix.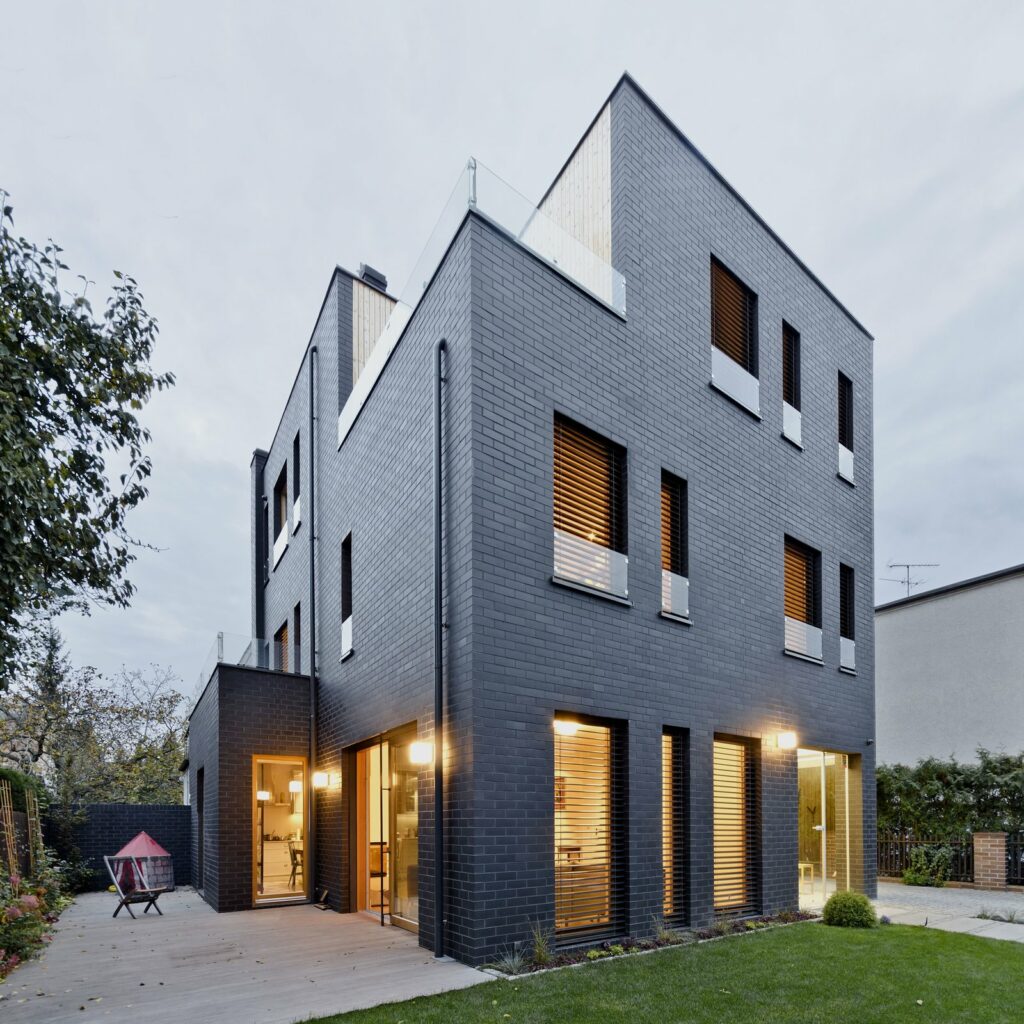 These houses' clean, decluttered geometry often makes them resemble squares or rectangles. The lines are sharp, and each side is full of simple, unadorned windows. And painting such a brick building black means making it spectacular.
The designers of this particular homestead chose an unusual color for a facade that is simple and easy to maintain. The windows add to the sharpness and geometric appeal with their shutters. Overall, the design is deceptively simple, and the result is an attractive facade that is not easily replicable.
3. Limewashed Brick in Black
A brick house limewashed black is truly a wonderful idea when renovations are to be considered. This method will get you a black brick house at a fraction of the price of a full paint job. And the porous surface of the brick makes sure that the color will be there for a while.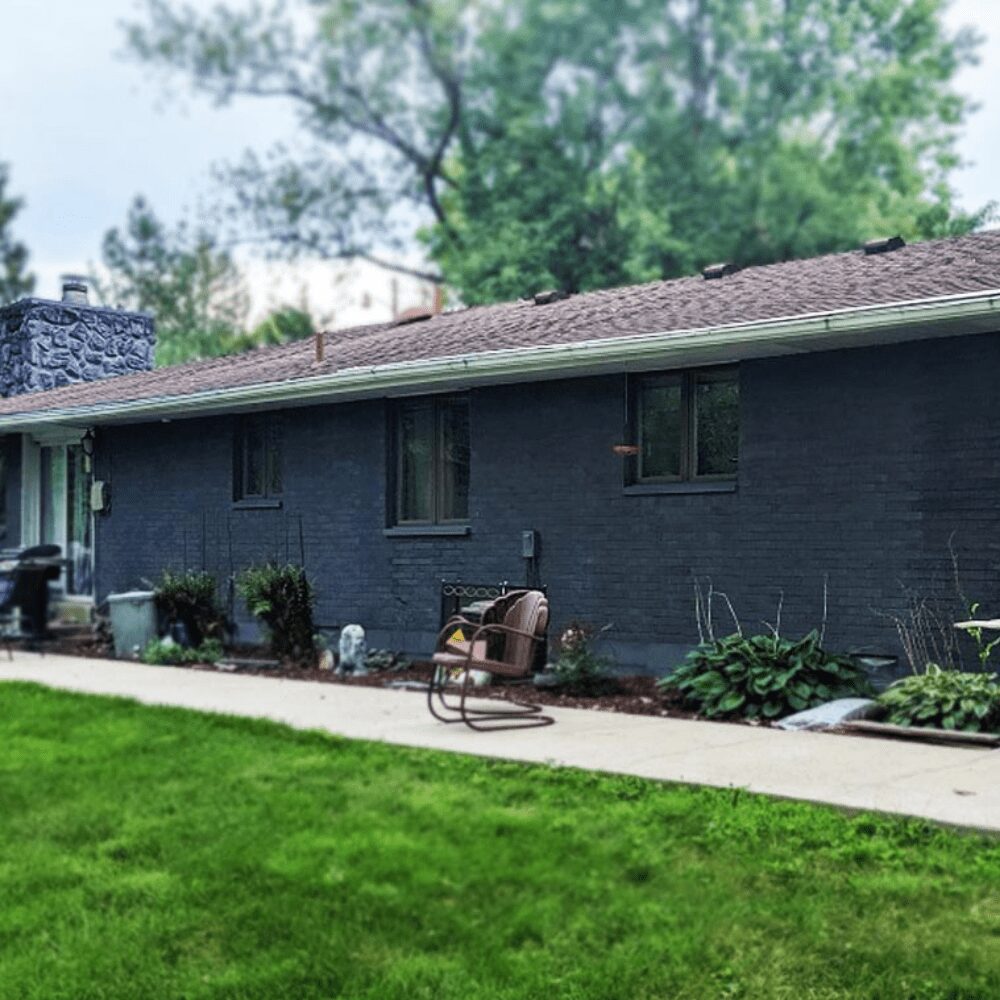 The most common limewash color is white or something along the lines of neutral. Often black is only used for accents and trim so that the house doesn't look gloomy. But like all other colors, black limewash can also be made easily with a little pigment. And the houses look all the better for it.
In this black house, we see that the owner chose simple black limewash to coat the sides of the house. It is an economical choice in more ways than one, as limewash doesn't need to be scraped off before a new coat. This decision will also help them keep the walls healthy and water damage-free.
4. Grey and Black Combination
Black and white is not the only way to make a statement when you consider the different elements of your house. Neutral colors go well together and make the structure look more grounded. And that works wonderfully for even the darkest shades of blacks and greys. This technique emphasizes how the two bold colors make your home come to life.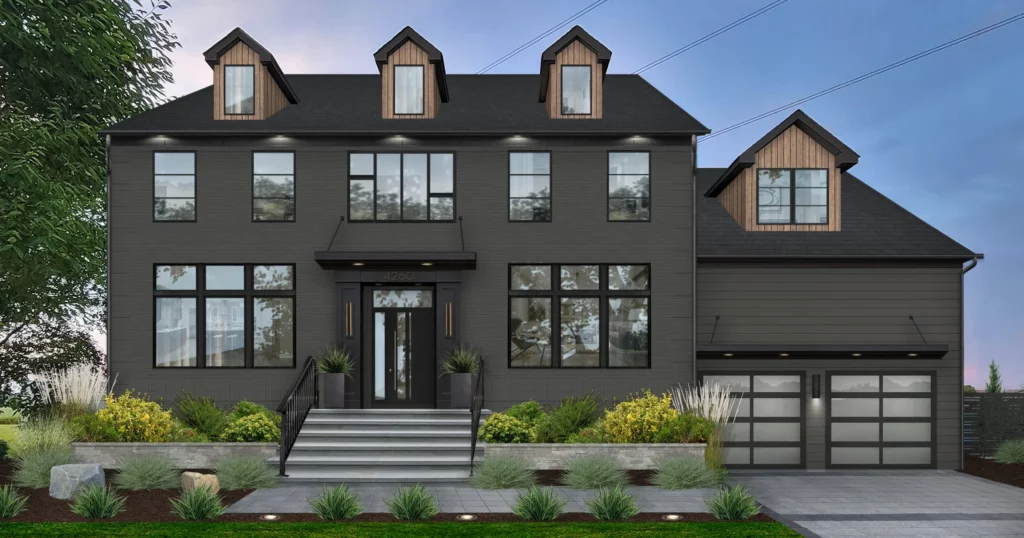 A grey and black brickhouse is a good choice construction-wise, as it reduces the need for extra effort. Concrete, in its natural shade, has a greyish color, which highlights the depth of black. As seen in this homestead, black walls along with a grey fence make for a stately house. The concrete staircase only adds to its striking aesthetics.
There are many reasons why people choose grey along with black, primarily as it gives off a cool, sober, and calming vibe.
5. Black Bricks and Brown Texture
It is a well-established fact that black walls are simply gorgeous. They exude a cool aura that cannot be found in any other palette. You can paint your entire house black, and it would still not look too gothic for modern times. But sometimes, it is hard to imagine traditional homes in anything but white.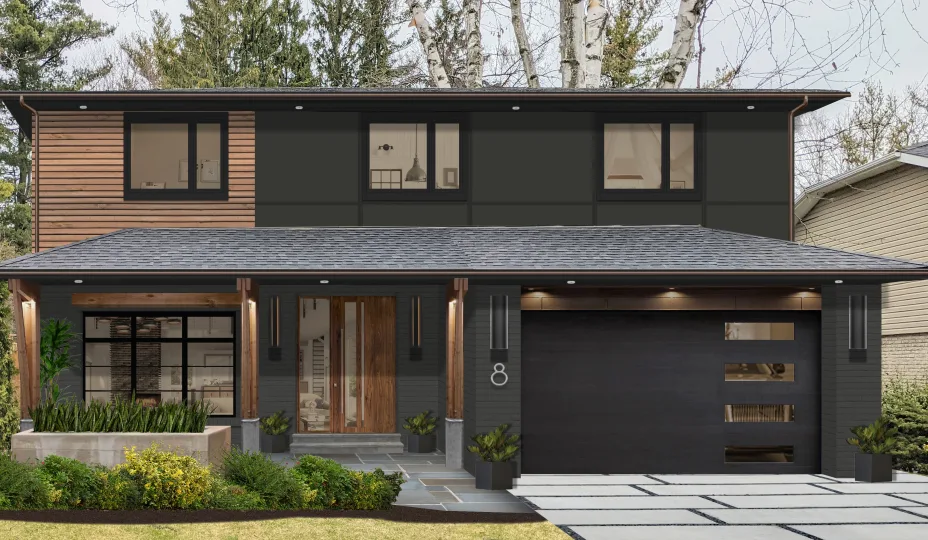 But as you can see from this homestead, a black porch undeterred by other colors does not look out of place. The design bases itself on putting different textures together instead of colors for an aesthetic mesh. White windows often accompany a black wall, but as you see, sliding black panes also make a statement.
The shingled roof, brick wall, and metal panes are highlighted separately within the same color frame. But each texture is well highlighted as they complement each other. This results in a traditional colonial house looking sleek and edgy.
6. Black House with Wooden Accents
Going dark for the main color of your house has many benefits to it, the primary of which is aesthetic. Plenty of elements can be added to a plain black brick house to make it unique. And among those, the easiest is a wooden accent along a certain wall. The brown and black color combination in vastly different textures will give the monotonous wall a break.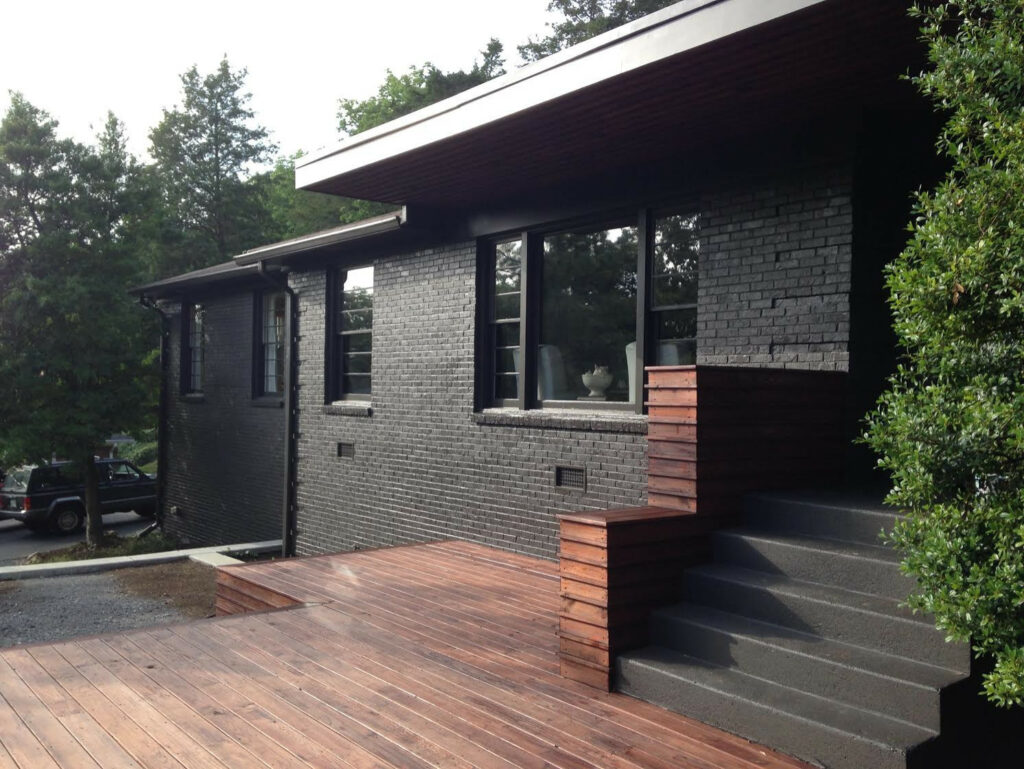 Designers usually suggest the use of soft black colors for a house that already has wooden elements in it. The rich wooden accents, along with the bricks, give any house a modern outlook.
For this homestead, we see that the owner has chosen a beautiful wooden deck to complement the dark walls. As an added effort, the concrete staircase is also painted in the shame shade of black. The dark sliding windows also solidified the image, creating a foil against the lush gardens.
7. A Big Black Roof
Black walls are a sign of an interesting and sophisticated architectural design. It suits modern as well as traditional homes in the best way. But with dark bricks, people often get lighter shades of white to color the accents like roofs and windows. The dark and light create a yin and yang, making the structure look balanced.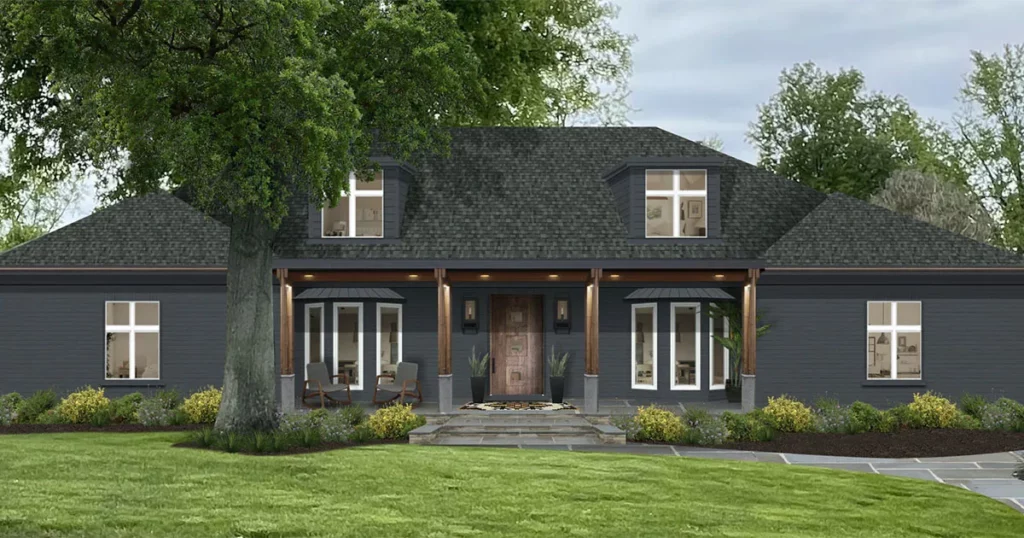 But there is another way to attain balance, where you go all out and get a black roof. This will help the structure look unified, and you can always choose a slightly different shade than the bricks. A black roof also helps your house stay warm for a long time. The black-on-black-on-black will make this matted black house stand out against all the other buildings in the neighborhood.
8. Brick House with Stately Bay Windows
Traditional houses, like old-world European ones, are adorned with many breathtaking intricate designs. The style is a mixture of English and French architecture and has lots of bay windows, small porticos, and arched entrances. And they are seen in different sizes altogether, from tiny cottages to huge mansions.
A European-style house, therefore, looks brilliant even when it's in a dilapidated condition. But with a spot of paint, it will regain its stately nature. Here most designers choose white to resemble its original color. But if you want the house to stand apart, paint the bricks black.
In thisblack brick house, we see the focus lies equally in the color as well as the construction. The beautiful bay windows stand out in the two-story house, but it is the details that are highlighted with the dark color. The carved windows and their billowy white curtains provide a soothing foil against the black.
9. Modern Black Ranch
A black building reaching the sky looks intimidating at first sight, but that doesn't mean the small ones are any less potent. A sprawling ranch built out of black bricks will often look fresher and more inviting than its white counterpart. Dark colors are known for their creating dimension, so they will bring out the hidden depth of the house.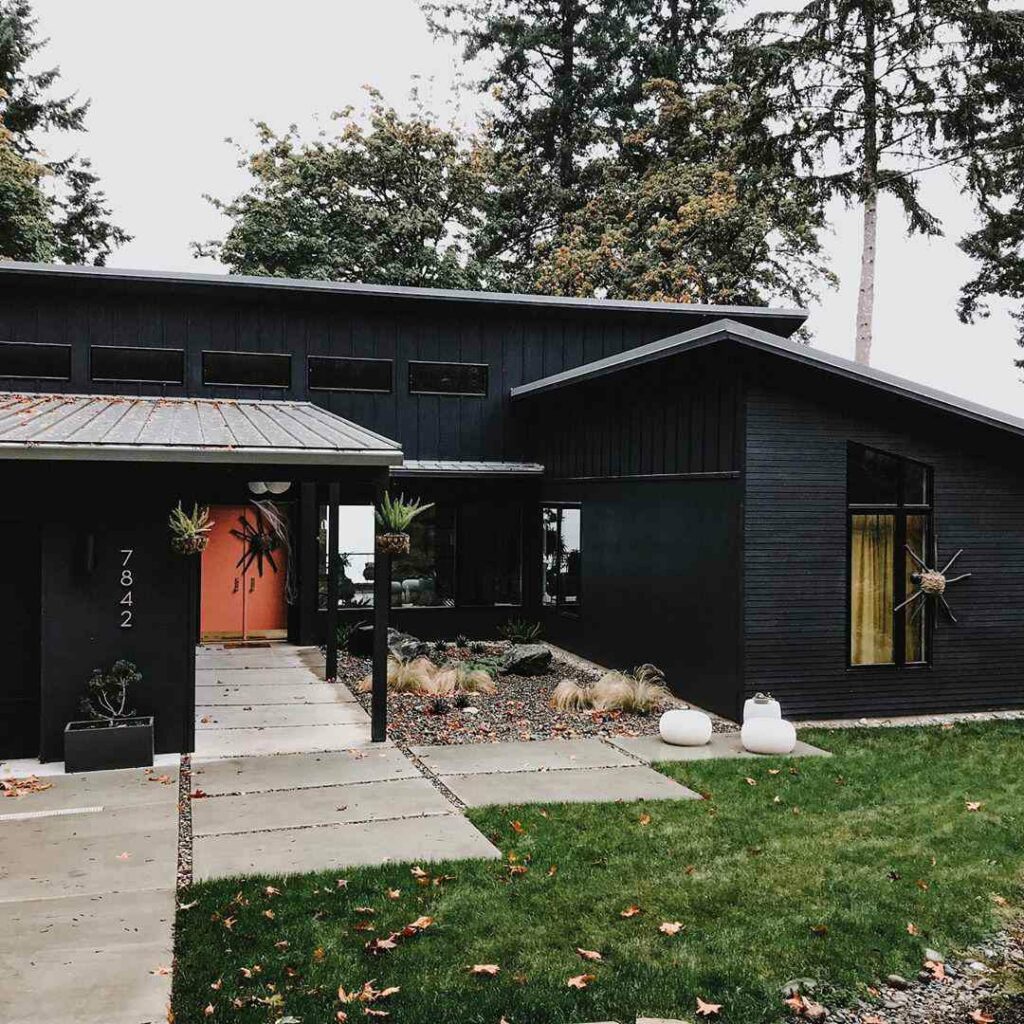 Ranches are one-story homes with a designated space for decks and patios. They have a large number of windows that add expression to the exterior. And when these details are elaborated in a diversified color palette, the house takes a stunning makeover.
10. Black and Red Combination
Just because you are building a house out of black bricks doesn't mean that the space should be devoid of other colors. Apart from white, grey, brown, and other neutral colors, you might think you have no other options. However, according to color theory, you can add many colors for a splash of brightness.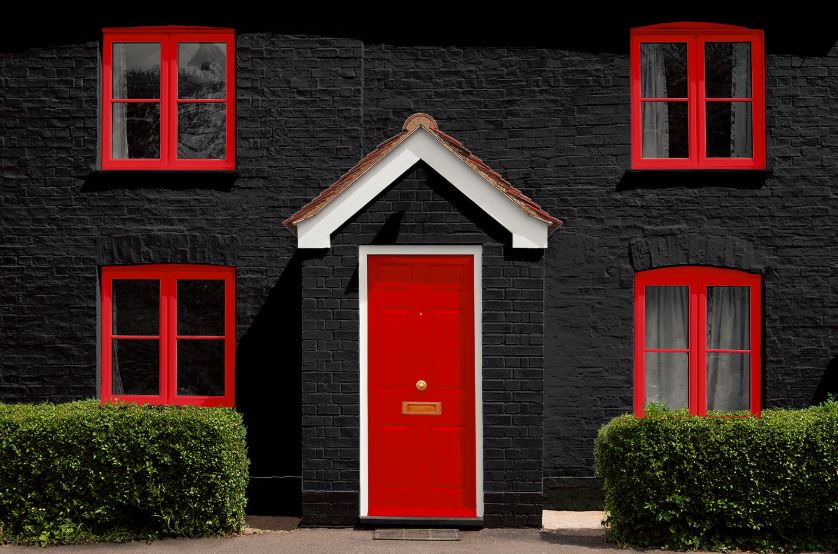 In this homestead, you will see that the owner has chosen to highlight his black walls with red. The main entrance, along with the windows, is painted a vivid shade of red that brings out the sharpness of the black. This instantly catches the eye of your guests, and the door becomes a strong entry point to the house.
The choice of red is interesting as many believe that the color wards off evil spirits. Whatever the case may be, you can never deny that the pop of color helps in the house's overall aesthetics.
11. Brick House with White Shutters
An old house often has very few options when it comes to changing the exterior. You cannot introduce anything new to the mix besides a paint job. However, you can improve its features by adding some shutters. An old brick house will have traditional windows that are perfect for wooden shutters.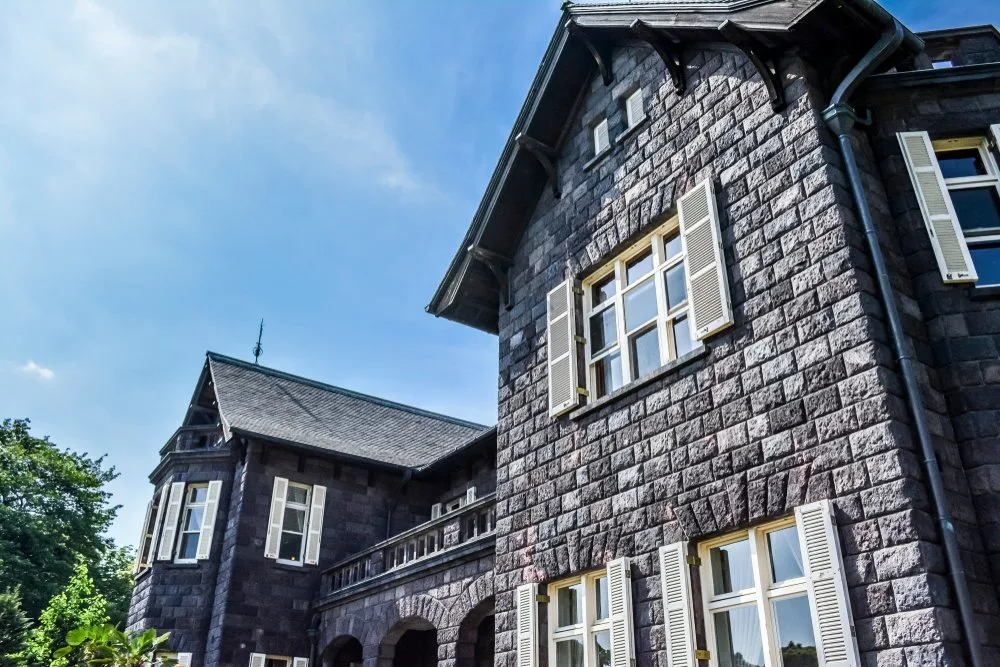 Old brick also benefits from limewash rather than acrylic paint. To change a boring red brick house into an edgy one with black bricks, just limewash your home yourself. It will keep the bricks safe while changing the appearance completely.
The white shutters, as seen in this homestead, make for an exciting addition to old bricks. The stark color is a foil against the distressed, vintage look of the wall and makes the house look younger and fresher. White also accentuates the old-world charm of the arches and the balconies.
12. Textures and Black Shutters
A black house garners much attention from its neighbors and passersby. But it also makes the house look modern despite its build and structure. Textures are highlighted with the color in the case of old homes, but what about new constructions? Well, the best way to add some texture to a brick house is by adding shutters.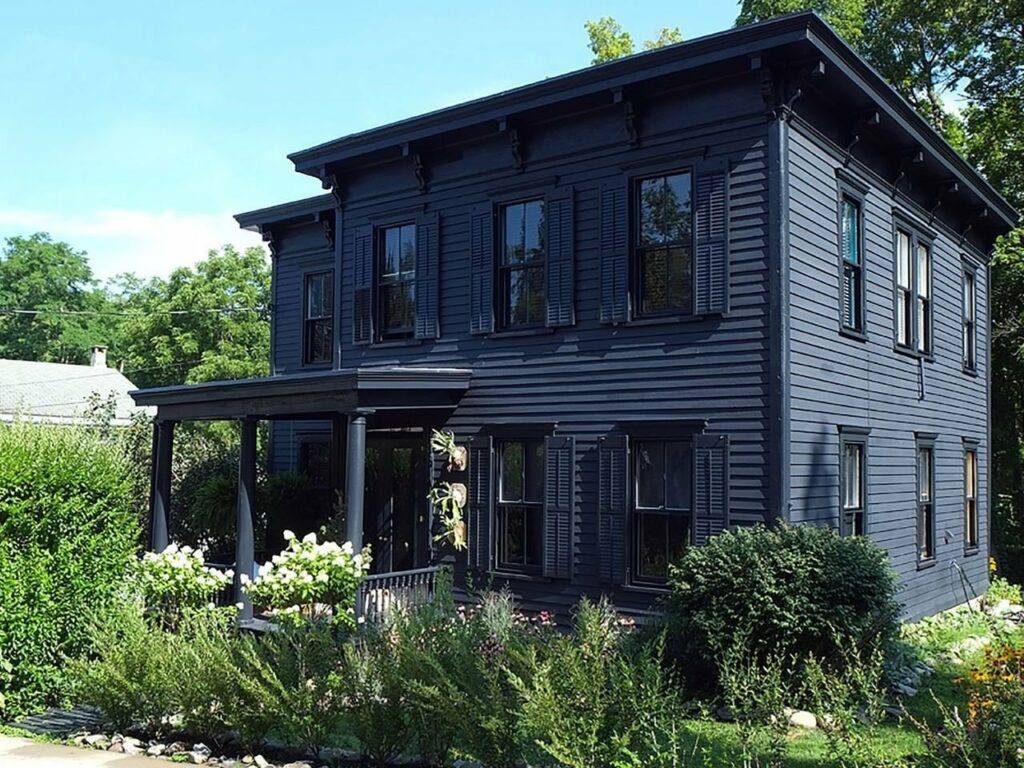 Wooden shutters come alive on windows of any kind and are often used to complement them. So if you have a house that you are planning on painting black, consider adding some black shutters. As we see in this structure, the texture of the walls is repeated with the black shutters, creating a unified look.
13. Big Dark Windows
Modern houses may not feature ornate windows or sweeping foyers, but they have one thing in abundance, windows. Big square glass windows are found on every wall so that the rooms have plenty of natural light. And just by existing, those windows often present the perfect opportunity to make the exterior look brilliant.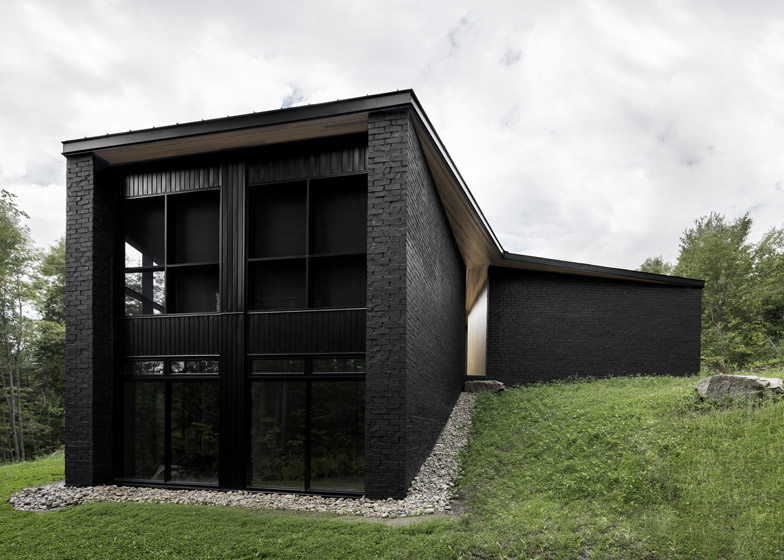 You can easily make a black brick house come to life by making these windows stand out. There are many ways to do that, but according to some, dark window slidings and glasses are a good way to go. The practical reason behind this is solar protection, as it would save your furniture from excess glare.
And in the case of this beautiful homestead, you can see that the windows look seamless with the bricks. The tinted glass, along with the black indoor shutters, helps maintain the overall aesthetics of the place.
14. Black Brick with Stone Accents
Another accent material that goes well along the exterior of a black house is stone inlays. The natural color and texture of the material help soothe the stark lines of the bricks. And the stones are also more durable than other construction materials. And just like bricks, stones can also be limewashed, so repainting a house black would never be a costly affair.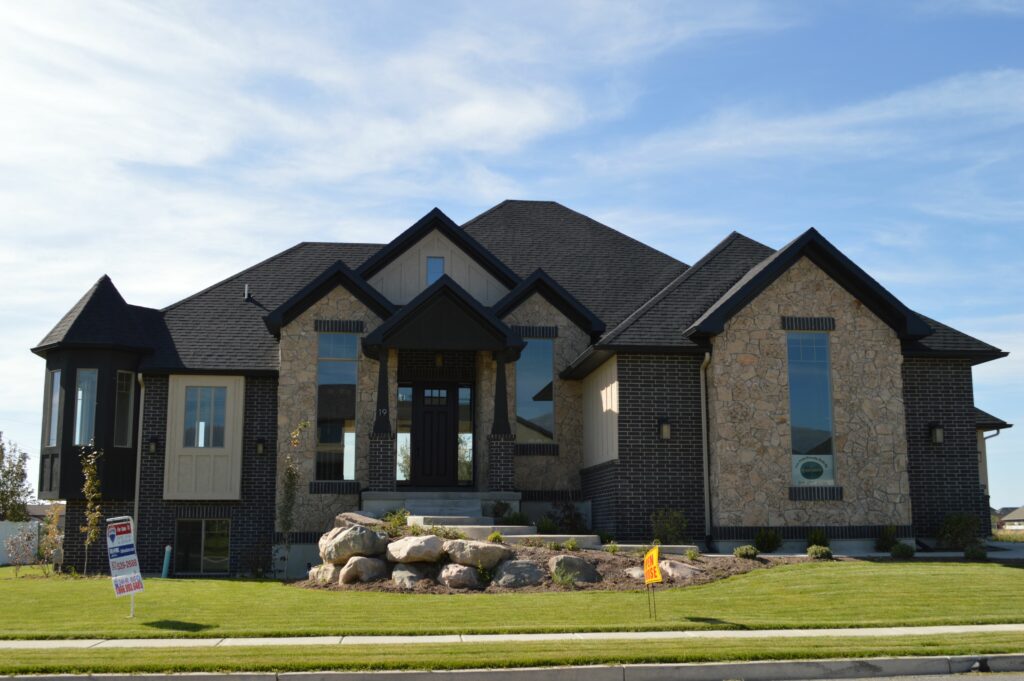 Stones are often chosen as a building material for the environment-friendly structure they make. A simple two-story stone house looks stately even without any effort. And as stones are fire resistant and can endure a lot, they are the usual choice for chimneys. In this particular design, we see the exterior focal center as the elaborate chimney made of stone.
15. A Black Villa
A geometric house painted fully in black welcomes every visitor into the 21st century with its no-nonsense structure. The clean lines are perfect for making the best of the bold color and offering you plenty of space to be innovative. Without the columns or other outlandish ornamentation, they may look simple at first glance. But 21st-century villas have an understated luxury to them, which is often enhanced through black.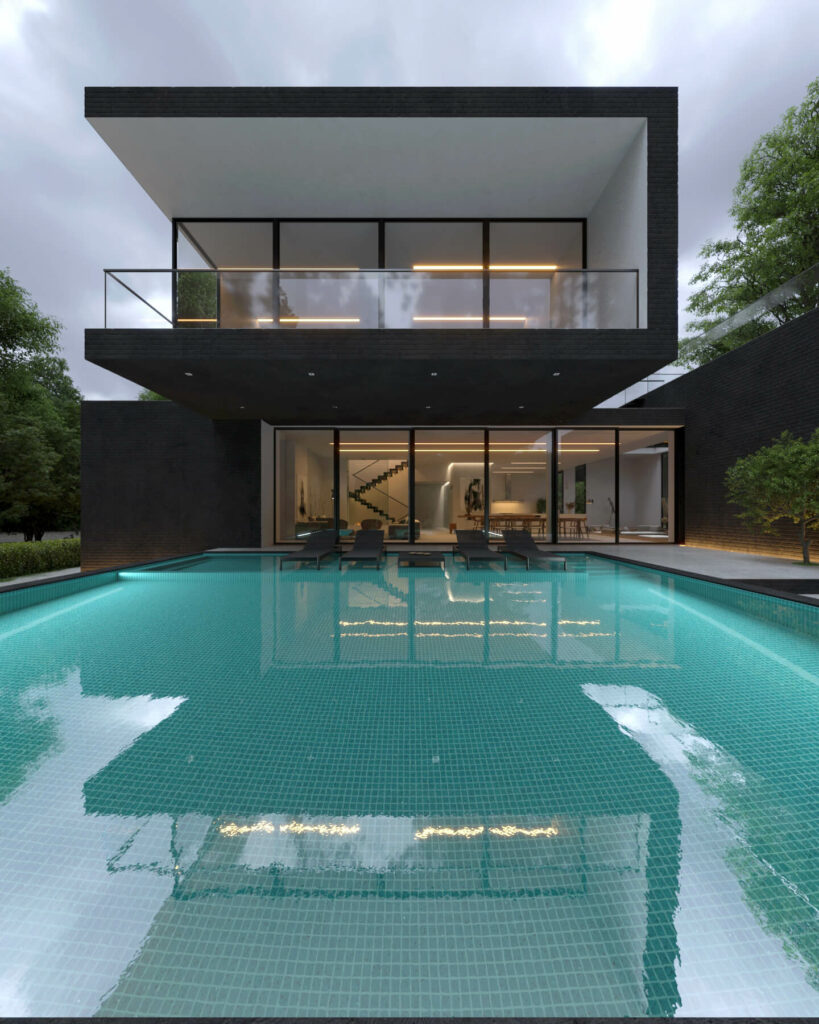 Adding white in black can change the scenery entirely, as seen in this homestead. The streak of light on the upper balcony emphasizes the sleek lines of the house and reflects the minimalistic decor.
Wrapping Up
A black house may seem like it's straight out of a gothic novel, but the fact is, it's more common these days. The dark colors tend to make people more calm and at ease. So more and more owners are now choosing a black exterior for their houses. And these houses are often made out of black bricks for added texture.
There are many ways to change your house into a black one. You can paint or limewash the walls depending on your ease.
You can also look ahead and add details like a black roof or white shutters to make it stand out. And if you have any other queries about painting your exterior black, comment below and let us know.
Frequently Asked Questions
Why Are People Painting Their Houses Black?
Apart from being incredibly aesthetic, black houses also offer a lot of practical benefits. The biggest reason people paint their house's exterior black is because the color is not reflective. Black paint absorbs all the heat from the sun and, therefore, can keep a house warm in harsh winters. But that may be a bit troublesome during summer.
What Are the Benefits of Painting Walls Black?
Black is not often considered an option when people choose colors for walls, as it may feel claustrophobic. Some also think the color-or lack thereof-as gloomy and moody. But painting your walls black will make the space feel larger and airier.
Does Brick Come in Black?
When people think of bricks, they usually imagine something in red or copper. But in reality, bricks can be colored to suit your aesthetics. Although it is rare, your home can even be made of black bricks. But it will make your home look distinguished and modern in the best sense.