Do you want to grow a dense, lush privacy hedge in your front or backyard? If yes, skip laurel shrubs can be your ideal choice! Skip laurel is a privacy hedge that can turn your garden into a lush green wonderland. It has clusters of fragrant white flowers, glossy green pointed leaves, and blackish-purple berries.
In spring, it produces white flowers, and in winter and fall, it produces a red berry that turns black when ripe. Its bushy appearance and dark green leaves can enhance the beauty of your garden. It retains its green color throughout the year and thrives in any soil type.
It makes a great privacy screen and keeps unwanted animals out of your yard. Due to its dense growth, it blocks out unwanted views and provides privacy from your neighbors. If you're thinking of growing them in your yard, you must be wondering how to plant them in the right way.
Take a look at the growth and maintenance tips for skip laurel shrubs.
Growth and Maintenance Tips for Skip Laurel Shrubs
We have entailed detailed guidelines about the growth and maintenance of skip laurel shrubs. By following these tips and tricks, you can ensure that the skip laurel shrubs grow healthily and provide you with their beautiful foliage year around.
Growing Conditions for Skip Laurel Shrubs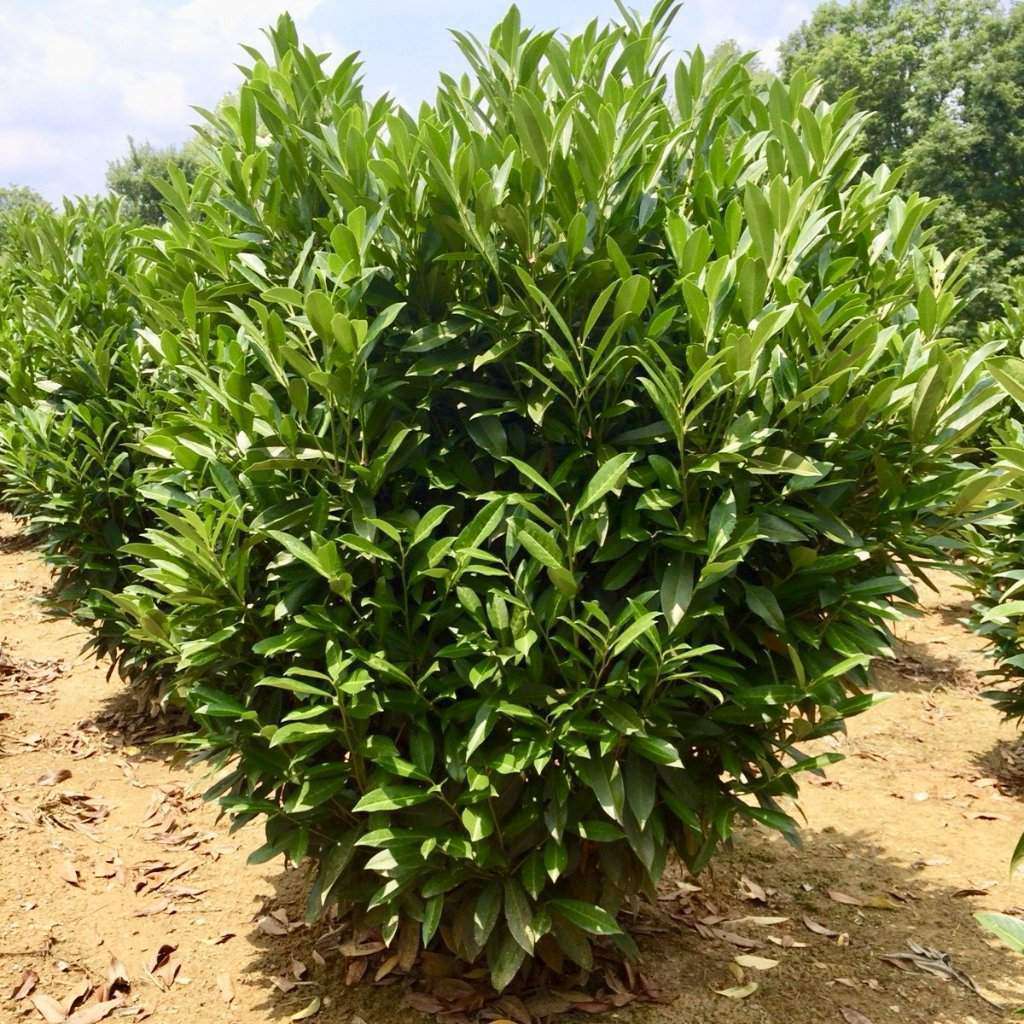 Skip Laurel is an evergreen shrub that is usually grown as a hedge or screen. It grows up to 18 feet, and the leaves have an almond-like smell when crushed. It can be easily trimmed or pruned to form a dense evergreen screen.
It is easy to grow and requires little care for optimum growth. It grows up to 2 feet per year and can be used to hide an unpleasant view. It thrives in all light levels without weakening in the shade or yellowing in the sun.
Here are a few factors that you should consider to ensure that skip laurel shrubs grow healthily.
1. Shade and Sun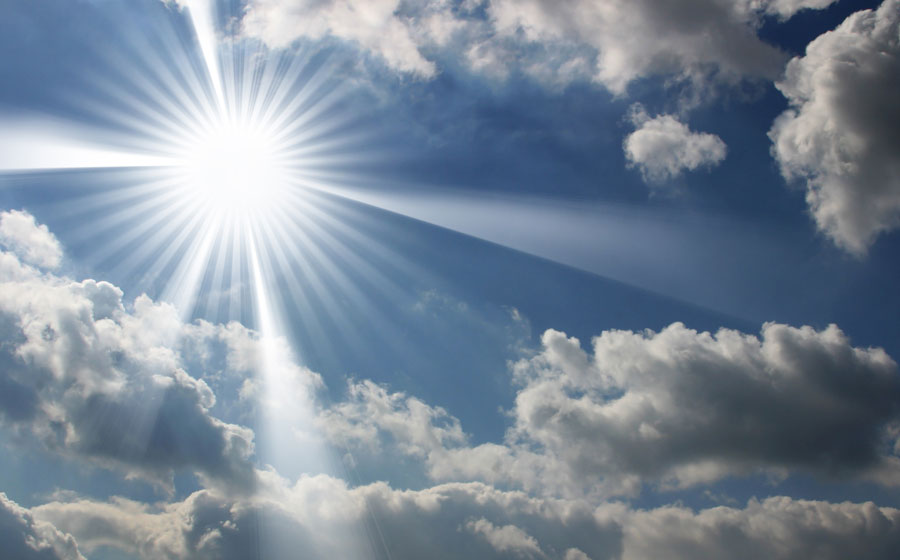 Skip Laurel can thrive well in all types of light conditions. It grows well in both partial shade and full sun. While many plants become susceptible to diseases when placed in dense shade, skip laurel doesn't encounter this problem as it is disease resistant. In full sun, it grows at a faster rate and produces more berries and flowers. In partial shade, it has less dense foliage. Choose a planting site that receives partial shade to full sunlight if you want to skip laurel to grow well.
However, if you live in an area with less sunlight and more partial shade, skip laurel can still add greenery to those spaces. One of the best features of skip laurel is its tolerance to poor conditions. Direct sunlight won't yellow it, and shade won't weaken its glossy green leaves.
2. Soil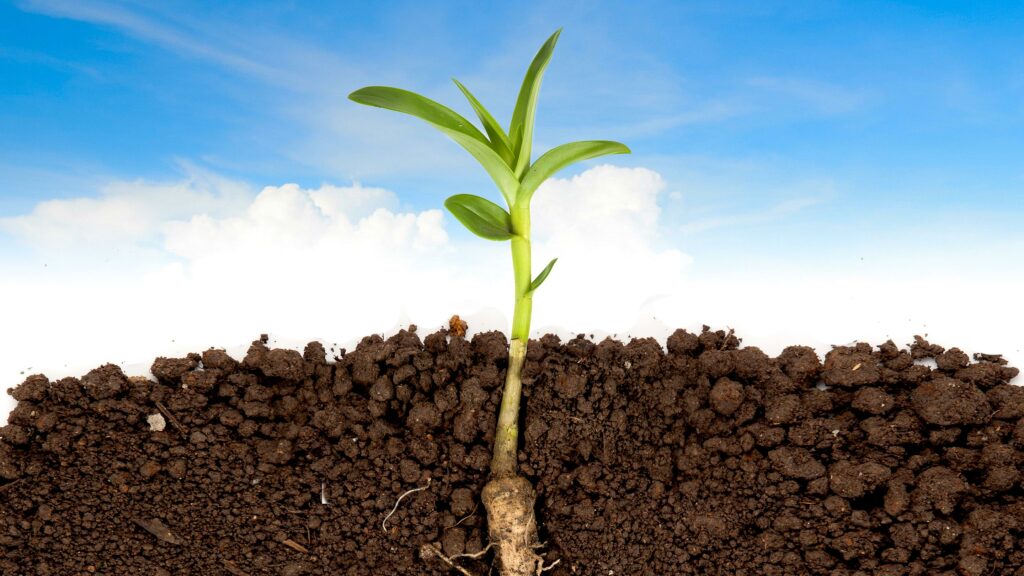 Skip laurel is not very demanding when it comes to the soil type. It can thrive in all types of soil conditions. But it prefers sandy, clay, acidic, and alkaline soil. Avoid heavy clay or sandy soils that retain huge amounts of water or become waterlogged.
Before planting, skip laurel and add organic matter like well-rotted manure to the soil to improve its drainage and fertility. Adequate drainage is important, or else the root can rot. If the soil has drainage issues, use raised beds or organic matter to tackle the problem.
Firm down the soil while planting skip laurels to remove air pockets and offer the required support to the shrubs. The pH range of the soil should be between 6.0 to 7.5. If the pH level of the soil is less, test the pH of the soil using the soil testing kit and make necessary adjustments.
3. Watering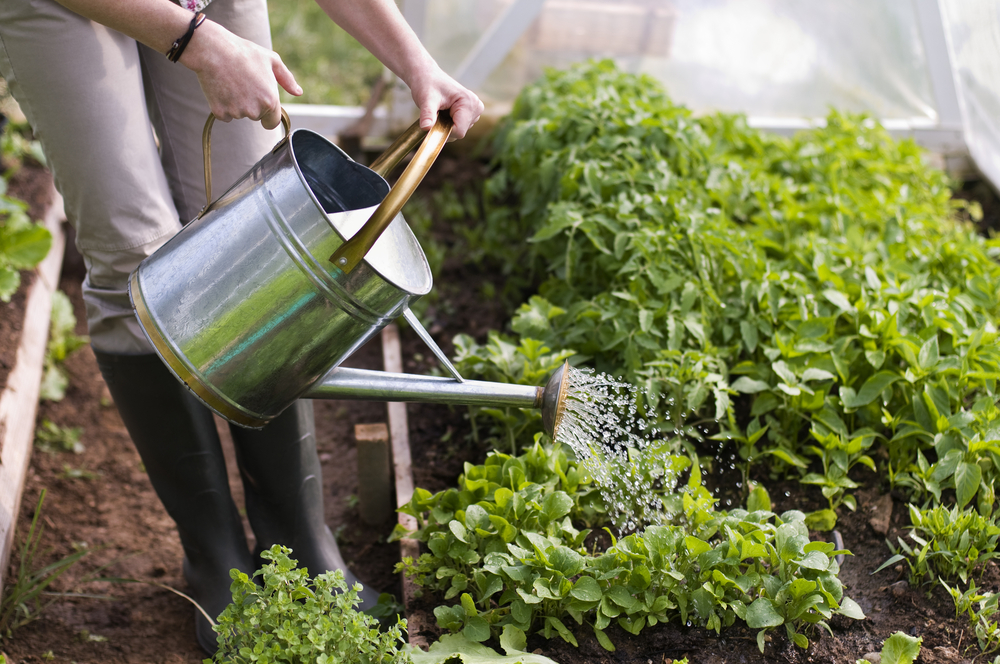 After planting skip laurel, you'll have to water every day for the first week. Then reduce the watering frequency gradually to every ten days or once a week. Apply 3-4 inch layers of mulch to keep the soil moist. If you live in an area with extreme heat, you'll have to water them for more than a week when you plant them.
To check the amount of water they need, make an opening with a trowel or dig your finger in. If the soil feels dry, you need to water them. You can use a soaker hose that is porous and allows water to seep out along its length. Lay it along the length of the hedge and connect it to a timer. During the summer, run the hose for 15-20 minutes a day.
Adjust the watering requirement as per the moisture level of the soil. Reduce the watering session if the soil feels moist. If the shrub does not grow after draining the soil poorly, it could be due to too waterlogged or wet soil. If this is the case, purchase a plant that can grow and survive in more suitable soil.
4. Fertilizing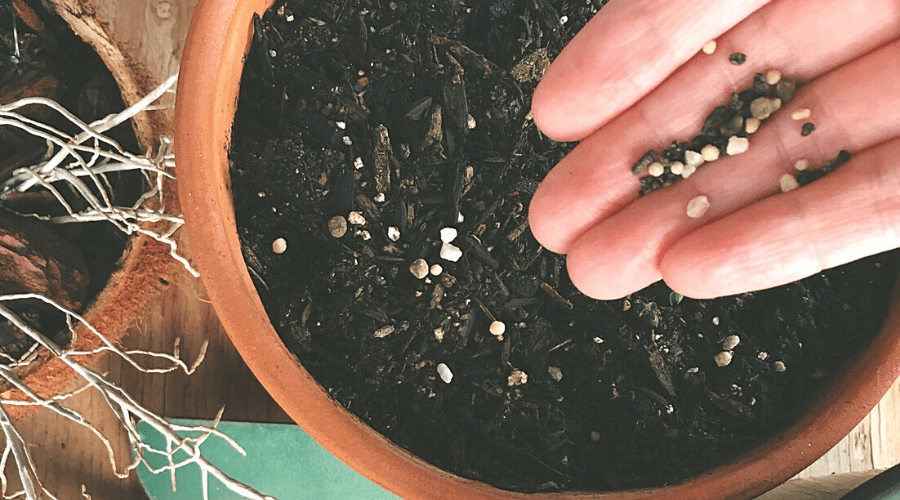 If the skip laurel shrub is stressed, you'll have to fertilize it to promote its growth. For a healthy, fast, strong hedge, add organic matter like compost, humus, or peat moss to the soil when planting. Once grown to a suitable height, you don't need to fertilize at all. Well-established shrubs don't need to be fed.
Choose a fertilizer that contains nitrogen, potassium, and phosphorus. Don't over-fertilize. Skip laurels, as excessive nutrients can lead to stunted growth. If the soil is low or deficient in nutrients, use a nutrient-specific fertilizer. During the summer, you're recommended to dissolve 1/4 teaspoon of organic fertilizer in one gallon of water every week.
Don't feed the skip laurel in the winter. Give it some time to rest. During this time, the growth of the shrub slows down, and it doesn't need added nutrition. You can fertilize skip laurels in the spring using a slow-release fertilizer.
5. Pruning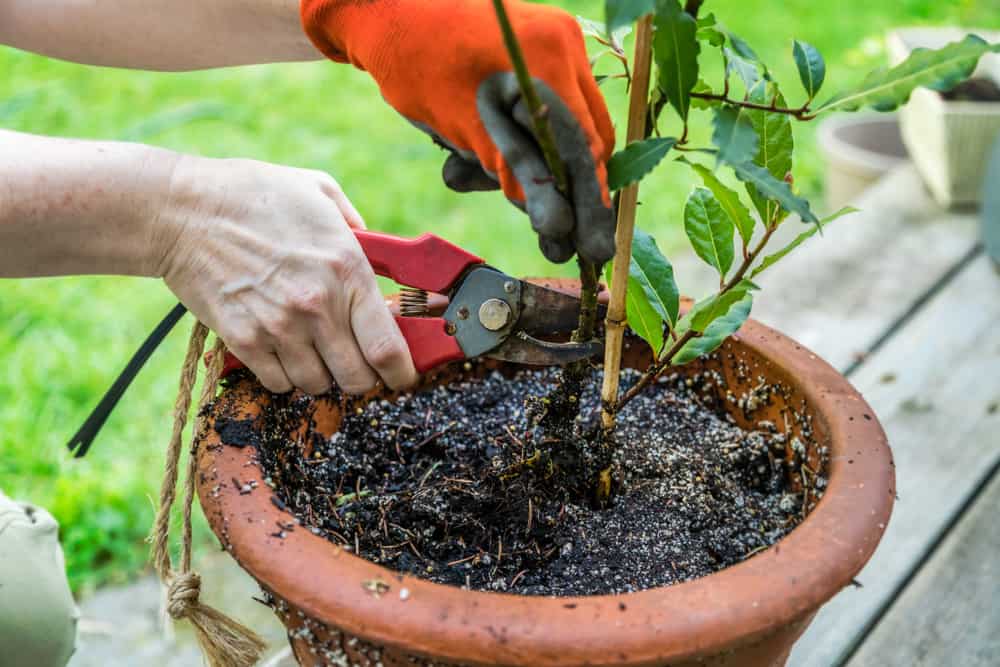 You don't need to prune skip laurels regularly. Occasional pruning can be done to promote healthy growth and help maintain their shape. Prune them in spring after they have flowered. When pruning them, remove any diseased, dead, or damaged branches to enhance their appearance and improve their overall health. Prune selectively to shape the shrub. Trim back straggly or very long branches to maintain an appealing appearance.
Don't prune them heavily; else, it can lead to reduced flowering. If the skip laurel has been infected with a shot-hole, prune off the affected leaves and give the plant a well-circulated atmosphere to grow new healthy foliage.
When the skip laurel branches are young, trim the branches. This will encourage them to produce thick foliage. Once the plant gets established, remove the topmost branches to ensure that the lower parts get enough sunlight.
How Far Apart Should You Plant Skip Laurel?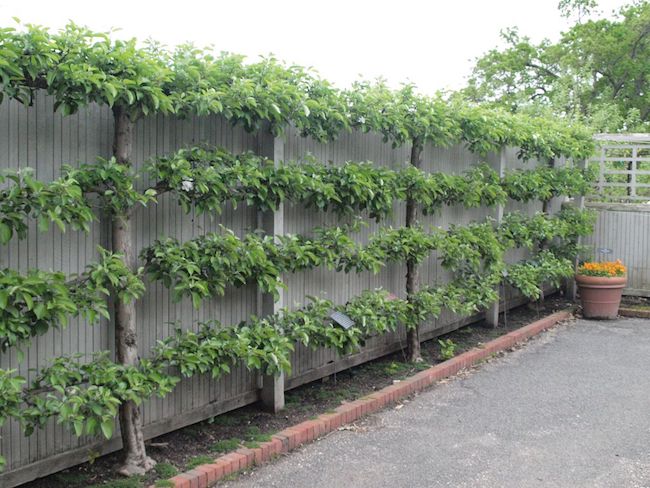 Skip laurel is often used as a foundation planting or a hedge. It is a fast-growing shrub that thrives well in all types of conditions. It can reach up to 10 feet in width and height. When planting skip laurel, space the plants at least 3 to 5 feet apart. This spacing is required for the shrub to grow together while still allowing enough space for each plant to develop fully.
The spacing will also depend on whether you want the shrub to form a dense hedge or you want to plant it individually. If you want to plant the shrub as an individual specimen, there should be more spacing between each plant. This will enable the shrub to grow to its original size and shape. If you want to have an open view of the skip laurels, allow them to stand alone.
Form a row of 10 feet apart. You must plant the skip laurels 2 to 3 feet apart. The shrub easily reaches 10 to 18 feet if you don't trim it, but if you trim it, the shrub will grow up to 2 feet a year. When planting a windbreak, screen, or hedge, place the young trees at least 15 feet apart.
How to Plant Skip Laurel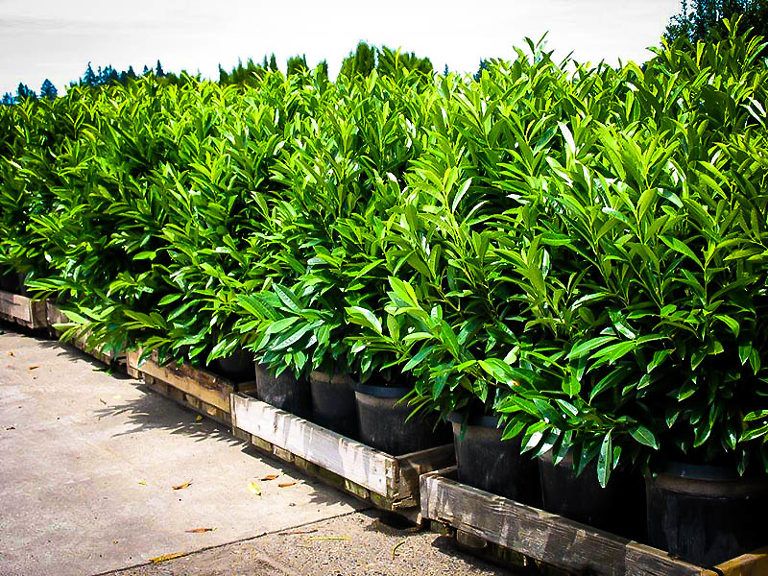 Planting skip laurel is an easy process. Dig a hole three times the root ball's size and the same depth as the container. Before planting the shrub, loosen the soil and improve fertility and drainage by incorporating organic material.
After this, you need to place the shrub in the planting hole's center and soil amended with compost to backfill the space. Remove any air pockets by pressing the ground firmly. Water and mulch regularly around the base of the plant to suppress weed growth and maintain the proper level of moisture.
After planting the skip laurel, water it regularly for the first week. Ensure that the soil is moist but not waterlogged. Inspect the shrub for signs of stress, like yellowing leaves and wilting. You don't need to prune skip laurels regularly. Prune them lightly after they have finished flowering in the early spring. Don't add fertilizer if the plant is healthy.
How to Grow Skip Laurels in Pots?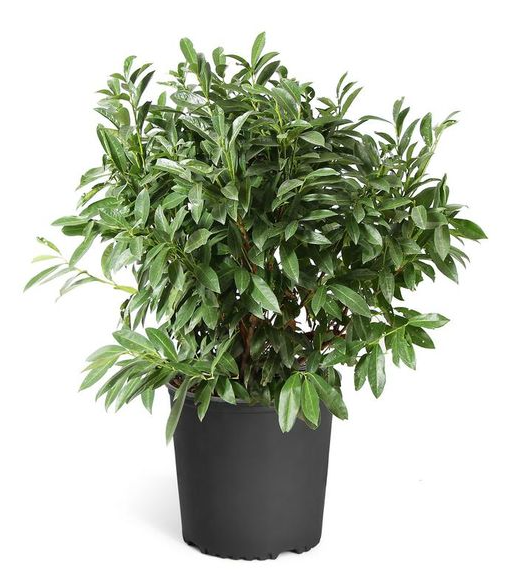 Skip laurels can be grown in containers with minimal effort. Choose a terracotta or sturdy ceramic pot that will provide enough support. You should also ensure that the container has drainage holes to prevent water logging. For sufficient drainage, half-fill the pot with an organic-rich, loose potting mix amended with perlite.
Put the shrub in a way that the roots are below the soil line. Fill the pot with soil, leaving some space from the rim. Place the container in partial shade or full sun to ensure that the plant grows well.
When the top 2" is dry, water the shrub. Water the skip laurel until water drains from the bottom. Apply a slow-release, balanced fertilizer for shrubs in the spring.
Pests Affecting Skip Laurels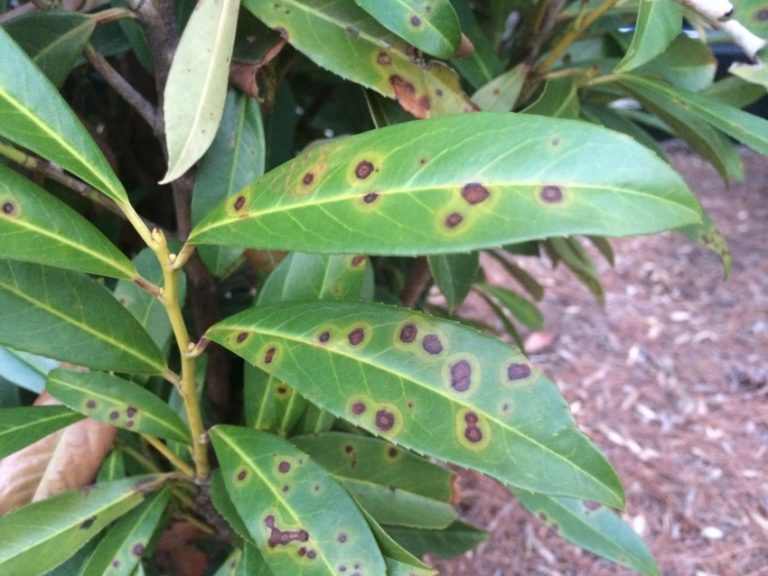 Established skip laurels are generally disease-resistant. If the evergreen hedge gets a sufficient amount of sunlight, insects, bugs, and mites shouldn't be a problem. However, if you don't care for the plant, nasty creatures like scale insects, vine weevils, slugs, thrips, and spider mites can cause weak or immature plant problems.
Scale insects attach themselves to the leaves and stems of the skip laurels. You can control them with the help of insecticidal sprays or horticultural oil. Laurel leaf miners can damage the leaves of skip laurels.
Use the garden hose to remove tiny insects and bugs, whitefly, aphids, and spider mites. Spray the plant regularly to get rid of the pests and control their population. A sharp, short blast of water can remove the insects.
Conclusion
Skip laurel is a hedge plant that grows dense and fast and gives an eye-catchy look to your garden. They do not need much care and maintenance and can be grown easily by anyone. The clusters of blackberries and showy white flowers contrast with shiny green leaves, giving the hedge shrub an appealing look.
They make great privacy screens because they stay green throughout the year and have glossy and neat leaves. The shrubs are adaptable to different soil conditions and can handle anything from dry to alkaline soils. They are a great choice if you live in an area where plants are reluctant to grow.
So plant them and turn your backyard into an outdoor retreat.
Frequently Asked Questions
Is Skip Laurel Toxic?
Skip laurel is poisonous to both humans and animals. If consumed accidentally, it can lead to serious health problems. Berries stems, and leaves, particularly fallen or wilted, are all toxic. So take care while planting the hedge.
Do Deers Eat Skip Laurels?
Yes, deers eat skip laurels if they don't find anything else. During warm months they won't eat skip laurels as there are many other plants. But during the winter, they start munching on them as their preferred food is all gone.
How Quickly Do the Skip Laurels Grow?
Skip laurels grow at a moderate rate when you maintain them well and offer them proper nutrition. They grow two feet per year. The growth rate will vary depending on the soil condition, climate, and fertilization.