Do you love to spend outside more? Want to transform your outdoor space into a more inviting space with a more functional and exciting area? Then go for a patio roof extension, whether you want to create a shaded space for relaxation, shield outdoor furniture from the environment, or improve its overall look.
In addition to providing protection from the sun, rain, and other weather conditions, a well-designed patio also adds a sense of style and sophistication. It outlines a designated area that can be used all year long, allowing you to make good use of your patio in all situations.
Also, there are multiple choices in extension patio roof options to meet your taste. From traditional style to trendy architecture, you can opt for these patio extensions to enhance your home's exterior look.
Here in this article will cover a variety of extension patio roof ideas that will inspire you to find your ideal one that suits your budget and purpose.
Extension Patio Roof Ideas for Your Space
1. Gable Roof Extension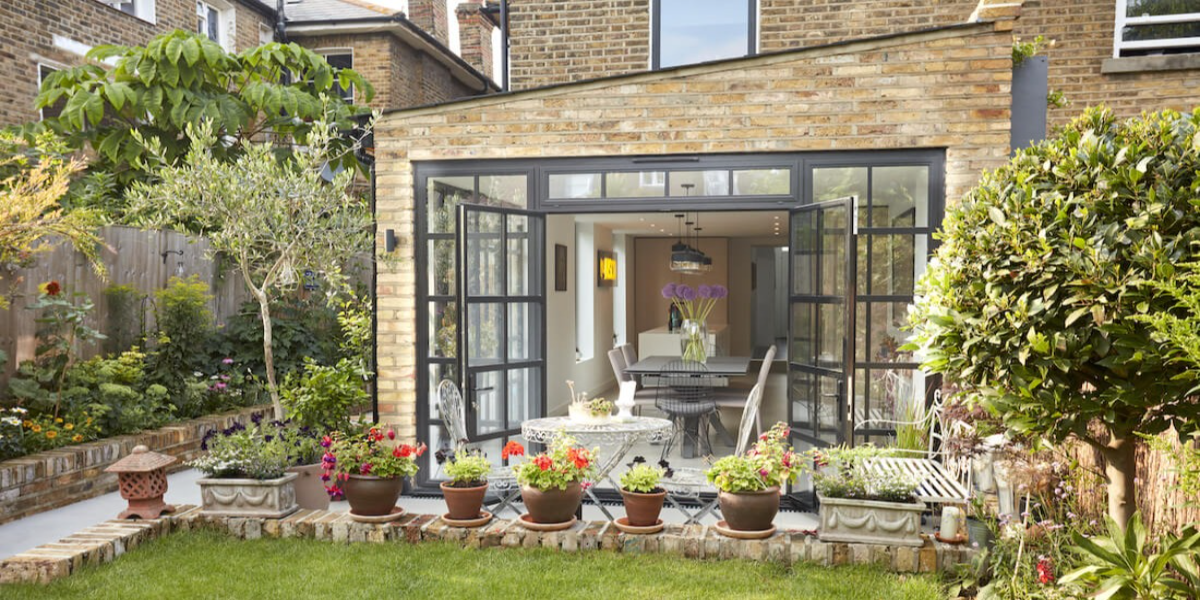 The rake of a gable roof can be extended to provide a charming and useful patio area as an addition. By extending the roofline, you can create a seamless transition from the home's exterior, hiding outlines and resulting in an overall aesthetic. You can benefit from having the ease and comfort of an indoor area combined with the beauty of outdoor living, giving you the best of both areas.
There are countless possibilities to fit your preference and the overall appearance of your home, ranging from simple designs with classic gable roofs to elaborate ones with decorative features. This extended roof offers plenty of shade and protection from hot sun rays and bad climates.
2. Lean-To Roof Extension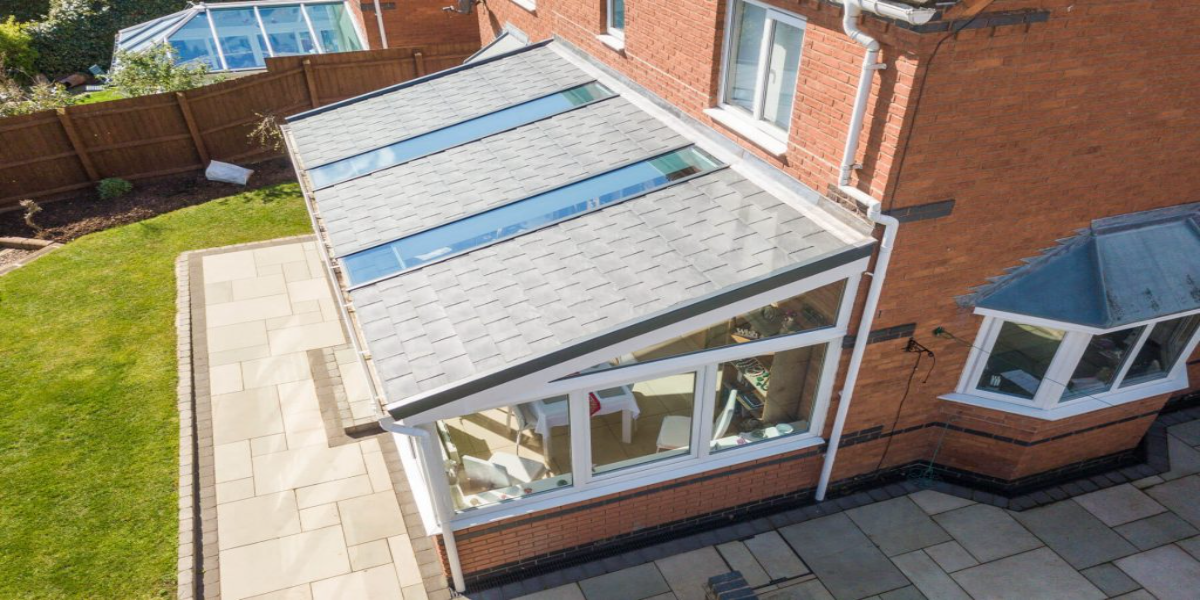 In order to create an additional space that easily merges with the architecture of your home, this kind of extension requires adding a roof structure to a house corner or an existing wall.
This lean-to-roof extension offers a useful and aesthetically pleasing solution whether you have a small space or make use of your underused corner. You may turn this small or underused space into a useful spot that blends in with your existing patio or outdoor area.
Lean-to-roof extension in coroner provides countless design options. In order to suit your home's style and interior, you can select from a variety of roofing materials like metal panels, shingles, or polycarbonate sheets. You can also use features such as skylights or windows to allow natural light and create an open and spacious atmosphere.
Consider including blinds or outdoor curtains to create a private space to enjoy your personal space in the shade of an extended patio roof.
3. Cantilevered Roof Extensions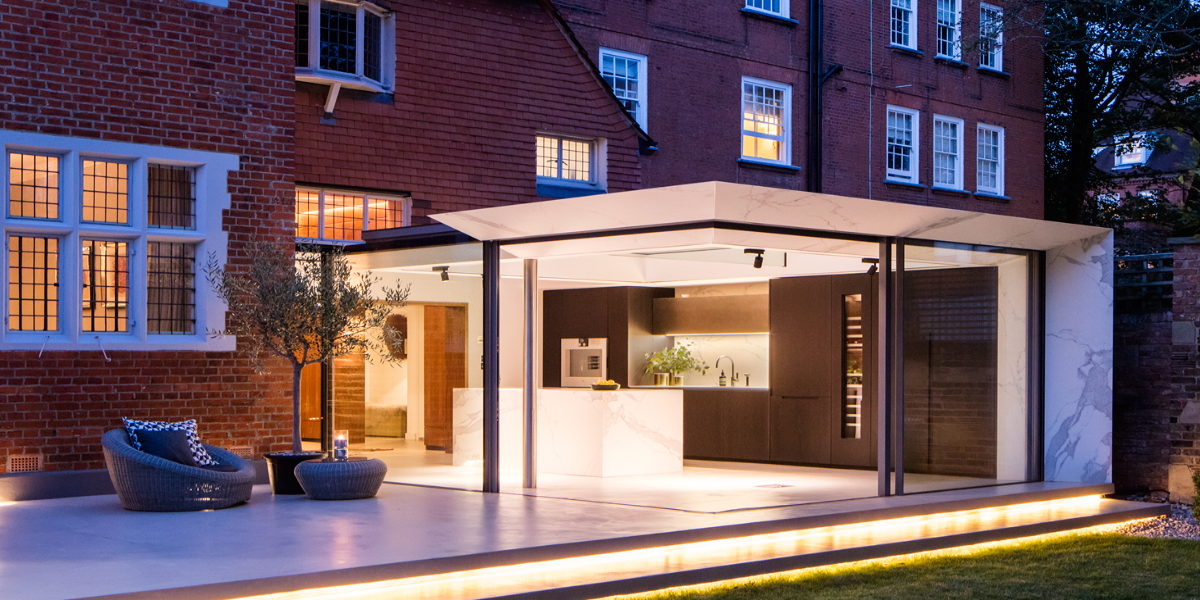 Cantilevered roof extensions are one of the best extension patio roof ideas when you want to give your patio a sleek and modern touch. This kind of addition has a visually stunning design that exudes elegance and lightness. It gives a distinctive architectural element that adds both flair and practicality to your outdoor space by extending the roof structure beyond supporting walls.
With this kind of patio extension design, indoor and outdoor areas seamlessly transition without any need for extra supportive columns or beams. It offers plenty of space for outdoor furniture, chit chatting area, and an open kitchen that suits your personal taste and needs.
Depending on your preferred design, cantilevered roof extensions can be built from a variety of materials, such as aluminum, steel, or timber.
4. Post Anchored Shade Sail Cover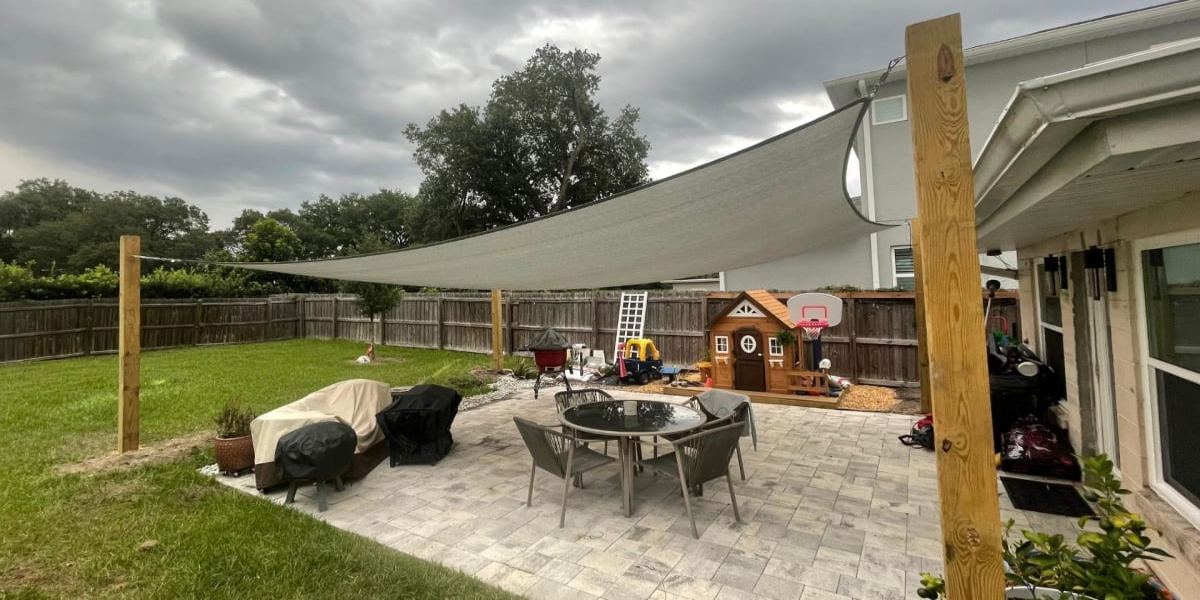 You can transform your backyard or patio into a cozy space with one of the top 20 extension patio roof ideas. This post-anchored shade sail cover. It provides a practical solution to create a shaded space in your patio or your background.
The post-anchored shade sail cover comes with a number of advantages. The first benefit is that it is effectively dangerous UV rays. Its fabric is also breathable, allowing for optimum ventilation and airflow while yet offering shade and cooling down from the sun.
Another benefit is that the design is versatile and enables variable positioning. It can be modified to tailor coverage and orientation to suit your needs. Using these shade sails, you can easily cover all the lounge areas, swimming pools, and kids' play areas based on your preference. Also, these shade sail covers are available in various sizes, colors, and shapes to be a useful addition to your patio.
5. Roof Extensions Between Walls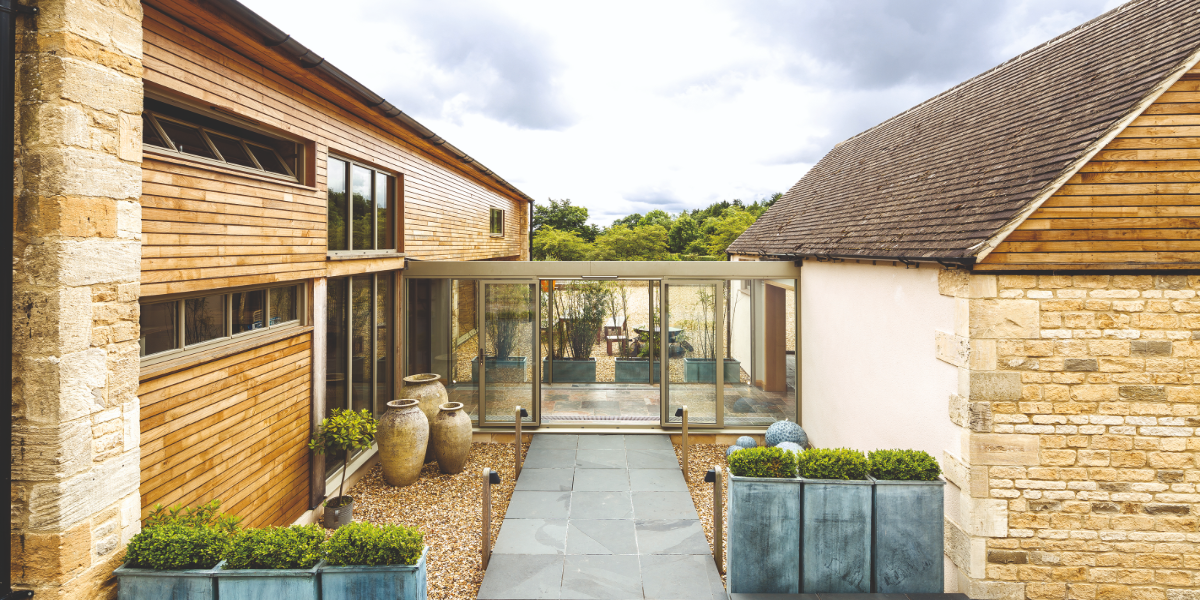 These kinds of extension patio roof ideas are practical solutions when you think of creating an extension for your patio roof. You can create a smooth transition between the indoor and outdoor areas with this extension by extending your home's existing roofline between two walls.
This enables you to utilize your outdoor area all year long in all seasons for entertaining guests, kids' play, romantic dinners, or other activities. This expanded roof provides shade and lessens direct sunlight exposure, which keeps the indoor space cooler than other homes.
By extending the roofline, you can preserve the existing structure's visual integrity and make sure that it merges seamlessly, increasing its curb appeal and value. Moreover, consider the factors during the planning and construction phase, such as its capacity, structural integrity, building codes, and current theme.
6. Extending a Roof to Create a Veranda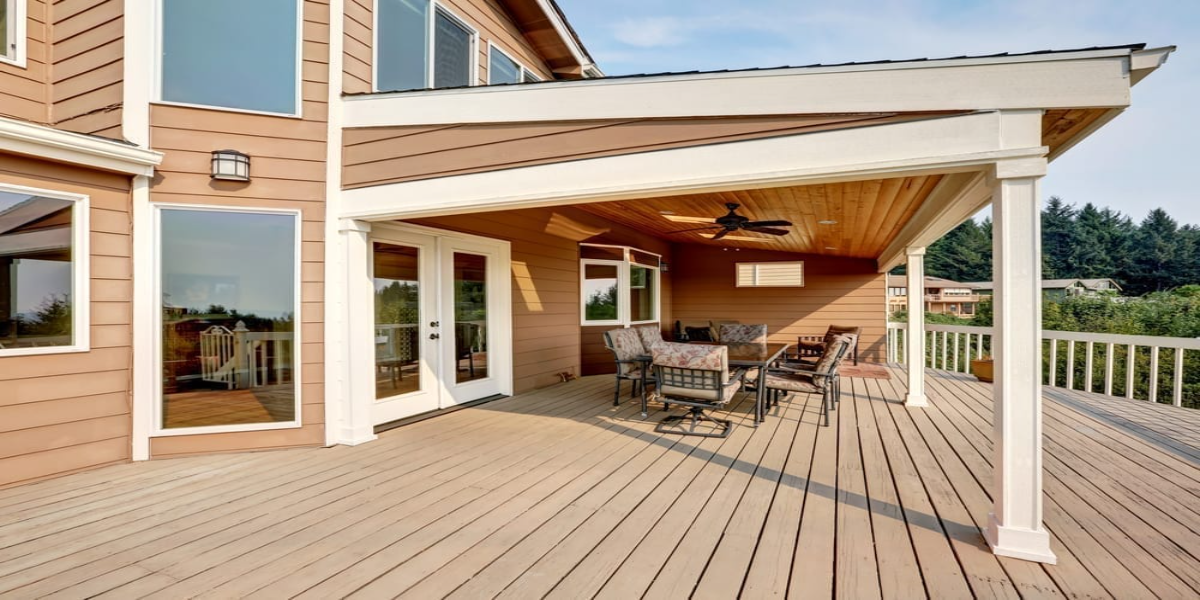 A great way to extend the existing roofline is to extend a roof to create a veranda-like space. These extension patio roof ideas not just create space but also create a safe environment from wind, dust, dirt, and UV rays.
A roof extension for a veranda provides added functionality in addition to protection. You can also furnish this area with outdoor furniture to create a cozy space for relaxing evenings or dining meals to host your guests. The shady area is absolutely perfect for tea time, having meals, relaxing, exercising, kids studying, or stargazing.
This veranda can completely change your outdoor living experience and increase the value of your property with careful planning and thoughtful execution.
7. Large Skylights for Roof Extension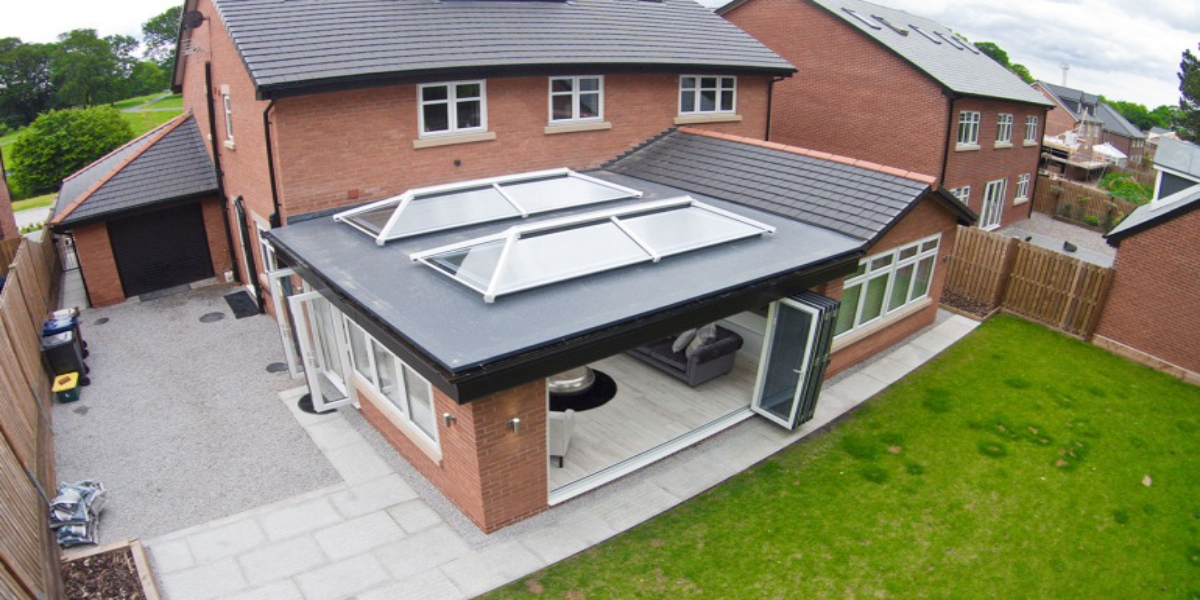 A common and creative way of extension patio roof ideas is to add roof extension with large skylights, increasing the amount of natural light in your home. This kind of addition involves adding your existing roof structure that features large skylights. It enables an abundance of natural light to flood the inside to create a brighter space. This extension not only makes the space feel light and airy but also lessens the need for artificial lighting, which saves energy and improves the quality of life.
Large skylights in a roof extension add a distinctive architectural aspect to your home. Additionally, it can provide visual interest and a dash of current style, enhancing the aesthetic appeal of interior space. Overall, you can create a warm and uplifting atmosphere to support family well-being and productivity.
8. Large Open Patio Space with Separate Gable Roofs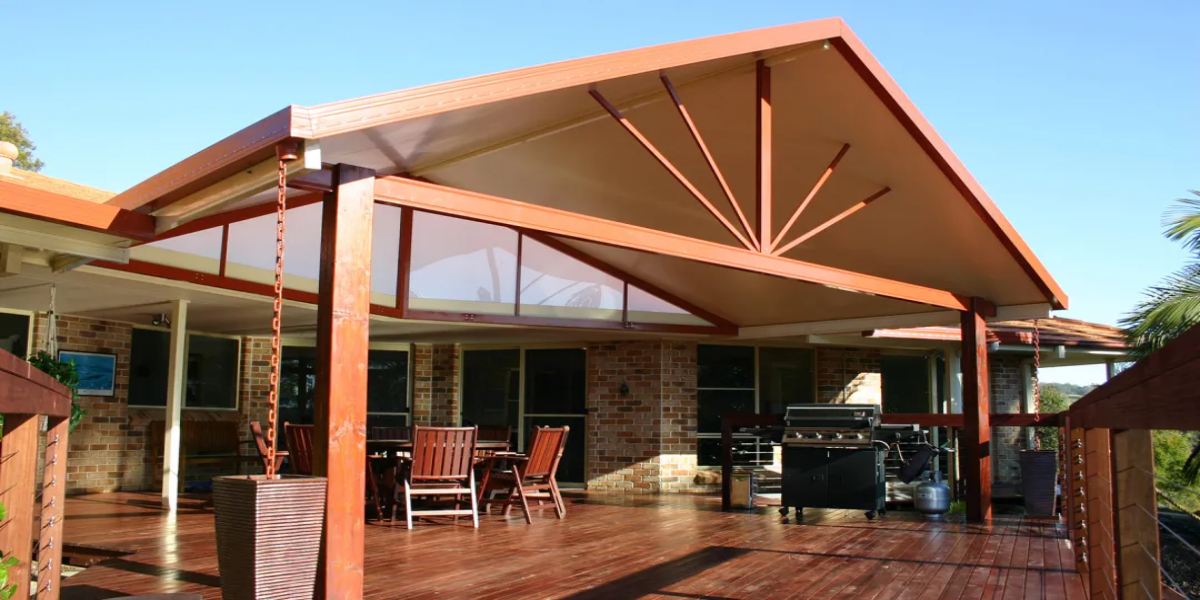 Separate gable roofs are a great choice out of all the extension patio roof ideas for expanding your patio to build a large outdoor living area. In this style, gable roofs are built next to one another, creating a huge open area that provides both shelter and a feeling of openness.
The capacity to cover a vast area while keeping an open and airy ambiance is the fundamental benefit of using separate gable roofs. They also offer good protection from the unpredictable weather.
These gable roofs have a steep pitch that makes it easy for rainwater and debris to slide off, keeping your patio dry and tidy. Moreover, this kind of patio is especially helpful if you are located in a frequent rainfall area or in harsh weather conditions.
9. Built-In Pitched Patio Roofs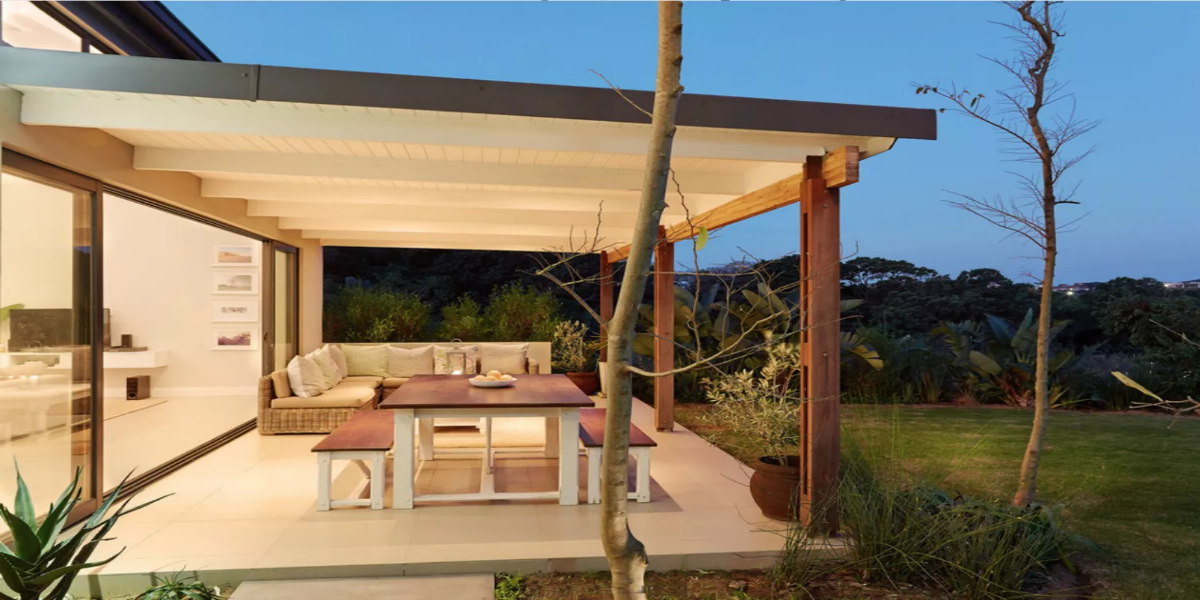 As one of the extension patio roof ideas, these built-in pitched patio roofs add style and utility to any outdoor area while offering both protection and shade from the weather. This is specially designed to integrate easily with the existing architecture to create a breathtaking view of the patio area.
The ability to blend in seamlessly with your home's architectural style is its main advantage. By allowing for a seamless transition between interior and exterior living spaces, these built-in pitched patio roofs increase the value of your property too.
It offers lots of shady space and protection in addition to being aesthetically pleasing. The angled design makes it easier to clear the debris and rainwater, prevents accumulating, and ensures a dry and hygienic outdoor space. This design style is more beneficial on hot summer days or stormy weather.
Also, it helps when you want to enjoy the outer view from your patio without being exposed to direct sunlight or draining into the rain.
10. Raised Patio Connected to Roofs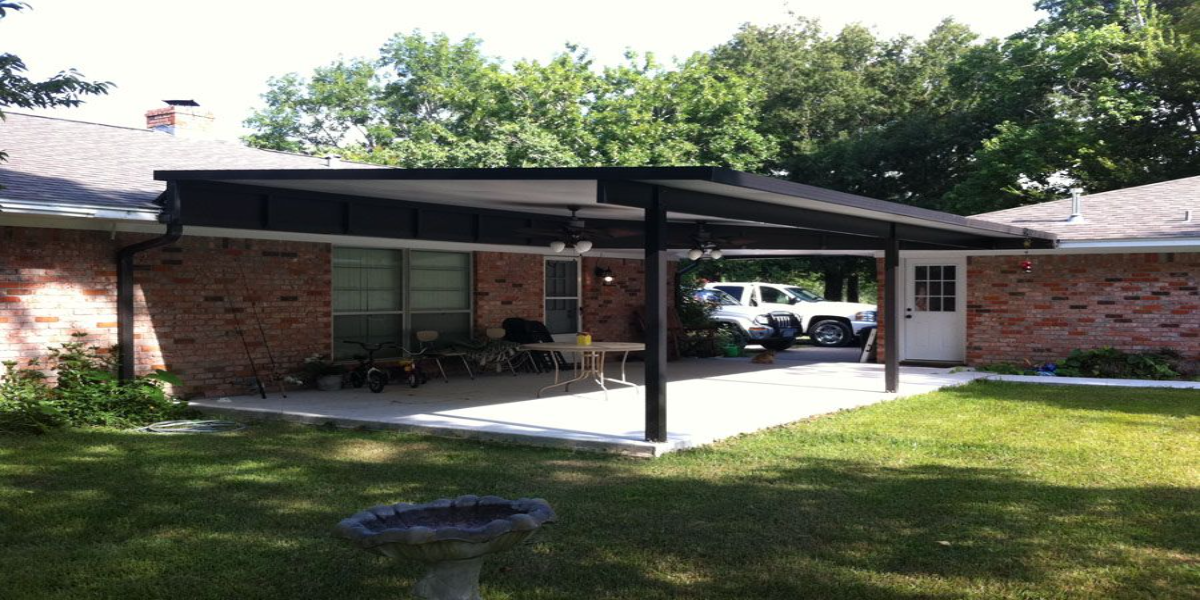 A unique and creative technique to increase the outdoor living area is to connect a raised patio to the roof. In this design idea, the patio platform is raised to the same height as the roof, enabling a seamless and integrated connection.
By taking advantage of space above the ground level, it makes the most of available space. However, homeowners with small yards or who want to maximize their outdoor living space would particularly benefit from this. Moreover, being on the same level as the roof, it allows for unobstructed viewpoints and sightlines, making it the perfect location to have a glance at beautiful surroundings.
Additionally, the direct connection between the patio and the roof avoids the need for separate access points or steps to enter into the patio area.
11. Flat or Skillion Roof for Extension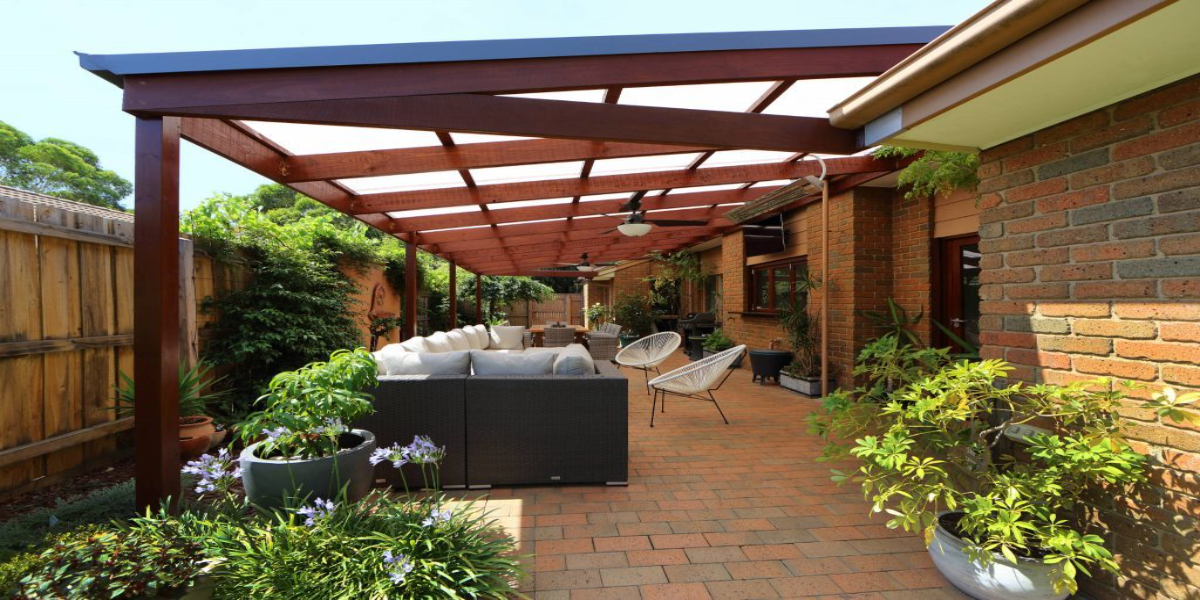 A flat or skillion roof is a sleek and minimalist design that offers modern and contemporary touch with a patio extension to the existing architecture. In contrast to traditional pitched roofs, this flat or skillion roof has a single flat surface with a slight slope to avoid water drainage.
As a result of its simplicity, adaptability, and capability to blend in with many architectural designs, this design choice has grown its popularity. It provides a plain background that lets other design components, such as furniture, decor, and landscaping, take center stage. It offers useful space for the installation of solar panels, rooftop gardens, and other elements to use renewable energy or maintain greenery on the roof.
As there are no intricate curves or slopes that can gather debris, flat or skillion roofs are easier to maintain and clean than pitched roofs.
12. Cedar Pergola for Patio Roof Extension
A beautiful and eco-friendly option for extension patio roof ideas is a cedar pergola. These are free-standing structures with exposed frameworks made of vertical pillars and horizontal beams. These elements have architectural interest and create extra shade for your outdoor space.
A cedar pergola provides coziness, charm, and practicality to your patio space as it's made of cedar wood. It's a material that is well-known for its beauty, toughness, and inherent resistance to decay and insects.
A pergola's open structure promotes the flow of fresh air and helps maintain a comfortable atmosphere even on hot summer days. It also acts as a support for hanging plants, or outdoor lighting fixtures, giving your patio a touch of ambiance and greenery.
13. Bring in Loggias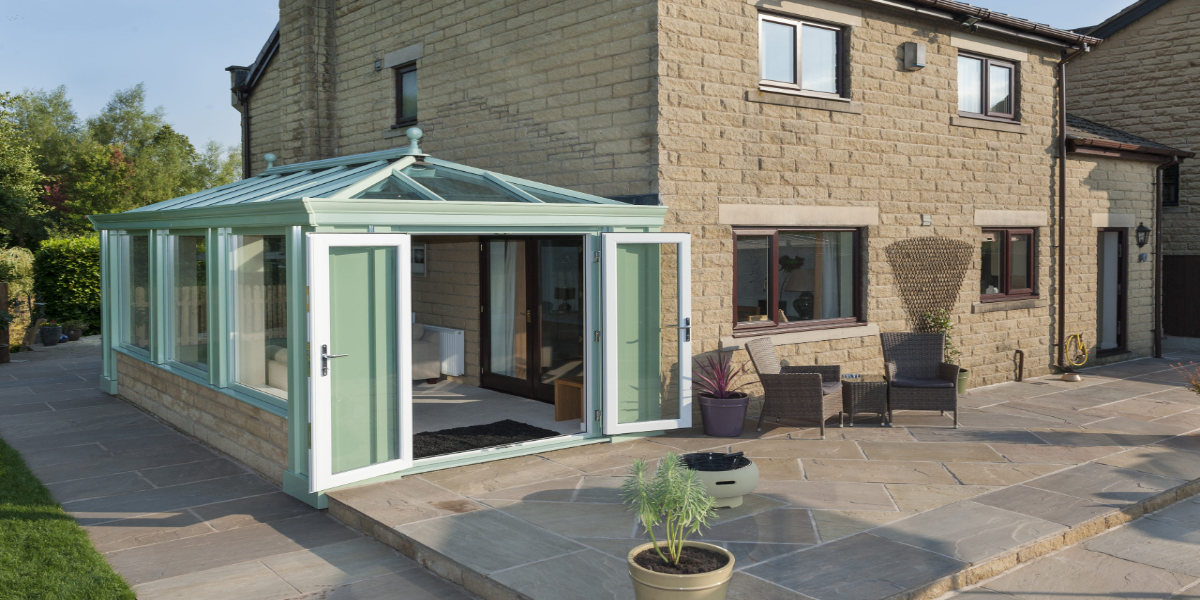 The seamless transition between outdoor and indoor areas is provided by a covered outdoor space called a loggia. It is often linked to the side of the building and can be added as a patio roof extension to create a lovely and useful space. It also improves the overall design and usability of your outdoor space.
The loggia design incorporates a number of columns and pillars to support the roof construction, resulting in a covered walkway or porch-like space. It usually has arches or open sides, which creates a sense of openness and closeness to the surroundings.
The loggia offers a covered area with an airy feel so you can enjoy being outside while staying protected from the environment. You can build this loggia using various materials like wood, stone, or brick, so you can select a design that goes well with the architecture of your home.
14. Add an Awning for Patio Roof Extension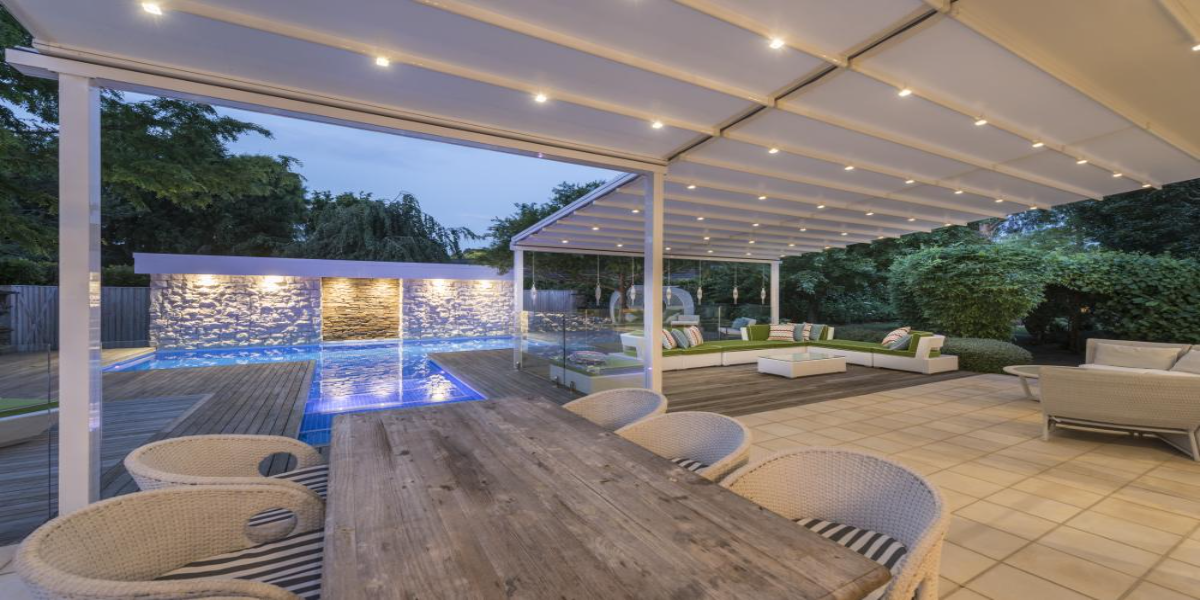 The popular and most preferable alternative for extending the patio roof is to add an awning. As a secondary roof structure, this awning is attached to a home's outside wall and extends outward to offer share and protection from the rain and the sun.
Awning design comes in two different designs: fixed and retractable awning, providing you the ability to change the amount of shade and sunshine depending on your needs.
You can simply control coverage and adjust retractable awnings to changing weather conditions manually or systemically. On the other hand, fixed awning offers a more long-lasting and robust solution, making them perfect for areas where regular shade is sought.
For added practicality and convenience, some awnings can be customized with extra features like systemic operations, built-in lighting, and wind and rain sensors.
15. Thatch-Style Roof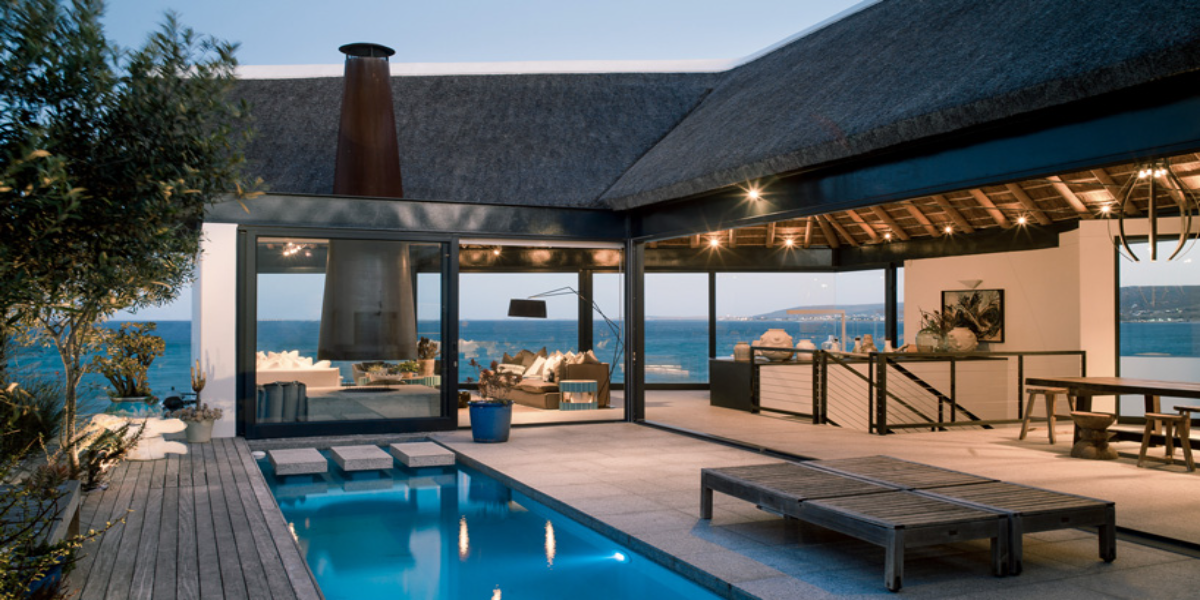 The roof of your patio can be extended in a unique and attractive way with a thatch-style roof. Traditional thatched roofs are popular in tropical and coastal regions, serving as the model for this form of roof. It adds a sense of rustic charm and natural beauty to outdoor spaces, fostering a warm and welcoming atmosphere.
Natural materials such as grass, dried reeds, or palm leaves are usually braided together to create a strong and weather-resistant covering. It keeps the patio cool in the summer and warm in the winter thanks to the patio's thatched roof structure, which offers excellent insulation.
Thatch-style roofs are known for their durability and resilience to weather conditions, though they require some maintenance for increased lifespan!!
16. Solar Fabric Shade for Patio Roof Extension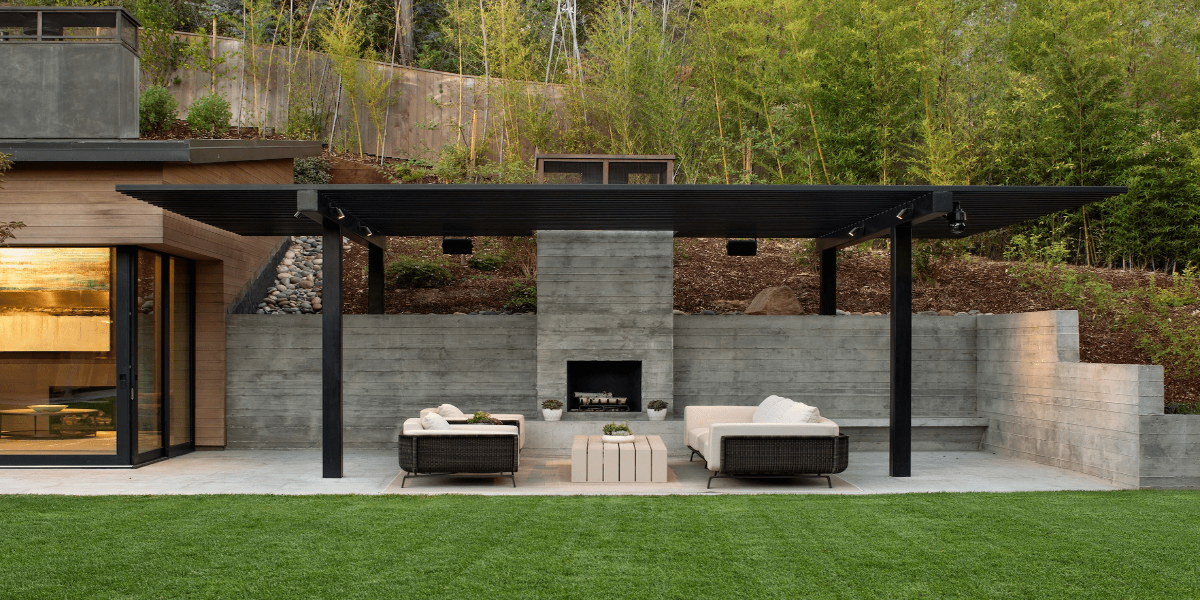 The trendy yet environmentally friendly option for extension patio roof ideas is solar fabric shades. It combines the advantages of solar energy capture and protection from sun and wind with roof expansion. With this creative approach, you can maximize your living area while utilizing solar energy.
Solar cells used in the fabric allow sunlight to be absorbed and turned into electricity, which can be used for a variety of home appliances. This desired amount of sunlight and shade can be controlled with this fabric by adjusting or retracting. Also, you can alter the outdoor space based on your needs, whether you wish to fully or half open the fabric for sunshine or extra shade.
17. Palo Alto Patio Cover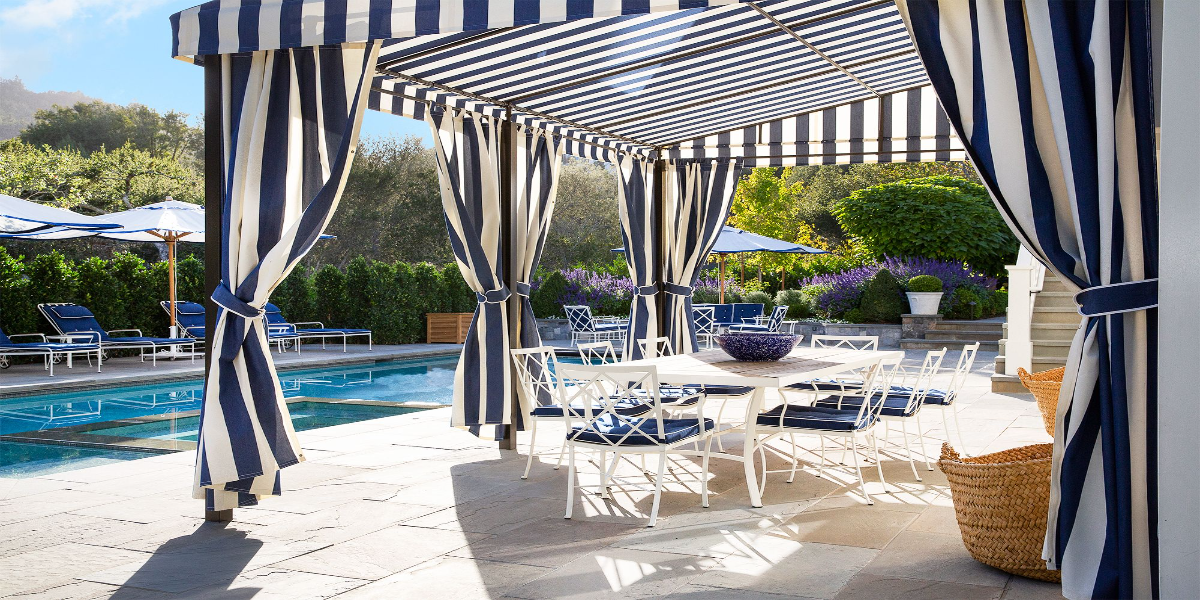 In order to ensure durability, the Palo Alto patio cover is manufactured of high-quality materials like aluminum or wood. Its modern and minimalistic appearance is complemented by a range of architectural styles thanks to its clean and clear lines.
Palo Alto patio covers can be altered to meet the dimensions and style choices of your existing patio. You may also design a patio cover that blends in with your existing decor by selecting from a variety of finishes and colors.
Also, retractable screens can be added to block out insects and provide privacy. Or you can install built-in lighting fixtures to make the space feel more cozy at night. With these adaptable alternatives,, you can design a patio roof extension that perfectly suits your needs and improve outdoor living.
18. A Green Canopy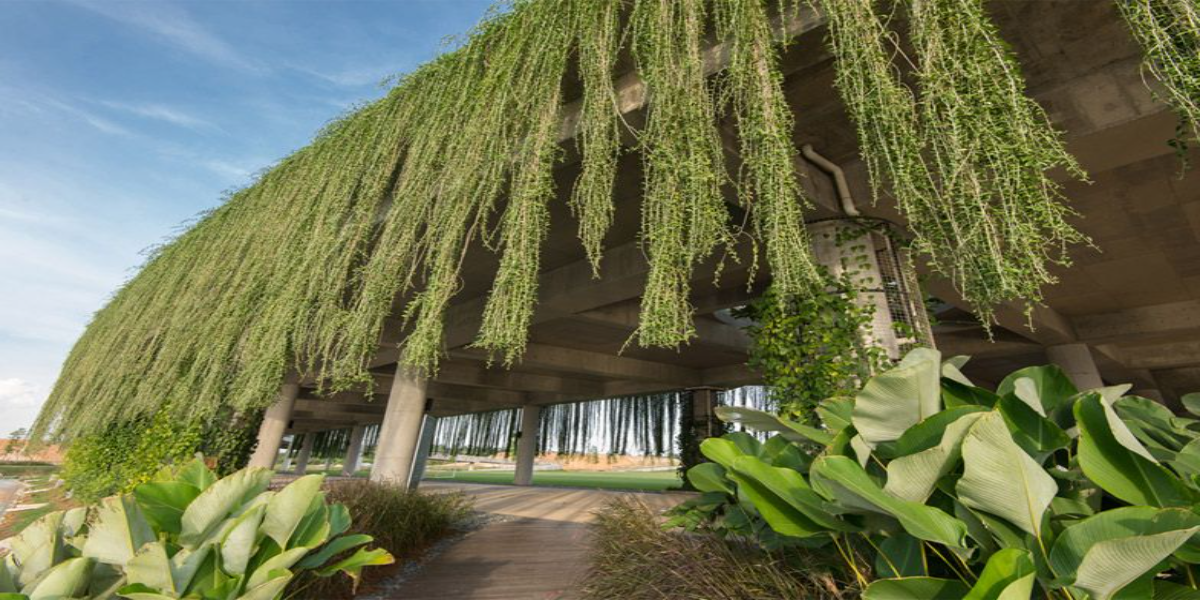 As one of the extension patio roof ideas, adding a green canopy is a timeless style to add a touch of beauty and nature to the outdoor space. It offers several advantages while fostering an atmosphere that is both aesthetically pleasing and environmentally suitable.
A green canopy is usually made with climbing plants or vine-like leaves! This is particularly useful in the summer when you want to enjoy your patio without being exposed to sunlight. It also aids in lowering the temperature, improving the comfort of outdoor space even on hot summer days.
A green canopy actually requires proper maintenance to guarantee that the plants grow in the appropriate direction and shape. However, careful maintenance is worth its full benefits!
19. Screened-In Porch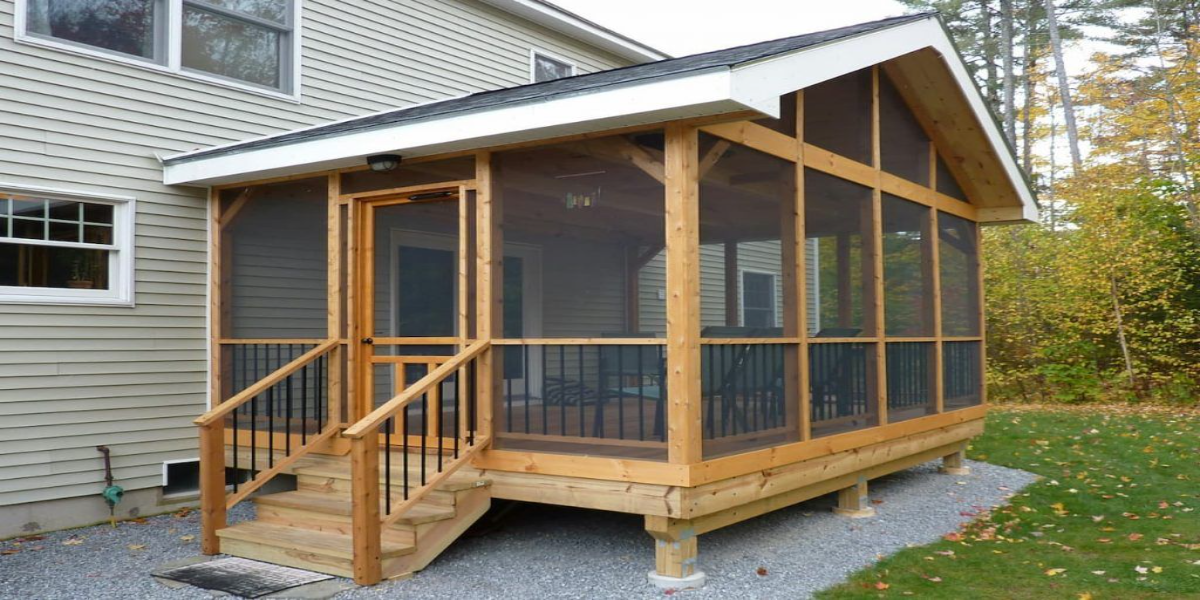 Any home would benefit from having a screened-in porch since it offers a flexible and cozy area. These screens serve as a barrier, preventing flies, mosquitoes, and other pesky insects from getting near you, so you can fully enjoy the outdoors.
Without having to swat insects or apply insect repellents constantly, you can enjoy your morning or evening coffee, book reading, kids' playtime, or family gathering on the porch.
From the comfort of your porch, you may take in the beauty of nature, whether it's shiny summer or breezy winter. You can utilize the area all year round thanks to the screen's protection from rain, wind, and UV rays.
20. Use of Umbrella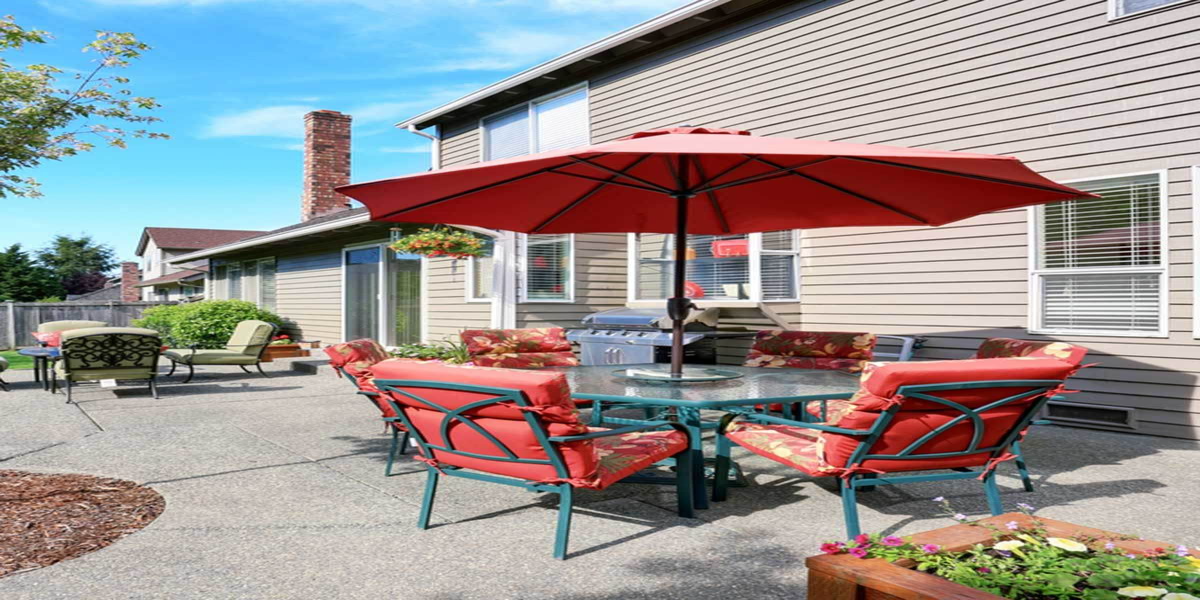 The patio roof can be extended using an outdoor umbrella, which is a flexible and useful solution that has many advantages. When it comes to providing shade and protecting your patio area from the sun's UV rays and sudden rains, umbrellas offer a practical and affordable alternative.
Umbrellas provide a practical and fashionable way to enjoy your patio while remaining cool and sun-protected. Because of its durability, adaptability, aesthetic appeal, and ease of maintenance, you can opt for this without hesitating. To improve your patio setup and create a cozy atmosphere for entertaining, think about adding an outdoor umbrella.
Conclusion
There are many options to improve your outdoor living area and make it more inviting for entertaining and relaxing, thanks to these extension patio roof ideas! All these options can suit your outdoors but are based on your needs and preferences, such as either your choice of fashionable addition or protective shelter.
You can opt for any of these extension patio roof ideas to change the appearance of your outdoors by carefully considering its design, budget, and requirements. All these roof extensions enhance the appearance and atmosphere of your patio in addition to providing practical benefits like shading, sheltering, and protection.
With all these extension patio roof ideas, you can create a stunning outdoor space for sure. Just give it a try!!