Looking for some original ideas for a family picture wall for your home? You are at the right place. Going with an original family picture wall idea might be a process that involves a lot of thinking and creativity. Gathering your favorite moments together and making your home more lively is a beautiful thought.
Your dear and near people can always visit the picture wall and go back down memory lane. A good amount of research and planning is required to create the perfect family picture wall for your home that goes well with the decor and acts as an attractive point of focus. In this article, we will explore some great family picture wall ideas that suit different kinds of requirements and tastes.
Scroll down to get just the right idea for your home to make a creative family picture wall.
Best Family Picture Wall Ideas
Below are some of the best family picture wall ideas for your home. We have compiled this list by including ideas to suit a variety of styles and decors. Scroll down to explore!
1. Theme-Based Family Picture Wall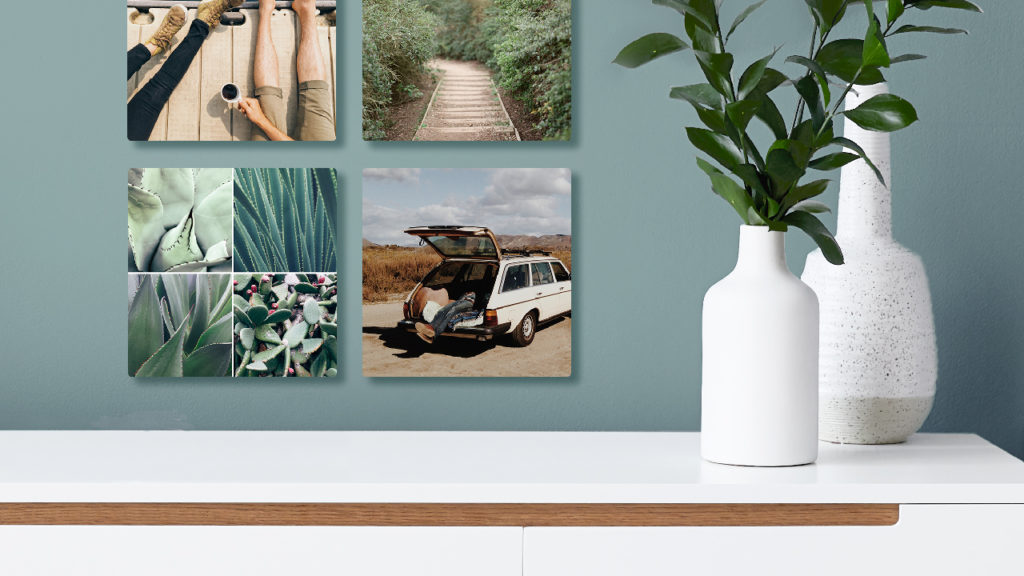 A theme-based family picture wall is one of the simple yet timeless ideas you could try. Pick a theme for your picture wall first. It can be anything like a vacation, family functions, get-togethers, etc. The next step is to choose the right pictures that suit the selected theme. Once this is done, the focus must be on the look and feel of the wall. Picking up the right frames and wood finishes can do the magic. Just make sure the frames match the vibe, and you are good to go!
2. Gallery Wall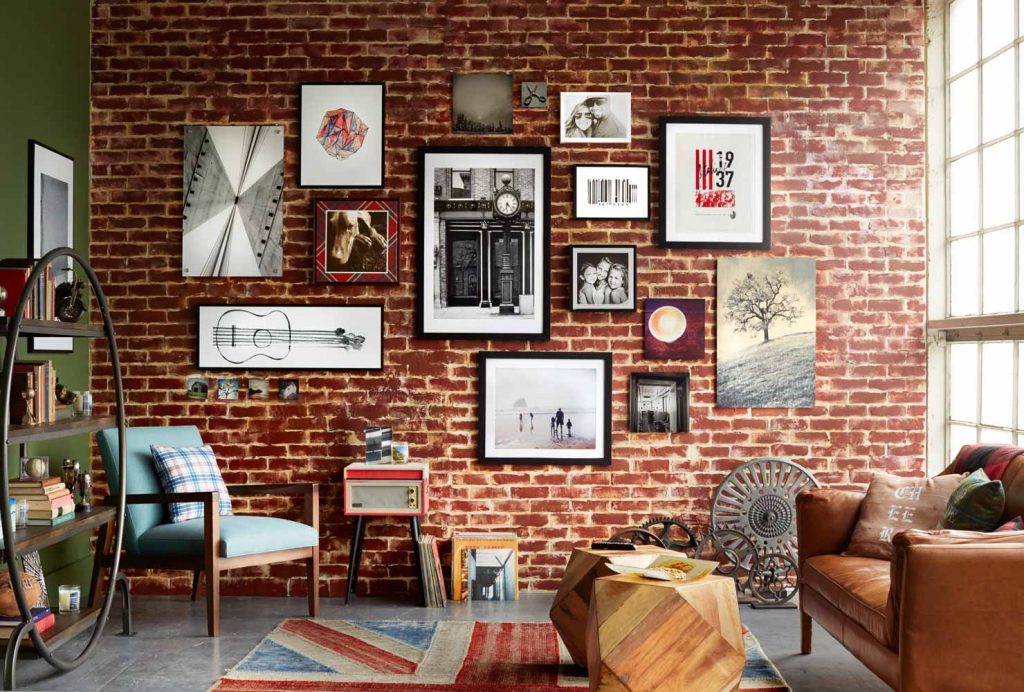 One of the best family picture wall ideas is a gallery wall. Imagine walking up to a large wall full of beautifully framed memories! The first thing to do here is choose the right place to set up the gallery. A family room, a stairway, or a hallway are a few of the best choices. Pick the set of pictures you want to put up in this gallery.
You can either go with a theme or mix and match old and new photos together. Go with frames that match the home decor. Using the same color frames can give your gallery wall a cohesive look, and if you want an eclectic look, you can choose varied-looking frames.
3. Photo Gallery with String Lights and No Frames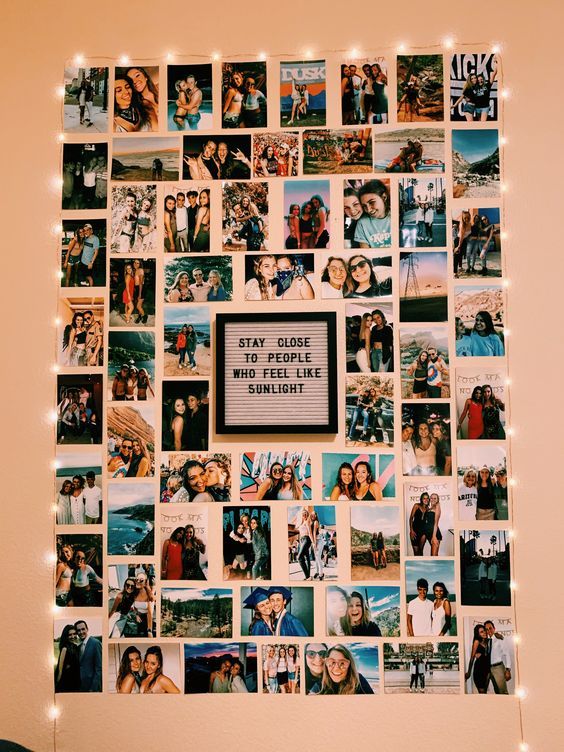 Worried about drilling your walls to set up a family photo gallery? Here is a great alternative: A photo gallery with no frames is a modern and stylish way of displaying photos on your wall. There is no frame, so you don't have to bother drilling the walls. With the help of command strips and push pins, you can easily put up the pictures.
Add a touch of personality to the gallery wall using string lights. The lights and the photo gallery will easily become a stunning focal point of the home.
4. Foam Board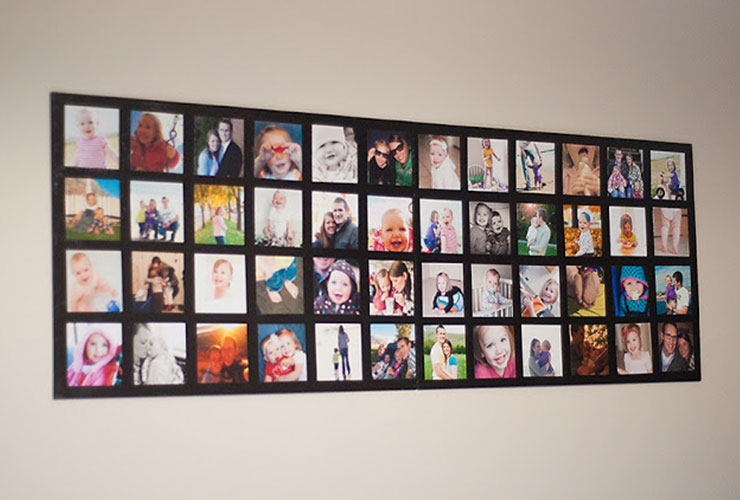 Using a foam board is one of the most simple and cost-effective family picture wall ideas. You can use this as a creative way to display a particular journey in your life. Before putting up the foam board on the wall, it is recommended to style the board as you want. This can allow you to place the pictures exactly as you want on the board.
In such a setup, you can easily add pictures of your loved one's various stages of growing up.
5. Photo Collage Wallpaper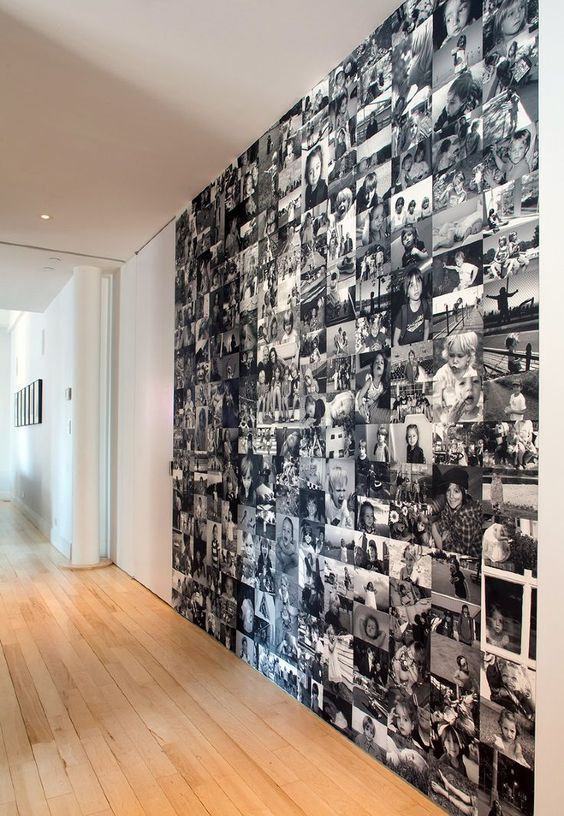 Here is a unique family picture wall idea for you: Embed your favorite memories on your wall using a photo collage. When we are discussing photo collage wallpaper, we are talking about covering an entire wall with pictures. It is a great way to display a large number of your favorite pictures at once. We recommend that you order a custom wallpaper online. After picking up just the right manufacturer, you can share the set of pictures to make a collage.
This is a better option than just putting up one large picture on the wall. One disadvantage of displaying pictures in this way is that if you want to change the pictures displayed, you will have to order a new collage.
6. Photo Ledges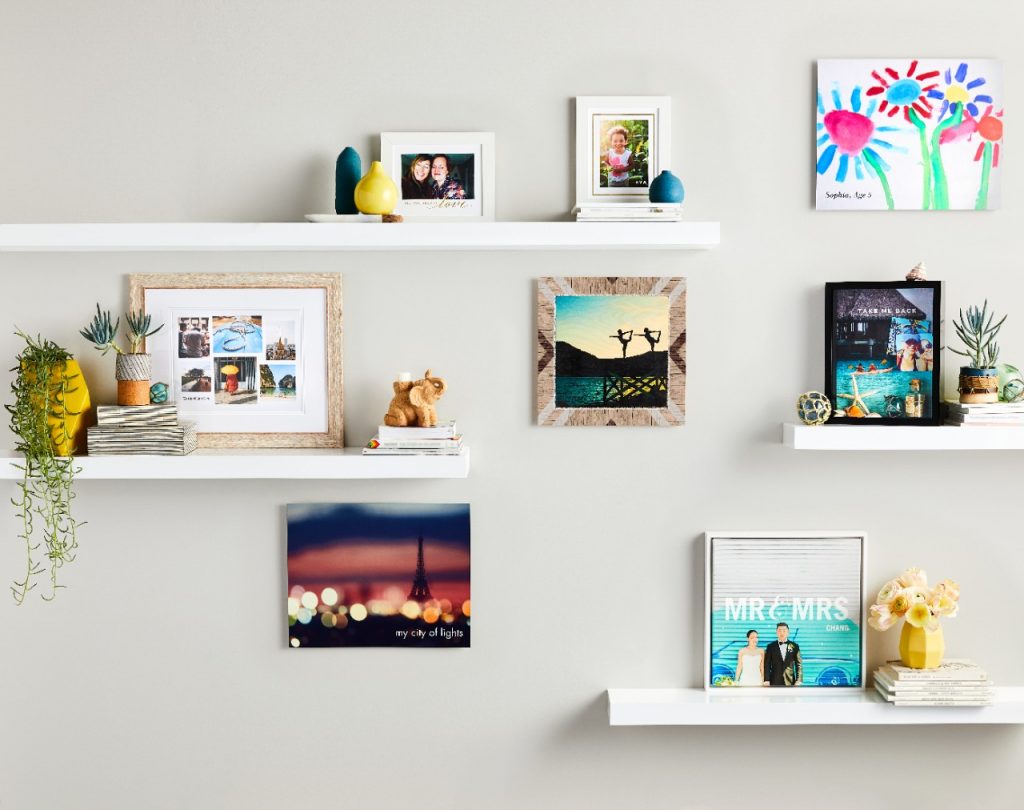 If you are not a fan of hanging pictures, photo ledges might just be your thing to consider. Photo ledges are one of the classic ways to showcase family photos without having to hang them. Just consider reducing your ledges' thickness to give them a more modern touch. Attaching photo ledges along with shelves can give your entire wall a unique style.
Photo ledges are also used as a way to fill up empty walls in a decorative way. You can either choose to display photos of the same size and frame style or with different sizes and frames. The latter option can give your walls a more stylish and contemporary look.
7. Wooden Photo Board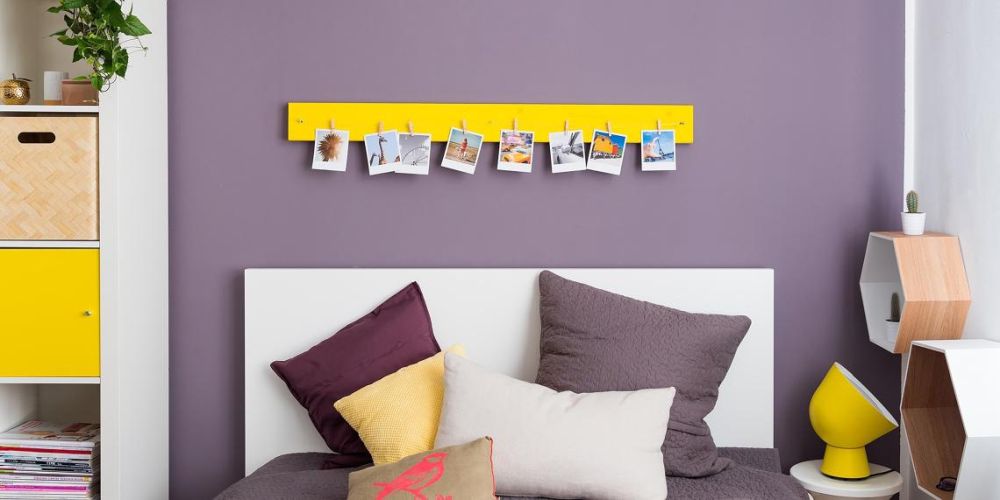 While exploring family picture wall ideas, let us talk about something very basic and customizable for you to consider: wooden photo boards. If you have a farmhouse interior style, this is an option that can fit you the best. You can simply hang pictures from the wooden board fixed to the wall. You can tweak this idea as per your wishes.
Installing multiple wooden walls of different colors in both a horizontal and vertical manner to hang photos can give a vibrant vibe to your room.
You can add such wooden photo boards to multiple rooms to display pictures. Powertools and basic woodworking skills will be required to pull this idea off, though, and you should also be fine with nailing the wooden boards to the walls.
8. Pegboard Family Picture Wall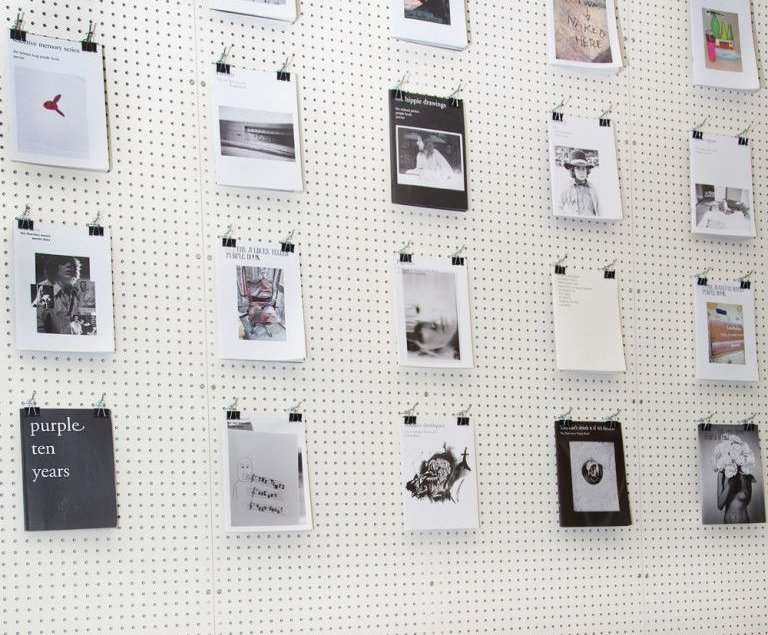 If you are looking for a unique, fresh, and standout idea to display family pictures, this is your find. You might have seen pegboards in jewelry stores to display jewelry and in garages to hang tools.
Installing one large pegboard in your home to display memorable pictures will be a very creative and unique family picture wall idea! With the help of peg hooks, fold-back clips, pegs, and strings, you can easily attach pictures to the peg board. It is a very customizable idea for your walls as well.
Along with pictures, you can try adding artwork, lights, flowers, etc., to make the wall look more captivating. You can always re-arrange and move the pictures in such a setup. The only catch to such a way of displaying pictures is finding a large pegboard for your wall.
9. Heart-Shaped Photo Display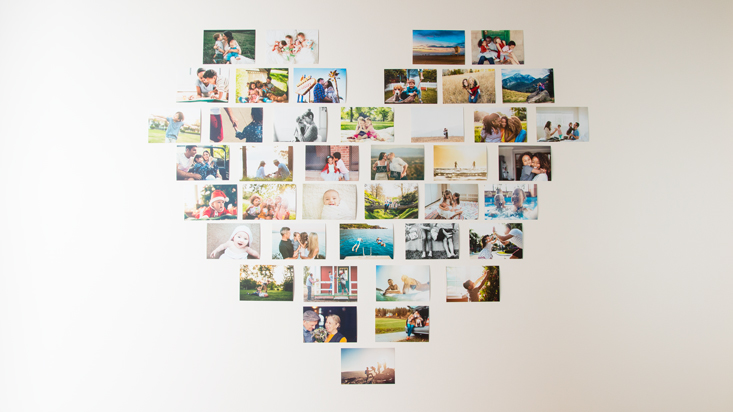 Create a lovely collage of pictures in the shape of a heart for your walls. It is a lovely way to put up family pictures on your wall. Compile a set of pictures that say love and display them in the shape of a heart.
You can choose moments you have captured from a vacation or from an individual person. Putting up such a unique display can let people look at all your favorite moments in one go.
10. Honeycomb Tile Wood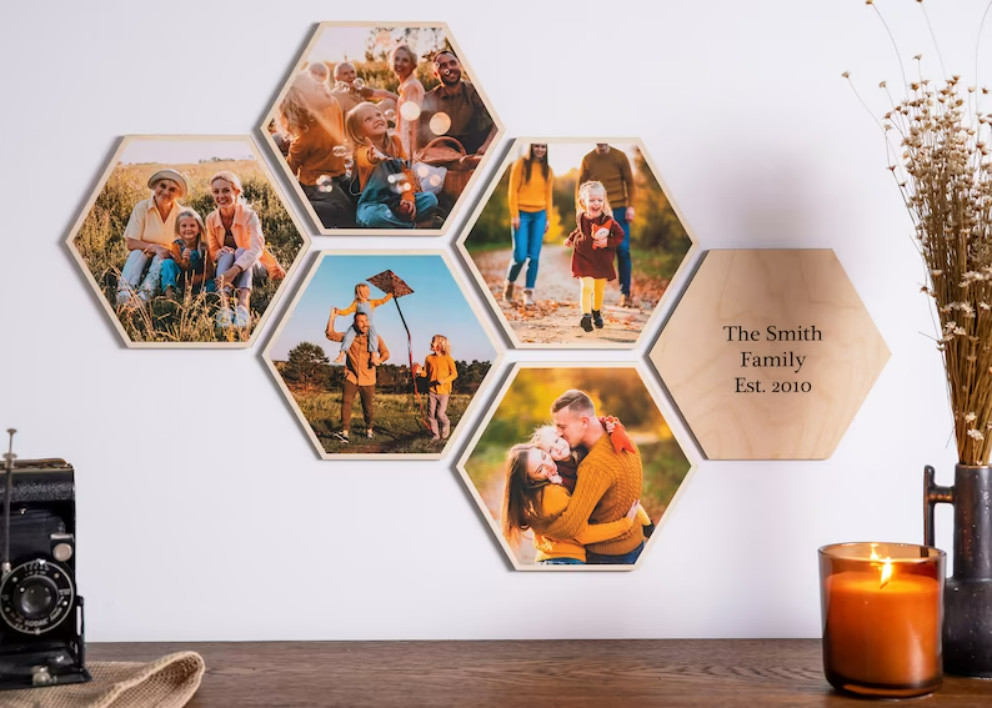 One of the best decorative ideas to display family pictures on your wall is to use a honeycomb tile design. Create hexagon-shaped wooden frames for your pictures. Placing these frames on your wall to create a honeycomb-like pattern will be a unique way to display pictures. The hexagon shape is considered a unique and natural shape to use in most places. Displaying pictures in hexagon-shaped frames will add an aesthetic touch to the wall.
Anyway, it is up to you whether you want to create a honeycomb-shaped pattern or anything else with the frames.
11. Frames and Quotes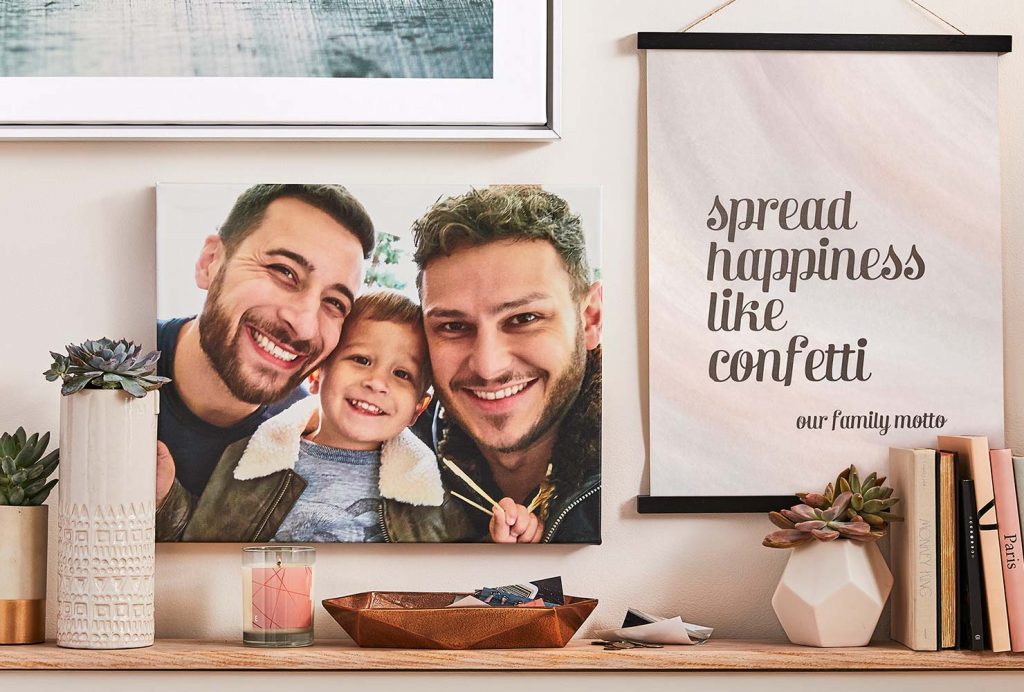 Incorporating your family pictures along with beautiful quotes is a fun and creative way to display pictures. You can use the entire design as wall art. Make sure the frames match the wall. If you are displaying pictures of a sibling, you can frame or display a quote that depicts sibling love.
You can mix and match the accent pieces to experiment with the whole look of such a display.
12. Photo Grid Around the Door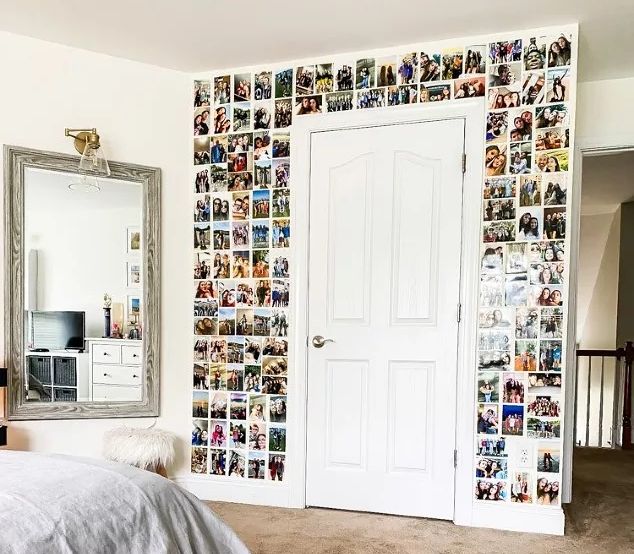 Experimenting with family photo wall ideas never ends. Add a touch of craziness and a lot of creativity to this idea of displaying photos. Try creating a photo grid around the door! The idea is simple. Stick photos around the door, and you are done with a very creative photo gallery! This is an optimal option to consider when having smaller spaces.
Aligning the photos in a grid pattern will give a symmetrical touch to the display. You can also simply add photos of different sizes and forget about symmetry to give it a different style. Just make sure that the pictures don't overlap.
13. Family Picture Wall with Vintage Frames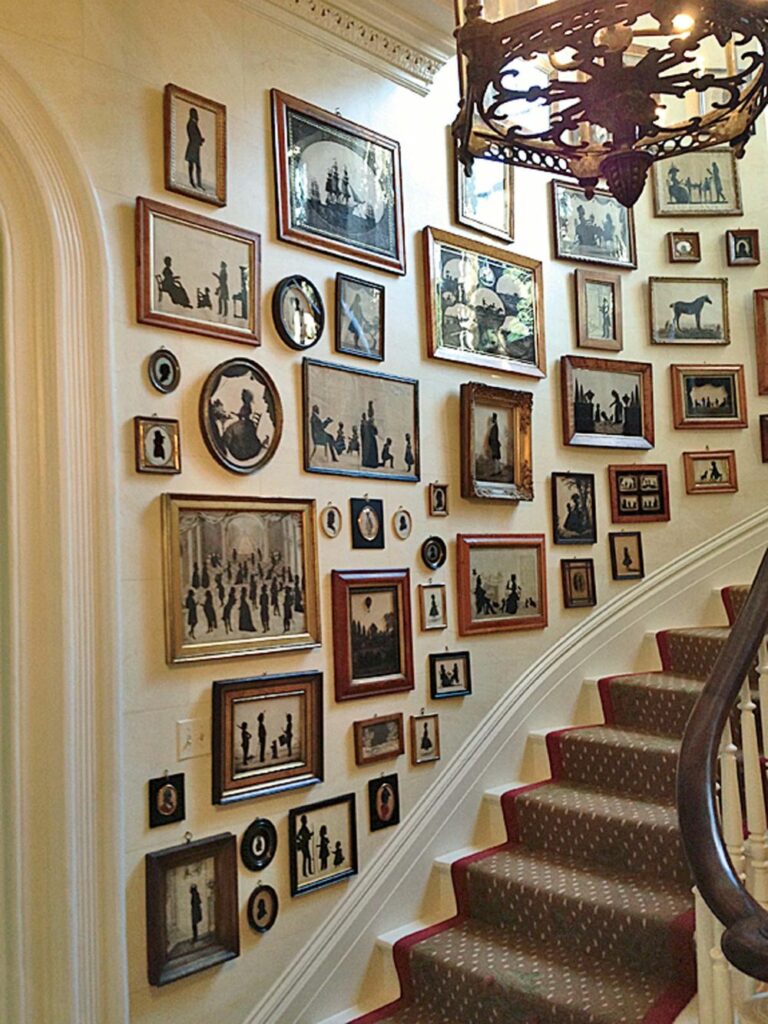 If your living space follows an eclectic design, using vintage frames to display family pictures will look ideal on the wall. The entire wall can give your home an antique touch if such frames are used.
Adding your images inside such vintage-styled frames and hanging multiples of such pictures to make a wall gallery will give a pre-contemporary look to the house. You can always have the space to experiment here. Choose whichever color you want for the frames, but adding photos with a monochrome, sepia, or grey tone will give the space a rich and classy vibe.
14. Photo Mosaic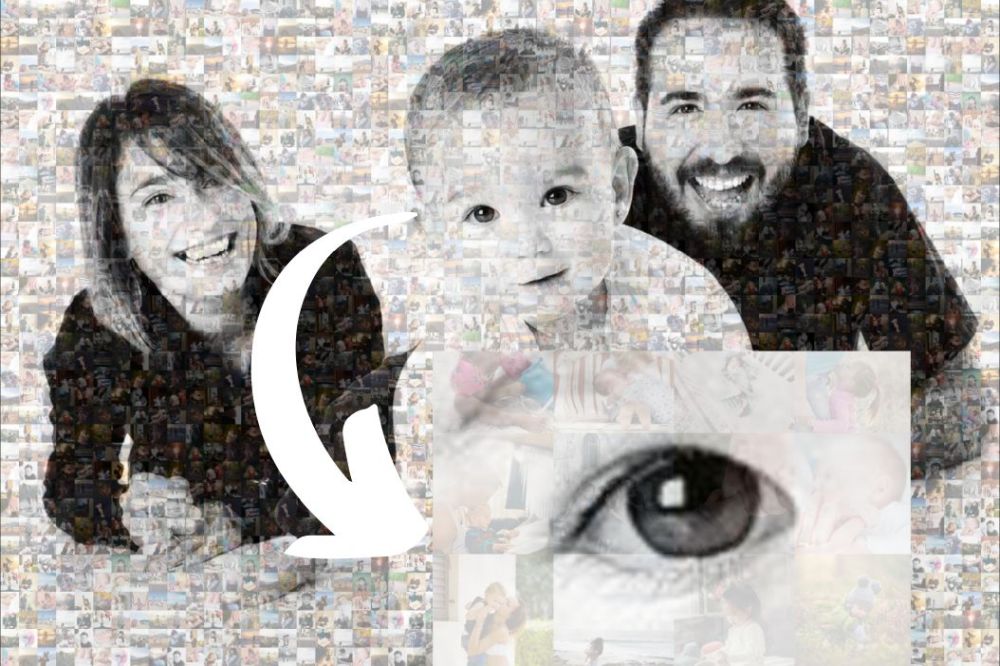 Photo mosaics are the best way to incorporate multiple photos to create a great display. They boast about sentimental values and love if displayed as a wall poster. The basic picture used will represent the sum of all the other pictures in a mosaic. To create a photo mosaic, you can use various online editing tools.
Covering an entire wall with a giant photo mosaic poster will create a stunning visual effect. Go with the right colors to make the mosaic blend in perfectly with your decor.
15. Family Tree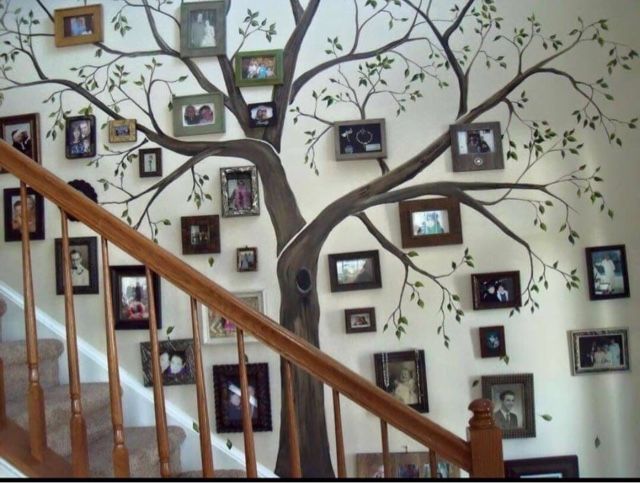 Let us end this list of creative family picture wall ideas with a very special option: a family tree! Those who have watched Harry Potter will never forget the family tree of Sirius Black. A big wall with your family tree might just be the perfect thing you are looking for. A painted family tree can tell stories about your family's history.
You can add any number of branches as per your family and your choice to display pictures. Adding leaves to the branches is entirely up to you. You should make sure to display this unique picture display in the most accessible part of the home, as family trees act as great conversation starters.
Final Word
When it comes to setting up a family picture wall, let your imagination take the lead. Don't restrict yourself from picturing the best possible ways of displaying pictures. The best way to choose the right design is to compare it with the style of your home and decor. As far as wall paintings are concerned, available space is an important factor.
You don't have to worry whether you have minimal space, as you can still make your place look better with a befitting family picture wall. From ledges to wallpapers to mosaics, you can choose from a variety of family picture wall ideas for your home. We hope this article was helpful in exploring a variety of wall picture ideas.
Try different styles of displaying memorable pictures on the walls to make the home decor look unique and stunning.
Frequently Asked Questions
How Can I Display Old Family Photos on My Wall?
There are numerous ways to display your old family pictures on a wall. You can either choose to hang or nail pictures after placing them inside appropriate frames. Adhesive photo murals are also a good option for displaying such pictures.
How Do I Organise a Family Picture Wall?
A 3-6 inch gap is recommended around the frames when designing a family picture wall for best results. You can use a ruler for this. While using larger pictures, you can increase this gap, and smaller pictures can look closer to each other.
What Is the Best Way to Distribute Pictures on a Wall?
One of the most suggestive designs is to use one big picture as a focal point and place the rest of the pictures around it to make a stunning display. Waiting until you have enough pictures to pull off this design is always recommended.