Are you sick of cluttered and messy garage cabinets? Have trouble getting the tools and equipment whenever necessary? Then it's time to take control over your garage and surroundings to make it a well-organized space. Building your own garage cabinet is one of the best solutions to do this. These cabinets will not only offer storage space but also add a new and unique touch to your space.
Here we come with the DIY garage cabinet ideas and process in this detailed blog post. Whether you are new to DIY or an experienced enthusiast, we have covered you with various options. Everything from planning and measuring to selecting materials and designing the cabinets together will be covered. You can build DIY cabinets in your garage to meet your demands with detailed instructions.
Get set and scroll down to find the suitable DIY project that will make your garage a functional and organized area.
Let's explore different options in DIY garage cabinets to maximize your available space.
DIY Garage Cabinets to Enhance Your Space Value
Here are a few DIY garage cabinet ideas with thoughtful designs to eliminate the clutter and create extra storage space.
1. Pegboard Cabinet
Using a pegboard panel to create space to organize tools and accessories is one of the designs of DIY garage cabinets. It offers flexible and spacious storage options for garage tools and equipment by mixing the functionality of storage space with adaptability.
The pegboard panel on the front or inside the cabinet door is the main feature these pegboard cabinets have. This is made of perforated metals, and even the holes are placed correctly to insert hooks, brackets, etc. With this design, you can hang and organize a wide variety of tools, such as ladders, gardening tools, and some other hand tools and power tools.
The adaptability of a pegboard cabinet is one of its advantages, and people prefer to choose it as a DIY garage cabinet. It allows you to customize and rearrange the layout as per your need to place different sizes of tools in the specific tool category section. You can also consider this design layout when you want to maximize the space while allowing for flexibility, especially when you want to have everything within plain sight.
2. Wall-Mounted Cabinets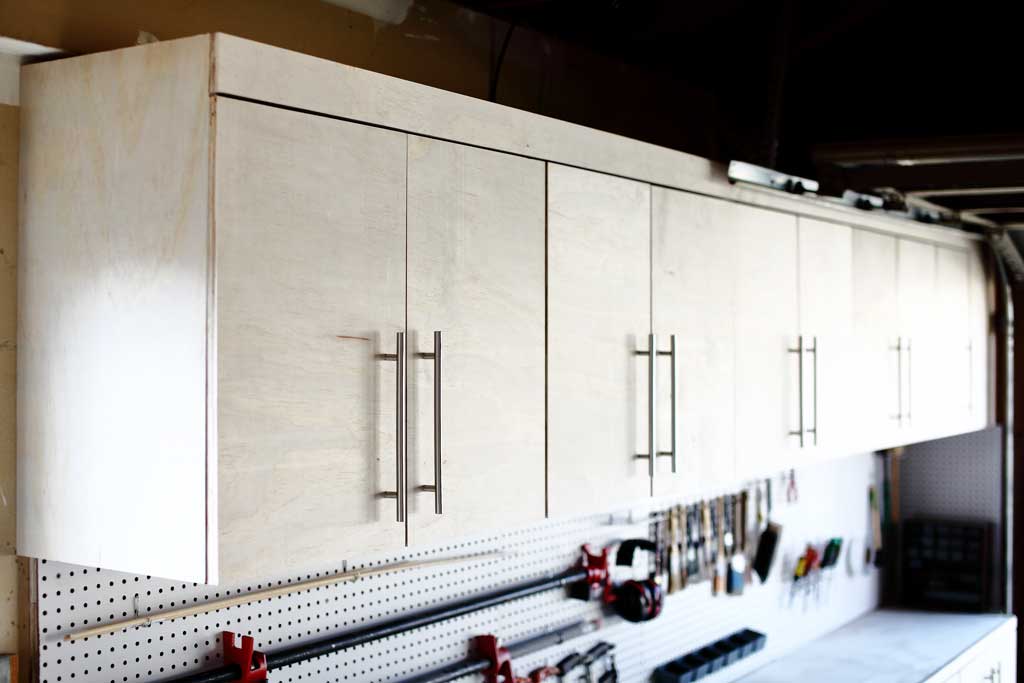 Wall-mounted cabinets are a regular style of DIY garage cabinet that maximizes space usage while providing effective storage options. These cabinets are made to be wall-mounted to free up floor space while offering a practical solution for easily storing various equipment.
Wall-mounted garage cabinets have the capacity to keep your garage organized and clutter-free. It often has several shelves or compartments, allowing you to manage the storage space for tools, equipment, and other accessories. You can readily access your tools while keeping them off the floor, lowering the risk of damage, by mounting cabinets on the wall at an appropriate height.
These cabinets come in various sizes and shapes as per your requirement and to meet all your storage needs. You can opt for built-in hooks and racks on the doors to hang the accessories. This instantly makes your garage space into a parking-friendly space, and you can make use of it for other activities when necessary, especially since you don't need to move or re-arrange anything from your garage.
3. Overhead Garage Cabinets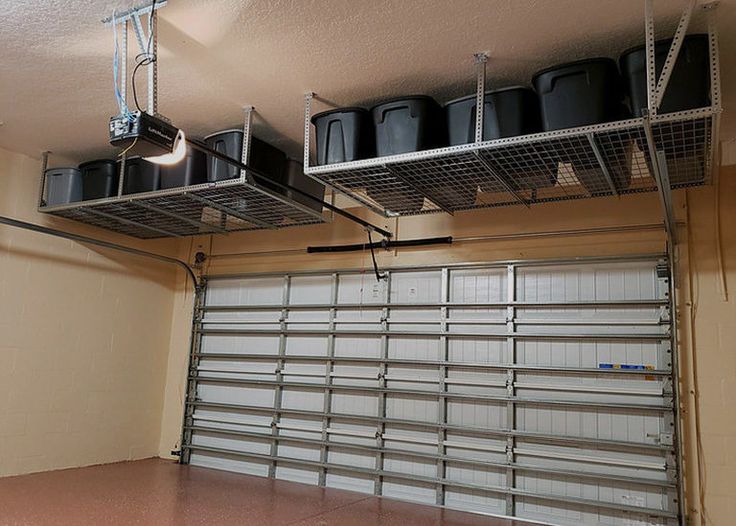 Installing cabinets over the head, which are commonly mounted on the ceiling or above the head, is a popular DIY garage cabinet type. It makes use of vertical space in your garage to create ample storage space by maintaining your garage floor clear. It features huge and bulky equipment that would not fit in other types of shelves or cabinets.
Overhead cabinets are a practical way to keep items, such as camping gear, hiking equipment, sports equipment, and decoration items, readily available when necessary.
The weight-bearing capacity of the overhead cabinets must be taken into consideration while making the selection. These cabinets need to be strong and able to hold the weight without dropping or breaking cabinets. To ensure proper support, it's advised to use premium hardware and install cabinets as per the instructions. Additionally, some cabinets have sliding or hinged doors to protect the tools from dust and dirt.
It usually takes some level of expertise to install overhead cabinets, but it can be manageable for beginners if they have a proper instructions manual. They even allow space for parking the cars or setting up a useful workshop by keeping things off the ground. Also, there are various types of overhead cabinets, such as heavy-duty, movable lift racks, and ceiling mounted; you can choose any of these themes to design your cabinet.
4. Garage Shelf Cabinet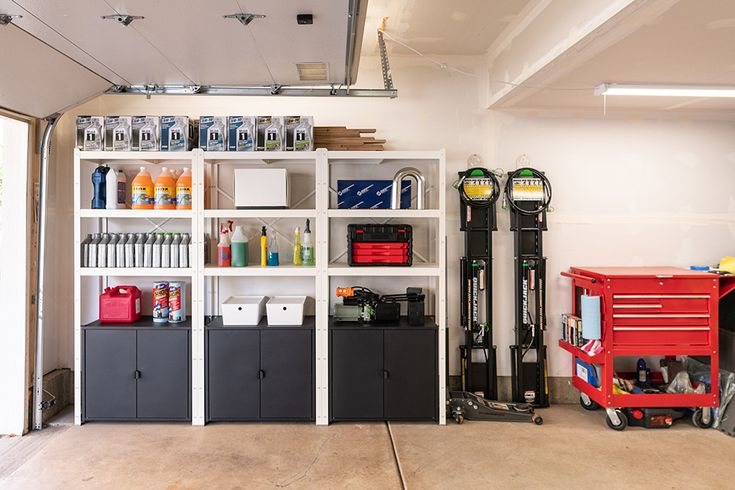 One of these DIY garage cabinets, the garage shelf cabinet, is a special design that combines the functionality of both shelves and cabinets. It has enclosed cupboards to store tools that you might not want to show everyone.
On the other hand, it has open shelves for easy access and a view of equipment to grab quickly. Combining these two different concepts offers a flexible storage option for arranging different types of tools and accessories in your garage.
This garage shelf cabinet design is ideal for keeping tools, equipment, and tool kits that are regularly used. It can be a good storage choice since the shelves can be set at various heights to accommodate tools of various sizes.
These cabinets also come with doors in some custom designs to keep the items in a secure and organized manner. Even some models have drawers, removable trays, and sliding's to add versatility to this storage cabinet. This style of garage cabinet also helps in balancing the room aesthetic as well as the room usage space, among other designs. You customize its overall appearance to match your home interior or can bring an industrial look to create a serious workspace.
5. Garage with Sliding Doors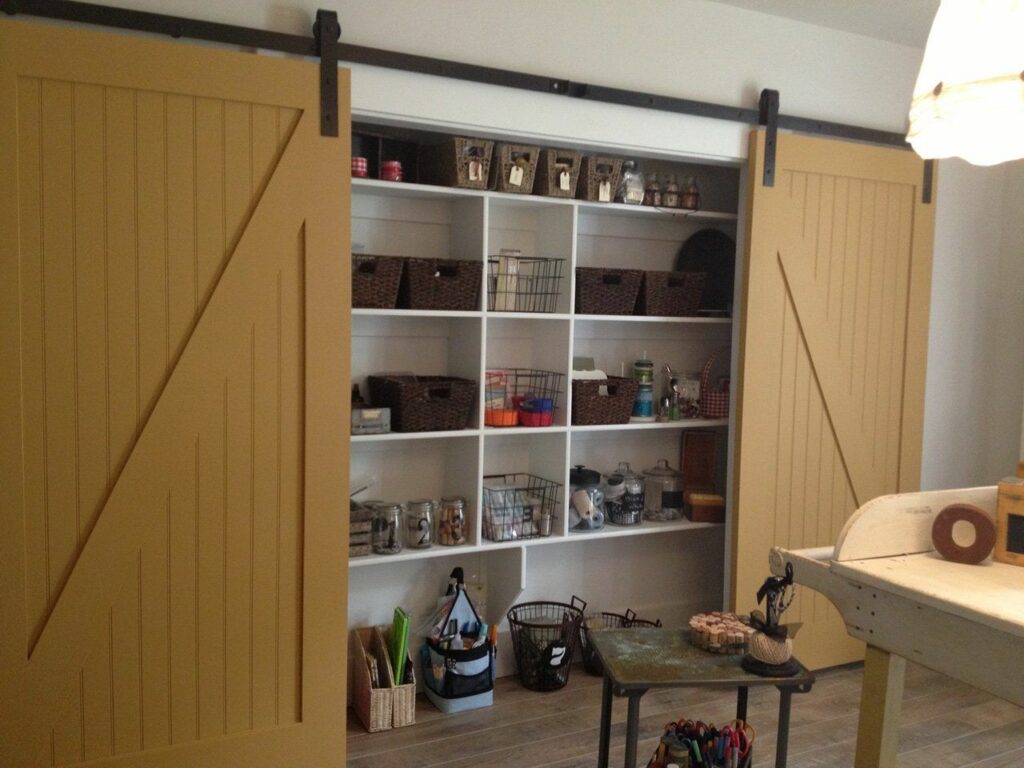 A DIY garage cabinet with sliding doors is one of the popular and best alternatives for the typical swinging doors cabinet. This design maximizes the use of available space while providing simple access to tools and equipment that are stored.
These sliding doors of garage cabinets offer a smooth and practical opening and closing mechanism by sliding horizontally along tracks, either inside or outside of the cabinet.
They have the ability to save space not in the cabinet but the outside space, which is occupied by the traditional door, which is its main benefit. Even with the large and bulky equipment stored inside the cabinet, effortlessness is ensured by the smooth sliding motion.
These sliding doors can also improve the appearance of your garage with their sleek and contemporary design. The cabinet doors come in a variety of materials and finishes, so you can choose one to suit your interior.
6. Tool Storage Garage Cabinets
Garage tool storage cabinets are a necessary part of any well-organized garage; it is often a free-standing piece of furniture with multiple drawers, shelves, and storage spaces, created especially to hold different types of tools. You may simply organize and separate your tools based on each drawer or compartment size. This makes it easier for you to find the tools and keeps them from being harmed or getting misplaced in a mess.
Ball-bearing slides and glides are frequently used in garage tool storage cabinets to ensure seamless opening and shutting options. This feature makes things more convenient and reduces the chance of breaking tools. Additionally, many storage compartments include foam inserts or drawer lines that offer additional cushioning and protection for delicate tools.
7. A Tool Wall in The Garage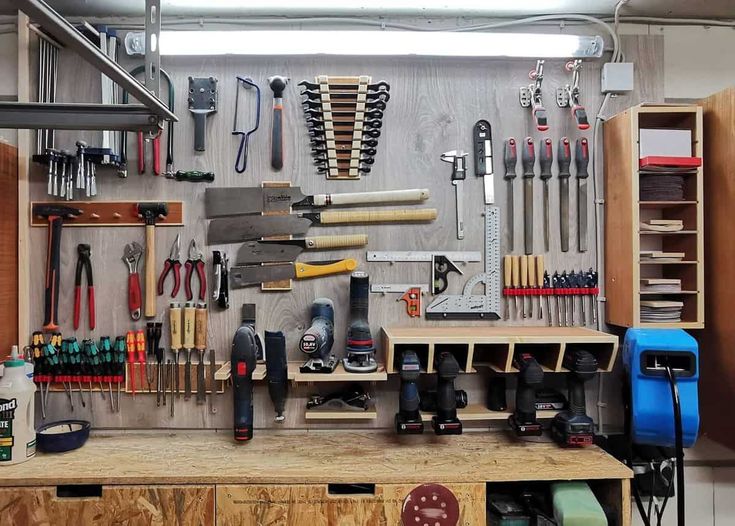 A garage tool wall is a useful and effective method to arrange and store your necessary tools in one place. In order to hand and display your tools for quick access and visibility, you must choose this style of DIY garage cabinet. However, this style is most popular among homeowners and DIY enthusiasts since it allows you to use vertical space to keep tools organized.
Convenience is one of the tool wall's main and major advantages. You can quickly see and grab the tool you need by hanging your tools on the wall rather than digging in a cluttered closed space or messy open room. You will save time and effort by doing this, particularly while working on projects that call for frequent tool changes.
Also, you can quickly determine each tool's position and availability without moving from your place. 
It can be customized according to your tool sizes, categories, weight, and height factors to make them easy to reach. In addition, this garage style can be more of an advantage when you have children and pets at home!!
Conclusion
DIY garage cabinets come with many possibilities to meet your specific needs and necessities. Whether you need a simple shelving unit, adaptable workbenches, or specialized tool storage space, a DIY garage cabinet design can satisfy your needs.
So, build your own garage with the above examples of garage cabinets to save money over buying ready-made solutions. It also gives you the joy of developing a storage space by yourself that properly fits your garage's layout and storage needs.
Let's measure your space, design a layout and start a DIY project to build garage cabinets as you need!!