Do you want to keep your outdoor space stylish and shaded? If yes, small pergolas can be your ideal choice! These outdoor structures can offer privacy, shade, and protection over an area in your patio or backyard where you like to spend time with your family and friends. They also add functionality and beauty to your outdoor spaces.
They are adaptable to many sizes and styles of yard and even come with options to fit your architectural and personal style. You can add a beautiful pergola to your paved backyard to create an alfresco dining space.
Complete the look with twinkling bistro lights that will add a romantic vibe. You can also use a pergola to create an outdoor lounge by decking it with glowing lanterns, a punchy area rug, and all-weather furniture.
If you're looking for some of the most creative small pergolas ideas, then check out the ideas mentioned below.
Pergola Ideas to Create a Shady Outdoor Oasis
Elevate your outdoor space by trying out these 26 pergola ideas that can help you enjoy your outdoor space to the fullest.
1. Use it as the Garden Entrance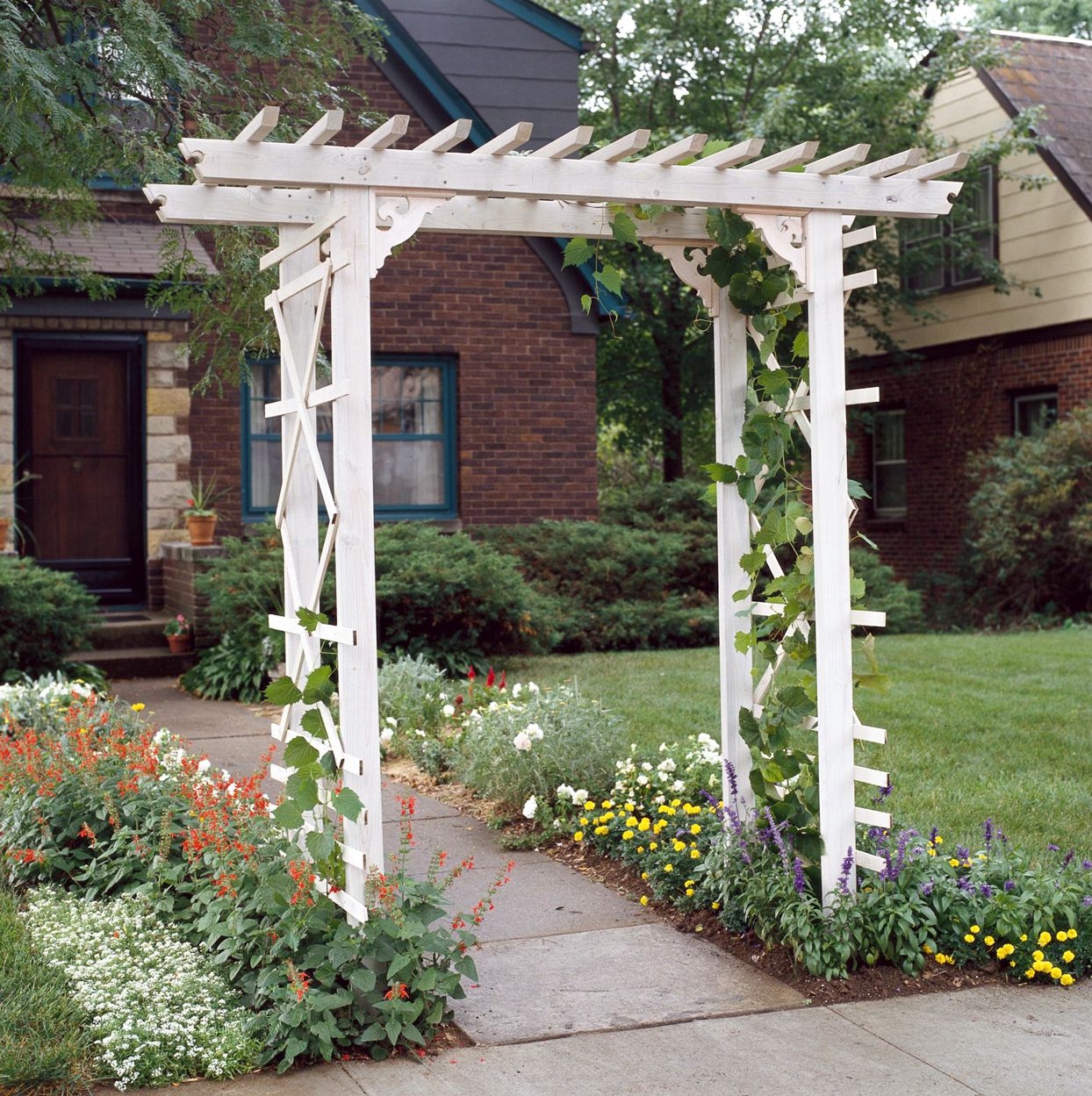 If you want to separate your patio from the garden, then you can place the pergola at your entrance. It will serve as a grand entrance to your garden. Adorn it with lanterns or string lights to create the perfect ambiance for evening gatherings. A brick pathway with vibrant flowers and lush green plants on each side of the pergola can create an inviting look.
You can even add wooden chairs to sit back and relax and appreciate the beauty of your garden. Pergola will not only serve as a decorative element but also provide protection and shade as you move to the patio from the garden.
2. An Extension to Your House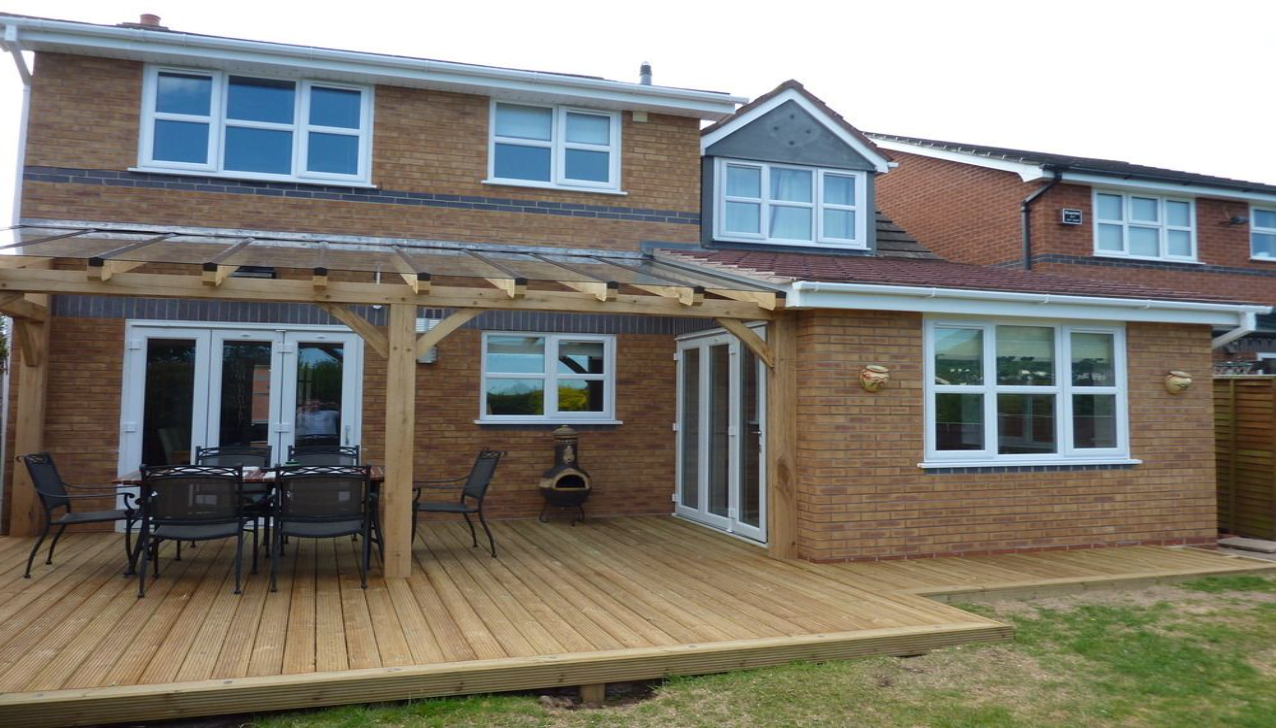 Bridge the gap between outdoors and indoors by using the pergola in a way that extends from your house's back exterior wall. You can opt for an attached pergola that extends your home's living space seamlessly. Attached pergolas can be a great way to maximize the limited space you have.
But attaching a pergola to your house can put lots of additional weight on your walls. So you must ensure that the connection between the two structures is extremely strong. It is recommended to get the outdoor space and pergola designed at the same time as your house. This will ensure that everything looks synchronized and relatable.
3. A Showstopper Steel Pergola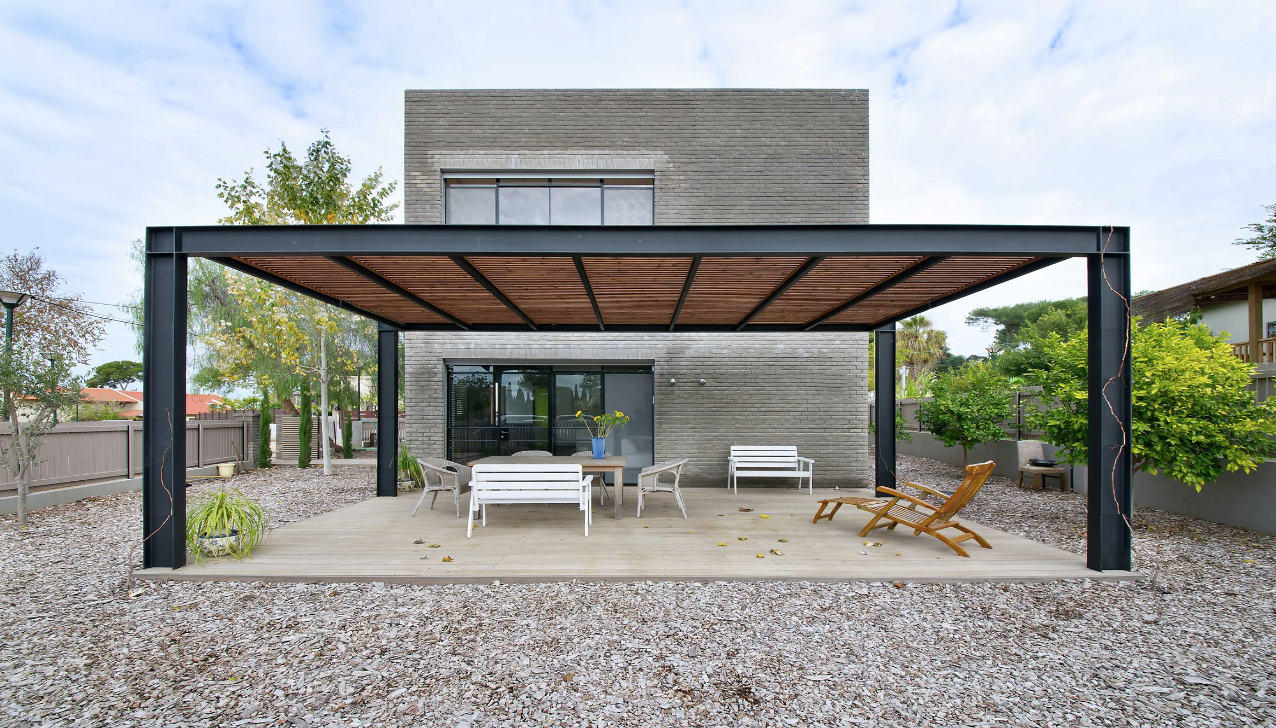 Share cocktails and exciting conversations with your loved ones beneath the modern and stylish steel pergola. The best thing about steel pagoda is that it won't get affected by rain, heat, and shine. It also covers a wide area of your patio or backyard with less support structure.
A steel pergola can also be paired with minimalist furniture and concrete hardscaping to create a sleek statement. Give your small pergola a natural feel by allowing vines or ivy to grow on it. Choose a metal pergola with a sliding sunroof mechanism or automated pivoting louvers to ensure that it offers full sun and shade benefits.
4. Blend the Pergola with Your Garden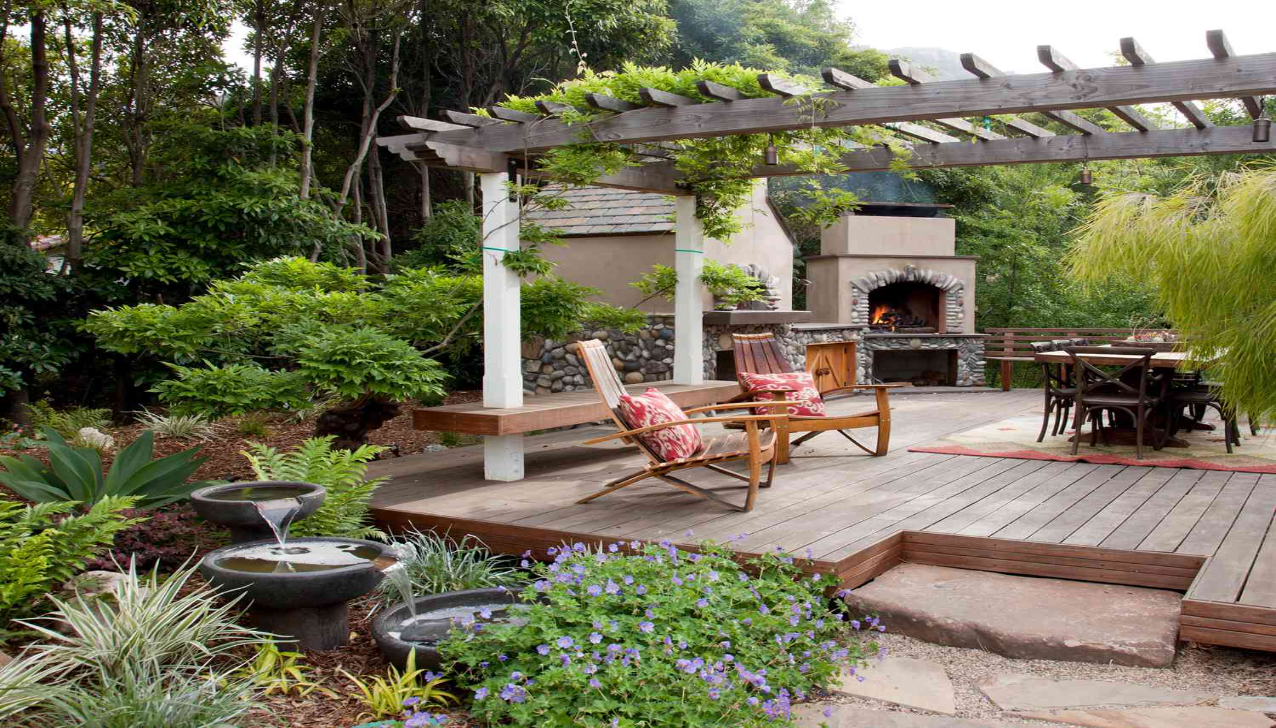 To make your new pergola feel like an integral part of your garden, you should look for rustic designs. Opt for distressed wood pergolas or ones tinted in browns or greens, as they will perfectly blend with your garden. Use the right plants around and on the pergola to ensure that it blends in and creates the perfect bridge between your home and your garden.
If your garden features flower beds, seating areas, or water features, design the pergola in a way that matches these elements. You can even try to set up a beautiful vertical garden on the walls of the pergola for an eye catchy look.
Incorporate elements like drapes, screens, or trellises to provide additional privacy and maintain the aesthetic of your patio.
5. A Private Seating Area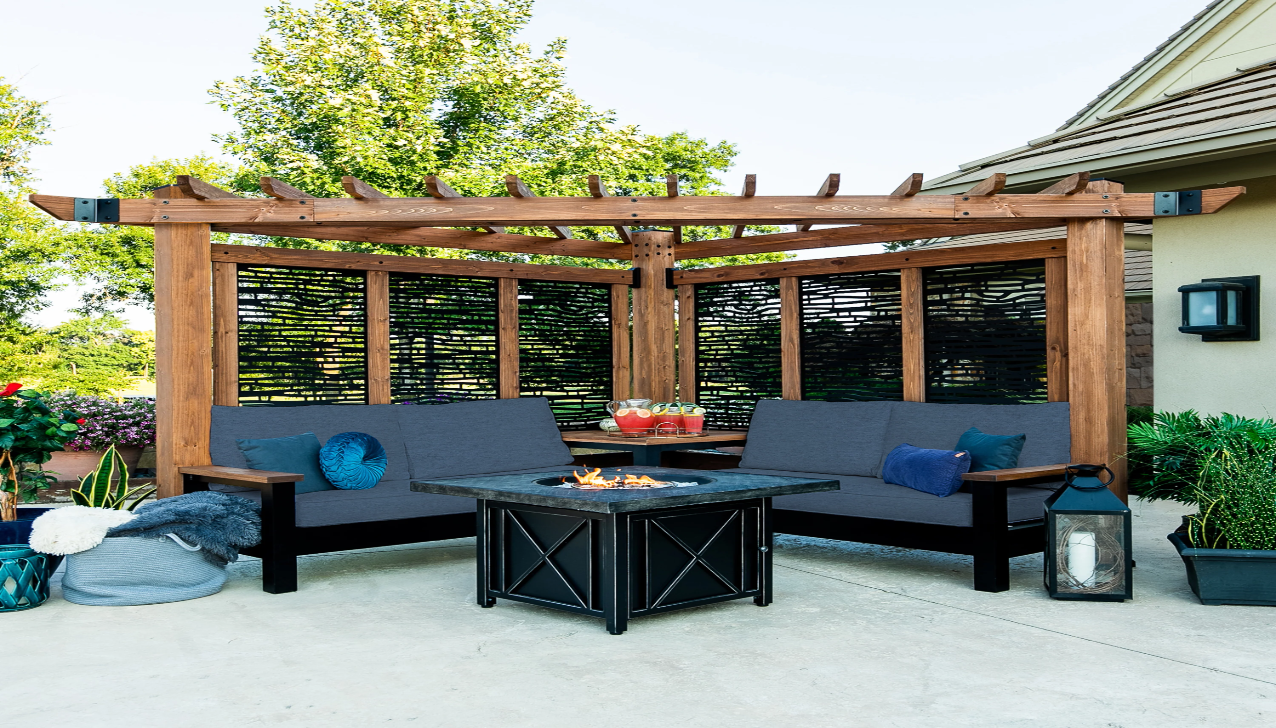 An enclosed pergola can provide a private retreat on your own patio or backyard. Position chairs and a table under the pergola to create the feeling of an outdoor room where you can relax and unwind with your loved ones. Create a cozy spot where you can read your favorite book, entertain guests, or enjoy the breathtaking view of your patio.
If you want privacy, you can hang curtains on the sides. Complete the look with fairy lights or lanterns that will provide a warm glow during the evening.
If you don't want privacy but intend to enjoy nature and your surroundings, a pergola with open sides can be the perfect option. It will protect you from the outside elements without obstructing your view.
6. Go for a Thatched Roof Pergola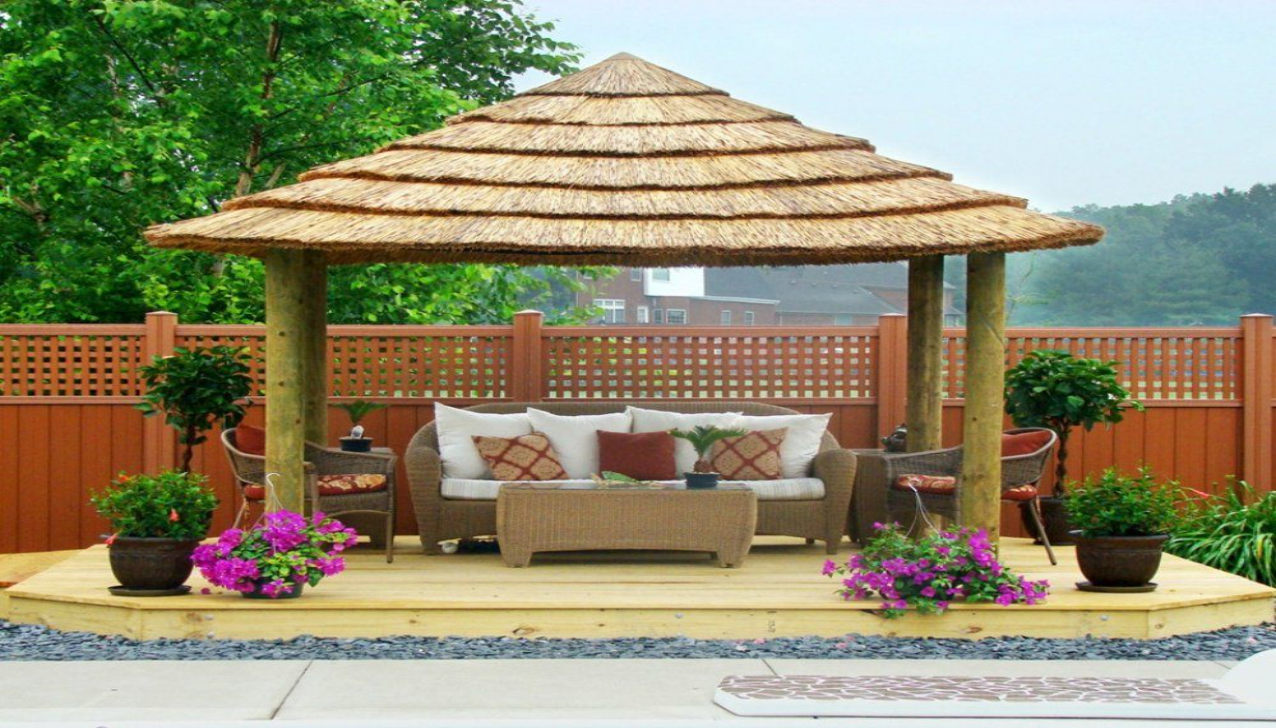 If you're a fan of cottage aesthetics, then you can go for the thatched roof pergola that has a natural and rustic aesthetic. This timeless cabana design will make an elegant addition to your patio or garden.
You can pair the thatched roof pergola with potted palms and rattan furniture to enhance the rustic look of your outdoor space. Furnish the space with outdoor lighting and comfortable seating to create an inviting and cozy atmosphere for enjoying the outdoors.
To ensure longevity and durability, select good quality materials for your thatched roof pergola. Opt for naturally resistant or treated wood, like redwood or cedar, for the frame. Regularly inspect the thatch for mold growth, damage, or wear and tear. Trim any overhanging vegetation or branches that may retain moisture and cause damage.
7. Use Deck Pergola to Create Zones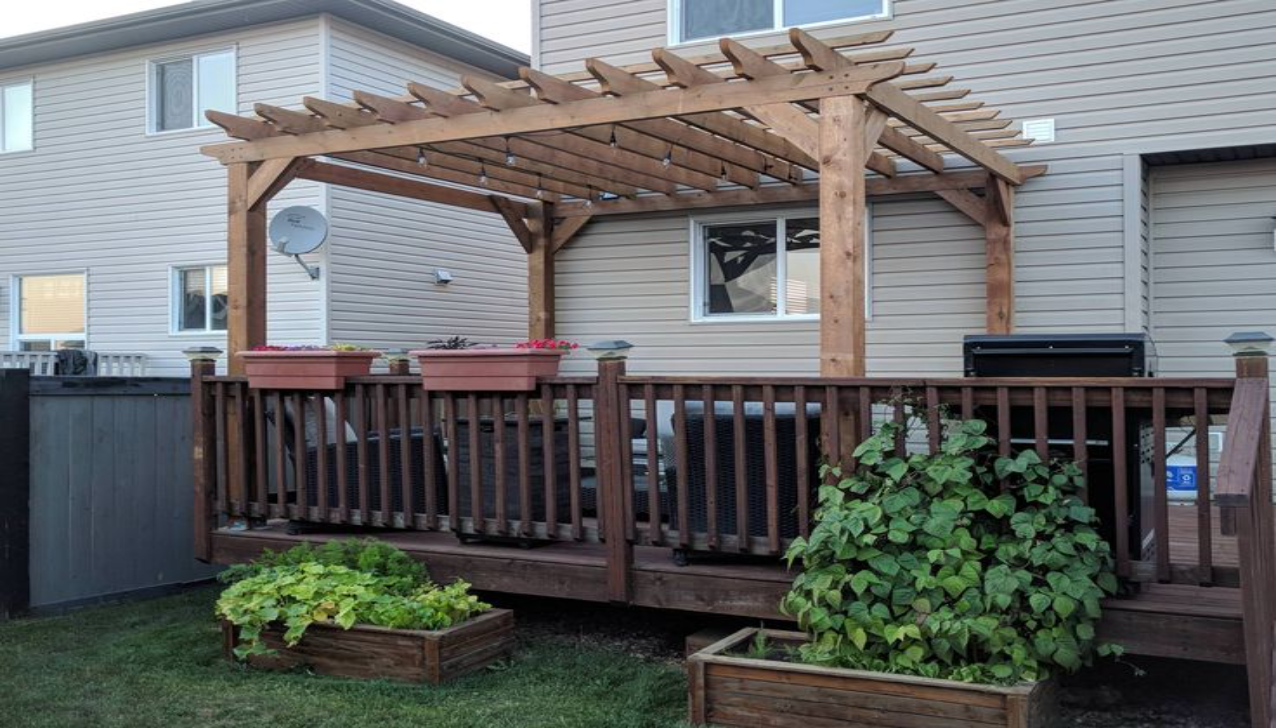 Building a pergola on a deck can be the best way to get privacy, shelter, and shade and create a distinct seating area. Since the pergola works well with other outdoor structures like a deck, it can be used to create distinct zones. Some of the most interesting pergola ideas for decks can be combining pergolas with lounge areas or other spaces where you may like to spend time with your friends and family.
By building a pergola on a deck, you can separate an area on your decking as a gathering space, a cozy reading nook, or a relaxing space. As a pergola on a deck is higher than one in the ground, it will be exposed to adverse weather conditions and wind.
To ensure maximum structural safety invest in pressure-treated wood.
8. Add an Attractive Accent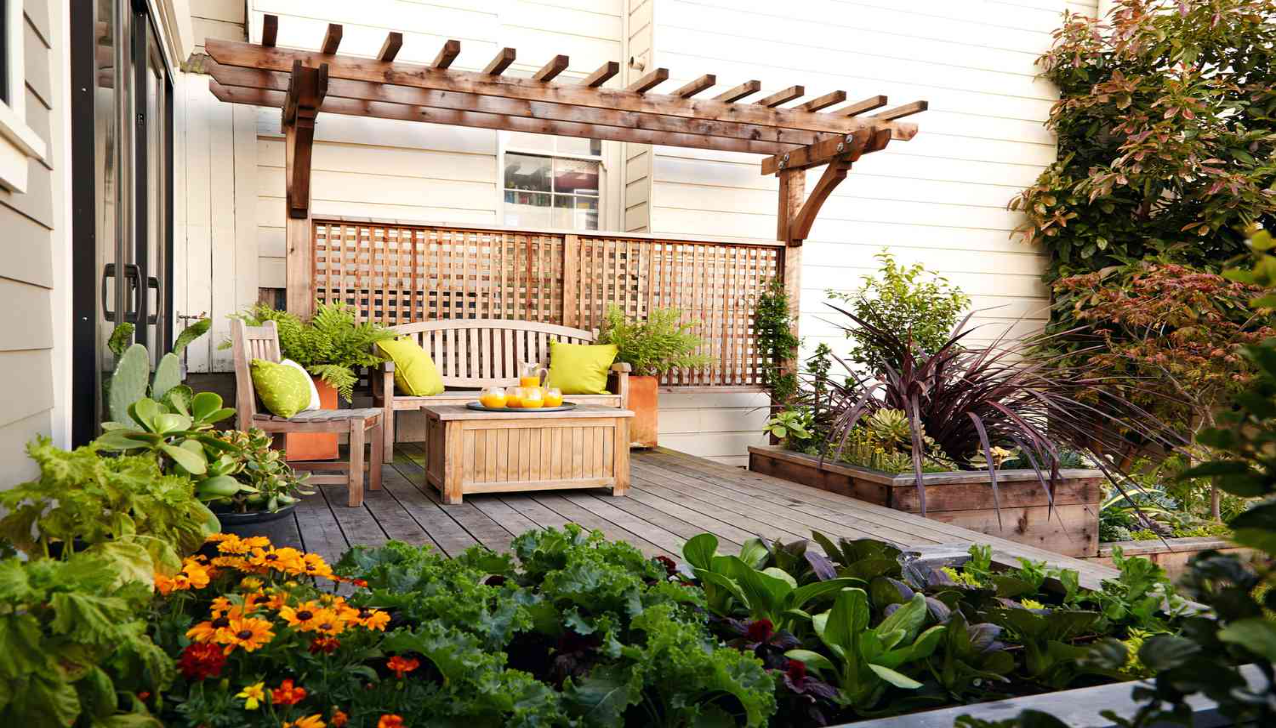 Space constraints don't mean you can't have a pergola in your garden or patio. You can take advantage of a smaller pergola design that adds an attractive accent to your patio. It will also provide a spectacular background to your plain exterior facade. Opt for a small and well-designed pergola that can easily fit in your patio area.
Determine the ideal spot for the placement of the pergola accent within your small patio. Keep in mind factors such as the existing structures, the direction of the sun, and your functional requirements.
Incorporate decorative elements and various hanging plants into the pergola accent to enhance its beauty.
9. Dark Pergola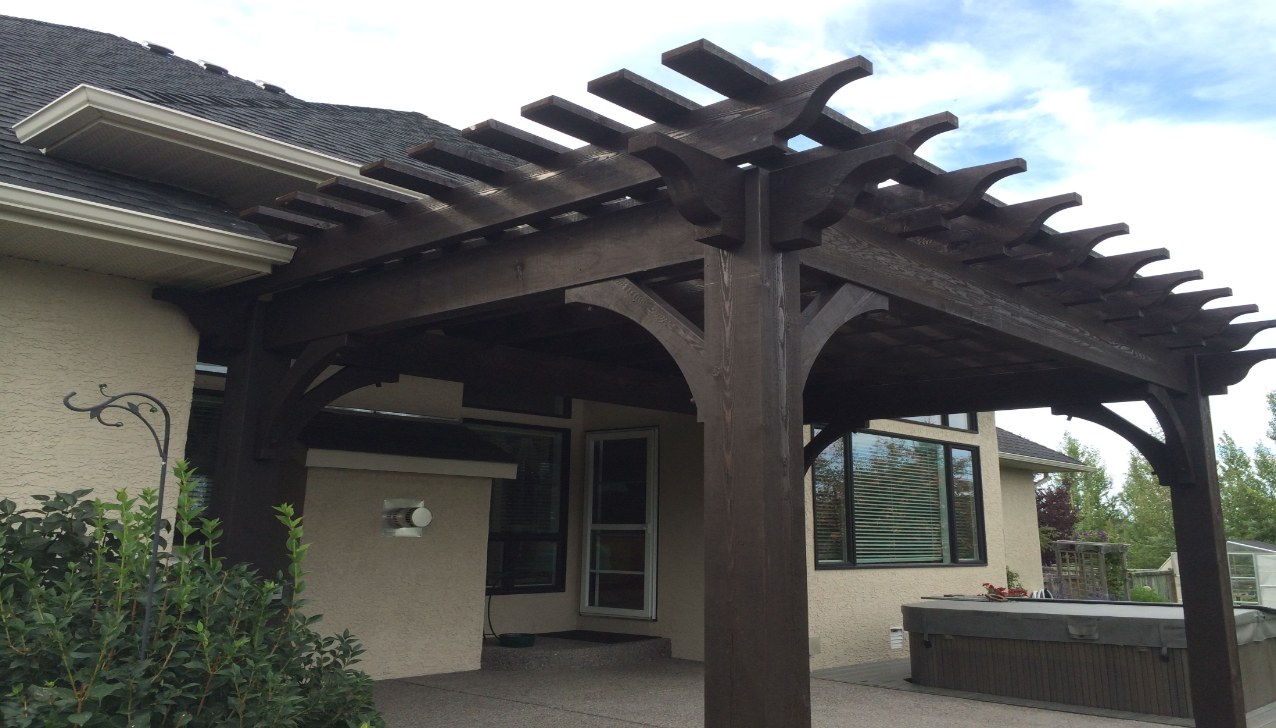 A dark pergola can be one of the best choices for small patios as it creates a contrast against the furniture, plants, and patio flooring. This contrast adds dimension and depth to the small patio, making it captivating and alluring.
You can opt for a black pergola to keep your patio cooler. Since black absorbs more sunlight, it will keep the area cool and refreshed. You can also opt for dark colored pergola to create a sophisticated industrial look on your patio.
Since dark-colored materials do not show off dirt, stains, and dust easily, you'll have to put less effort into cleaning the pergola.
10. Small Corner Pergola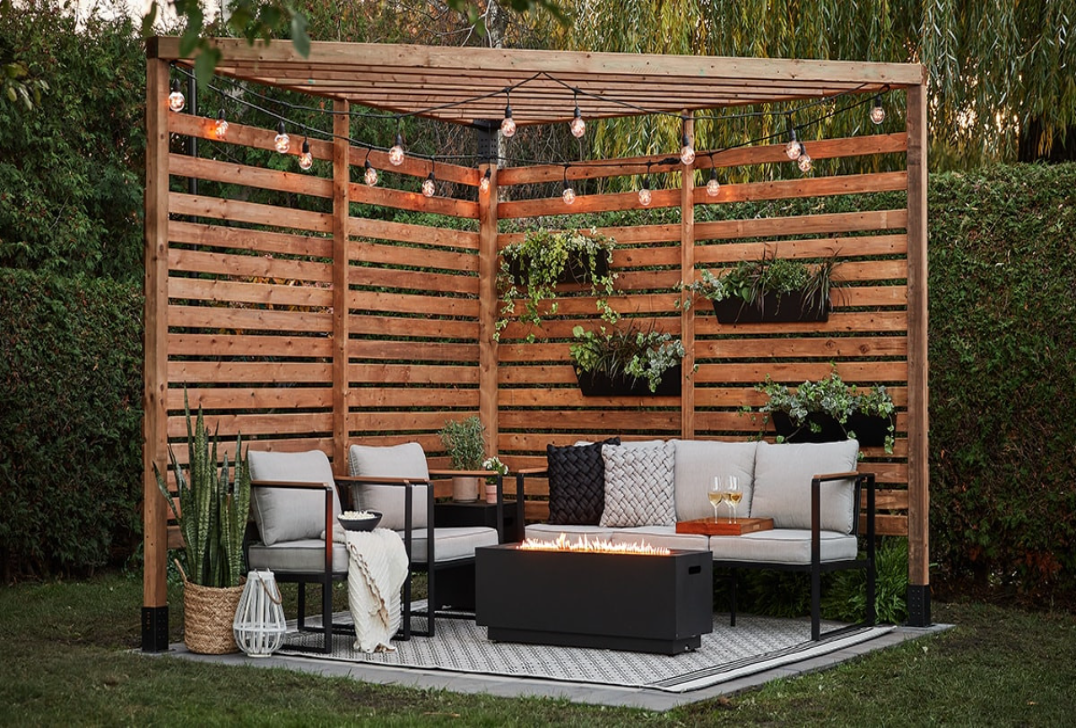 A small corner pergola works well in small patios where space is limited. Rather than having four sides, a small corner pergola has a three-sided corner design meaning you can place it anywhere in your backyard or patio. It gives you the freedom to create an outdoor area where a traditional pergola wouldn't fit.
Since small corner pergolas are freestanding, you can place them on any corner of your backyard. It will protect your guests from wind, rain, and sun and act as a distinct area for meditation, reading, dining, entertainment, and movie night.
If you have planned to leave your pergola in one particular place, you can even integrate it into your patio by growing climbing plants over its roof.
11. Island Bar Pergola Awning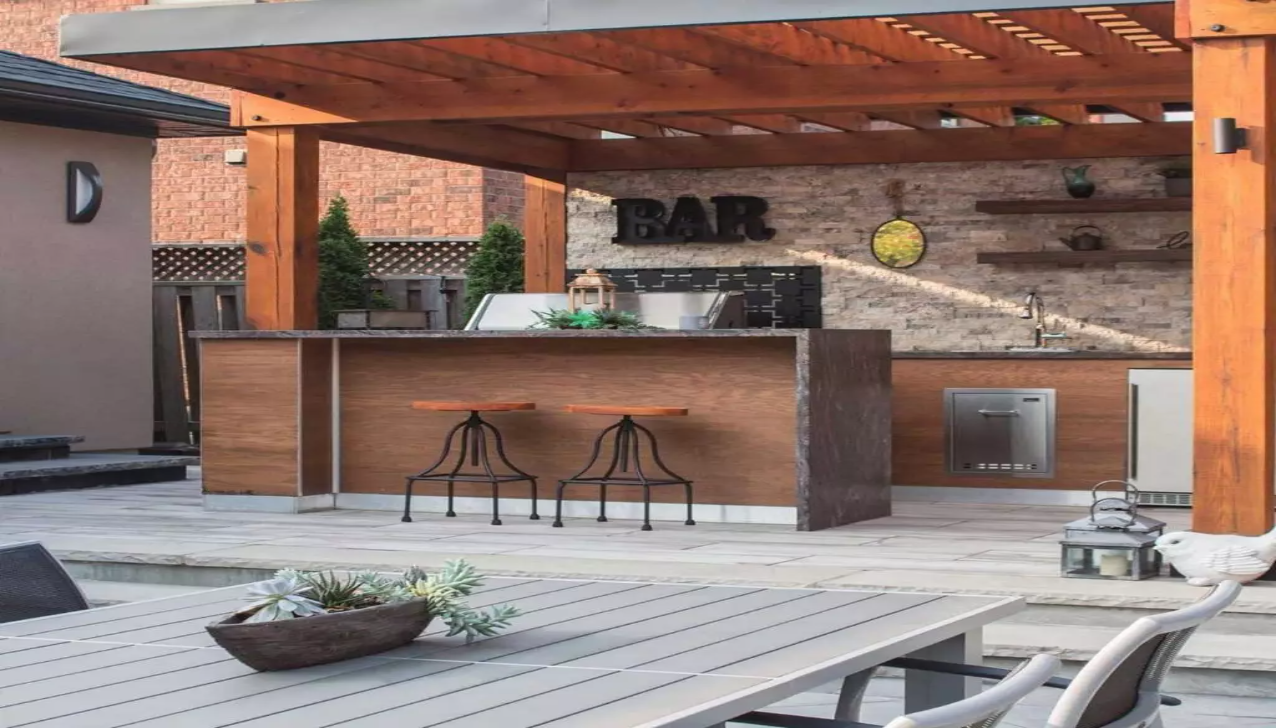 If you love to host parties on your small patio in the summer, create an outdoor bar with the help of rough stone blocks of different colors and sizes.
Attach a pergola awning to your house and build the bar around its supports. Pergola awnings are suitable for protecting you from wind, sun, and rain. Since it comes in different configuration options, it can shade both large and small areas.
Enhance the ambiance of the island bar pergola awning by installing pendant or string lights above the bar counter. Install outdoor speakers or a sound system to enjoy your favorite songs.
12. Create a Lighted Area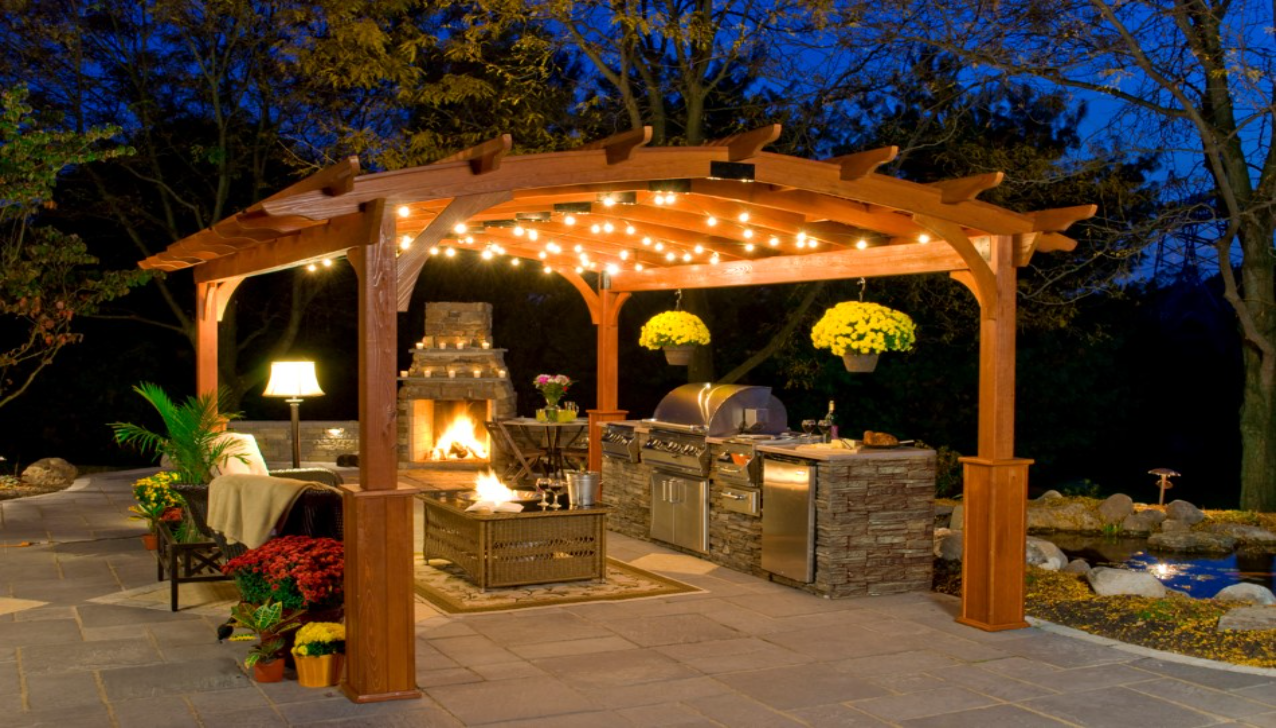 Pergolas can be used for attaching cables, making it easy to string along lights through their support beams or rafters. You can attach curtain lights at the top of the structure to the perimeter beam and include strands of LED lights hanging down to the floor. For a bold look, you can hang a chandelier from the pergola's rafters.
Crystal chandeliers can be used for a glimmery vibe, and industrial-style fixtures can be used to create a casual atmosphere. Whether candlelit or electric, a chandelier over the table in your pergola can provide the perfect lighting for a night of games or dinner.
You can also wrap fairy string lights around the pergola's overhead beam.
13. Drape Curtains or Fabrics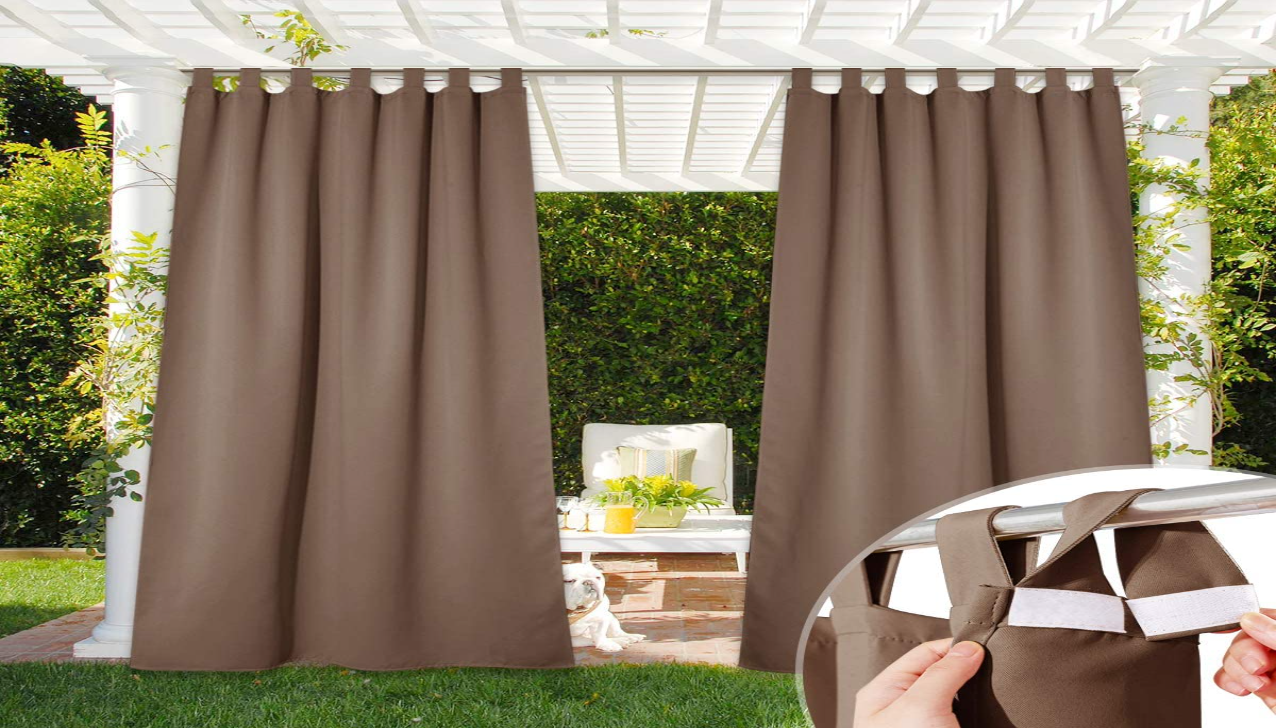 If you're looking for pergola shade options to relax and unwind in your outdoor space in the summer, drape curtains or fabrics can be the best choice. You can open or shut the curtains between pergola posts as and when needed. To shade a pergola, you can hang fabric as curtains or drape over the roof. You can also use different roofing materials and plants, either alone or in combination, to shade your pergola.
Grow climbing plants over the pergola's roof to make a seating area that is cool and comfortable during the hottest times of the day. You can also use vintage fabrics to create temporary shade.
To create a boho vibe, use mismatched fabrics and pair them with plenty of pillows and rattan garden furniture.
14. Give Stylish Appeal with Stone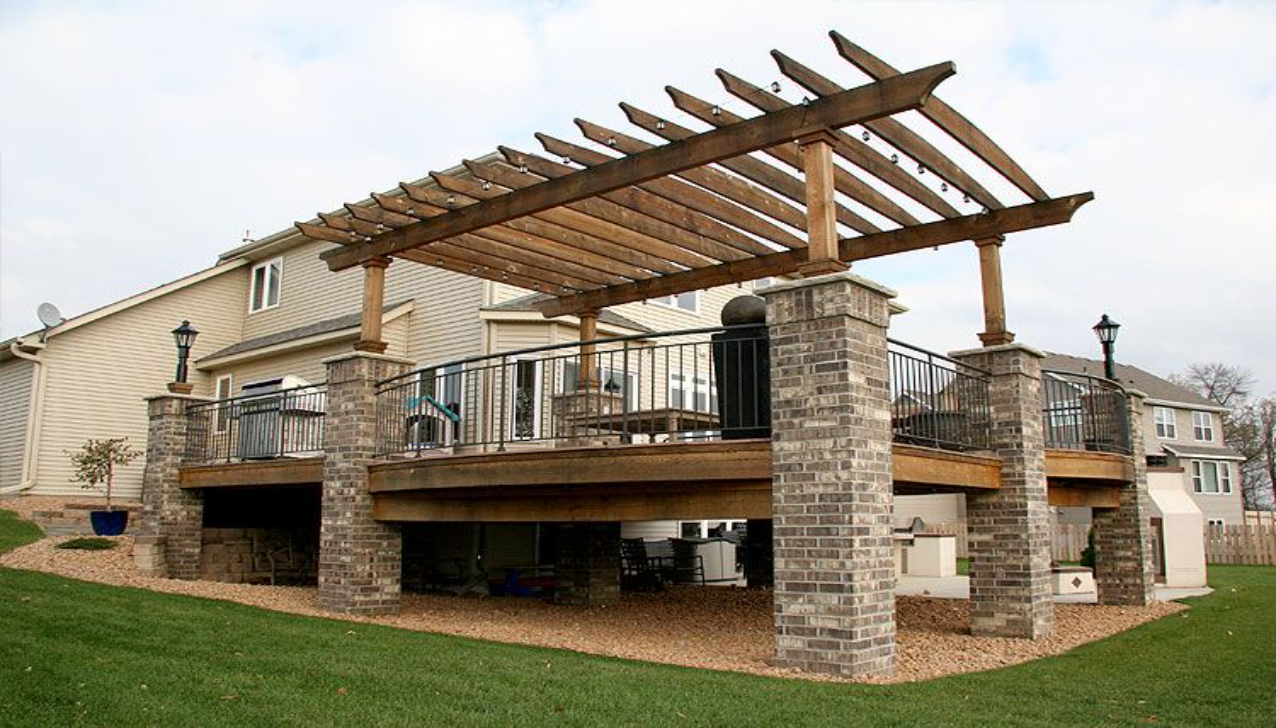 If you want to give a stylish look to your pergola, try adding stone pillars. When choosing the stone, ensure that it aligns with the overall look of your patio. You can also encase the posts in covers made of realistic and rugged faux stone.
These faux stone covers look like natural stone, giving your pergola a luxurious and premium feel. Mix materials, like stone bases on wood posts, for a unique textural touch.
By mixing different materials, you create a contrast that will add depth to the structure and make the pergola visually appealing. The combination of wood and stone can give a natural look and feel to your pergola.
15. Pair the Pergola with a Fire Pit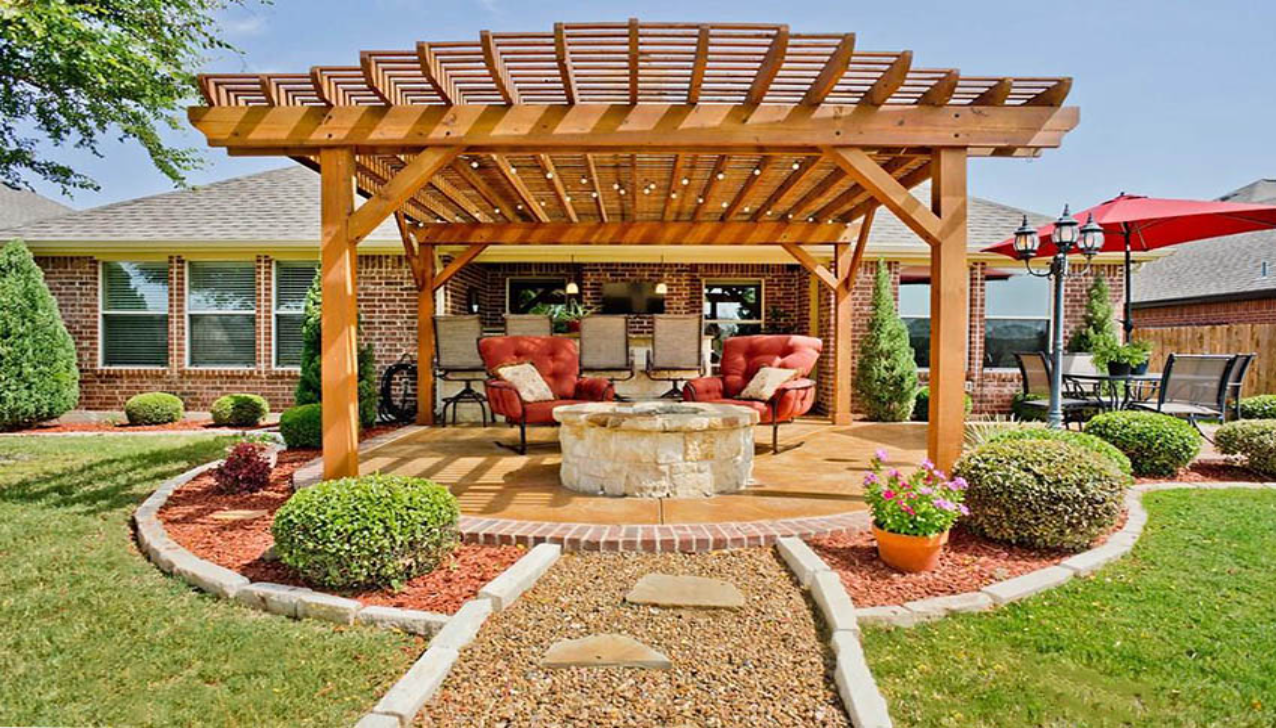 Do you dream of spending some carefree moments under a pergola enjoying a warm fire? The addition of a pergola over a fire pit provides a stunning backdrop for outdoor entertainment. You can put a pergola over a fire pit and enjoy its warmth on your patio. Ensure that the pergola is made from a fire-resistant material and there is enough clearance between the pergola and the fire pit to prevent the fire from spreading.
Consider the pergola's proximity to trees and other structures to ensure they are not too close. Pressure-treated timber, wrought iron, cedar, vinyl, and aluminum are popular choices for fireproofing pergolas.
16. Hammock Within the Pergola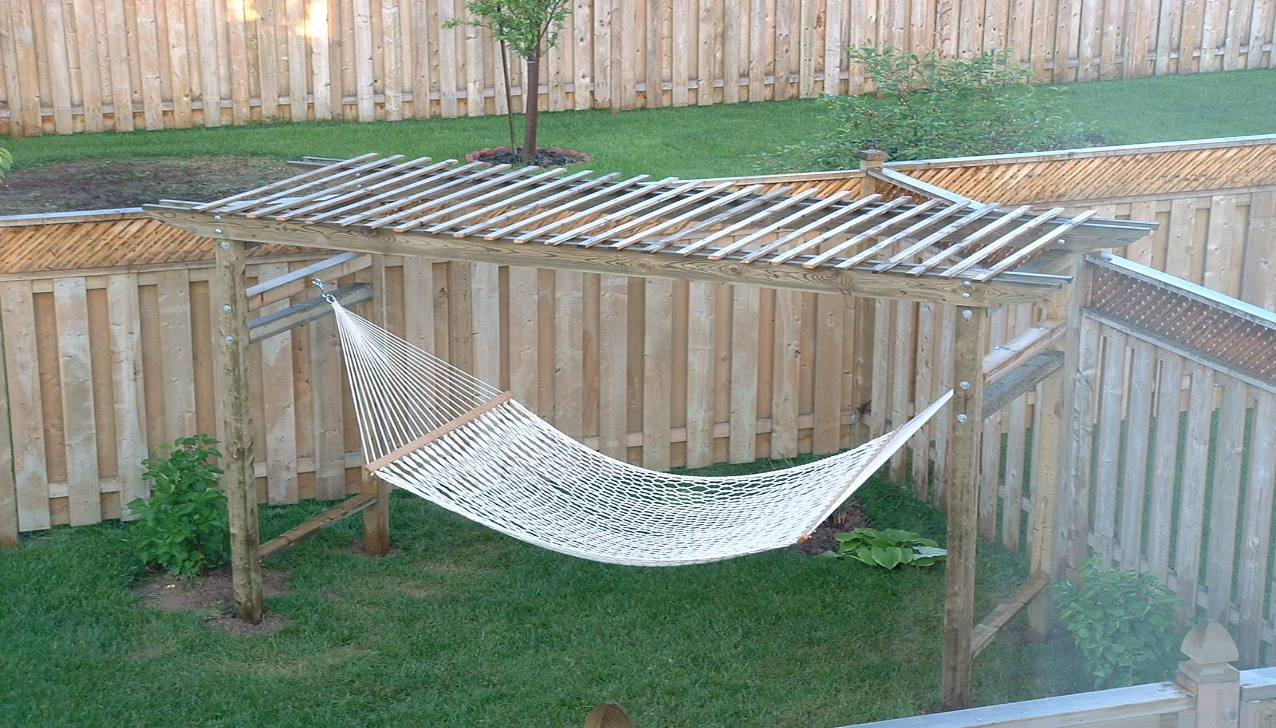 Hammocks and pergolas are two of the most beautiful additions to your patio. But if your patio is small, you may not be able to accommodate both of them. In that case, you can hang a hammock from a sturdy pergola that can handle its weight. Select a hammock that matches the decor of your patio and your pergola.
You can add additional items, like colorful pillows and other decorations, to make the pergola and the hammock setup more functional and appealing. You can read a book, enjoy the outdoors or take a nap while lying down in the hammock.
17. Pergola Swing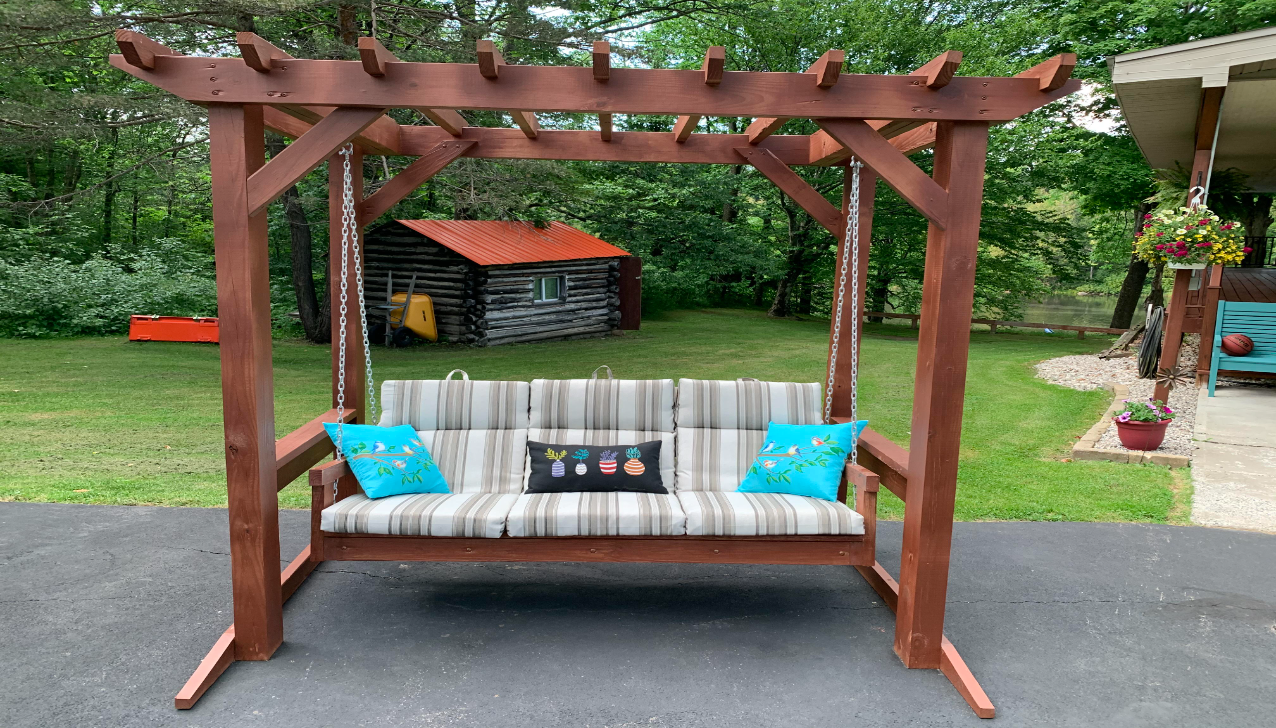 You can hang a swing from a pergola to bring a touch of style and fun to your small outdoor space. This is an excellent way to bring the playground to your backyard and give your kids a chance to play, relax and unwind. Depending on the material of the pergola and type of swing, use appropriate hardware like chains, ropes, or eyebolts to hang the swing.
If you're using a wooden pergola, add additional support, like a crossbeam, to support the swing. Ensure that the swing is placed away from trees to avoid potential damage. This will ensure that you and your family can enjoy the swing for years to come.
18. Swinging Table Pergola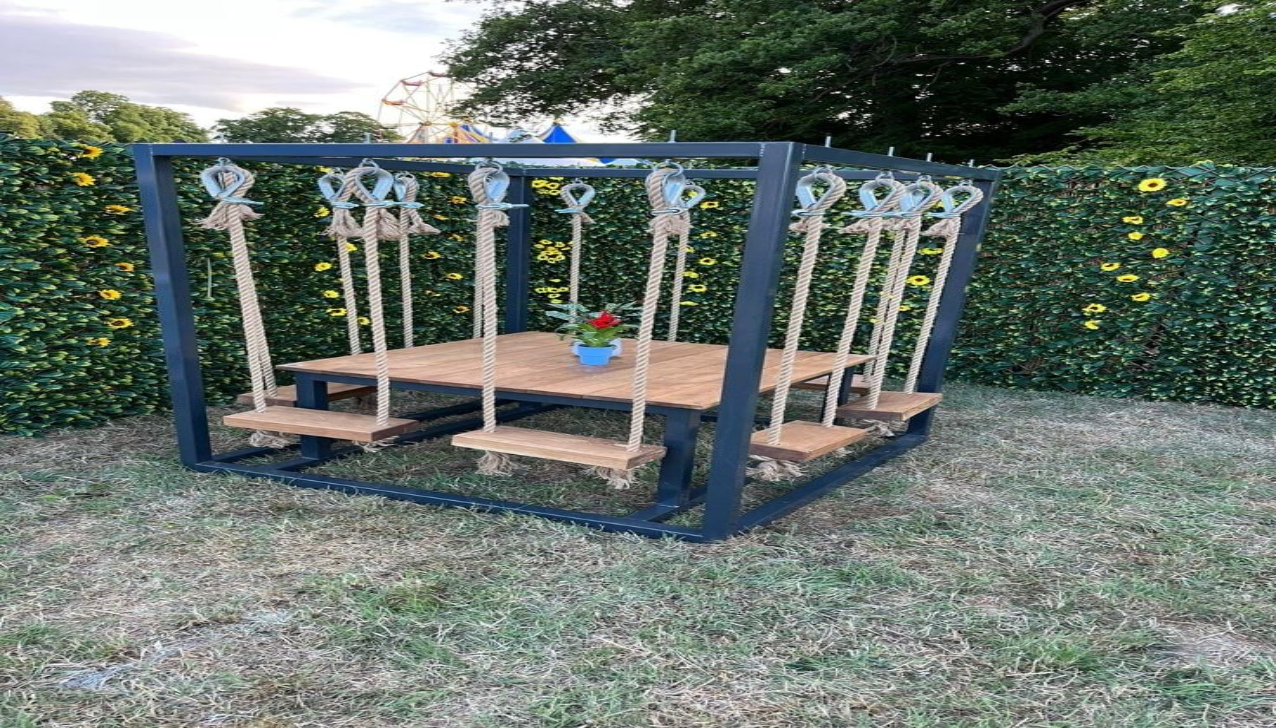 The swing table pergola can be a useful addition to your small patio. Due to its compact design, it will fit in even a small patio and act as a cozy spot to relax outdoors. It will provide additional comfort and act as a focal point for family gatherings.
You can enjoy lunch, host a barbecue, or have a picnic-style gathering around the swinging table and enjoy your meals outdoors. It can be used to accommodate an afternoon snack or a game of chess or carrom in the backyard.
19. Secluded Hot Tub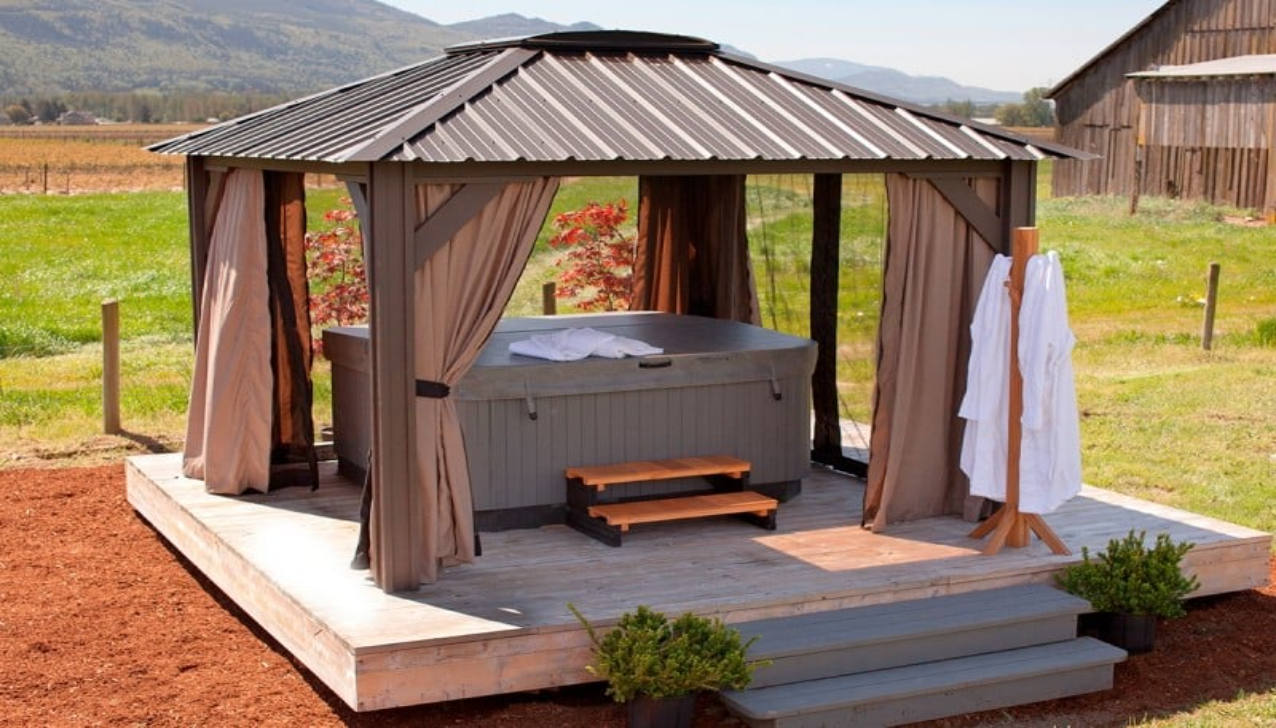 If you have a private enclosure in your patio with a pergola, you can convert it into a secluded hot tub area. Hang a pergola and place your hot tub under it to rejuvenate and unwind without unwanted attention. You can add trailing vines or curtains to make the hot tub feel more secluded.
If your pergola has side panels, you can use them to hang towels. There needs to be a minimum of 7 feet 6 inches distance from the hot tub's rim to the pergola's underside.
This will give you easy access to the hot tub and ensure that you can exit and enter the hot tub without bumping into the pergola.
20. Narrow Design Pergola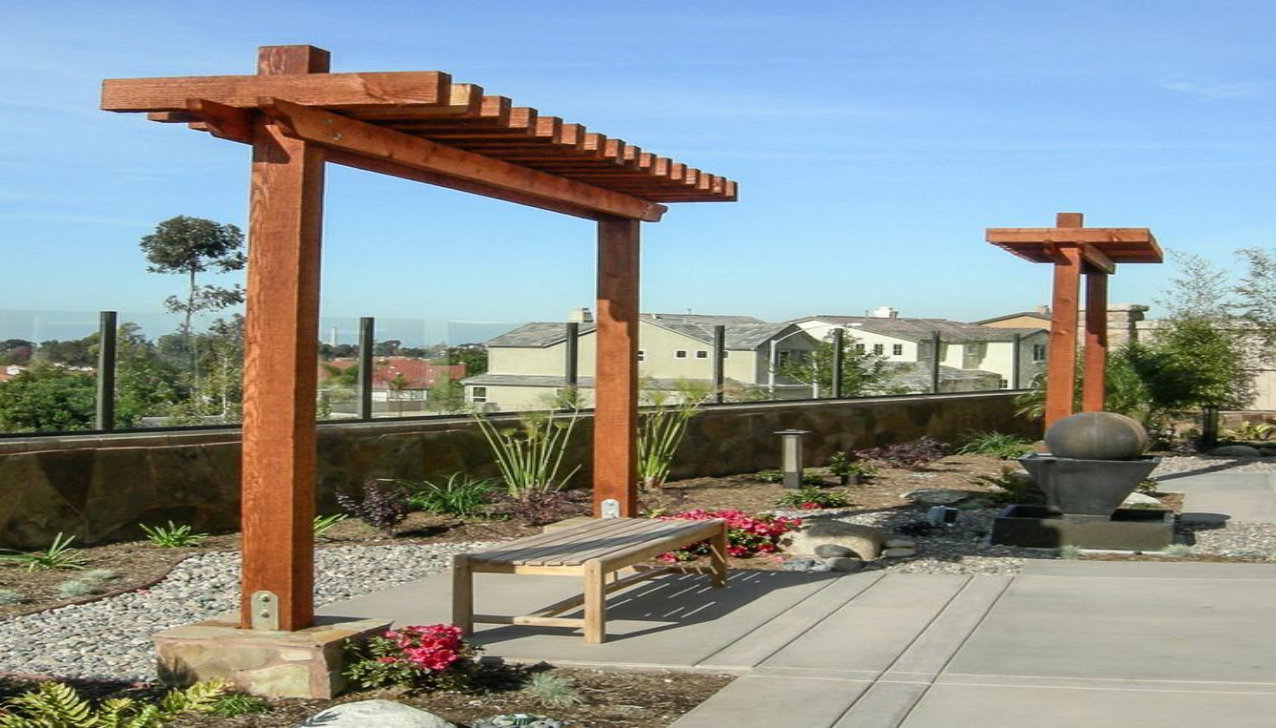 If you have limited space on your patio, that doesn't mean you can't fulfill your dream of having a pergola in your outdoor space. You can opt for a narrow pergola with angled rafters to utilize the limited space on your patio.
The narrow design pergola will feel like a natural inclusion to your patio. The slanted rafters will protect you from the sun during the hottest hours of the day. You can even hang a curtain made of durable fabric from one side of the pergola and place the bistro chairs and tables below the pergola to enjoy lunch outdoors.
A mix of lighting can add to the cozy atmosphere while extending the usability of the patio in the evening.
21. Latticed Arbor Pergola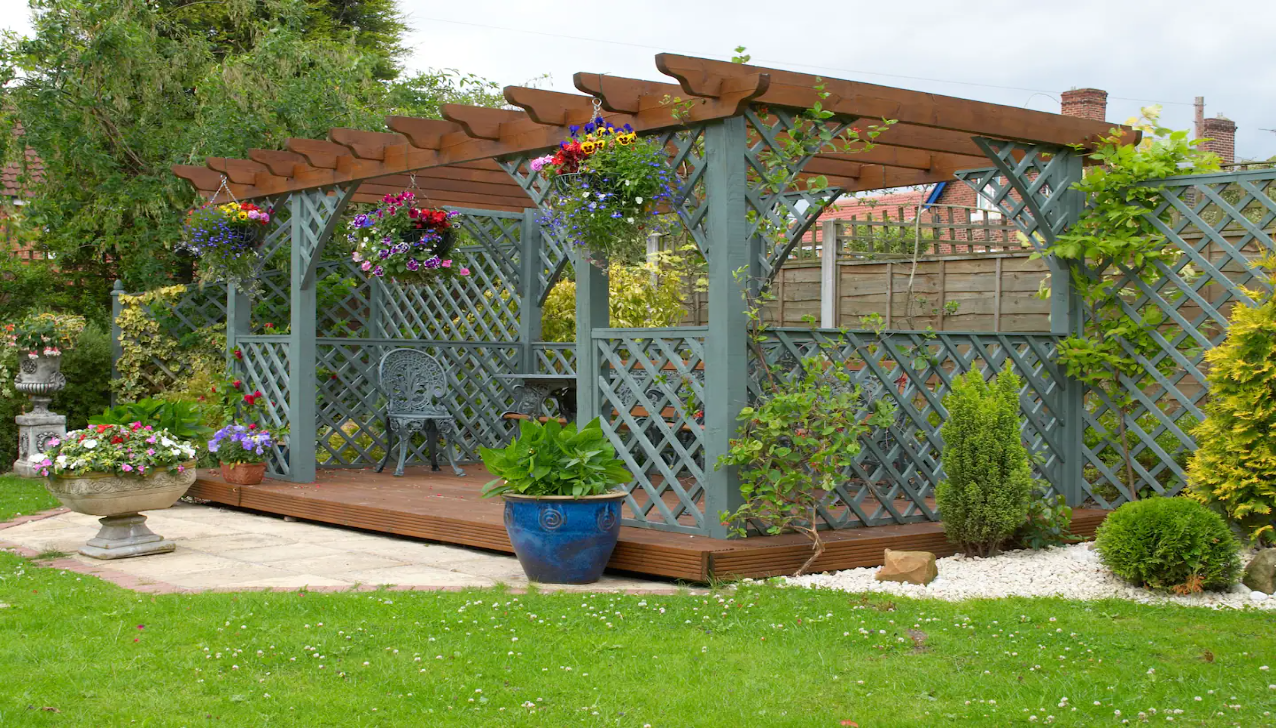 A latticed arbor pergola can be the perfect addition to your small patio. You can place it next to the lush green plants and flowers to create a stunning visual display. The lattice structure of the pergola arbor can be used to grow flowering vines like wisteria, roses, and jasmine. Surround the pergola arbor's base with small trees and potted plants.
Choose a mix of foliage plants, aromatic herbs, and colorful flowers to create a beautiful garden bed. You can also hang wind chimes or decorative lanterns from the pergola arbor to create a magical atmosphere.
22. Pyramidal Pergola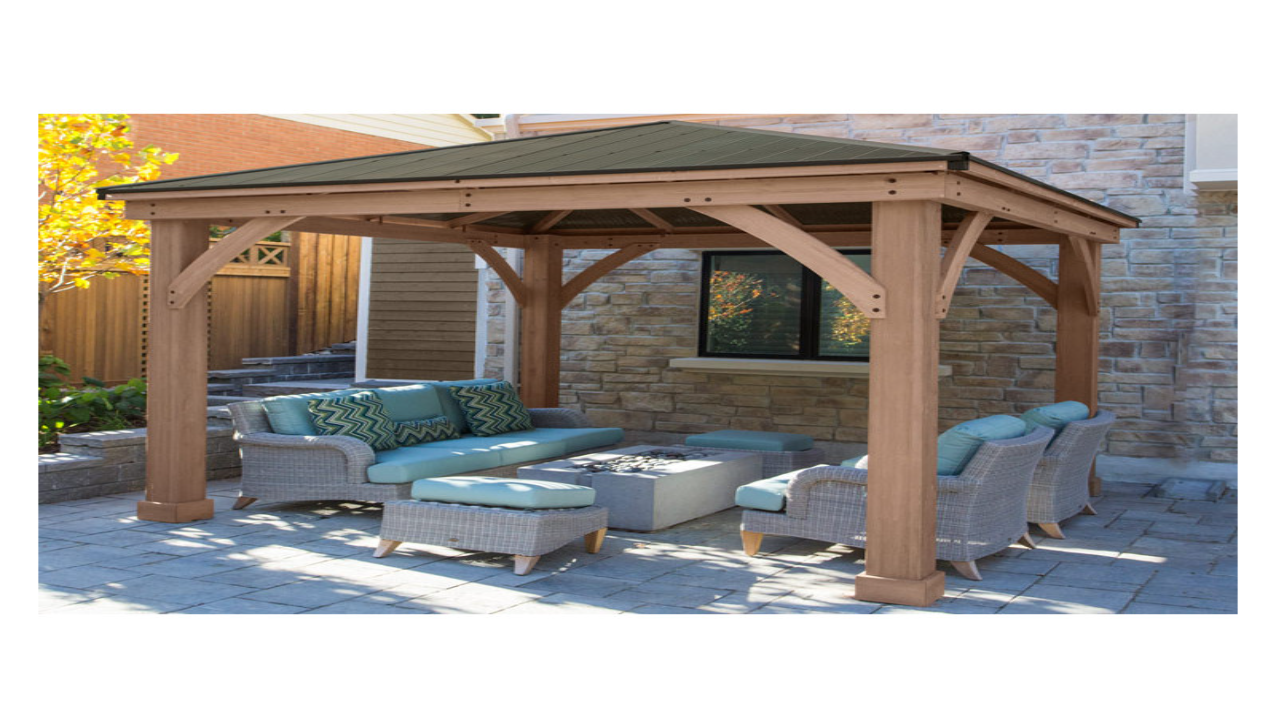 If you want to give a European vibe to your patio, then you can opt for the pyramidal pergola. A pyramidal pergola has a hip roof with four sides that are triangular and slope downward. Due to its compact design, it can easily fit in both small and big patios. It can cover your entire patio and give an intimate setting to your outdoor space.
With its enclosed roof, it offers a sense of privacy, allowing you to relax in a comfortable environment. Due to the triangular shape of the roof, the pyramid pergola is very stable against the wind. The roof's triangular shape also keeps the rainwater away, keeping your patio dry during rainfall.
Since it has a unique design, it will give a one-of-a-kind look to your patio that you can't get with the typical pergola designs.
23. Plastic Roofed Pergola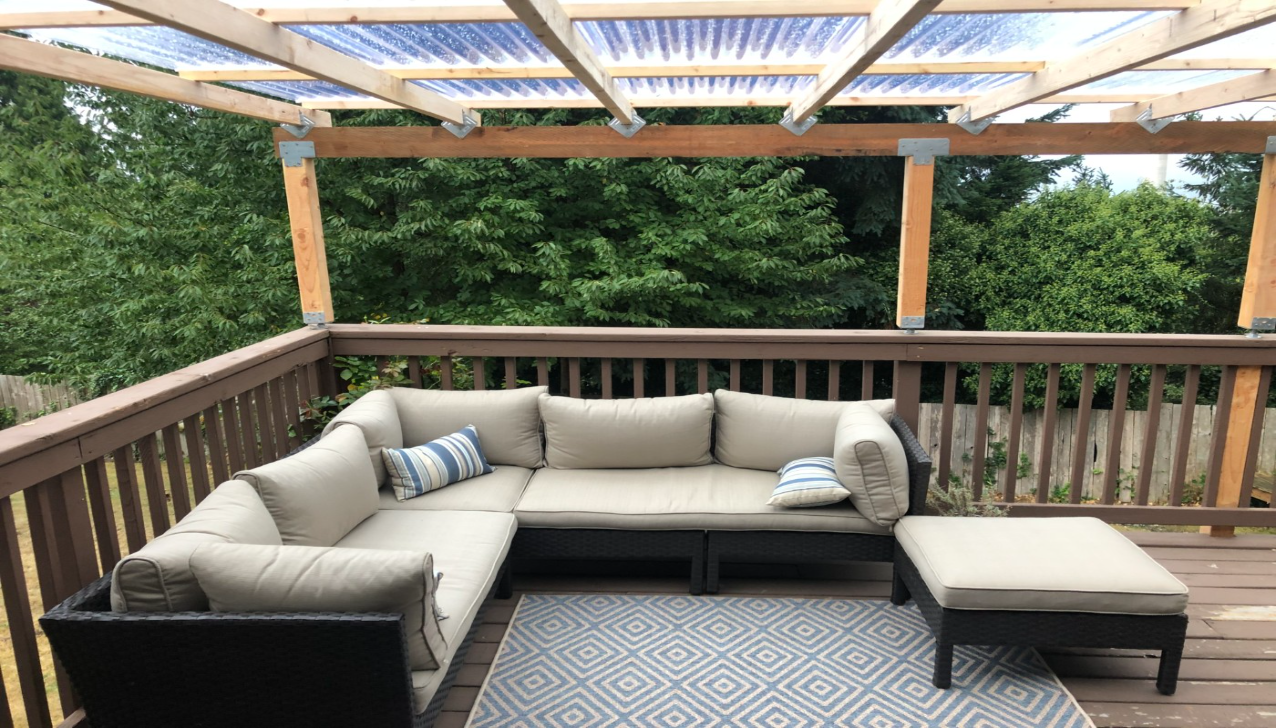 Enhance the beauty and functionality of your small patio by opting for a plastic roof pergola. A plastic roof pergola can give your patio a regal look. Use polycarbonate or clear plastic panels to create the roof, as these materials allow light to penetrate and protect you from the sun.
The plastic roof pergola is also low-maintenance and can be cleaned easily. If it becomes exposed to rain, it won't rot, unlike a wooden roof. Mount LED sconces on the pergola to provide optimal illumination during the evening for gatherings with your friends and family.
24. Garden Wall Pergola
This is another brilliant pergola design idea for small patios. Raise the pergola in a way that matches the height of the brick wall. Ensure that the material, design, and color of the pergola match the brick wall. Whether you have a small square area or a huge patio, this patio design can be customized as per the availability of your space.
The raised pergola, along with the brick wall, will provide privacy and shade to your patio. If you live in an area with a hot and humid climate garden wall pergola, a shaded pergola like this can be a great choice.
25. Add Decorative Screens
A pergola can be a beautiful addition to your patio. But it doesn't cover you exactly from wind, rain, and other external elements. The shade screen can be a valuable solution in such a case. It gives your pergola added coverage from the external elements without compromising its overhead view.
Screens can be installed at the top of the pergola or mounted to walls to give optimum shade and cast shadow patterns when the sunlight hits. Decorative screens come in various materials, like composite, wood, or metal, and feature intricate patterns, so you can choose the one that elevates the aesthetics of your pergola.
Conclusion
A pergola is a functional and architectural structure that can beautify and enhance the functionality of your outdoor spaces. It can turn your outdoor living space into a cozy spot for parties, meals, and family time. Even if you have a small patio, you can choose a pergola that fits your outdoor space.
You can use it to section off a dedicated space for a living space, pathway, seating area, or outdoor kitchen. If you're looking for some inspiration for pergola ideas for small patios, you can check out the above-mentioned above.
These small pergola ideas will help you create a welcoming space on your patio where you can spend quality time with your loved ones and feel close to nature.
So create a cozy and welcoming space on your patio now with the help of these creative pergola ideas.
Frequently Asked Questions
Can You Hang a Swing to Your Pergola?
Yes, you can hang a swing to your pergola but use appropriate hardware like chains, ropes, or eyebolts to hang the swing. You should also ensure that the pergola is durable and solid so that it can withstand the weight of the swing.
What are the Benefits of Installing a Pergola on Your Patio?
Pergola blocks the sunlight and offers respite from the heat. It can also be used to section off a dedicated space for a living room, pathway, seating area, or outdoor kitchen. It can also enhance the beauty of your patio and become the ideal spot for relaxation.