When one thinks of rustic houses, a few things come to mind; old farmhouse-style houses, wood cottages, or even classic Tuscan-style houses. There is an organic, natural look to rustic houses, which is gaining popularity.
If you are looking to give your house exterior a rustic yet modern makeover, this article will have some suggestions for you. If you want to redo your cottage or convert an old cape cod into a rustic dream, this article will give you some design ideas and tips to help you start on your project.
The list covers everything from the color schemes for rustic houses to building materials and some fun ideas for landscaping.
Let us begin!
1. Rustic Cape Cod
A blend of rustic and modern, this dainty little cape cod can be your inspiration for your house exterior. The house features an earthy natural color scheme. The dark grey tiled roof complements the grey-green bricked walls of the exterior. The off-white of the windows and the pillars ties the whole look together.
A window box full of flowers adds lively energy to the house. Potted plants on the verandah and a naturally kept lawn help with the rustic aesthetic.
If you have trees to grace your lawn, they would add to the "house in the woods" look of it. It's like a modern Hansel and Gretel house, a great idea for a rustic house makeover.
2. Rustic Gray and White Colonial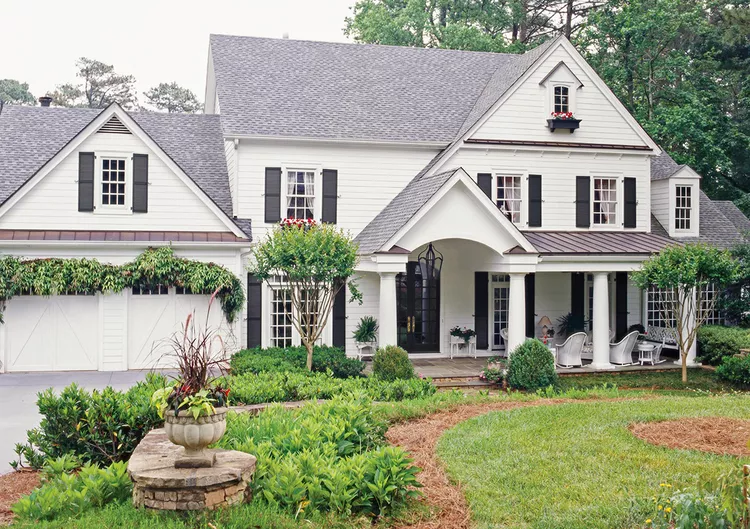 The house's white and grey color scheme gives it a neat modern look. This is why it is becoming a popular choice among people. A darker grey around the windows contrasts the white and adds a cool modern touch to the house.
An interesting design idea to consider for a cottage feel is to have a white shiplap wall exterior. This helps with the old farmhouse look for the house. Of course, you may want to go for a more sturdy vinyl siding, which is a more durable option.
Beautiful French windows with a colonial grid are classic choices for this house.
When pairing with a light grey tiled roof, ensure that you choose the right kind of white.
Do not over-prune your garden's plants; a more natural look of the garden will respond well to the rustic theme.
3. Two-Toned Cottage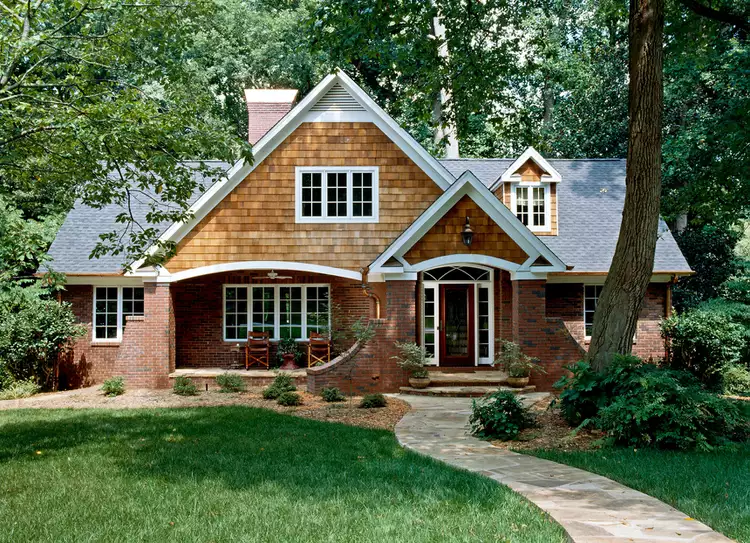 If you have a nice cottage that you want to go for a rustic but modern makeover, here are some ideas you can explore. Narrow red bricks on the exterior are a great design choice for a cottage. It adds an interesting texture to the house and is a good example of a modern-rustic design choice. Like the image, you can choose a two-tone brick cladding, which adds an extra flair to the house.
White colonial grid windows compliment the white frame of the roof and add a modern touch to the cottage.
The lawn is as important a part of a makeover of your house as the exterior walls. Stone and gravel landscaping can make a lot of difference to the look of your house. It is also relatively easy to do. The rest of the lawn can be grassy. Potted plants in cement pots will enhance the rustic look of the cottage.
A stone pathway to the house is another design choice you should consider.
4. Rustic White and Black Cottage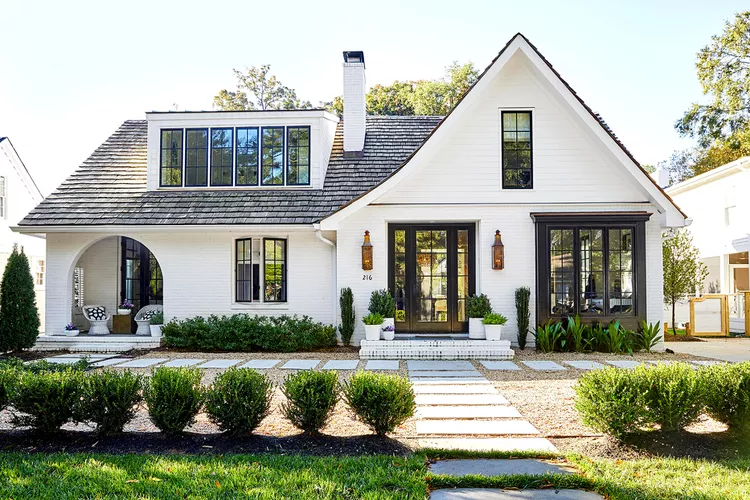 Painting your house is perhaps one of the most important design decisions to consider for a house makeover. A beautiful white exterior will instantly give it a new and fresh vibe. Installing French windows in a dark color will add a clean contrast. The windows also help frame the house and make it look balanced.
Landscaping the lawn with gravel is a design choice you won't regret. It adds character to your place. Another thing that adds some character to the place is the plants.
Small addition like a stoned pathway or vintage lanterns on either side of the entrance adds appeal to your house.
5. Stone House with White Windows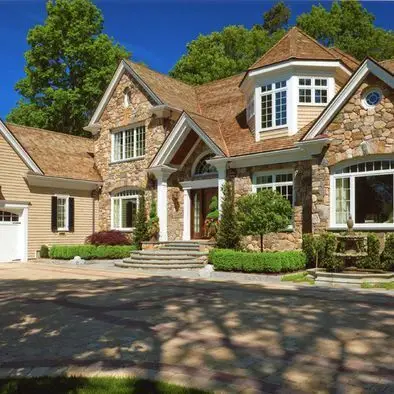 Many modern rustic houses employ the use of texture in their exteriors to give them that rugged, rustic vibe. One of the ways to do that is to have a stone wall exterior. Sone walls carry a sturdy old-school charm that never goes out of vogue.
Stone walls look more organic and add a lot of character to the house. Paint your old windows with fresh white paint to complement the stone exterior.
Small addition like a stone fountain overgrown with vines or a statement front door can go a long way in making your house one of a kind.
6. Cream White and Brown House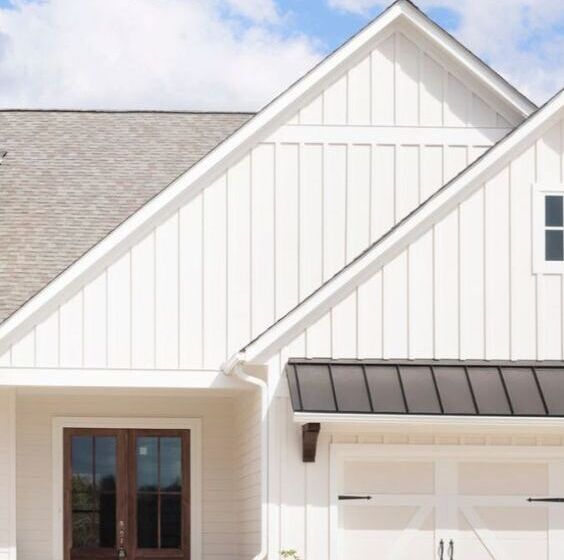 Painting your house in a neutral color scheme, with beige/cream, white, with brown tiled roofs, gives the house a soothing appeal. To add some texture to the walls, you can go for a vertical shiplap or some other kind of siding. They not only add texture to the house but also gives your house a farmhouse look.
Tip; A wooden patio in a darker color will respond well to the color scheme of the house. Paint your windows white and add outdoor furniture to make your house more welcoming.
7. Classic White with Vinyl or Wood Siding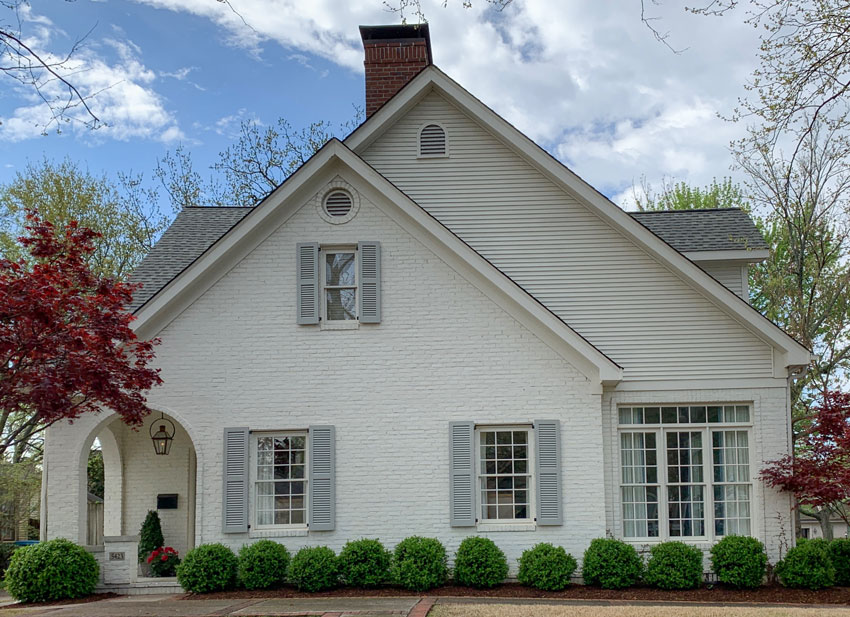 If you have chosen a classic white color for your house and want to add a rustic element to it, adding texture might be the way to go. Whether you choose shiplap or vinyl siding, adding texture will help add that rustic farmhouse feel to your house. You can even mix up the texture; one of the exterior walls can have white bricks, which will add some variety and playfulness to the exterior. With a white house, a light grey tiled roof provides a nice balance of colors.
Here is a fun tip; since the color scheme is white and grey, we would suggest you have a vibrant garden.
8. Rustic Bricked House with Black French Windows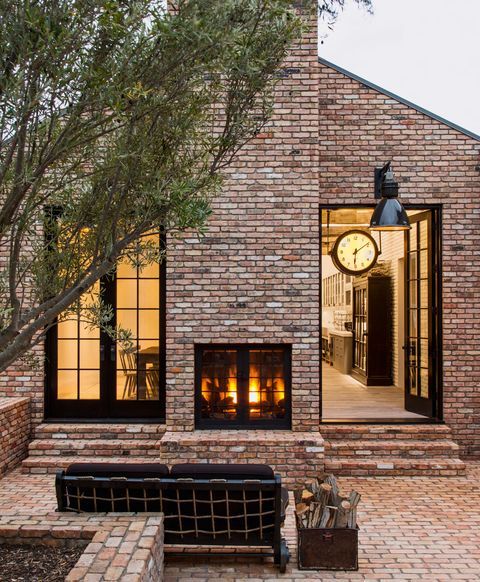 If the texture is what you're looking for, then you would love this bricked house idea. Red bricks are a classic choice for the house. A beautiful blend of rustic and modern, this narrow red-bricked house can be your inspiration for a house makeover.
Long French windows, in black, with a colonial frame, the house beautifully. The bricked patio with a fireplace adds coziness to the rustic ambiance. The texture of the bricks adds so much character to the house.
Minimalist patio furniture in a dark tone ties the look of the house together.
Remember, you can choose from among a range of different bricks; each of them will have a different appeal.
9. Wooden house with Gravel Landscaping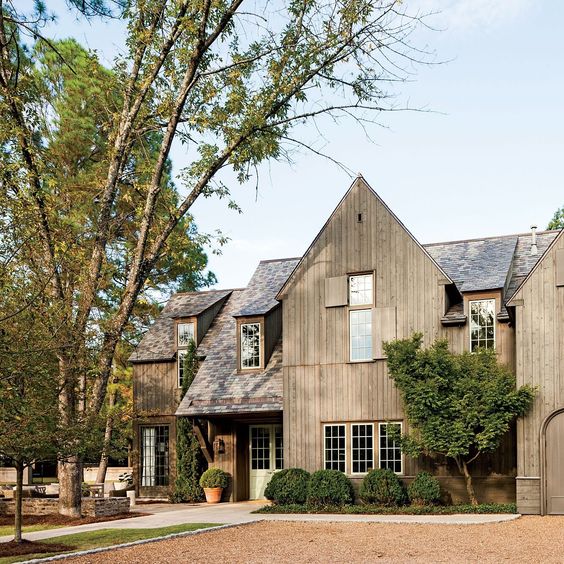 if ustic is the vibe you're going for, then browns and greys are the colors that you can never go wrong with. The vertical wood cladding is something to consider; it gives the house a characterful look. A grey roof goes well with the design of the house.
Another design decision you might want to try is the have a wall creeper. Vines on the wall provide an organic touch to the place.
Plant trees along the pathway if you have enough space in your front yard. A stone bench near the trees will make a great space for you to sit outside.
Another fun idea is to do red gravel landscaping. The gravel's color complements the house's brown tone and adds another layer of texture to your house exterior.
10. Stone House with Wood Frame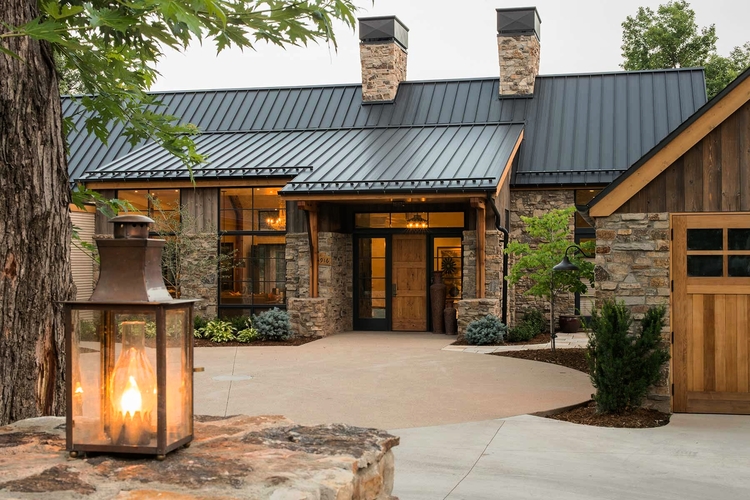 Stone houses are a delight to behold. They carry with them a peculiar rustic charm and also have an avant-garde touch to them. The stone bricks have a very earthy color tone.
These houses look elegant and inviting with warm lighting. Big windows with clean, minimalist frames give the house a modern appeal.
A cemented pathway and front yard with neatly allotted patches for your plants and shrubs will yet again introduce a blend of modern and rustic. The stone walls, woodwork, and landscaping create a tasteful visual balance.
Here is a tip; A mix of old and the new, you can go for vintage lantern lights all through the front yard.
11. A Stone Cottage with Lush Garden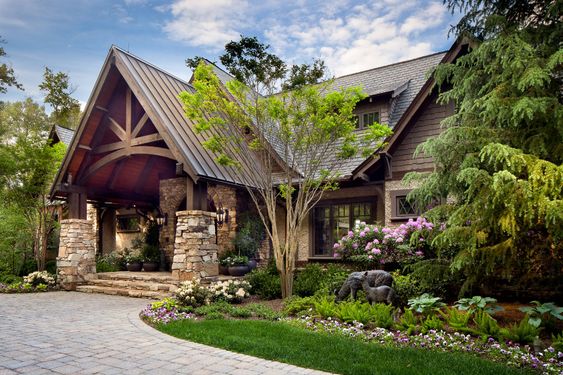 If you are considering a makeover of your house's exterior but you don't want to do a lot of tearing down, I might have an idea for you. Instead of concentrating your creative energy on the house walls and facade, pay attention to your garden and front yard.
Landscaping can make a huge difference to the look of your house. A paved pathway with a beautifully grown garden on either side of it can enhance the look of your house.
Have fun with landscaping with rocks, stone, and gravel. When you are traveling, look for beautiful flowers and shrubs you can add to your garden. If you have trees in your front yard, design your garden around it, do not cut them down.
12. Rustic House with Distressed Barn Door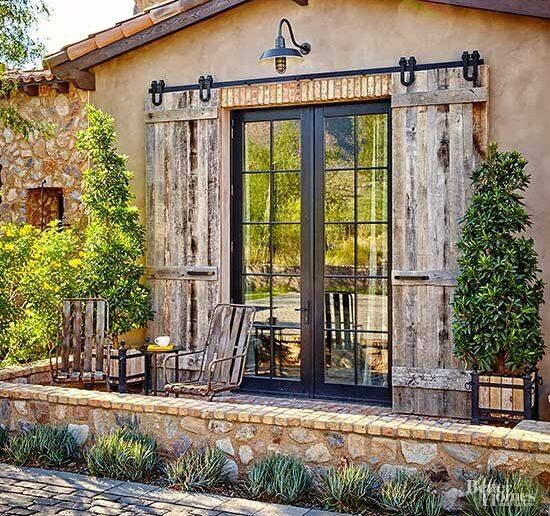 I think we have established above that mixing patterns is a way to add texture and fun to your house exterior. Colors like browns, creams, and wooden tones are well in tandem with the theme of rustic houses. Mix these with beautiful black frame French windows, and you have a good balance between the rustic and the modern.
You can have one of the exterior walls as a stone wall, while others either be stone bricked or a cemented wall in an earthy tone.
A great rustic element to add to your exterior is a sliding barn door. Do not polish the wood to make it look clean. Rather, go for a distressed look. A wooden patio is another excellent addition to this design.
Stoned boundary walls around the patio will harmonize with the stone wall facade.
13. Old School Stone House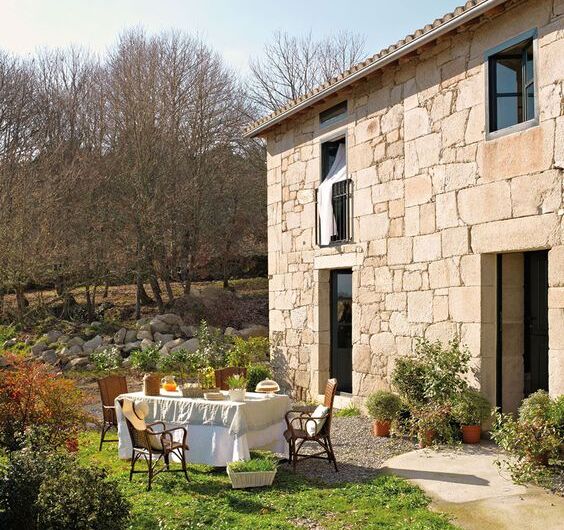 Stone houses are a gift of old-school architecture. They have so much history and character to them. An old stone house like the one in the image can be given a modern flair by adding clean black reflecting windows. The house has a lot of abstract texture on the walls; the crisp modern lines of the windows balance this out.
A fine gravel in the front yard with potted plants along the walls adds to the charm of the house.
Keep the garden growing relatively naturally. A stoned pathway leading to the house is the perfect final touch to this rustic modern theme.
14. Rustic Mountain House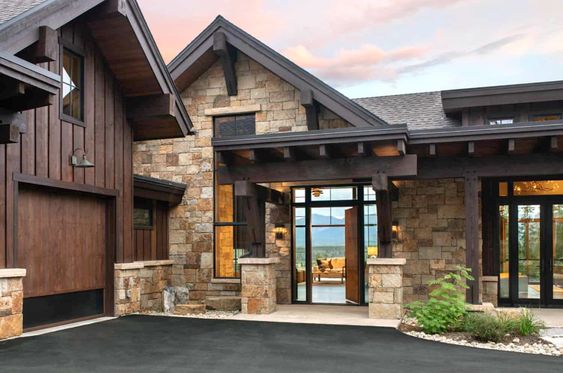 Modern rustic houses tend to use the natural textures of their building materials. Look at this house which uses two-toned walls of different materials. There is the stone wall that graces the entrance, framed by a door with a neat back frame. Then adjacent to it is a wooden wall siding that gracefully complements the color of the stone wall.
The matte black-colored roof adds modern sophistication to the house. The black road leading to the house and the front yard is perfect for this house's exterior. It also enhances the patches of the garden on one side of the house. Everything in the house is in a blissful balance.
15. Stone House With Exposed Wooden Beams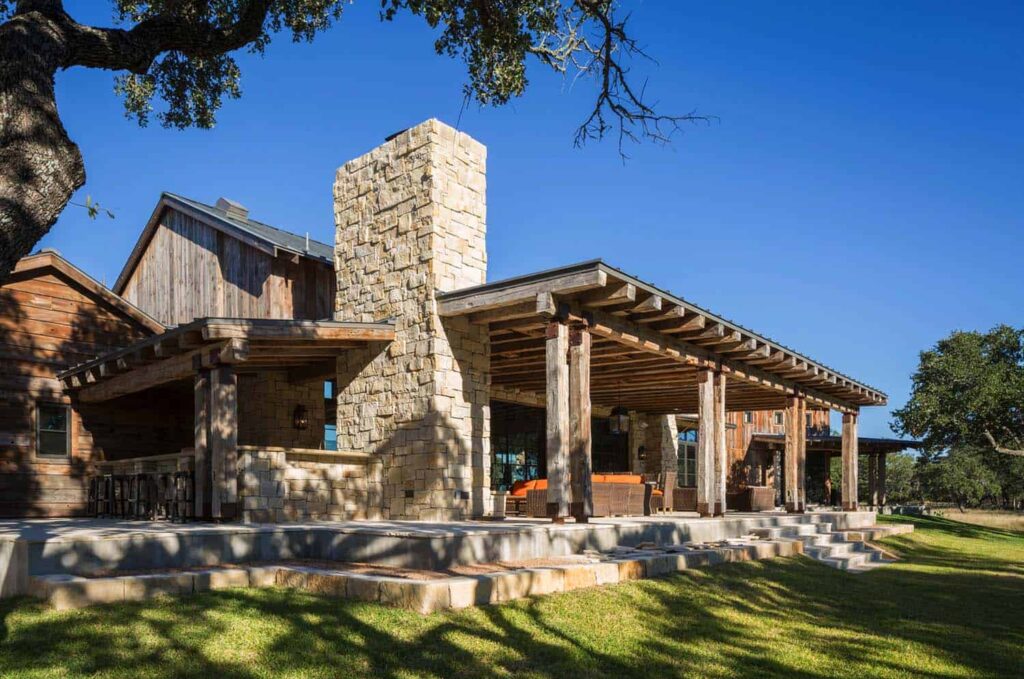 An interesting design choice for rustic houses is to do away with excessive finishing or polishing. Rustic houses preserve the natural tones and textures of their building materials. If you want to give your house a rustic makeover, this might be a design choice you would want to adopt.
Look at how many characters those exposed wooden beams add to the house. The rustic theme is beautifully achieved with the distressed look of the wooden beams.
Here again, we see a mixing up of building materials; the stone wall on the front and the wooden shiplap or wooden siding on another wall shake up the monotony by adding additional textures.
This is one of those houses that has some story to tell. You can use repurposed wood for the construction and tell the tale of building this house.
16. Grey-Toned Rustic Stone House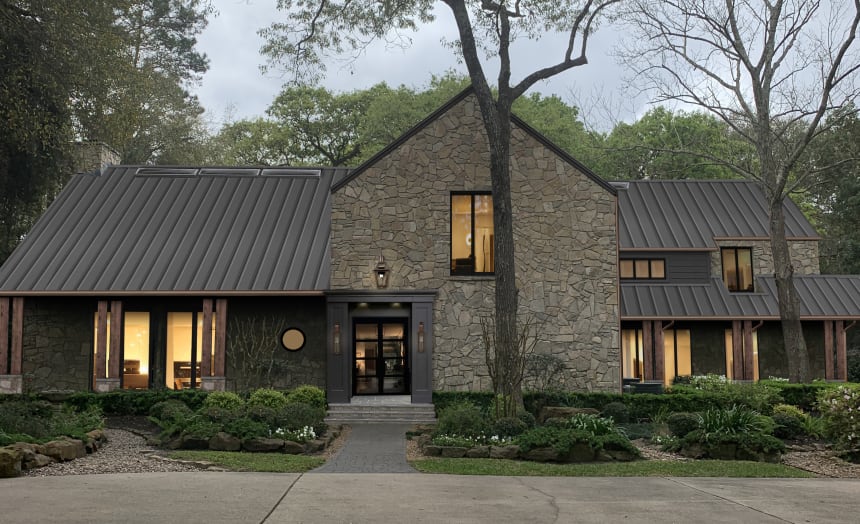 Earth-toned colors are a sure way to achieve a rustic look in your house. The greys stone walls look elegant and modern, while the texture of the walls imparts a rustic hint to the house. The color and texture of the wall are complemented by the tinned roof, which is a modern industrial element of the house. A dark-toned grey steel roof elegantly framed the house.
Clean black framed windows grace this house and fit well into the play of the rustic and modern elements.
The landscaping of the front yard features cemented pavement, gravel laden pathway through a lush green garden patch, and a paved pathway to the door. All these elements are in harmony with each other.
Make sure to take notes on the color scheme and landscaping of this house.
17. Charcoal Black Rustic Cottage in the Woods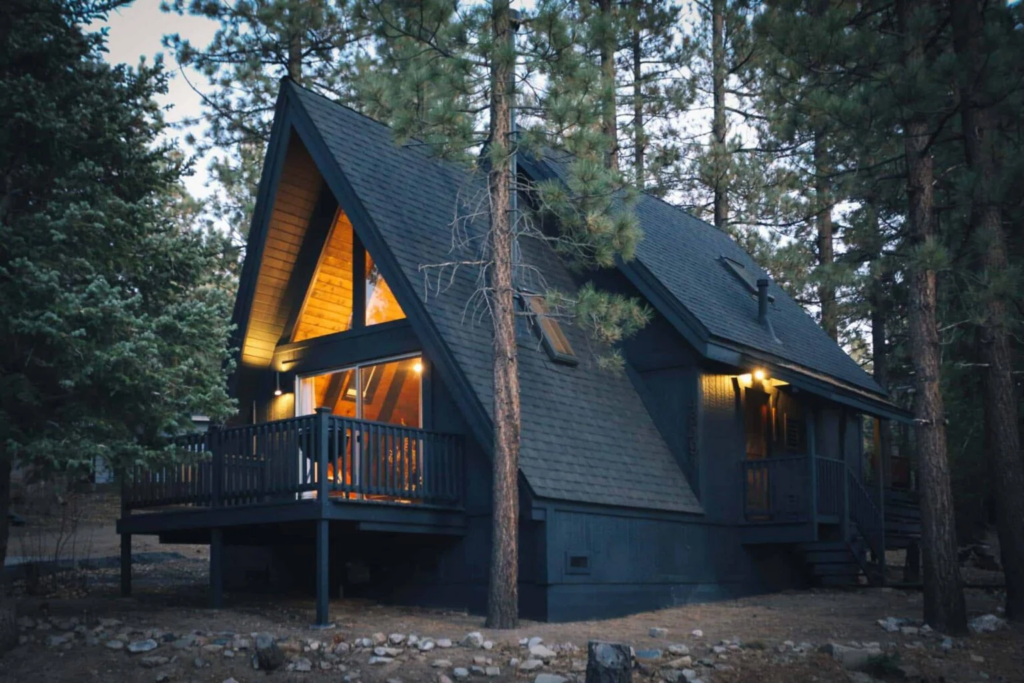 A cozy yet modern cottage in the woods is a dream settlement among rustic houses. It is something that is right out of the fairy tale. A charcoal back cottage is a good blend of clean, modern design meeting a rustic theme.
Because the cottage is painted a charcoal black through and through, you need to ensure that it has good warm lighting to give it an inviting look.
Big glass windows with neat frames provide a breathtaking view of the woods.
Installing a skylight would keep the cottage well-lit during the day and give a nice view of the starry sky and allow moonlight to trickle in.
18. Rustic Modern House with Big Windows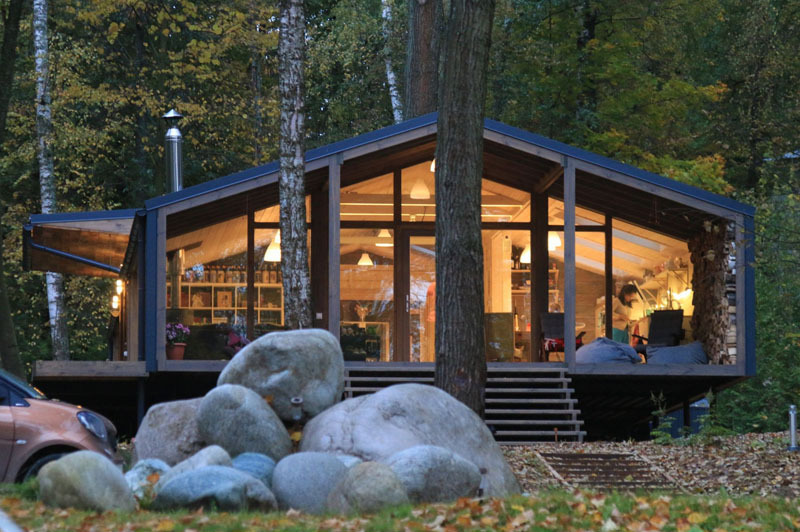 Rustic houses can also have nice modern designs; the above house is a good example. With a cottage-like appeal with big glass windows, this is the perfect getaway holiday house for families.
You can transform your old cottage by taking inspiration from this design. Steel frame supported with wood; this is a sturdy structure. You can take down a wall of your old cottage to replace it with a glass wall. Just imagine the spectacular view of the forest it will give you.
19. A Rustic Charcoal Black House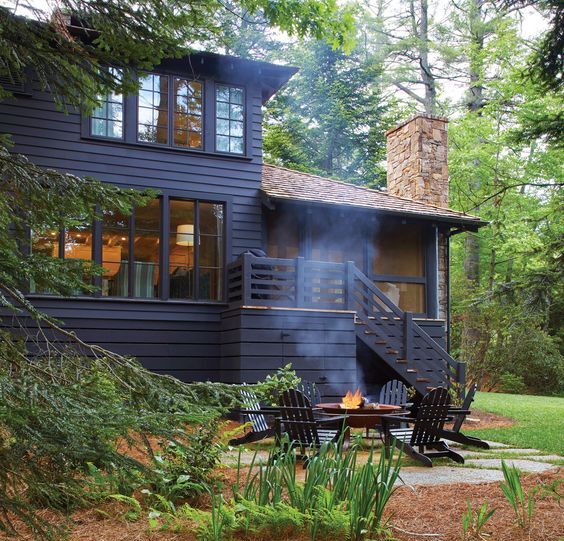 We have another one among the rustic houses that use the dark charcoal black color for its exteriors. The shiplap or wooden siding gives the house some texture. Wood or vinyl siding add a rustic touch to the house.
The charcoal black color is an interesting choice; its clean look gives it a modern vibe while looking rustic.
You can mix up materials by adding a stone wall and chimney to the structure. The contrast of the stone wall with the charcoal black walls will make for an interesting combination.
If you have chosen this color for the walls, I suggest you paint your outdoor furniture the same color. It would look more like a part of the house.
20. Rustic House Made of Reclaimed Wood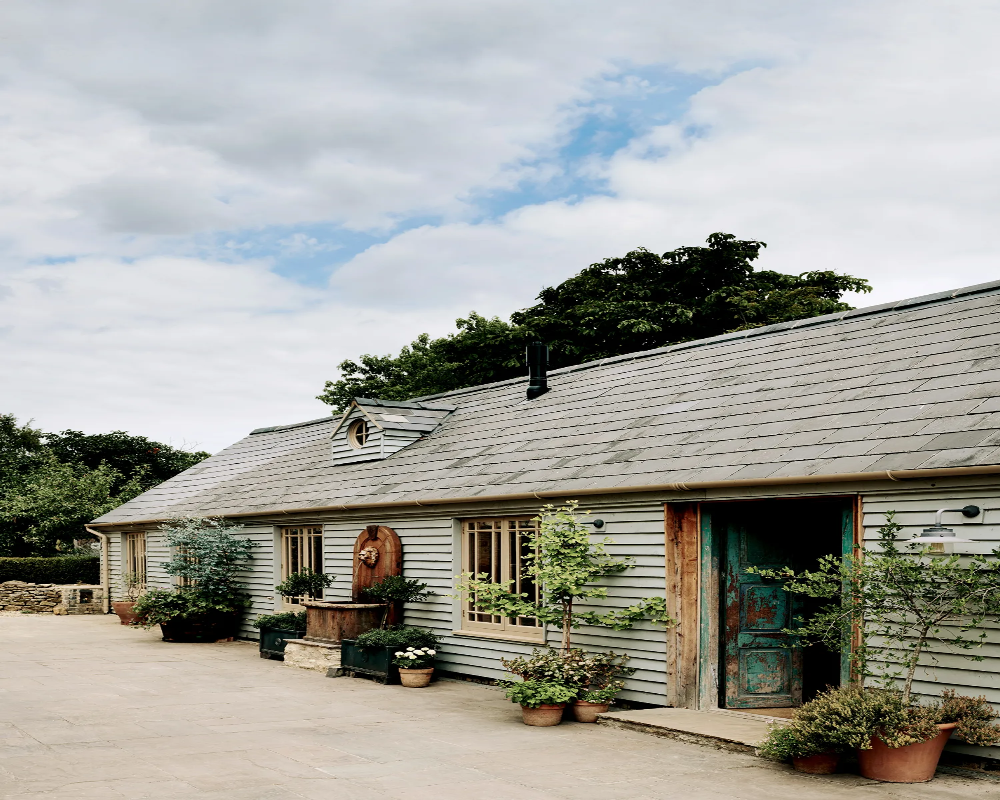 Here is an interesting advantage to rustic houses, they are the perfect houses to use reclaimed and repurposed furniture and building materials. This is what adds a story and character to them.
The beautiful Sapele windows frame this log house, resembling structure well. The reclaimed door with chipped paint is nothing short of an art piece. It adds a creative touch to the house. There is something to learn from this house on how to use old and reclaimed pieces tastefully and artistically.
Conclusion
Redoing the house exterior can be nerve-racking, especially if you don't know what you're doing. Rustic houses are all the rage these days, and we have listed down 20 ideas you can take inspiration from for your rustic house makeover.
It is important to understand that one can make various design choices to give your house exterior a rustic touch.
Choose the appropriate color scheme; neutral or earthy colors go well with the vision of rustic houses. Add textures through wood or vinyl or wood siding or shiplap. You can also opt for stone or brick walls for texture. They add to the rustic vibe of the exterior.
People often neglect the difference landscaping can make to the exterior of the house, do not make that mistake.
Remember these tips, and you will find your vision for your modern rustic house.