Do you want to make your kitchen highly attractive yet keep it functional? Right from its cabinets and layout design to the used countertop, everything contributes to enhancing its charm. Amidst the various available options, the white quartz countertops make the best choice.
Countertops play a deciding role in the maximum total time spent on working, cleaning, and maintenance. If you haven't used the right countertop, things can get really messy; on the other hand, a suitable countertop will elevate your convenience.
White quartz countertops are durable, reliable, and lasting; thus, they are one of the popular choices in the market. Are you ready to explore and understand the white quartz countertops in more detail?
Let us walk through the detailed guide to learn everything related to white quartz countertops.
What are Quartz Countertops?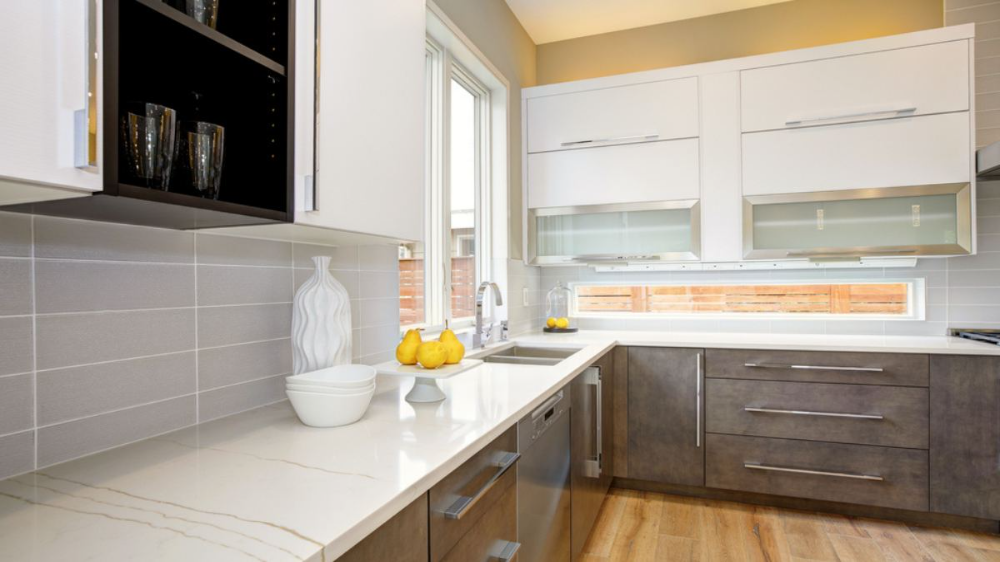 The quartz countertops are made with a hard and crystalline material which is composed of silica; Quartz. Quartz countertops are amongst the most popular and famous choices for kitchens and home interiors. It simply elevates the style and attraction of your place to the next level within no time.
When used as a kitchen countertop, quartz dust or chips are bound with resin for the perfect finish. However, the overall appearance of the quartz countertop depends on – the grounding of the quartz chips and their size.
Quartz is elegant, durable, and sleek and is also stain-resistant. It is available in many different colors; however, white is certainly the most demanded choice. The white quartz countertops are perfect for minimal, classy, and modern infrastructure style.
If you are considering choosing the white quartz countertops, you will surely be impressed with its beauty, charm, and evergreen charisma.
How to Make the Right Choice with The Quartz Countertops?
Whether you are trying new kitchen décor or are renovating the old one, countertops are generally the most expensive choice. Therefore, you should be all attentive to making a wide choice by keeping these factors in mind:
Ensure buying white quartz countertops, especially from a popular, reputed, and well-known brand name.
When deciding the color of the countertop, always consider the whole vibe of your kitchen. Usually, the color white is the preferred choice as it goes with every décor style.
Check the thickness of the quartz countertop. Generally, countertops with a thickness of more than 20mm are best to get reliability and durability without compromises.
It is always suggested to rely on experienced and qualified professionals to install the countertops. It can be really expensive to correct a mistake with quartz countertops.
Plan with a pre-decided budget. It can be tempting to make many choices; however, investing in everything on the countertop is not at all suggested. Move only with the planned budget.
How to Easily Maintain the White Quartz Countertops?
If you have finally decided to use the white quartz countertops at your place, you should be well aware of its maintenance essentials. Fortunately, it is not difficult to maintain the white quartz countertop; however, you should remember the following things: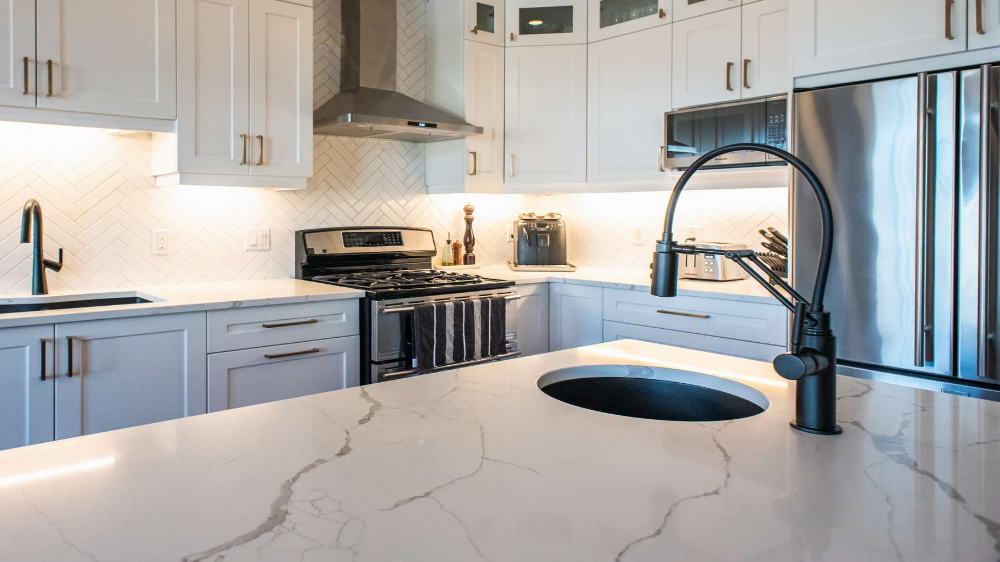 Quartz countertop can withstand acidic solutions as it is non-porous. However, it is suggested to avoid using oil, wax, and high-pH cleaners as they can damage the resin levels.
Quartz countertops are hard, durable, and stain resistant; however, if you want to increase their life, it is suggested to use chopping boards. This is especially for users who are rough choppers, as it can leave permanent damage on the countertop, irrespective of its high durability.
You should immediately clean the spills from lemon juice, wine, and tea/coffee. If these spills are left to dry, they can get extremely hard to get rid of.
Lastly, you should be attentive while using the white quartz countertops; after all, you are working with white countertops.
Pros and Cons of White Quartz Countertops
It can be really fun to choose an appropriate countertop material for your place. Not only is it one of the major investments, but it also lasts long if chosen the right material, like quartz. Thus, it is quite important to be aware of the pros and cons of white quartz countertops before making the final decision.
Are you ready??
Pros of White Quartz Countertops
The white quartz countertops are of high quality to provide a luxurious feel and appearance in your place. As quartz is an engineered slab, it comes with several possibilities for its use, maintenance, cleaning, etc.
It is tough, long-lasting, and durable, along with many other appreciable qualities. Let us walk through the various pros of white quartz countertops:
1. Durability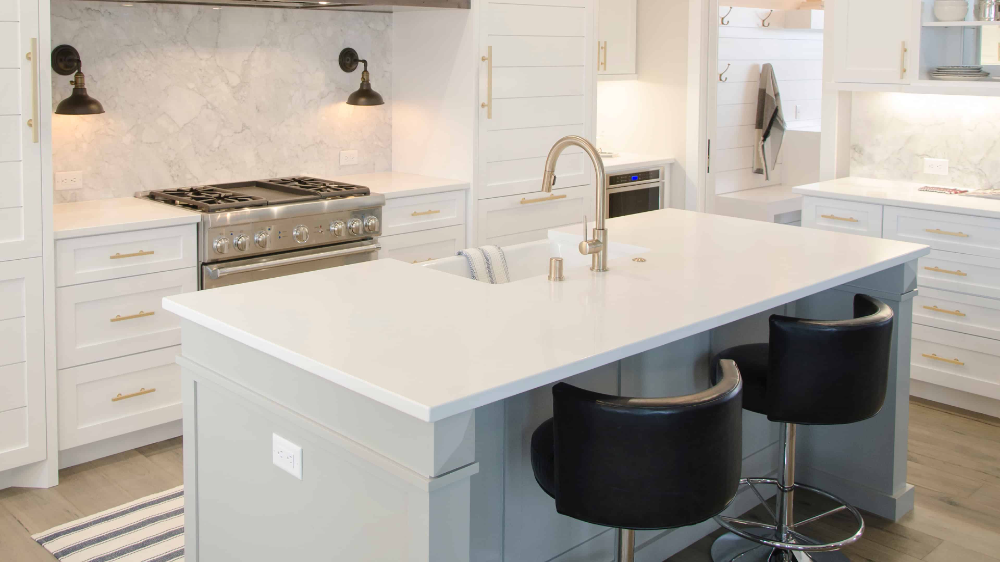 Quartz is a preferred choice of many home experts because of its high durability. Certainly, it is one of the most popular and attractive benefits of quartz countertops.
However, this doesn't mean that the quartz countertop cannot break or be destroyed into pieces. It can be hammered into pieces but under extremely heavy pressure. In regular use, quartz countertops are meant to last longer than any other ordinary countertop material.
Quartz is also known as one of the hardest materials; thus, its users can totally rely on it for regular tasks without any hassles. Moreover, quartz is pretty resistant to scratches, even with a knife, thereby increasing its use and lifetime.
2. Stain Resistant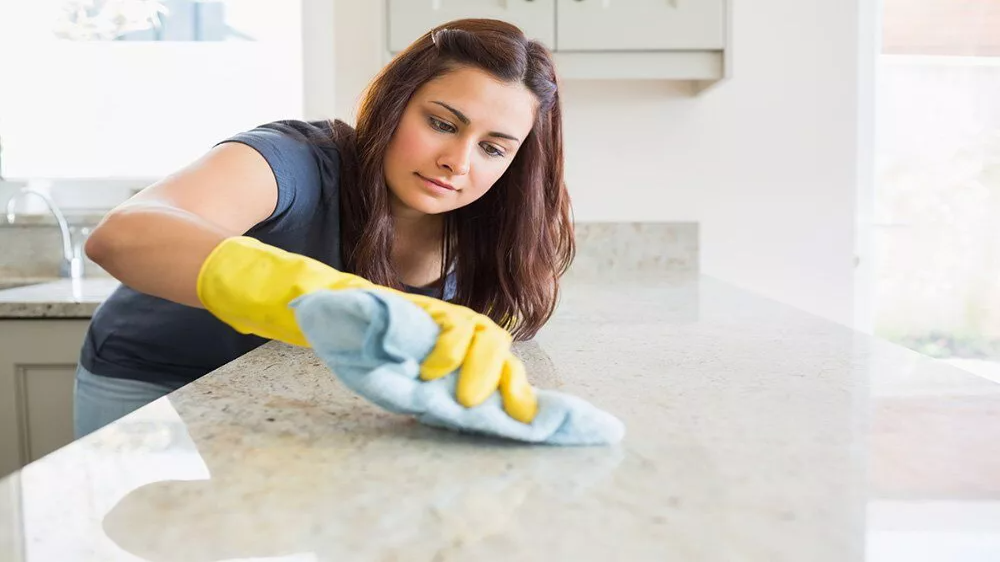 As mentioned, the quartz countertops are stain resistant. This is quite an interesting advantage that totally works in favor of quartz being used as a kitchen countertop.
The kitchen is one of the places to expect an uncertain workflow, as anything can happen, from chopping and cutting to spilling. Thus, it is very important to have a countertop material that can withstand all this without any problems.
Quartz is an attractive choice here as it is not porous; as a result, the stains do not seep into its pores to ruin its appearance. Even when you are using white quartz countertops, it will not stain that easily. If anything spills over your white quartz countertop, simply wipe it out without any worries.
Yes, it is as simple as it sounds to keep your kitchen stain-free even in the messiest situations around.
3. Glossy Appearance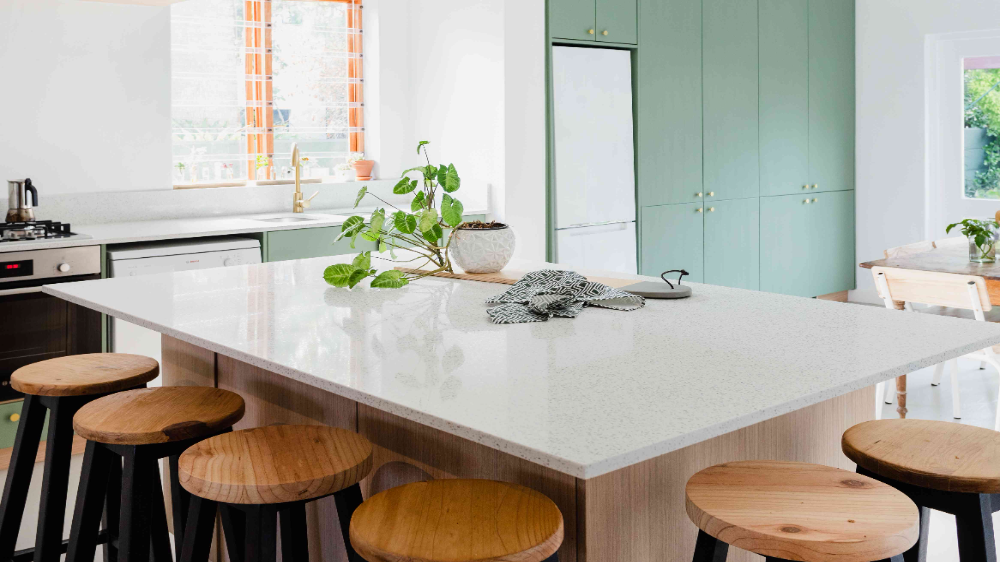 With its amazing benefits, the white quartz countertop doesn't have to be boring or dull. It can be as special and attractive as you want. Along with its stain-resistant quality, the quartz countertops are also glossy to make anyone fall in love with them.
Thanks to their glossy finish, these countertops make the perfect choice for all modern décor. Even when you have nothing but just the white quartz countertop in your kitchen, you are all sorted to leave an impressive impression.
Quick Tip: the white quartz countertop with contrasting wall designs and patterns is one of the popular trends right now. Fortunately, the white countertop looks pretty good with almost everything; thus, you can choose any of your favorite patterns to impress your visitors and guests.
4. Solid Platform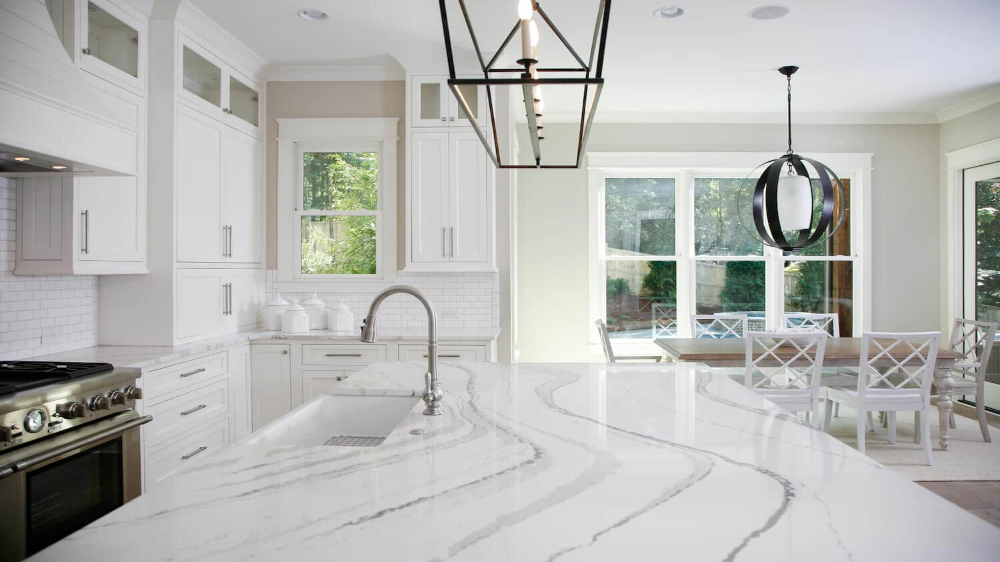 When deciding on a countertop material, especially for the kitchen, it is important to choose a solid platform. There are a lot of things to do in the kitchen, like chopping, cutting, etc.; thus, a countertop that can bear all this will make the right choice.
The white quartz countertops are specially designed solid platforms to be the most appropriate choice. Moreover, as they are naturally solid platforms, they do not require any epoxy sealing to enhance their charm, use, and life. You can just simply use the white quartz countertop to make your kitchen look richer in style, appearance, and elegance.
5. Bright and Spacious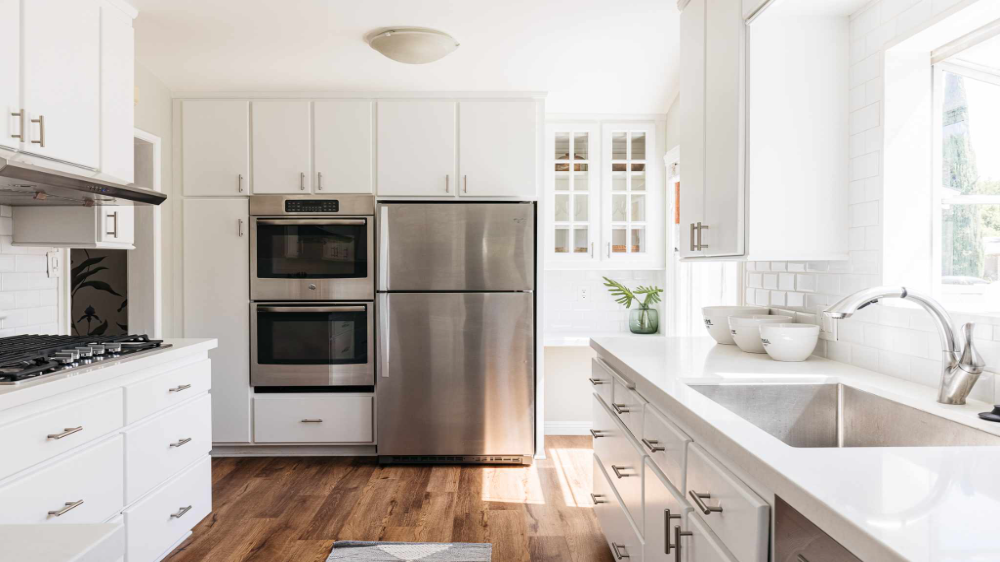 Nothing can be compared to the color white when talking about brightness and spaciousness. As the white surface reflects the maximum light, it appears brighter than any other kitchen countertop. White countertop simply makes all your favorite, delicious, and yummy dishes appear more beautifully and attractively.
After all, no one would prefer their kitchen to be dark, gloomy, or miserable, isn't it? The white quartz countertop is the perfect choice to have a kitchen with the most positive vibe possible.
Besides this, the white quartz countertop will make the illusion of it being more spacious. This is really the most essential advantage, especially if you have a smaller kitchen space. The white quartz countertop can make it look bigger and brighter without any special efforts or décor changes.
6. Pure, Clean, and Smooth Appearance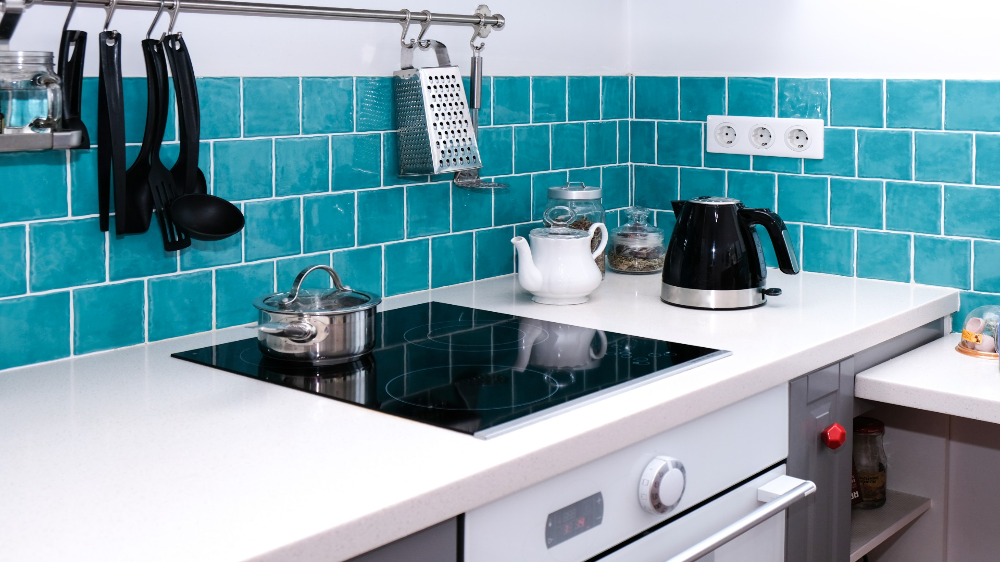 Isn't it your dream to have a happy and satisfying kitchen? Generally, most people try many things to enhance the overall vibe of their kitchen. However, using too many things in your kitchen can sometimes ruin its actual vibe resulting in a dull and tiring kitchen experience.
If you want to make your kitchen looks dreamy with minimalistic décor arrangements, the white quartz countertops will make a perfect choice. White countertops are clean, pure, and smooth to ensure the perfect visual appearance. This also improves the elegance of your kitchen in the simplest way possible.
As white countertops never lose their appeal, it is the preferred choice of many home interior experts. Moreover, you can style the white countertops with anything and everything to make a strong visual attraction. The white quartz countertops can never lose their charm and, thus, can be impressive for the longest time possible.
7. Requires Less Maintenance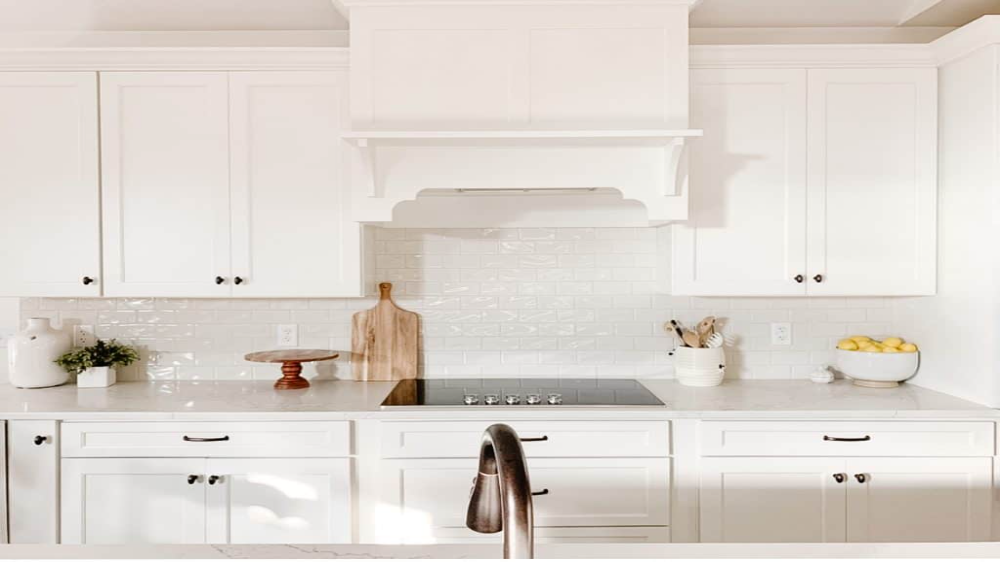 The white quartz countertop requires less maintenance. As the quartz countertop is stain resistant and not porous, it requires minimal effort for its maintenance. All you just need is to clean the stains with a piece of damped cloth and an effective protector; no need for harsh scrubbing or rubbing.
As you can prevent harshly scrubbing the white countertop, it further increases its lifetime without ruining its quality and shiny gloss. The white countertop will remain as it is white even after years of use, with, of course, the required maintenance.
Additionally, as the white quartz countertop is non-porous, it further prevents the growth of bacteria, germs, or other microorganisms. Disinfecting the countertop and using baking soda against the smell is all you need to keep your kitchen fresh and good. This precaution also maintains good hygiene in your kitchen to cook delicious food for your loved ones.
MORE Stone & Quartz Cleaner + Protector - Water-Based Surface Care Spray - For Kitchen & Bathroom Countertops & Floors - Daily Cleaner/Protector - Peppermint-Thyme Essential Oil - 16oz
CLEAN & PROTECT - MORE Stone & Quartz spray is a 2-in-1 daily cleaner and protector formulated specifically for natural stone and quartz surfaces.
GENTLE FORMULA - Our neutral-pH formula gently dissolves dirt and grime to leave your surfaces clean and refreshed, and reinforces stain protection with every cleaning. Simply spray the countertop or vanity and wipe away with a dry cloth or paper towel. You'll have a streak-free surface with no leftover residue.
CLEAN INGREDIENTS - Made with four ingredients including a blend of essential oils, MORE Stone & Quartz Cleaner + Protector features a fresh and subtle scent of peppermint and thyme. Our water-based formula has less impact on indoor air quality so it can be used worry-free on countertops and floors in the kitchen and bathroom.
MULTI-SURFACE CLEANER - Safe and effective for everyday use, our Cleaner + Protector can be used on granite, marble, quartzite, limestone, travertine, onyx, slate, soapstone, and other natural stone and quartz surfaces. Protecting and beautifying your surfaces has never been easier.
MORE - MORE Surface Care brings a fresh, new approach to stone and tile care. Every product in the MORE line is manufactured in the USA and formulated specifically to work seamlessly together to care and protect your natural stone, ceramic, porcelain, and concrete surfaces. Our products are safer and easier to use, without sacrificing quality or results.
8. Versatile Use and Appeal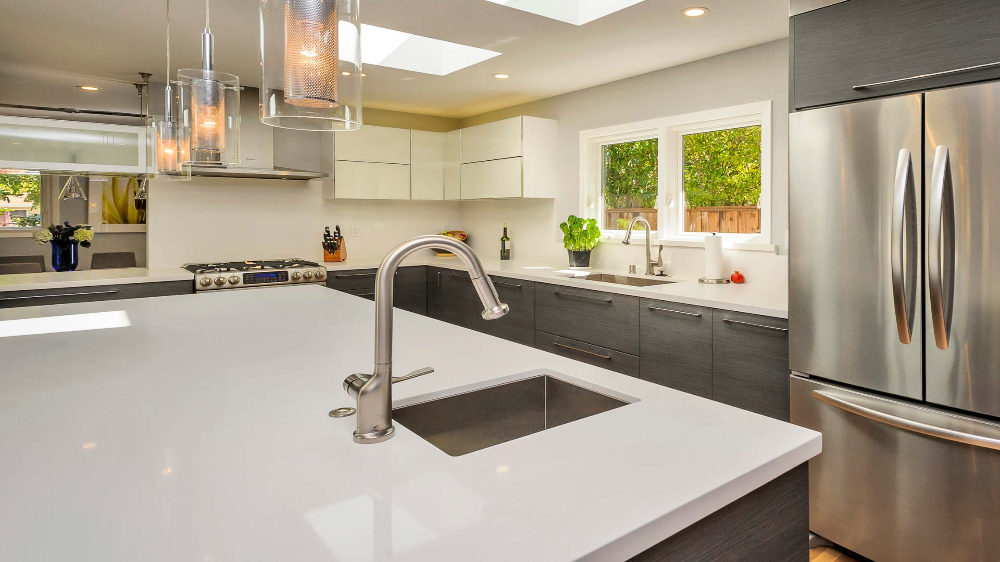 White is the most versatile color and, thus, is a classic choice for all types of modern interiors. Whether you have a specific interior style in mind or just want to go with the traditional design, everything looks perfect with the white quartz countertop. You can certainly never go wrong with the color white for the choice of countertops.
If you are still unsure about the type of home décor you need, you can still choose the white quartz countertop without any second thoughts. No matter what your preferred color and décor choices are, the white quartz countertop will certainly look good.
9. Price Range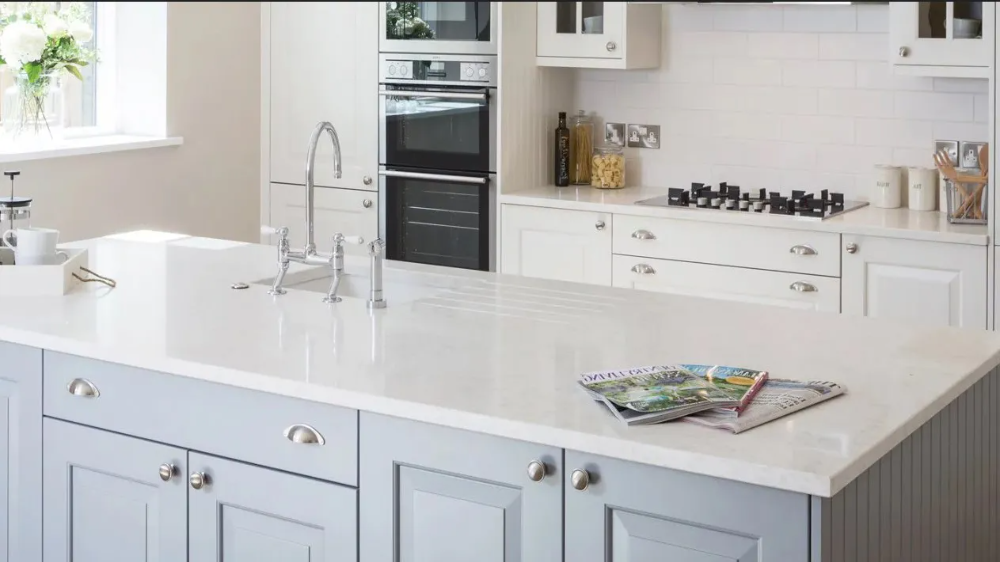 Unlike other high-quality and luxurious countertop materials, white quartz countertops are available in different price ranges. You can choose any preferred style and design of the countertop according to the available budget. As it is rightly said, there is a white quartz countertop for everyone within their budget range.
If you have a limited budget, you can still get many brilliant white quartz options without any problems. Many quartz countertop options can stand distinguished even at a relatively inexpensive price range. You will not be disappointed to find an excellent white quartz countertop that works easily on your monthly pocket.
10. Wide Variety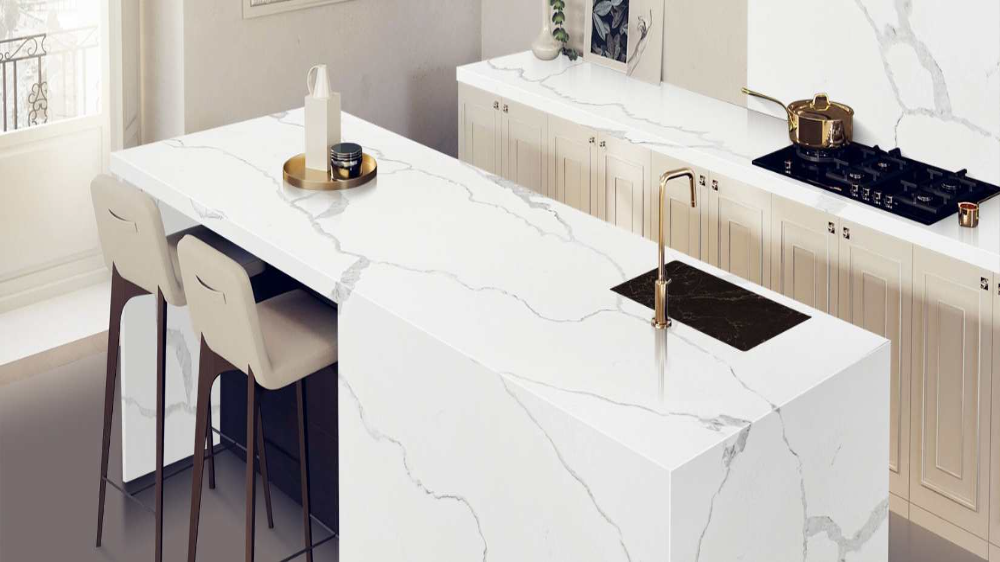 Last but not least, you can feel delighted with the wide range of white quartz countertops available in the market. Whether you want a subtle white as your kitchen countertop or a bright glossy white, you can get anything quite easily. Thanks to this, the white quartz countertop can be matched with any of the home decors without any hassles.
Moreover, if you prefer any color other than white quartz, you can conveniently find that as well. The quartz countertops are available in different colors as well. However, the white color is dominant of them all as it matches and goes with everything; to offer all the expected and desired benefits.
Cons of White Quartz Countertops
Similar to the two sides of the coin, the white quartz countertops have their own disadvantages as well. It is very essential to look through the various disadvantages of the quartz countertop to make a practically reasonable decision.
These are the possible cons of the white quartz countertop:
1. Expensive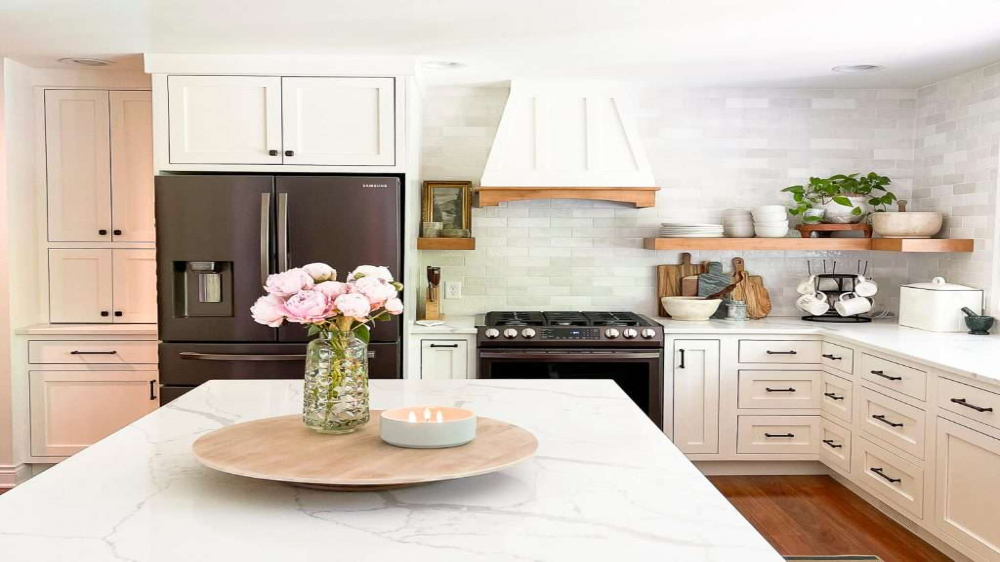 Considering all the amazing benefits of white quartz countertops, it won't be wrong to say that these countertops are quite expensive. Quartz is available as an expensive material; thus, those who have a very limited budget may have to look for other alternatives.
Quartz is relatively less expensive than marble or natural stones; however, it is the installation cost of the quartz that is the most expensive. It takes quite precision to install quartz as the countertop without ruining all its qualities.
Despite being on the expensive side, many people still choose quartz because of its durability, as it ultimately becomes a cost-effective choice in the long run.
2. Installation Challenges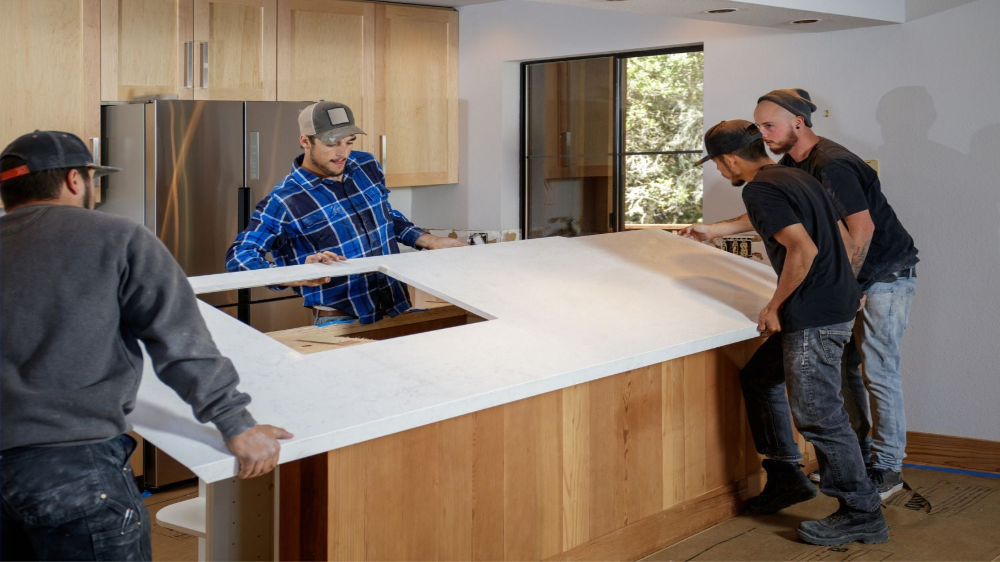 As already mentioned, the high price of quartz countertops is because of their installation, so it is obvious to face some challenges. Quartz slabs are extremely heavy, and thus, lifting and placing them correctly should only be done by professionals. Even a slight mistake in installing a quartz countertop may get expensive to fix.
Moreover, it requires special tools and machines to cut the quartz countertop in the desired shape. Everything should be accurately done to enjoy the desired results without any compromises. Choose a professional expert to avoid any major installation challenges for white quartz countertops.
3. Most Suitable Only for Indoor Use
If you have any plans to set up an exterior kitchen, you should definitely avoid choosing the white quartz countertops. Direct exposure to sunlight can affect the overall quality of the quartz, causing permanent discoloration and pigmentations. Moreover, the sunlight can also cause an unpleasing yellow tint layer on the surface which looks extremely unattractive.
The white quartz countertops also lose their glossy shine with time, even with the indirect UV rays. Thus, it is best to choose other countertop materials, especially in areas with high direct sunlight. Additionally, you should be a little careful while using the white countertop to enjoy its long-lasting use.
4. Heat Vulnerability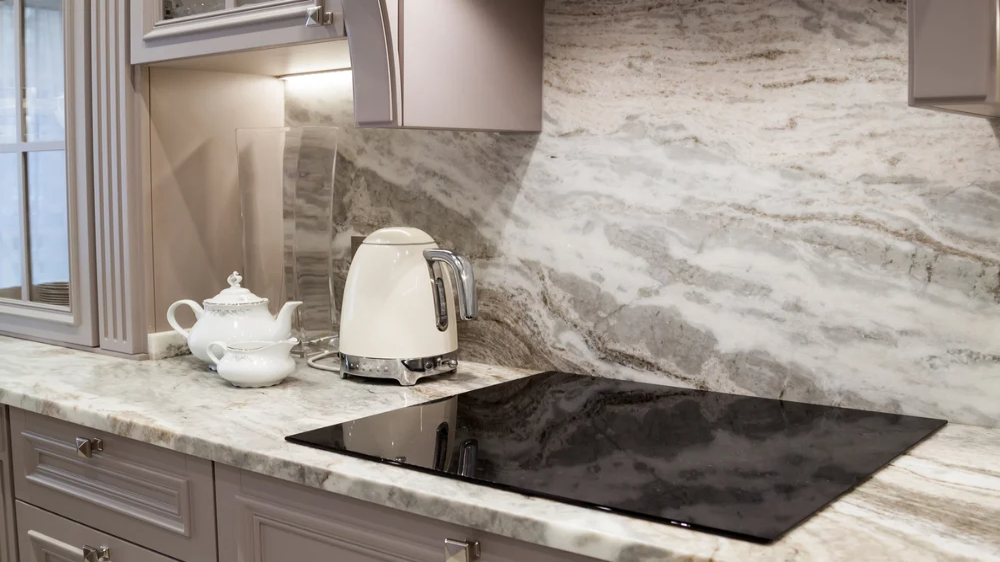 The major drawback of a white quartz countertop is its minimal resistance to heat. The quartz countertop can easily succumb to heat with the continuous use of hot pots, utensils, sunlight, etc. Moreover, the heat marks are evidently visible to ruin the charm and quality of the quartz countertop over time.
Additionally, it is also important to consider that these permanent heat marks on the quartz countertop are quite expensive to remove. If you continue using the heat-damaged countertop, it can be really dangerous, resulting in hazardous accidents.
5. Sensitive to Dirt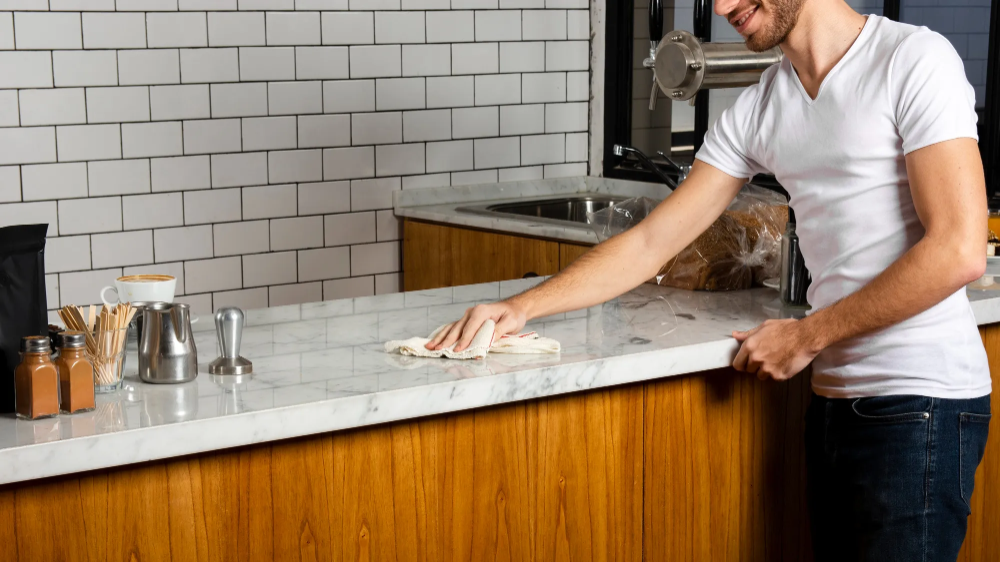 No matter how much you try, there are always high chances of white countertops getting dirty and damaged. Though the quartz countertops are easy to clean with a clean cloth, it should be done immediately. If the dirt remains on the surface, it can often settle on the surface, causing a permanent stain that cannot get unnoticed.
As the white color makes everything more visible, it certainly calls for your unaltered attention. If you are planning to use white quartz countertops, it is important to invest in high-quality magic cleaners to maintain them without any hassles. It sometimes becomes an additional task to clean and maintain the white quartz countertops.
6. It Appears Boring to Some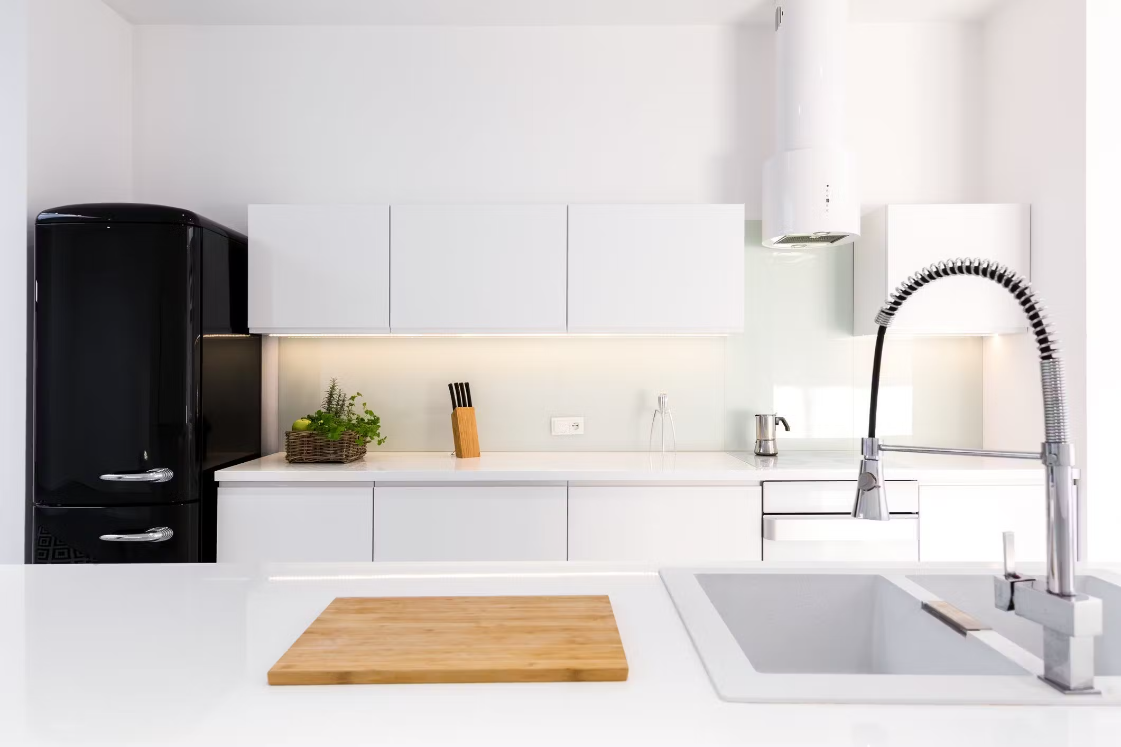 Another challenge that white quartz countertops face is that they appear boring to some people. Many people prefer colorful quartz countertops rather than the plain white color in their kitchen. If you are also one of them, then the white countertop is not an ideal choice for you.
Moreover, not everyone enjoys the brighter side of the white countertop or the snowy ambiance they create. This is especially the people living in a joint family or those who have children to create a mess around in the kitchen.
Now that you are well aware of the various pros and cons of white quartz countertops, you can easily decide if they are the right choice or not. It is suggested to consider each and every point when deciding as it is usually a once-in-a-lifetime choice for many people.
In addition to these mentioned pros and cons, it is important to consider all the surrounding factors that can influence the use and installation of the white quartz countertop. It can really cost you a lot if you miss considering any of these important factors. You surely don't want that to happen to you, isn't it?
Final Words
You just need the white quartz countertops to make your space look angelic, beautiful, charming, and enviable than anything else. Unlike the other luxury countertop options, white quartz is easy to maintain and is also affordable for everyone.
If you still have any more concerning doubts about the white quartz countertops, you can connect with us in the comment section. White quartz countertops can make your place look an absolute dream with their charming and appealing visual appearance.
We, thus, help you make the right choice for this gorgeous white quartz countertop.
Frequently Asked Questions
What Are the Major Types of Kitchen Quartz Countertops?
The white quartz countertop for the kitchen is categorized according to its thickness. The thicker slabs are expensive and durable' on the other hand; the thinner quartz slabs are less expensive. The average thickness of the quartz countertop is either 15mm or 20mm to enjoy uncompromised durability, beauty, and reliability.
What is the Appropriate Percentage of Quartz in a Quartz Countertop?
To offer maximum durability and reliability, the quartz countertop should contain approximately 93% quartz along with 7% of binder and color. Depending upon these percentages, the quartz countertop is categorized as – first choice, commercial grade, and second choice.