We all put a lot of effort into designing our kitchens. One can even say it is one of the most important areas of the house, and not a single corner of it should be neglected. Do you also feel that the space above your kitchen cabinet could use a bit of makeover? If yes, then this article will help you explore some ideas for choosing the right decorations for the top of kitchen cabinets to make them more interesting.
Whether you have open shelves or closed cabinets, we have design ideas to suit your needs. Add some intrigue to the bare wall between your cabinets and the roof with these decorations. Learn what works and what to avoid. Take up this creative challenge; let's begin!
1. A Visual Symmetry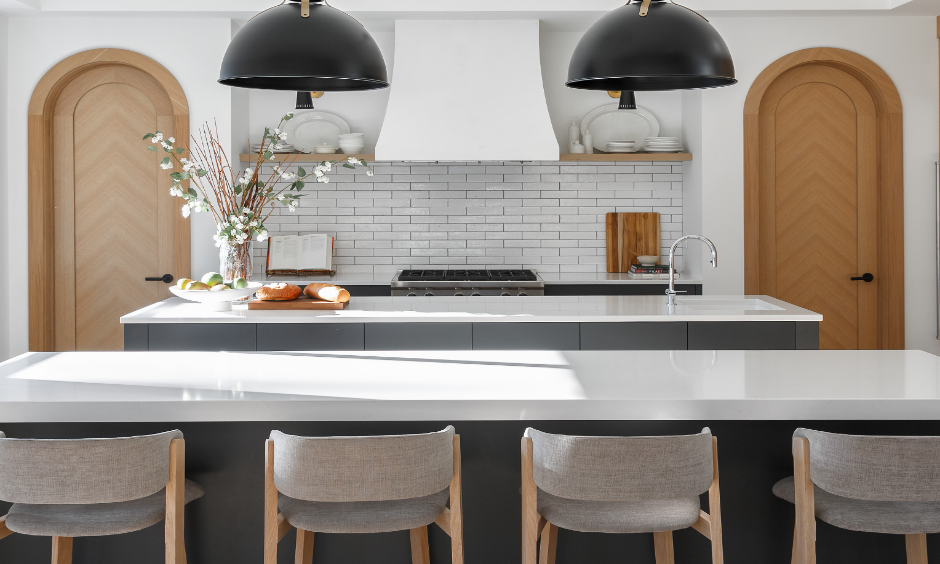 We love this cream color themed kitchen. It gives a soft, delicate look; this kitchen in cream and white is a pastel dream. If you have a good collection of porcelain and china, these beautiful open shelves are the place to display them.
Use the place above the cabinets to display some of your favorite crockery. We would suggest you go for things that follow a similar color scheme, like the kitchen. Frame minimalist artwork and place them so they balance the visual of the kitchen. Clean framed designs like those in the picture introduce symmetry to the space. Moreover, the space between the shelves or cabinets and the roof doesn't look boring and bare.
2. Pots, Pans, and Candlesticks
Add some intrigue to the space above your kitchen cabinets; you can do so by placing some candlesticks, a Vintage coffee maker, and old brass pots and pans.
It is available in the market with beautiful artwork on chinaware. I would suggest you take them off, local artisans. Their work is handcrafted and one of a kind, and I think your kitchen deserves that.
Another thing to keep in mind if you are decorating the space above the cabinets is to ensure that the things are displayed in good lighting. Light fixtures over the cabinets to enhance the display will help the entire look of the kitchen.
Tip; To complement the brass utensils and vintage collectibles, you can choose light fixtures with a metallic accent.
3. Downlights or Recessed Lights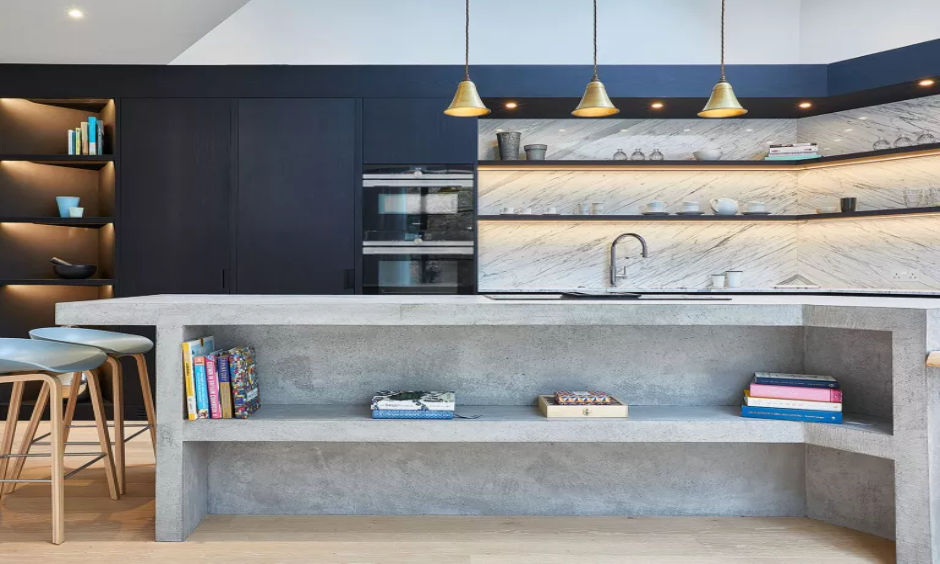 When it comes to decorations for the top of kitchen cabinets, you don't necessarily have to look for vases, decorative utensils, or even framed pictures. For a more minimalist and clean look, you can go for recessed or down lights for the ceiling alive the cabinets.
These look beautiful and elegant. If you have open shelving in your kitchen, install these lights on or under the shelves. Your kitchen will look crisp and modern.
We would suggest more warm lighting; it softens up the look of the kitchen and gives it a more inviting look.
A dark color on the wall of the kitchen will complement the soft, warm lighting well.
To finish the look, go for pendant lighting for the kitchen in metallic accents.
4. Clayware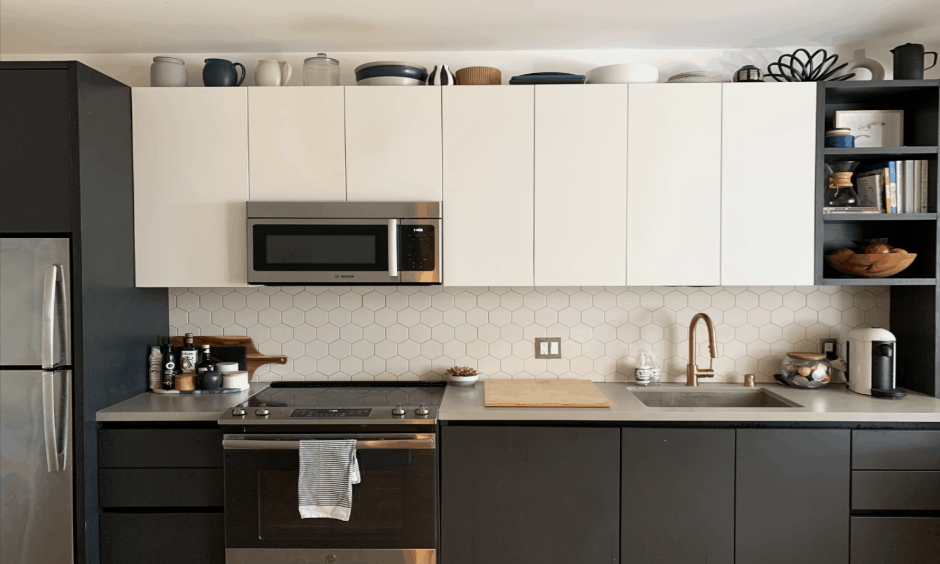 Yet another fun set of decorations for top of kitchen cabinets is clay pots, pans, kettles, and bowls. Clay pots and pans and other clay decorative items are a fun addition to your kitchen. They add something of the rural or the old kitchen essentials to your modern kitchen setup. It is a call back to the age-old ways of cooking.
Clay pots and pans also add some earthy toned to your kitchen. They look beautiful and add quite an earthen charm to your kitchen.
You can convert one section of your cabinet into a vertical open shelf. Stack that with cookbooks with recipes from around the world. We know these days we can have recipes from all over the internet. But cookbooks can have some less-known jewels that you would want to experiment with.
Tip; One always feels nostalgic for recipes that one's family or friends used to cook for them. Make a handwritten cookbook with all these personal recipes that you can pass on.
5. Bring Some Greens to Your Kitchen
We know that a lot of us love the classic white kitchen with white cabinets. Add to that a wooden countertop and wooden flooring, and what you have is a timelessly beautiful kitchen. Timeless, it may be, but it can look a bit too minimal and bare.
To add some freshness to the kitchen, why not introduce some green plants? You can place them over the shelves, and they add a natural touch to the kitchen.
The plants that you keep on the countertop will get enough sunlight, and you can even water them. That might not be the case for the ones above the cabinets. In that case, you can go for faux plants.
Keeping up with the kitchen décor, I would encourage you to use old brass pots as pots for plants.
6. Earthy Decorations for the Top of Kitchen Cabinets
For a statement kitchen like this, with a beautiful earthen kitchen palate with shades of greens, browns, and greys, you need to stay chic with decorations.
Look at the minimalist but classy kitchen decoration that complements the look of the kitchen. The clear glass vase with an artfully placed branching plant perfectly goes with the color scheme of the Kitchen.
The decorations above the shelves, too, go with the theme of the kitchen. One thing you need to avoid when choosing these decorations is clutter. We would also suggest staying away from vivid colors. Go for something simplistic with an earthen color scheme.
7. Accent Wall Above the Cabinets
We love a black-and-white themed kitchen like this one. The sleek contrast of the kitchen island with the countertop looks modern and elegant.
The grey pendant lights are a delight to behold in the kitchen; they go well with the design and color scheme. In a kitchen like this, you don't want a boring space above the cabinets.
In tandem with the theme of the kitchen, paint the wall above the cabinet a nice charcoal black. This adds a clean separation between the walls and cabinets. Decorate it with a few potted plants and some wall art of your choice. You can use wall art of carved wood or some old jute baskets. An old chopping board that you don't use anymore will also look nice; the dark wall behind functions as a nice display wall.
8. Wood-Paneled Ceiling Decoration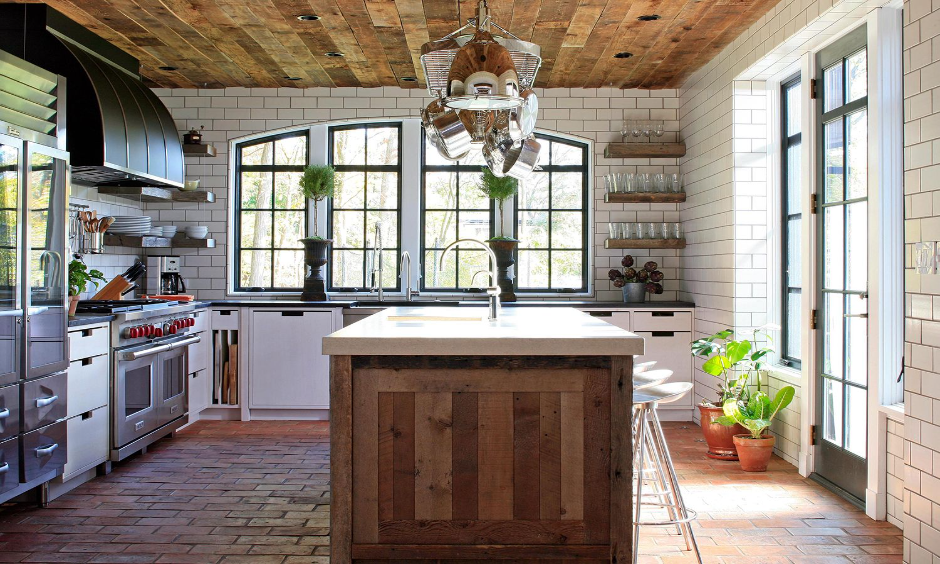 We think a wood-paneled ceiling gives so much character to your kitchen. A kitchen like that deserves to be taken care of, and the space right above the kitchen cabinets must not be ignored.
In a kitchen, choose an off-white or cream color. You don't want the wall above the cabinets to be stuck out in a contrasting color; rather, you need a softer color to complement the white.
Once the wall is all painted, place similar colored pots, containers, and spoon holders on the top. Again this time, we are going for decoration in a matching color tone. Place potted plants; you can go for wildflowers too. Just ensure that you don't choose anything that disturbs the color scheme.
Tip; If you want to add a little texture, you can go for a horizontal shiplap for the wall above the cabinet.
9. Treat the Space as An Art Gallery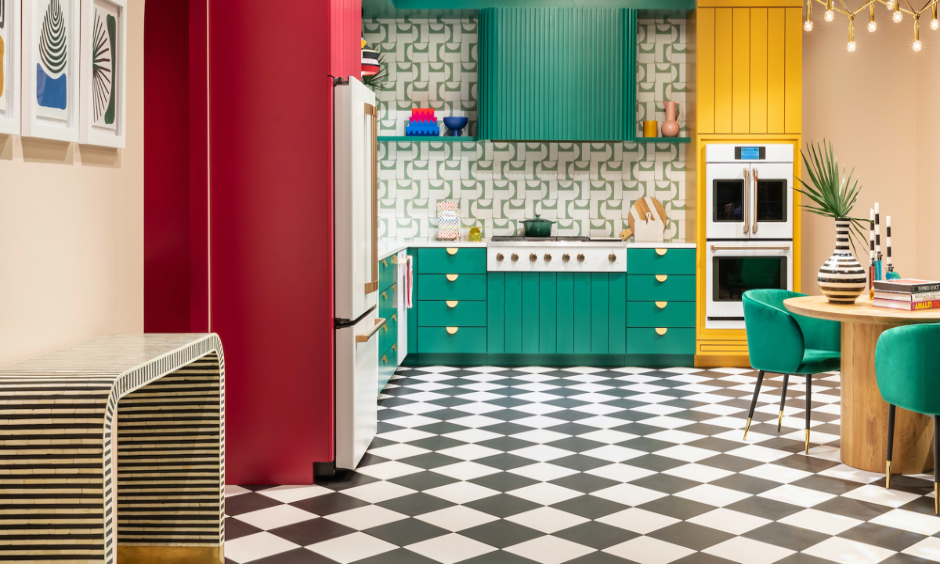 Firstly, we love the color scheme of this kitchen, the sea green and white are a soothing combination. Secondly, the lighting just enhances the aesthetics of this artfully designed kitchen.
We have mentioned before, but for the space above the cabinets, you must take care of installing good lighting for the area. This is especially true if you are going to highlight the area by decorating it,
Make a mini gallery out of the space above the cabinets. Put artful photographs, paintings, an art piece of stamps you have collected, and anything that has captured your creative eye in that area. Vintage items like old table fans and an old telephone will also look elegant there. This will add so much intrigue and interest to the space. From old candle stands to fake deer antlers, anything that you find interesting can go up there.
Tip; Know when to stop adding items to the display; you don't want to make it a storage space. There has to be intentionality to the display.
10. Blue and White Chinese Vases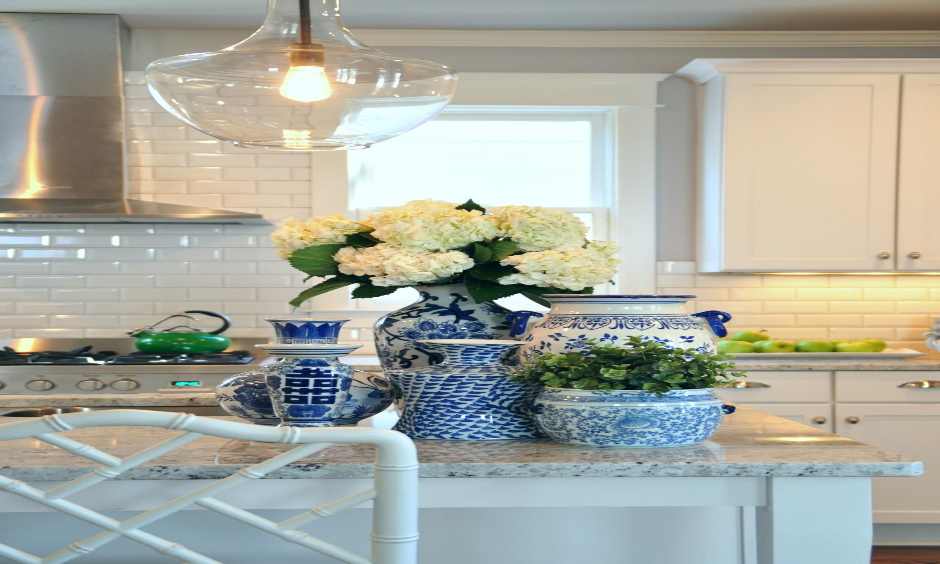 These are among y favorite decorations for the top of kitchen cabinets. There is something regal and delicate about the beautiful blue and white Chinese vases. Some even believe them to be one of the first global commodities. It was a merit to the craftsmanship and the artistry that these Chinese porcelain vases are still widely appreciated as art.
These vases will add to the grace of any kitchen. Get them in various shapes and sizes and place them over your cabinets. They will look beautiful against a blue or off-white wall.
We would even suggest using them as wall art. Blue and white porcelain dishes with intricate patterns will help alleviate the look of a modern kitchen.
11. Framed Quotes and Recipes
We think greens are the new rage in kitchen color. A combination of green and white brings sophistication and freshness to the kitchen décor.
In this modern chic kitchen, we will keep the decorations for the top of the kitchen cabinets clean and neat.
White and green colors already look great; you can add a third color for the wall above; it will give the space above a cabinet a nice separation from the cabinets themselves. Do not go for a bold color; in this case, something pastel like a pastel blue will work better. We already have a bold color in the kitchen with green. Decorate this pastel wall with framed quotations or a well-written framed family recipe. You want to keep it neat and simplistic. Frame instructions about how to brew a good coffee or a wine guide.
Follow a symmetrical arrangement, like two small and one big frame on either side of your kitchen chimney. This will keep everything in a good balance.
12. The Book Shelf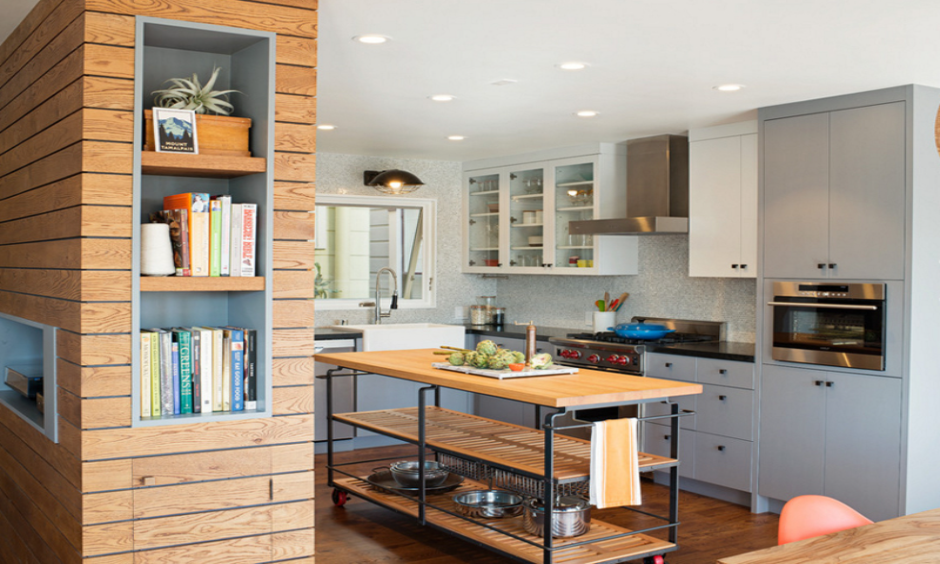 We think this is a brilliant way to use the space above the cabinets or open shelves. You can decorate the space above the cabinets or an open shelf in your kitchen by turning it into a cute bookshelf.
Add a few books of your interest to the shelf; it can be novels, cookbooks, travel books, or science fiction. If you're a reader, you can never find enough space for the books. Having said that, don't stack the entire shelf will books. Create a separation by adding a framed painting in the middle. You can also place a potted plant on the side to shake things up a little.
Make sure that your cute bookshelf has good lighting. I think your friends and family will find reasons to linger in the kitchen.
13. The Glass Jars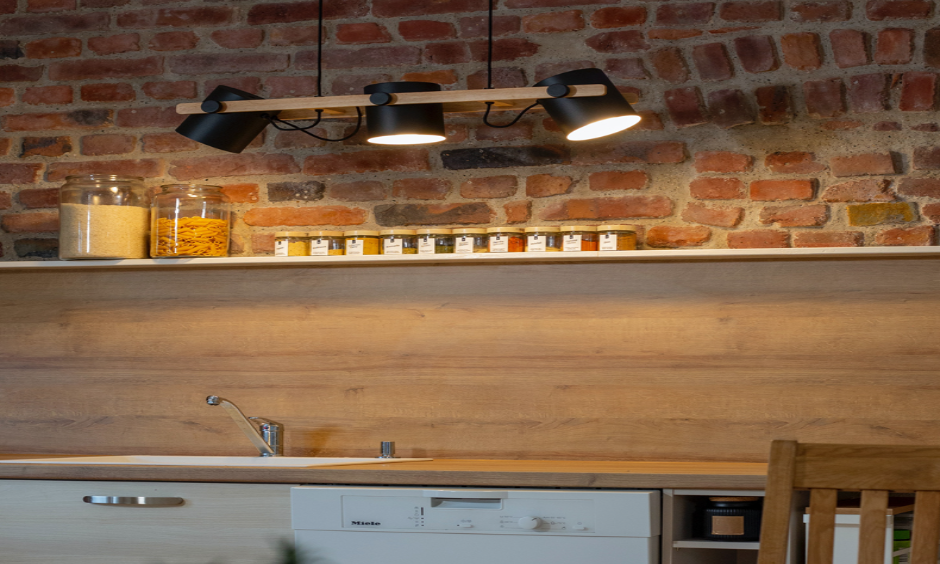 We have another idea for an open-shelf-style kitchen. If you are into more rustic yet modern-looking designs, you might want to take a serious look at this design idea.
Now this idea applies even if you have closed kitchen cabinets and not an open shelf system. The first thing is lighting. I love these suspended cylindrical spotlights for the top of the shelf. This works especially well if you have a little more space over the shelf.
The next thing is the accent texture wall. The red brick wall adds a rustic charm to the kitchen. Combine it with the lightning, and what you get is an excellent blend of rustic and modern.
Now for the decorative items. We are going for a combination of aesthetics and utility. Buy big glass jars like those in old candy shops. Buy some small jars of the same design. Use these jars to store candies, rice, pasta, spices, oats, or cornflakes. If you do store candy in these jars, it's good because they will be beyond the reach of the kids.
14. Wine Cellar Above the Kitchen Cabinets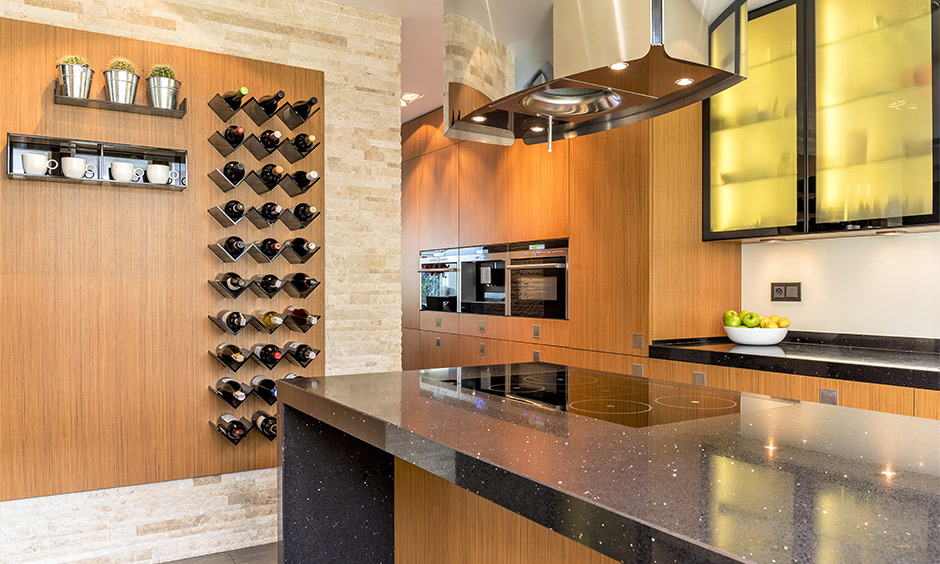 Do you know what is a fun way to use the space above the kitchen cabinet? Turn it into a wine cellar. If you enjoy a drink every once in a while, this is perfect for you. Let us be honest, and not everyone has a house that can allocate space for a full-fledged wine cellar. Even if you do, it's good to have some collection of wine handy in the kitchen. You can take your pick of it while you're cooking.
Install a classic wooden wine rack or wine cellar right above your kitchen cabinet. Flaunt your wine collection in the kitchen and enjoy your drink.
Conclusion
We think we have realized that the space above the kitchen cabinet is as important a part of the kitchen décor as the cabinets themselves. When it comes to choosing decorations for the top of kitchen cabinets, keep in mind a few things. You need to ensure that the decorations do not clash with the theme of the kitchen. It is important not to treat that space as an extra storage space, so avoid clutter. Lastly, try to pay attention to lighting in that area; it can make a lot of a difference.
For the decorations themselves, you have many choices, from pots and pans to beautiful china wear and decorative brass pots and pans. If you are a plant lover, you can also use potted plants. Porcelain blue and white chines vases are another great choice. Or just turn it into a bookshelf.
It's time to get started!