Are you looking for the best blush pink paint color to give an alluring look to your interior? Blush pink paint colors can add a soft touch to any room. They are cozy and comforting, and you can embrace them in your kitchen, living room, or bedroom.
They are available in many shades and complement many styles of interiors, including contemporary, modern, and trendy minimalist spaces. Even interior designers are opting for these paint colors due to their magical aura and timeless charm.
From the palest pinks to the mid-tone pink paints, you can give your room a fresh new look with these pretty paint colors. But there are so many shades of pink that it can be intimidating to choose the right one as per your needs.
Worry not! From palest pink whites that have more of a white tone to deeper warm pink shades that resemble the colors of glowing sunsets, we will help you select the ideal blush pink paint color for your room.
Best Blush Pink Paint Colors to Transform Your Interior
We have curated a guide for you wherein we'll help you in selecting the best blush paint color of your dream for your interior.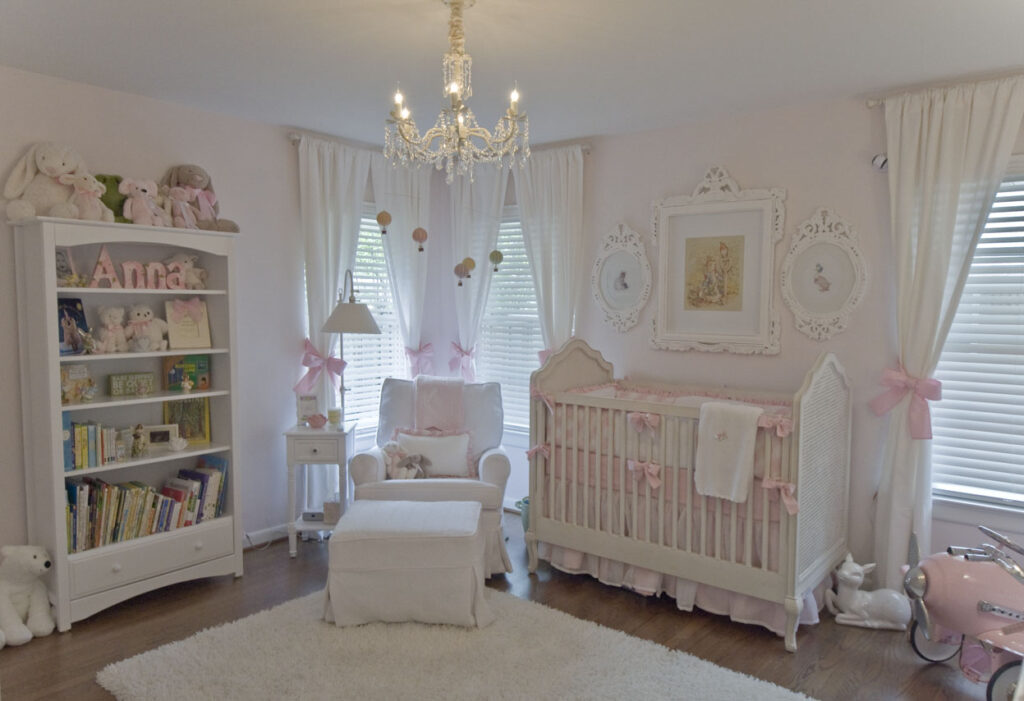 If you're looking for a cute pink color for your daughter's room, Benjamin Moore Pink Bliss can be your go-to choice. It is a light pink shade without any striking undertones. This delicate shade of palest pink reflects softness and femininity. It appeals to both homeowners and interior designers due to its refinement.
During sunlight, this beautiful shade looks like a toned-down pink. Paint the walls with pink bliss and go on with white for the textiles, trim, and furniture to create a perfect combination for your little princess's room.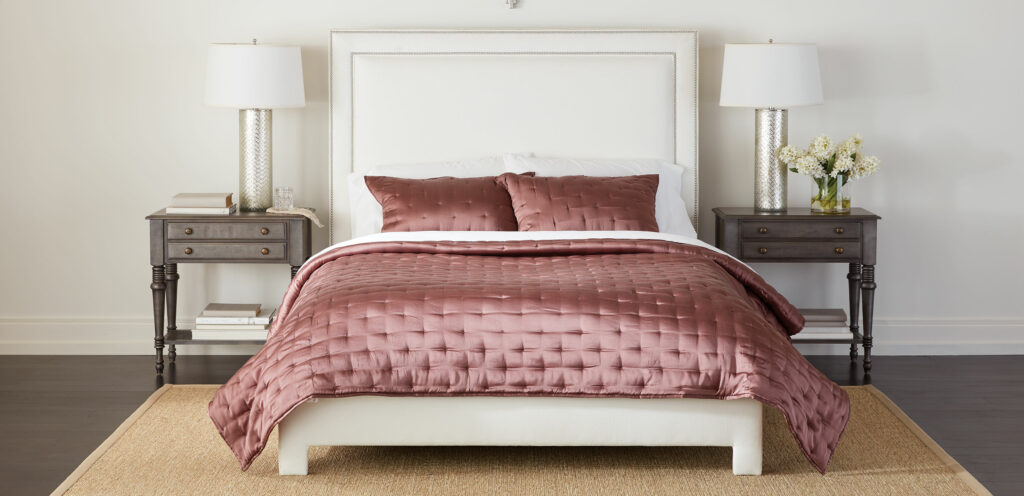 Want to add a happy and lively color to your room without overwhelming it? Consider the Benjamin Moore Rose Silk to uplift the vibe of your bland spaces. It has a mauve undertone and pairs beautifully with soft hues like blush pinks, creamy whites, and delicate pastels. Incorporate minimalist accessories, antique furniture, and metallic accents in a room painted with rose silk color.
Rose Silk also looks good in coastal-inspired interiors. You can pair it with seafoam greens, soft aqua blues, or sandy beige tones to bring the vibe of the ocean to your room.
Benjamin Moore Cream Puff is a soft blush pink color that can be used to create a sophisticated interior. It is perfect for both contemporary and traditional homes. It also blends effortlessly into a home that is very plain and bland without much color.
You can pair it with silvery gray muted shades to create an understated look. It promotes calmness and serenity and hence is perfect for living rooms, bathrooms, and bedrooms where relaxation and comfort are desired.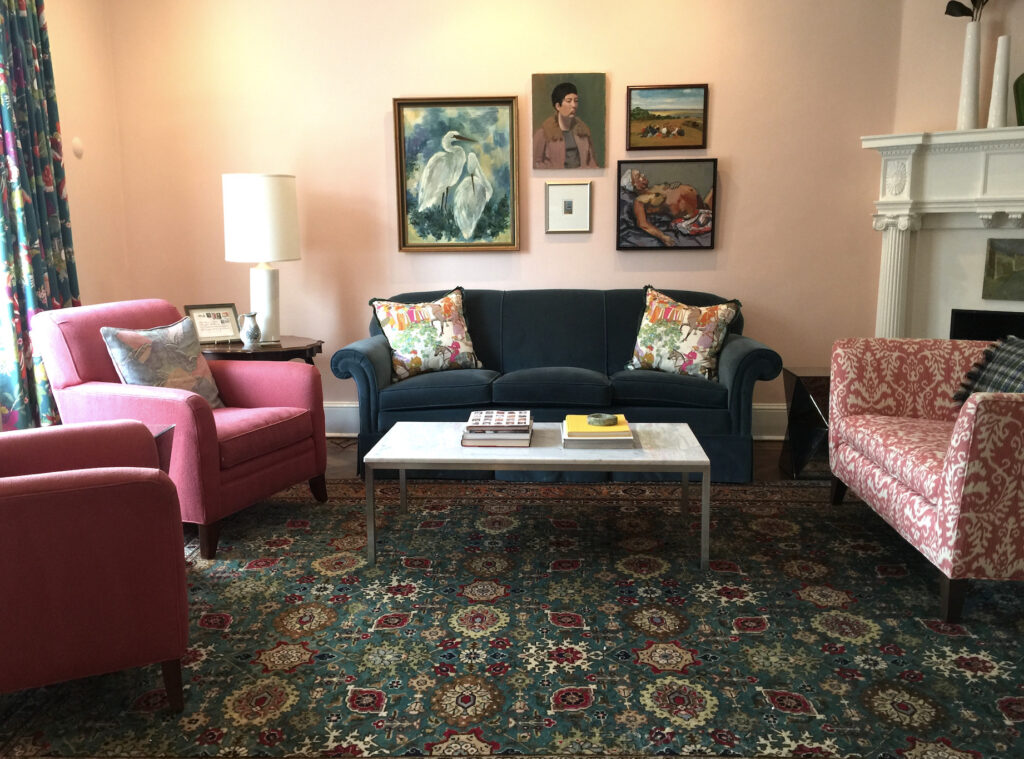 Benjamin Moore Pink Moire falls in between pink and peach. This creamy and soft shade works well as accents or in rooms having plenty of natural lighting. It has a luminous effervescence creating an illusion of space in cramped or small rooms.
Add a glamorous touch to your bedroom or living room by using pink moire as a feature or accent color. You can also use this color in the playroom and your children's room to evoke a sense of cheerfulness and positivity. But do not use this color for your exterior, as it may not go well with the natural surroundings.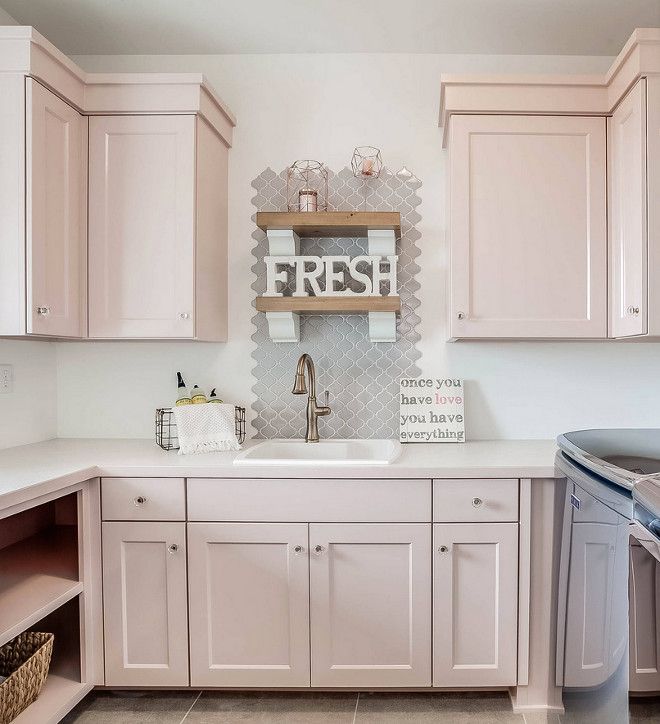 Sherwin Williams Pink Shadow is a flattering paint color that can be used for both exterior and interior projects. It belongs to the red hue family, and it reflects some amount of light.
You can pair it with neutral tones like creams, whites, and grays and deeper shades like charcoal gray or navy blue for a striking contrast. This lovely warm pink blush color can add a touch of warmth and cheerfulness to any space.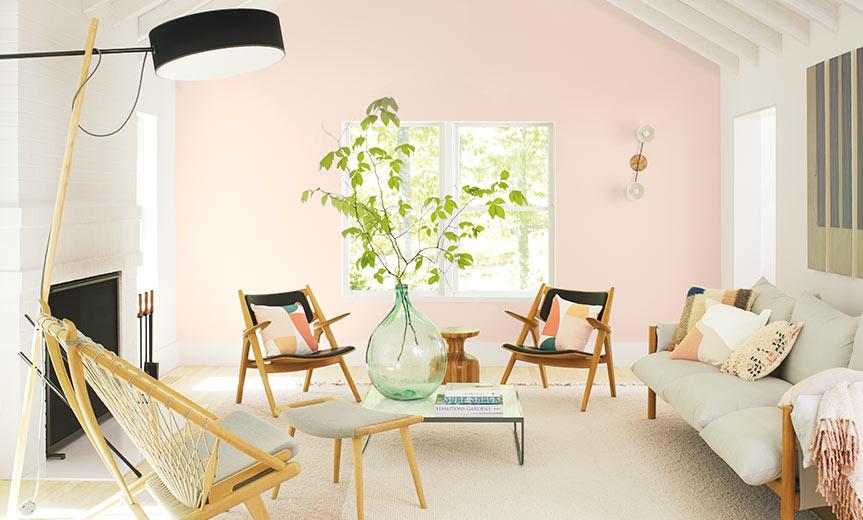 Benjamin Moore Opal is another beautiful blush paint color that is being embraced by both interior designers and homeowners. It has a hint of peach and looks like a warm white shade. For a feminine yet sophisticated room, paint the walls in Benjamin Moore Opal and opt for black accents like black candles and photo frames on the walls.
It is also the perfect choice for ceilings and can give your narrow hallway a widening effect. Due to its delightful luminescence, it can open up any space. It gives off just enough color to add a lively ambiance to your room.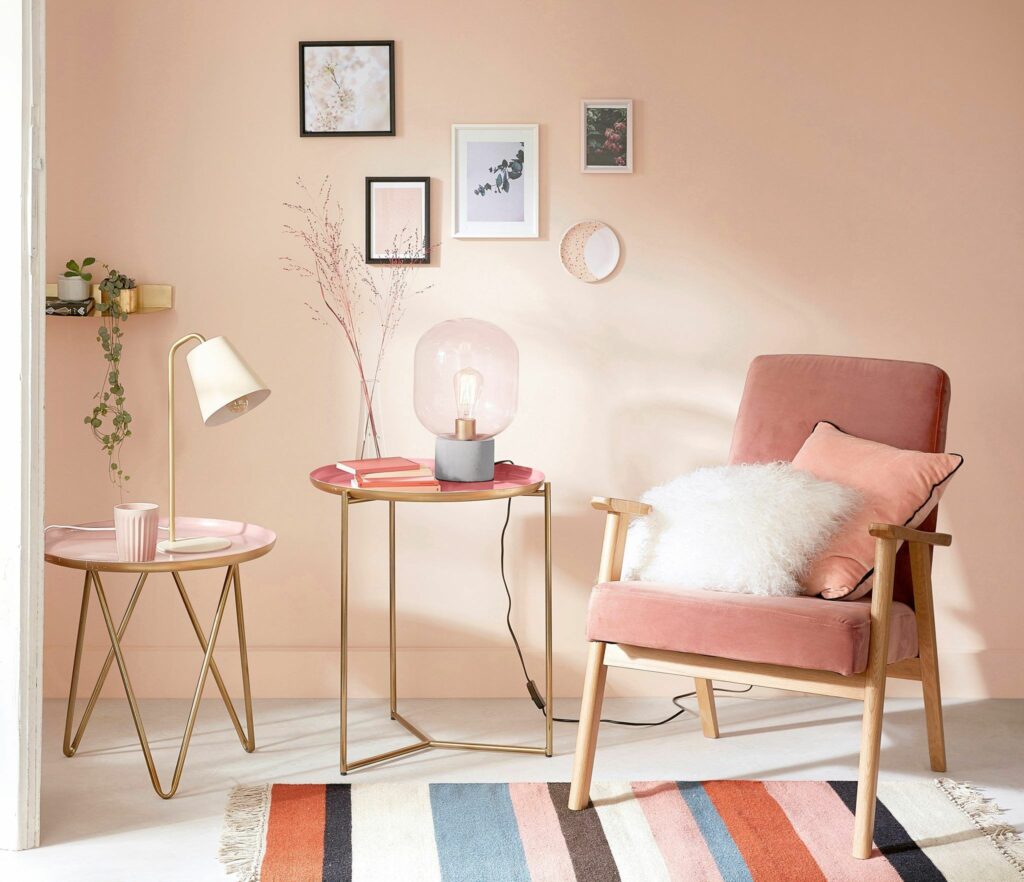 Farrow and Ball Pink Ground is a flattering and soft color. This dusty pink color has a yellow undertone. It is neither too warm nor too cool, making it perfect for any room.
Pair it with the warmer shade of Great White, Wimborne White, or its Complementary White on the woodwork for an appealing look. At certain times of the day, it even exudes a glowing effect. Even if you're not a pink person, you'll fall in love with it due to its dusky, earthy pink undertone.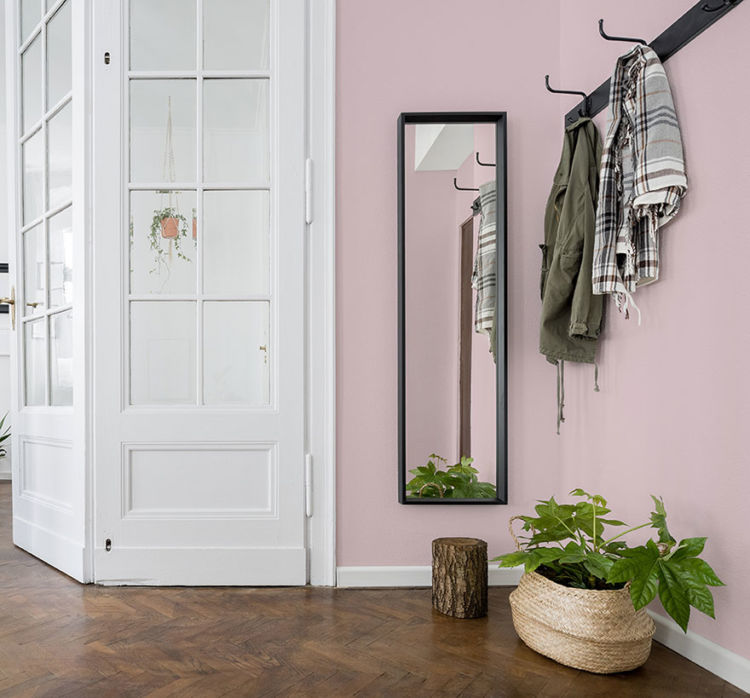 Sherwin Williams Fading Rose belongs to the red color family. Fading Rose stands out from traditional color palettes and is an appealing choice for people who want their home to have a unique vibe. Its subtle and soft nature can highlight certain architectural features, decorative elements, and trims, adding architectural interest and visual appeal.
This color can be paired with shell white, Ibis white, soft neutrals, and earthy tones. Whether you want a cozy bedroom, a neutral, rustic living room, or an airy spa-like bathroom, you can go for the blush pink paint colors to create the look and feel you want in your spaces.
Nothing can beat the feeling of a soft, light, blush shade in your home. Benjamin Moore Ballerina Pink is a more cool-toned pink color.
If you feel that blush pink shade can be very girly for you, go ahead with this lightest shade of pink that blends perfectly with the modern home's ambiance. When choosing complimentary colors for Ballerina Pink, pick something that is two shades off. You can pair this shade with metallic decor, dark accents, and signature wooden furniture. You can even paint the ceiling with this subtle shade.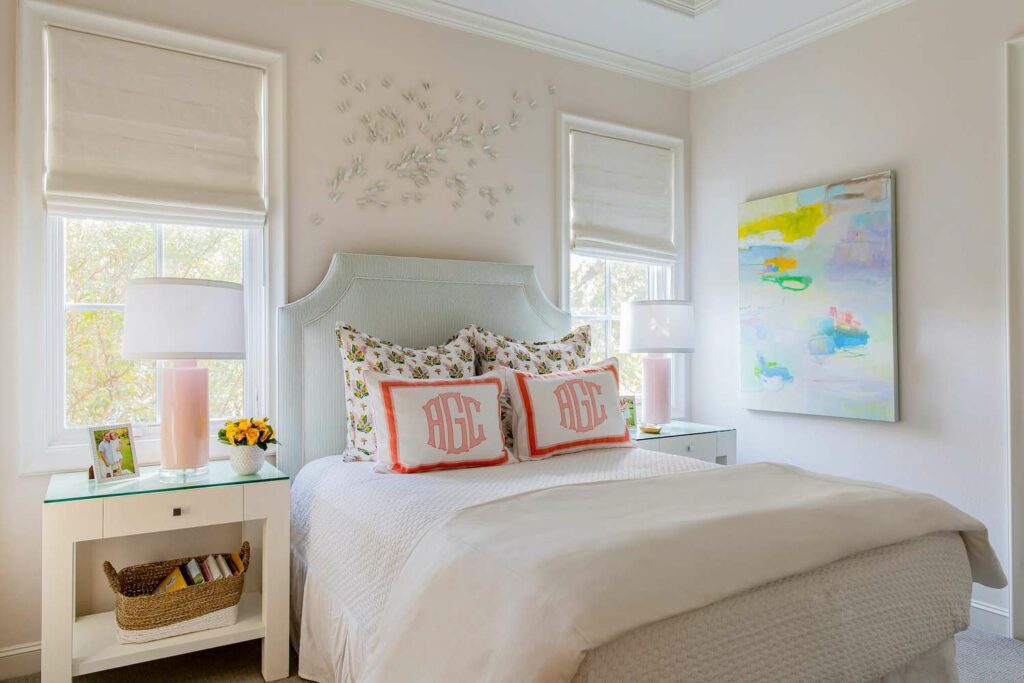 If quiet, gentle bliss, and peace are what you are yearning for, then Benjamin Moore Bashful can be the ideal color to soothe your soul. Benjamin Moore Bashful is another blush pink shade that can give a fresh look and feel to your home.
You can opt for this color if you want to add a pop of color to your home. It complements various colors such as Grecian Green, Steam, White Down, and Simply White.
Conclusion
The color palette of your room plays an important role in the emotional tone and overall vibe that it sets. So choose the right blush pink paint shade and transform the boring spaces into lively and enchanting areas. From outright edgy to subtle, blush pink paint shades will spoil you with their versatility and set the tone for a truly zen environment.
While selecting the ideal blush paint shade, consider the size of your room, the kind of look you want, and the amount of natural light that enters your room. For a sophisticated and subtle look, opt for a dusty pink color for room walls, and for a bold and vibrant look, choose bubblegum or coral pink.
With all these blush shades for your home interiors, you'll admire your spaces every moment.
Frequently Asked Questions
What Types of Accessories and Furniture Look Good with Blush Pink Walls?
Light wood furniture looks good with dark and light pink walls. Metallic accent accessories like rose gold, silver, and gold can give a glamorous look to a room with pink walls. Patterned accessories like a flora sofa throw or a geometric area rug can create visual interest in a blush-pink wall room.
Should You Paint Just One Accent Wall or All the Walls Blush Pink?
If you want blush pink to be your room's prominent feature, you can paint all the walls. But pick the right shade to ensure that the room doesn't look overwhelming. For a toned-down look, you can also paint the accent wall pink.