Are you a beginner looking for a low-maintenance indoor plant? There are many options for indoor hanging plants, but it's better to begin with easier plants. It reduces your fear of killing the plant in your initial journey. As you see your plants grow, it instills you with the confidence to become a better plant parent.
Attractive Indoor hanging plants are the best way to add freshness and color to your living space. Some plants freshen the air, whereas some add to the fragrance. This article will help you find the best indoor hanging plants that stay alive with the least effort. It also shares watering and caring tips for each plant in detail.
Read ahead to explore 15 unique undemanding indoor plants and their ultra-creative characteristics.
1. Golden Pothos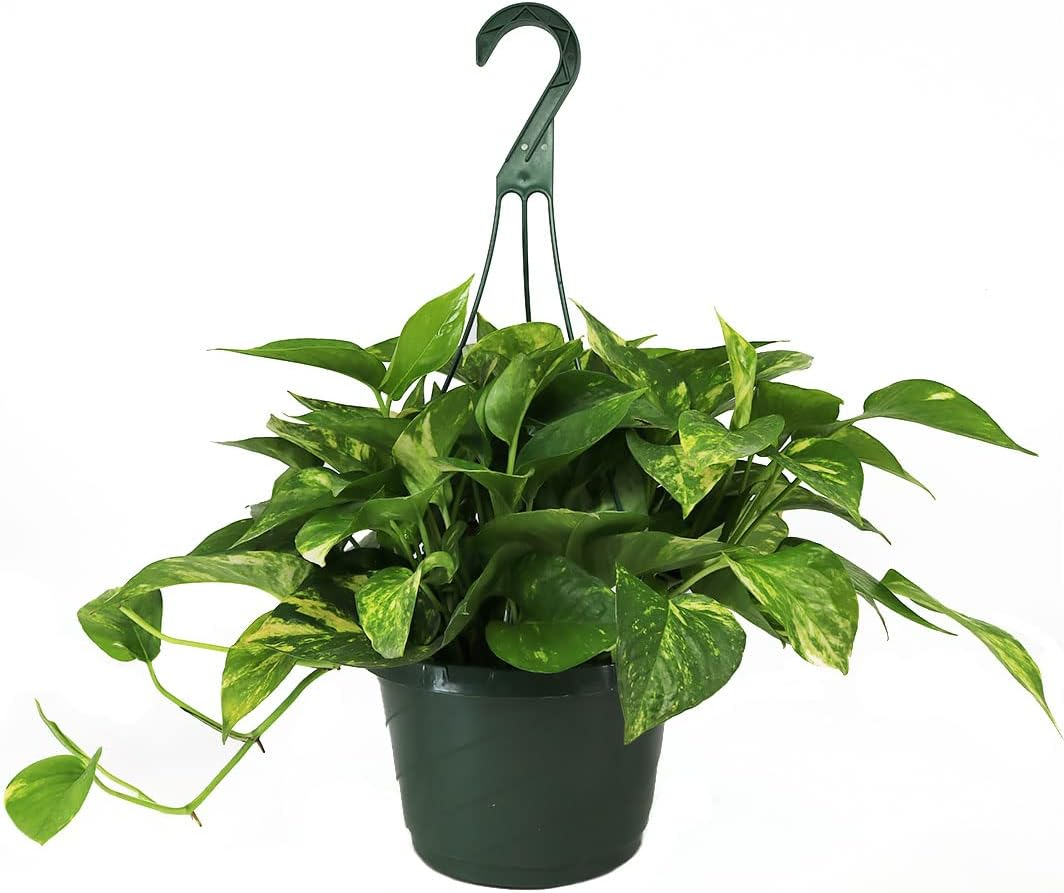 Golden Pothos or Devil's Ivy is the best-hanging plant to bring home for your beginning phase. This indoor plant enhances the beauty of your balcony, window, and any open corner. It grows in any soil and is not so picky about the environment. A space with indirect or low light works best for this green beauty. You can directly buy it from the store or propagate it from an existing plant.
Rotate the plant a half turn while watering to ensure that the plant gets appropriate light. A bright sun won't harm the plant, but it can also tolerate staying alive in less sunny areas. North and east-facing windows are the best for the healthy growth of this plant. Keep trimming the burnt leaves or branches to give them a nice and healthy look.
2. Spider Plant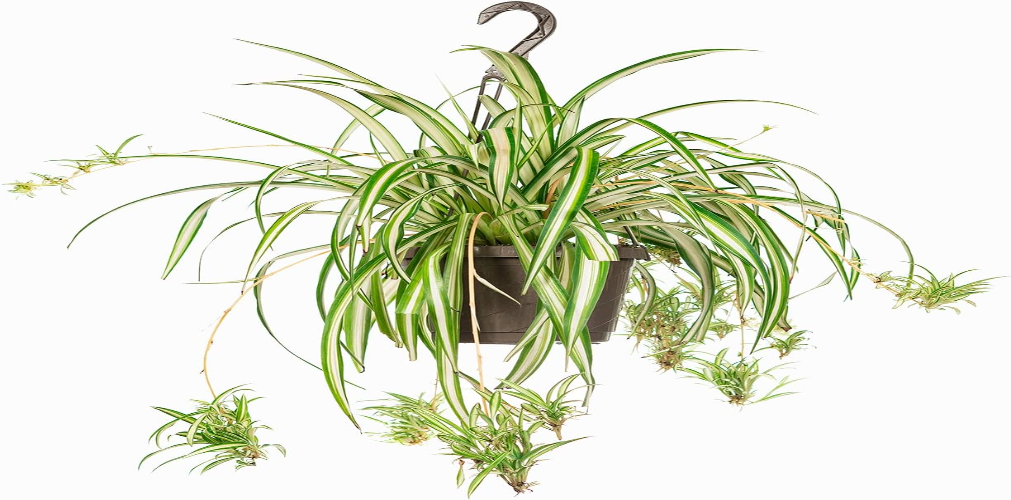 Spider plant is a non-poisonous and edible indoor plant. It also increases humidity in the surroundings. This plant absorbs water from roots and circulates it in the surroundings through leaves and stems. Beliefs say that these hanging plants bring good luck and fortune because of their natural vines. This plant thrives in bright to moderate light at a comfortable temperature. Place this plant in the north, east, northeast, or northwest direction for better growth.
Watering them once a week is enough to help this plant grow. You can reduce the watering in autumn and winter. The best thing to do is to check the soil texture before watering. Let the soil dry before you re-water it. Overwatering is one of the main reasons for brown or black leaves. To avoid any damage to the plants, be cautious while nurturing them.
3. Elephant Bush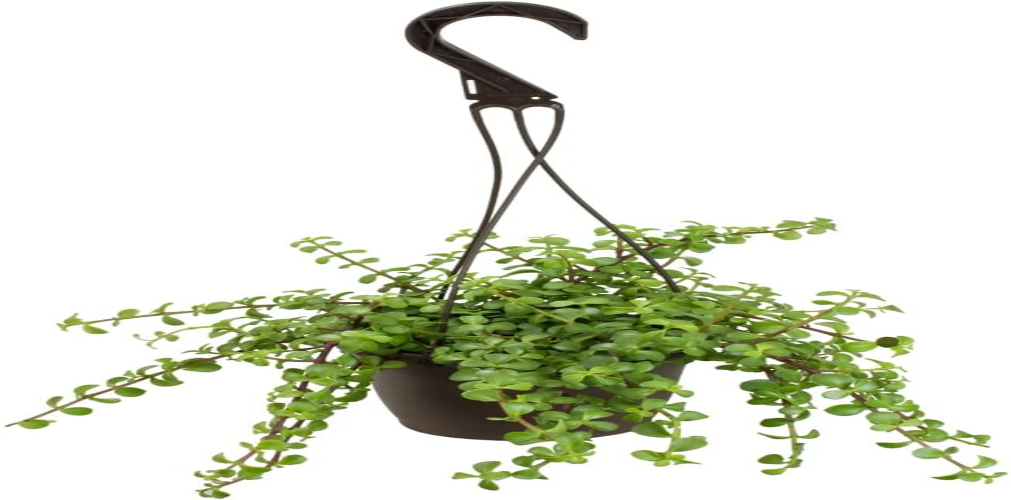 The elephant bush is a small plant with fleshy leaves. Elephants love to feed on this plant and hence the name. It quickly grows indoors at a comfortable room temperature like any other easy house care plant. These drought-tolerant plants only need minimum water. Keep them away during the rainfalls and water them when the soil is dry. You can hang them in a space where they can receive direct or partial sunlight.
The foliage of this plant is edible, and people in South Africa consume it in salads or soups to get a sour flavor. It was traditionally used as a medicine for various minor ailments. Elephant Bush is one of the best-hanging plants to have in your home to enhance the aesthetics of your idle corner. The lush green branches rejuvenate the space and add fresh energy.
4. String of Pearls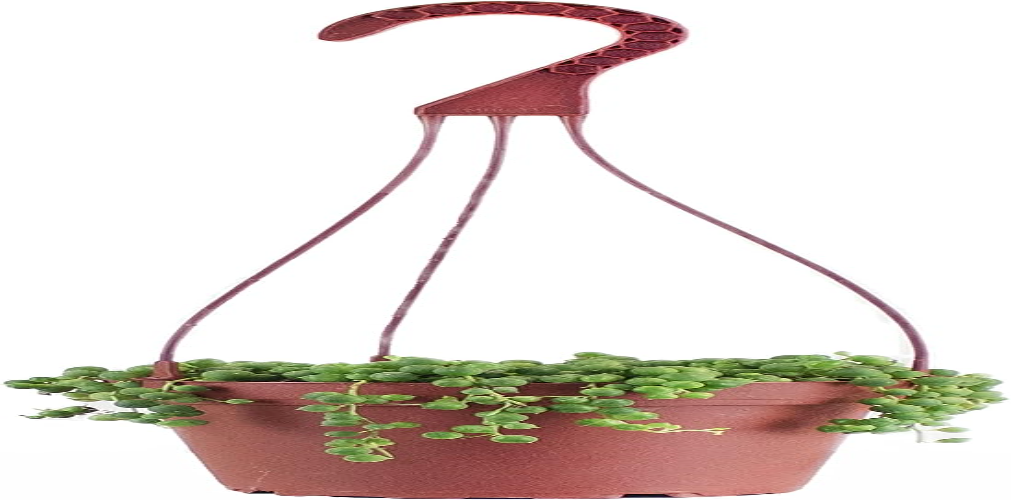 These beautiful hanging plants are like a series of green balls brought together for decoration. They naturally look so appealing and enhance the beauty of the space. A string of pearls prefers bright light in the morning and indirect light in the evening. Place them near a window that gives morning rays and partial afternoon sun for healthy growth. Eastern or southern exposure will help the plants grow better.
The shallow roots of these plants will need repotting every few hours for better growth. Prune the dry leaves and stems to give them a neat and clean look. Along with placing them near the window, you can also have them beside your sofa or the side table that gets light from the nearby window. Let the green string of pearls adore your interior design.
5. Orchid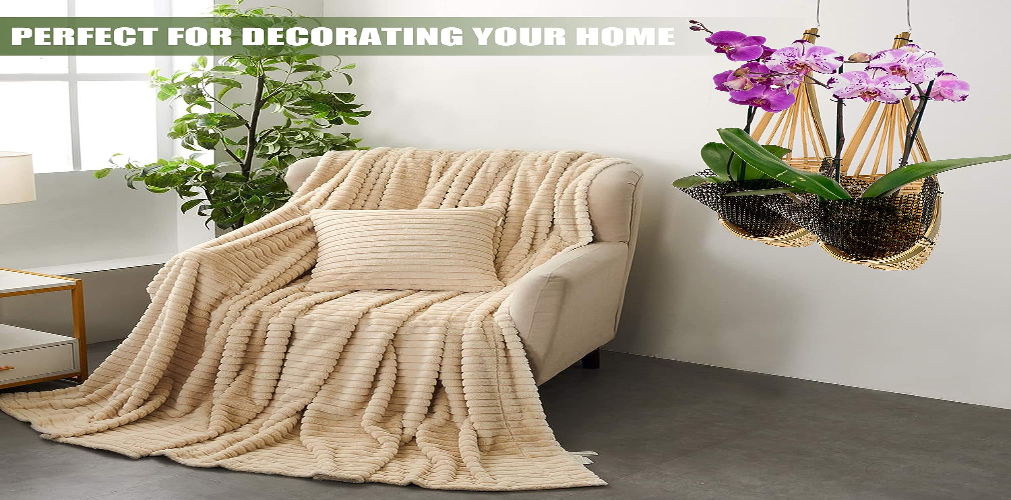 Who knew that orchids could be grown indoors? Well, it's true! You can grow these graceful beauties on your balcony or living room. All you need is a beautiful planter and some colorful orchids. Moth Orchid, Phalaenopsis, and Cattleya are easy to grow at home. These plants need sunlight, but indirectly. Strong and direct sunlight for a long time can harm the plants.
A North or east-facing window is the best place for an orchid plant. Provide a warm and humid environment for better growth. A space near the kitchen sink will be perfect for growing orchids. They can get the needed humidity from the space. To assess the health of the plant, observe its leaves. Bright green leaves indicate a happy and healthy orchid plant.
6. Burro's Tail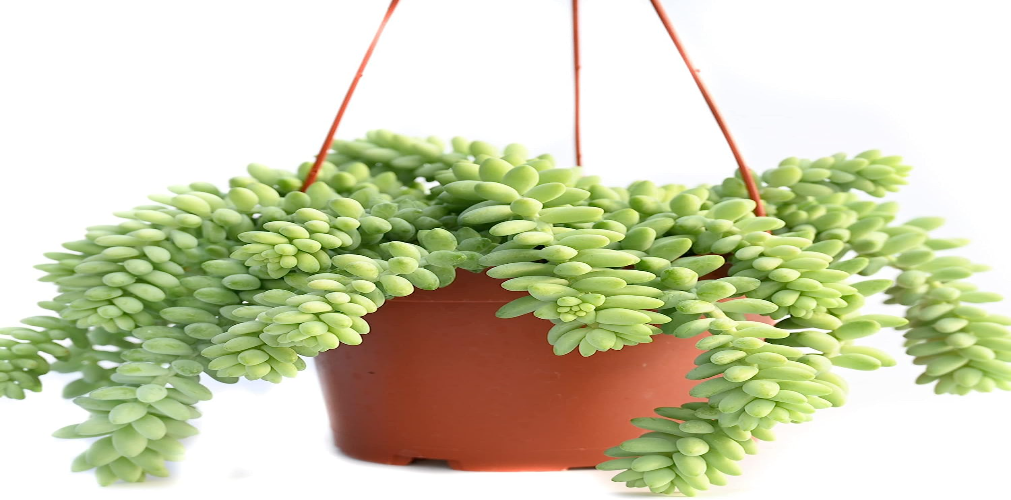 The thick leaves forming a bulky branch makes this plant look like an animal's tail. Burro's Tail is one of the best ornamental hanging plants for your home. The leaves of this plant store water and use them whenever required, making it a very low-maintenance plant. You only have to water it when the soil is dry and plants curl up. Make sure to use well-draining soil for better growth.
Burro's tail will need regular light indirectly. Avoid putting them in the direct sun regularly. It can be grown either in a container or a hanging planter. When the plants get too large for the container, divide them and create new plants in another hanging container. It can also be a wonderful gift to someone.
7. Tradescantia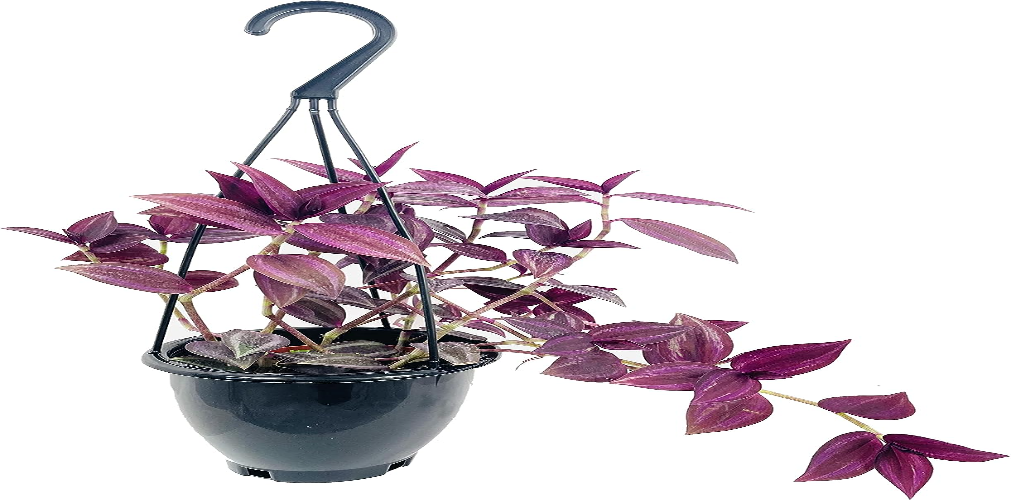 Plants don't always have to be green! You can also choose Tradescantia and bring home a unique shade. It has a beautiful dark lavender shade that will make your home aesthetically appealing. This plant comes with leaves that stand out in the whole room. They grow well in partial shade and need enough water to settle in the new soil. Once they have enough moisture, direct sunlight is tolerable.
You can also feed plant food to your Tradescantia for quicker and better growth. You can also accompany this plant with a spider plant for a unique hanger with multiple colors of leaves. Both plants are easy to grow and need a similar environment to thrive. Hanging plants, when combined in a single container, can enhance the view of that room. Opt for a terracotta or clay pot for Tradescantia for better growth.
8. Grape Ivy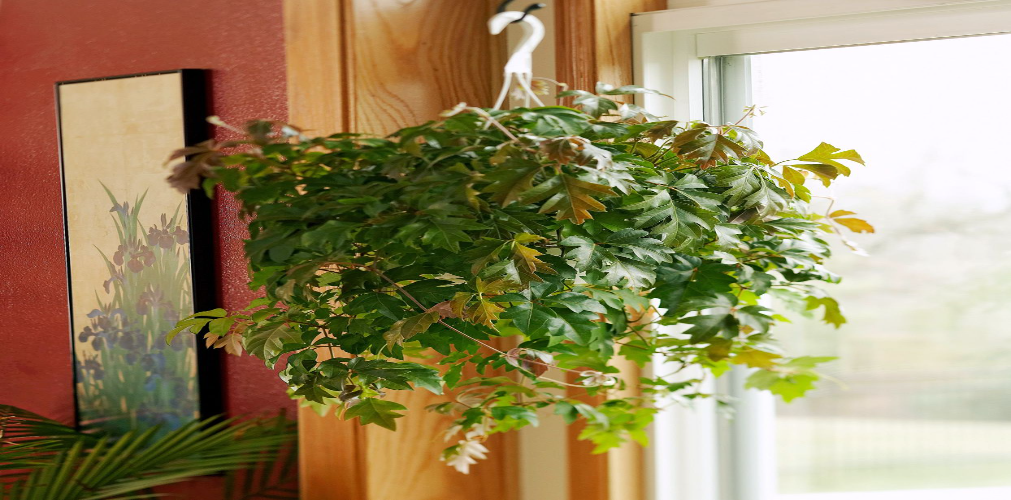 The reputation of an Ivy as an outdoor plant might put you under some hesitation. However, Grape Ivy is known to thrive best indoors. The best growth happens in this plant when the soil soaks up the water. So, make sure to allow that process to happen consistently. Only water the plants when the soil dries and let the soil soak it all in. Let the excess water drain from your hanging planter to keep roots healthy. Reduce the watering in winter.
An east-facing window is the best place for your Grape Ivy hanging plant to grow. It requires low light and partial shades to mature. This plant adds a touch of tropics to your space and fills your hanging planter with bulky leaves.
9. Bird's Nest Fern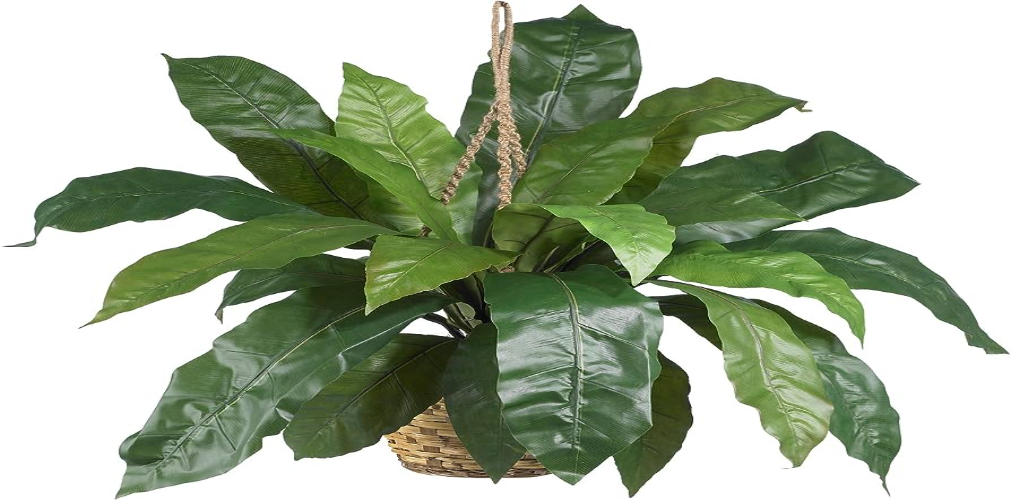 The center of this plant looks like a cozy and comfortable space resembling a bird's nest. This gives it the above name, making it another creative hanging plant on this list. The flat and wavy leaves are one of the most unique features of this plant. It only needs the morning sun and filtered sunlight. Exposure to afternoon sunlight regularly can harm the leaves. While placing them indoors, an east or north-facing window is a perfect space.
While watering this plant, pour it through the sides instead of the middle. Watering them every 1-2 weeks will keep them going. Allow the soil to partially dry before rewatering it. The water needed will increase when plants take more light. The water intake will reduce with less exposure to light. With the right environment and care, they can be wonderful houseplants.
10. Tillandsia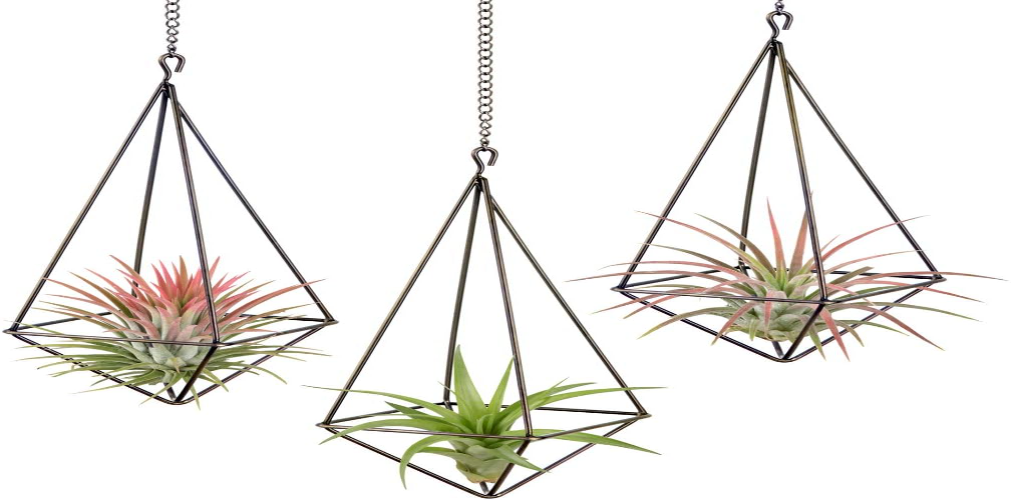 Tillandsia is a unique air plant with thin and stiff leaves. They do not require soil to grow but need a moist environment. Water does the perfect job of keeping this plant alive along with the surrounding air. The best part about air plants is that they can be grown on any surface. You can experiment with multiple hanging planters with the most contemporary designs for your interior.
You can soak them in water every 10 days or spray them with water every week. The plants should dry within 4 hours after they come in contact with water. A fresh flow of air is a must to nurture the air plants. A little bit of indirect light feels good to the air plants. You can place them at a distance of 1 to 3 feet from an east or west-facing window. You can also place them near an artificial source of light.
11. Polka Dot Plant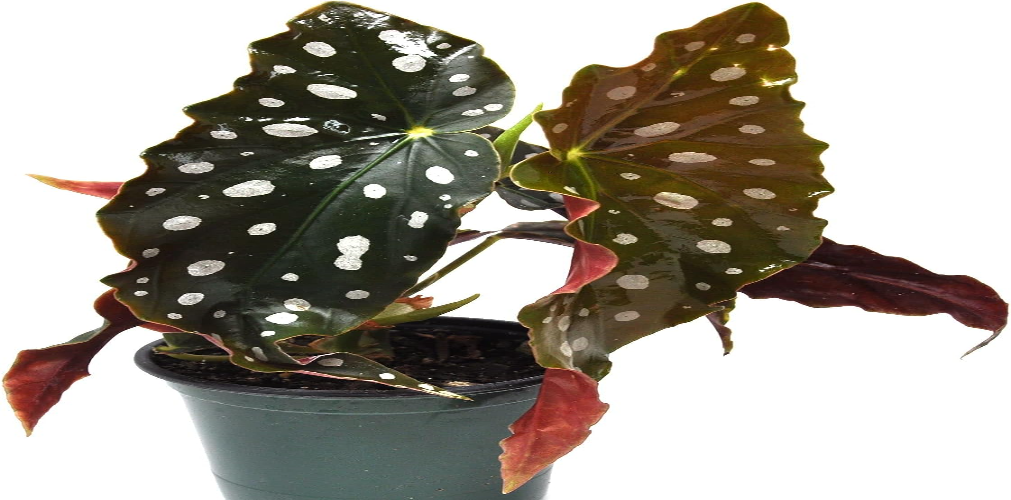 The Polka dot plant is an attractive plant with beautiful patterns. Every plant on this leaf has a different color and white dots. To make sure that these dots and the color shine bright, give your polka dot plants bright and indirect sunlight regularly. Direct sunlight can dull the colors, so it is advisable to keep it moderate. Such hanging plants thrive near an east or south-facing window.
Regular watering is a prerequisite for this plant. They prefer moist soil for their growth. However, soggy soil can harm the plants and damage the leaves. Misting them occasionally will keep your polka-dot plants happy and healthy. Extreme dryness makes the leaves fade in color and reduce in size. If the plants grow in size, feel free to prune them and trim them in the shape of your choice. It will give them a clean look and enhance further growth.
12. Aloe Vera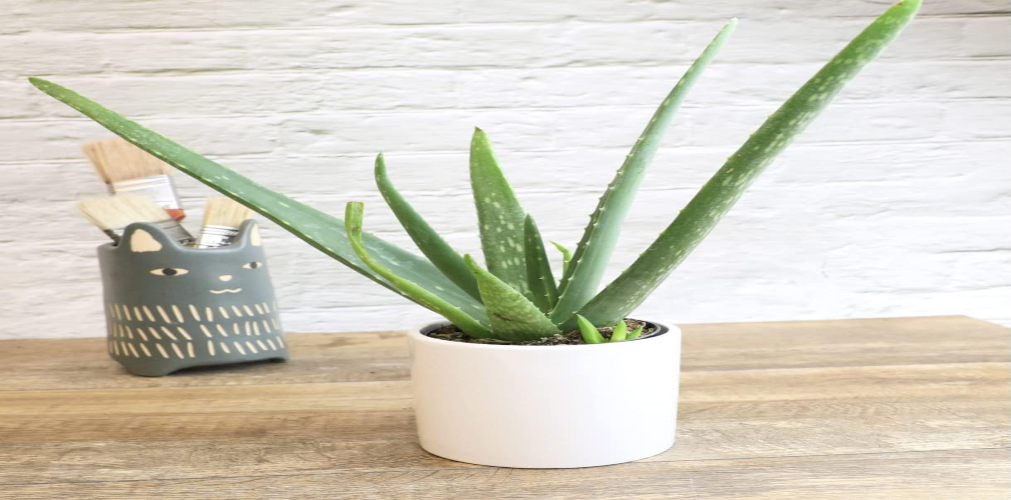 This plant needs a lot of sunlight, so place it in a space that gets direct sunlight throughout the day. South or west-facing windows are ideal for an Aloe Vera plant. It is a drought-tolerant plant and only needs water when the soil dries up. You can water them once or twice a week when the soil dries.
Along with being a styling addition to your decor, this plant purifies the air and heals skin ailments. Aloe vera gel is one of the most used ingredients in treating many skin and hair-related problems.
13. Hoya Linearis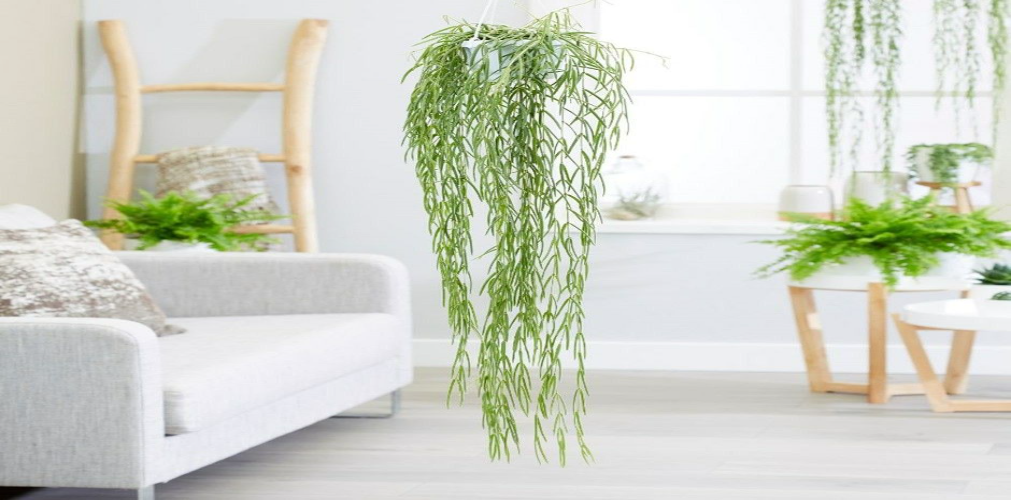 Hoya Linearis has a long chaotic green stem with sharp leaves on both sides. As the plants mature, they grow white star-shaped delicate flowers with a citrus fragrance. The bright and green stems can grow anywhere from 12 inches to 6 feet in height. Hoya linearis is the best choice when selecting hanging plants.
It needs well-draining soil with a pH level of 6.1 to 7.5. Apply the water on the plant till you see it run through the drainage holes from the hanger. During the spring and summer, water the plant weekly. Reduce the watering in autumn and winter, but observe that the plant does not wilt.
14. Christmas Cactus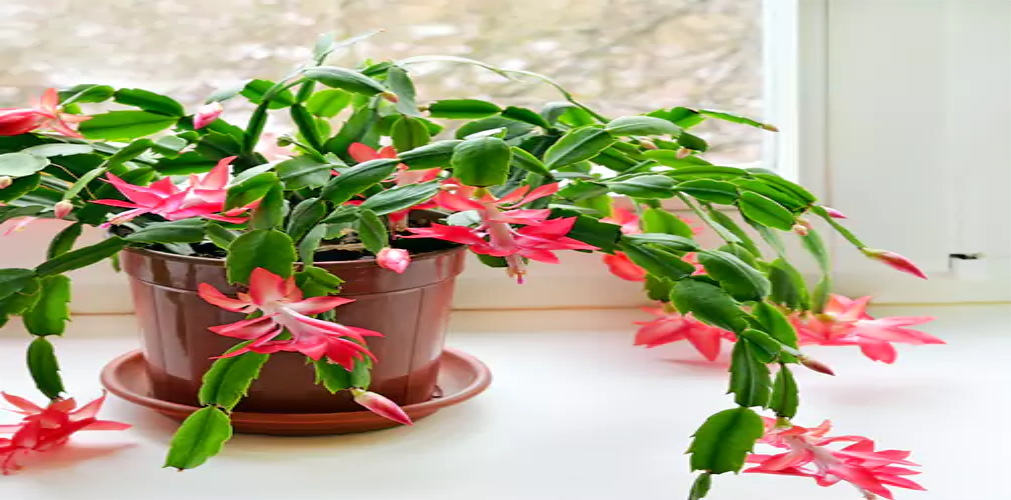 Are you looking for a plant that can be the best decor for your Christmas celebration? Christmas Cactus is one of the best-hanging plants to add color and joy to your living space. Place them in an east or west-facing window where they can get partial shade.
Are you also wondering when flowers will bloom? They take up to 12 weeks to bloom. So, if you want them for Christmas, start preparing them early. Keeping them in a darker place and cool temperatures quickens this blooming process. 14 to 16 hours of uninterrupted darkness and 3-4 hours of sunlight speed up the blooming. Along with decorating your own space, this can be a perfect Christmas gift for your loved ones.
15. String of Hearts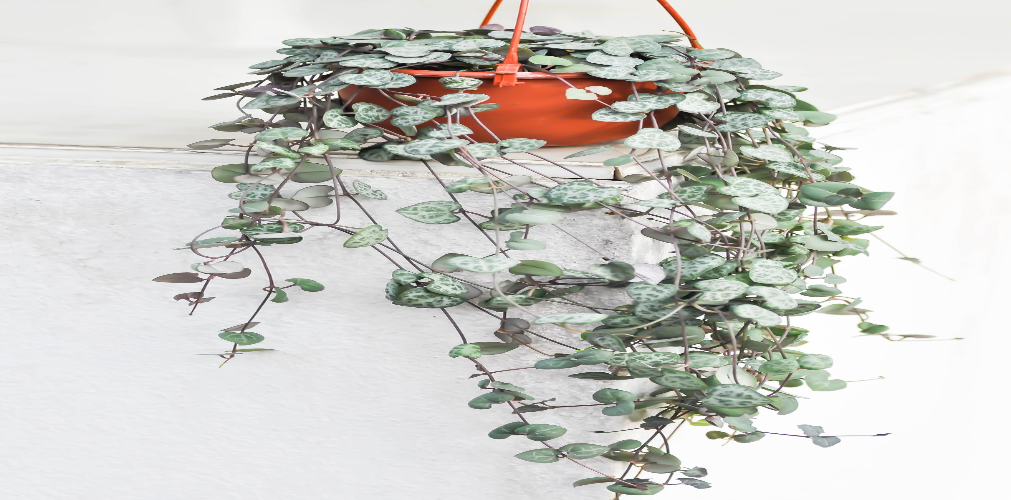 A string of hearts is the most adorable hanging plant to grow in a west or south-facing window. To get a dark shade of the leaves, expose them to more light. In less sunlight, the leaves will have a lighter shade. Indirect sunlight and regular watering will help the plant thrive. They prefer moisture but avoid a soggy environment.
The heart-shaped leaves of this plant are a great way to keep love around the house. This delicate beauty is found in the shade of green with white or yellow variations and sometimes with a hint of pink. Different colors in your surroundings impact how you feel mentally and emotionally. Having such delicate shapes and colors will surely leave you feeling calm and creative as you begin your day.
It's Time to Bring in Those Hanging Plants!
The selection of hanging plants depends upon various factors like the space available, the interior of your home, and the type of plant you love. Indoor hanging plants make your indoor display more attractive and appealing. Every plant has a unique characteristic of purifying the air, adding colors, medicinal benefits, or being edible.
Being a plant parent for the first time can be scary. However, start with a single plant and develop a routine. You will soon realize that the above plants are easier to maintain without disturbing your regular schedules. Which one are you planning to select?