Are you looking for innovative ways to update your outdoor space? Black landscape rock can be a striking and beautiful addition to any landscape. It can be used to add texture to your kitchen backsplash or bathroom or to create a Zen garden.
You can also use this decorative item in your rock garden to create borders and pathways. Its durability, eco-friendly properties, and low maintenance requirements make it a sustainable and smart option. It gives a soothing experience to both the homeowners and the guests. The natural dark color of the rock can be used to create a natural contrast, especially by pairing it with plants.
You can pair the black landscape rocks with succulents in cheerful hues to give your garden a bright look. The weathered appearance of rocks forges a connection between the natural world and the man-made landscape. Consider these stunning black rock landscaping ideas to add character and depth to your yard.
Gorgeous Black Rocks Landscaping Ideas
Check out these gorgeous black rock landscaping ideas to give a visually appealing look to your outdoor space.
1. Black Rock Garden Path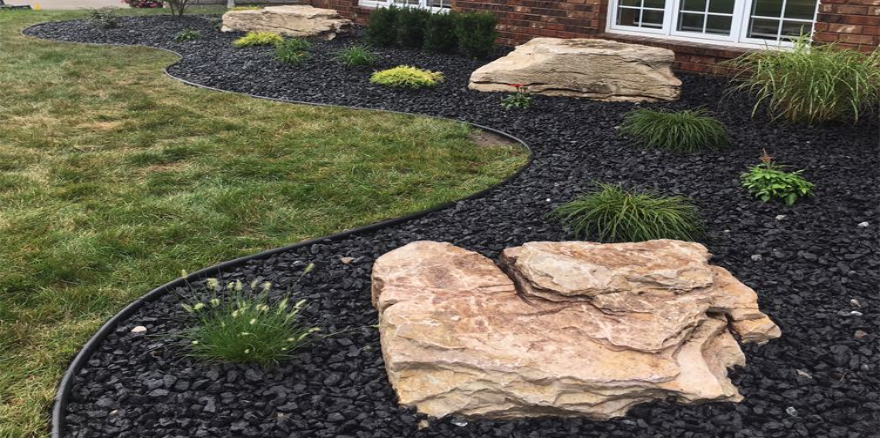 Black rock paths can be an elegant, highly durable, and versatile option for your garden. This idea can be implemented in both a classic small garden and huge gardens.
You can line the garden beds with black rocks paths and create a visual masterpiece. Add black rocks in unique textures and shapes to give a dynamic and attractive look to your garden path. Set each stone in a way that is level with the surrounding stones.
When you're done, fill the spaces between the black rock stones with gravel or sand or even plants that are tolerant to foot traffic.
2. Black Rock Plant Bed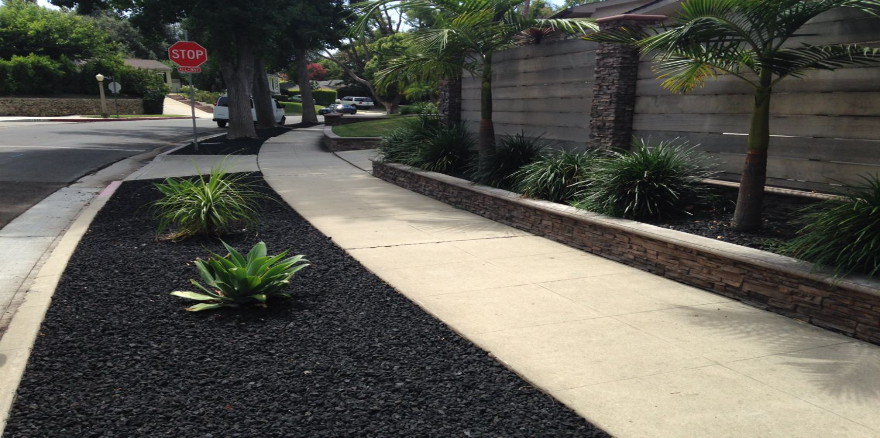 Give your plant bed a modern and aesthetic look by using black rock gravel around it. Since black rocks come in different sizes, textures, and shapes, you can choose the one that will complement your plant bed and home's exterior. The black rocks provide a vibrant and modern backdrop, while the green plants add freshness and a natural flair to the garden.
The black rocks also act as a natural barrier against weeds, reducing the need for constant maintenance and weeding. But black rocks retain heat, so you should not pair them with delicate plants that can't tolerate reflected heat.
3. Black Rock Sculpture Garden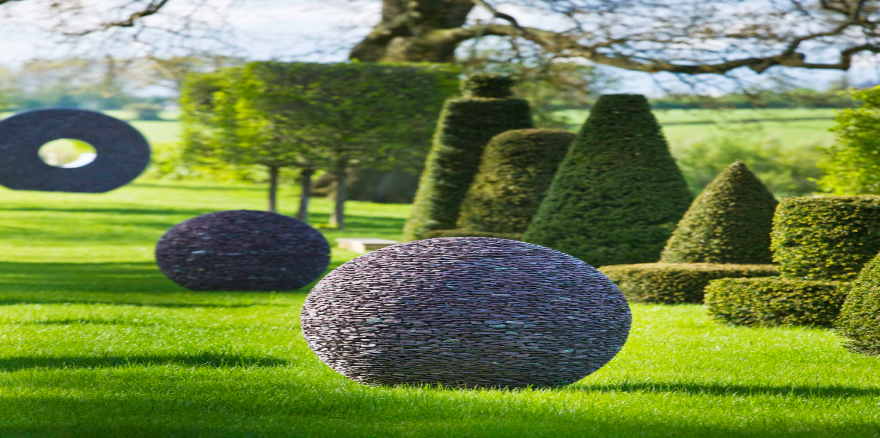 Black Rock Sculpture Garden is an excellent way to showcase the beauty of sculptures in a natural setting. For a spectacular look, choose a singular statue as the centerpiece for your garden.
You can also choose multiple statues but ensure that each one is unique and thought-provoking. If you want to give a soothing touch to your garden, look for statues that are meditative and natural-looking, and if you want to give a vibrant look to your garden, choose something that is bright and bold.
Surround the sculpture with black rocks in a unique pattern or as a solid bed. This way, you can turn your garden into an artistic masterpiece where you can appreciate art and share your experiences about life.
4. Black Rock Herb Garden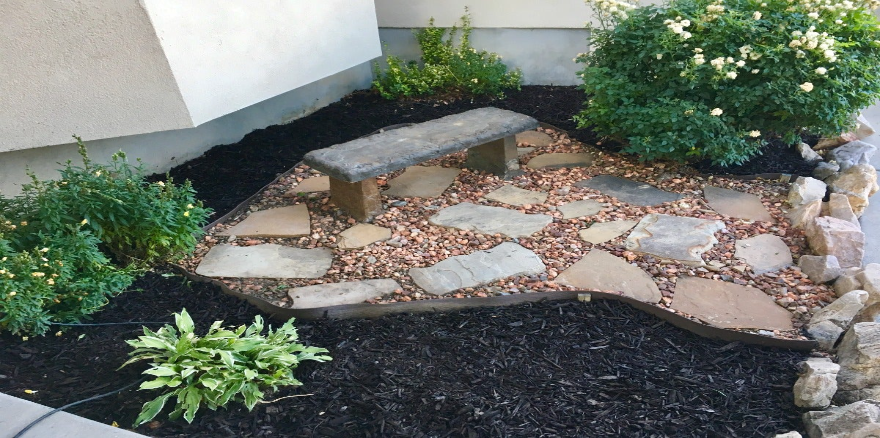 Make your aromatic herb garden look spectacular by surrounding the plants with black rocks. Raised beds, a black rock surface having planters on the top, and raised pots could all work in this setting.
By incorporating black rocks in your herb garden, you can enhance the aesthetics of your outdoor space. The black color of the rocks aligns well with the natural color of the herb plants, enhancing the aesthetics of your landscape. By adding black rocks as a surrounding element, you can give a structured and neat look to your garden.
Black rocks also reduce weed growth and help retain moisture in the soil, making it easier to maintain your garden.
35 Herb Seeds for Planting Varieties Heirloom Non-GMO Seeds Indoors, Hydroponics, Outdoors - Basil, Lavender, Catnip, Cilantro, Oregano, Parsley, Peppermint, Rosemary and More by Gardeners Basics
35 VARIETIES HERB SEEDS VARIETY PACK - 35 of our most popular herbal garden seeds, including Lavender, Echinacea, Chervil, Chamomile, Cilantro, Basil, Summer Savory, Anise, Dill, Rosemary, Peppermint, Sage, Thyme, Curled Parsley, Flat Parsley, Lemon Balm, Arugula, Bergamot, Yarrow, Green Onion, Cumin, Catnip, and Chives
FREE BONUS - 35 Free plant markers to help you keep track of what herb seeds for planting indoors and outdoors are planted
PROFESSIONAL - Packed in seed packets, not plastic bags: plastic bags can harbor mold and ruin herb seeds. Complete growing and harvesting instructions are included on every packet. In addition, all packets come in a mylar recloseable bag to help keep your seeds fresh
USA - Proudly grown and produced in the USA. Don't use inferior overseas seeds in your garden. These herbs are great in hydroponics, aquaponics, and indoor and outdoor gardening. Since these are all heirlooms, save seeds for future gardens and provide food security for your family
GUARANTEE - If you aren't happy, return your herb grow kit seeds for a full refund!
5. Create Zen Garden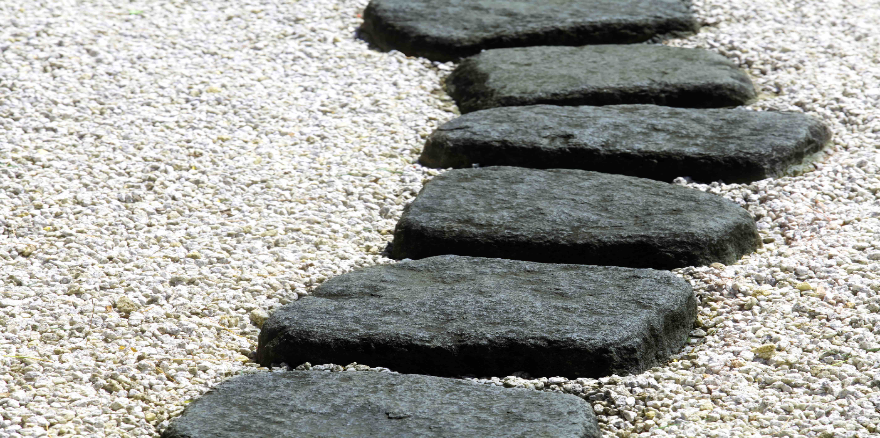 Bring your garden or backyard to life by creating a section of black stone or sand in a way that mimics water. To create a zen garden, you can incorporate various elements such as carefully arranged black rocks, water features, neatly pruned shrubs and trees, and moss.
You can learn the rocks on one another to make it look like a flowing stream. Use large-size black stones as they won't be affected by rain or wind. Keep planting to a minimum to give your zen garden a minimalistic look.
You can meditate, carry out mindful activities and contemplate life in the soothing and peaceful ambiance of the zen garden.
6. Black Rock Steps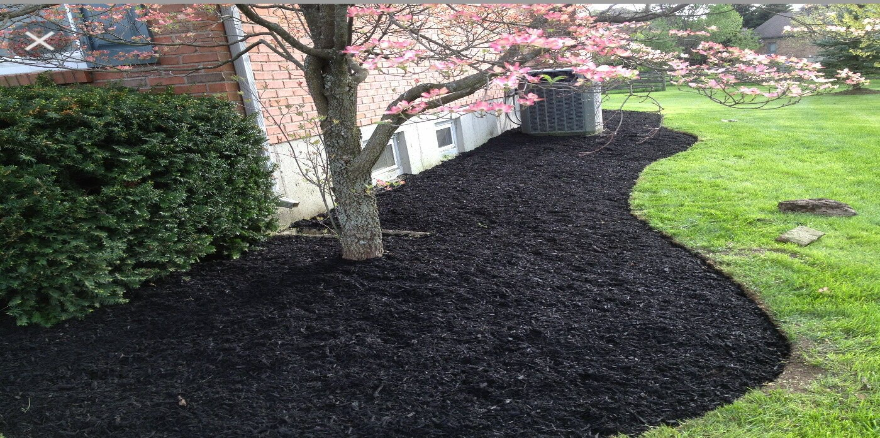 Adding black rock steps to your garden is an excellent way to enhance your outdoor landscaping. The coarse texture of the black rocks makes them an ideal choice to add steps or stairs to your garden.
You can mix larger boulders and mid-size black rocks with smaller stone borders to enhance the visual appeal of the stairs. Black rock steps blend with natural surroundings, and hence they don't look odd in your garden. If your garden incorporates stones or pebbles and black rock steps, black rock steps can complement the beauty of your garden and create an eye-catching look.
Clean the steps after frequent intervals to remove any algae, which can make the surface slippery when it rains.
7. Black Rock Container Garden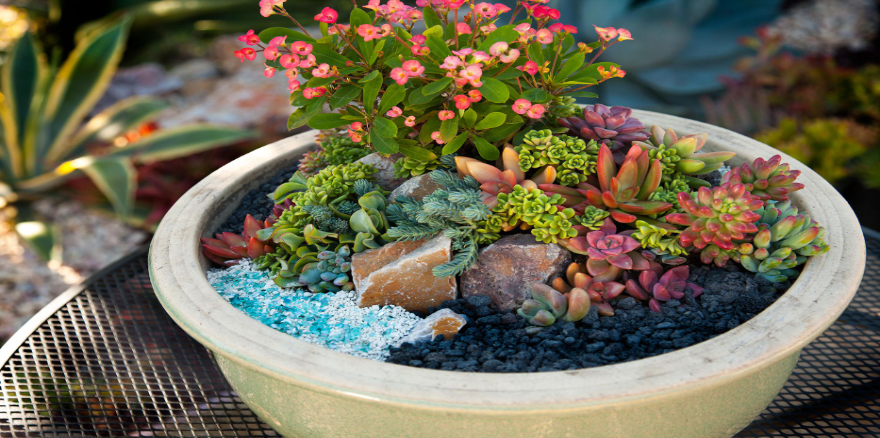 If you're passionate about gardening but your outside space is sparse, a black rock container garden can be the ideal choice. You just need to build up your garden space by using different sizes and textures of black rocks and then place your container garden planters onto the rocks.
Succulents, tropicals, and other specialized plants can be easily grown in black rock container gardens. Black rocks can help retain moisture in your container garden. They keep the soil underneath moist by reducing evaporation. This can be especially beneficial in summer.
During chilly nights and winters, the black rocks absorb heat during the day and release it at night, providing temperature regulation for the plants.
8. Multi-Sized Gravel and Black Rock Beds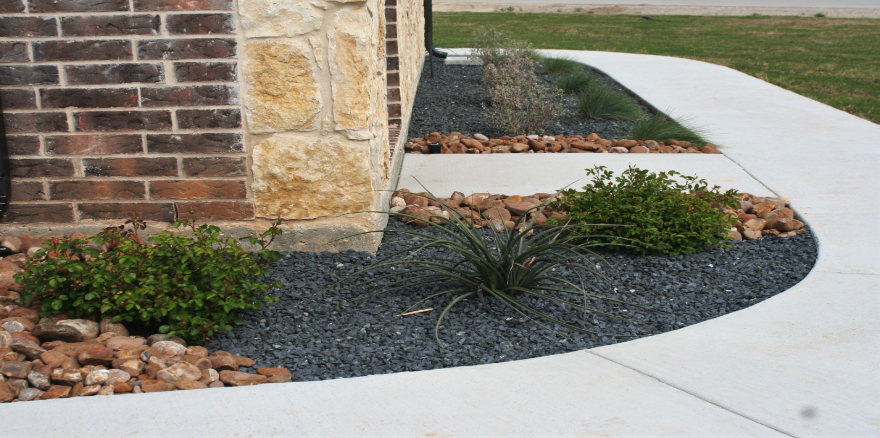 Create an impressive landscaping project by incorporating multiple sizes, colors, textures, and styles of gravel and rocks. You can use metal edgings to differentiate between the types of gravel or rocks or use gray boulders to blend the black rocks.
One of the biggest benefits of using rocks and gravel in your plant beds is that they create a natural-looking landscape and do not decompose like mulch. The contrast between gravel and black rocks can be helpful in designating pathways, specific garden sections, or borders.
Compared to traditional plant beds, gravel, and black rock beds require minimal maintenance. You can create various pathways, patterns, or shapes of plant beds using different arrangements of black rocks and gravel.
9. Black Rock Water Features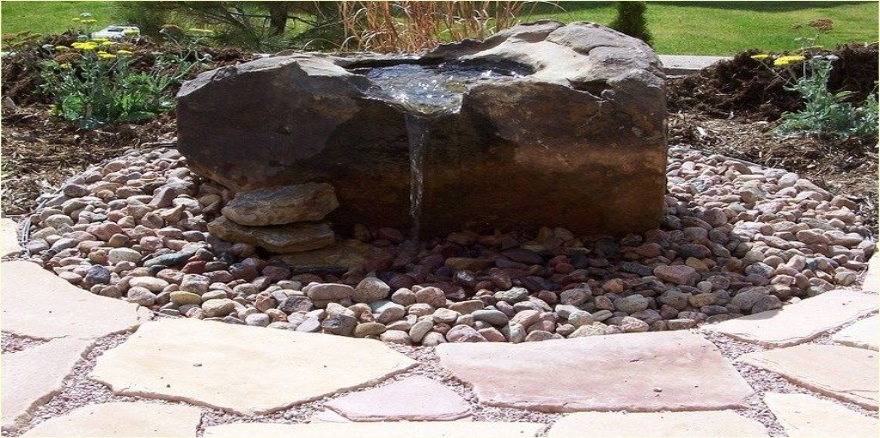 You can use black rocks to create stunning water features in your garden. Black rock water features can give your space a unique and serene look. You can combine multiple black rock textures to create a truly unique water feature.
You can incorporate black rocks around the pond or create a fountain using the rock water feature tutorials. With proper lighting, you can create a soothing ambiance in your garden.
Adding landscape lighting is a brilliant idea to enhance the look of the black rock water feature and enjoy its beauty after sunset. Regular maintenance and cleaning are necessary to ensure the longevity of the block rock water feature.
10. Black Rock Fire Pit
You can use the black stones to create a fire pit that will become your favorite spot in your backyard. Create the first tier by forming a circle, alternating the mini and large bricks to create an interesting pattern. Alternate the small and large bricks again, placing the small bricks in the middle and on top of a larger brick to continue the pattern.
Ensure that the fire pit wall is even and symmetrical. Using a shovel and hoe, clear out a two-inch area around the fire pit's perimeter. In the cleared area, add black rocks evenly around the perimeter.
The addition of the black rocks will give a finished look to the fire pit. Finish off by spreading the remaining black rocks at the bottom of the pit.
11. Black Rock Riverbed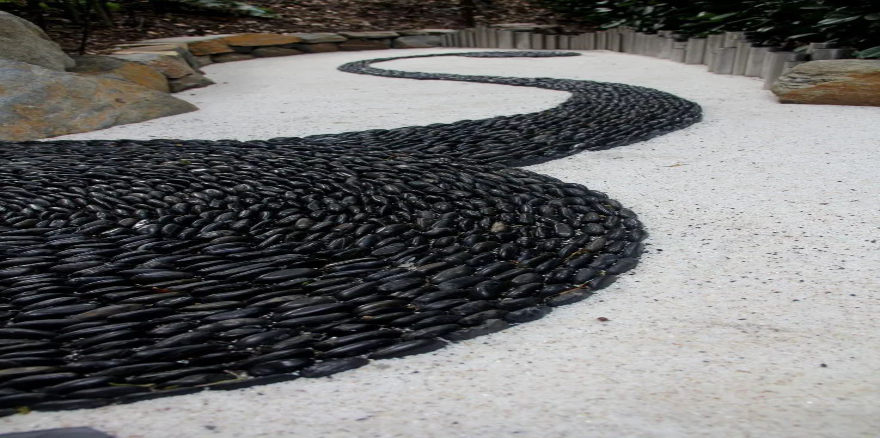 Dry riverbeds with black rocks can be one of the best ways to emulate the feeling of water running through your yard. Fill the bed with boulders and black rocks and line it with some plants or different types of rocks to make it look like a dry riverbed. You can also curve the path and then fill it with black rock stones of different textures.
Dry riverbeds not only look attractive but also fix many garden issues, like drainage problems and poor soil conditions. You can grow different kinds of plants and shrubs around the dry riverbed, depending on the nature of the soil and weather conditions.
Even if you don't have much space in your yard, you can create a small black rock riverbed.
12. Black Stone Rockeries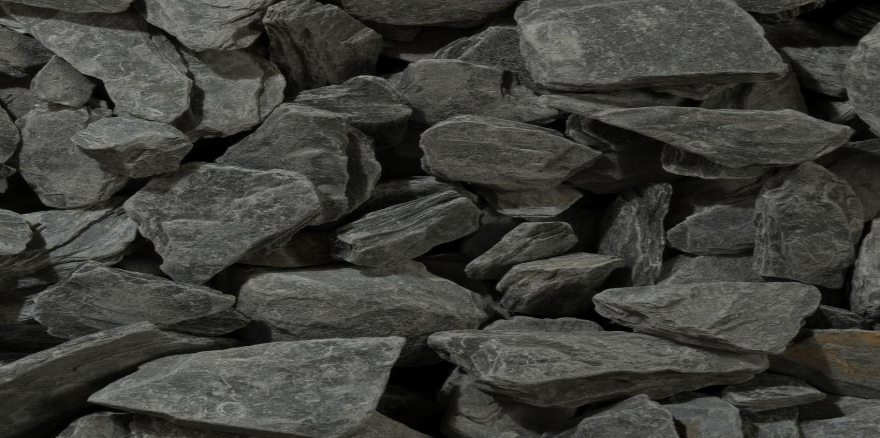 If you have a large lawn in your yard, you can add black stone rockeries to break up the expanse. This can also be the perfect way to add height to different areas of your garden. By placing larger black rocks in your backyard, you can deviate the attention of your guests from the plain spaces in your garden.
Black rocks can also be bordered by low-growing shrubs, alpines, or succulents to make them the focal point of your garden. While designing the black stone rockery, ensure that it looks like an organic and natural part of the landscape.
Plant a few dwarf conifers, like pine or juniper, to add year-round color and vibrancy to your rockery.
13. Lava Rock Boulder Trail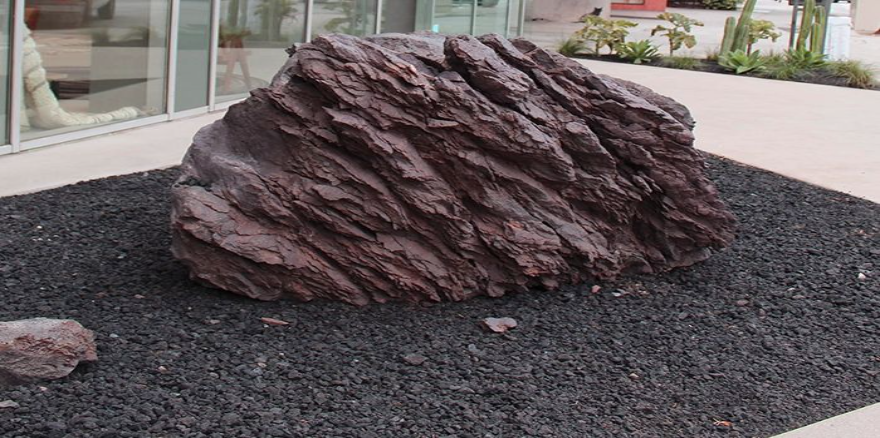 If you want to give a rustic or wild look to your backyard or garden, then adding a lava rock boulder trail can be the best choice. You can use large boulders with lava rock chips to create a path. Place the stones and boulders throughout the path to enhance the look of your landscape.
If the boulders are very big, you can even sit on them and appreciate the beauty of your garden. Lava rock boulders create a visually appealing contrast to the surrounding elements in your backyard. Their uneven and rough surface stands out against lush green trees and shrubs, and other landscape materials.
You can also add some shrubs or colorful plants around the boulder trail to give a raw look to your garden.
14. Black Rocks French Drain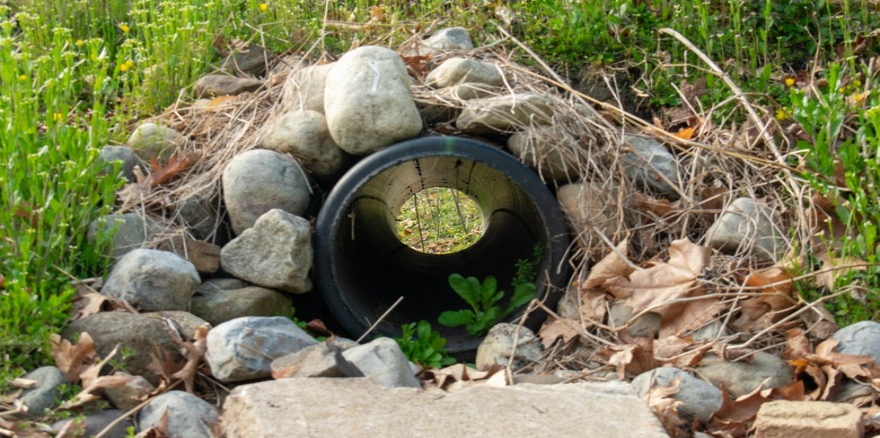 A French drain can be an excellent way to keep your yard free from excess moisture. You can use several types and sizes of black stones for the drain. But for the best results, check the slope of the yard and whether you'll use a perforated pipe to whisk the water away.
Fill the bottom layer of the trench with one-third of black stones if you will use a perforated pipe and two-thirds if you will not.
By adding a French drain with black rocks, you can enhance the visual appeal of the drainage zone and draw water away from that area. Hard rocks like black rocks can be a good choice for a French drain because they don't break down or get damaged over time as much as limestone and sandstone.
Conclusion
Whether your garden is big or small, you can add interest to your backyard design with the help of black rocks. The weathered appearance of black rocks matches the earthy feel of your garden and blends well with the surrounding elements. If you need some inspiration on how to decorate your landscape using black stones, then the ideas mentioned above can be helpful.
These black landscape rock ideas can turn your lifeless garden into a heavenly oasis of greenery and calmness. You can create terraced black stone steps, a fire pit, or a sculpture garden with the help of black rocks.
Be as creative as possible with the arrangement and placement of black rocks and create the backyard of your dreams.
Frequently Asked Questions
What Are Some of The Best Black Rock Landscaping Ideas?
You can use black rocks in different ways to enhance the beauty of your outdoor space. Create a black rock river bed, black rock garden path, or black rock water features to enhance the beauty of your garden.
Why Black Rocks Are Considered a Good Landscaping Choice?
Black rocks can be an excellent addition to your backyard as they are incredibly multifunctional and versatile. The darker hue of the black rocks allows for many possibilities with its use and placement. They are good insulators, so you can use them to insulate a backyard barbeque grill or fire pit.
Can You Mix and Match Black Stones for Landscaping Purposes?
Black landscaping stones come in various textures, sizes, and shapes. Some stones are more natural in appearance, while others are polished. Some stones are small, and some are larger, giving you the freedom to mix and match with black landscaping stones.