Black paint has a timeless allure, and it adds drama and sophistication to any room. It is a versatile color that can be used in homes of various design styles, from modern and minimalist to traditional and farmhouse styles. It pairs beautifully with different accents and shades and adds a lot of character to the room.
Whether you're remodeling your entire house or updating individual rooms, adding black to your palette can give your space a unique dimension. Black paint colors are known for their ability to infuse a sense of elegance, sophistication, and timeless appeal into any space.
So if you're on the hunt for a new color scheme that will last years, check out the list of the top 10 favorite black paints.
Top Black Paints to Add Character to Boring Spaces
Let's take a look at the top 10 black paints that can add drama and character to even boring spaces.
1. Use Jet Black to Create an Appealing Look [Benjamin Moore]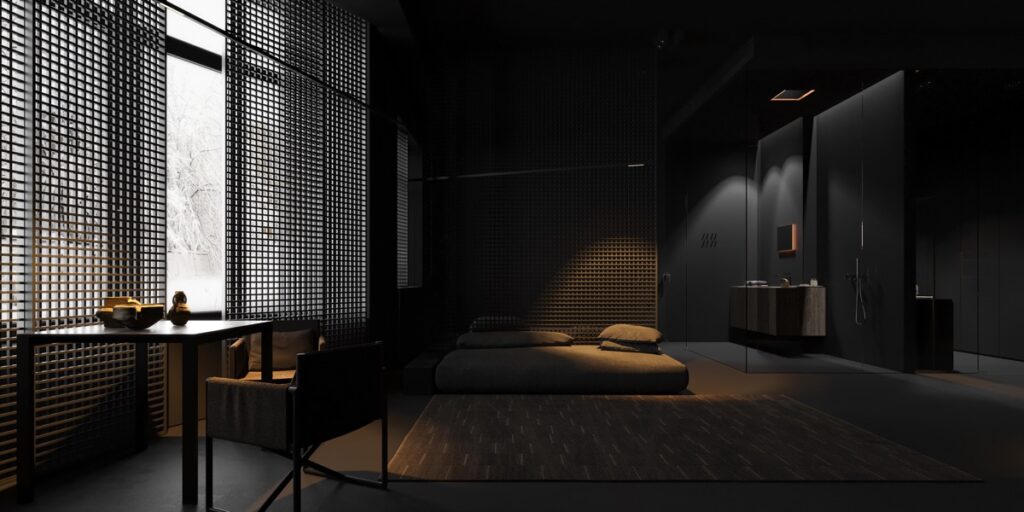 Jet black is a deep and intense paint color that can add drama and elegance to your room. The rich black pigment creates a striking visual impact and gives a sense of boldness to any space. This color works exceptionally well in spaces with ample natural light and creates a beautiful contrast. The intensity of the jet-black color makes it a perfect choice for those seeking to make a bold statement and infuse their space with a touch of sophistication.
When applied to walls, Jet Black instantly transforms the atmosphere, creating a sense of depth and intrigue. It sets the stage for an atmosphere that is both captivating and intimate. 
When working with Jet Black, it's important to consider the lighting conditions of your space. Natural light enhances the depth and richness of the jet-black color.
2. Opt for Carbon Black [Behr]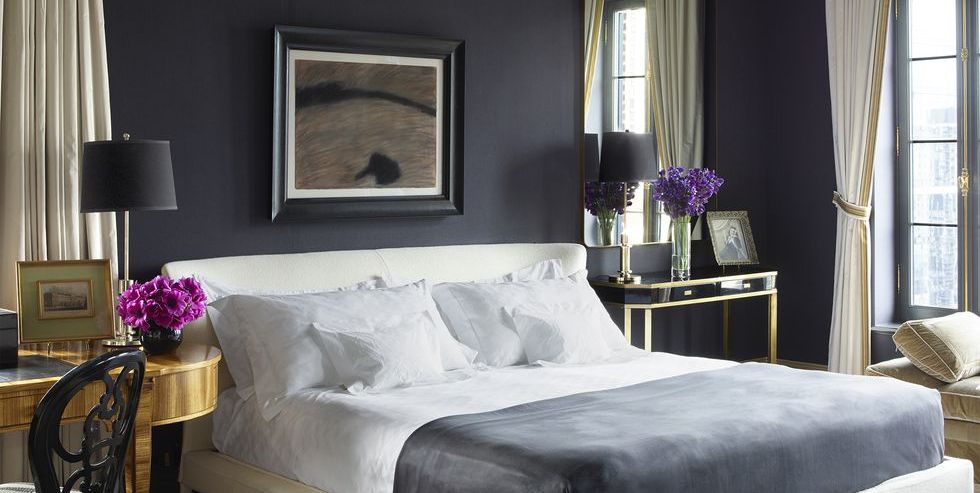 Carbon black is another interesting black paint color with subtle blue undertones. If you don't like classic black color, you can go for carbon black to give a contemporary and cool look to your room.
This shade is perfect for those seeking to create a sleek and edgy atmosphere in their living spaces. This color serves as a striking backdrop, emphasizing clean lines and creating a sense of drama. For industrial-inspired interiors, Carbon Black complements raw materials such as exposed brick, concrete, and metal accents. It harmonizes with the rugged textures and adds a touch of modernity to the space.
Incorporate it with metallic accents to create a visually captivating space. You should definitely consider trying this cool shade of black to elevate the look of your spaces!
3. Go for Midnight Black [Craf Treat]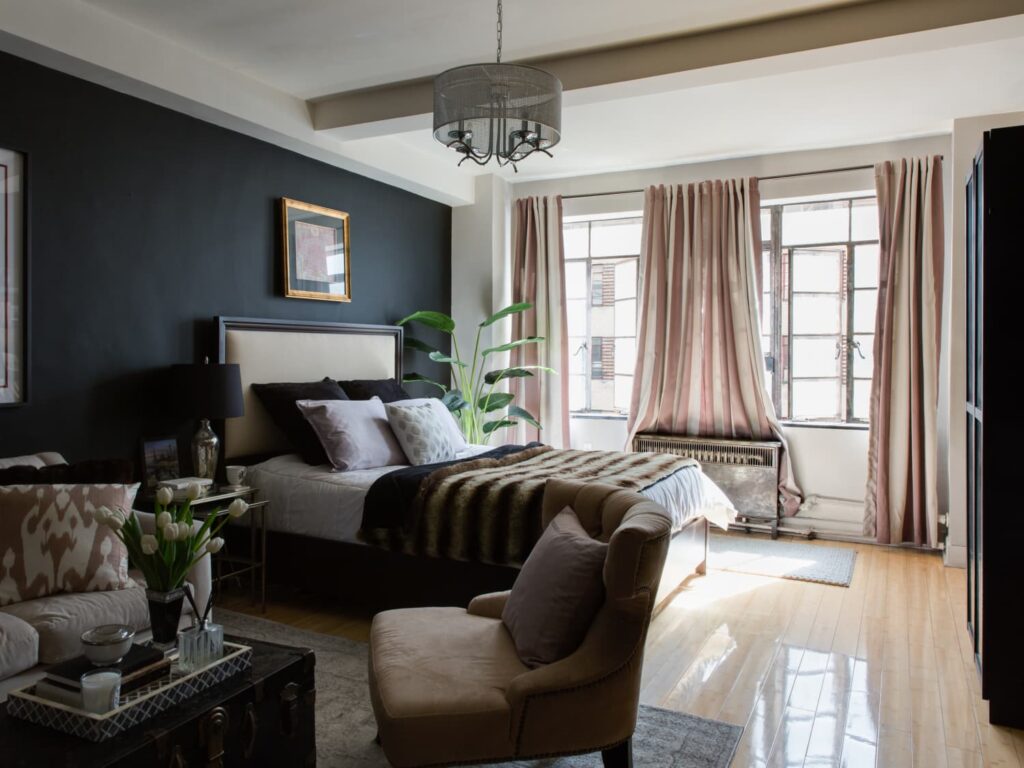 Do you like paints with velvety and luxurious black textures? If yes, then you can go for the midnight black color! When you paint your walls with Midnight Black, it gives your room a unique and mysterious vibe. Imagine a bedroom with soft and cozy bedding, dim lighting, and Midnight Black walls. The color creates a cozy and comforting environment which is perfect for a good night's sleep.
Midnight Black velvet sofa or a sleek dining table can be used to add a touch of elegance to your room. The soft texture of the paint color enhances the luxurious feel, making it a standout piece in your room.
To enhance the glamor quotient, consider incorporating reflective surfaces and metallic accents. Mirrors, silver or gold accessories, and crystal chandeliers can bring a sense of opulence. The interplay of light with the deep black paint color creates a mesmerizing effect, making your room feel luxurious and stylish.
4. Choose Ebony for a Classic Look [Benjamin Moore]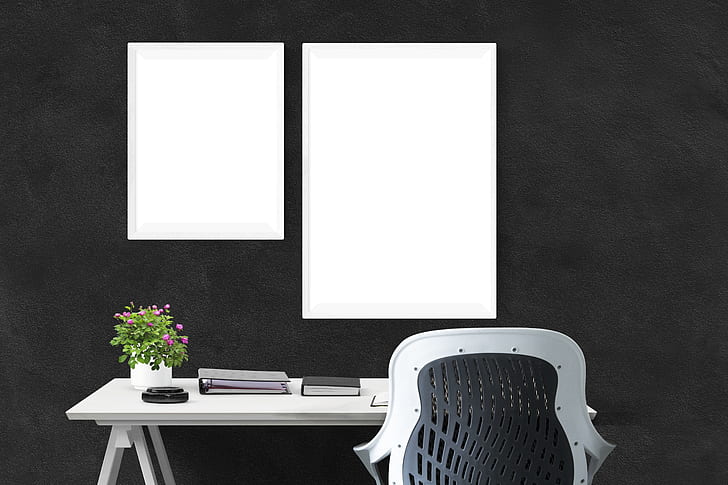 If you're a fan of classic colors, then you can try the ebony shade. Whether you have a modern or traditional home, this shade works well everywhere. It will add timeless beauty to your home and make it look ravishing. Ebony also pairs well with other warm colors like deep browns or rich burgundies.
Using Ebony with these hues, you can create a space that feels warm, inviting, and full of personality.
One of the best things about Ebony is its versatility. It can be used in any room of your home, from the living room to the bedroom or even the kitchen. No matter where ever you use it, this shade will bring a touch of classic elegance that never goes out of style.
5. Experiment with Charcoal Color [Sherwin Williams]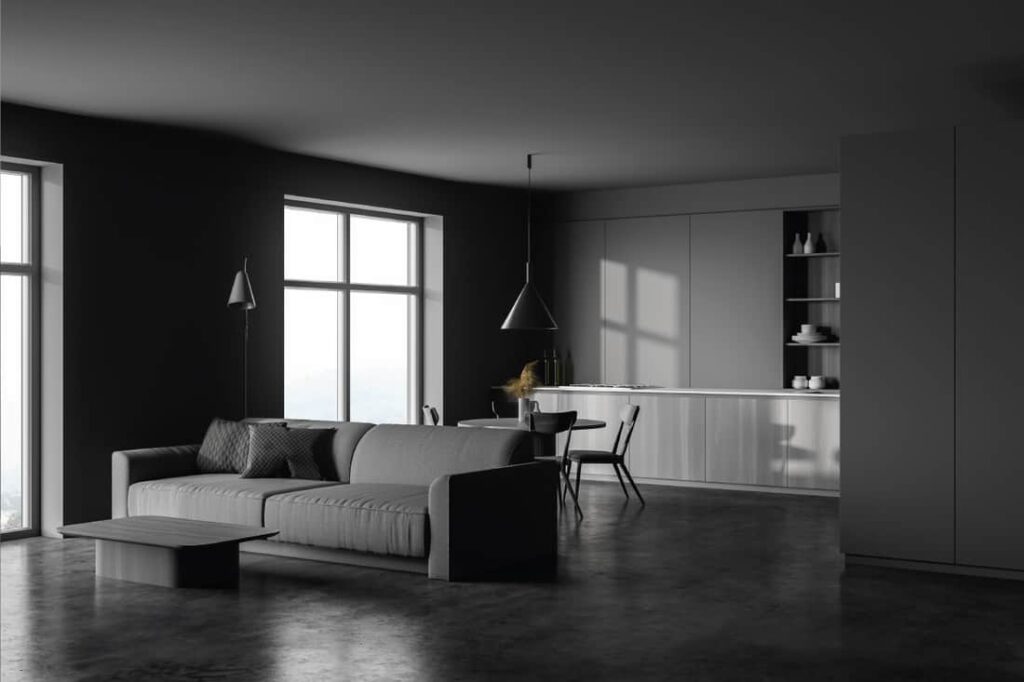 Charcoal is a versatile color that goes well with different types of homes. It works well in contemporary and modern interiors, creating a sleek and minimalistic ambiance. Whether you choose to use it on walls, furniture, or as an accent color, Charcoal adds a touch of elegance and sophistication to your space. When paired with cool-toned colors like blues or greens, charcoal adds depth and interest to the overall design.
For example, imagine a living room with Charcoal walls, a plush blue sofa, and accents of green in the form of potted plants or decorative pillows. The combination of Charcoal with these cool tones creates a visually captivating and balanced environment.
Charcoal can be used as the main color or as an accent to complement other shades in your room. For instance, you can use Charcoal-colored cabinets in a kitchen with white countertops and stainless steel appliances. This combination creates a sleek and modern look that is both timeless and sophisticated.
6. Create a Luxurious Look with Obsidian [PFG Paints]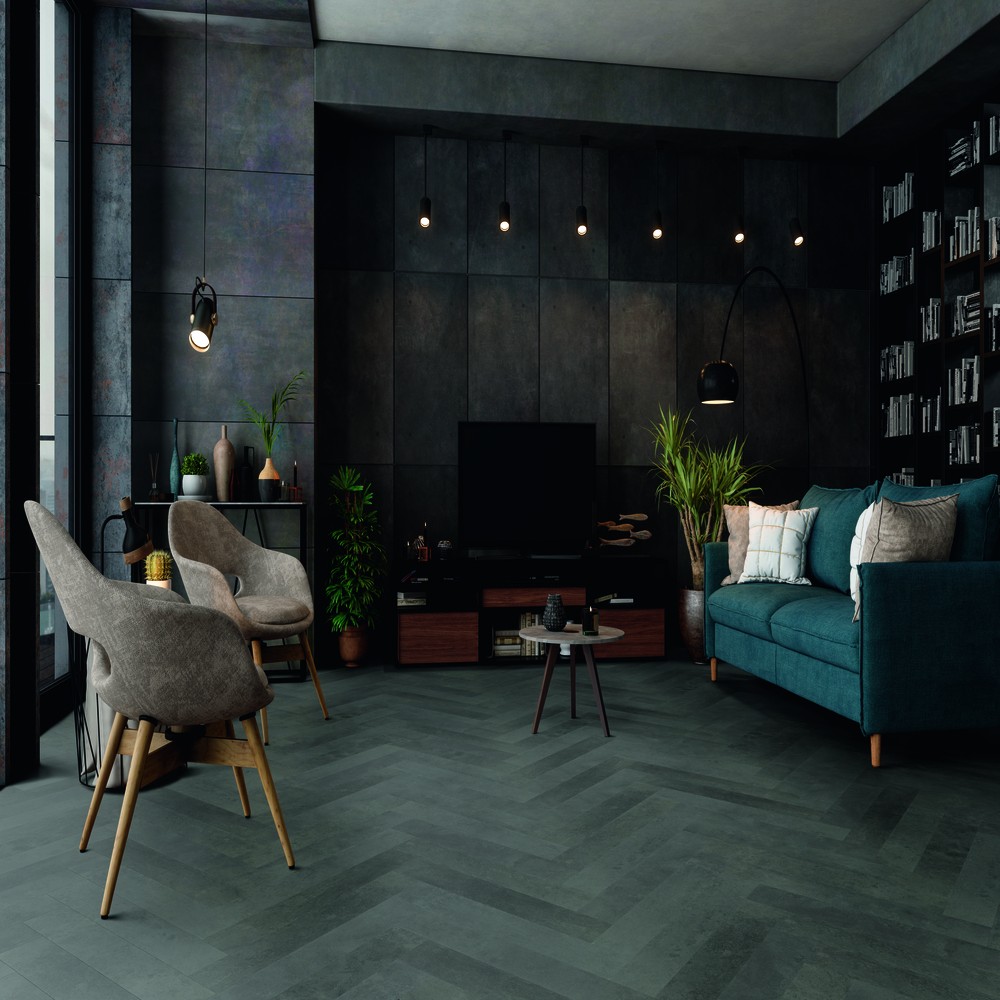 Obsidian looks stunning when paired with metallic accents like gold or copper. The combination creates a luxurious and opulent atmosphere, even in blank spaces. This color is ideal for spaces where you want to create a sense of drama, such as dining rooms or home theaters. Picture a dining room with Obsidian walls, a crystal chandelier, and golden tableware.
The contrast between the dark walls and the metallic accents creates a mesmerizing ambiance that sets the stage for unforgettable dining experiences.
Even when used alone, Obsidian makes a bold statement. Consider incorporating it as an accent color through accessories like throw pillows, artwork, or curtains. This adds a touch of mystique and visual interest to your space without overwhelming the overall design.
7. Add Depth with Ink Black [Behr]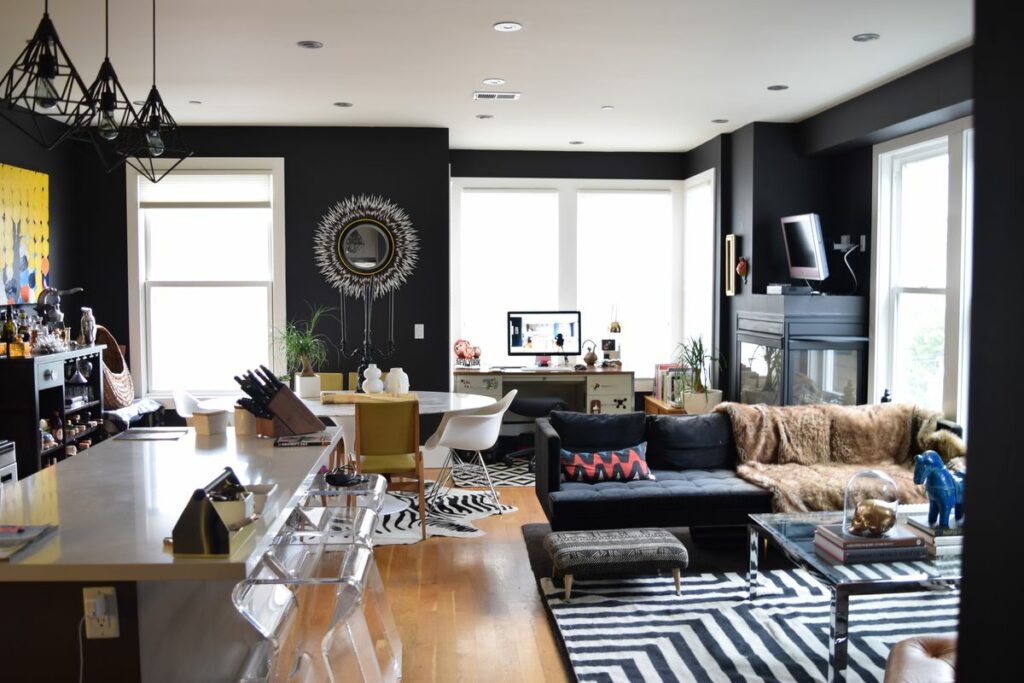 Ink Black is a dark black paint color that brings depth and richness to any room. It has subtle purple undertones, giving it a unique twist and adding a touch of romance and mystery to the room. This shade is particularly well-suited for bedrooms or intimate gathering areas where you want to create a cozy and relaxing atmosphere.
Ink Black can be used as an accent color or as the main color in your space.
Adding touches of Ink Black through accessories like curtains, pillows, or artwork can bring a sense of sophistication and allure. If you prefer a bolder statement, consider painting an entire wall or using Ink Black for furniture pieces like a statement chair or a sleek side table.
8. Add a Touch of Elegance with Onyx [Benjamin Moore & Co]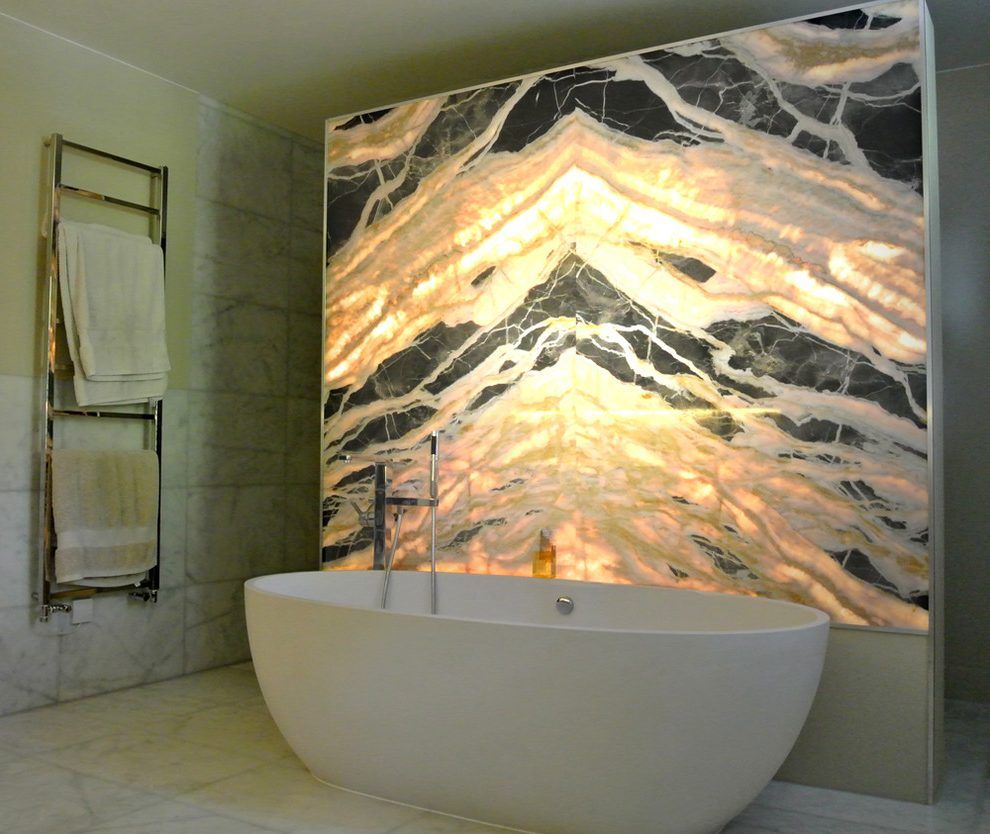 Onyx is a black paint color with brown undertones, offering a warmer and earthier alternative to pure black. Onyx pairs well with warm neutrals, such as beige or tan, adding a touch of elegance and sophistication. It also looks good in homes with wooden accents and rustic furniture.
The monochromatic look of this color amplifies the ambiance of your space.
It works particularly well in spaces where you want to create a sense of comfort and relaxation, such as living rooms or bedrooms. Use Onyx on walls, furniture or as an accent color to add warmth and character to your space. You can also use this color to create an environment that exudes a welcoming and stylish vibe.
9. Create Opulence with Pitch Black [Farrow&Ball]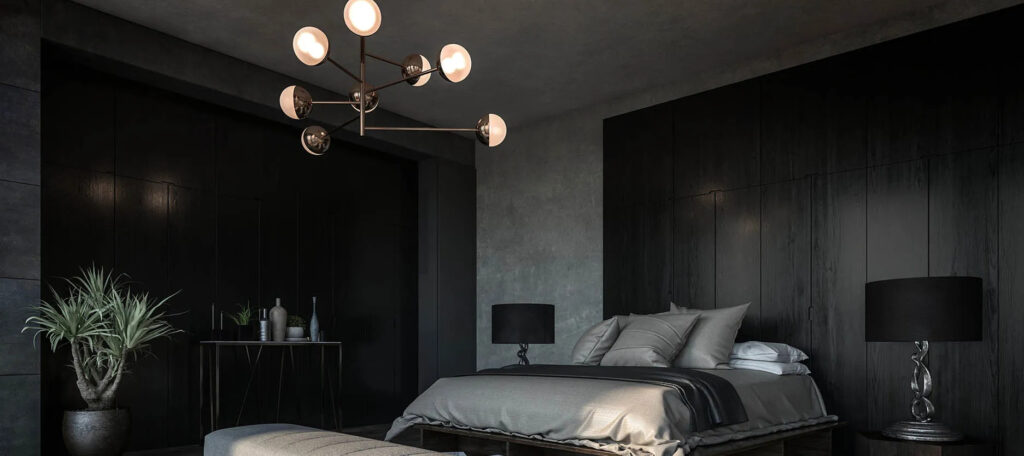 Pitch Black is an intense and deep black paint color that creates a sense of drama and opulence. This shade is perfect for those who want to make a bold statement and infuse their space with grandeur. Pitch Black works exceptionally well in spaces where you want to create a sense of luxury, such as dining rooms or entryways.
Use Pitch Black on walls or as an accent color to elevate your space and leave a lasting impression on anyone who enters. With its rich and captivating hue, Pitch Black is sure to create an environment that is both striking and visually mesmerizing.
10. Add a Touch of Refinement with Matte Black [HTML Color Codes]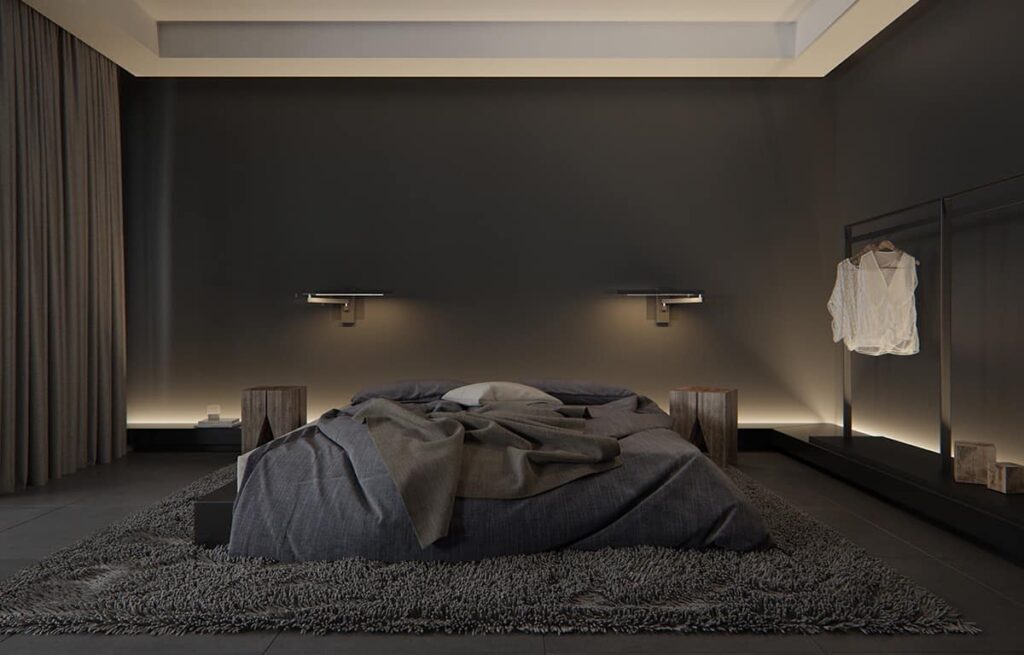 Matte Black is a sleek and contemporary black paint color that offers a modern look to your home. This shade has a velvety finish, creating a soft and understated elegance in any space. Matte Black works well in minimalist or industrial-inspired interiors, adding a touch of refinement and depth. It pairs beautifully with neutral tones, such as whites or grays, creating a clean and balanced aesthetic.
Use Matte Black on walls, cabinetry, or as an accent color to bring a sense of style and simplicity to your space.
Its modern appeal and versatility make it a popular choice among homeowners, allowing them to create an environment that is both visually stunning and effortlessly chic.
Conclusion
Choosing the right black paint color can transform your space and elevate its overall aesthetic. From the deep richness of Obsidian Night to the mysterious allure of Ink Black, each shade offers a unique character that can be tailored to suit your desired ambiance. Remember to consider the lighting conditions, the size of the space, and the existing decor elements when selecting the perfect black paint color.
With these 10 best black paint colors listed above, you can confidently infuse your home or office with elegance, style, and a timeless appeal that will leave a lasting impression. Black paint is not just a color; it is an expression of sophistication, drama, and individuality.
So, go ahead, explore the depths of black, and create spaces that captivate and inspire. 
Frequently Asked Questions
Is Black Paint Suitable for Small Rooms?
Yes, black paint can be used in small rooms to create a cozy and intimate atmosphere. Just be mindful of the lighting and balance it with lighter accents to prevent the room from feeling too enclosed.
Can I Use Black Paint in a Well-Lit Room?
Absolutely! Black paint can be stunning in well-lit rooms. It creates a beautiful contrast and adds depth and drama to the space. Consider using black as an accent color or on a feature wall to make a bold statement.
Will Black Paint Make My Space Feel Smaller?

While black can create a visually striking effect, it doesn't necessarily make a space feel smaller. With proper lighting and thoughtful design choices, black paint can actually add depth and sophistication to your space.
Can I Mix Black Paint with Other Colors?

Yes, black paint can be mixed with other colors to create custom shades or to tone down its intensity. Experiment with different color combinations to achieve the desired effect and personalize your space.
How Do I Incorporate Black Paint Into a Traditional Interior?

Incorporating black paint into a traditional interior can add a touch of elegance. Use it on trim, furniture, or as an accent color paired with warm neutrals and traditional elements to create a sophisticated and timeless look.