Do you want to transform your backyard into a beautiful outdoor space? The type of stone patios you use will define the final look. So, why not look for something that blends with the overall ambiance of your backyard? Before choosing a patio for your backyard, you must consider various factors like size, layout, and features of your courtyard.
We've got 12 inspiring stone patio ideas that will not only enhance the beauty and elegance of your environment but also offer a tough and practical surface for a variety of uses.
Once you have a beautiful backyard with a stunning patio, you need to make sure that you maintain the stone patio to improve its longevity. We have also gathered a few tips that will help you keep your patio as good as new.
Natural Stone Patio Ideas to Create a Stunning Backyard
If you are looking for stone patio ideas on a budget that will not cut a hole in your pocket and still give you exquisite outcomes, check out these natural stone patio ideas.
1. Flagstone Patios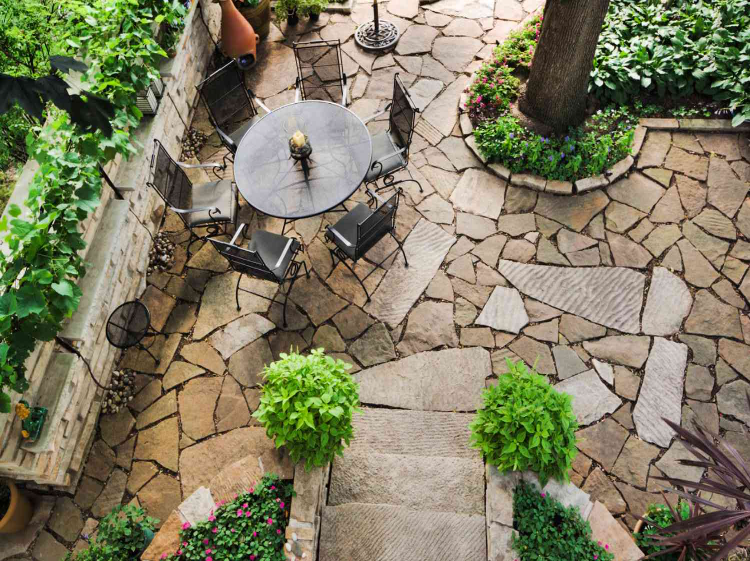 Imagine stepping onto a patio made of beautiful Flagstone with natural, earthy tones and irregular shapes. Flagstone patios offer a timeless appeal that effortlessly blends with any landscape.
One of the advantages of flagstone is its versatility in design. You can create various patterns, such as the popular random ashlar or running bond, to give your patio a unique look.
The regular shapes of flagstone pieces provide a rustic look, and you can choose from different types of flagstone, including sandstone and limestone, to match your aesthetic preferences.
2. Slate Patios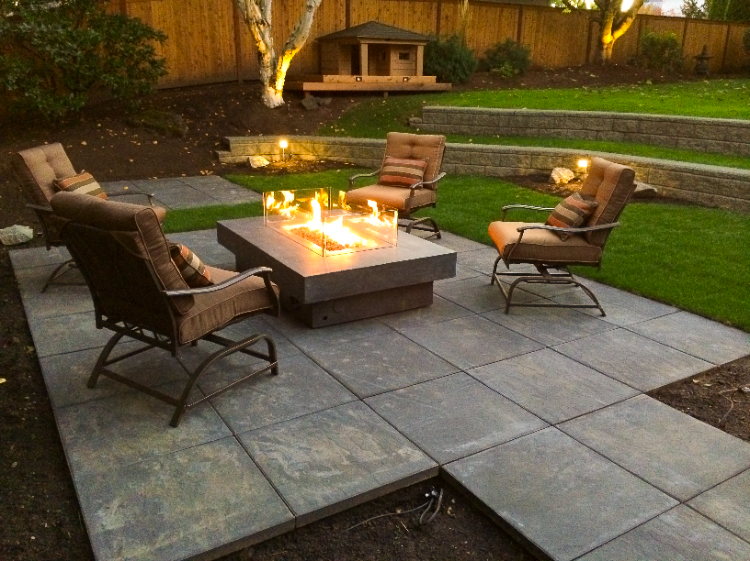 If you seek a patio with a more contemporary feel, slate might be the perfect choice. Slate is known for its smooth texture, fine grain, and rich colors, ranging from deep greys to blues and greens. With slate, you can create a decent layout with clean lines and a sleek appearance.
You can explore different color variations to find the one that compliments your backyard's overall style. Additionally, slate is a great option for poolside patios due to its sleep-resistant surface.
3. Bluestone Patios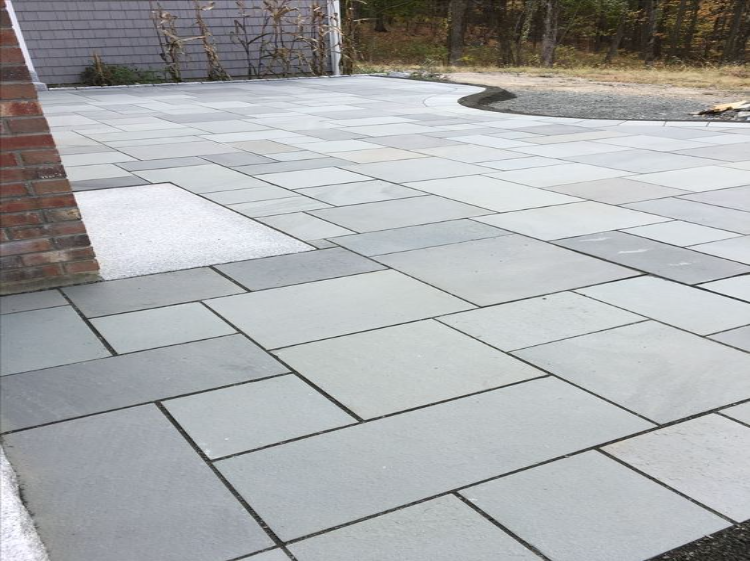 For a patio that releases elegance, you must consider blue stone. The blue stone is a type of sandstone, characterized by its stunning blue-grey hue, which adds a touch of luxury to any outdoor space. This stone is known for its durability and weather resistance, making it suitable for regions with harsh climates. Bluestone can be cut into various shapes and sizes, allowing for creative design possibilities. You can experiment with jointing techniques, such as irregular or tight joints, and choose from a range of finishes, including natural cleft or thermal, to achieve the desired aesthetic.
Paver Stone Patio Ideas
To complement your outside environment, patio pavers are available in a variety of materials and designs. Let us explore these paver stone patio ideas to improve your outside space.
4. Brick Paver Patios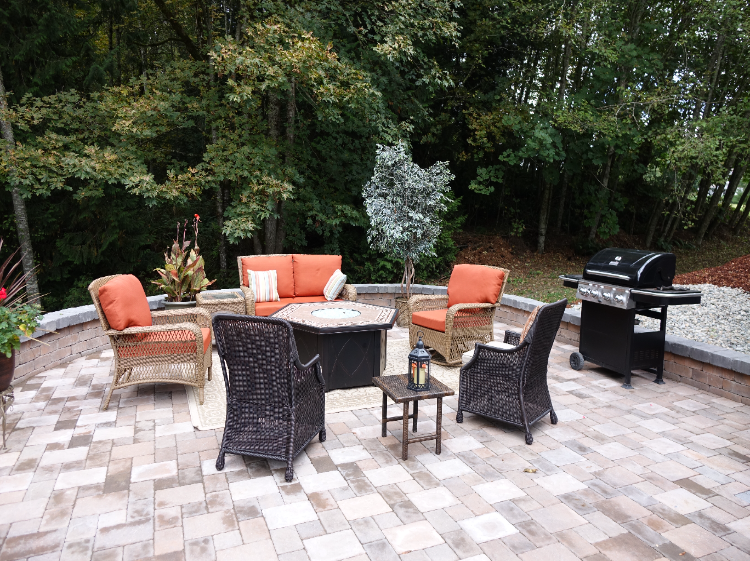 Suppose you are looking for a classic and timeless look for your backyard, brick pavers for an excellent choice. The warm hues and textured surface of brick pavers create a cozy and inviting atmosphere. You can lay them in traditional patterns like herringbone or basket weave, adding visual interest to your patio.
The interlocking nature of brick pavers ensures stability and durability, making them suitable for high-traffic areas. With their charming appeal, brick pavers can transform your outdoor space into a charming retreat.
5. Concrete Paver Patios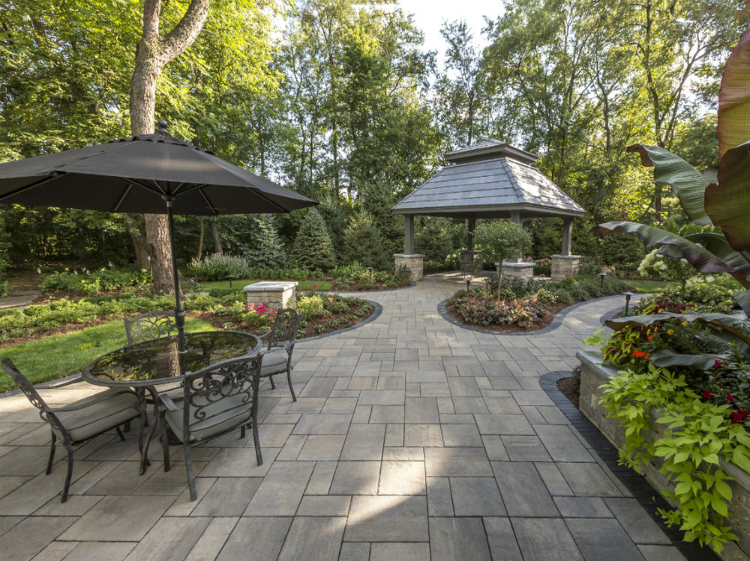 Concrete pavers offer you versatility and durability for your patio design. They come in various shapes, sizes, and colors, allowing you to customize your outdoor space according to your preferences. Concrete pavers can be molded and stamped to resemble natural stone, break, or even wood, giving you endless design possibilities.
Additionally, you can choose to stay in them in different shades, adding a touch of uniqueness to your patio. The low maintenance requirements and longevity of concrete pavers make them a practical and cost-effective option.
6. Travertine Paver Patios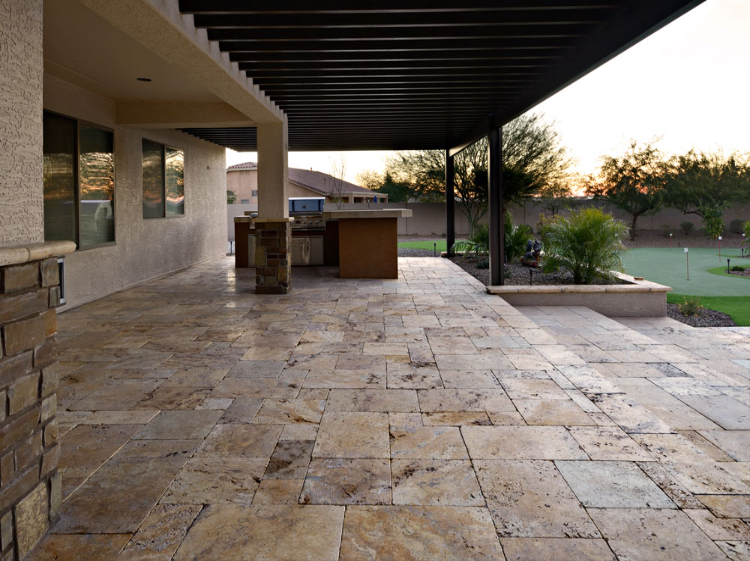 If you desire a stylish and modern appearance, travertine pavers are an ideal choice. Travertine pavers create a refined atmosphere in your backyard with their natural beauty and luxurious texture. The unique colors and patterns of travertine ranging from creamy whites to warm browns, provide a touch of richness. Moreover, travertine pavers are heat resistant, ensuring that your patio remains comfortable even on hot summer days. The low maintenance and durability of the travertine make it a popular option for those seeking a high-end patio design.
Speciality Stone Patio Ideas
If you are looking to add some natural flair and shade to your patio, then these special stone patio ideas will make your house a home.
7. Cobblestone Patios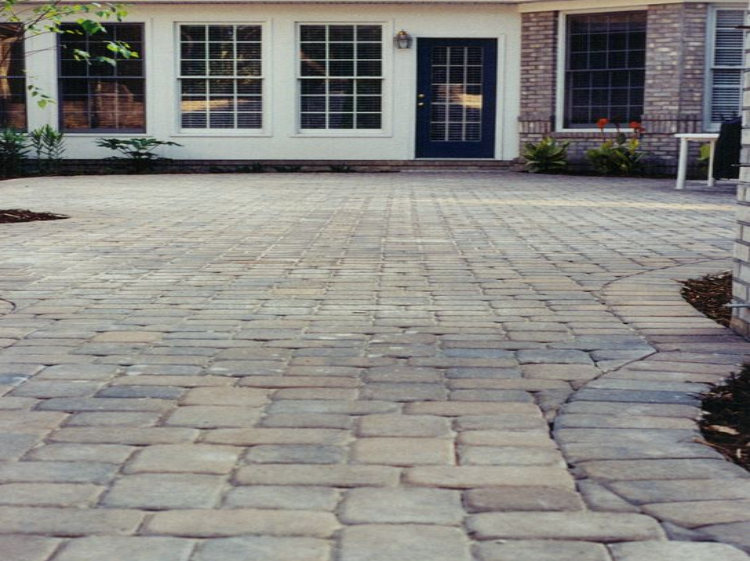 If you are longing for an old-world charm and rustic appeal, cobblestone patios are a perfect fit. Cobblestones are typically made of granite or basalt, offering a timeless aesthetic that brings a sense of history to your outdoor space. Their naturally worn surface and irregular shapes create a visually captivating patio.
You can experiment with different edging techniques such as a soldier course or a herringbone border, to add an extra touch of character when laying cobblestones. A cobblestone patio will transport you to a bygone era, evoking a sense of nostalgia and charm.
8. River Rock Patios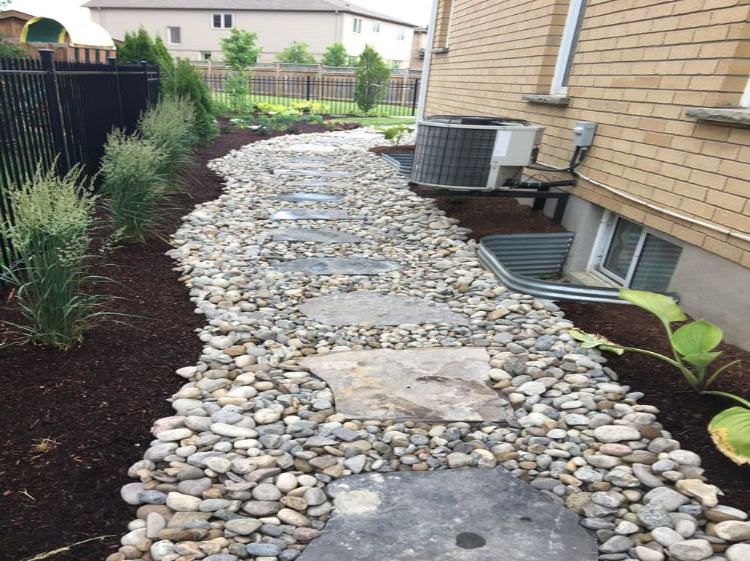 You can consider using river rocks for a more natural and organic aesthetic look for your patio. River rock patios blend seamlessly with the surrounding landscape, creating a harmonious and serene atmosphere.
The smooth, rounded stones provide a comfortable surface underfoot. You can use a combination of different-sized River rocks to create patterns or patchwork designs. By placing vegetation or moss between the rocks, you can tie your patio into your environment. The serenity of nature will be just outside your backyard door, thanks to a river rock patio.
9. Limestone Patios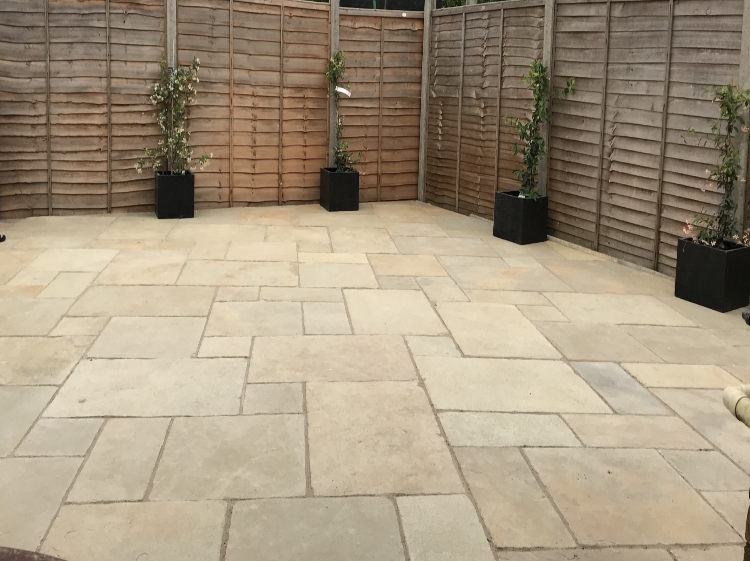 If you lean towards contemporary and latest designs, limestone patios offer a perfect balance of soft colors and smooth texture. Limestone is a versatile stone that comes in various shades, including beige, grey, and tan. Its muted tones create a calm and soothing ambiance in your outdoor space.
Limestone is also known for its durability and resistance to weathering. If you prefer a minimalist layout or intricate designs, limestone can be cut and shaped to meet your design preferences, making it an excellent choice for a modern patio.
Additional Stone Patio Ideas
If you have a small balcony or expansive backyard, these additional patio ideas will make it a welcoming and comfortable place for your family and friends to relax and enjoy.
10. Stamped Concrete Patios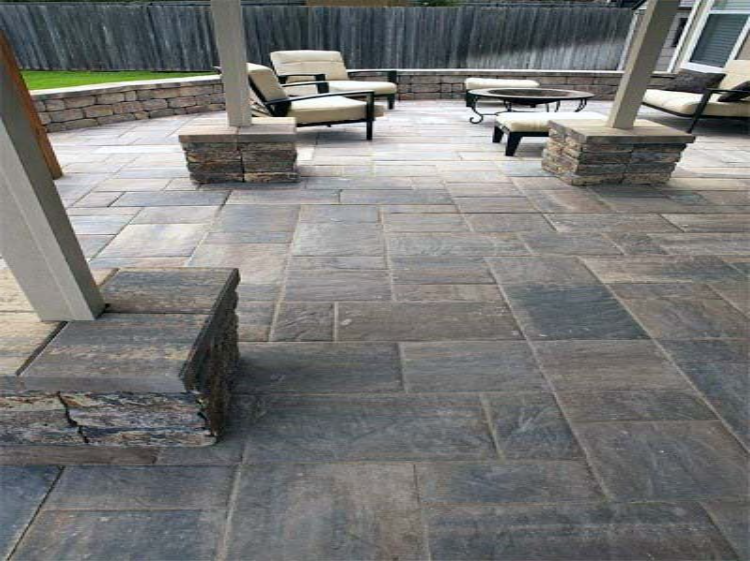 If you desire the look of natural stone or pavers but prefer a more affordable option, stamped concrete patios are worth considering. With advanced stamping techniques, concrete can be textured and colored to resemble various stone patterns, including slate, flagstone, or even wood. Stamped concrete offers you versatility in design, allowing you to create a customized patio that suits your style. It is also durable, and it requires minimal maintenance, making it a practical choice for you if you are seeking an attractive and budget-friendly patio solution.
11. Greenery-Focused Patios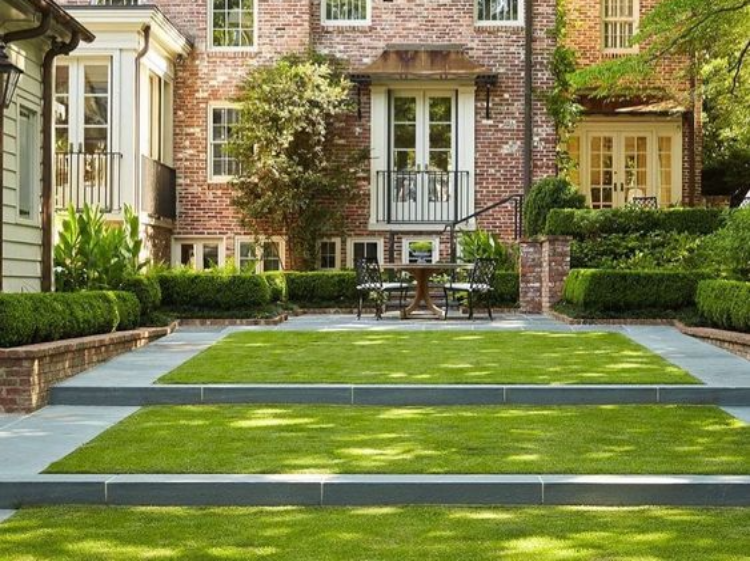 If you are a nature enthusiast or one who seeks a greener approach, greenery-focused patios provide a unique twist to traditional stone patios. These layouts integrate live components into the patio structure itself, such as built-in planter boxes, hanging planters, or vertical gardens.
The addition of flora not only gives the patio a refreshing appearance but also helps to enhance the air quality and create a peaceful atmosphere. A patio with a focus on greenery can produce a plush and appealing atmosphere. If you choose cascading vines or brilliant flowers.
12. Mosaic Tile Patios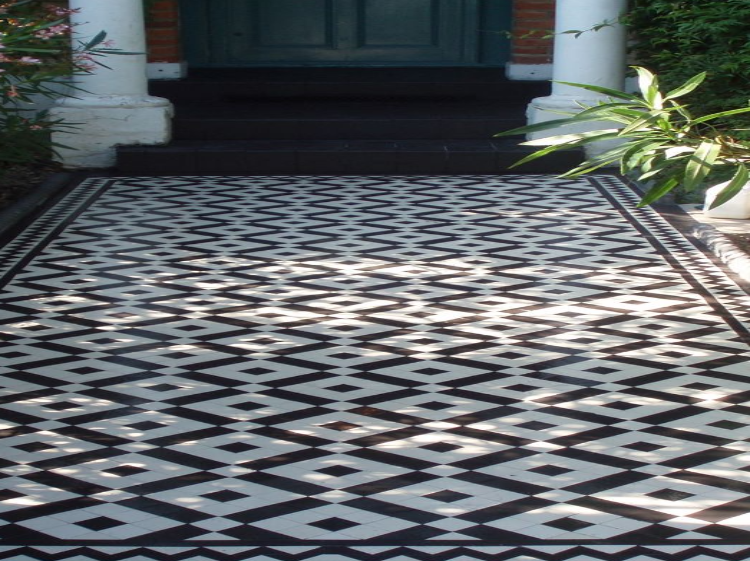 If you want a vibrant and artistic patio design, then mosaic tile patios are a fantastic choice. Mosaic tiles come in various colors, shapes, and sizes, allowing you to create intricate patterns or stunning works of art. From geometric designs to floral motives, the possibilities are endless.
Mosaic tile patios can be made from ceramic glass but even recycled materials, adding an eco-friendly touch to your outdoor space. The intricate detailing and vivid colors of mosaic tiles will make your patio a true focal point and a conversation starter.
Design Tips for Stone Patios
Let us explore tips and techniques for stone patios to perk up your patio.
1. Consider the Backyard's Size and Layout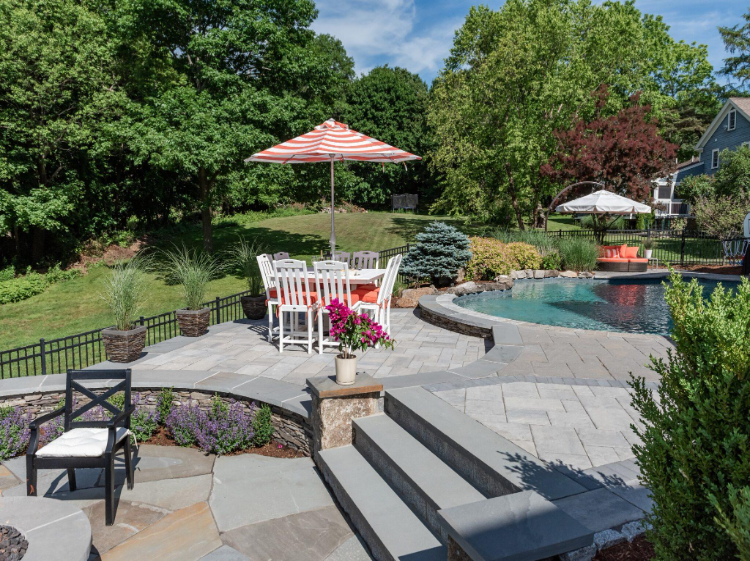 Let us take a moment to assess the size and layout of your backyard before diving into the design process. You should analyze how much space you have available for the patio and how it will fit into the overall landscape. A smaller backyard may benefit from a compact patio design, while a larger yard can accommodate a more expensive layout.
You can take into account any existing features, such as trees or gardens, and plan your patio accordingly to create a harmonious and balanced outdoor space.
2. Harmonize the Patio with The Overall Landscape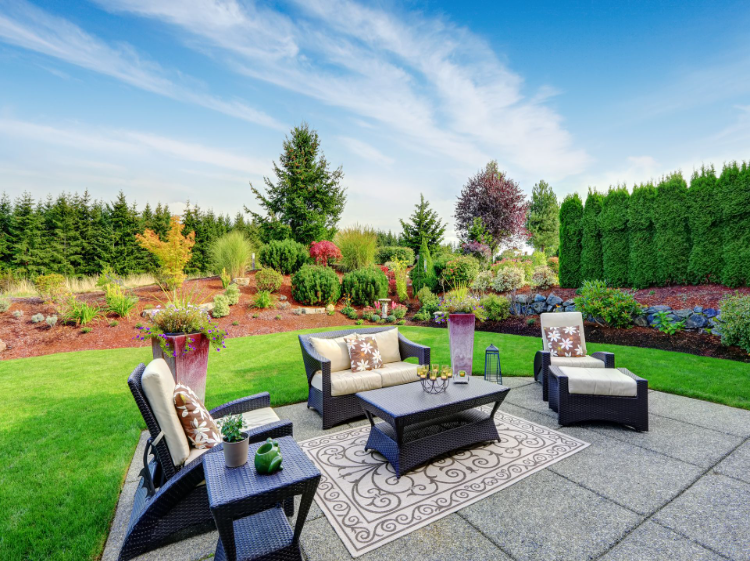 A well-designed patio should seamlessly blend with the rest of your landscape. You can take a close from the existing elements in your yard and integrate them into your patio design. What example, if you have a lush garden with my friend's flowers, you can choose stone colors that complement the floral hues.
You can consider the architectural style of your home as well. If you have a traditional house, opt for classic stone options like brick pavers or flagstone. By harmonizing the patio with the surrounding environment, you will create a cohesive and visually appealing outdoor retreat.
3. Include Items with a Purpose, Such as Seating and Lighting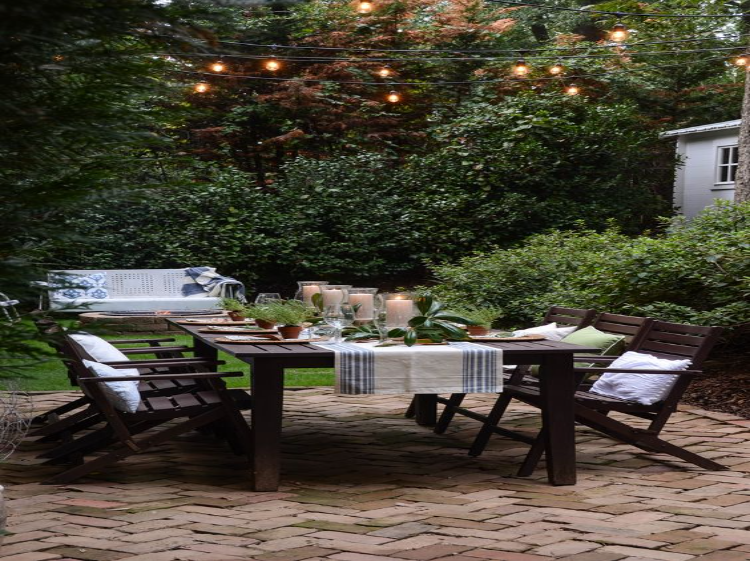 A stone patio isn't just for looks, but it should also serve a practical purpose. Think about how you plan to use the space and integrate functional elements accordingly. Install comfortable seating options, such as outdoor sofas, chairs, or benches, to create a cozy gathering spot for friends and family. Don't forget about the lighting! Heading outdoor.
Lighting fixtures of string. Lights can extend the usability of your patio into the evening hours and create a magical ambiance. If you include the functional elements, you will ensure that your patio is not only beautiful but also practical for everyday use.
4. Use Complementary Materials for Accents and Borders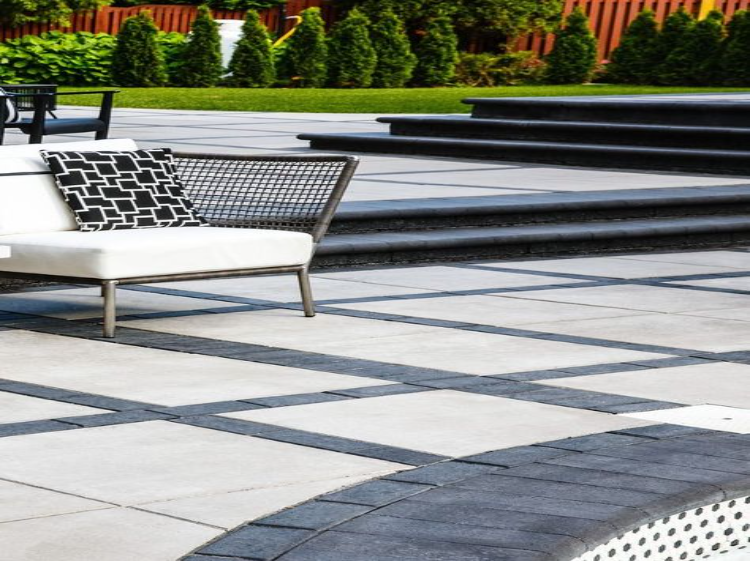 If you want to enhance the visual appeal of your stone patio, you can consider including complementary materials for accents and borders. For instance, you can use breaks or pavers in a contrasting color to create a border around the patio, eating a pop of visual interest.
Another option is to include decorative tiles or mosaics within the stone layout to introduce patterns or artistic elements. These additional materials can elevate the design of your patio and make it truly stand out.
5. Enhance the Ambiance with Fire Pits or Water Features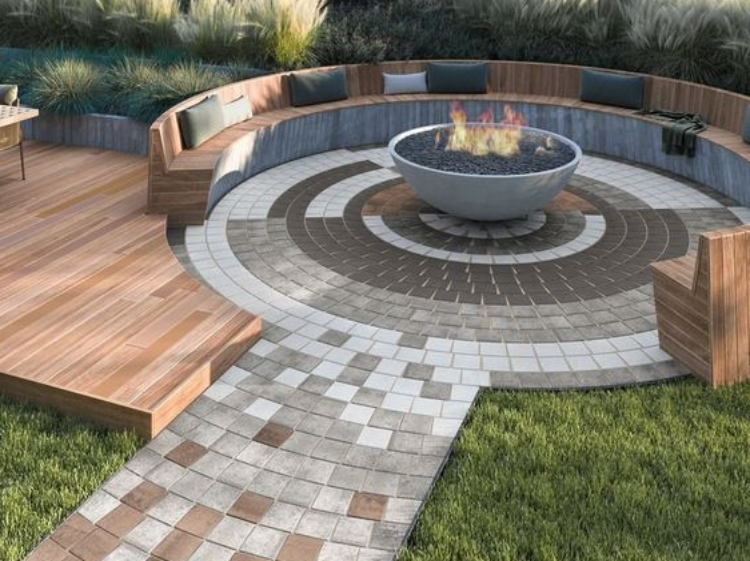 If you want to create a truly captivating outdoor space, you can consider adding special features like a fire pit or water feature to your stone patio design. A fire pit can serve as a focal point and provide warmth and coziness during cold evenings. Imagine gathering around the fire with friends, roasting marshmallows, and enjoying the serene atmosphere.
As an alternative, water features, such as small fountains or ponds, can soothe you on your patio. In your backyard, the peaceful sound of trickling water can create a haven of serenity.
Maintenance and Care for Your Stone Patios
Natural stone patios can last for decades if you take regular care and maintenance for these services. Let us see some ways to help you to take care of your stone patio and prevent avoidable damages.
1. Regular Cleaning and Debris Removal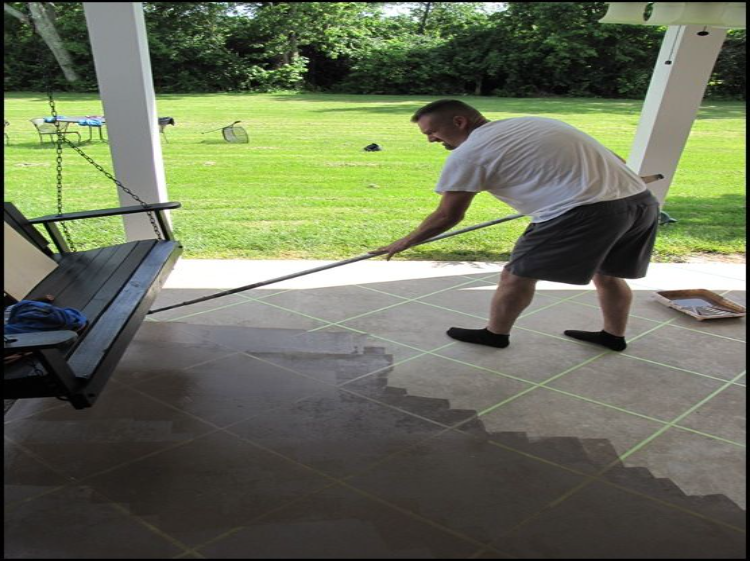 If you want to keep your stone patio looking its best, regular cleaning is essential. You must sweep away debris like leaves, twigs, and dirt to prevent them from accumulating and potentially causing damage to the stone surface. You can use a soft bristle broom or a leaf blower to remove the debris gently.
If you want to clean more thoroughly, you can rinse the patio with a garden hose or use a mild soap solution and a scrub brush to remove any stains or grime. You should remember to rinse off the soap residue and allow the patio to dry completely before using it.
2. Sealing and Protecting the Stones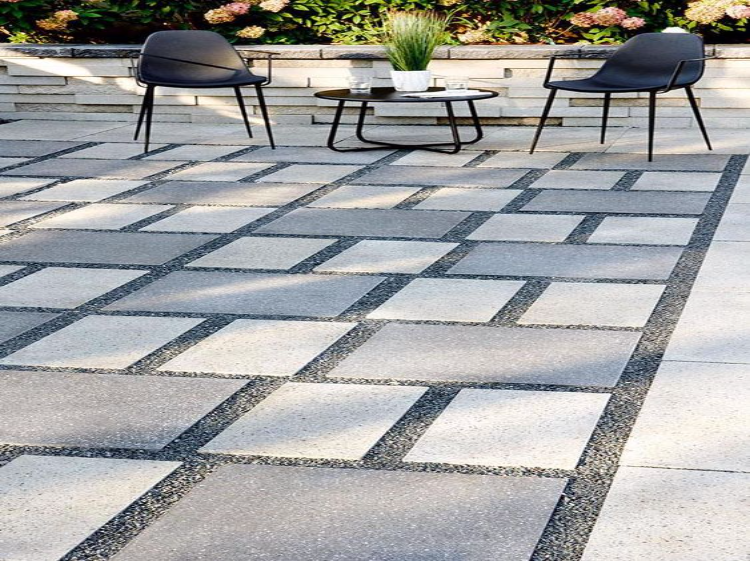 Ceiling your stone patio is an important step in maintaining its longevity and appearance. A high-quality stone sealer will help protect the stones from stains, moisture damage, and fading caused by prolonged exposure to the elements. You should ensure that the patio is clean and dry before applying a sealer. You must follow the instructions provided by the sealer manufacturer to apply the sealer to the stone surface properly.
3. Preventing Weed Growth and Controlling Vegetation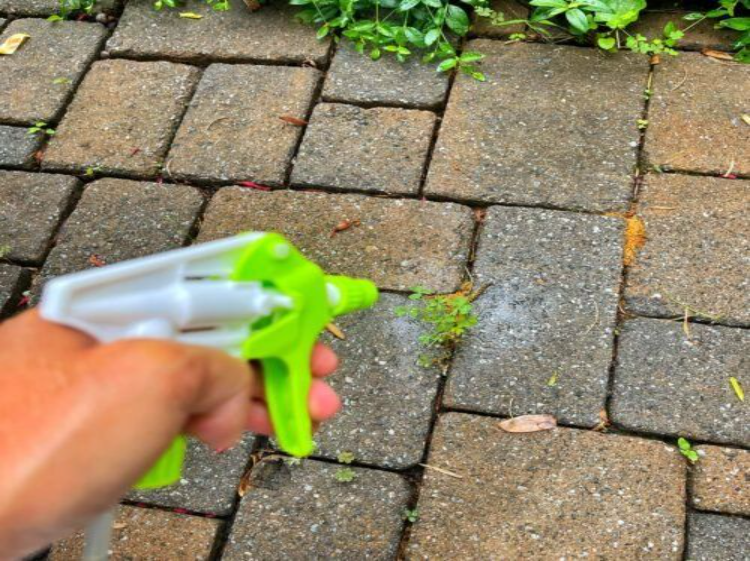 Weeds and unwanted vegetation can be tracked from the beauty of your stone patio. To prevent weed growth, you can consider installing a weed barrier beneath the stone surface during the patio construction. The barrier will help inhibit weed seeds from germinating and penetrating through the stones. Additionally, periodically inspect the patio for any signs of weeds that may appear. Regularly sweeping and cleaning the patio can also discourage weed growth by eliminating potential debris that can contribute to their growth.
4. Repairing Cracks or Damages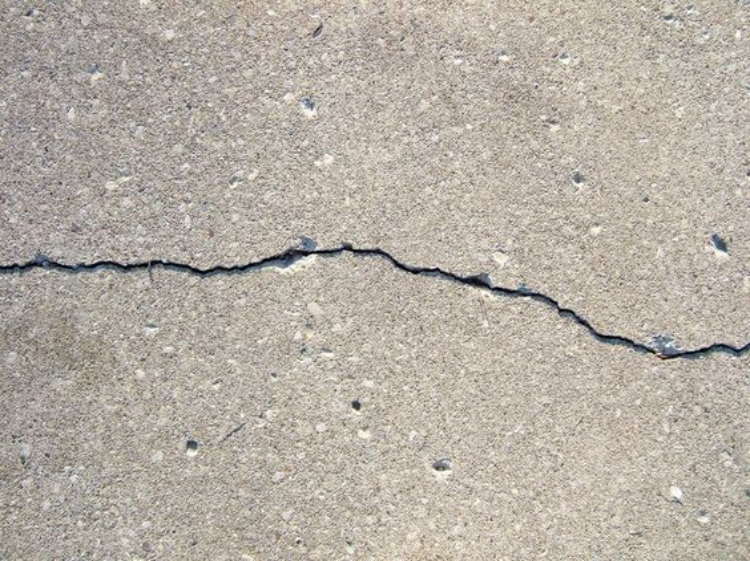 Over time, your stone patio may develop cracks or experience minor damage due to natural wear and tear or extreme weather conditions. If you promptly address these issues, then it can prevent your patios from worsening and ensure their longevity of it. If you notice any cracks or damages, consult a professional stonemason or contractor who specializes in patio repairs.
They will assess the extent of the damage and recommend appropriate repair techniques, such as feeling the cracks with stone-specific epoxy or replacing damaged stones.
5. Seasonal Preparations and Winter Maintenance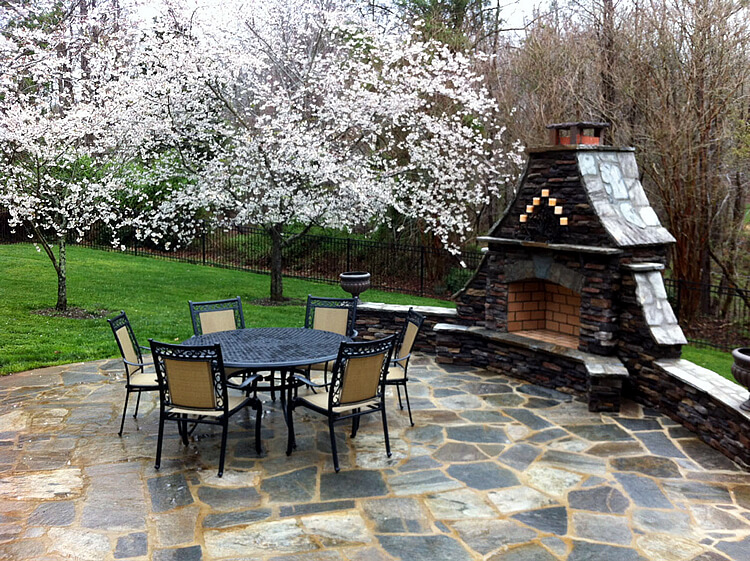 Before the arrival of winter, it's important to prepare your stone patio to withstand the colder months. You should remove any furniture or accessories from the patio and store them in a dry location to protect them from snow or moisture. If you live in an area with freezing temperatures, avoid using salt or chemical ice melters on your stone patio, as they can cause damage. Instead, use sand or non-salt alternatives for traction on icy surfaces.
Also, you should regularly check the patio during winter for any ice buildup and remove it to prevent slips and potential damage.
Conclusion
A stone patio can seriously level up your backyard game. It's all about that perfect combo of practicality and pure beauty. We've dived into twelve mind-blowing ideas that'll get your creative juices flowing and help you design an outdoor space that's straight-up jaw-dropping. If you're into that rustic charm, go for natural stone like flagstone. It blends in with nature like it was meant to be.
But hey, if you're all about that sleek and modern vibe, polished stones like granite or limestone are where it's at. They bring the fancy factor to your patio party. Oh, and guess what? Mixing different stones in crazy cool patterns and textures is a total game-changer.
And the best part is stone patios are like superheroes—they're durable and need next to no maintenance. They can handle all kinds of weather without giving you a headache. So get pumped, my friend, because your new stone patio is about to rock your world.
Get out there, soak up the natural beauty, and create memories that'll last a lifetime!