Looking for some interesting and creative ideas for garden edging? You are in the right place. A good garden demands neat edging. And to create such neat edging for your garden, you can adapt different methods and materials. Garden edging defines the spaces in your garden. There are no rules or restrictions when it comes to edging gardens.
As far as your idea to define and separate spaces in your garden fits, you can go with it. From simple bricks to custom-made rubber edging, there are plenty of ways to design garden edging.
The presence of weeds isn't a pleasant sight for a gardener. One of the best ways to keep the weeds away is by using garden edging. There are plenty of modern garden-edging ideas for you to explore. Picking up the right one will consume time and effort. To reduce that, we are here with a list of a few best garden edging ideas for you.
The enlisted ideas suit different varieties of gardens and budgets. Scroll down to learn about some creative and effective garden-edging ideas for your garden.
Best Modern Garden Edging Ideas to Elevate Your Modern Space
1. Metal Edging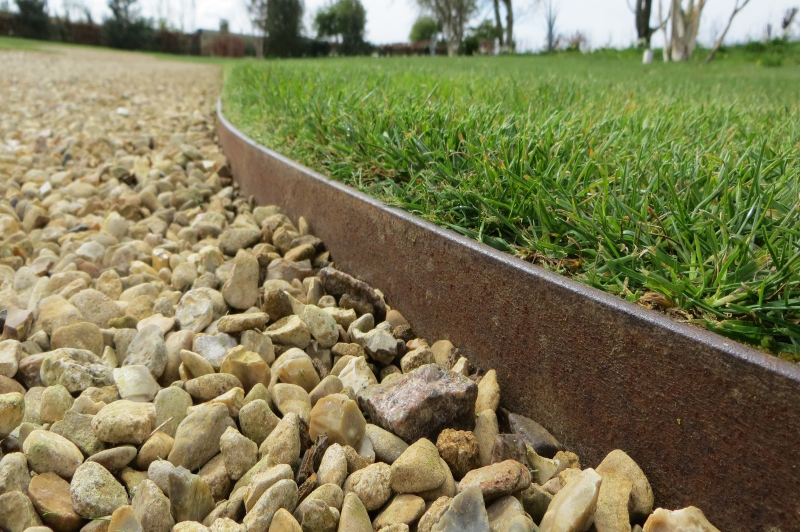 You might have seen gardens with grass that is cut in a short and neat manner. One of the best ways to get such a look for your garden is by installing Metal edges. Metal edges can help you shape the garden in the best possible way and are highly durable by nature. Using iron edges will let you sharply shape the garden as per your desire.
In case you are going with heavier metal edges, it is recommended to use gloves for self-protection while installing the edges. Wondering which metal suits the best for edging? We recommend you try Steel.
Due to its low corrosion rate and ability to withstand variable weather conditions, Steel can be a long-lasting edging material for your garden.
2. Bamboo Edging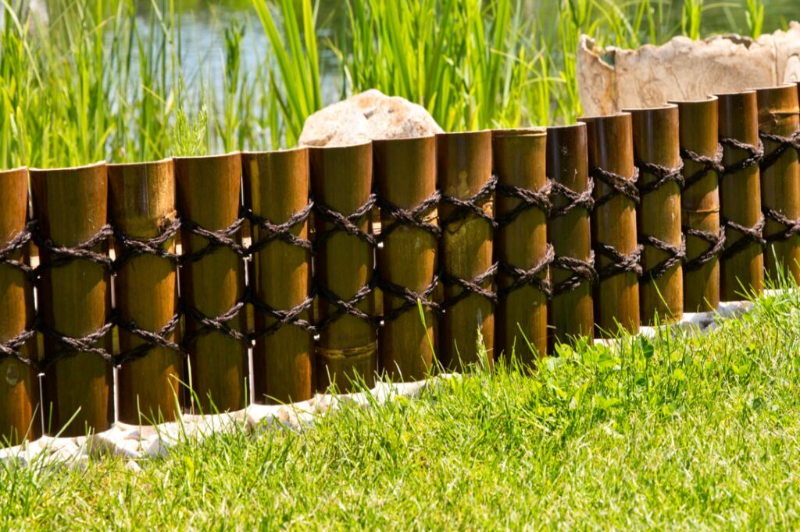 The best way to plan a graded edging is to make it blend with nature. One such modern garden edging idea is to use bamboo to edge your garden. This way, your garden will look well maintained and in shape in a very natural manner. There are two ways to choose the right bamboo edging for your garden.
Either you can prepare it yourself using bamboo, or you can buy it from a dealer. You can make use of appropriately cut bamboo and garden wire to make your own edging. If you want to make your fence look more colorful, then you can go with buying suitably designed bamboo from a gardener.
3. Garden Edging Using Pebbles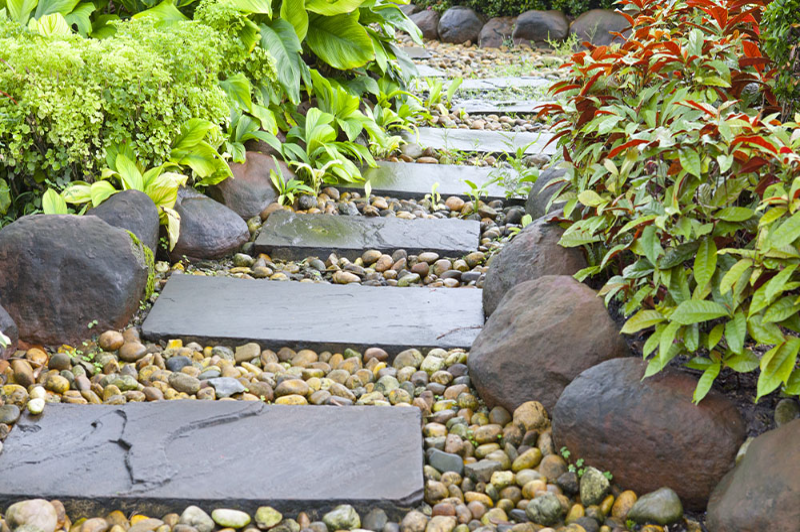 Another one of the modern garden edging ideas that you can try is to use pebbles for edging purposes. Utilizing naturally available resources is always a unique way to design your gardens. Pebbles are easily available in gardens or in stores. You can use them to create a boundary and stack them up as you wish to create a definite edge.
As pebbles are easily available and not so expensive, you can even try creative patterns with them while edging your garden to make the place look more attractive.
4. Use Gravel for Edging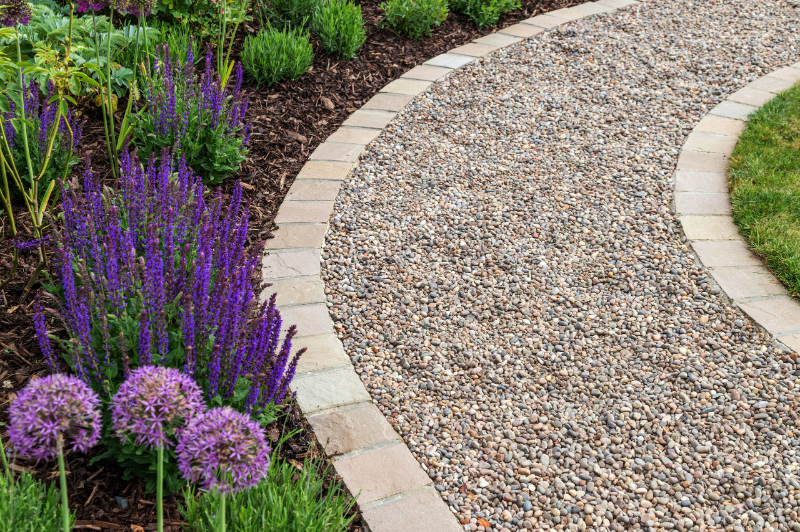 If you are looking for budget-friendly modern garden edging ideas, let us recommend the best one: use gravel. If your garden is not too large, you can create the perfect edging with the help of fine gravel.
When compared to most of the other edging ideas, gravel provides better drainage and aeration for a garden. It is because of all these reasons that gravel is used a lot in most gardens to prepare perfect edging.
5. Wooden Logs for Edging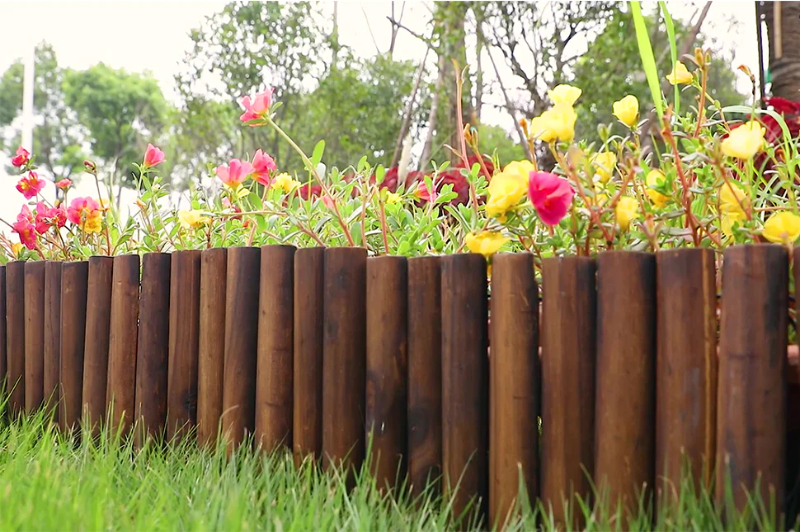 Minimalistic and modern garden edging ideas are always considered winners, and here is one for you. Try using wooden logs to prepare the edges of your garden. Small wooden logs act as simple yet great edging materials. You can choose whether to place the wooden logs horizontally or vertically, as per your wish.
The use of wooden logs like this will look like a natural, simple, and practical garden edging idea. To make the edging look more appealing, you can add gravel near the edging.
6. Bricks for Garden Edging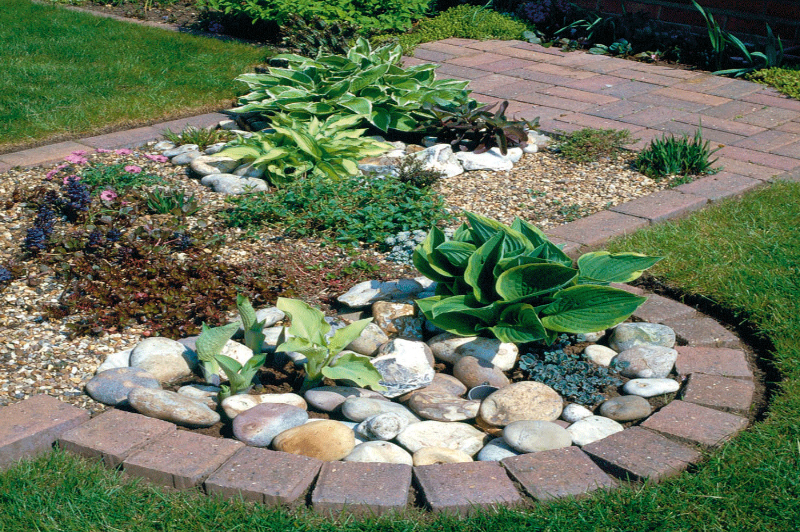 One of the most commonly seen modern garden edging ideas is to create edging using traditional bricks. You can get a contemporary and traditional look by using bricks to create edging. Bricks are naturally very resistant to weathering and are one of the most effective materials to consider for edging. They will make your edging look timeless.
How you place the bricks is completely your choice. The edging can look more stylish if you place it in a diagonal manner.
7. Boulders for Garden Edging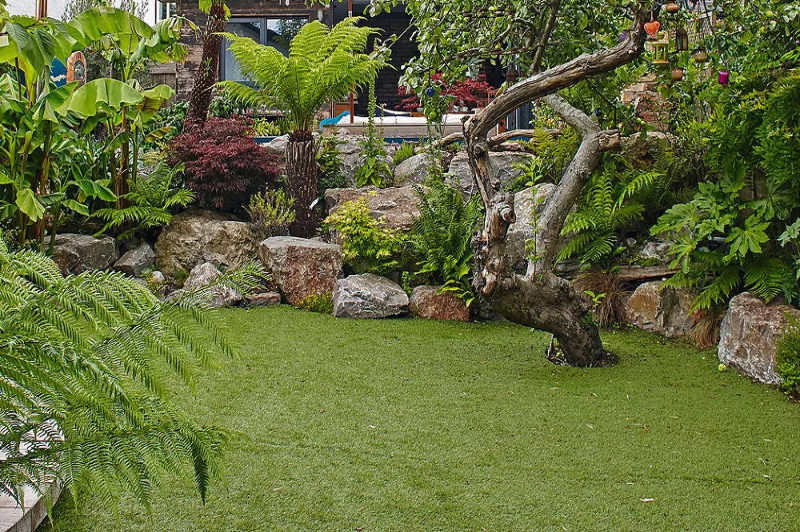 Make a bold statement by using boulders for garden edging. Large rocks can be used for garden landscaping for effective results. All you have to do is invest some time in finding the rocks and piling them up to create an edging. We recommend you try this idea for edging only if you already have boulders in your garden.
Otherwise, buying such rocks to create edging for your garden will be quite an expensive task.
8. Concrete Blocks for Garden Edging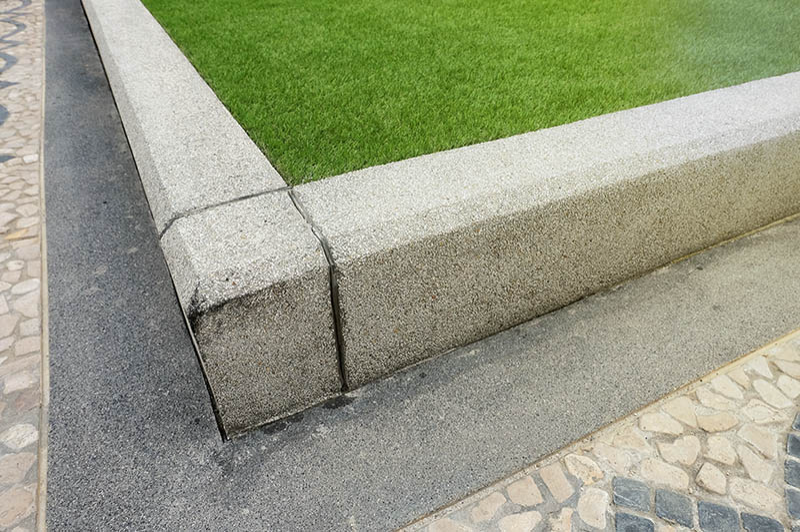 One of the best minimalist and modern garden edging ideas is to go with concrete corners. This will give an industrial look to your garden. You don't have to sit and think for hours to decide how it should look.
Concrete corners are simple and can be easily installed. If you are good with tools and handling such materials, you can easily construct appropriate concrete blocks using a mold and create the edging all by yourself.
9. Stepping Stones for Garden Edging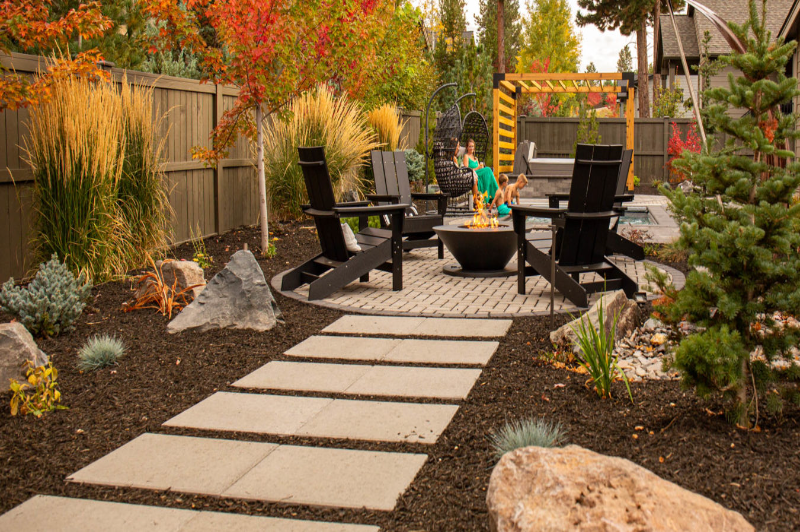 A creative way of installing edging for your garden is by using stepping stones. They will act as dividers between your lawns and also keep people from walking on them. One of the best ways to create such an edging is by using tree trunks. Slice tree trunks into small chunks, like a plate. These will be your stepping stones.
Create a path using pebbles or gravel and place these stepping stones. Such an attractive edging will be both effective and catchy at the same time.
10. Marble Curb for Garden Edging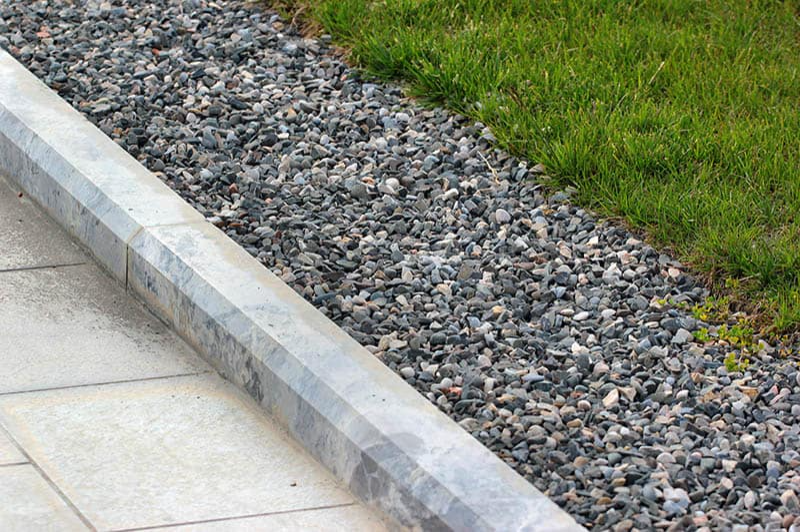 Shiny marble curbs are engineered stones that can make a great garden edging material. These stones are polished until they shine and come in different colors and patterns. With the help of a professional, you can create custom marble curbs for your garden.
Once you have created an edging using the curbs, you can try laying gravel or different varieties of stone to make it look outstanding.
11. Rubber for Garden Edging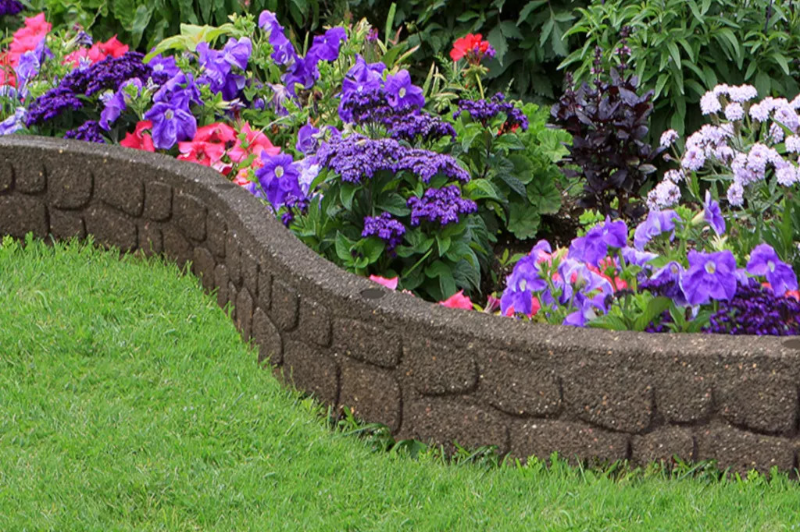 One of the most flexible materials you can consider for garden edging is rubber. Rubber edging for the garden is one of the most adaptable modern garden edging ideas. Rubber edging for gardens will be available in markets, and they come in variable shapes, sizes, and colors.
You can choose one in the shape of bricks or one that looks like a flat tile to suit your garden. As most of the edging available is made of recycled materials, you don't have to worry about causing harm to your garden.
12. Caged Rocks for Garden Edging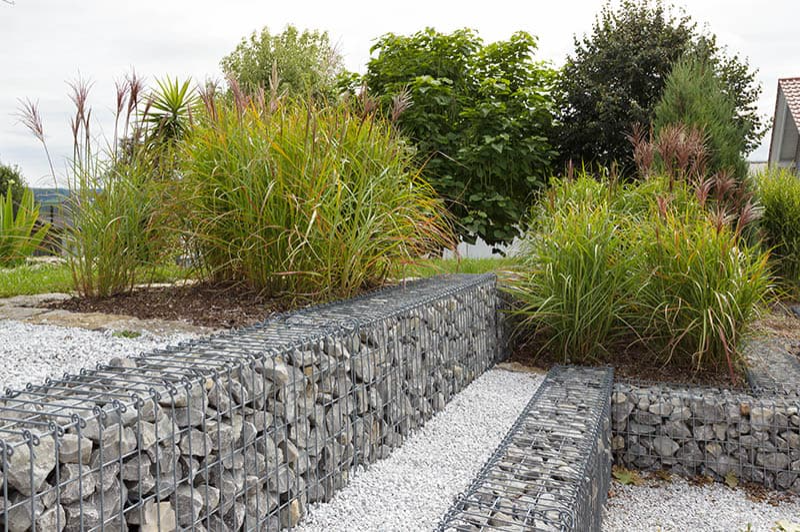 Let's explore one of the unique modern garden-edging ideas out there now: caged rocks. Sounds cool, right? You can use a wired cage to keep rocks inside and use them for edging your garden or even dividing the boundaries of the property.
Though this edging idea is definitely stylish and modern, it is not recommended for those on a budget. But rest assured, having such an edging will increase the value of the property along with giving it some rich, stunning looks.
13. Wooden Benches for Garden Edging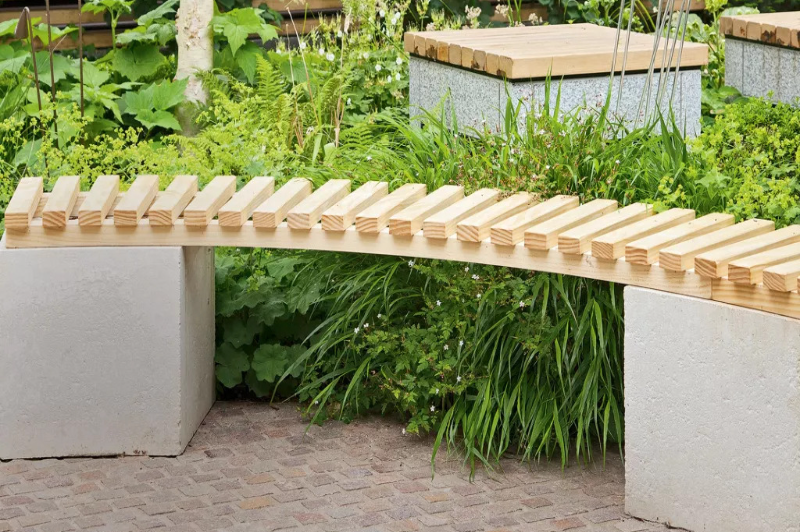 A contemporary way to create garden edging is to build a bench along the lawn simply. When such benches are installed in the same shape as your plants, they can look like an edge. They don't really stop the growth of plants but instead, let them grow underneath the bench if allowed.
Another perk of such a design is that people can sit on them and admire the garden's beauty up close.
14. Picket Fence for Garden Edging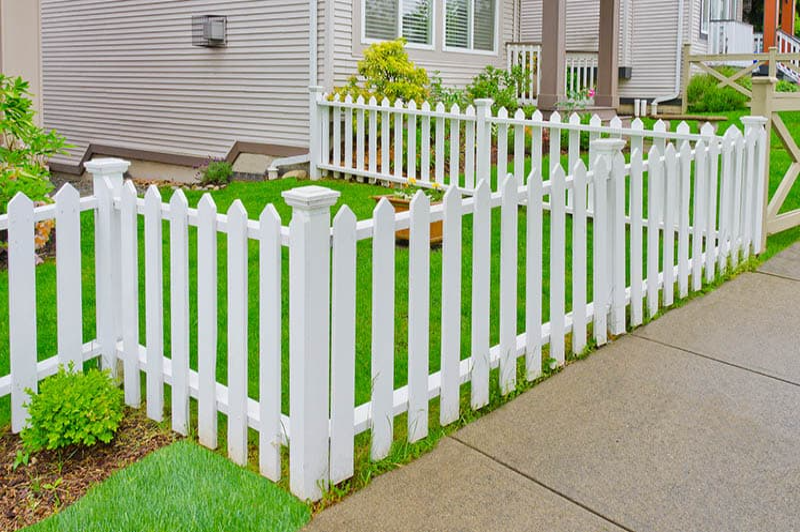 If you are looking for a classic way of edging your garden, picket fences should be considered. They give your garden a very contemporary look. Picket fences look very classy if they are painted white. Although installing picket fences for edging will give your garden a conservative look, it will also boast about a well-maintained property.
If you want a cost-effective way of having a classy picket fence, you can buy a normal one and then paint it white as per your wish before installing it.
15. Plant a Hedge for Garden Edging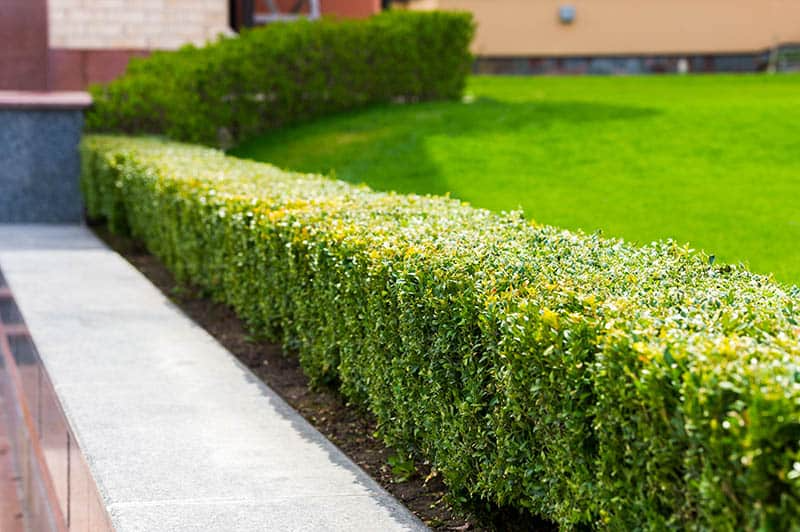 Wondering how to make the most of your gardening skills while preparing a garden edging? Here is a suggestion for you: Use manicured hedges to create edging for your garden. This will look like a pitch-perfect edging idea from a gardening point of view. A well-trimmed and shaped hedge can act as an effective edging for your garden and also be a part of it all by itself.
You don't have to worry if you can't do it yourself. You can always hire a skilled gardener to style the hedges for you.
16. Mini Fence for Garden Edging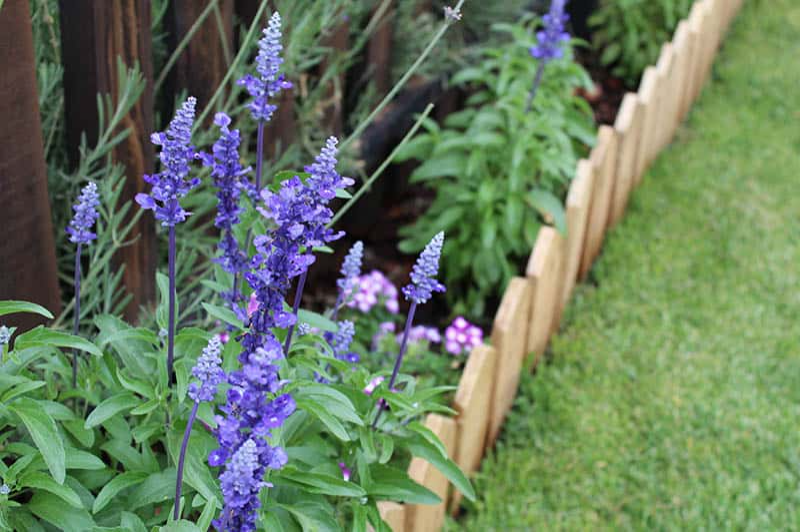 Using a mini fence to create a creative and cute edging for your garden can really elevate the garden's overall look. Such mini fences are easily available in stores.
Rather than simply placing them to style the edging, you can opt to create a mini flower bed using the fence. This will act as a beautiful separation between your garden and walkways.
17. Concrete Blocks for Garden Edging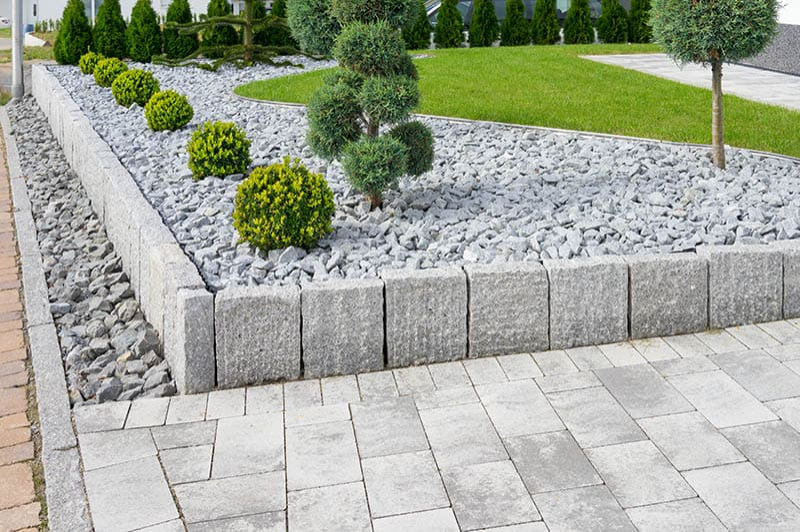 Small concrete blocks can be made to stand erect alongside the flowerbed to create effective garden edges. They are one of the most simple yet modern garden-edging ideas to implement. These modern blocks can be expensive due to their looks, but they can give your garden a stylish, modern, and contemporary look with their presence.
You can use such blocks to enclose pebbles or rocks to give a unique style to the edging for a better visual appearance.
18. Gravel Border for Garden Edging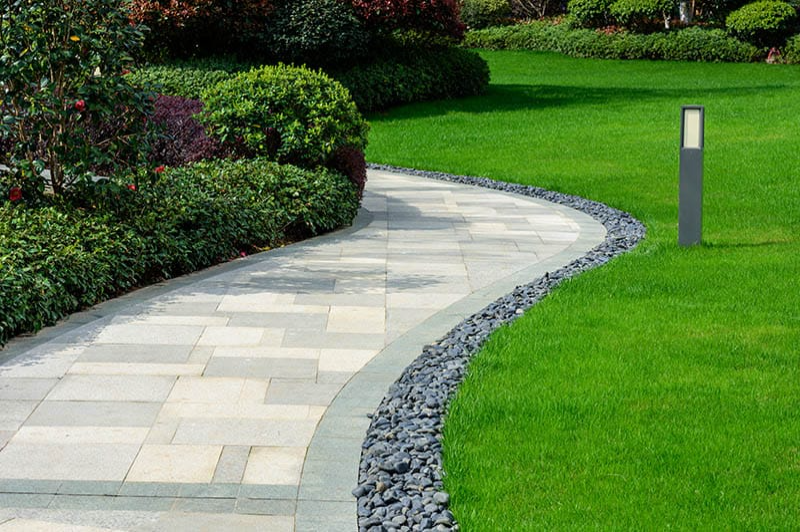 Here is a multi-purpose garden edging idea for you. Use gravel to divide your walkways and garden lawns. It can act as a beautiful edging design and, at the same time, keep people from stepping on the lawn.
Any gardener who has spent his time and effort creating a beautiful lawn can understand the pain of watching people walk on it. Such a design can effectively safeguard the lawn. All you have to do is dig a small trench between the lawn and walkway and fill it with grey gravel.
19. Flowers as Garden Edging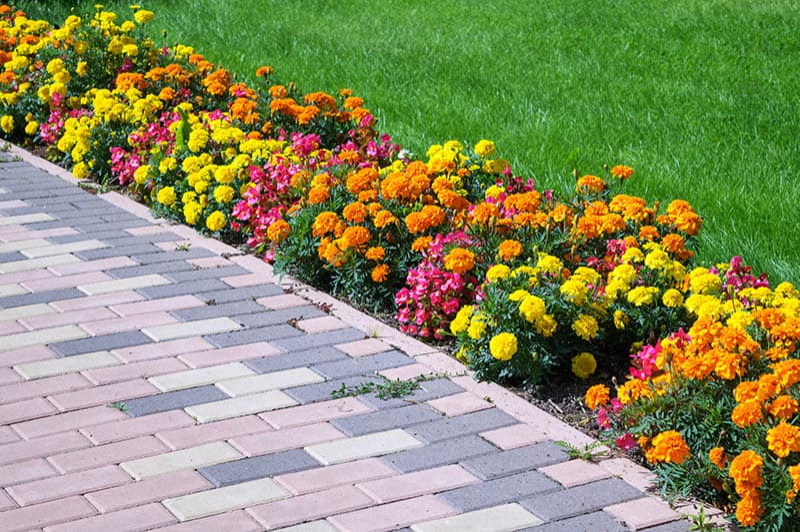 For those who liked the idea of using manicured hedges for garden edging, you might love this one too. Plant short-flowering plants along your garden bed, and in no time, you will have a natural garden edging!
Make sure to use an abundance of flowering plants for this. This is one of the smartest, most attractive, and most modern garden-edging ideas for any garden. Colorful flowers along the flowerbed can easily make your garden look really attractive.
20. Plant Pots for Garden Edging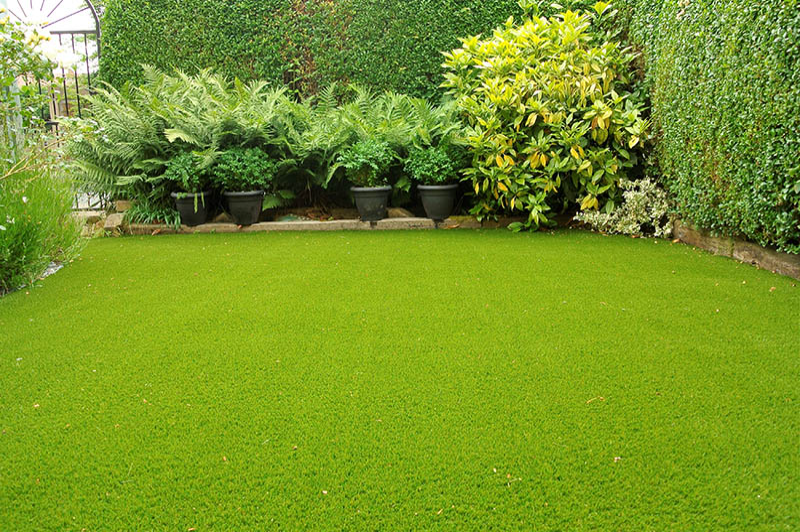 A simple yet effective way to create garden edging is to place planted pots alongside the lawn or the garden bed. This way, it will look more blended into the property and can also effectively act as a divider between the garden and the walkways. Rather than using huge, delicate pots to create edging, small, strong ones may do a better job.
You can choose the right plants to suit your garden to plant in such pots and place them around the perimeter.
21. Use an Electric Lawn Edger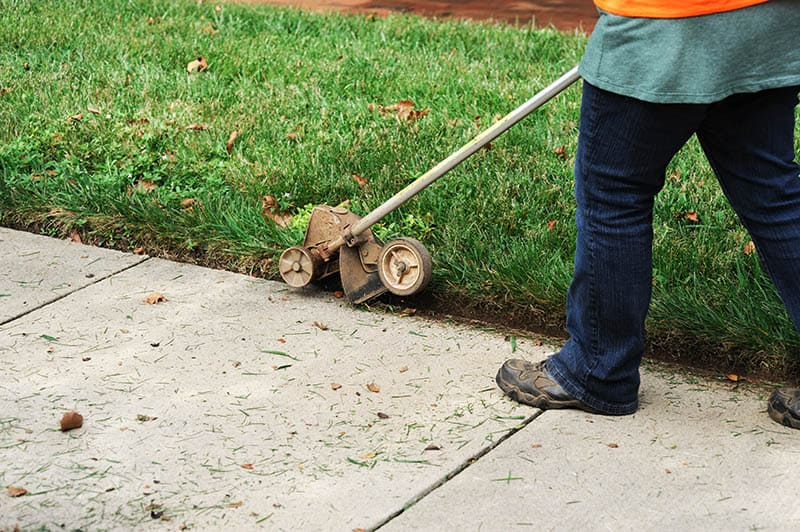 Let us wrap up this list of modern garden edging ideas with a simple and effective method of edging. You don't always have to have properties to make an effective garden edging. An electric lawn edger will be something to consider. All you have to do is tidy up the boundaries of the lawn.
All you have to do is spend some time cutting out the unwanted parts. Such edgers are comparatively cheap and are really easy to operate. You can get a picture-perfect edged lawn in no time by using them!
Why is Garden Edging Necessary?
Garden edging is something most people consider boring and even unnecessary. The importance of garden edging is often misunderstood. A good garden must have well-maintained garden edging. It is these edgings that define multiple spaces in a garden and also keep the garden looking neat and tidy.
Let us go through the multiple benefits of garden edging to get to know the practice better.
1. Preserves Soil Structure
Soil structure is an important aspect of gardens. It is the structure of the soil that keeps the plant healthy. If the soil structure is compromised, the plant roots might become weak and unstable, thereby not being able to receive the necessary nutrients for growth.
Proper garden edging will ensure the maintenance of good soil structure in the garden. The use of metal structures to create garden edges will prevent soil erosion and also keep the soil structure intact.
2. Better Maintenance of The Garden
With proper and defined garden edging, your garden won't look messy. Once you have established a way to edge your garden, all you have to do is maintain it. If you have to seek professional help for garden edging and landscaping, it will cost a fortune, for sure. Instead, adopt a well-suited garden edging idea and stay with it to make your garden look properly maintained.
3. Improves Drainage
A water-clogged garden is no good. Soggy and wet soil will only do harm to your plants, and this will happen if you don't have proper drainage in the garden. Controlling the water flow and availability is very important for a healthy garden. Proper garden edging will facilitate good drainage in a garden. You can make sure all the excess water is let out properly and is not clogged elsewhere to harm the plants.
4. Prevents Compaction
Compaction of soil is a phenomenon where chunks of soil stay sturdy together without allowing an even distribution of nutrients to the plants. This will harm the growth of plants and make the garden infertile. Compaction also accelerates soil erosion. To avoid compaction, garden edging is a good practice.
Make sure each individual plant has a properly divided space so that the soil won't stay clumped together. The right method of garden edging will easily prevent compaction in your garden.
Wrapping Up
There are plenty of modern garden ideas for you to explore. Each garden demands a specific style and vibe. Some demand a classy and traditional look, while others demand a stylish and contemporary look.
We hope the list prepared for us was helpful in choosing just the right idea of garden edging that suits your property. Regular maintenance and upgrading of the design will keep your garden active and attractive.
To make the whole process of edging your garden more interesting and productive, you can try collecting recycled products to make custom edging designs for your garden.