Are you having heated debates within your home regarding which countertop should be used in the kitchen and bathrooms? We are not surprised because it is often a headache to choose between quartz and granite countertops for homes, as both are presented as the best by the manufacturers.
We are here to help you with a detailed comparison and review of quartz and granite countertops. We will be comparing their costs, too, to help you decide which fits your budget and is really worth your pennies.
Scroll down to read!
Quartz vs. Granite Countertops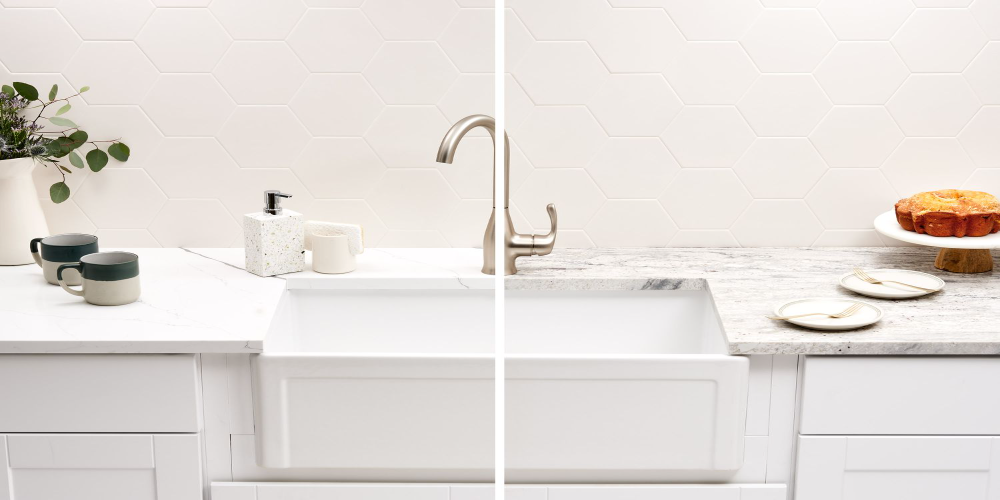 Completely natural, hard and sturdy, straight from the earth—these definitions are heard for both quartz and granite. Hence, choosing between these two materials for countertops is a topic that often ignites debate. To know which suits your home better, it is essential to first know about their respective compositions.
Granite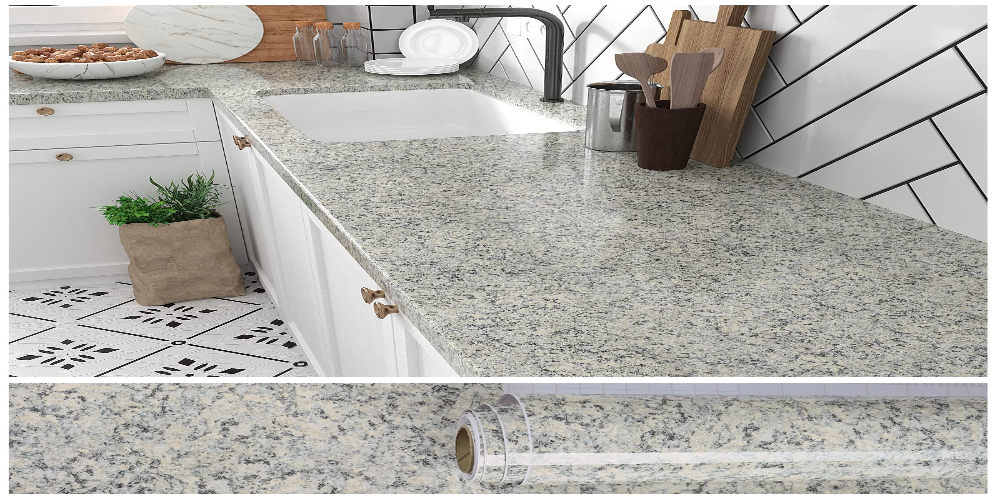 Granite is a naturally occurring stone and is known for its hardness. Granites are formed under the surface of the earth due to the crystallization of magma. Granite is mined from the ground and has quarries across the globe. They are later cut into the required sizes, followed by polishing. Granites often appear in lighter shades and will have evident grains on their surface.
Depending on the minerals they contain, the color of the stones can vary. Granite stones are seen in white, red, pink, and grey shades naturally. Their prices will vary depending on your requirements.
Below are a few best manufacturers of Granite:
Quartz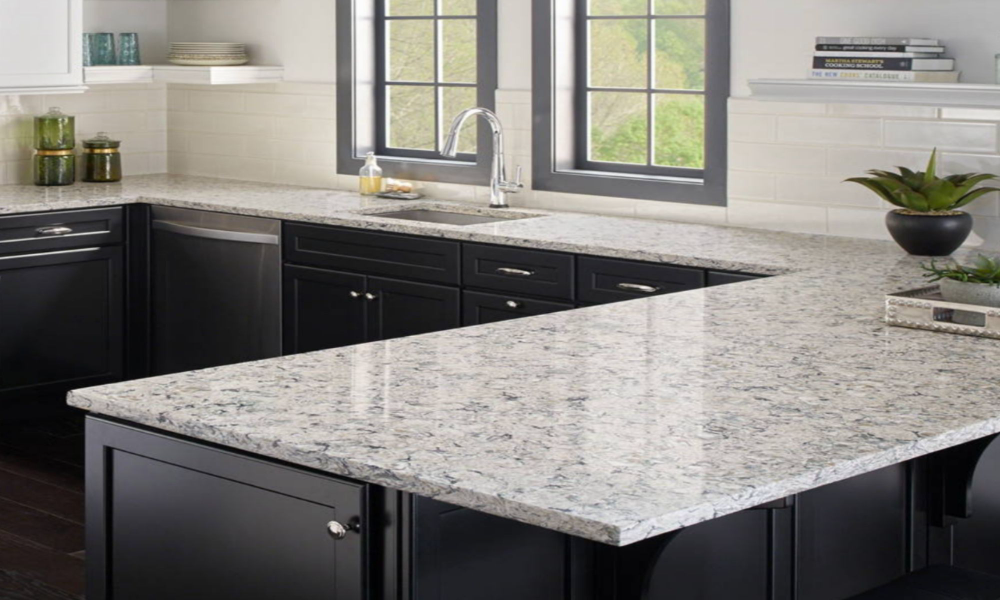 One of the biggest perks of quartz is that it is available in numerous colors, shapes, and sizes. But they can't be defined as slabs derived directly from quarried stones.
Quartz countertops are basically made of the byproducts of stones and other minerals. One of the first reasons for many to consider quartz for countertops is because it is one of the hardest minerals on earth and can be a strong material for use in homes.
Now that the basic details of both granites and quarries are explained, let us dig deeper to find answers to the bigger question: which one is better? Various criteria should be discussed to know how both of these materials differ from each other in different aspects.
Below are the few best manufacturers of Quartz:
The Appearance of Granite and Quartz Countertops
One of the main criteria discussed while on the 'quartz vs. granite countertops' debate is their appearance. If you are looking for a unique countertop, we will recommend granite. This is because granite appears quite unique when compared to engineered stones like quartz.
Their patterns and looks will be slightly different. Compared to granite, quartz is an engineered product and hence looks more uniform in nature. Having said that, quartz is available in a variety of colors and compositions that look nothing like granite stones.
You literally have limitless selections when it comes to granite countertops with different looks. As granite is formed naturally due to the cooling and solidifying of molten materials, its appearance will never be uniform. Quartz gained global popularity because of its ease of customization.
Hence, to find the right style of countertop in granite, you might want to do quite a bit of searching. But in the case of quartz, you can just customize the countertop to match your requirements.
Pricing of Granite and Quartz Countertops
Here are the main criteria that might have been bothering you for quite some time: If you are on a budget, let us break it to you: Choose neither. Granite and quartz are both premium-level stones for countertops and hence costly. We can't easily say one is cheaper than the other. The range of pricing can widely vary as per your requirements.
From the nature of the stone chosen to the edging styles preferred, the price tag on the granite stone will keep changing. One of the tips we can recommend to cut some costs is to buy the stone from a wholesaler.
Just like granite, the quality of the quartz stone and your edging preference will reflect on the total cost of the installment. As quartz countertops are generally very heavy, it is recommended to seek a professional's help to install them in your home for proper placement.
Are Granite and Quartz Eco Friendly?
This is one of the main criteria you should consider before choosing any material for your home. Choosing eco-friendly materials is always preferred. In this topic of quartz vs. granite countertops, this is a factor that you must analyze.
As you have already learned, the granite stones used for making countertops are completely mined from the quarries. Hence, they are made of 100% naturally occurring materials.
On the contrary, quartz is an engineered material and is made according to your needs. Its chemical composition and colors vary depending on where and how you choose them.
Generally, quartz leans more towards the eco-friendly department than granite. Earlier in 2008, there was quite a fuss in the media about radon emissions from granite.
But further studies proved that there is very little to zero radon emission from granite countertops, which makes them safe for installation.
Maintenance of Granite and Quartz
Yearly resealing of granite countertops is recommended for the best longevity. Your granite countertops can have stains due to spills. These can be easily removed with soap or water.
It is to be noted that the presence of acids and oils can create strong stains on your granite countertops, and it is recommended to be cautious with such materials.
Periodic sealing is recommended for granite, as it is a porous stone. As granites are naturally occurring and have no uniformity, they might be prone to cracking too. When it comes to heat resistance, granite has the upper hand over quartz.
Quartz countertops will generally be harder than granite. This ensures better durability compared to granite countertops. Sealing is not required for quartz, as it is not porous in nature like granite and is actually considered indestructible.
The main disadvantage of quartz is that you should never put hot substances on it, as excess heat might cause cracks on its surface.
User Reviews of Quartz vs. Granite Countertops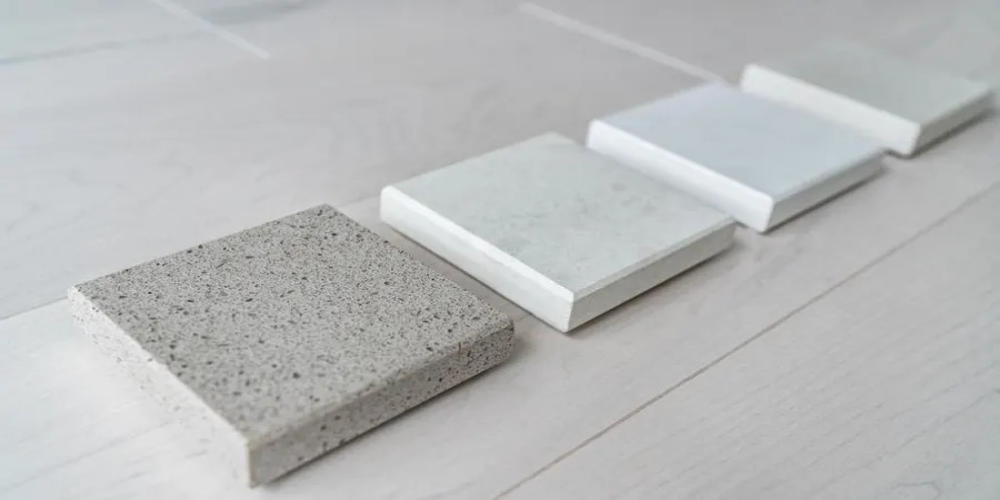 After considering all the above attributes of both granite and quartz countertops, if you are still unsure of which way to lean more, let us help you with some real-time reviews. Below are findings generated from homeowners who have used both granite and quartz countertops to give you clear insight for decision-making.
Why Granite Countertops?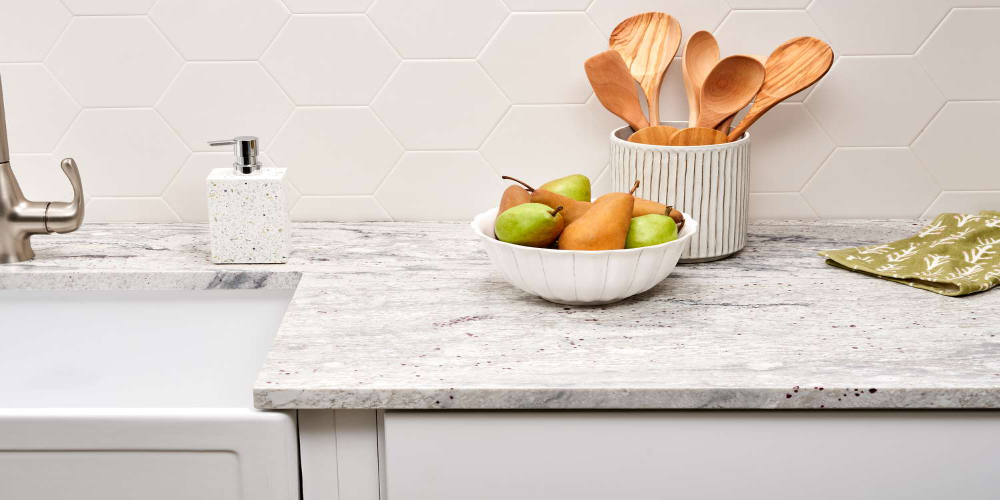 "The more real it is, the more effective it will be," says every person who has chosen granite for their countertop. If you are a person who goes with wooden flooring over engineered flooring or chooses woolen rugs over nylon materials, granite might be an apt choice for you! When it comes to materials such as limestone, slate, and granite, the reason for choosing any of these materials above others will be their 'being natural" attribute.
When you hear a manufacturer say that quartz is natural because it is made of 95% crushed quartz, don't fall for it. Imagine someone saying concrete is a natural substance because all its elements are found in nature. Same story!
What makes people pick granite is mostly its unique look. As they occur under completely natural circumstances, their looks will be quite unpredictable. So whatever you see is real when it comes to granite countertops.
In comparison, quartz countertops are engineered to fit your tastes. The bottom line is that if you are a fan of natural elements in your home, you are good to go with granite countertops.
Why Quartz Countertops?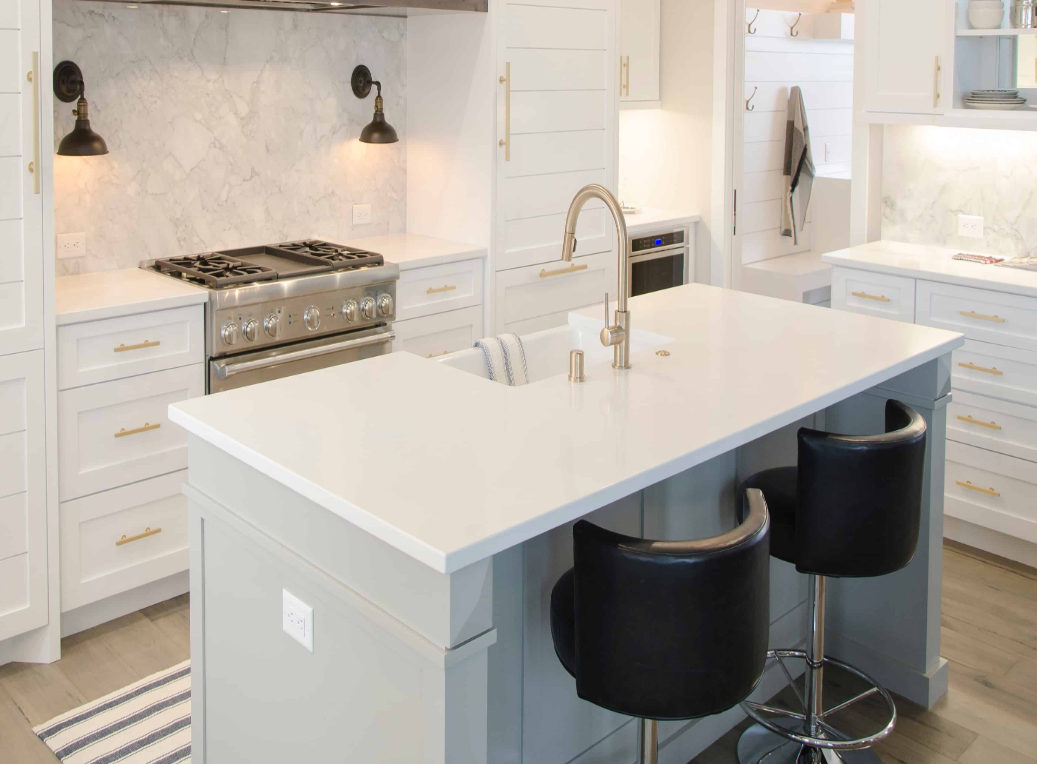 Are you someone who has some serious safety concerns and germs? Quartz might be the right choice for you, as it is totally germ-free. As quartz countertops are made of engineered materials, they are not porous like granite and are not prone to germs.
As there is no chance for a liquid to stay on the surface of the quartz, and it is easier to clean, it can be an optimal choice for those who put cleanliness and minimal handling as their top priorities.
But it should be noted that you should make sure that the sealant on your quartz countertop is tight because if it is damaged, it might not stay absolutely germ-free anymore.
People who have elderly parents and young children in their homes usually tend to choose quartz countertops, as they are easier to maintain than granite. Certain quality manufacturers like Siletone and Hanstone deliver germ-fighter-coated quartz countertops that ensure double hygiene.
Also, you can easily decide how your kitchen or bathroom countertop should look when choosing quartz, as it can be customized, unlike granite. In short, if you are looking for a countertop material that is easy to handle, customizable, and safer, then quartz countertops are your ultimate pick.
Conclusion
After a detailed analysis, it is evident that quartz countertops have more benefits compared to granite. However, the metrics related to installing a quartz countertop will vary depending on your requirements and customizations.
We can't totally push granite aside, as it, too, has the upper hand when considering metrics like heat resistance when compared to quarts.
People who are into natural substances for refurbishing or building their homes tend to choose granite over quartz. It is rather safe to say that your choice purely depends on the style and requirements you prefer for your home.
We hope this detailed review of both materials has helped you find a definite answer to the whole quarts vs. granite countertop situation!
Frequently Asked Questions
How Will Quartz and Granite Countertops Affect the Real Estate Value of a Home?
Both quartz and granite materials used in a building can add great real estate value to the property. Potential buyers will easily be impressed by the presence of premium materials in your home. Those who give value to ceramic or laminated countertops can expect a considerable increase in value for their home due to both granite and quartz countertops.
Which One is More DIY-Friendly, Granite or Quartz?
The short and easy answer to this question is that neither of them is actually DIY-suitable. Unless you are using the granite and quartz countertops in a very small space, they are not recommended for do-it-yourself handling. Both quartz and granite are very heavy materials. To give you a clearer picture, a 36-inch countertop can weigh around 100 pounds.
Which is Better, Natural Stone or Engineered Stone?
The answer to this question varies from person to person. If you are more into authentic stone countertops, we will recommend granite countertops for you, which are made of natural stones. If you want a more personalized, easy-to-maintain stone for your countertops, then quarts will be recommended for your home.