Are you bored of monotonous wall designs? Do you want to add some fresh and unique touches to elevate the beauty of your place? The geometric accent wood design on the wall is one of the best ways to try it.
A geometric wood accent wall is a bold and fresh design attraction with its amazing pattern, color, and style. Just with your creativity and innovative imagination, you can easily transform the whole vibe of your place.
Not just the wood design on the wall visually attracts, but, fortunately, it can easily be customized according to your liking. Let us walk through the simple procedure of creating an accent wall along with some inspiring designs.
We are excited, are you??
What is a Geometric Wall?
A lot is happening in the home décor interior industry. Many trends move in and out within no time. However, the one trend that has maintained its popularity and craze amongst people is the geometric wall.
But what is a geometric wall?
A geometric wall is a wall that features different stripes, cuts, shapes, etc., in different appealing shapes. Generally, these shapes are arranged in unique angles to give them a creative and innovative touch. Thanks to the various ideas of wood design on the wall, you can easily transform your place with an evergreen attraction.
The one thing to remember with a geometric wall is to focus on precision and detailing without any compromises. If any detailing goes wrong, it can ruin the overall vibe of the place. Therefore, it is often suggested to pre-plan the whole design of the geometric wall to avoid any hassles.
Fortunately, it is quite simple to design a geometric wall at your place with some simple yet effective steps. Care enough to explore?
Designing the Geometric Wood Design on Wall
Before moving any further to create an appealing and eye-catchy wood design on the wall, you need a little preparation. It is better to plan out the whole design in advance to avoid any hassle or confusion later.
These are the simple steps you should always remember for a flawless transition of your home walls:
1. Measure the Area
Ensure to measure the whole area accurately. You should closely confirm the length and the height of the wall to run through your imaginative thoughts for its design.
2. Get a Rough Sketch
To get a fascinating wood design on wall, it is always better to prepare a rough sketch beforehand. Work on all the major dimensions and design patterns to ace the desired design without messing it up. Avoid using tape for design visualization on the wall; rather, use a detailed printout or minimal wall markers.
3. Do the Required Cuttings
Use the required materials and make all the necessary cuttings. Make sure to stick to the measured dimensions to stay as authentic as possible to your dream design. If required, you can also take professional help for cutting and placing the materials together.
4. Prepare the Wall
This step is really important to get that perfect finishing for your design; thus, it should not be avoided. Before you start assembling your design, it is highly recommended to prepare your wall.
Ensure to remove all the light switches, covers, or wall art or décor. You can also work on the color of the wall to match the required charm of the geometric wood design on the wall. Make sure that everything is according to your imagination for the geometric wood accent wall; make no compromises.
5. Assemble the Wall Design
Once you have prepared the accent wall, it is time to assemble the wall design. Start by assembling piece by piece to avoid any complications. Stick to the decided pattern design to ace the design accurately.
Quick Tip: you can opt for professional help from an experienced expert to get the desired seamless finish. You can also make the necessary changes in the dimensions as you proceed with assembling the wall design.
6. Work on the Finishing Touches
As the final step to getting your dream wood design on the wall, never overlook working on the finishing touches. Fill the nail holes, fill the gaps, paint the wall, trim the edges, etc. You can work with your gut feeling and instincts to further enhance the beauty and charm of the wood design.
Quick Tip: you can also add your favorite accessories, wall decor, and furniture pieces to make the wall visually attractive.
By carefully following these steps, you will surely be thrilled with the final result of the accent wall. The accent wall will certainly be the most appealing, stunning, and happening focal point of your place.
Besides this simple procedure to create the wood design on the wall, have a look at some of the inspiring design ideas.
DIY Geometric Wood Design on Wall
1. Slatted Wood Design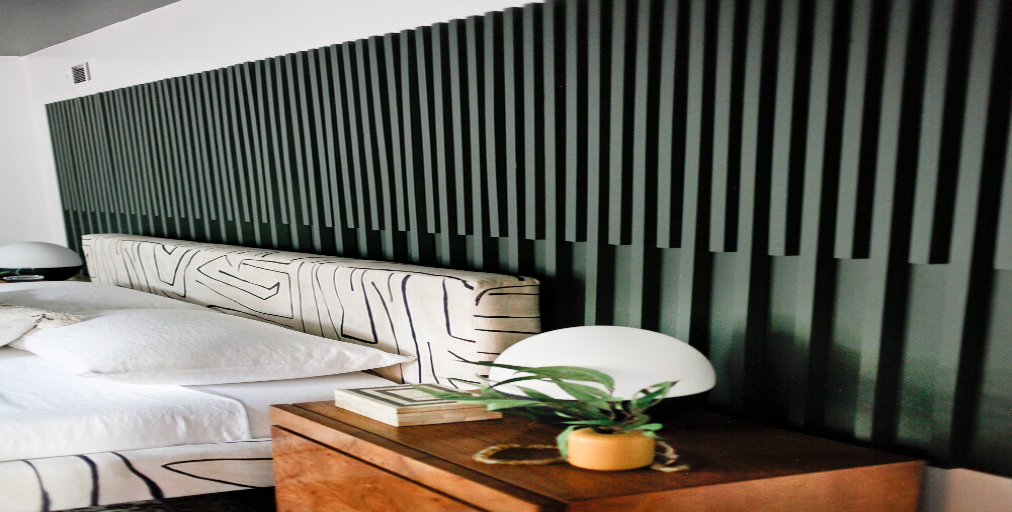 This first wood design on the wall is winning many hearts with its eye-catchy and unique pattern. It is certainly the perfect example of combining innovative imagination and thoughts to impress everyone around. The simplicity of the design makes it stand distinguished with an irresistible charm.
With this accent wall in your place, you are all sorted with your interior needs to make a lasting impression. It further makes an interesting base for wall décor, paintings, and art pieces. You can finalize any of your favorite colors for the wall that perfectly matches the overall vibe of the place.
2. Diagonal Lines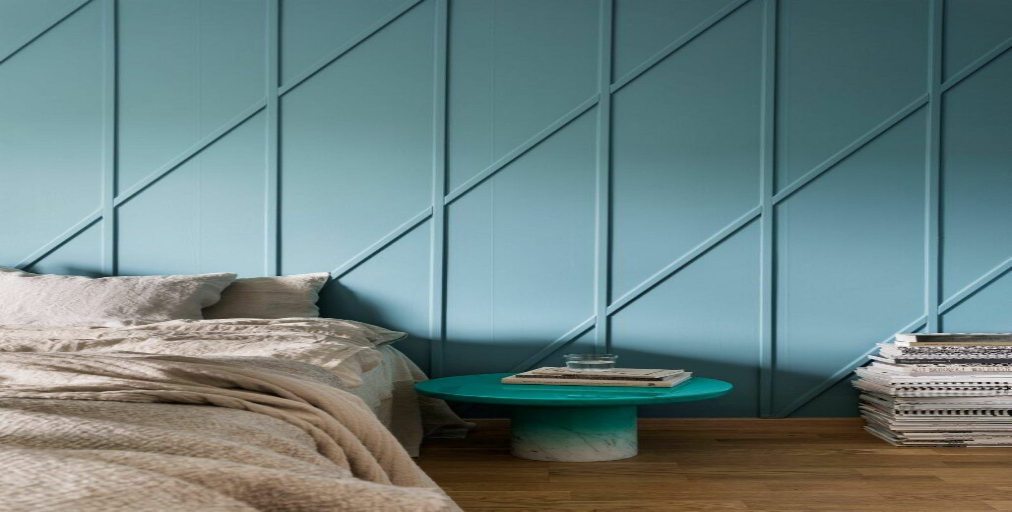 Another promising and impressive design for the accent wall is the combination of diagonal lines. The best advantage of this design pattern is it comes with the maximum flexibility to use your creativity. You can combine the diagonal lines as and how you like them to create your own pattern style.
This is also one of the simplest and most inexpensive wall design patterns, ideal for beginners. All you need is a basic understanding of the pattern design to reach the desired result without any hassles. Generally, a darker color wall would make the best choice to picture this wall-style pattern.
3. Hexagon Wood Wall Design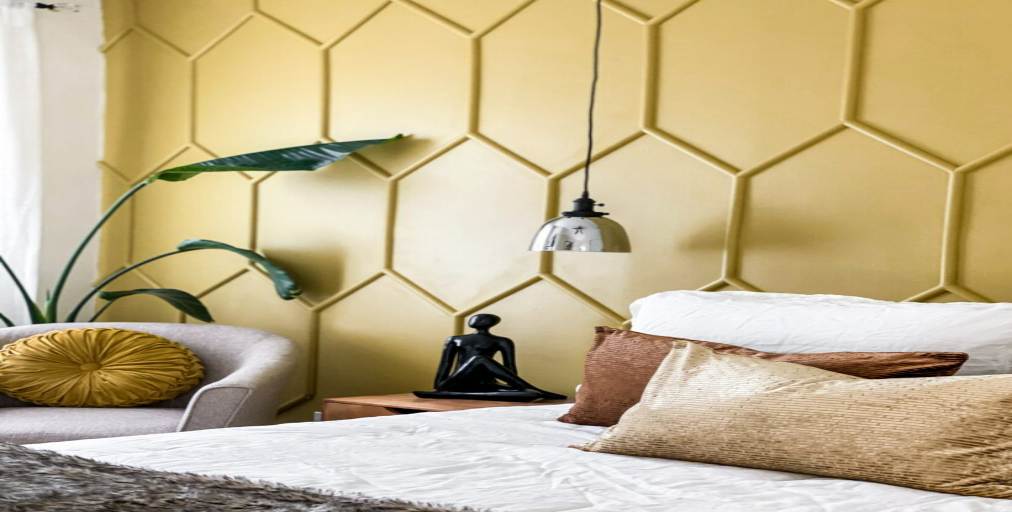 If you are more into shapes and want to create an amazing wood design on the wall, the hexagon pattern would be a perfect choice. Honestly, the hexagon wall design never goes out of fashion, as all love this simple design. Moreover, its simplicity yet detailed precision are enough to style your wall.
The hexagon pattern style ensures the perfect balance between the modern and the traditional style. Thus, it makes an ideal fit for modern home décor while preserving its connection with traditional roots. This pattern has all the qualities to make an amazing accent wall décor style.
4. The Line Play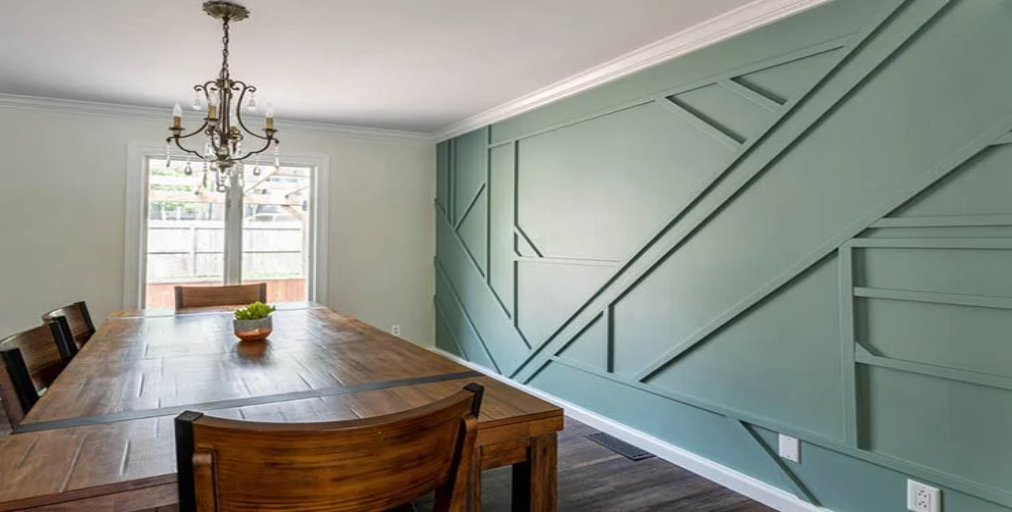 How about the idea of creatively combining different horizontal and vertical lines to create a masterpiece accent wall? Yes, it is absolutely true to have an impressive accent wall with just lines. All it takes is the neat and clean finish of the combined lines.
This cohesive design can easily be customized in terms of its pattern, color, and style. If you have enough space, you can play with the line pattern with what attracts you the most.
Quick Tip: ensure that all lines are beautifully arranged and presented. Moreover, be attentive towards the finishing of the lines to avoid creating a mess with the design.
5. Board and Batten Accent Wall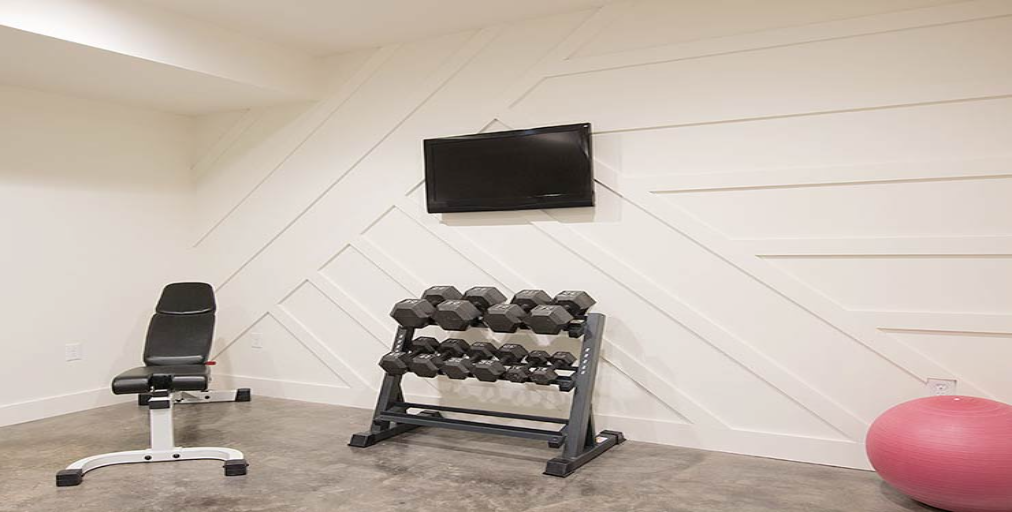 The board and batten accent wood design on the wall is one of those few designs that is loved by everyone. Even if you are trying the geometric wall design for the first time or have the expertise, you cannot overlook this design pattern. It can easily be done within no time without any professional help.
It is simple, beautiful, and authentic to give it a miss. If you want to catch everyone's attention to your accent wall instantly, try this wall design pattern, you will not regret your decision. This design pattern further elevates the charm of your place with its royal appearance, especially in any neutral color.
6. Repeating Triangle Accent Wall Design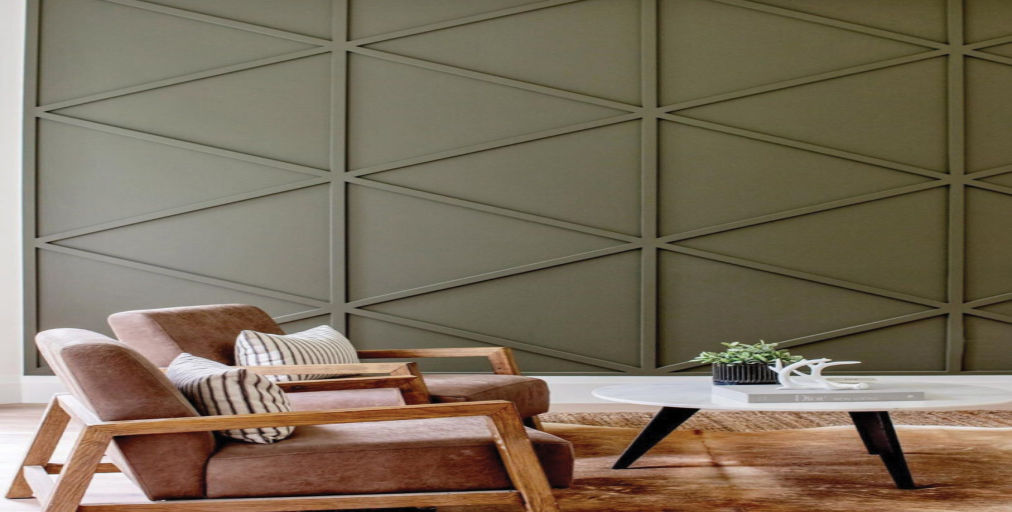 If you don't want to go with the hexagon-shaped accent wall design, you can also try repeating the triangle wall design. The design is minimalistic, with every inch designed to impress and grab attention. It offers a wide canvas to showcase your imaginative skills and creative thoughts to give the wall a distinct appearance.
You can try this extremely simple wall design, even on small walls, to make them attractive. Moreover, this design also makes the room look more spacious and royal without any complications. It is that one particular design that will stay for the maximum time without losing its charm.
7. Offset Lattice Accent Wall Design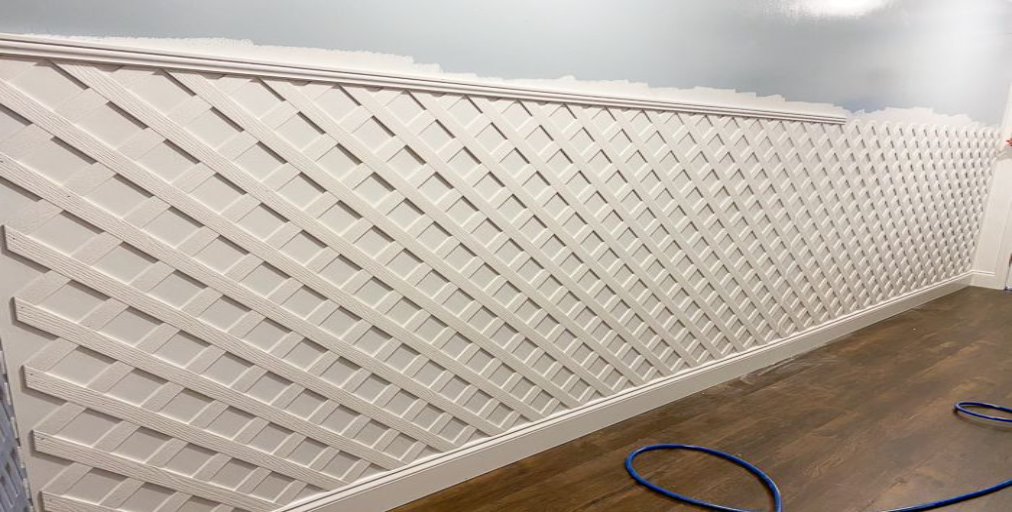 Do you not want to get into too much hassle yet want an attractive accent wall design? It is not as difficult as you may think; thus, it can be tried by anyone and everyone. Fortunately, it is possible to create an amazing and impressive accent wall design with just a basic design idea.
This is one of the simplest, quickest, yet most elegant wall design patterns to try. Be it your living room, bedroom, or any other room, this accent wall design pattern will look excellent everywhere. Moreover, you need minimal resources, time, and effort to get this wood design on wall at your place.
8. Abstract Angles Accent Wall Design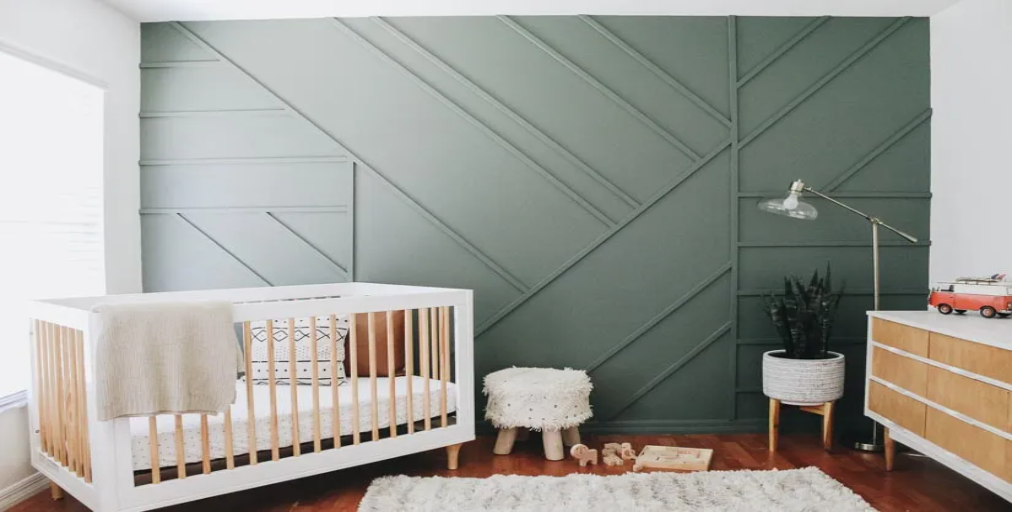 The accent wall design ideas aren't always about using horizontal and vertical lines. Rather, you can create the most amazing and magnificent accent wall design using a combination of lines and circles. After all, it is always an impressive idea to use different patterns together for a masterpiece.
You can decide the positioning of different patterns using abstract angles, which surely will be impressive. The abstract angle accent wall design will get you all the compliments without getting into complications or hassles.
Quick Tip: it is suggested to have minimal accessories with the abstract angle wall design to enjoy the undivided attention of your guests and visitors.
9. Rectangular Grid Accent Wall Design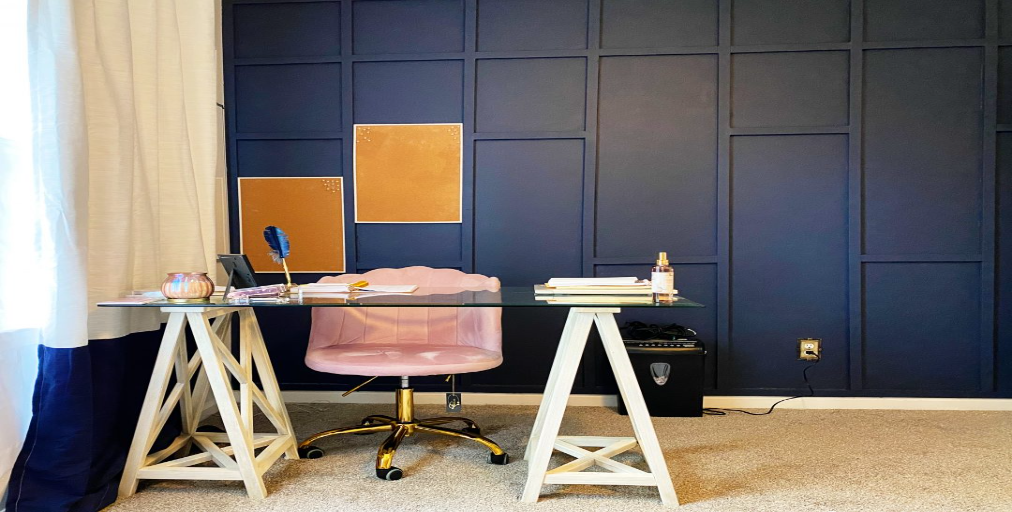 It is always a better idea to keep the accent wall design simple and minimalistic. What can be better than trying the rectangular grid wood design on the wall for your room? The grid design makes your wall look more subtle, beautiful, and elegant in every possible room.
If you have limited wall space for the design, this wall design is strongly recommended. It simply makes the wall look much more spacious, even with the simple arrangements of accessories and wall décor items. It is also suggested to choose this wall design with solid colors to create a masterpiece accent wall to wow everyone around.
10. Pencil Stripes Accent Wall Design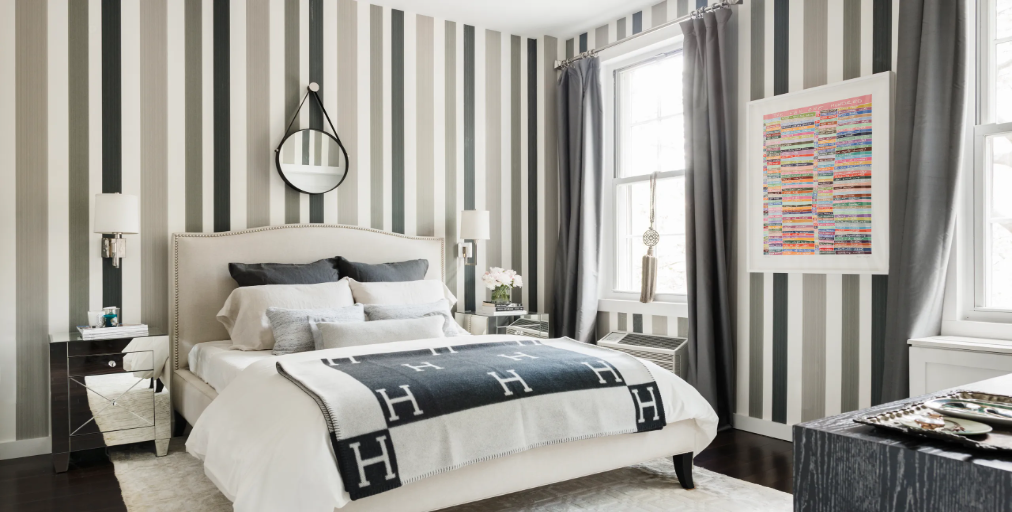 The accent wall design is mainly all about the well-planned use of stripes. Amidst the various obvious and common stripes ideas, it is the pencil stripes idea that stands out. Using pencil stripes on your accent wall is completely simple, subtle, charming, and a pretty idea not to miss.
This amazing geometric accent wall design is usually the preferred choice of beginners. This will cost very minimal of your time, money, and effort to give the satisfaction of an impressive accent wall. Be it anywhere, your accent wall with pencil stripes will surely be the focal point of your place to win hearts instantly.
Geometric Millwork Accent Wall Design
Who can avoid mentioning the geometric millwork accent wood design on the wall in the list of the best wall design ideas? Irrespective of the place, your liking, or preference, the millwork wall design has always been the most favorite. The attention to detail in this wall design is truly impressive in all ways.
You are likely to make a charming lasting impression by having a solid color accent wall with millwork. Add on some neutral color accessories like flowers, lamps, or wall décor to complete the look. However, it is suggested to keep the arrangements minimal to divert all attention to the detailed geometric millwork wall design.
12. Reverse Board and Batten Accent Wall Design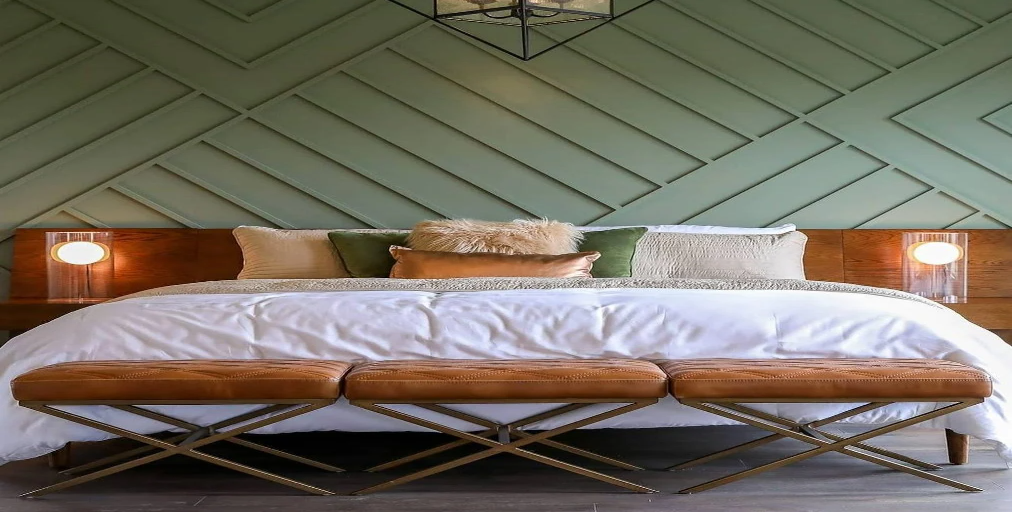 Last but not least, the reverse board and batten wall design is an evergreen charming and eye-catchy design idea. Thanks to its unique pattern and arrangement, the reverse board and batten design have always been a sensation. Try this geometric accent wall design in a neutral shade to highlight all its beautiful curves and detailing.
You can play around with colors using the surrounding accessories and room stuff. However, ensure to maintain a balance with the colors to strike a charming attraction to win every possible heart.
Turn your otherwise boring wall into something so interesting that it becomes an inspiration for others to try the wood wall designs.
Final Thoughts
These geometric wood designs on wall ideas can give you a dreamy accent wall to fall in love with. These geometric ideas are easy to adapt to fit in any space while maintaining their functionalities. Take a step ahead to try these inspiring designs on your accent wall now!
For more imaginative and creative wood design on wall ideas, you can write to us in the comment section. We are always available with our assistance for your needs and requirements.
Frequently Asked Questions
Can DIY Wood Designs Be Done without Professional Help?
If you are a beginner, you can create a unique and appealing wood design on the wall with your imagination. You just need to be clear with the essential procedure and the necessary precautions to proceed.
What is the Rule for Accent Walls?
If you are planning to decorate an accent wall, you should stick to the 60-30-10 rule. According to the experts, your room should have 60% of the dominant color, 30% of the secondary color, and 10% of the accent color.
What Are the Best Types of Wood for Accent Walls?
To ace the wood design on a wall, make no compromises to choose the best type of wood. The best choices would be – the thin wood veneers or MDF. These woods are neither too heavy nor protruding in the room; thus, they assure the best results.
Can You Have 2 Accent Walls?
According to all the interior experts, it is better to have just 1 accent wall. Having more than 1 accent wall will affect the whole vibe of the room, making it just a collage of colors diluting its beauty and attraction.
Should the Accent Wall Be Darker or Lighter?
Well, the accent wall can either be lighter or darker in color shade according to your preference. However, be sure that it should be the focal point to attract the undivided attention of everyone.