Sherwin Williams Peppercorn is a popular grey paint color, but is it grey enough for your walls? If you are looking for a dark grey color tone for your wall, it is one of the best options to consider. When it comes to selecting paint colors for your place, it is not just about randomly picking one up. There is a lot more science involved in the process of choosing the right paint for your walls.
If you are reworking your home's interiors or are in search of a darker paint option for walls, peppercorn could be just the right option for you. It is the versatile nature of the paint that makes it more popular among designers. The grey shade of Peppercorn is very deep and promises a rich and timeless look for your walls.
In this comprehensive review of Sherwin Williams Peppercorn, we are exploring everything there is to know about the paint and its applications.
Sherwin Williams Peppercorn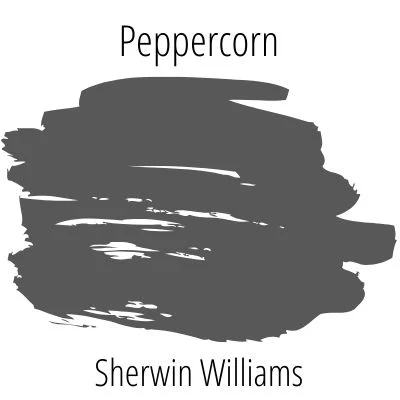 Sherwin Williams Peppercorn SW 7674 is one of the most popular shades of grey used among homeowners. Mostly seen in luxury residential areas and custom-designed houses, this paint color promises to give the walls a vibrant and rich look. Even though this shade might look darker, it is defined more as a cooler shade. Sherwin Williams Peppercorn can provide you with the best results in brighter and lighter hues alike.
In short, we won't think twice about recommending Peppercorn by Sherwin Williams if you are looking for a cool yet versatile paint that can go very well on both interior and exterior spaces.
There is no simple way to define one color when it comes to home decor. Each color might have multiple undertones. And grey is often considered an office color. Sherwin Williams was hell-bent on breaking that stereotypical opinion on grey as they launched Peppercorn. They established that Grey could be interesting.
In fact, combining multiple shades of grey in one room can make the entire view extremely unique and stylish!
The Colour of Sherwin Williams Peppercorn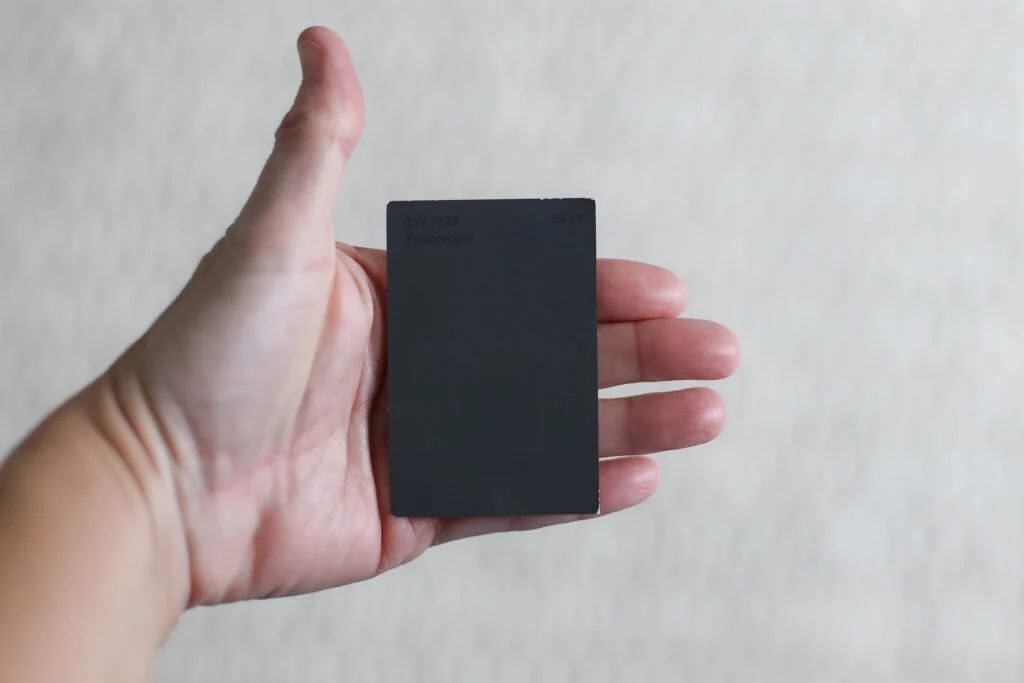 What is Sherwin Williams Peppercorn's color? Grey? It is not that easy, though. Yes, it looks grey. There are people around the globe who define Sherwin Williams Peppercorn as light brown and cappuccino too! The official comment from the manufacturer is that the paint is light grey.
A good number of professional designers consider this paint a true grey color. This is because, unlike most of the other grey shades, peppercorn doesn't tend to show characteristics of a sharp baby blue or light grey shade.
Sometimes it is also defined as a charcoal color. But peppercorn is definitely not charcoal, as it is not too dark and shady.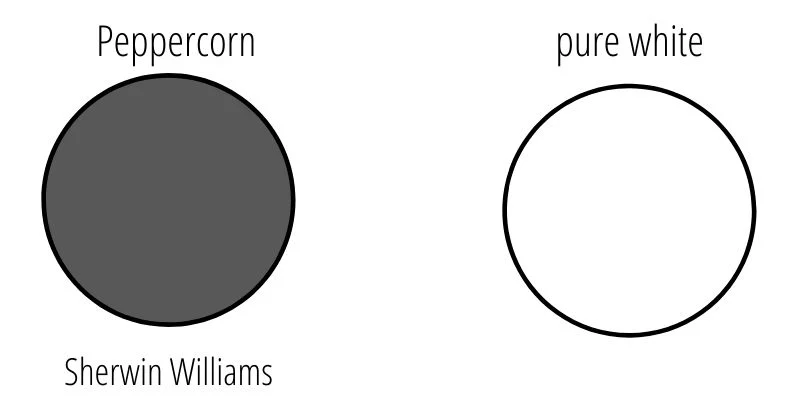 The LRV value of SW peppercorn is exactly 10. It is important to know the LRV values of paint colors before choosing one. LRV stands for light reflection value. Colors with lesser LRV values tend to have lighter shades, while those with more LRV will have darker shades. The LRV values are usually measured on a scale of 1 to 100.
Sometimes, due to the way a room is lit, Sherwin Williams Peppercorn may show characteristics of light blue or purple color. But it is safe to say that when you go with SW Peppercorn, you get exactly what you choose. You won't be caught off guard later in the day by an oddly colored wall.
Undertones of SW Peppercorn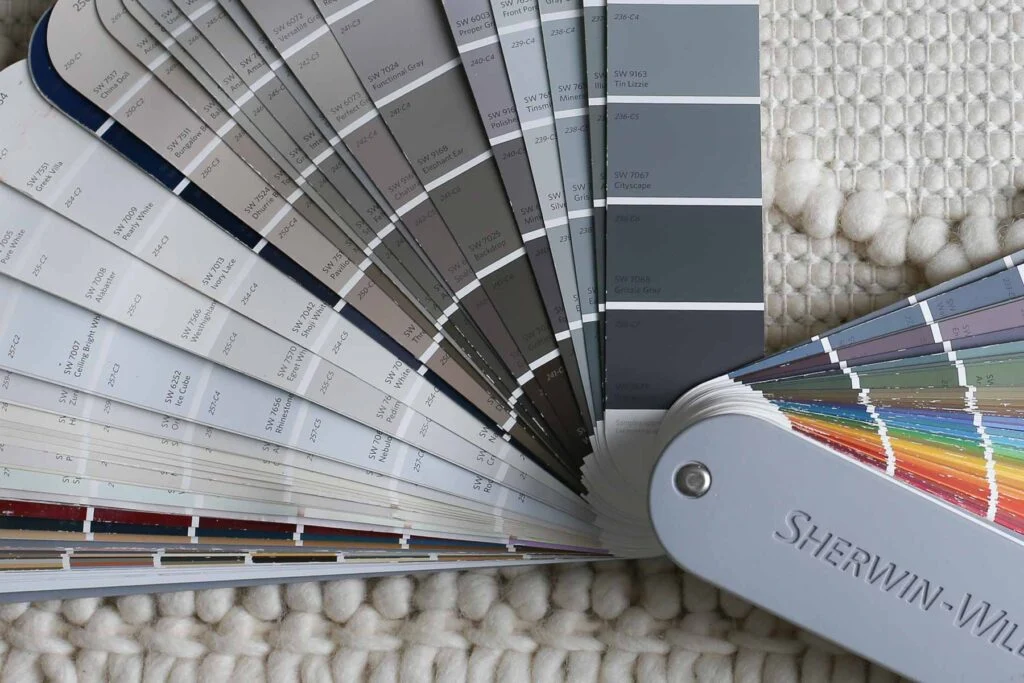 As already mentioned, Sherwin Williams Peppercorn is all about being grey. As the paint color originates from a darker color family and has grey undertones, it will look really attractive alongside lighter colors. To give you an exact definition, peppercorn can be considered a milky, light grey color.
Argos and Grey Matters are the next set of colors when it comes to Peppercorn's undertones. These 2 colors appear warmer and are very similar to the simple grey shade.
Citiscape and Grizzle Grey are the next in line. Unlike Argos and Grey Matters, these two shades appear darker. If you are looking to give your place a monochromatic touch, all you have to do is combine these two shades. It is after these shades that peppercorn is placed.
Hence, it is easier to assume that peppercorn is the darkest when compared to its other undertones.
Usage of Sherwin Williams Peppercorn
Peppercorn is not suggested for those who are looking for a rugged, uneven presentation on walls. Instead, the paint acts more as a flawless and elegant shade on your walls. If you are looking for a popular choice of grey shade for your walls, cabinets, doors, exteriors, bathroom vanity, and more, nothing can better suit your needs than SW Peppercorn.
While going through multiple reviews of this paint color, we happened to see a few people define Sherwin-Williams Peppercorn as a boring color. But this opinion is soon going to change, as this shade could have had such an effect on people only at first glance and under poor lighting.
One of the best perks of SW peppercorn is its versatility. You can use this paint for modern and traditional architecture alike and get the best results.
As far as grey is concerned, they go really well with a lot of shades that, too, have different undertones. Designers define Sherwin Williams Peppercorn as soft, rich, elegant, and pure. It is always recommended not to experiment too wildly with this color, as it might result in dull, muted walls.
No matter what the surface is and calm, light shade can bring the best out of Peppercorn.
Peppercorn vs. Other Shades of Grey: An Analysis
From charcoal to soft grey shades, the choices in grey shades of paint are multiple. Hence, it is natural if you find yourself stumbling while picking the right choice for the walls.
It might be overwhelming to choose and wonder whether Peppercorn is the right one for your home or whether you should go with a different paint. The best way to overcome this confusion is to compare Peppercorns with other similar colors.
Scroll down to see how SW Peppercorn stands out from other shades of grey.
Sherwin Williams Peppercorn Vs. Iron Ore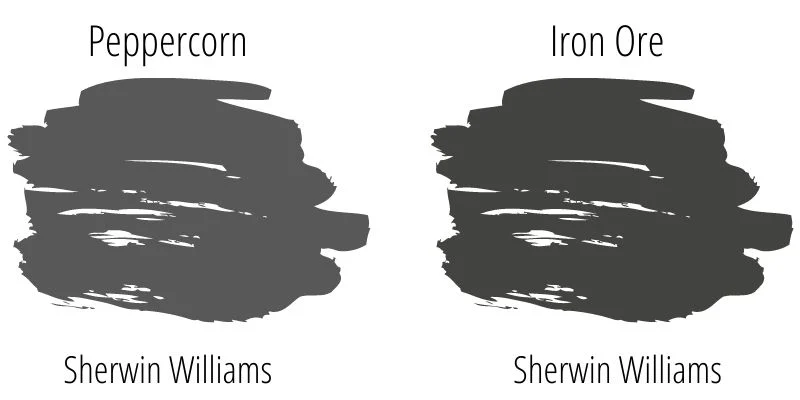 With an LRV value of 6, Sherwin Williams Iron Ore appears as a charcoal color or velvety grey. It is understandable if iron ore is defined as black after a quick glance.
This paint color is often termed a soft black shade and can appear with blue and purple undertones. As you can see, SW Peppercorn appears lighter when compared to Iron Ore and has an LRV value of 10.
Sherwin Williams Peppercorn Vs. Urbane Bronze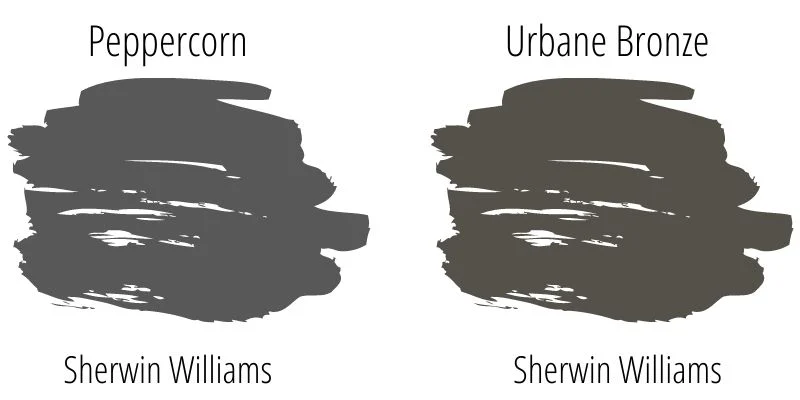 Urbane Bronze appears to have a darker shade than Peppercorn and has an LRV value of 8. A very evident undertone of brown or bronze is usually seen for Urbane Bronze. Because of its warm and chalky grey tone, Urbane Bronze can go well with tan shades.
Sherwin Williams Peppercorn vs. Benjamin Moore Kendall Charcoal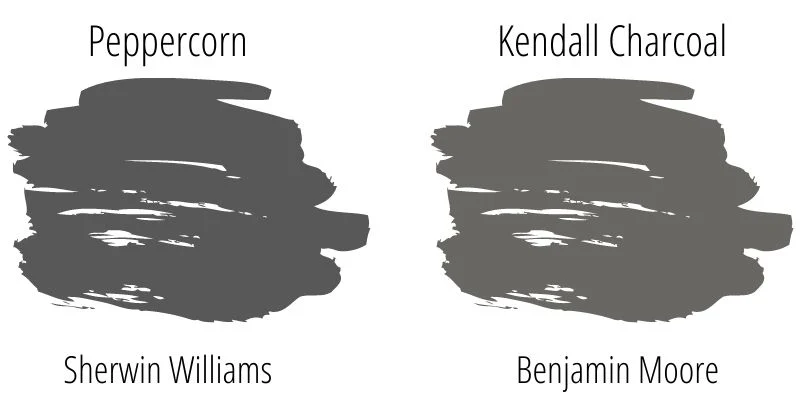 When talking about very appealing shades of dark grey, Benjamin Moore Kendall Charcoal is a shade that can't be ignored. When compared with SW Peppercorn, Kendall Charcoal looks warmer with a brownish tint to it.
The BM Kendall Charcoal has an LRV of 12.6. We have to admit that BM Kendall Charcoal might be better suited for a wider variety of spaces, as peppercorn looks cooler next to it. Benjamin Moore Kendall Charcoal can be considered an optimal shade for places with warmer lighting.
Applications of Sherwin Williams Peppercorn
Sherwin Williams Peppercorn is an excellent choice for primary or secondary paint colors for exterior decor. They can also go well with various design options such as trims, columns, etc.
Peppercorn is suggested by professional designers as an apt choice for both modern and farmhouse-style buildings. You can even see the application of SW Peppercorn on apartments as well as other commercial structures.
Pros and Cons of SW Peppercorn
Let us encapsulate our review in a nutshell now. Discussing all the pros and cons of Sherwin Williams Peppercorn paint will give you an idea of whether or not to choose the shade for your walls.
Reasons to Choose SW Peppercorn
You can use WS Peppercorn as both a main and accent paint color due to its versatile nature.
The look is attractive and cool in appearance.
The shade of grey offered by Peppercorn looks deeper and gives off a luxurious feel.
Reasons to Avoid SW Peppercorn
If the availability of natural light is restricted in the room, walls can appear too dark with Sherwin Williams Peppercorn.
Due to its cool nature, there are chances that the paint will not be compatible with warmer colors.
End Note
While considering dark grey shades for walks, Sherwin Williams Peppercorn is an inevitable choice. Popular amongst both designers and people worldwide, SW Peppercorn offers you a wide range of customization options and applications.
Almost all styles of houses look best in this shade of grey. We hope that our review of Sherwin Williams Peppercorn was helpful in deciding whether or not to choose this color for your living space.
With the right accompanying colors, peppercorns can steal a lot of eyes easily!