Narrow hallways are usually difficult to style! Such hallways can easily become dumping places for coats, shoes, and other items. Moreover, many people avoid decorating narrow hallways considering it would make the hallway dark and cramped. If your narrow hallway sounds something similar, you should definitely try the smart and inspiring hallway ideas for decoration.
With some clever hallway ideas and tricks for rearranging furniture, paint colors, lights, accessories, etc., you can make your narrow hallway spacious, airy, and stylish. Fortunately, there are multiple ways to transform the awkward layout of the narrow hallway into a stylish and sophisticated display.
Your narrow hallway still has amazing design and style potential. So, are you ready to explore the different hallway ideas?
Narrow Hallway Ideas for Styling Your Home in a Unique Way
1. Trying Different Patterns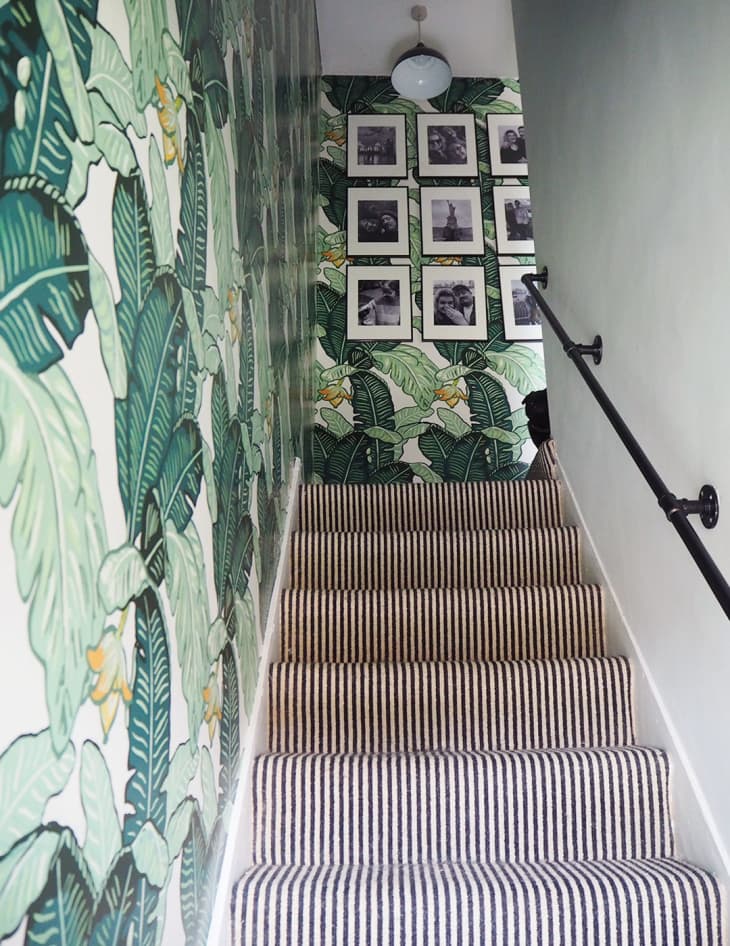 To begin with, some of the popular hallway ideas for decoration, trying to combine different patterns, attract a lot of creativity. Many people mix and match different design patterns to impress their guests and visitors without any hassles. Additionally, the bold colors and patterns instantly attract everyone's attention to create a lasting impression.
You can easily combine a unique wallpaper and an innovative design pattern for the staircase to impress everyone around. This is also one of the most cost-effective ways to charm up your narrow hallway, as you just need to buy stylish wallpaper and design patterns for the staircase.
2. Light in the Hallway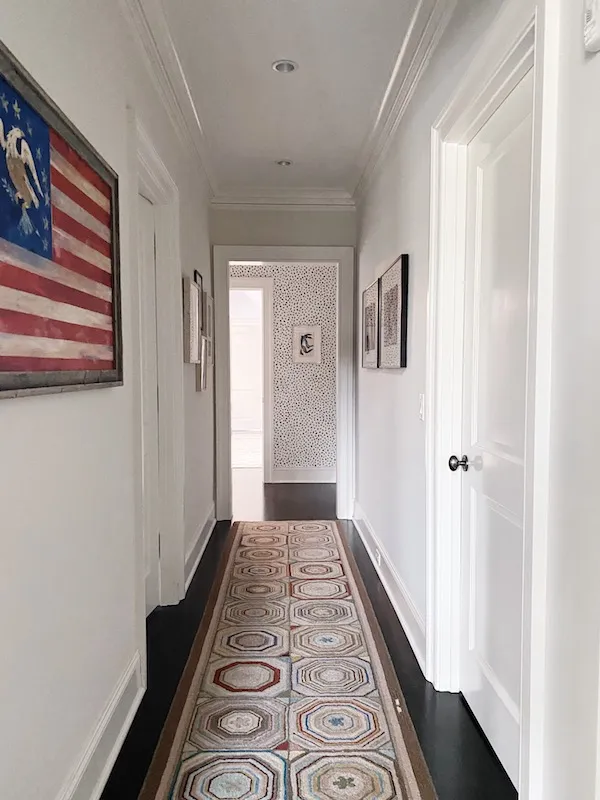 Good lighting can make a huge difference to your narrow hallway. A dark, dull, and boring hallway can completely be transformed just with the proper arrangement of light in its passage. It will not just make the hallway brighter but also enhance the charm of the visual attractions used.
Quick Tip: if there are windows in the hallway, we recommend opening them often to allow natural light and air to flow in. However, if there is no source of natural light in the hallway, you should experiment with the light fixture to ensure enough light. You can also try using a large mirror in the hallway to make it more spacious.
3. Bench Style for the Hallway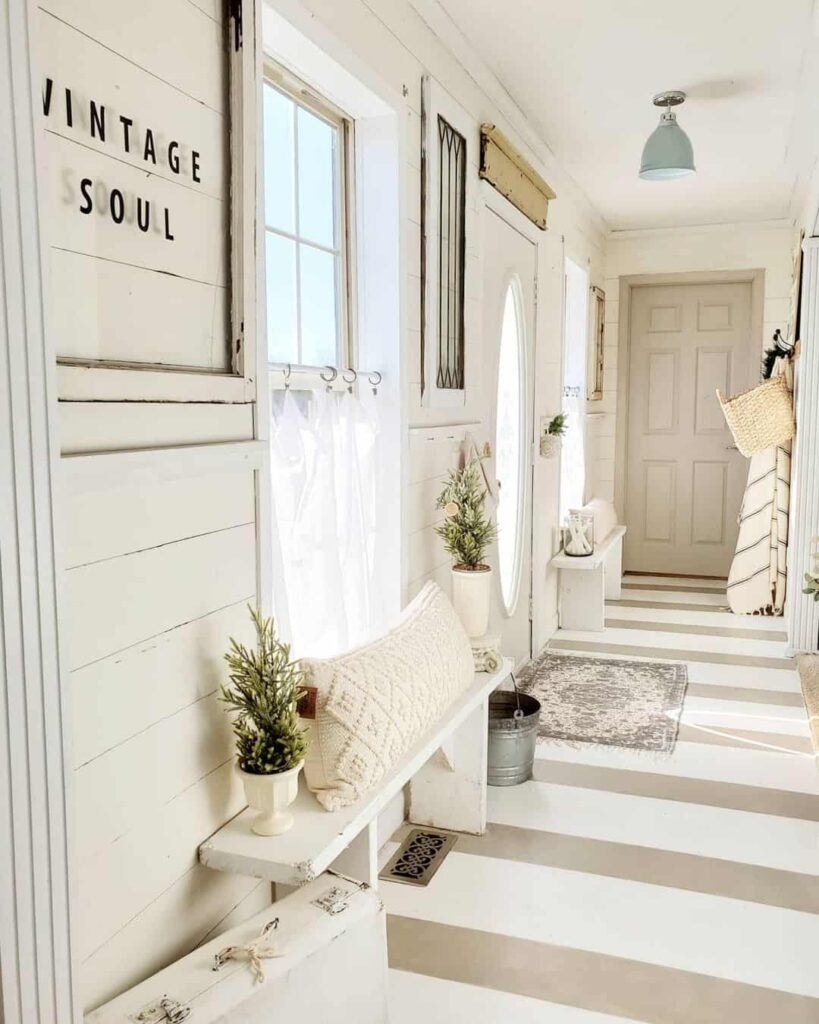 Using a bench in your narrow hallway is one of the most charming hallway ideas to welcome your guests and loved ones with positivity. Simply put a unique bench at the entrance to welcome your visitors with a little more warmth and coziness. Not just using a bench enhances the vibe of your place, but it also makes an additional sitting arrangement.
To enhance its beauty, you can place some fresh plants, innovative wall décor, or any other of your favorite accessories. You can also experiment with the design, style, color, and size of the bench depending on the available space and your preference.
4. Garland Gallery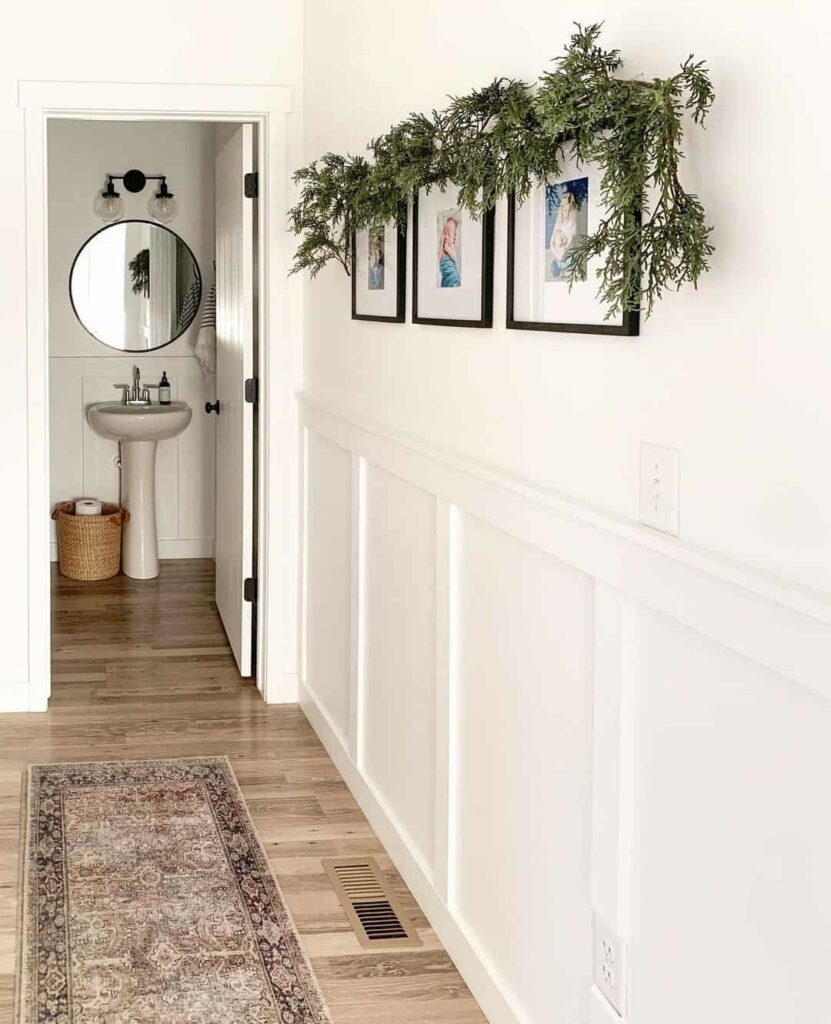 It is always a top choice to beautify your narrow hallway with pictures of your loved ones, family, and friends. However, to take it a step ahead, you can try having a garland gallery in your hallway. Just imagine having a hallway that attracts everyone's attention with its simplicity and beauty.
The garland gallery also brings positivity, freshness, and an additional charm to the place. However, you should be careful to maintain and trim the garland so they can blossom in their charm. You can try different styling arrangements for the garlands in your hallway to make it a center of attraction for visitors and guests.
5. Console Table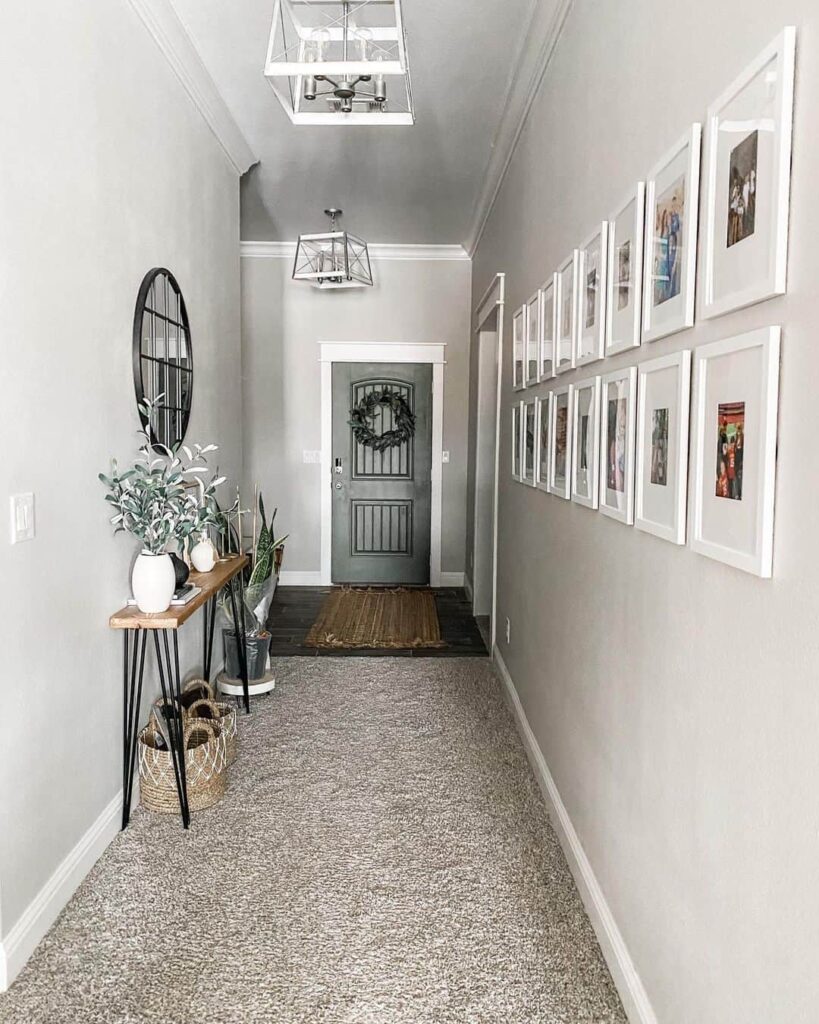 If you want to make your narrow hallway eye-catchy without using too many things, simply using a console table with gallery wall frames will do the magic. Combining a suitable console table with minimal accessories and decorative stuff is one of the simplest yet attractive hallway ideas for decoration.
Quick Tip: if you have neutral-colored hallway walls, it is suggested to go a little bold yet subtle with the console table. You can try a brown or beige console table for white or off-white hallway walls. Similarly, you can add colorful accessories to the console table to make the whole space more lively and attractive.
6. Decorative Shelves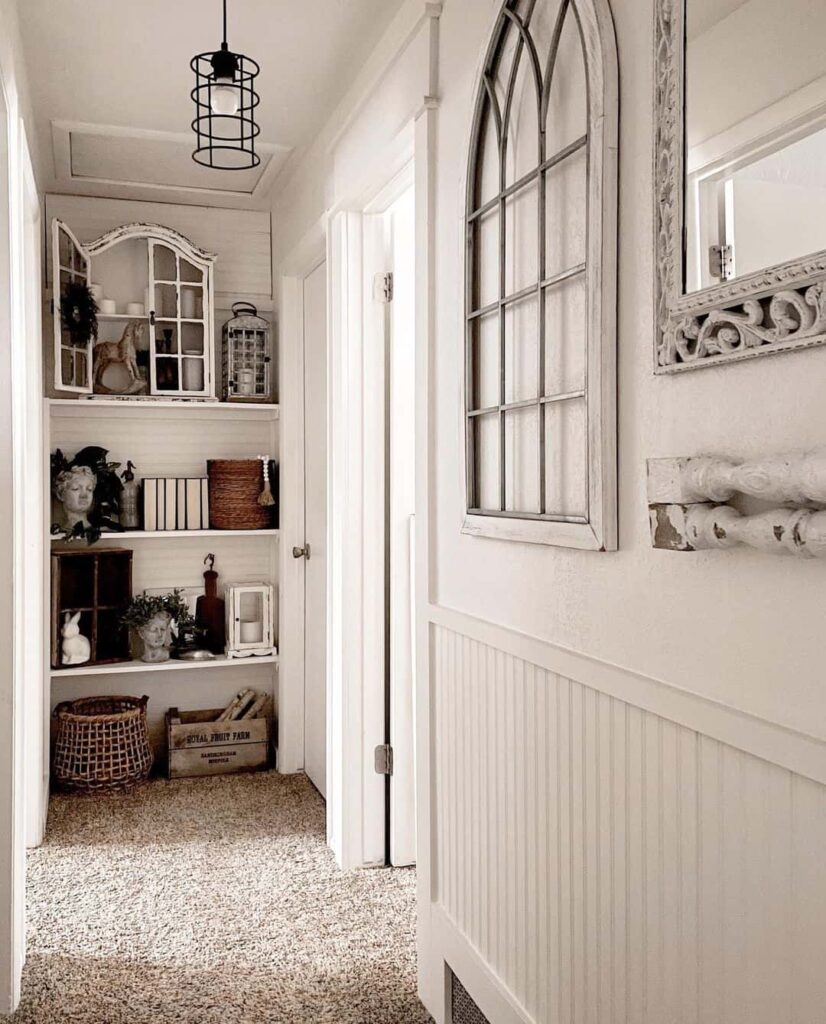 Using some decorative shelves, you can easily transform your narrow hallway into a dreamy space. Use vintage or farmhouse-style decorations for the shelves to make them more appealing and attractive for visitors. You can accessorize the shelves with your favorite books, photo frames, baskets, lanterns, plants, pots, etc.
It is best recommended to use the shelves in neutral colors and add colorful accessories on it to justify the whole arrangement. You can also try adding a mirror or framed mirrors in different shapes and sizes to give a distinguished edge to your narrow hallway without any hassles.
7. Bold Tiles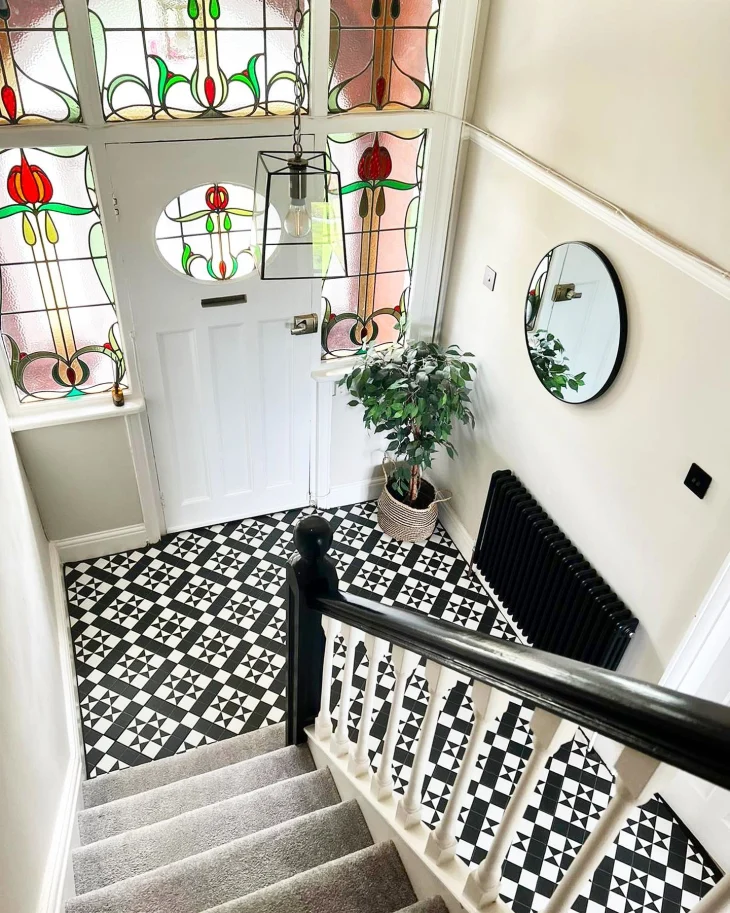 If you have very limited space in the hallway but you still want to make the most out of it, try beautifying it with bold tiles. Bold tiles have the potential to attract attention without any complicated efforts easily. However, you should be sure and attentive to choose the tiles matching the whole vibe of the surroundings.
Generally, it is suggested to choose bold tiles with neutral-colored hallway surroundings. According to interior experts, the contrasting combination of bold tiles and light-colored walls is one of the most evergreen hallway ideas to rely on. You can never go wrong with this combination when done right after considering all essential factors.
8. Gallery Wall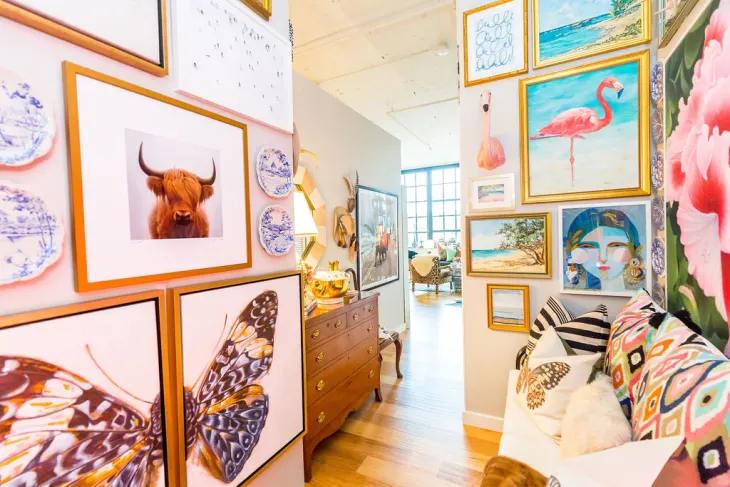 Want to beautify your narrow hallway with an evergreen and long-lasting style? Nothing can be better than relying on a gallery wall. According to many styling experts, a gallery wall is one of the easiest and simplest ways to turn your boring and dull, narrow hallway into an attractive masterpiece.
This idea works wonders for art lovers as they can conveniently display their art love with different paintings. Another advantage of having a gallery wall in the hallway is that the whole area becomes quite inspiring for visitors and guests. You can use as many paintings as you want in any styling sequence or arrangement that you love.
9. Use Different Rugs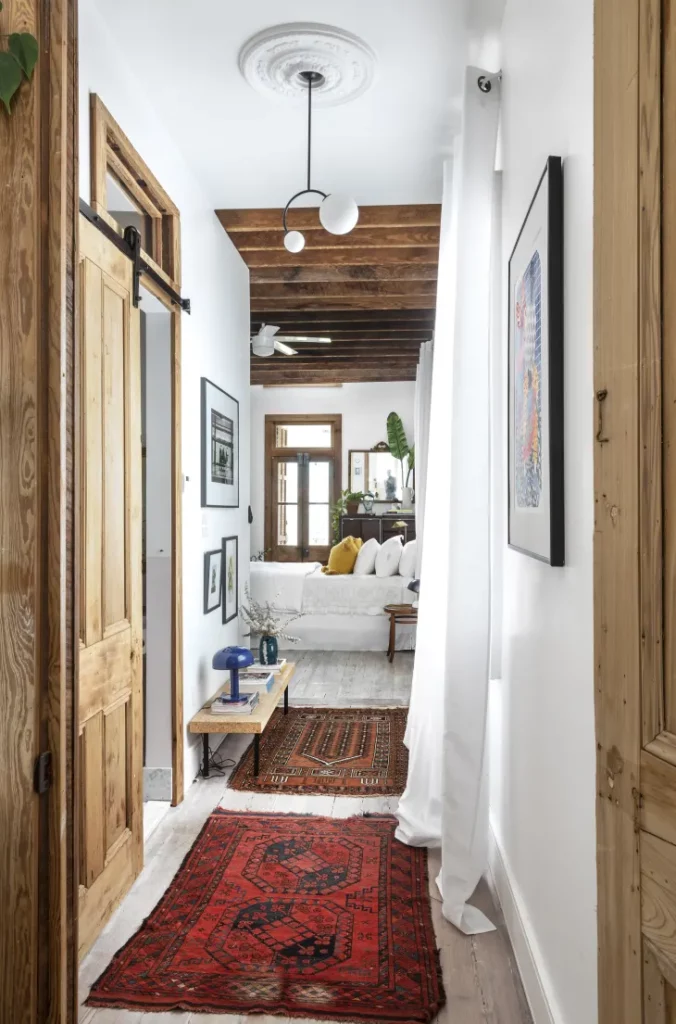 Rugs are not just any other ordinary piece of accessory in your hallway, but they can potentially transform the whole hallway setup. Rugs can be fun, eye-catchy, and attractive hallway ideas to instantly glam up the surroundings. Moreover, they are handy and easy to use, making them the perfect choice for everyone.
While simply using a single rug may look boring, try using different sets of vintage rugs to add to the beauty of the hallway. Additionally, the rugs will add the required pop of colors in the hallway to double the warmth and energy of the place.
10. Prioritizing the Pop of Different Colors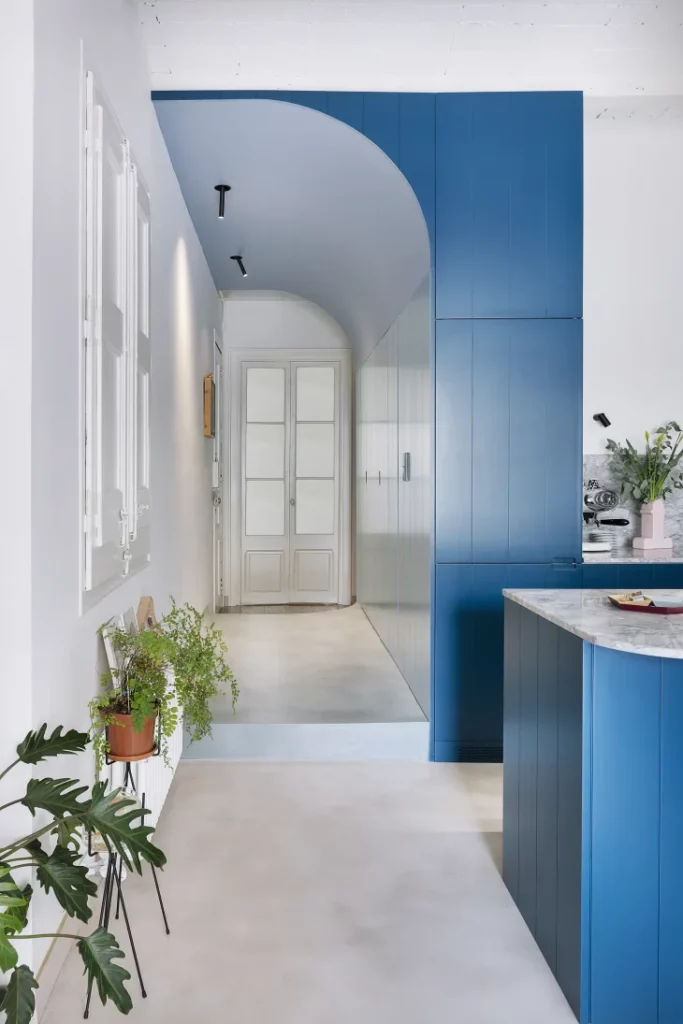 Narrow hallways have a lot more than just being boring, dull, and monotonous. They are basically the reflection of the energy and vibe of your place with which the visitors and guests initially interact. Overall, it gives a hint to other people about the possible other attractions at your place.
Sometimes adding an eye-pleasing color in the hallway can do the magic. It adds different dimensions, vibes, and energy to your place with minimal effort. Instead of using just a single color in the hallway, you can try prioritizing different pops of colors to add some fun and vibrant warmth to the place.
11. Paint in the Dark Shades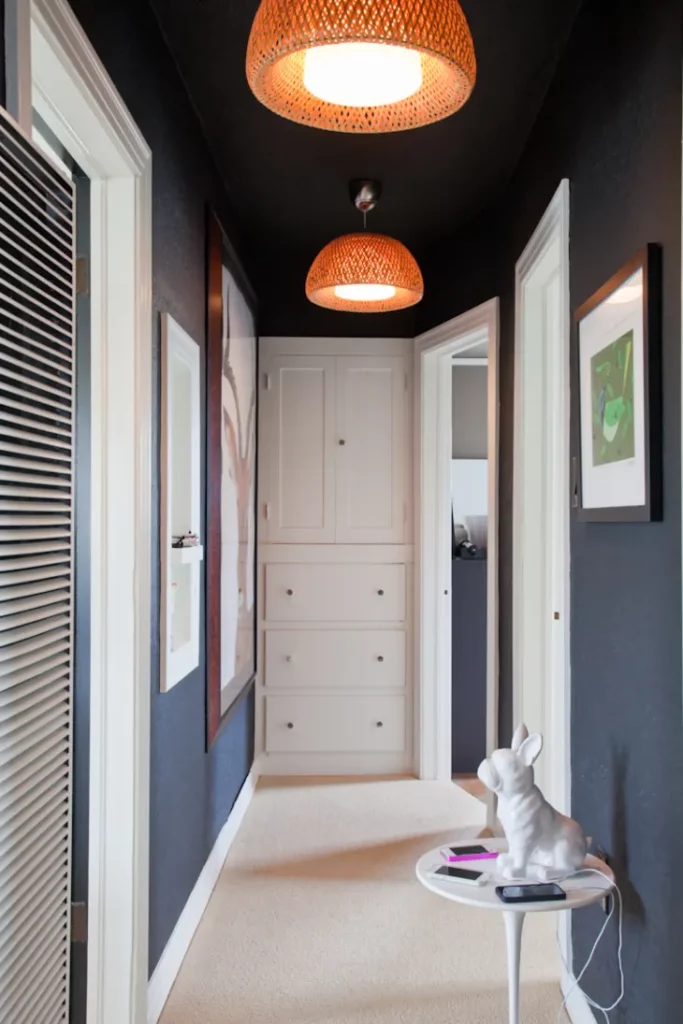 If you don't have any source of natural light in the hallway, painting in neutral and light color shades can be a big mistake. Without natural light, the neutral colors have nothing to bounce back and, thus, appear dull and gloomy.
For a narrow hallway with no natural light source, painting it in a dark color shade can be one of the best hallway ideas. You can choose a dark color shade for the walls and glam up the surroundings with perfect light fixtures.
For instance – the beauty of the dark blue colored walls can be embraced with orange color pendant light. The combination is crisp and super amazing to make the whole surroundings look more classy and royal.
12. Use Storage Ladder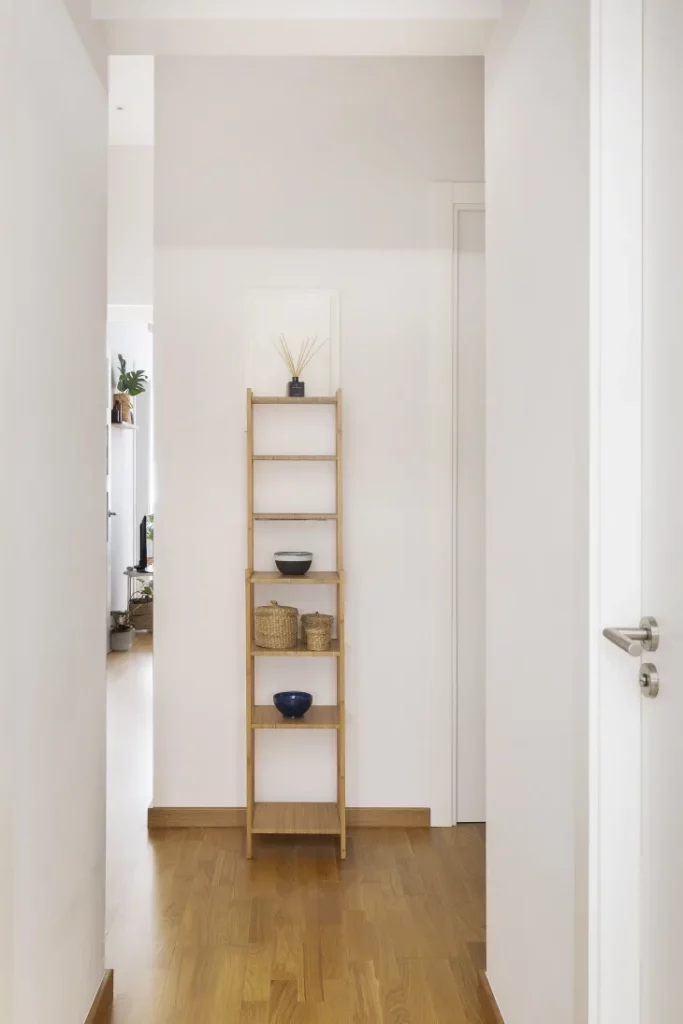 Decorating your hallway without drilling holes in the walls is quite possible. Yes, you read that right. You can charm up any narrow hallway without the hassles of drilling holes by simply using a storage ladder.
A storage ladder is one of the safest and quickest ways to decorate any narrow hallway when you have limited ideas. Just lean a storage ladder against the hallway wall, and you are sorted to add an attractive element to the surrounding. To make the space more eye-catchy, you can add different accessories and elements like a plant pot, basket, etc.
Quick Tip: Choose a storage ladder in an appropriate size to make your narrow hallway look bigger and more spacious.
13. Attract with Books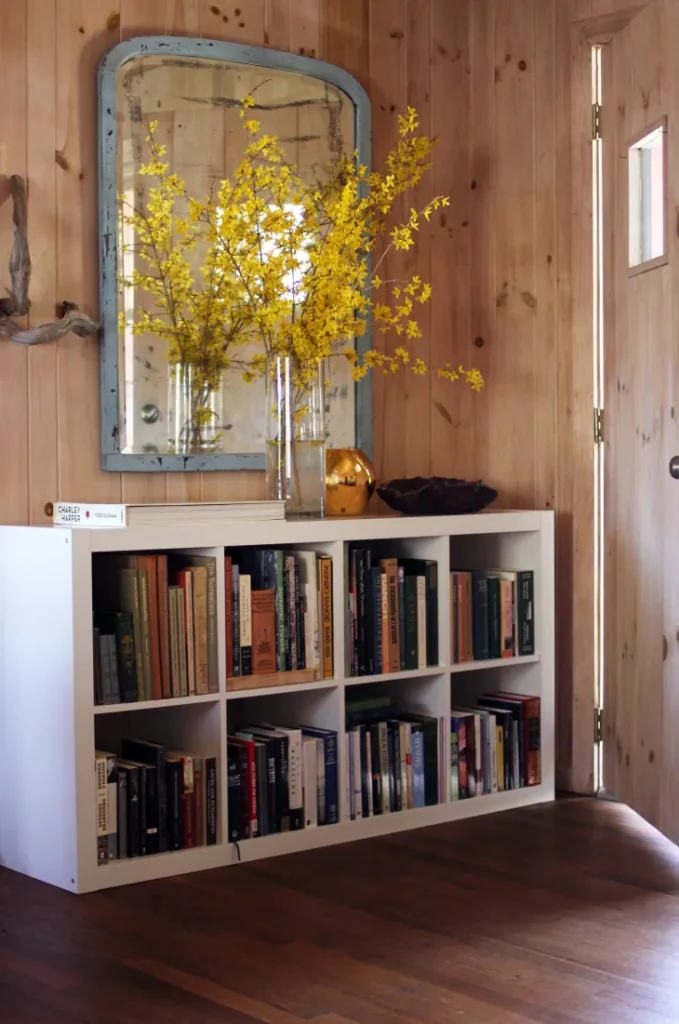 Whenever in doubt about any of the hallway ideas, try attracting your guests with books. No décor idea can ever go wrong with the correct placement of books in the required place. If you are one of those who love reading books, you can display all your favorite books on a subtle bookshelf.
Using books in the hallway properly arranged on a shelf makes the place look aesthetic without cluttering the space. Moreover, it enhances the beauty of the place with a different royal state and class. You can also use some baskets and bins on the shelf if you prefer a closed arrangement for your books.
14. Antique Mirror Gallery Wall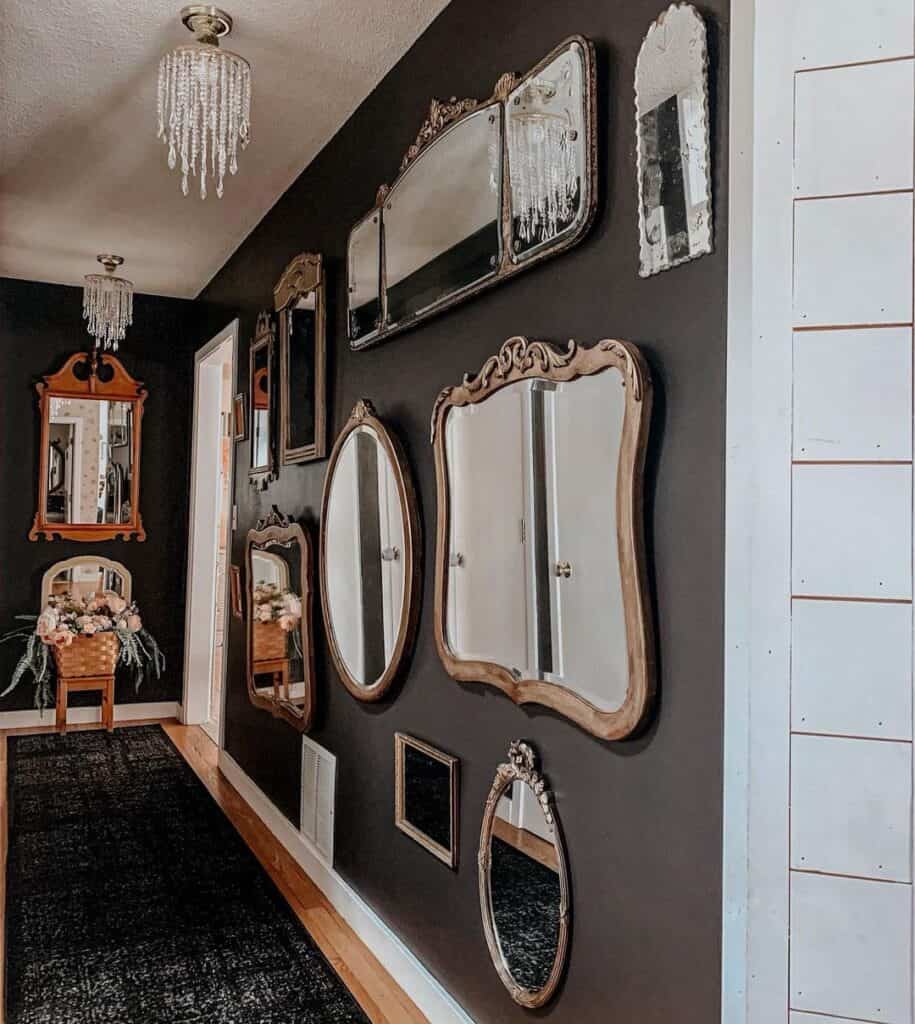 No matter if you like minimal settings in the hallway or prefer going bold with the decoration, you can never regret having an antique mirror gallery wall. Honestly, when arranged correctly, the antique mirror gallery wall is nothing less than a dream to look at. Moreover, this antique mirror setting in the hallway is likely to impress everyone, irrespective of their preference and taste.
You just need a good collection of antique mirrors and a suitable styling way to display them. Try using vintage mirrors which beautifully contrast with the hallway walls to open the surroundings in the most convenient way possible.
15. Experiment with the Textures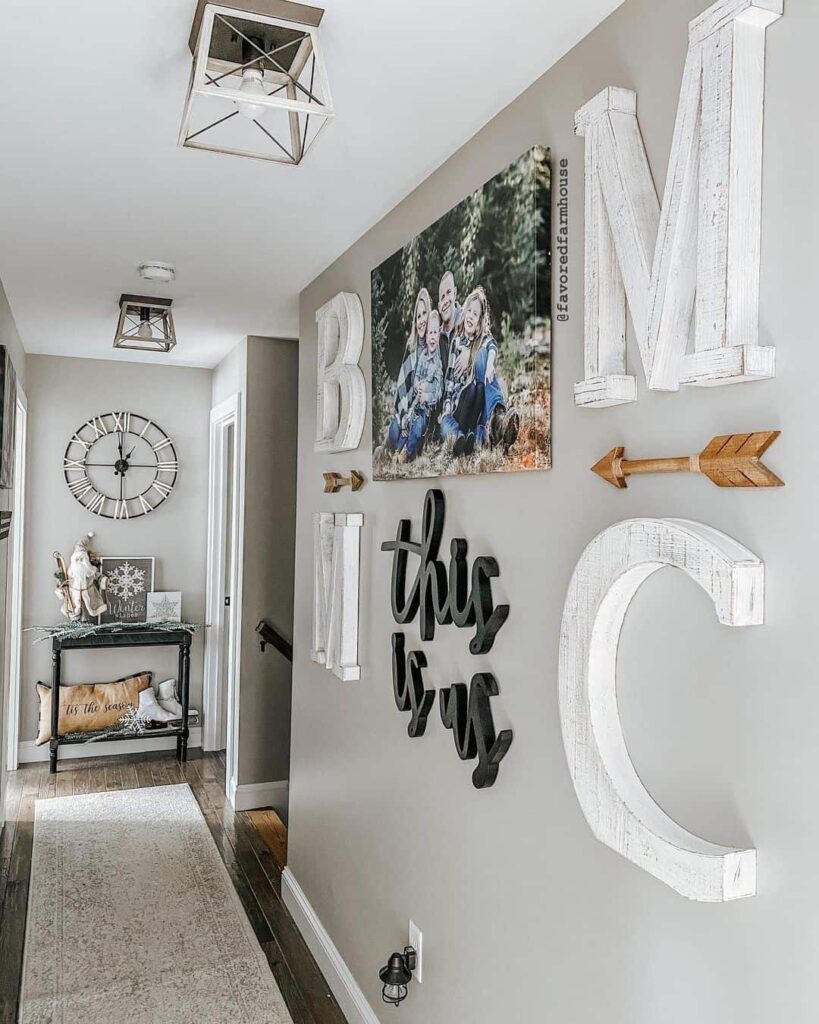 Last but not least, you can experiment with different textures in your hallway. Using different styles and designs in the texture gives an additional dimension to the hallway to ensure its distinguished beauty. You can try combining 2 or 3-dimensional textures to add an attractive and appealing character to the place.
Cut-out signages, wood engraved textures, arrows, wood letters, etc., are some of the popular hallway ideas you can try to experiment with textures. You can arrange these attractions randomly or follow any particular meaningful order. Moreover, you can use a console table or some shelves to elevate the styling of your hallway further.
Final Thoughts
When it comes to hallway ideas for decoration, usually, it is suggested to highlight the beauty and strength of the available space. Thus, you can usually opt for less is more options; however, experimenting with the surroundings is also an appealing option.
Just with a well-planned and strategized approach to decorating a narrow hallway, you can create an illusion of a more spacious and distinct hallway appearance.
While decorating any narrow hallway, make sure to have good light arrangements, ventilation, and a layered approach. If you still need any more suggestions or hallway ideas to glam up your narrow space, you can write to us in the comment section.
Frequently Asked Questions
How to Avoid Overdoing Hallway Decoration?
While you are trying different hallway ideas for decoration, make sure to be real with your taste, personality, and preference to avoid any mess. Moreover, you should consider the available space to avoid overcrowding the space.
What Colors Are the Most Suitable for a Narrow Hallway?
Generally, white and off-white colors are preferred, especially when you have natural light in the hallway. On the other side, to glam up a hallway without natural light, you can experiment with contrasting and dark colors as well.