Are you looking for the perfect backsplash idea for your white kitchen cabinets? Whether traditional or contemporary, your backsplash should spruce up the look of your kitchen. It should also showcase the theme of your kitchen and should align well with your white cabinets.
You can go with an understated white backsplash to give a toned-down effect to your kitchen or go with a bold choice to add interest to your kitchen. Accentuate your kitchen with pastel tile that matches the fresh and soothing vibe of the white cabinets. If you're a fan of the farmhouse look, you can go for white subway tiles that look good against white cabinets.
You can also choose marble slab for a classic appeal and kitchen wall tiles with light reflecting finish to give an airy look to your kitchen. If your walls and cabinets are white in color, Moroccan Zellige tiles can be a great choice to add visual interest.
Stunning Backsplash Ideas for White Kitchen Cabinets
Let's take a look at the backsplash ideas that will enhance the beauty of your white cabinets and give your kitchen a gorgeous look.
1. Marble Backsplashes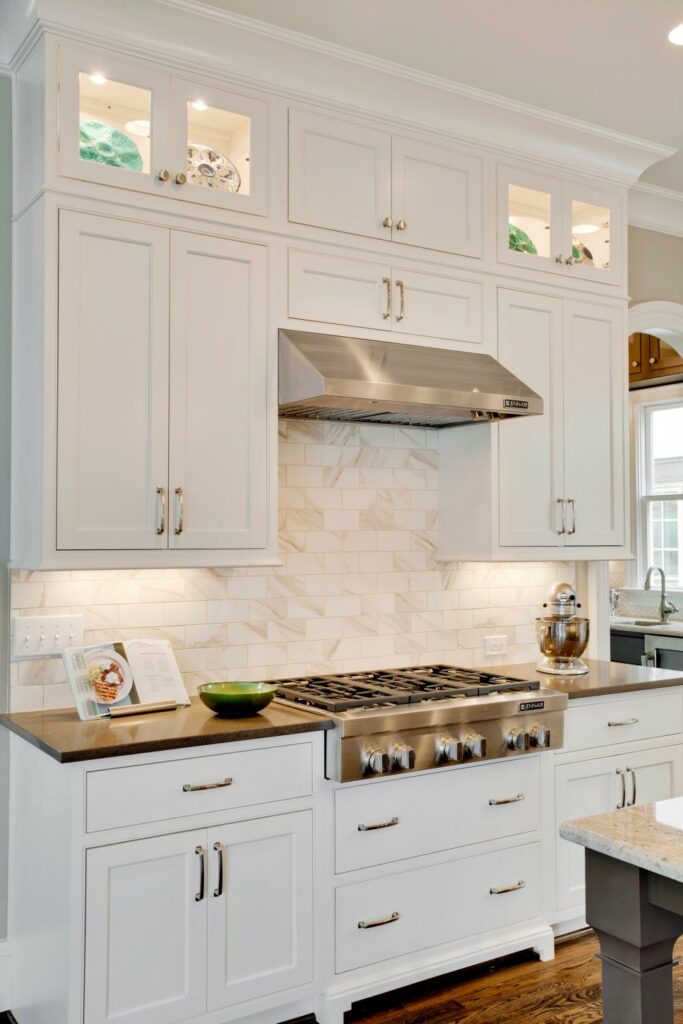 Marble backsplashes look great with white cabinets. They come in various patterns and colors, so you can choose the one that matches your design scheme. You can also opt for classic white backsplashes, as they go well with white cabinets and give a pristine and luxurious beauty to your kitchen.
Since marble reflects light, it can make your kitchen look more airy and open. Extend the marble backsplash all the way up to the ceiling to give a high-end look to your kitchen. But marble is susceptible to stains so that it will need proper maintenance and care. You can take inspiration from this picture wherein a slab of marble runs up the wall.
It has been topped with wooden floating shelves, replacing the upper cabinets. This is an interesting white backsplash design that will make your kitchen worthy of everyone's attention.
2. Bright Backsplash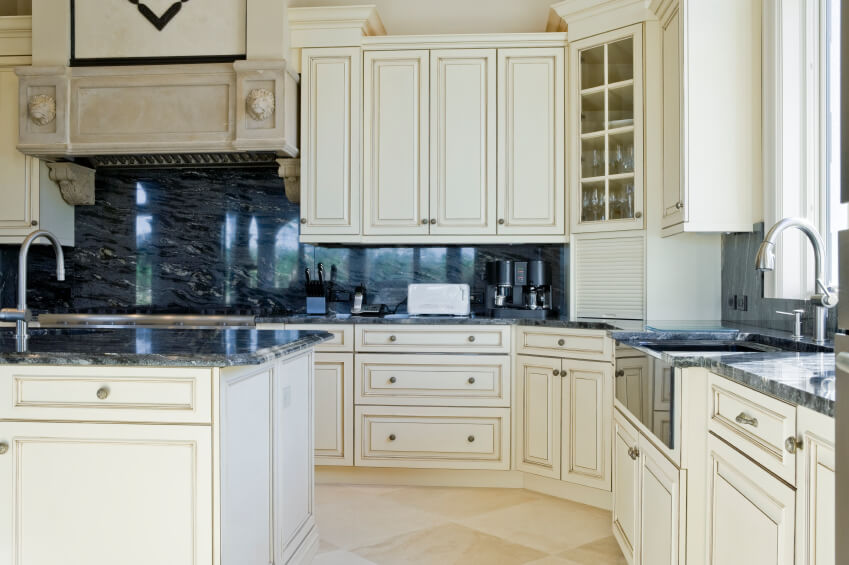 If you think that the white cabinets give a boring look to your kitchen, you can add a pop of color with the help of a colorful backsplash. Select a tile with the right undertones and ensure that it coordinates with the color scheme of the rest of your kitchen.
Whether your kitchen is modern, vintage-inspired, or anything in between, choosing the backsplash with the right hue can tie the whole space together. If the background of your kitchen is simple, you can go for bold backsplashes without the fear of overwhelming the space.
They will create a contrast against the neutral tone of white kitchen cabinets and give an alluring look to your cooking area. And you can choose backsplashes of any color, as white cabinets look good with almost all hues.
3. Stacked Stone Backsplash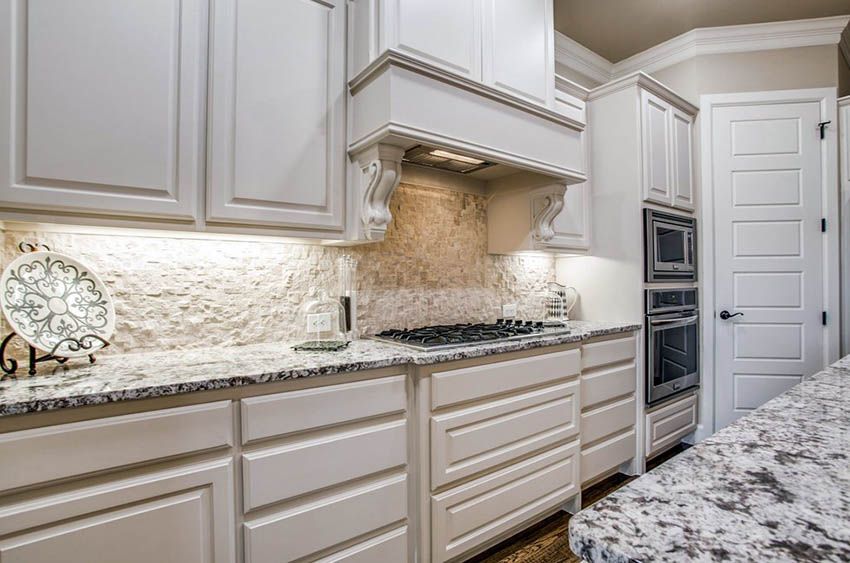 If you want to give a rustic feel to your kitchen, stacked stone backsplash can be the perfect choice. The unique texture of the stacked stones uplifts the vibe of plain white kitchen cabinets and gives your kitchen a lively feel.
The rugged pattern of the stacked stone creates a contrast against the simple and minimalistic look of the white cabinets. It pairs well with white kitchen cabinets and brings the vibes of the outdoors inside. You can choose a stone in different finishes and colors to create the kitchen of your dreams.
Lighter stacked stones can be used to create a neutral look, and multi-colored stones can be used to add drama to your kitchen.
4. Gold Grout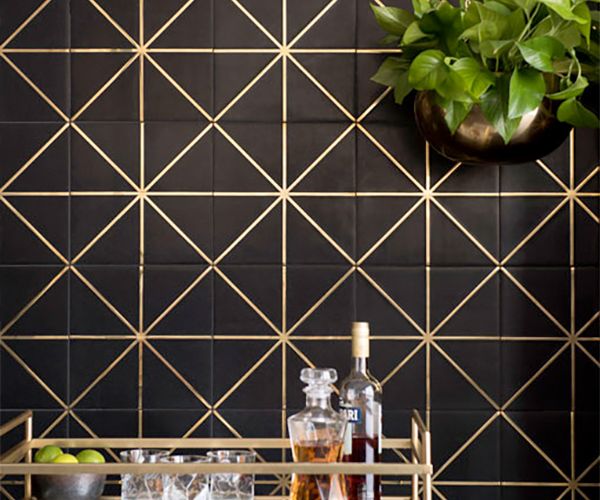 Do you know that you can glam up your traditional kitchen with the help of gold grout backsplashes? You can choose tiles with gold flecks or use gold grout over white tiles.
This is an inexpensive and budget-friendly way to add a luxurious effect to your kitchen with a white cabinet. The contrast between the gold grout and white cabinets creates a stunning visual impact.
You can use complimentary lighting and gold hardware to complete the look. If you want your kitchen to exude a minimalistic or contemporary feel, don't go for gold grout backsplashes, as they can clash with the simple aesthetic. It is important to consider what feel you want to give to your kitchen before choosing the backsplashes.
5. Removable Wallpaper
If you want to experiment with the look of your backsplash and kitchen, you can use removable wallpaper, as they open up tons of options for textures, colors, and patterns. Cutting and installing backsplash tile can be difficult on your own. If you call a contractor, they will charge a good amount for the installation.
If you want to get away from these hassles and want to create a subway tile that perfectly complements your white cabinets, removable wallpapers can be your ideal choice.
They are easy to remove and apply, meaning you can change up the backsplash style and the ambiance of your kitchen whenever you want.
6. Mirrored Backsplash
Make your kitchen space more spacious and airy by using mirrored white backsplash. They work with different decor and aesthetics and give dimension to your kitchen.
You can give a vintage appeal to your kitchen with a white cabinet by using an antique mirror backsplash. You can also distress a modern mirror and then use it in your backsplash to give a traditional feel to your kitchen.
Mirrored white backsplash creates an alluring backdrop in kitchens with white cabinets because of their light-reflecting property. But they need to be cleaned regularly as they are prone to smudges and dirt. It is also important to ensure that the reflections do not lead to uncomfortable glare leading to difficulty in cooking and washing the utensils.
7. Pebble Look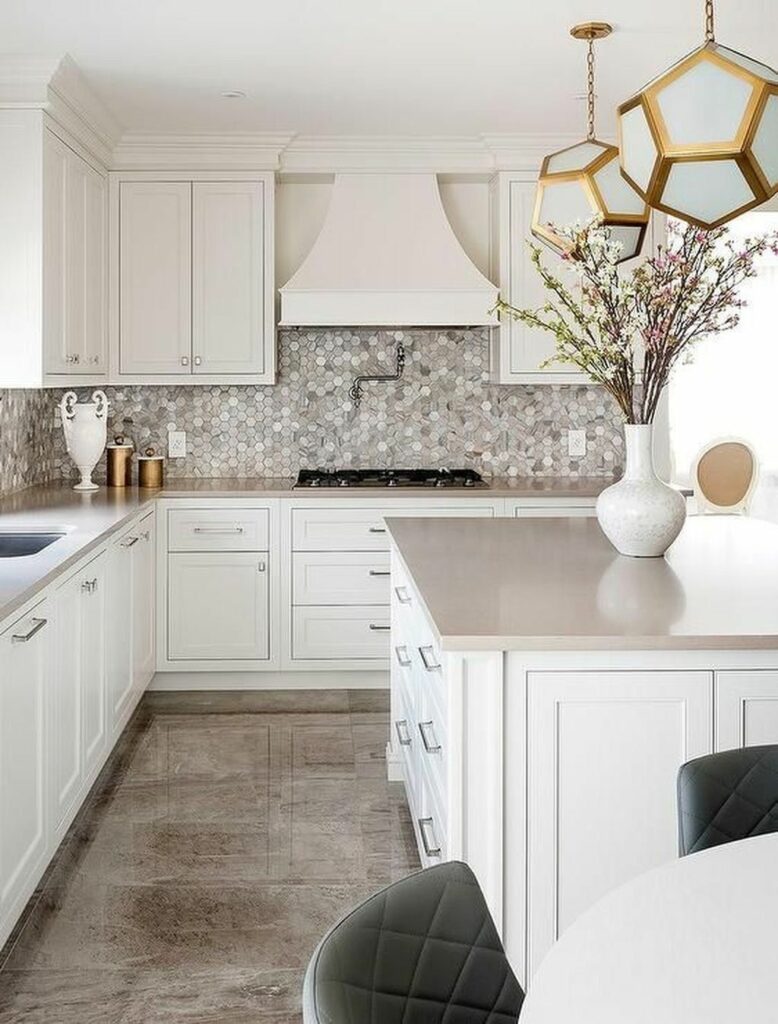 If you want to recreate a country cottage aesthetic in your kitchen, you can opt for backsplashes that look like pebbles. You don't need to use actual stones to achieve this look. Use circular porcelain tiles to add a rustic style to your kitchen. Pebble-like backsplashes bring the beauty of nature inside your kitchen and spice up the look of the bald and plain white kitchen cabinets.
This backsplash style is perfect for a cottage, rustic, or farmhouse kitchen. If you're using actual stones, consider their shape and size, as larger pebbles look very odd and dramatic in kitchens with white cabinets. The texture and color of the pebbles should align with the style of your kitchen.
8. Soothing Turquoise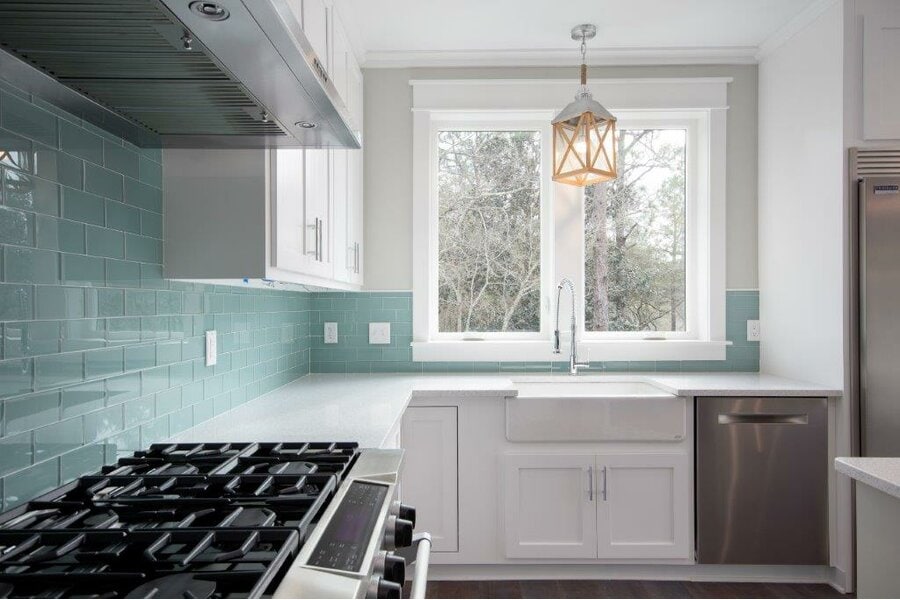 If you do not like warmer colors, you can add contrast to white cabinets with the help of turquoise tiles. The cool tone of the turquoise backsplash will add freshness and give a calming effect to your kitchen. Since turquoise is associated with the coastal theme, it can also be a great way to create a breezy ambiance in your kitchen.
White cabinetry will offer a bit of calm for your eyes, while the turquoise backsplash will add tons of energy to your kitchen. You can add navy blue accents and nickel hardware to elevate the look further.
This combination of cool and warm tones will prevent your kitchen from looking dull and boring.
9. Iridescent Tile
Compared to the other tiles, iridescent tiles are the most unique and modern backsplash material for your kitchen. When their luminous gradient hits the light, it creates ethereal magic. The reflective surface of the iridescent tiles reflects the light and makes your kitchen feel larger. If your kitchen is airy and open, the iridescent tiles will have a better effect on your space.
They also create a beautiful aesthetic that contrasts with the white cabinets making them the perfect choice for those on the lookout for a trendy backsplash design for their kitchen with white cabinets.
Since they are waterproof, they are perfect for white backsplashes as they are prone to spills and splashes.
10. Brick Backsplashes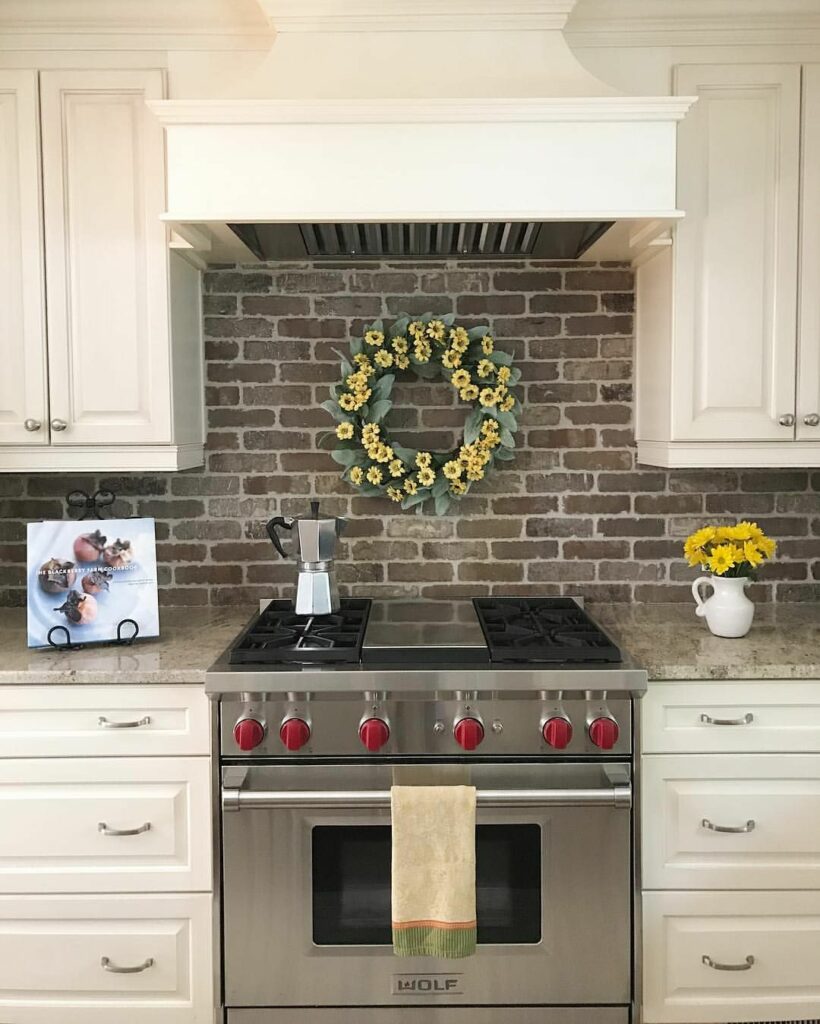 Brick Backsplashes can add an old-world European charm to the kitchen with white cabinets. Brick backsplashes can be the perfect option to give an industrial flair to your kitchen.
Choose a faux peel-and-stick wallpaper or a real brick for your backsplash. While white cabinets will retain the soft look, the brick backsplashes will give a rustic look to your kitchen.
White cabinets paired with a brick backsplash can create a timeless and classic design that will always remain in vogue. You can accentuate the look by adding stainless steel appliances and tobacco-colored leather stools.
11. Avignon Patterned Tile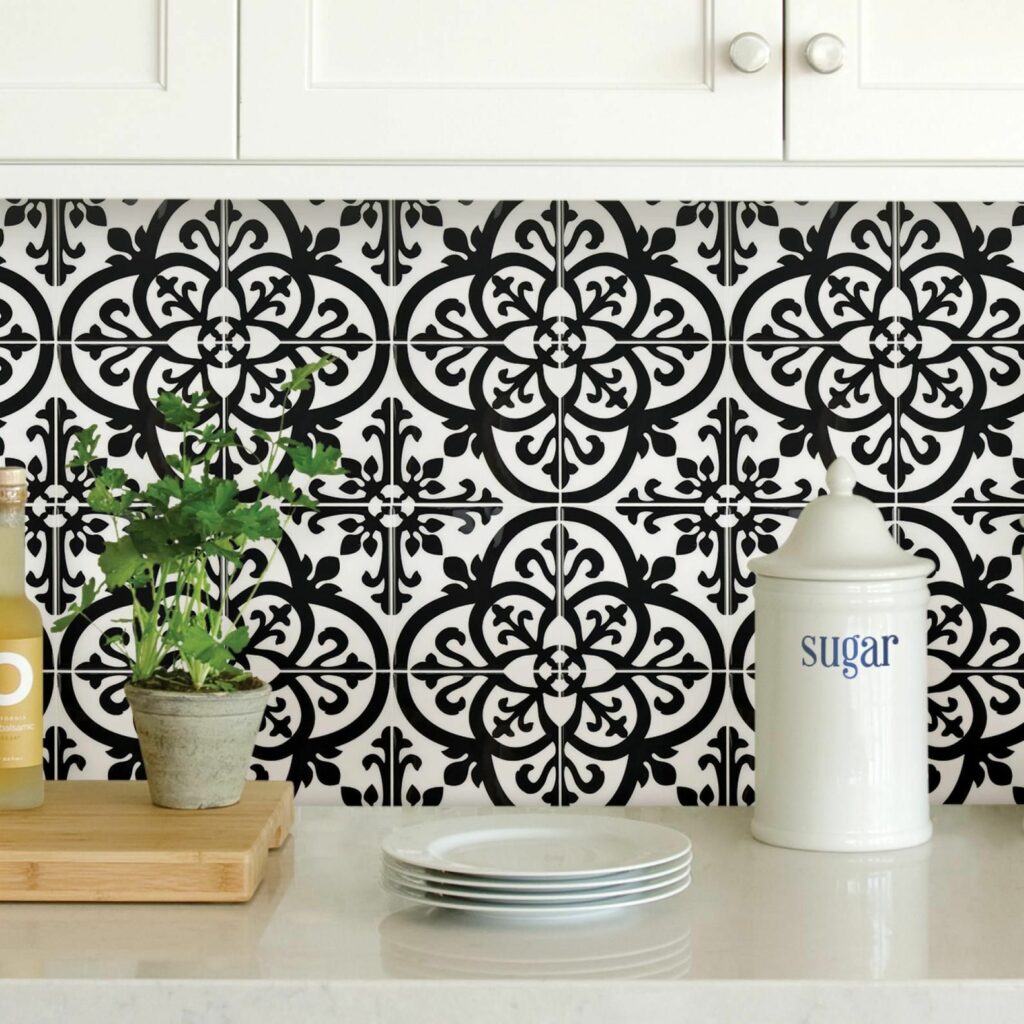 The white cabinets create the perfect backdrop for the Avignon patterned tile to showcase their beauty and charm. Together they create a balanced contrast that can uplift the ambiance of your kitchen. Avignon Patterned Tile is perfect for modern and contemporary kitchens.
They also come in different colors and patterns, so you can choose the one that suits your preference and create the desired aesthetic in your kitchen.
If you do not want to give a bold look to your kitchen, you can go for a lighter shade Avignon Patterned Tile, and if you want to add some drama to your cooking space, you can go for vibrant Avignon Patterned Tile.
Conclusion
The beauty of white cabinets is that they work well with different types of backsplashes. You can opt for a patterned tile, a colored marble, or tiles in irregular shapes like rhomboids and hexagons for an on-trend look. Some hues and stones will work better than others, so you will have to experiment to see what backsplash design suits the white cabinets.
Remember, nothing spices up a boring kitchen like a statement-making backsplash. So choose any one from the options mentioned above and give a trendy and appealing look to your kitchen with white cabinets.
You can also use your creativity to experiment with the white backsplash design and achieve a balanced look in the kitchen with white cabinets.
Frequently Asked Questions
How Should You Choose Backsplash Colors in a Kitchen with White Cabinets?
You can mix different colors and materials to see what backsplash style suits your kitchen with white cabinets. Tape tile samples to the walls to check how they look as natural light changes throughout the day.
What is the Best Backsplash for a Kitchen with White Cabinets?
This will totally depend on your personal style and the design of your kitchen. While some people like ceramic white backsplashes as they are inexpensive and easy to maintain, others opt for marble backsplashes because of their classic appeal.