Finally, bring your dream picket-fenced home and are looking to decorate it beautifully. A well-designed home needs a well-thought-through design plan. A big part of this is tactfully using your space to make your home functionally useful.
In addition, it also adds to the beauty and looks you wish to flaunt. Staircases take up a significant amount of space, and an ill-planned staircase setup can impact the overall appeal of your home. The staircase landing is considered to be the area at the top of the stairs or at the bottom of the stair and the space or area where the stairs turn.
Making the best use of every inch of your house is extremely important when it comes to planning your stair landing. Simple changes or additions can profoundly impact the overall appearance or space usage.
Using objects such as mirrors, planters, and upholstery are small yet a significant way of improving the utility and look of your space.
Here are 20 ways of enhancing our stair landing and improving your home:
1. Seating Space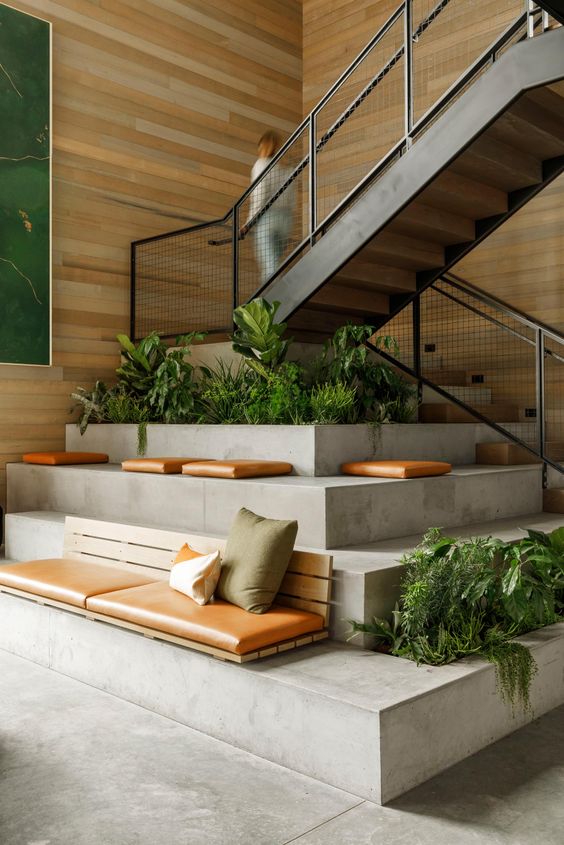 Imagine having a space to rest, chill and relax in the area where the stairs turn. Often, this space is underutilized and remains boring. You can amp up the appeal of this space by creating a seating haven in this space. Either add in a small sofa or create a seating corner that is cozy.
This can be especially helpful if your stairwell has windows at the turning. It makes for the coziest set-up wherein you can spend gloomy days. It also makes up for a great corner for just catching up with your friends for tea or long gossip sessions. Everything about these stair-landing ideas spells coziness and warmth.
2. Decorate Your Stairs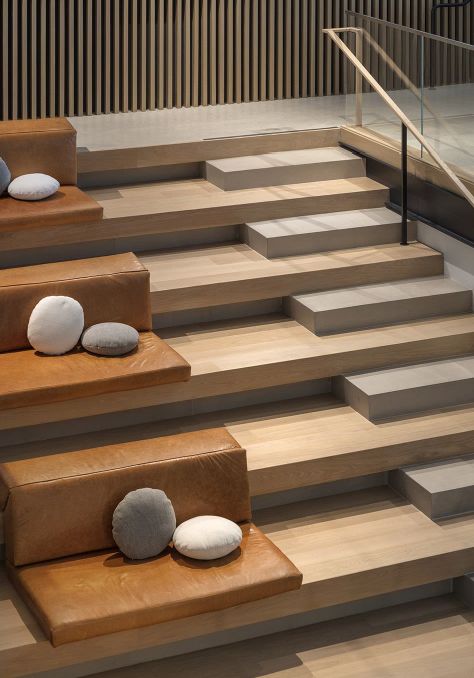 Decking up your stair with fairy lights or boho-like decor is an excellent way of making your stairs look lively. Don't let it be a boring, dull part of your house that lacks personality. You can add some much-needed personality to that small space with simple fairy lights and some wall decor.
Reimagine your stair landing space by adding the right kind of decor. If you can light up your stairs during Christmas, why not keep the space interesting throughout the year?
3. Book Corners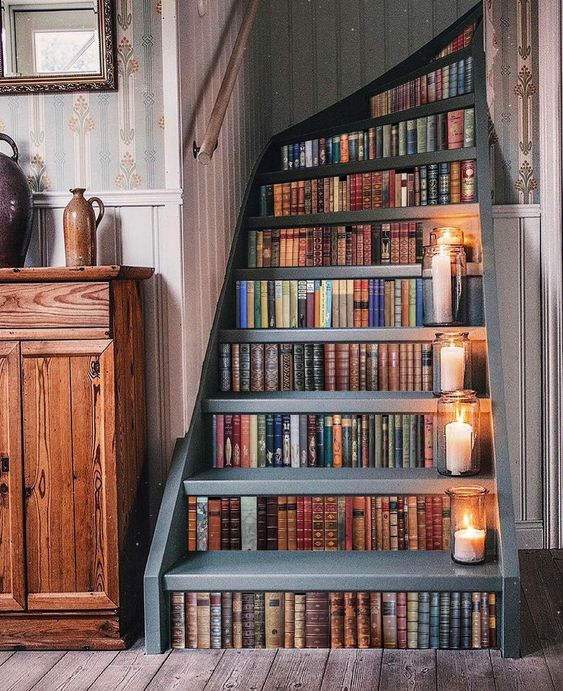 If you've grown up watching too many movies with swanky reading rooms, this is your chance to fulfill that dream in style. You can create bookshelves all through the stair walkway or at the stair landing space and make use. It adds just the right amount of functionality to your house without sacrificing important home parts, like bedroom space or attics. It adds an appealing charm to your home and personality to your space.
Let there be a pretty corner in your home where the bibliophiles would love to lose themselves.
4. Pretty Wooden Aesthetics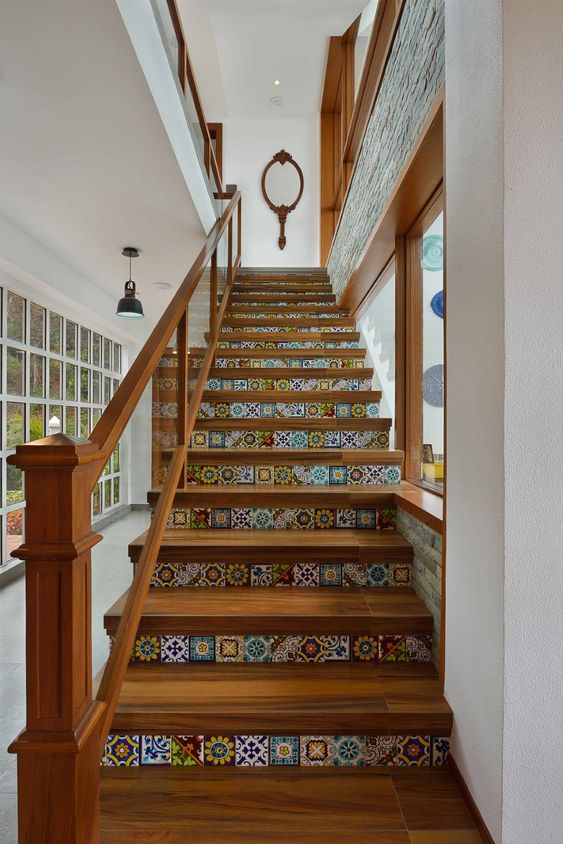 Everyone loves the old-school creaky stairs effects of the 90s. It gives your home such an old rustic 90s romcom feel and adds to the character. Wooden stairs are durable and pleasant to look at. Nothing speaks of home more than a good old wooden stairwell.
You can add some beams and posts on the ceiling to complete the entire wooden stair landing aesthetic. It also doubles up as an architectural masterpiece, making it a beautiful set-up. Add wooden stools near the stair landing to this beautiful photo frame and make it pleasing.
5. Staircase Runners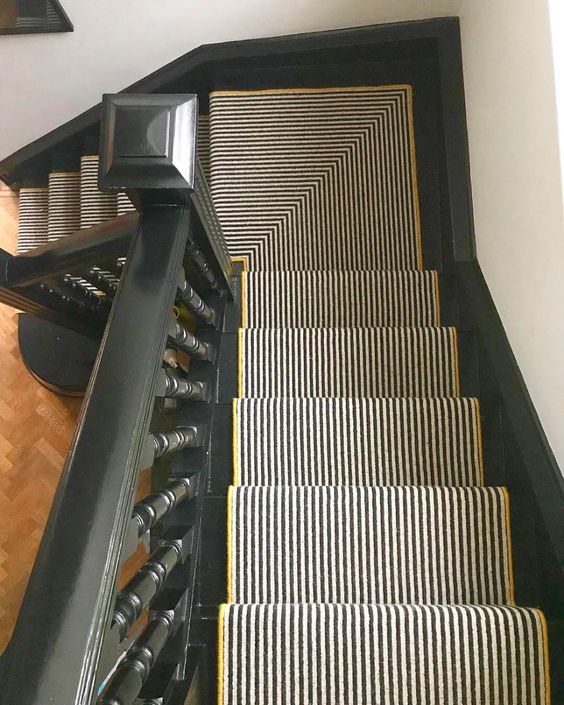 Having good-quality staircase runners can add depth and dimension to an otherwise boring, dull space. Stop looking at your stairwell and stair landing as just another must-have necessity in your house. Use it as a tool to improvise your home and space. Now choose to make your home an aesthetically pleasing space with simple staircase runners.
You can choose good-quality staircase runners from the various designs offered. From simple staircase runners to more classy-looking ones like jute staircase runners and more. These are simple and cost-effective ways of making a big difference in your stair landing.
6. Cushy Corners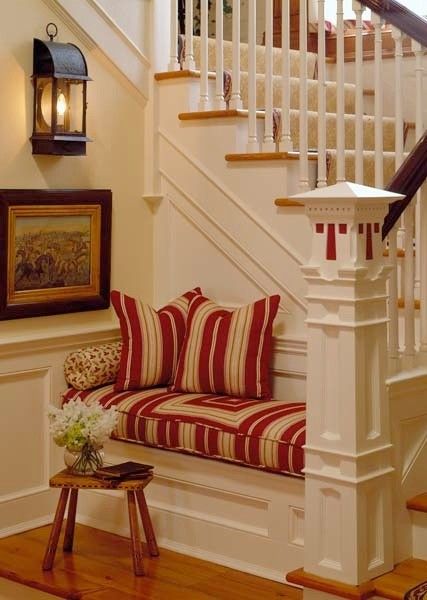 Who said stairs are meant for just walking up and down them? Don't you love to sit on comfortable stairs and have long conversations with your loved ones?
Only if staircases were more comfortable, let your staircase double up as a soft cushy space for sitting down and having long talks. Use sofa throws, pillows, and cushions around the corners and use them as a space to rest, talk, laugh, and walk. Soft throws and cushions are great because they are easy to maintain, washable, and add to the appeal of your home.
7. Try Skylit Stair landing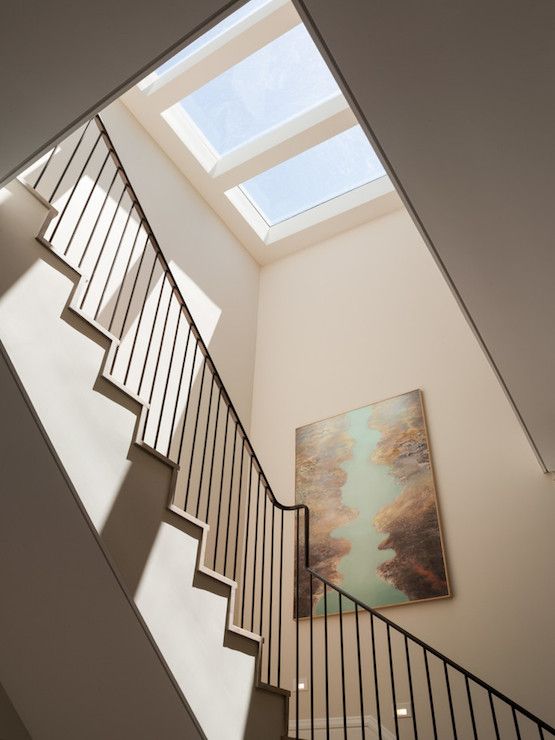 If you have complete reign over how you design your house and can make architectural changes to it, then skylit stairwells are an absolute must-have. You make the top roof above your stairs skylit stair space. It makes your home dreamy and beautiful like that in the movies. It also brings natural light into your home without any hassle.
At night, throw in some rugs and pillows and use them as your space to stargaze on a clear sky night. A simple change in your ceiling can completely transform the stairwell into a space that you yearn to be in.
8. Carpet it Down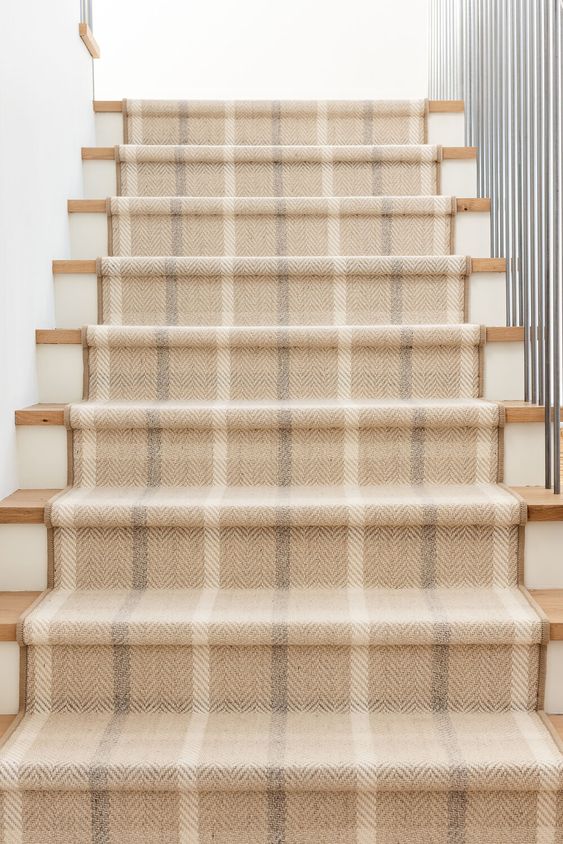 Creating distinctive spaces in and around the house makes your house seem spacious and stylish. You can carpet your stair landing space and make it perfect. You can sit on these carpets, clean them easily and have them in different designs and varieties to match the rest of your home decor.
This is especially great if your stairs have that worn-down look and you aren't ready to spend much maintenance at the moment. It is relatively cost-effective as compared to other stair landing renovation ideas.
9. Contrast the Walls and Stairs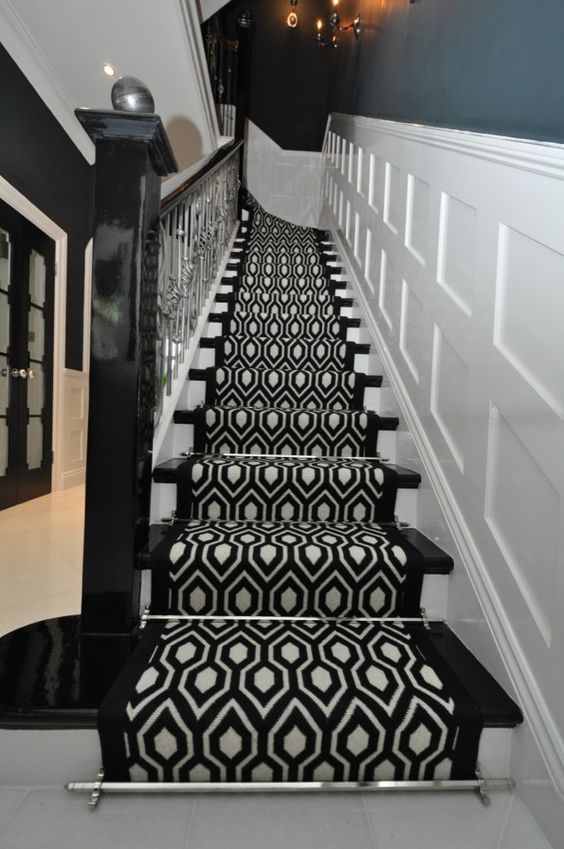 Stairs are boring and have been that way for decades. People often tend to ignore the styling of their stairwells. Choose a contrasting decor or styling idea and revamp your home. For instance, choosing contrasting wall colors and stair accents can greatly impact your home's final appeal. Picture this, light-colored stairs against dark-colored walls. It adds a distinctive personality to your home while also completely transforming the stair landing. You can use the same dark colors for the stair railings.
10. Light it Up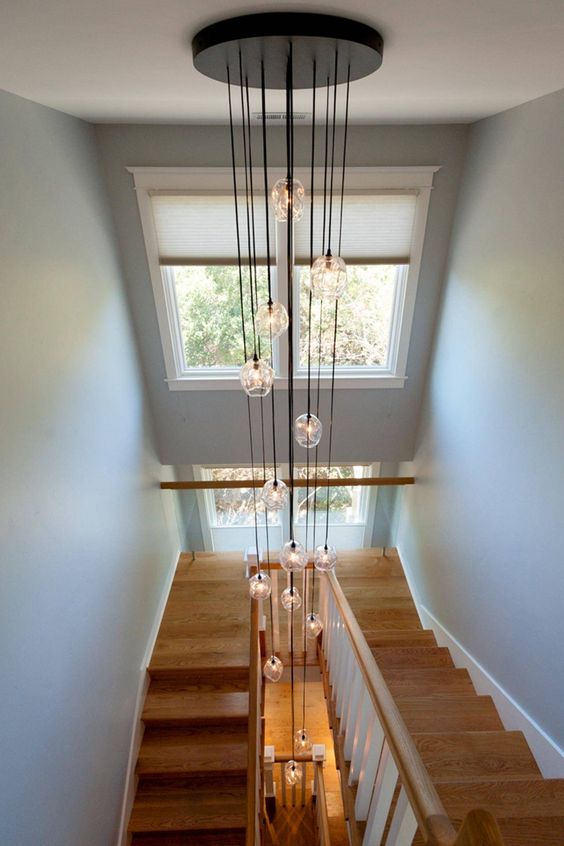 Stunning, dreamy chandeliers can make all the difference in the world. To transform your home, opt for good old chandeliers that can hang on the ceiling above the stairwell. This is great, especially if your stairs are placed more toward the center of your house. It adds some much-needed dramatic effect by changing the look and feel of your home completely. Choose your chandelier depending on the statement or impact you wish to create.
You could opt for simplistic chandeliers or a much more dramatic Victorian chandelier. Try contemporary modern chandeliers if you like simple and minimalist designs that are enough to draw the right amount of attention.
11. Plant All the Way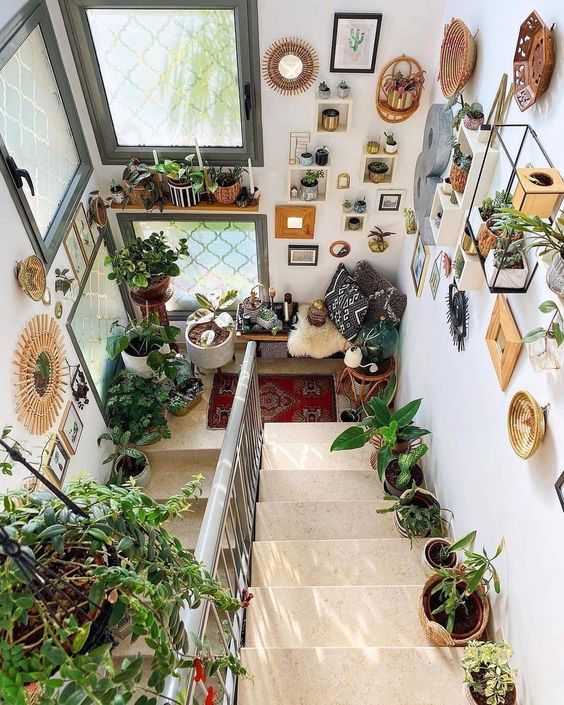 Are you anthophilous that can't get enough plants around the house? You can now make a big difference in your house by opting for planters. Stairwells are the perfect space to add some plant babies. Especially if your stair landings are blessed with the right amount of light, you can add plants to the little space where the stairs turn or have it all along the route.
Note that while it can become a hindrance if there are kids of old people at home, you can design it safely for all. It adds some much-needed earthy element to your home and transforms your home.
12. Experiment with Light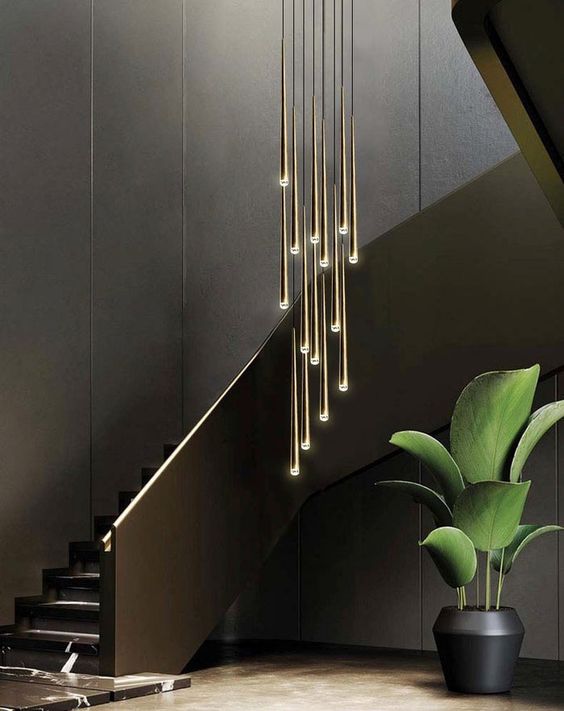 Nothing plays with space more creatively than light. You can use a range of lighting fixtures, bulbs, colored lighting, and more to light up your stair lighting. You can make it unique and stunning based on your needs.
For instance, have dark-colored walls with stunning mood lighting to make it a somber set-up. Or you could choose to have well-lit white lights all around the stairwell to brighten up the space. You can put sensor lights in so that whenever someone walks, it lights up by itself. You can play around with the lights in many different ways to transform your home.
13. Mirror it Up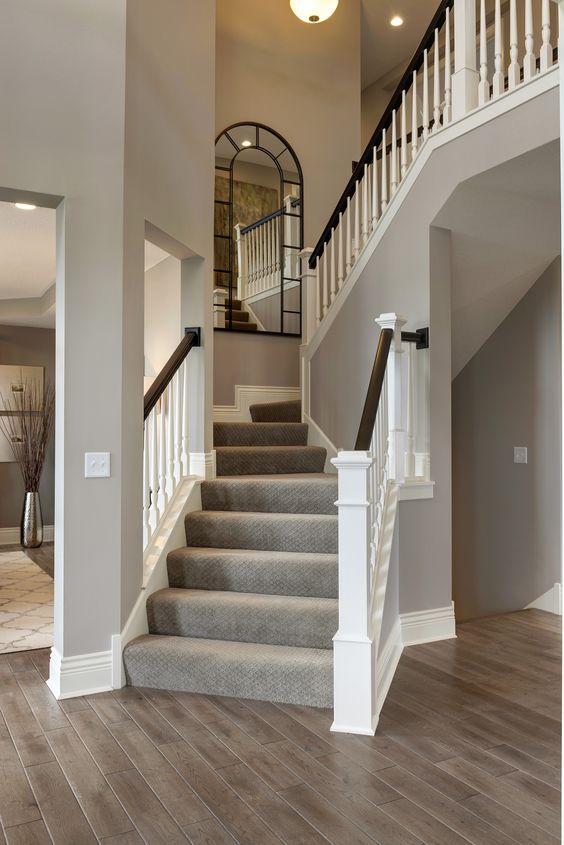 Good use of mirrors can add an artistic charm to your home. Having mirrors placed along the railings or in the space in between can make your stair landing appear bigger and more spacious. It also has a great functional utility. Add to this some stunning artistic elements such as planters and more, and you are all set to have a great mirror image.
Mirroring it up is a simple, cost-effective way of getting more by doing less. You can use mirrors with a backlit setting or choose mirrors with unique shapes to add depth to an otherwise simple stair landing.
14. Light Wood Stair Landing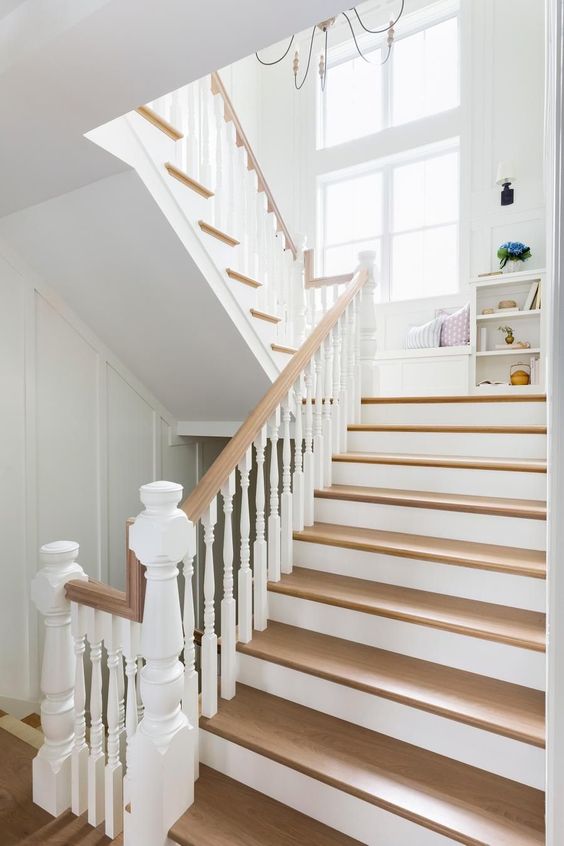 When it comes to stairs, simple will still always remain classy. If you are looking to not spend too much on renovating the stairs, go for light wood-stained stairs.
This is a simple way of amping up the look of your stairs without experimenting too much with the styling. Lightwood stairs can look stunning with both dark walls as well as light-colored walls. Since the stairs give off a light, airy appearance, you can add more elements, such as antique pieces, vases, and showpieces, to elevate the appearance of the stairs.
15. Curved Stairs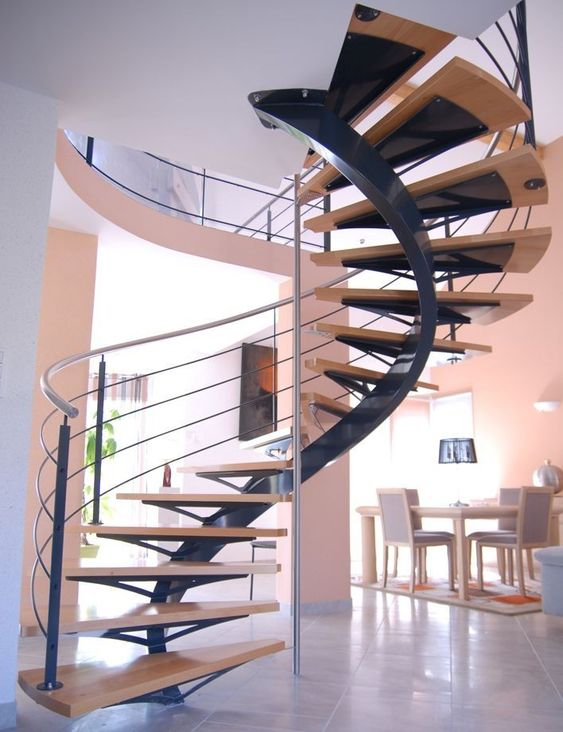 One of the best ways to save space without compromising on aesthetics is to use metal winding stairs. In terms of comfort and safety, this may not be the preferred choice for everyone.
However, curved s-shaped stairs are an excellent way to change your home's appearance. It adds an old-school charm and is space-saving as compared to regular stairs. The best part is that these can be made out of metal, making this a durable long-term investment that looks good.
16. Cabinet Stairs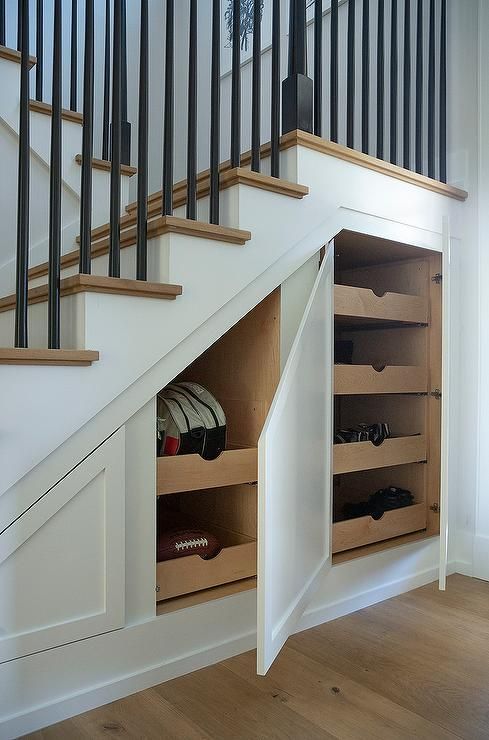 The harry potter series may have given the classic Stairs some notoriety, but truly it never goes out of style. It gives your home a tonne of additional space for saving your stuff.
You can use it to make cabinets under the stairs or use it as shelves for decor. These cabinet stairs are an excellent way of making your home look good while adding functionality to it. Go the traditional route and use wood to make your cabinets or shelves.
17. Patterned Floorboards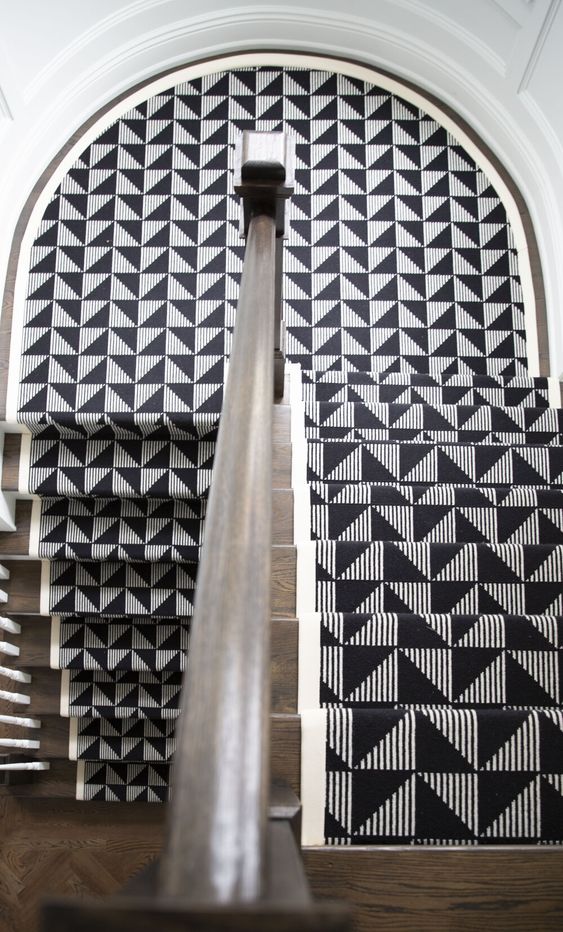 The type of patterns you use in your home decor can make all the difference in how your home appears. Now make your home a beautiful place by trying out and experimenting with different floorboard patterns or carpet patterns.
For instance, having beautiful geometric patterns through the stairs and a similar but changed pattern on the stair landing can look very good. Alternatively, using simple stained wood for the stairs and geometric designs on the stair landing can also be impactful.
18. The Color Experiment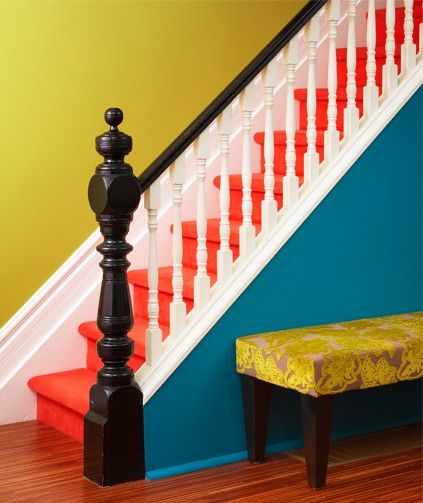 Tap into your creativity by experimenting with colors. Bright-colored or accents of contrast wallpapers, such as pink and blue, are great options. You can choose pastel shades in the stair landing area to mark definitively while giving it a calming, soothing effect.
You can choose white in contrast with any other bright light colors, such as yellow or orange, to give your home the bright appearance that you have been looking for.
19. Curtained Walls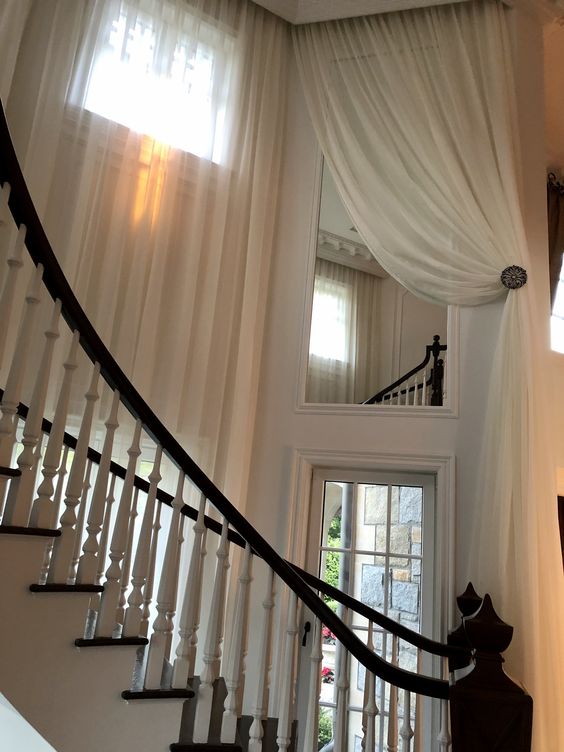 Imagine having a new look for your stair landing every few months. Having curtained panels at the stair landing adds much-needed oomph to your space. It is different, unique, and easy to experiment with. The best part is that you can use this to experiment as much as you want without having to worry about maintenance a lot.
Curtains are easy to wash, install, and change. You can change the designs frequently without worrying too much about the budget.
20. Space Saving Home Office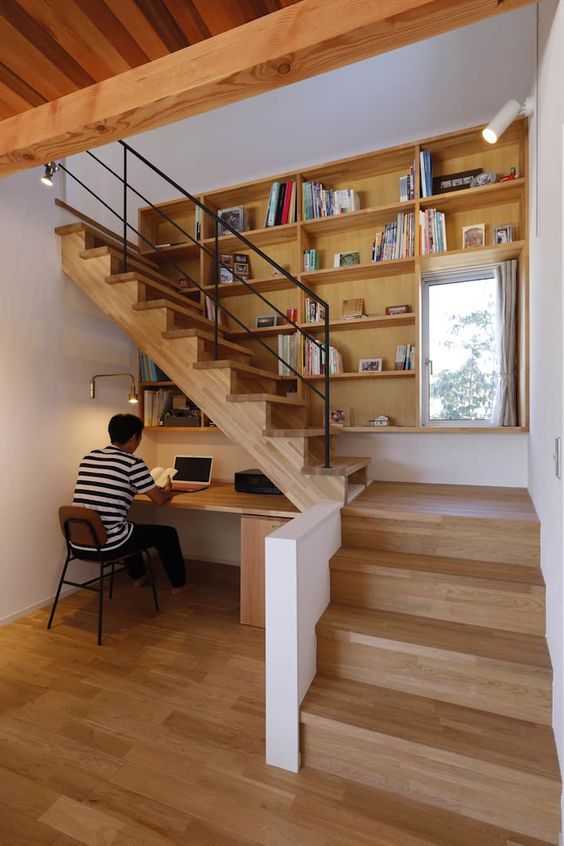 If you have enough space between your stairs, you can create a small workstation without hassle. The best part of this space is that, unlike the living room or the bedroom, you can have your quiet time or space without any hassle. It offers a dedicated work-from-home setup without intruding into someone else's space.
This can also be under the stairs, where the space is neatly tucked away from the rest of the home. An excellent way to make use of your space without feeling an intrusion of any kind.
Conclusion
If you want your own DIY stairwell landing project, then these 20 useful stairwell landing ideas will help you. Most of these are easy to execute, simple to maintain, cost-effective, and create a bold statement.
Don't let your stairwell landing go to waste. Make the best use of your stair landing to create maximum functional plus aesthetic utility in your space. Watch how these simple yet effective ideas can potentially transform your same old boring stairwell creatively into something great.
Let us know in the comments below the idea that interests you!
Frequently Asked Questions
What is a stair landing?
A stair landing is a portion of the stairs at the top or at the bottom of the stairs. This space often opens into the living room, passageway, or corridor area. This space is often overlooked when it comes to designing the home. However, there are multiple ways in which you can design the stair landing to make it aesthetically pleasing as well as functionally beneficial.
How to Design a Small Stair Landing?
You can use smaller-scale seating products if you are looking to have a seating setup. However, if not, you can use multiple elements such as mirrors, railings, panels, curtains, and more to amp up the beauty of the place. Simple vases and stair runners are examples of ways to transform your stairwell.
How Do I Make My Stair Landing Look Bigger?
Multiple designing techniques can be used to make your stair landing look bigger. These include experimenting with wall and stair color contrasts and choosing different wallpapers or designs. You can also use multiple wall fixtures and lighting fixtures to make your stair landing appear larger.