If you are a free spirit, the boho living room décor ideas will surely impress you. The bright colors, bold patterns, radiant charm, and impressive textiles – all collectively make the boho décor style one of the popular choices. The Boho décor style creates a cozy, comfortable, and naturally impressive backdrop to relax and get over all your worries.
Have you been looking for the latest boho living room décor style ideas? The boho style for the living room should be soothing while reflecting your personality and likings. Fortunately, getting the boho style in your living room isn't complicated or challenging.
Let us explore the top 25 stylish and cute modern boho living room ideas to make your living room as dreamy as you want.
Top Boho Living Room Style Ideas for Your Home
A boho living room style is all about adding certain elements of fun and your personality together. The boho décor idea doesn't need a complete makeover and, thus, is quite easy to achieve.
1. Minimal Boho Look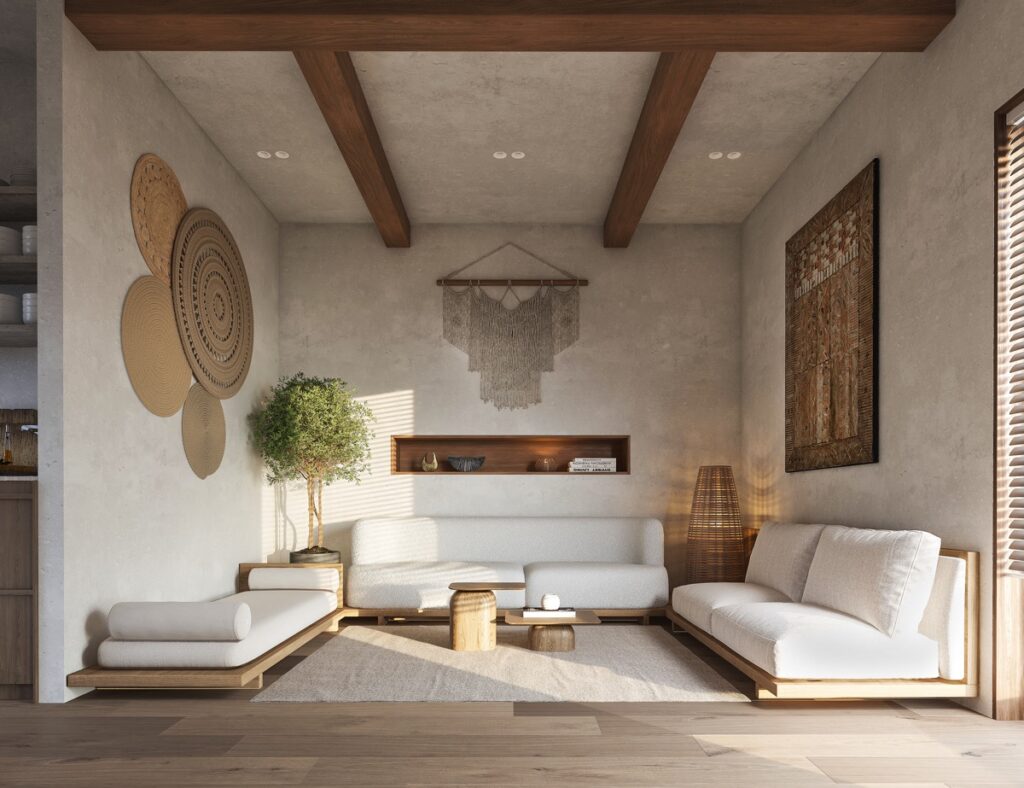 The boho décor style is often considered as loud, brighter, and vibrant; however, it can be subtle too. Yes, a minimal boho living room décor is one of the most trending and popular ideas to try. You don't want to overcrowd your place with a lot of elements to clutter the whole ambiance.
Combining a few pieces of wall décor elements along with the center coffee table is more than enough to master the boho décor look. Make sure the minimal arrangement beautifully reflects your personality with freshness, coziness, and warmth. It is beneficial to have a smooth, bright light in the room to make it look more spacious and glorious.
2. Use a Boho Chair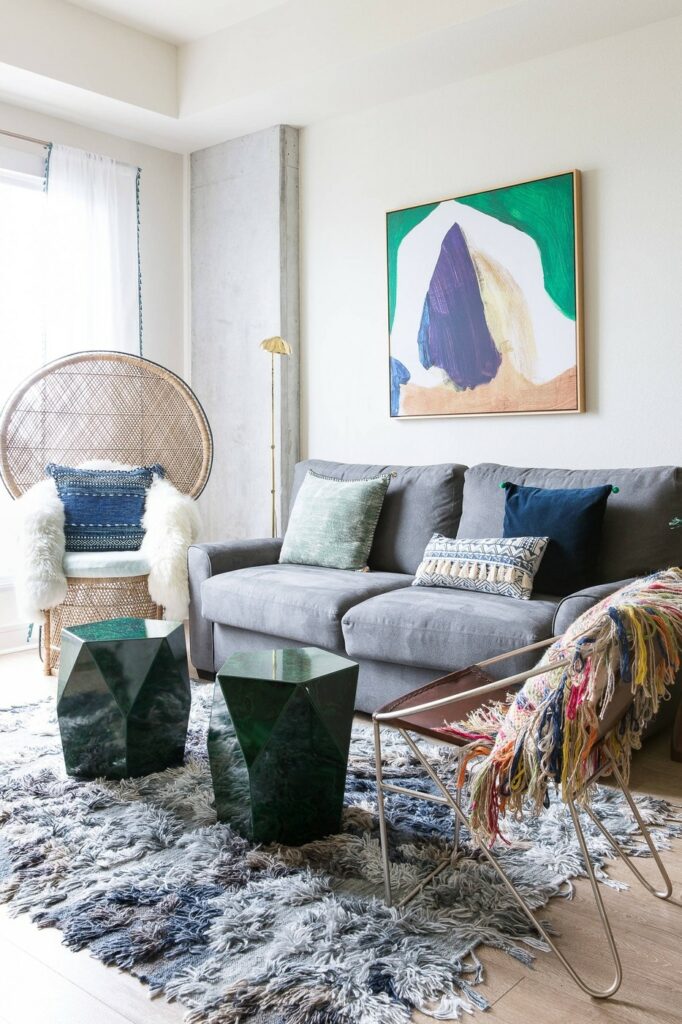 The boho décor style comes with many worthy seating options to glamorize the whole arrangement. Obviously, a more quirky styling chair will make a lasting impression while matching the whole boho vibe. Add one or add more; these chair designs will surely inspire some excellent boho vibe at your place with your true personality.
If you are looking for a chair with an authentic boho vibe, you can try having a princess design, hanging design, Papasan chairs, etc. You can include your own creativity and innovation to make the whole look more appealing and vibrant. However, make sure not to overdo the décor style to ruin the boho vibe.
3. Woven Wall Baskets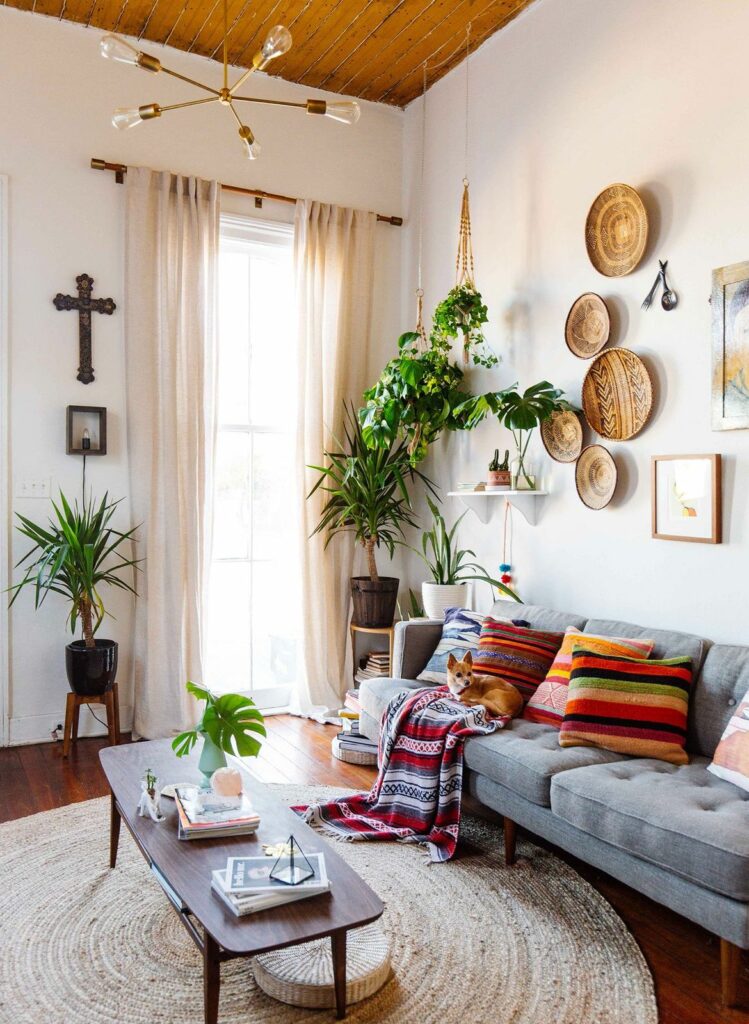 If you are looking for a simple, elegant, yet attractive boho vibe for your living space, you can definitely rely on trying the woven wall baskets. The woven wall baskets made with jute or sisal are the popular choices for boho living room styling. The simplicity of these woven wall baskets is the main attraction that steals the show.
To keep up with the neutral and natural tone of the room, you can also add some fresh plants, a decent coffee table, and an amazing rug. Choose the elements that match the whole boho vibe in the simplest yet charming way possible.
Quick Tip: a striking balance between the colorful elements and the neutral attractions is all you need to justify the boho vibe for your room.
4. Similar Art Pieces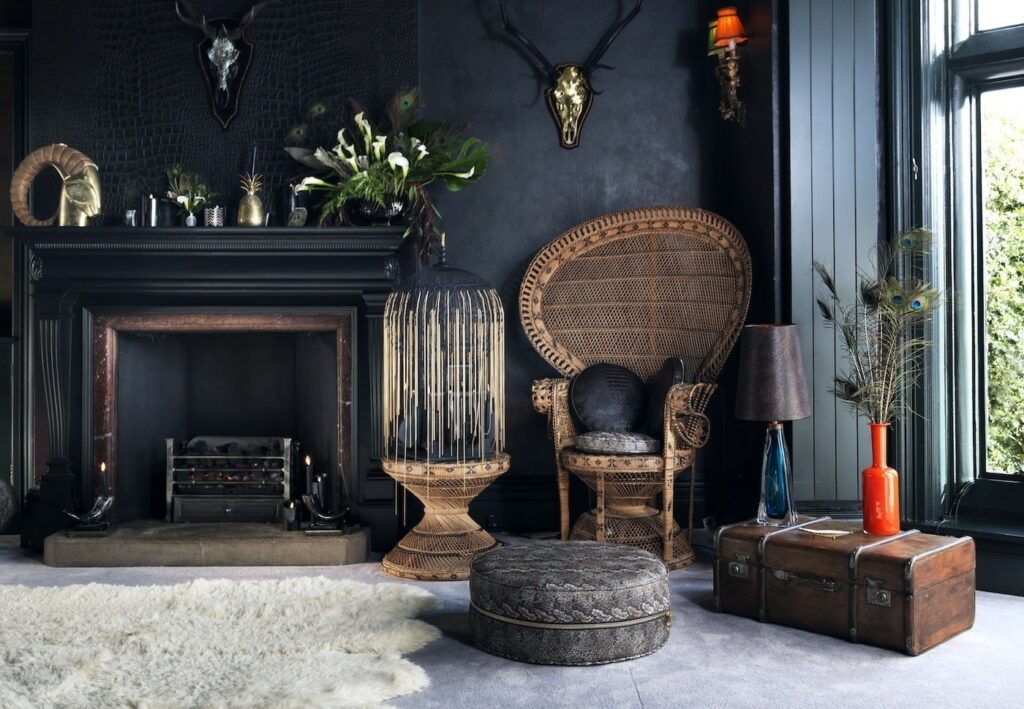 The boho décor style is way too connected with different art pieces. Beautifully arranging different kinds of art and wall pieces contribute to enhancing the boho vibe of your place. However, make sure that all the art pieces you are using are connected to appear similar looking.
To give a modern boho décor to your living room, you need art pieces that appear quirky, unique, and innovative. The art pieces should give the vibe of being collected from the most exotic markets or antique shops. Additionally, if they are one of a kind, like a handmade item, they can certainly attract everyone's attention to their beauty.
5. Versatile Modern Furniture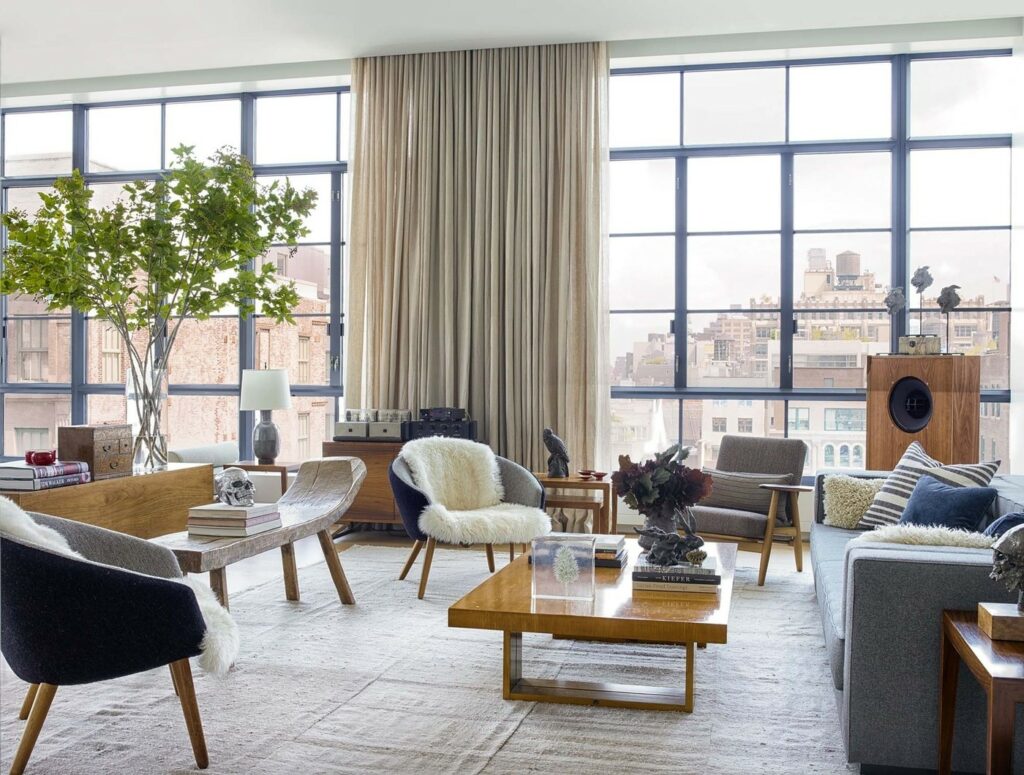 As you are planning to add some authentic boho chairs to your living room, it is also advisable to upgrade the vibe with versatile modem furniture. The versatile furniture not just adds to the beauty but also adds sophistication to the boho living roomdécor. You can mix and match different furniture types that collectively reflect your personality.
Dark wood finishes, warm-colored upholstery, short and long design patterns, leather, etc., are some of the popular choices to offer versatility in living room furniture. You can also choose to be versatile with the colors of the modern furniture used in the living room, such as balancing the darker and neutral color shades.
6. An Attractive Orange Sofa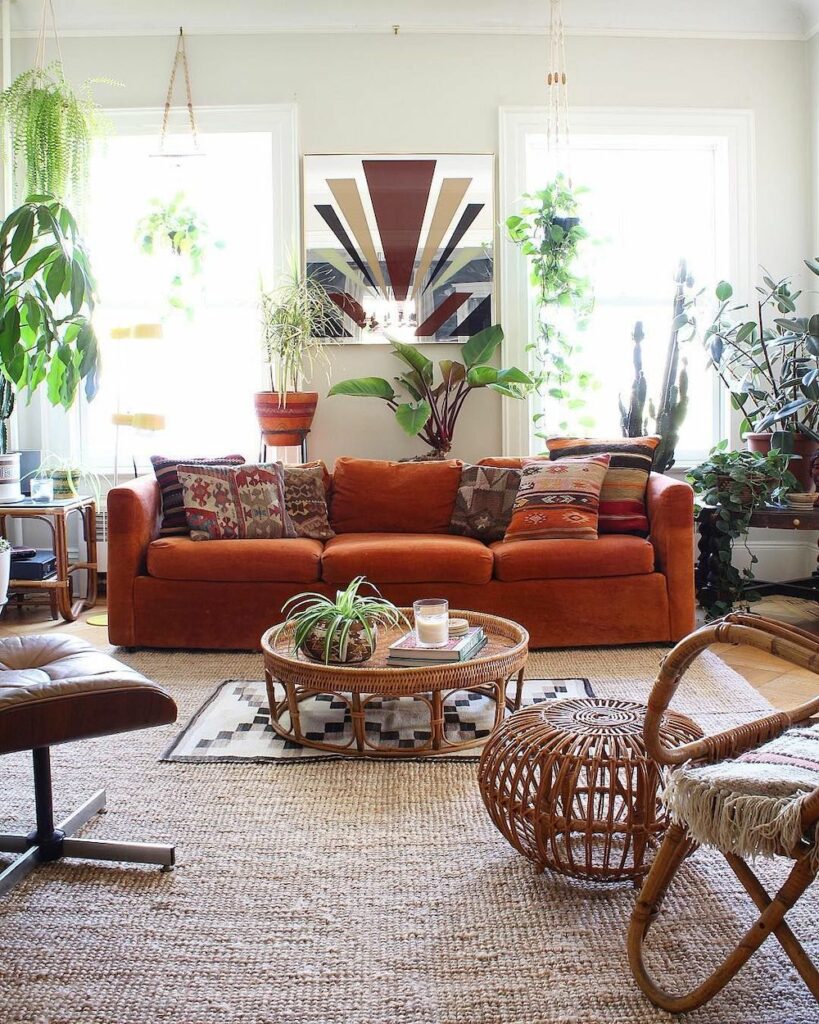 While being versatile with the colors or furniture items is a choice, a vibrant orange sofa is a must-have for boho décor. The bright orange sofa creates the whole mood of a boho décor style that binds everything else together. Moreover, when arranged with the right accessories, the bright orange sofa can be the center of attraction in your living room.
To glamorize the whole boho style, you can add a side table, wall art pieces, accent chairs, fresh plant pots, etc. This will not just enhance the beauty of the place but also ensures enough space for your guests and visitors. After all, having more than sufficient seating for your loved ones is a popular bohemian living room décor style.
7. Floor Pillows and Vinyl Plants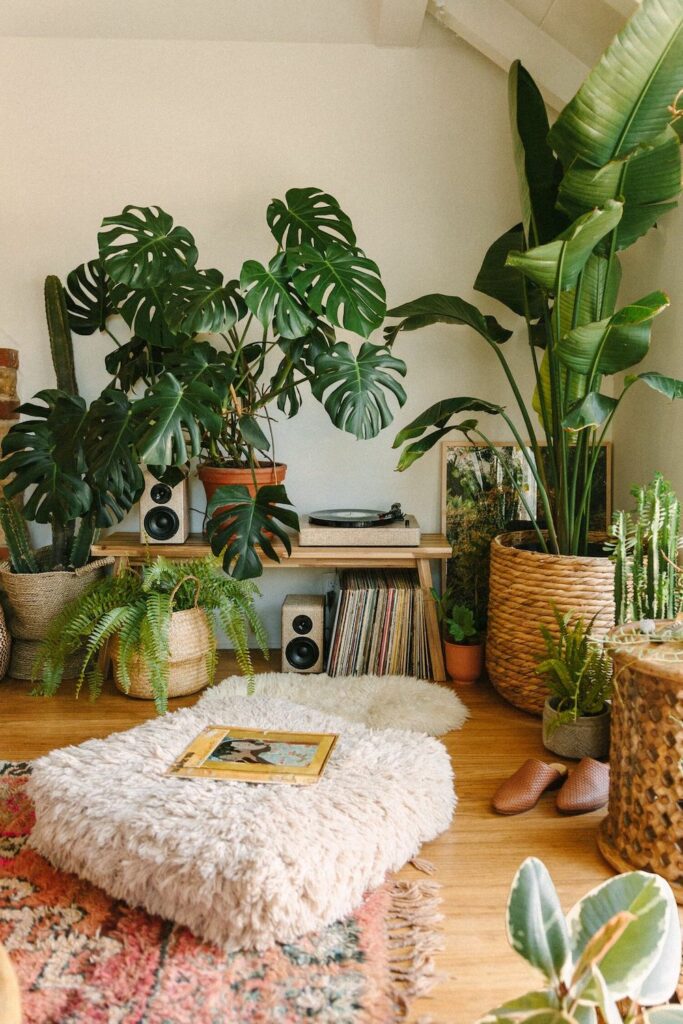 Boho living room décor majorly comprises vintage décor items like vinyl plants. Vinyl plants are a great addition to the room as it improves positivity, freshness, and warmth in the room. Moreover, the vinyl plants are a comfortable addition to the room to attract the boho vibes without any hassles.
To enhance the charm of the vinyl plants, you can easily use some of the floor pillows in the display. You can play around with the number, type, and color of the floor pillows, which sets an attractive contrast with the greenness of the vinyl plants. It can be rightly said that the combination of floor pillows and vinyl plants is an ideal choice for the younger generation of boho lovers.
8. String Lights with Swing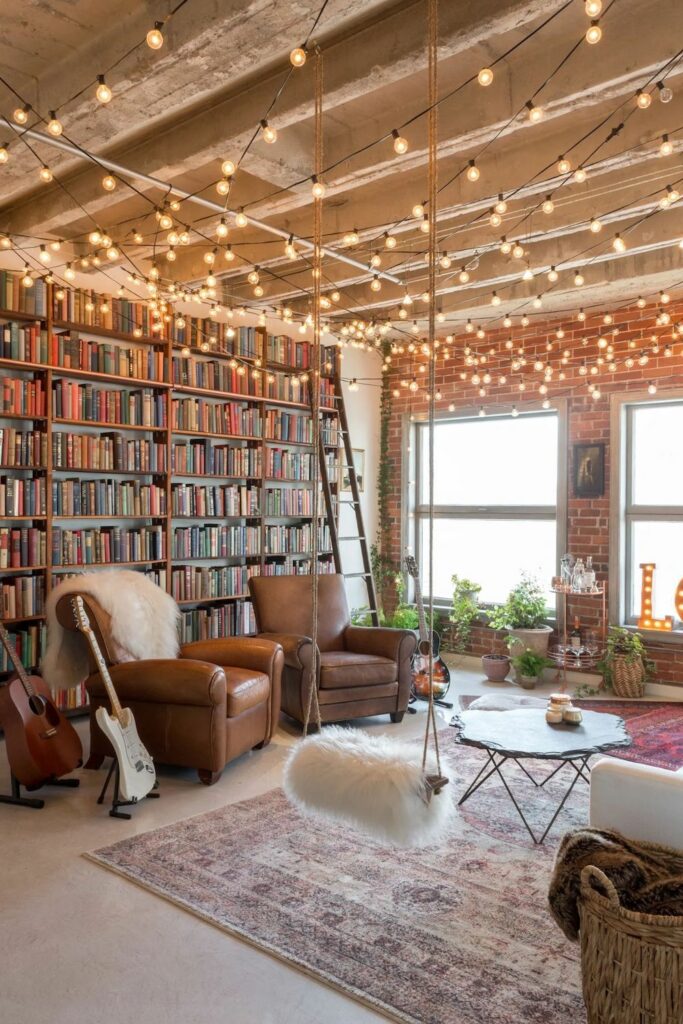 Swings and string lights have a special place in the boho décor style. Just imagine a fur seat swing hanging amidst the beautifully decorated string lights; isn't it what we call soothing boho décor? Fortunately, it is super convenient to try this décor style in your living room.
Decorate your room's ceilings with string lights and hang the swing right in the middle to make an attractive combination. You can also add a bookshelf, a pair of boho chairs, some plant pots, and décor accessories to enhance the whole vibe of the place. Believe us; it can be your go-to relaxing place to overcome all stress and anxiety.
9. Ancient Boho Pictures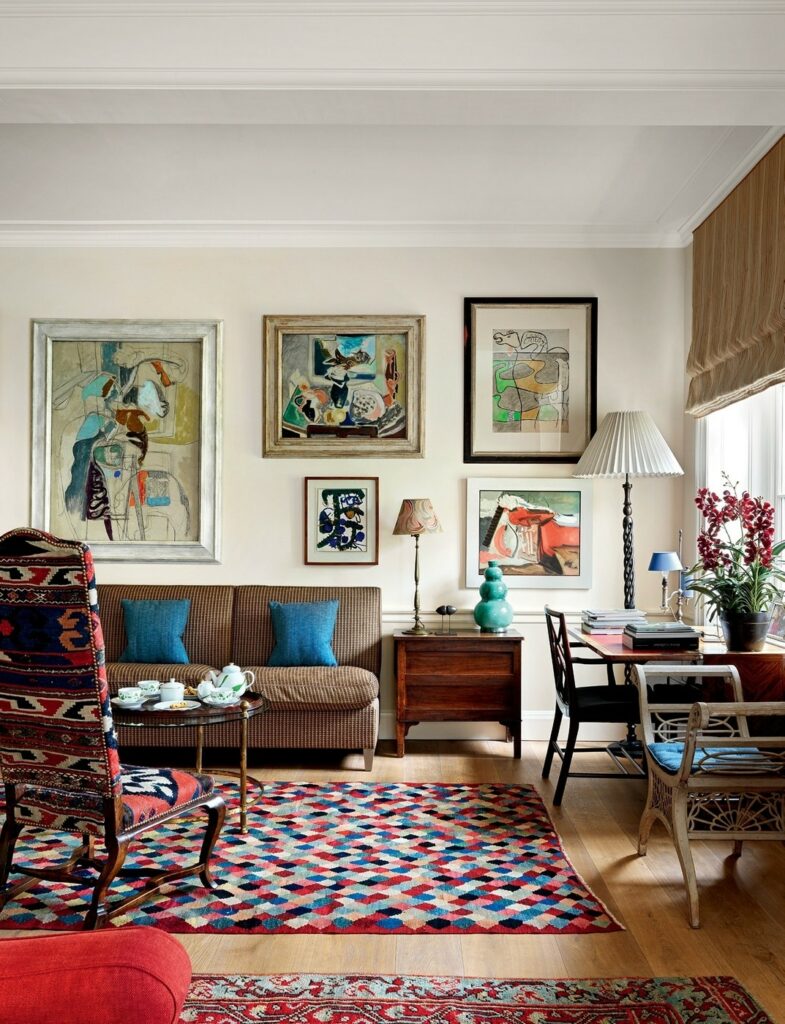 If you are one of the art lovers, you can add some of the ancient boho ancient pictures to enhance the beauty of your living room. What can look more attractive for a boho living room décor than adding ancient, bohemian pictures? The ancient boho pictures can really bring life to the whole boho vibe without many complications.
Decorate your favorite boho wall pictures and paintings just the way you like. Additionally, use décor accessories, eye-catchy cushions, vibrant color sofas, etc., to spice up the boho décor style. You can use your creativity and innovative ideas to collectively bring all these boho elements together as one beautiful frame.
10. Combine Modern and Boho Furniture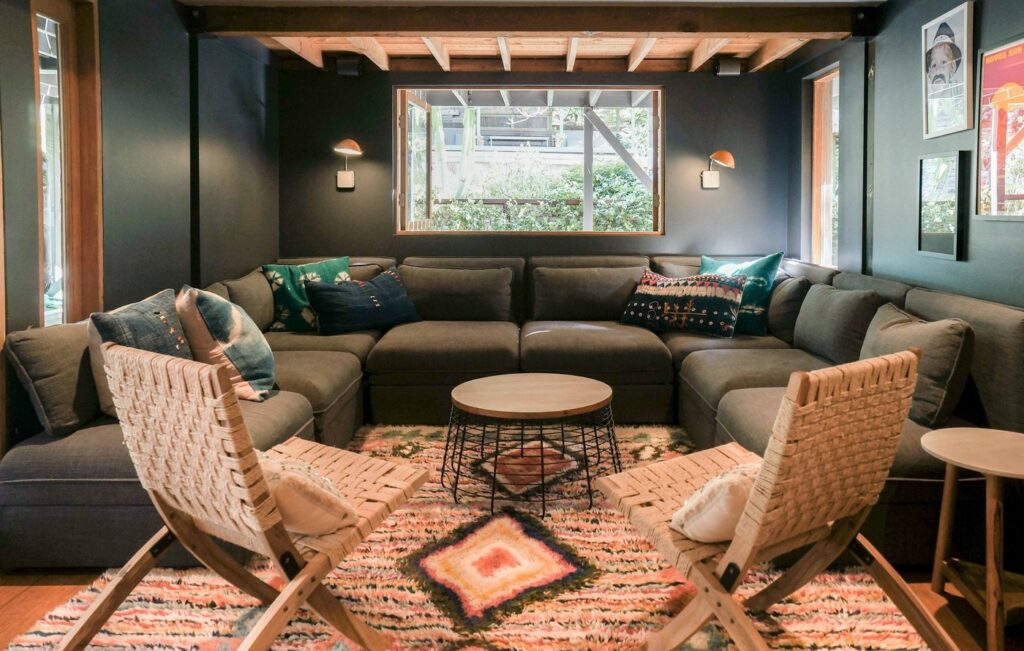 There isn't anything right or wrong when it comes to boho styling décor. You can always be playful, creative, experimenting, and innovative with your boho décor ideas to create an impressive impression. One of the simplest ways of leaving a lasting impression of boho décor is to combine modern and boho furniture together.
As you combine two different styles together, you get the maximum flexibility to be as free as you want with your choices. Make your own interior designing trends like never before to bring modern and boho furniture attractively. Focus on creating something you love rather than having a 50-50 balance between the two styles.
11. Different Pillow Décor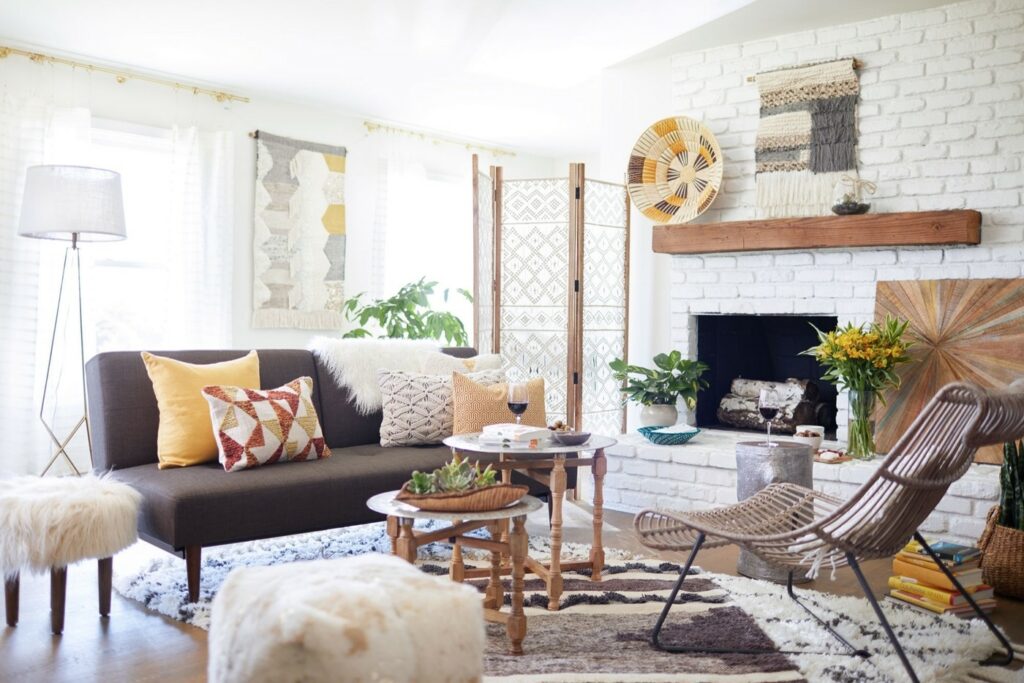 Cushions are one of the most important elements in the boho décor style. The cushions bring an advanced level of comfort for the users and are aesthetic with the boho theme. You can show a lot more than different colors by relying on the different pillow décor for the boho living room styling.
Basically, the different cushions ensure the best representation of different textures, colors, patterns, materials, etc. From bold to simple, from neutral to darker color shades, and from small to large, you can enjoy maximum flexibility in styling the living room.
Quick Tip: to attract the maximum attention, you should try a contrasting combination of pillow décor against a backdrop that allows them to pop up.
12. Prioritize White Color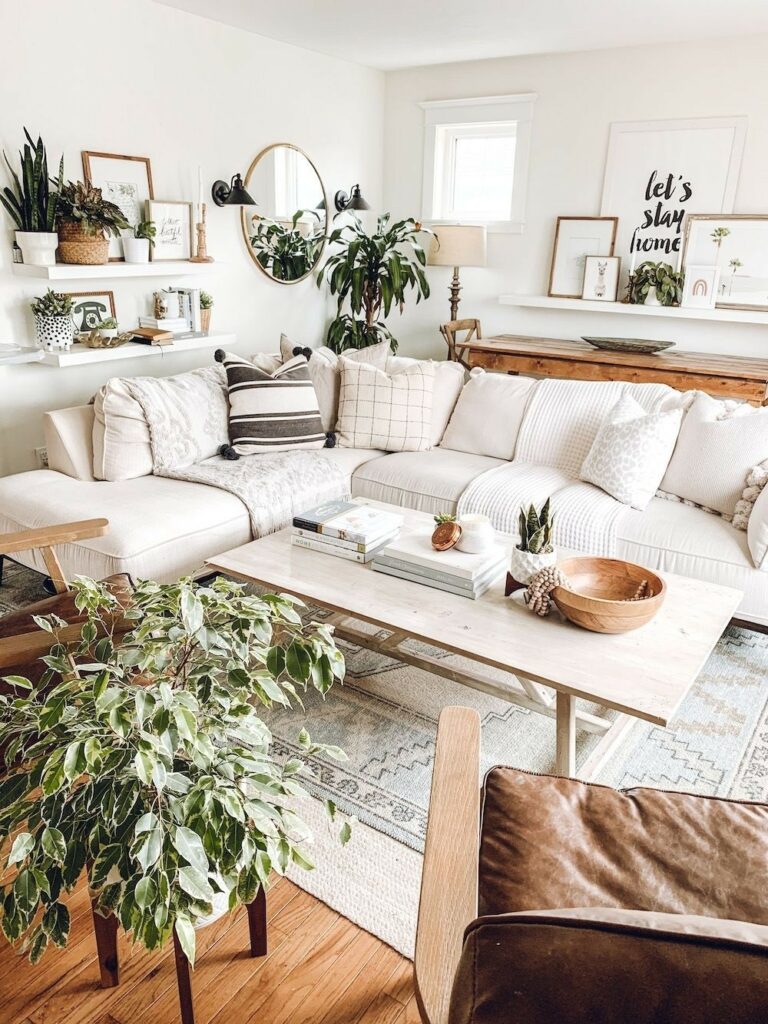 If you don't want to have a blast of different boho colors in your living room, you can easily and confidently stick to the white color. White is the purest and most beautiful color to feel relaxed and comfortable. As a primary boho color, white can be one of the most appealing boho décor to make people fall in love.
Besides keeping you relaxed, the all-white boho style keeps the room airy, spacious, and brighter. Additionally, it works as a brilliant backdrop for the other boho prints and patterns to pop up instantly.
Add furniture and accessories in the same color to double the beauty and charm of the white décor theme.
13. Charm up With Contrasting Color Combination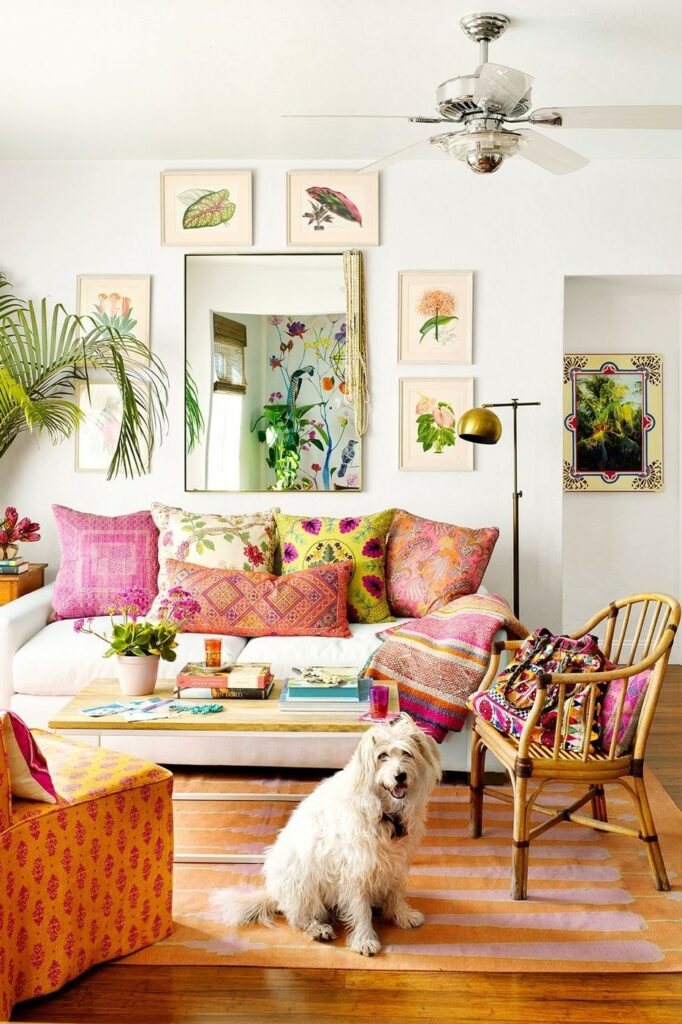 Never feel hesitant to add colors to your living room when planning to elevate its style game. One of the best boho living room décor styles is to strike a magnificent balance between contrasting colors. You can experiment with the choice of colors as you like, ensuring they are well-balanced with one another.
According to market experts, blue and orange, yellow and violet, green and purple, etc., are some of the best contrasting color combinations for the boho style. You can also try a combination of a white backdrop with other vibrant colors popping up as décor elements and accessories. Use your creative imagination to reflect your thoughts and personality in the best possible way.
14. Attract with Bold Blue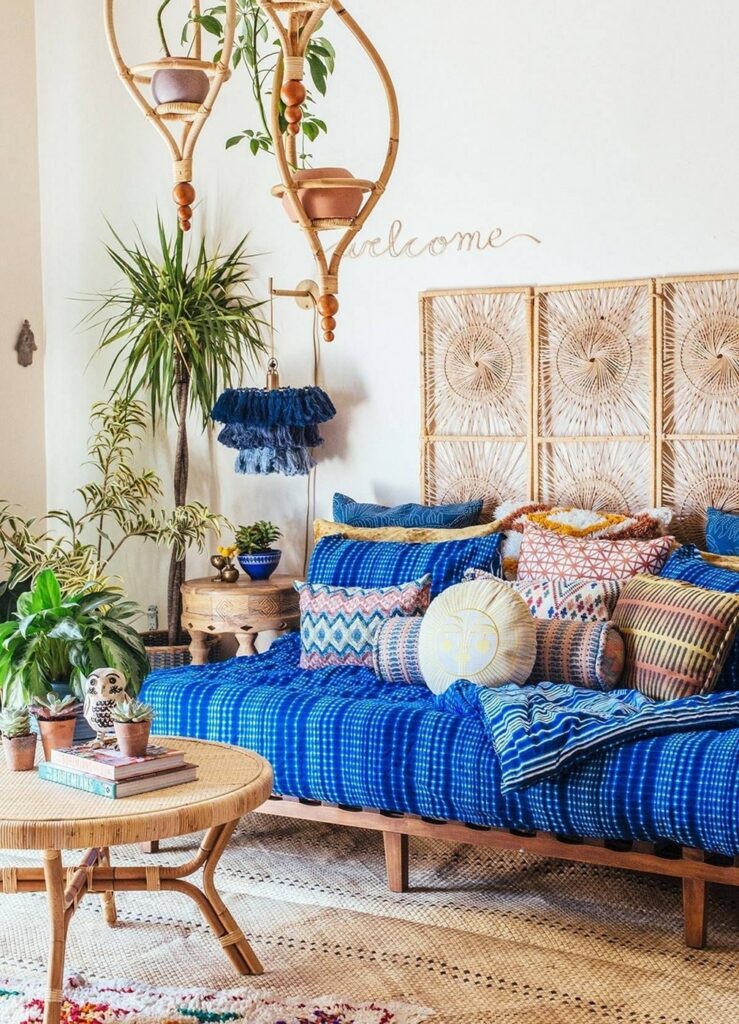 The evergreen color blue can never go wrong with any style of décor, especially the boho décor style. The color has its own charm that brings positivity, freshness, relaxation, and calmness to the surroundings. Making a style statement with the bold blue color will surely give a distinct appearance to your living room décor aura.
Besides the earthy colors, green, blue, red, purple, etc., are other popular colors for the boho décor style. If you want to impress everyone with modern boho décor, you simply cannot miss adding bold and vibrant shades of blue. You can have your cushions, wall decors, different accessories, sofa covers, etc., in the same shade of blue to create a lasting cohesive impression.
15. Work on the Harmonious Palette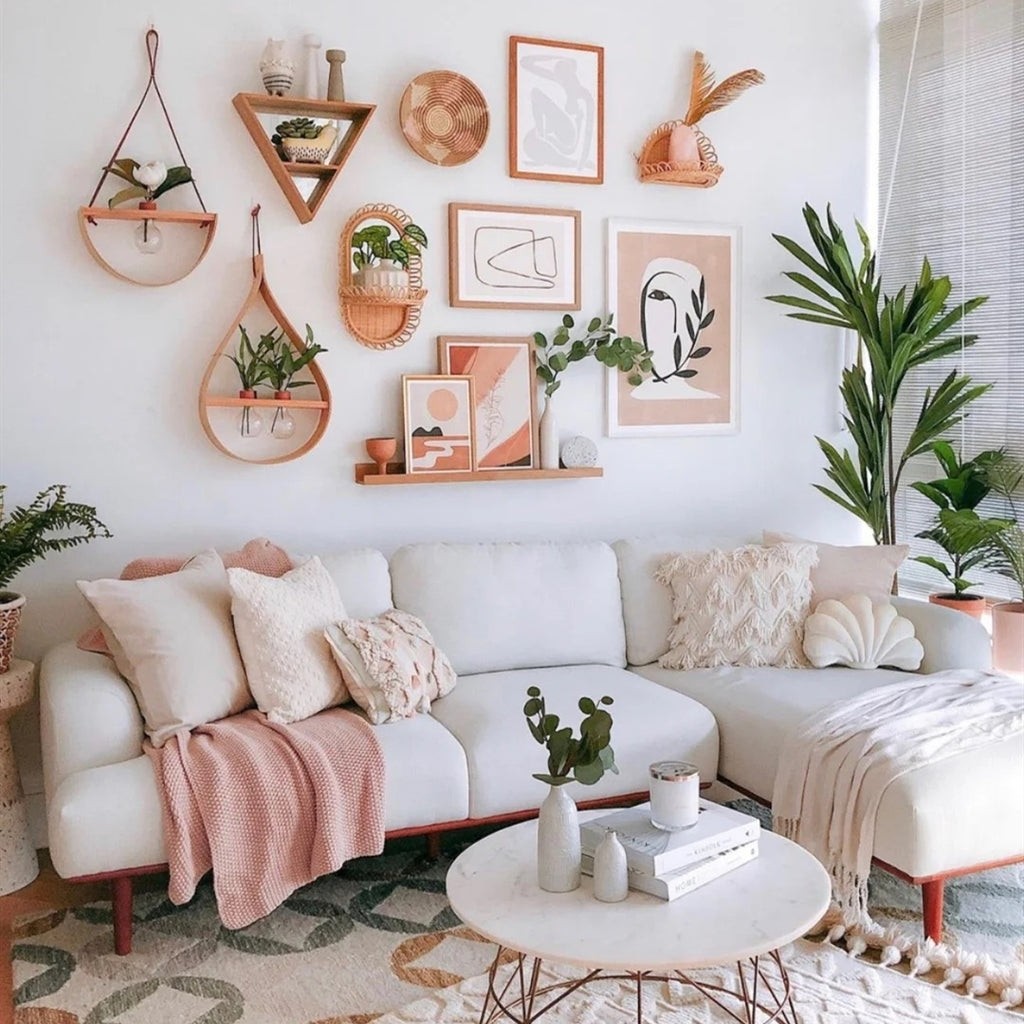 If you are not much of a creative and innovative person and the idea of adding contrasting colors doesn't work in your favor, you don't have to worry. You still can get an impressive boho living room décor for your place without any hassles. To achieve success with boho décor, you can also stick to simple, elegant, and cohesive choices.
For instance – one of the best ideas for simple boho décor is using a harmonious palette with white and neutral shades of pink and green. The beauty of the charming pink and versatile green shade works as an attractive style with a white backdrop.
Adding the right kind of furniture, décor, and textures can elevate the place's vibe.
16. Use More Plants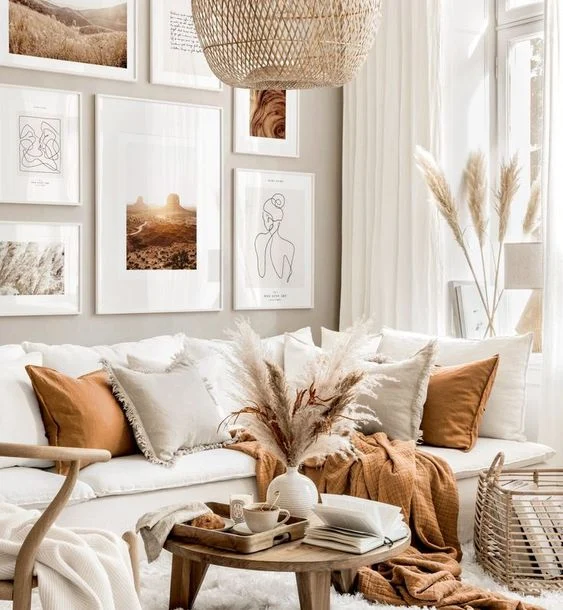 You really can never have too many plants, especially not in the boho décor style. The modern boho décor is all about upgrading the surrounding of the place with the beauty, freshness, and relaxed vibe of as many plants as possible. There is this thing about using plants in the boho décor; they instantly refresh your mood.
Quick Tip: you should clearly understand and maintain the fine line between plant-based boho décor style and the jungle theme. Avoid making your place a jungle with just plants all around and nothing else.
Stick to an innovative thought process to beautifully arrange different kinds of plants to work together as magnificent magic. Ferns, yuccas, monsteras, succulents, etc., are some of the popular plant choices for a boho décor style.
17. Try Modern Light FixtureTry Modern Light Fixture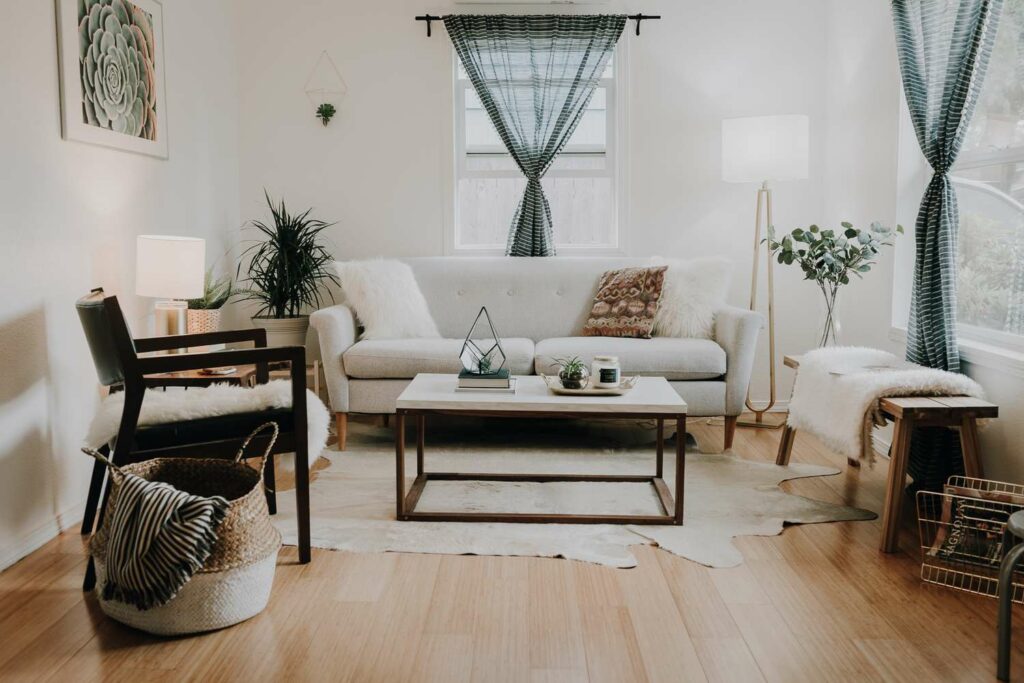 Even the charm of the contrasting colors cannot work in your favor if the lightning isn't appropriate at the place. The inappropriate lighting isn't something you want to dull the spark of the boho living room décor.
Thus, when talking about the boho décor style, make sure to have the perfect lighting that instantly brightens up the entire surrounding. Choose the modern light fixture like starburst overhead lights or modern century wall-mounted decor lights; to glamorize the whole boho vibe at your place.
You can also experiment with the geometrical shapes, sizes, and styles of the light fixture to create an eye-catching presence without any hassles.
18. Macrame Wall Décor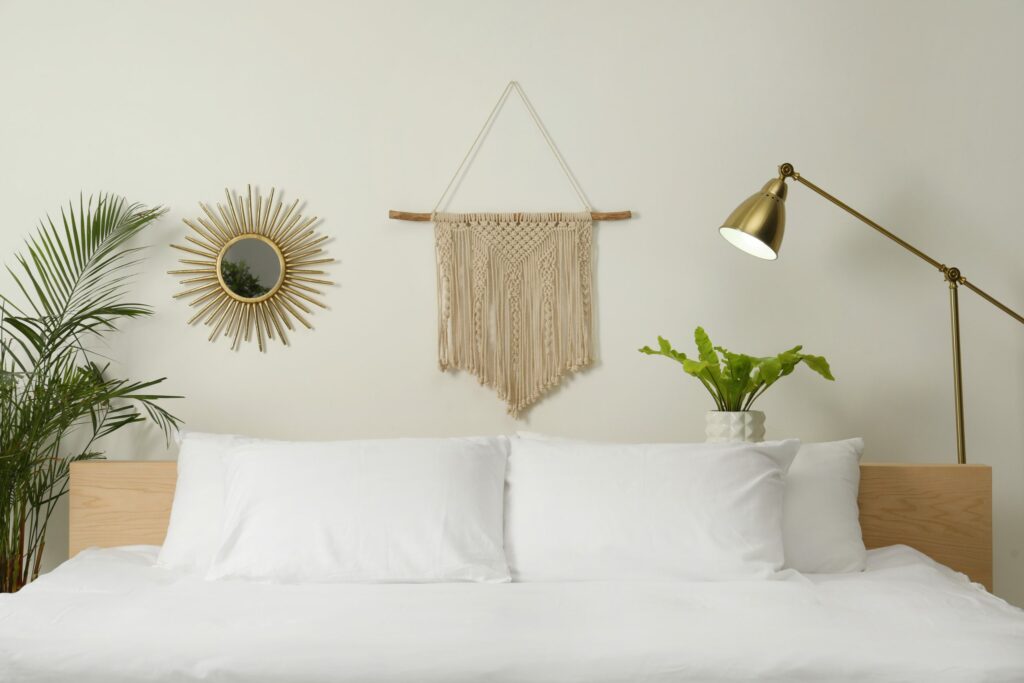 Macrame is undoubtedly one of the most popular and charming wall décor styles in the boho design. If you want to keep it simple, you can just add an attractive macrame wall décor, and you are sorted. On the other hand, if you want a glamorized boho style for your living room, add different macrame wall decors in the most creative way possible.
Fortunately, you can easily find a large variety of macrame wall decors ranging in different price options. You can easily choose the perfect style that relates to your preference and personality the most.
Once you have picked your favorite macrame wall decor, you can also experiment with the sofa set, center table, etc.
19. Add a Swing Chair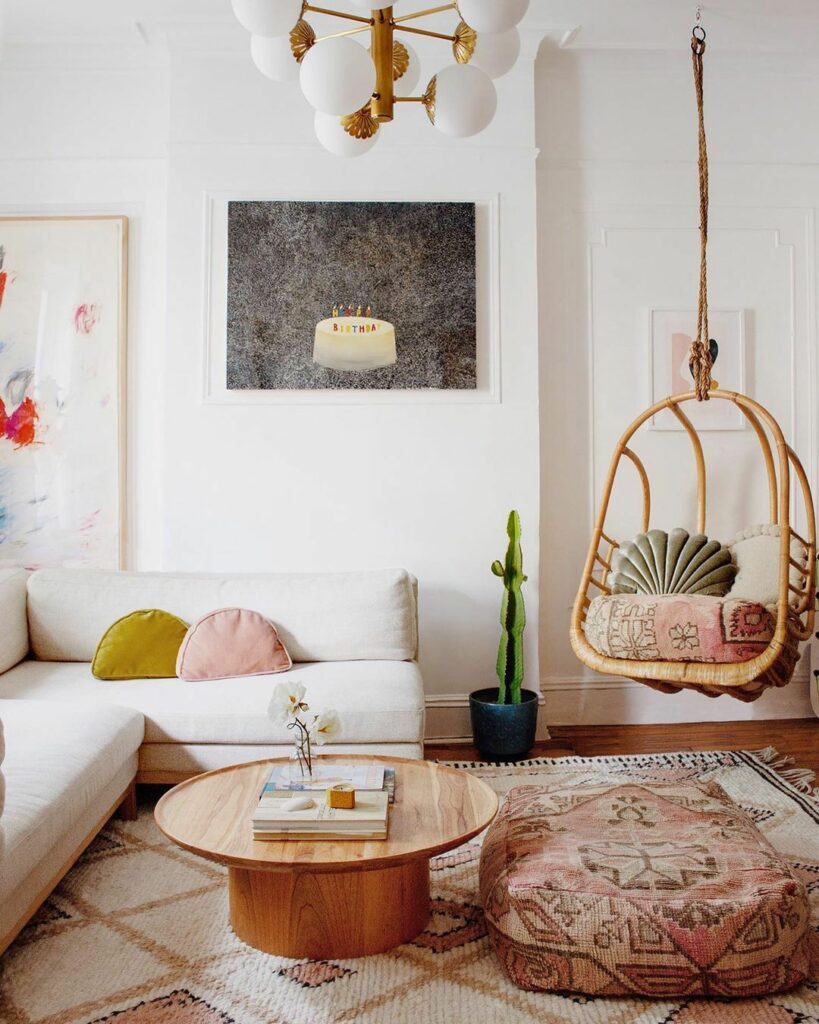 Another charming addition to the boho living room décor style is the swing chair. The swing chair brings an instant freshness to elevate the whole mood of the boho style. Moreover, irrespective of age, the swing chair is usually loved by one and all.
The swing chair will instantly attract all eyes, ensuring to bring all compliments for your styling game. You can add a decent sofa set, center table, rugs, cushion covers, floor cushions, etc., to glamorize the whole surroundings further.
Additionally, the small plant pots also make great options for decoration.
20. Wood TV Stand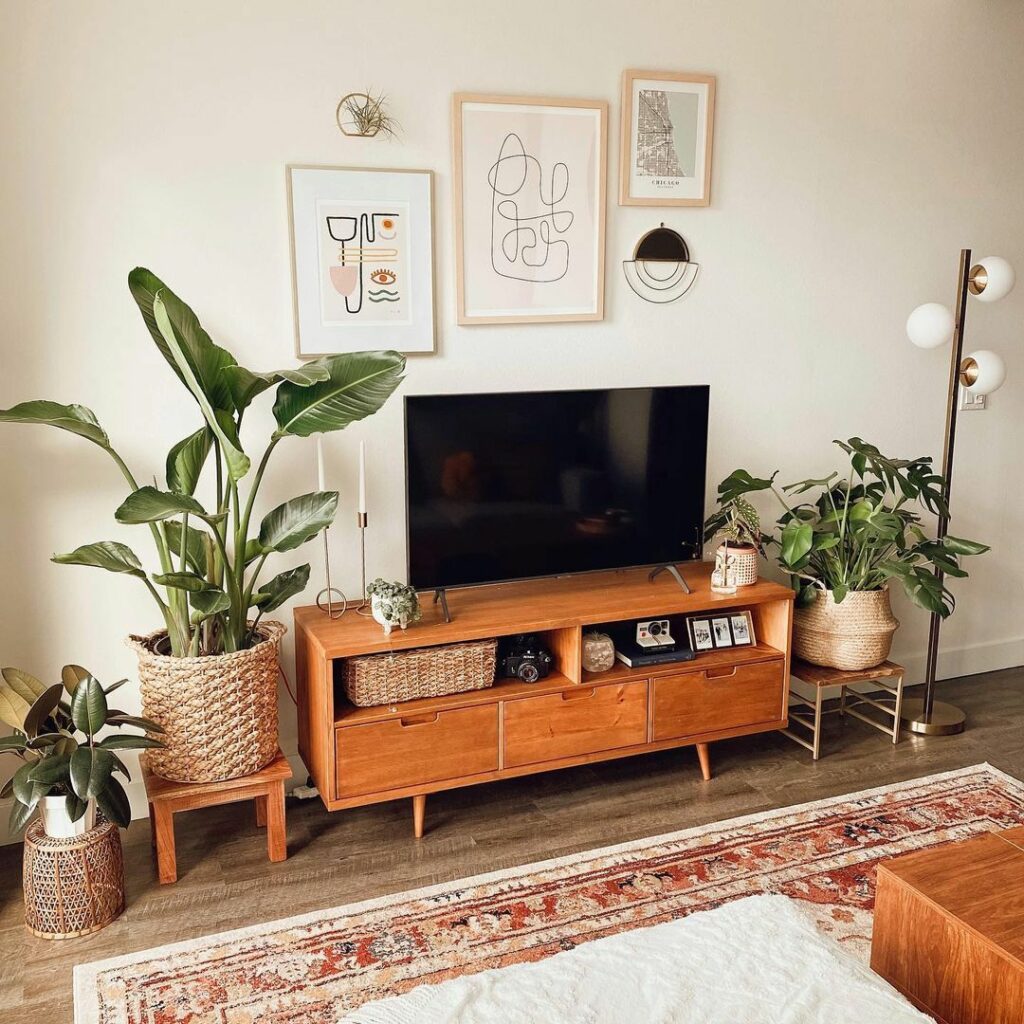 A wood TV stand may appear really simple and casual, but it has an influential aspect in the boho décor style. The boho style is more connected to the warm mid-century elements, like a wooden TV stand in the living room.
You can make the whole décor look more stylish by using plants on either side of the TV stand or creating a wall gallery. This décor style generally works for all types of living rooms, either big or small.
21. Vintage Rugs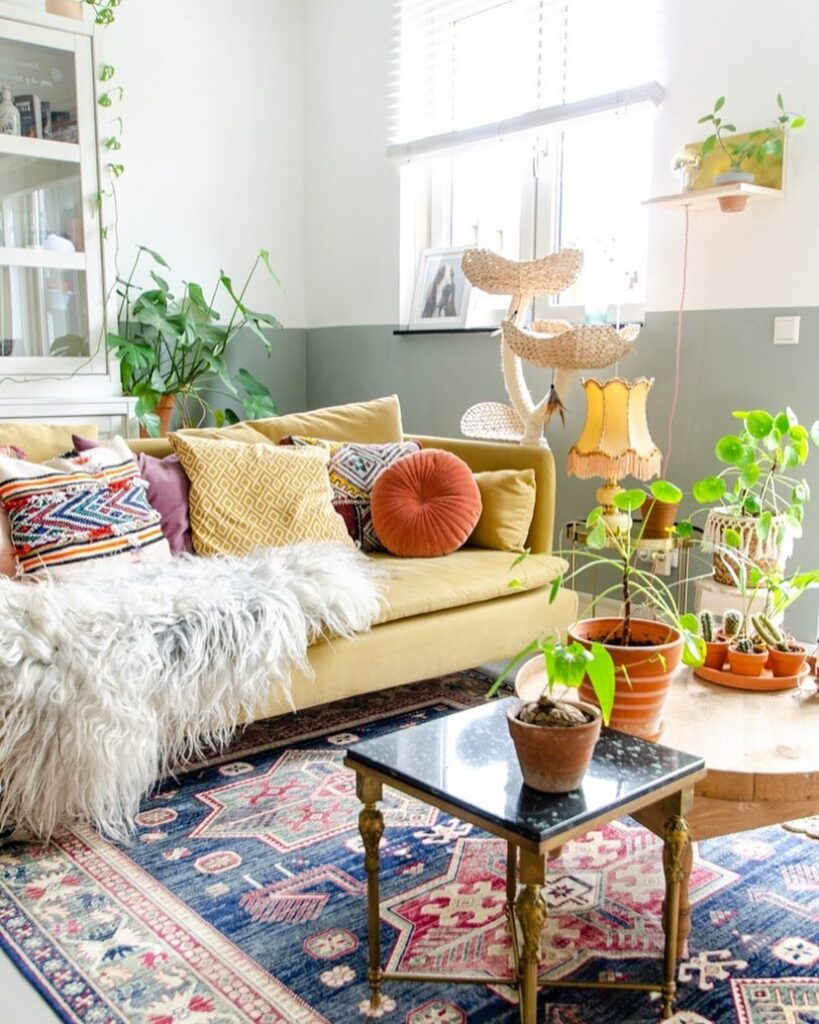 Rugs, anyways, have an exceptional quality to attract attention instantly. The same is elevated to the next level with the use of vintage rugs for the boho living roomdécor style. You can also combine oriental and vintage rugs to create popular boho décor.
The neutral wall décor and muted accessories further add to the beauty of the whole look. You can also add some green plants to make the décor style look more dreamy.
22. Colorful Throw Blankets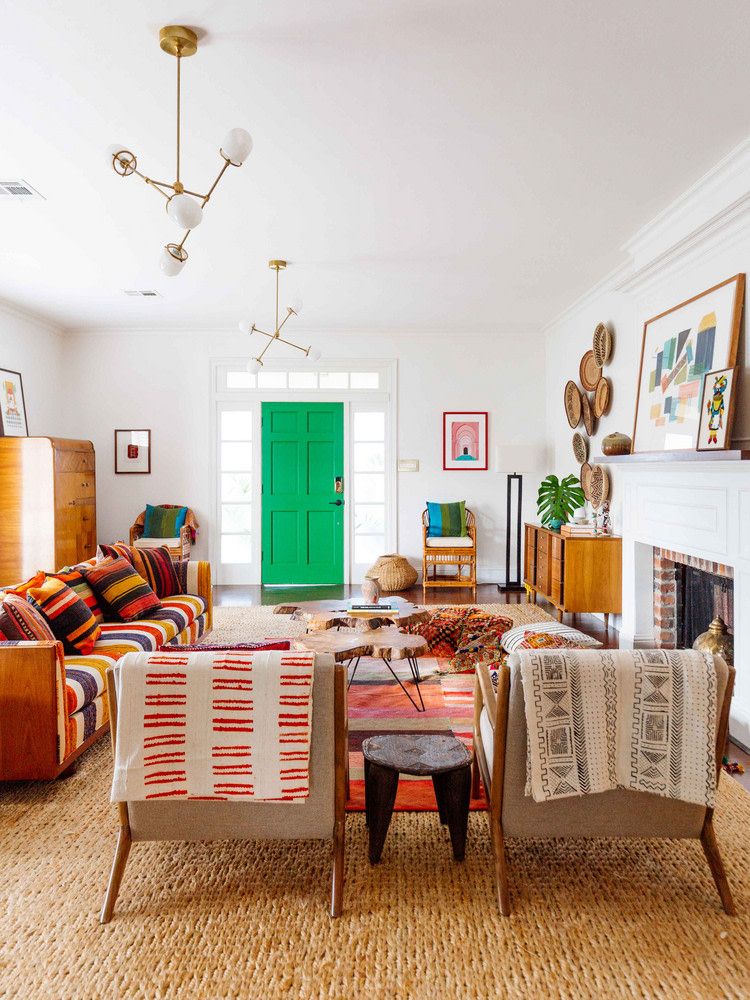 The boho style is often associated with combining different bright colors. One of the best ways to subtly combine as many different colors as you want is by using throw blankets. The colorful throw blankets are one simple way to highlight your efforts to get the right boho interiors.
Quick Tip: use a neutral tone for the walls, wooden furniture, and minimal wall décor to divert all attention to the colorful throw blankets. They are enough to get you all the compliments.
23. Modern Geometric Patterns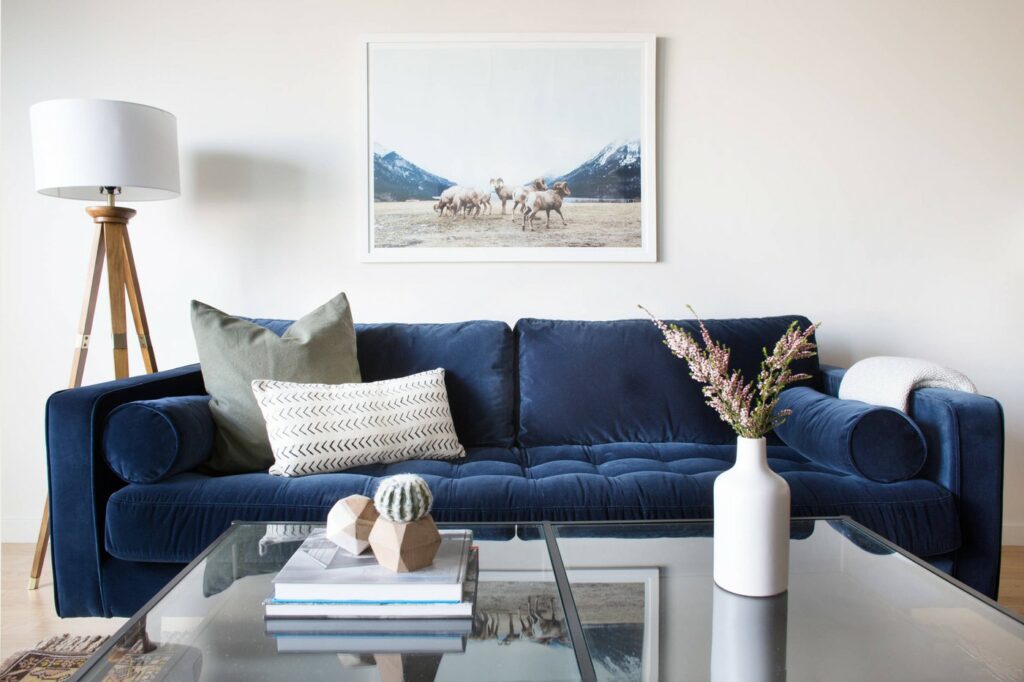 Another simple way to get an inspiring boho living room décor is by using modern geometric patterns. The geometric patterns are the real game changer to ace the boho décor. Make sure to have the right mix of horizontal/vertical lines and circles to make a lasting impression.
Cushions, wallpapers, rugs, wall decors, sofa covers, etc., are some of the popular places to experiment with geometric patterns.
24. Maximalist Approach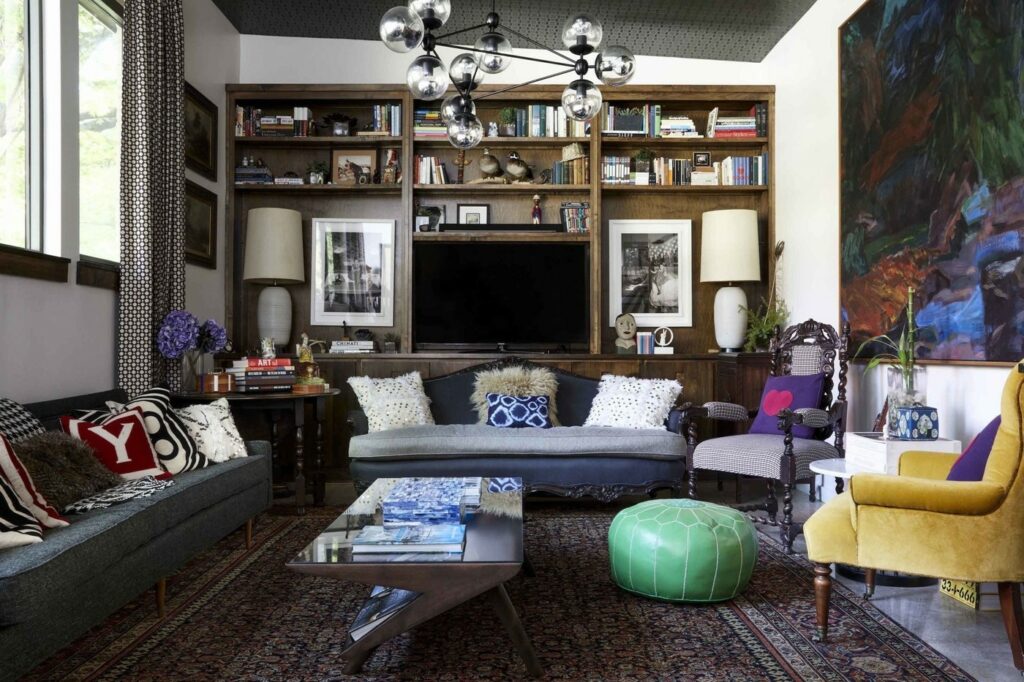 When talking about the boho décor style, you cannot go without mentioning the maximalist approach. From using different vibrant colors to attractive décor elements, boho is all about maximizing imagination.
Don't ever feel hesitant to go overboard with your decorative ideas for boho styling. Bring in those plants, cushions, throw blankets, rugs, sofas, swing chairs, and other unique elements to master the boho décor without ruining the whole bohemian vibe.
25. Unusual Décor Items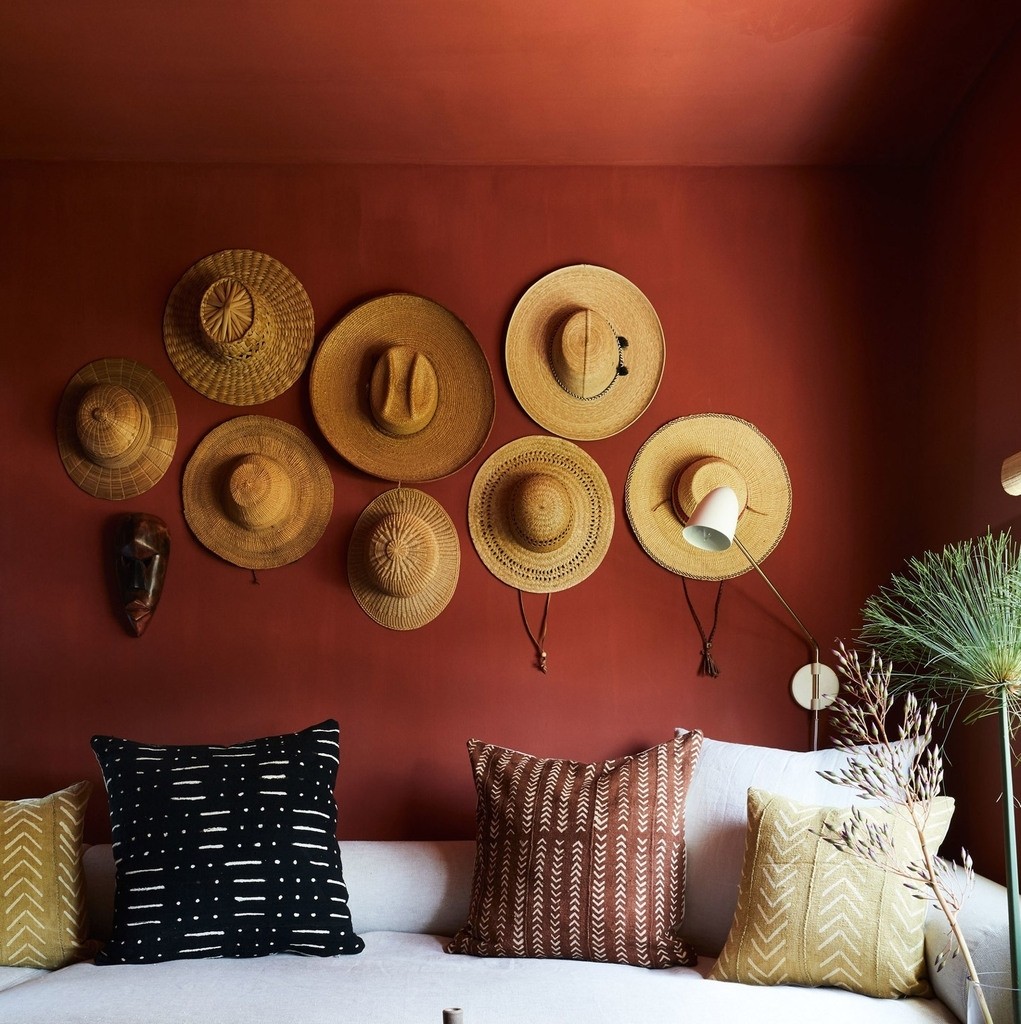 Last but not least, the boho living room décor style cannot get completed without using unusual decor items. The boho style offers full freedom and flexibility to add any unusual décor element that makes sense to your creativity.
Straw hats, woven plates, attractive wall art pieces, different textures, colorful baskets, terracotta pieces, show-stopper rugs, cushions, etc., are some of the popular options. Don't be afraid and think out of the box with an exceptionally beautiful boho décor style.
Final Thoughts
Aren't you all impressed with these amazing boho living room décor styles? The boho décor style instantly reaches a wider audience with its quirkiness and unusual ideas. Embrace the modern boho look in the most aesthetic and inspiring way possible without complicating or ruining the whole vibe.
It is time to unleash your creativity and let the carefree approach master the boho styling game. If you still need suggestions for the boho living room décor ideas, write to us in the comment section. You can also share some of your creative ideas to get a visually attractive boho style.
Frequently Asked Questions
What is a Boho Living Room Style?
The boho living room décor style specifies and combines the free aesthetic of different cultures. It beautifully presents several artistic expressions in a more neutral and natural form. The use of mixed patterns, wood, materials, metals, etc., is totally encouraged in the boho style.
What Kind of Furniture Is Used in The Boho Decor Style?
The boho décor style combines different bold patterns, textiles, textures, colors, prints, designs, etc. This boho style is all about the free-spirit attitude to break the monotonous interior rules and regulations. You can also have your own boho styling décor justifying your personality and likings.
What Are the Popular Décor Colors in The Boho Style?
The shades of yellow, orange, brown, neutral, white, light blue, gray, green, and red are some of the popular boho living room décor colors. The combinations of such colors are visually attractive to the eyes, along with winning the aesthetic style.