Many people opt for white cabinets in their kitchen because of their clean and timeless look. But it may seem tedious if you don't choose the right kitchen wall colors.
It is important to achieve the perfect balance of cool and warm undertones to make your kitchen shine. If your cabinets are white, it's better to choose a neutral color for the walls as it will help in keeping the look minimalistic and simple. You can also pair white cabinets with a warm color on the walls to create a cohesive color flow.
But remember, even white has different tones, so study your cabinet's white shade before choosing the wall color. If you're facing difficulty in choosing a paint color that goes well with your white cabin, you can follow our guide.
We will give you tons of options to create the feel you're looking for in your kitchen. Don't let the white cabinets scare you from achieving your dream kitchen.
Stunning Paint Colors that Can Be Paired with White Kitchen Cabinets
Let's take a look at the best kitchen wall colors that will perfectly complement the white cabinets in your kitchen.
1. Deep Violet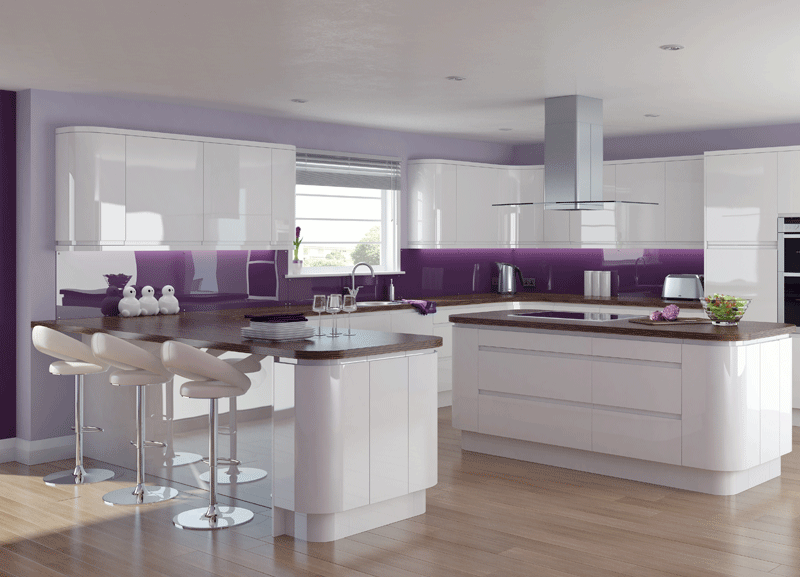 The deep Violet kitchen wall color looks sophisticated and classic when paired with white kitchen cabinets. It not only goes well with white kitchen cabinets but also complements different types of accents and artwork. You can use it to create a striking contrast and add a pop of color to your kitchen. It will warm up the floors, walls, and cabinets and make your kitchen stand out.
The warm red undertones of deep violet color can even give the walls a brownish effect in a particular type of lighting. You can also use this color if you want to achieve the tuxedo cabinet look.
Experiment with the lighting to create a greater impact. You can also use colorful artwork of the same color to create an impact.
2. Sage Green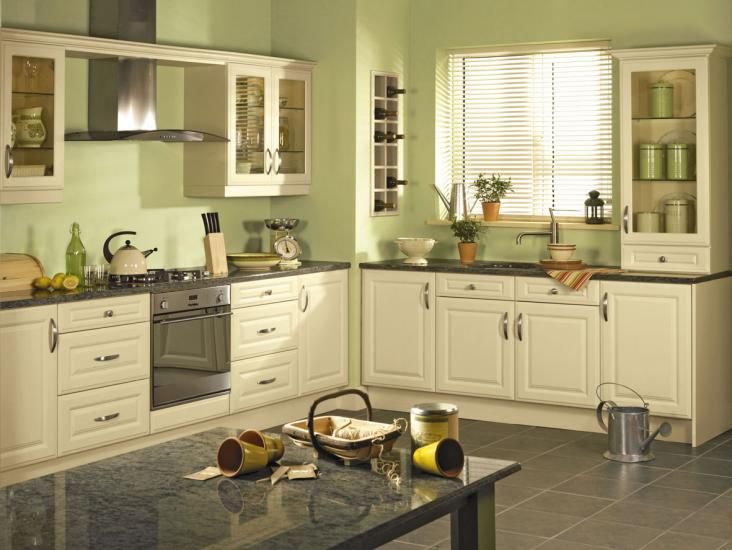 Sage green is another popular kitchen wall color that goes well with white cabinets. This color is very soothing and calming. It is a must-have hue for those who desire their kitchen to be restful and lively.
Kitchen wall colors are associated with the nature and greenery that surrounds our home, so it brings the outdoors in and makes cooking a happy chore. The best thing is that sage green color goes well with both traditional and modern kitchens. It breaks the boring and monotonous look created by the white cabinets making your kitchen the focal point of your home.
Sage green looks best with warmer white-toned cabinets. You can also use it in small kitchens that do not get sufficient natural lighting.
3. Moody Blue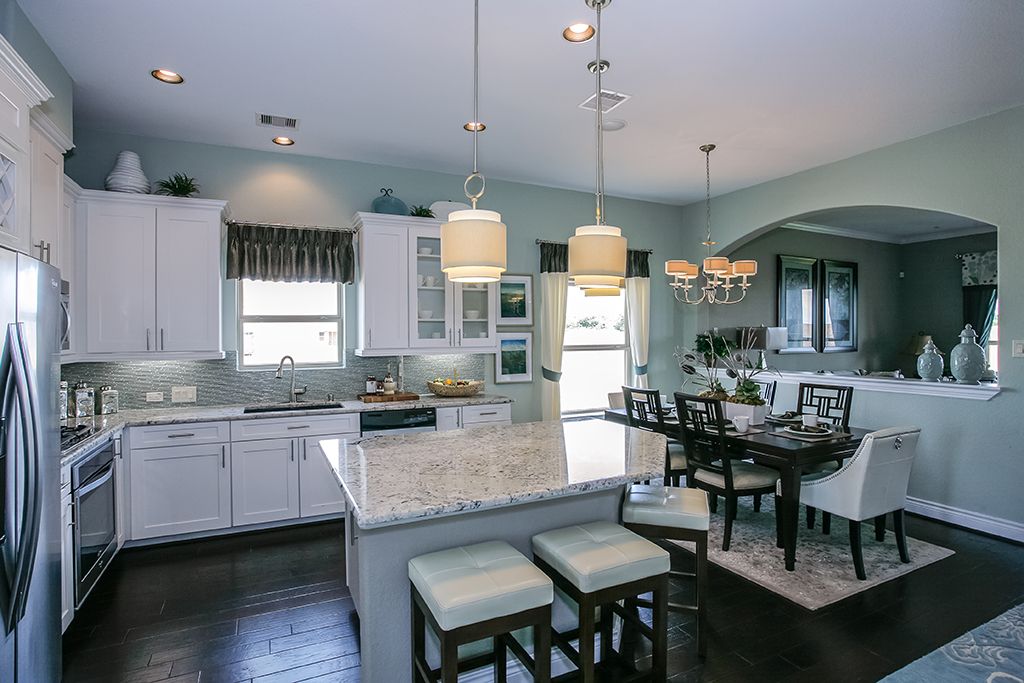 A moody blue shade can be the best option to add warmth to your kitchen with a white cabinet. The gray undertone gives a sense of maturity and sophistication to the blue shade while creating a soothing ambiance. The deep rich hue of this color stands out against the white cabinets bringing a sense of depth to the kitchen.
The moody blue shade works well with both cool and warm-toned white cabinets and inspires you to carry on your culinary activities with greater energy.
You can experiment with the backsplashes and accessories to enhance the visual appeal of your kitchen. Doing so will avoid an overwhelming look and add visual interest.
4. Peppered Black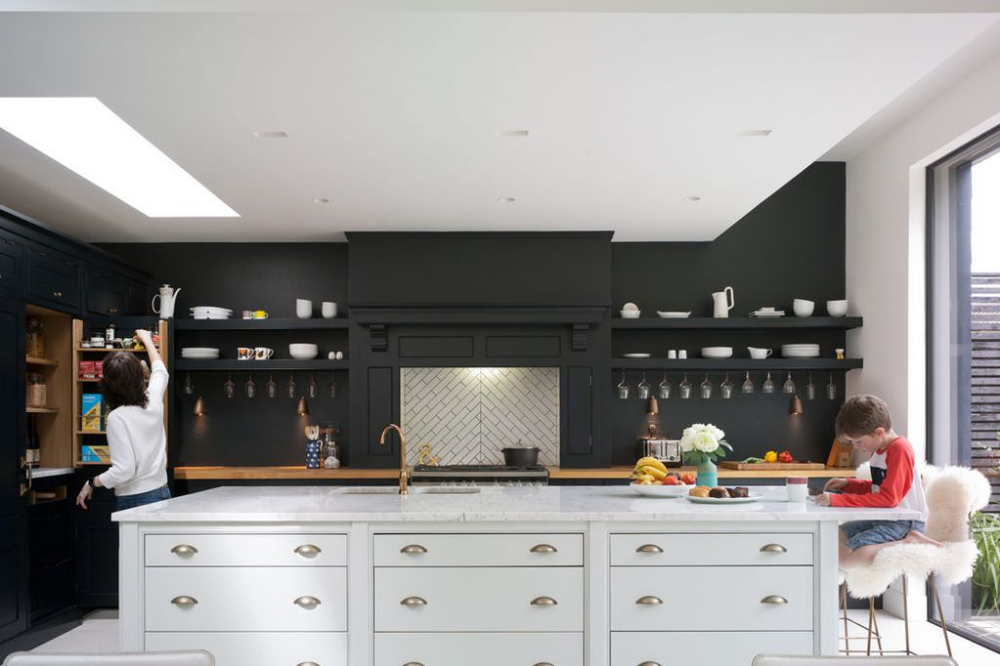 If you want to add some drama and character to your kitchen with white cabinets, you can use peppered black color paint on your walls. This near-black shade is not as overwhelming as black, yet it gives your space a unique character. If you do not want to paint the walls with peppered black color, you can start by painting something small like an accent wall.
This will create visual contrast and give your kitchen an appealing look. You can also use peppered black appliances in the kitchen with white cabinets.
Peppered black granite countertops also look stunning atop white cabinets. But do not go for this color if you want to give a calming effect to your kitchen, as this color is very bold in itself.
5. Delicate Dusty Pink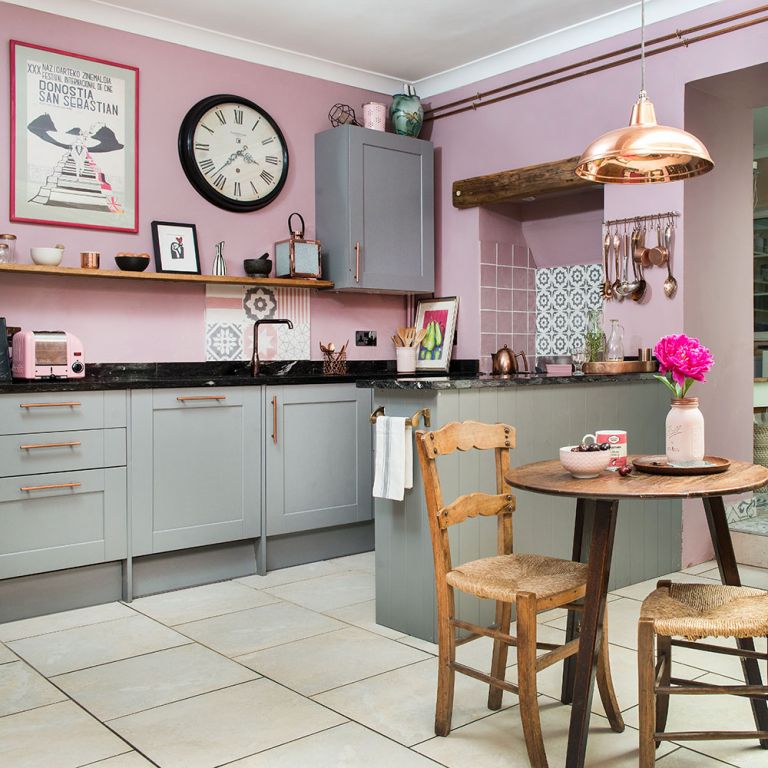 Delicate dusty pink can be ideal for people who want to give their kitchen a Barbie Dream House look rather than a real-life adult space.
Since it is a soft color, it works well with white cabinets and gives an elegant feel to your kitchen. This color can also work well in kitchens where the cabinetry is not in large amounts. The subdued dusty pink shades complement your white cabinets and backsplashes, countertops, and accents.
Consider the lighting condition and the aura you want to create while selecting this shade, as too harsh lighting might interfere with the suppleness and daintiness of this kitchen wall color. You should also keep in mind the finish, texture, and style of your cabinet while selecting this shade, as it doesn't go well with cabinets with rugged textures.
6. Warming Neutrals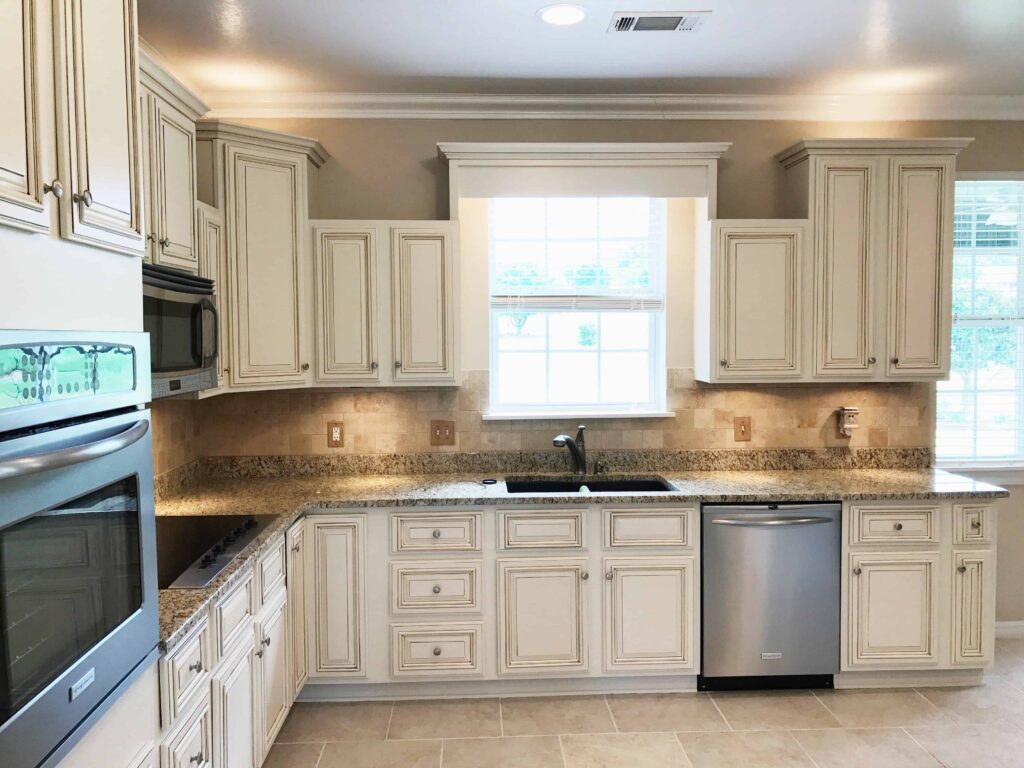 You can also opt for warm neutral kitchen wall colors if your cabinets are of warmer white paint colors. Neutral colors are very comforting and go well with any kind of cabinet, decor, and accessories. It can be a perfect choice for people who do not want to be very bold or too soft when it comes to designing their kitchen.
Light neutral colors with a hint of gray, like Rodeo and Grant Beige, look good in a contemporary kitchen. A light yellow shade like Weston Flax works well in a traditional kitchen.
The best thing is that they don't tone down the soft hue of the cabinets yet become the center of attraction of your kitchen. You can also go for earthy tones like sandy beige, soft terracotta, or warm brown to give your kitchen an organic and lively feel.
7. Invigorating Green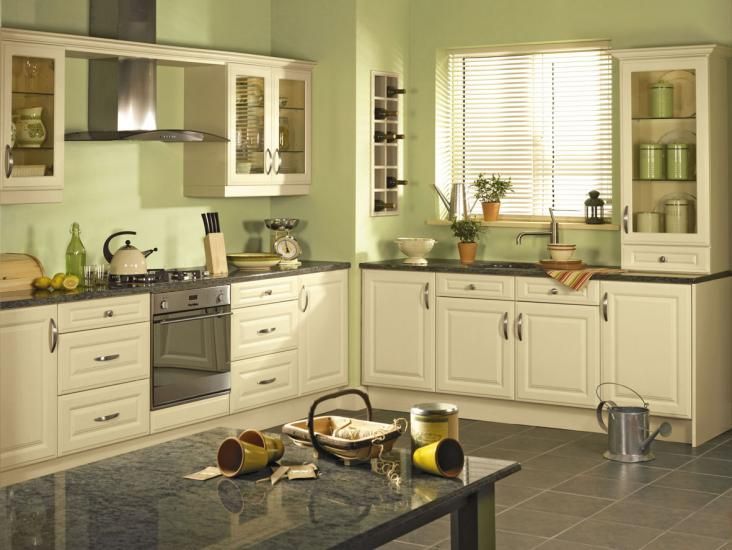 If you want your kitchen to be inspired by nature, then you can opt for the invigorating green kitchen wall color. This hazy green shade will complement the white cabinets and give a balanced look to your kitchen.
If you're someone who believes in keeping everything elegant in your kitchen, you can never go wrong with the invigorating green color. It will neither become the center of attraction nor feel like a left-out element.
The best thing is that it will give your kitchen a fresh feel and make you feel like you're cooking outdoors. This shade especially works well with ceramic, wood, and stone countertop finishes. Don't go for this shade if you want a modern and dramatic appeal in your kitchen.
8. Dusty Blue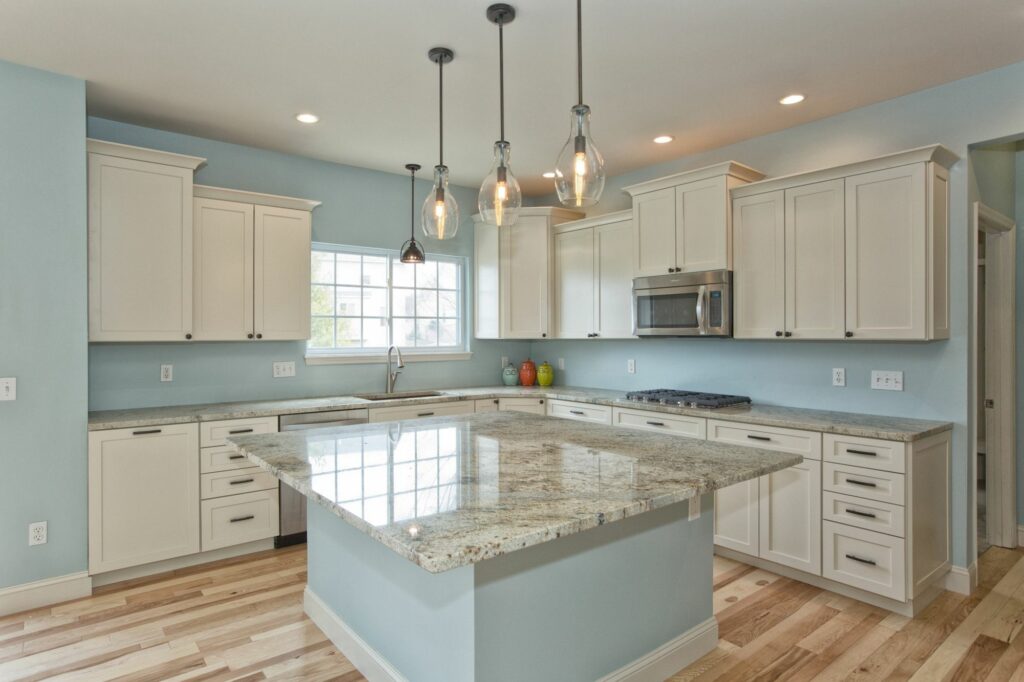 The dusty blue color integrates well with the white kitchen cabinets. It looks gorgeous against the white cabinets and gives your kitchen a bold and energetic look. You can use it with cabinets of different styles. Since this color has a perfect balance of warm and cool shades, it will never look overwhelming.
But ensure that they match the undertone of the white cabinets, or else the combination may look awkward. Also, try to keep accessories and decor minimal, as the dusty blue color is very bright and vibrant in itself, and you won't want to overdo things by incorporating tons of elements together.
This color has a hint of gray and complements different accents and floor types.
9. Dark Olive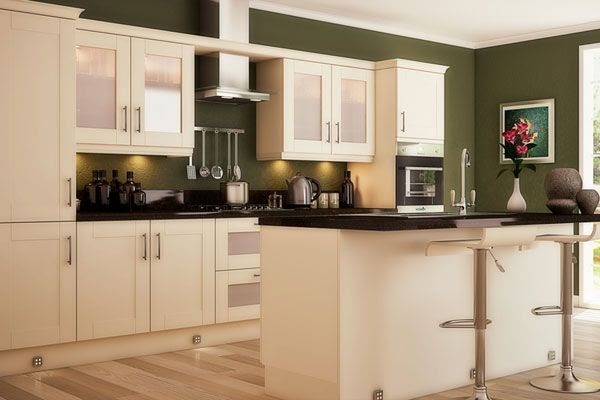 If you want to add an equal amount of elegance and earthiness to your kitchen, you can go for the dark olive kitchen wall color. Its black undertone gives it a strong presence. It doesn't overpower the white cabinets but shows its unique identity. Olive and white are the perfect color combination, so white kitchen cabinets, and dark olive walls can be perfect.
While this color is bold and striking, it also represents serenity and peace—perfect for one of the most important places in your home. By using this color, you can also create the feeling of being close to nature and greenery.
Complete the look with the help of a few plants and nature-inspired wallpaper.
10. Cool Undertones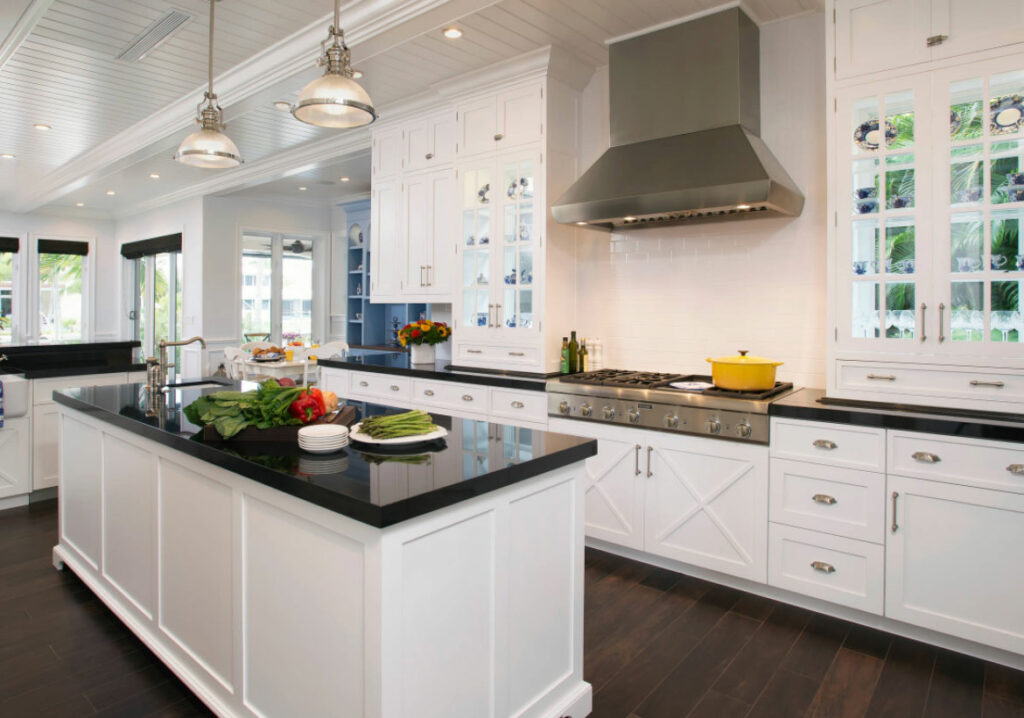 Select colors with cool undertones if your kitchen cabinets fall onto the cooler side. You can look for colors with cool green, gray, or blue undertones. These colors will not only coordinate with your cabinets but also with the other elements of your kitchen. The soft blue shades work well in modern kitchens and add elegance and calmness.
They uplift the look of the white-colored cabinets and add a burst of energy to the kitchen. You can opt for pale green hues to create an airy and light feel in your kitchen or go for soft lavender shades to improve the aesthetics of your kitchen.
Using cool undertones will ensure that every element in your kitchen retains its uniqueness because they don't have an overpowering effect.
11. Classic Gray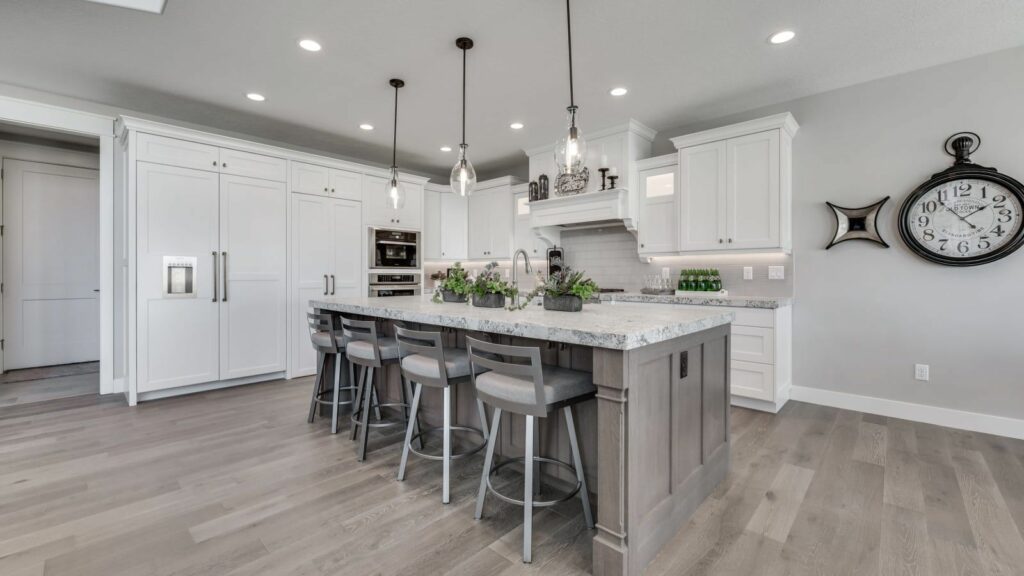 If you love neutral kitchen wall colors, then you can try pairing your white cabinets with classic gray. Select a shade of gray with a minimal undertone so that it synchronizes with the white cabinets.
By painting the walls with classic gray colors like Classic Gray by Benjamin Moore, your cabinets will look brightest and whitest. Don't go for classic gray shades that are very overpowering and bold, as they will direct your eyes toward them and make other elements of the kitchen look overlooked.
You can try out a few shades before finalizing one so that you get the best results.
Conclusion
Finding the right kitchen wall color that complements your cabinet doesn't need to be intimidating. From cool tones to warming neutrals, peppered black, and sage green, there are various colors you can select to make your kitchen exactly how you imagined it to be.
Whether you have a traditional, modern, or farmhouse-style kitchen, you will find tons of colors that will complement your white cabinets. You can follow the ideas mentioned above to ensure that your kitchen looks put together and functional. Consider the texture, finish, and material of the cabinet while choosing the ideal paint color for the walls of your kitchen.
Remember, a well-designed kitchen shows the love and effort you put into making your kitchen look welcoming.
Frequently Asked Questions
Which Colors Go Well with White Kitchen Cabinets?
From cool tones to warming neutrals, dusty blue, dark olive peppered black, and sage green, various kitchen wall colors go well with white kitchen cabinets. Everything you choose will go well with white as it is such a versatile color.
Which Colors Don't Go Well with White Kitchen Cabinets?
You should not opt for neon or very dark colors like deep brown and jet black if your cabinets are white. Also, avoid clashing color combinations like purple and orange to create a balance in your kitchen.