Decorating your farmhouse under a set and limited budget can be an enchanting and creative endeavor that allows you to inject your living space with charm and coziness. In the current scenario, the ideas and the zeal to transform your living space are evolving at a rampant pace through which people are putting all the possible efforts to adopt the latest ideas into practice to decorate their houses in the best possible manner.
Irrespective of the fact whether you reside in the countryside or a densely populated urban settlement, you can create a fine cozy retreat that displays a deep sense of comfort and character. If you are also one of those who are planning to decorate your farmhouse and give it a value of grace by amplifying its overall importance, then there can't be a better time than this to get started.
In this article, we will be presenting 21 different farmhouse ideas that we have curated, which are not just adorable and charming but also amplifies the overall importance of your house to multiple folds.
1. Keeping the Space Tidy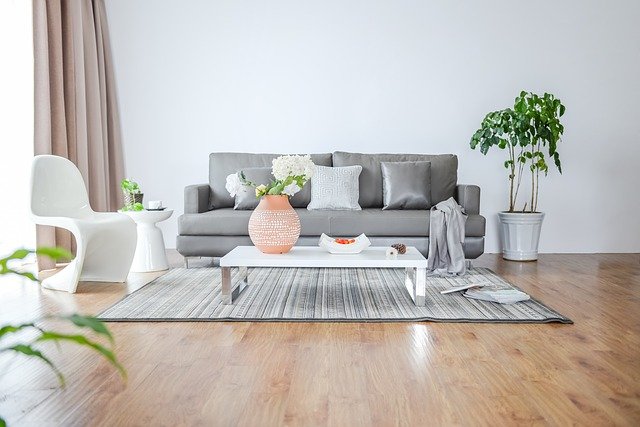 The basic and yet the most crucial aspect is to keep a check on the cleanliness factor, which isn't negotiable at any cost. Make sure that you keep your space clean and tidy all the time because that comes foremost in the eyes of the guest more than any other thing.
The cleanliness factor helps you to provide your room with a space of elegance and luxury. Another major factor that requires your attention is removing the stains on carpets and plaques, which deters the overall appearance of your house.
2. Setting a Theme with Color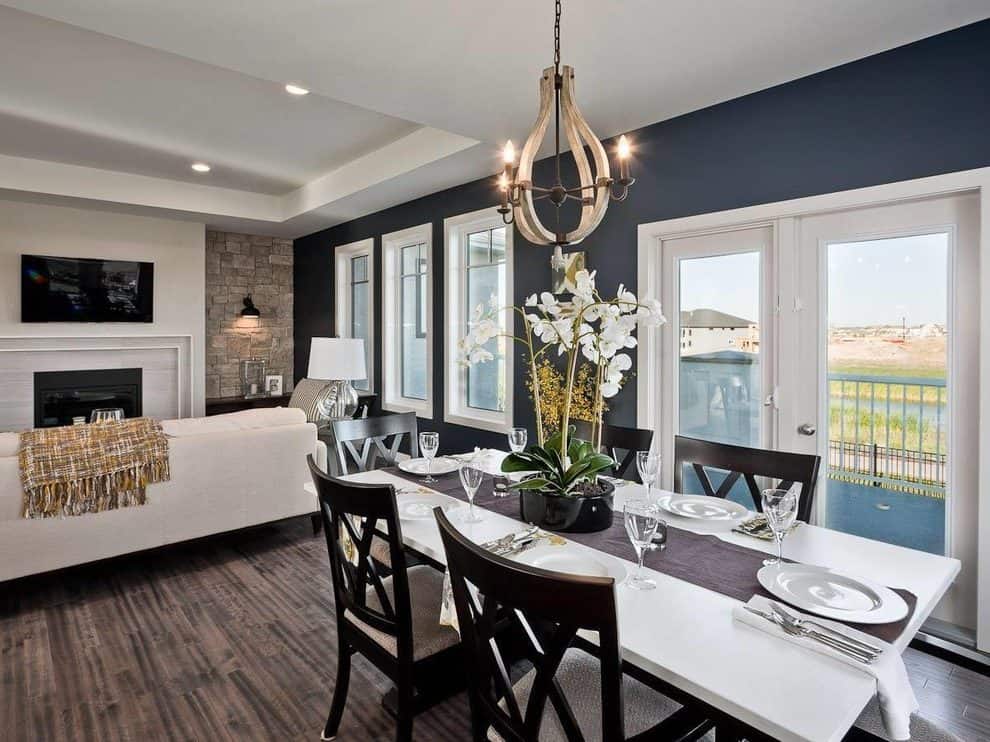 Another major factor that makes the essential aspect of your room's outlook is deciding upon the look and the colors of the walls of your room. You must make sure while choosing the color that it has to be of a lighter theme and must contrast the ornamental objects of your farmhouse.
However, for a cost-effective solution, it is always advised to choose paint over the stone or wooden panel to keep the look traditional; doing this will not just save money but will allow you to curate the entire interior of your place in any way you wish.
3. Use Multipurpose Furniture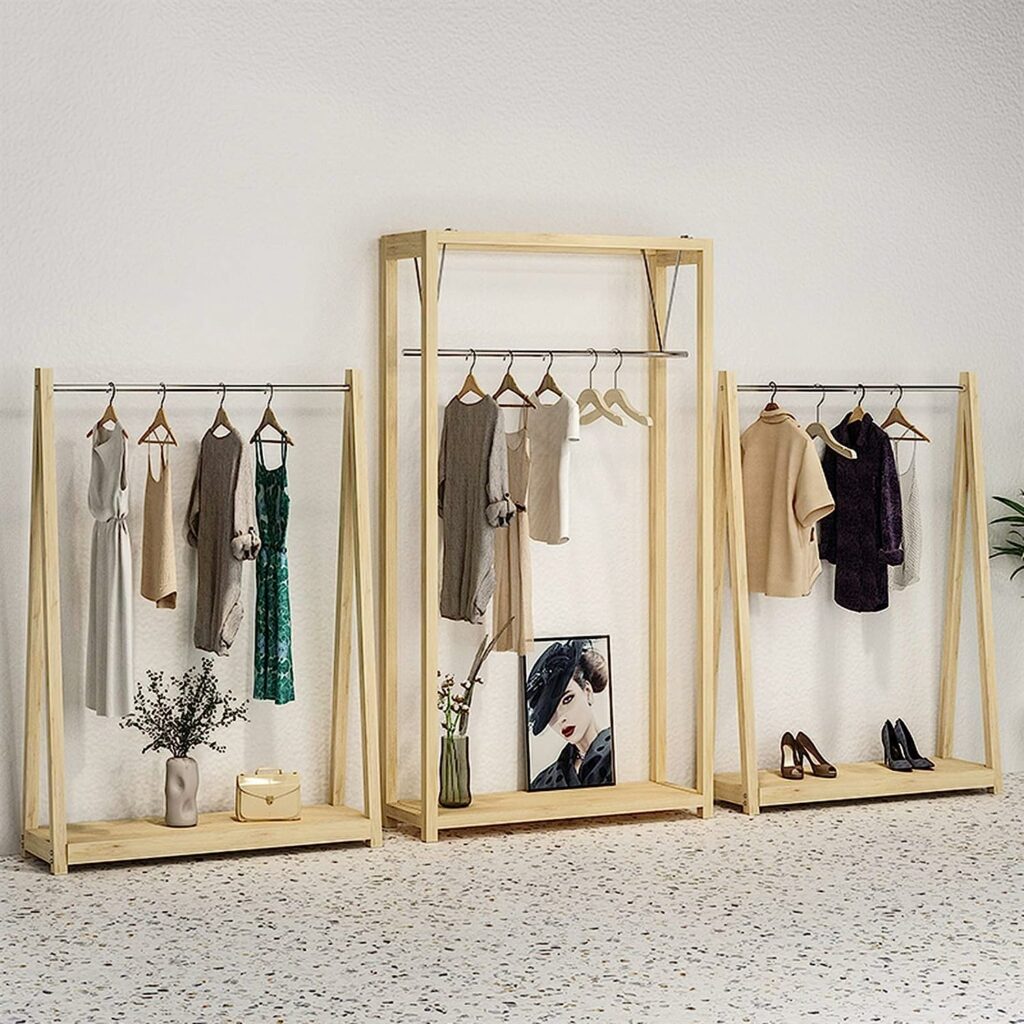 It is equally essential for you to add purpose to the elements you use than just focusing on the looks. This idea will sort that particular purpose in the best possible manner. Bringing multi-functional furniture is an excellent way to enhance your entire farmhouse decor.
We are sure enough that it will not just help you with the utility factor but will also amaze your guests with such value addition. They help you save a lot of money and give an aesthetic appeal to the entire room.
4. Bringing Second-Hand Furniture Your Home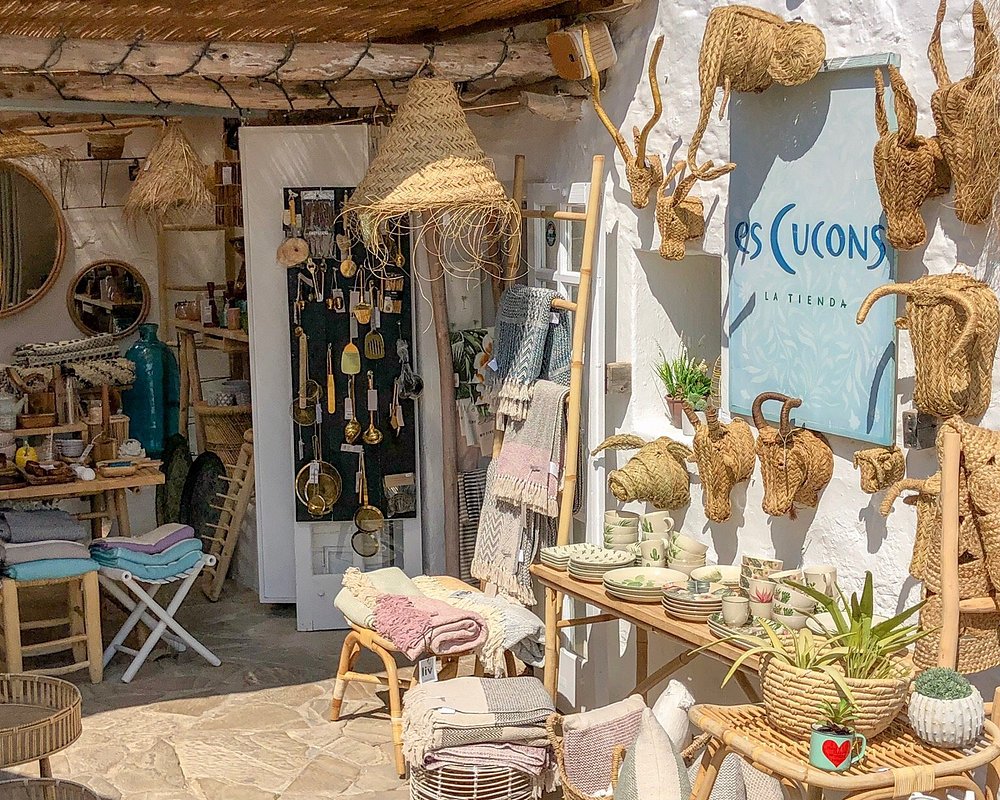 The buying and selling of used furniture is now no longer an unusual concept for those who are interested in interior design. If you are someone who wishes to have unique farmhouse decor, inculcating secondhand decor from second-hand stores or fleas is the best idea.
For this, you need first to mark your budget keeping in mind how you wish to proceed further and the theme for sure, like farm, village, or anything based on your choice, so that the marketing can be done accordingly.
5. Farmhouse Artwork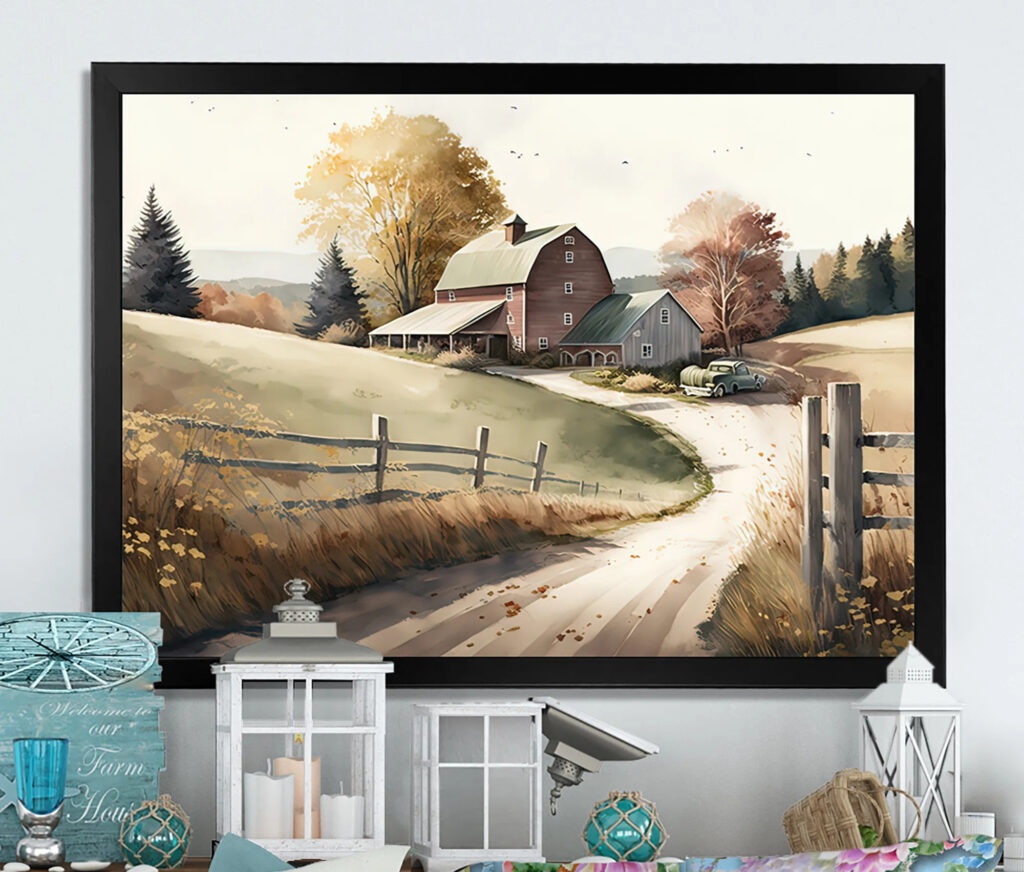 A rural theme is relative and largely remains missing without having a perfect artwork associated with the farmhouse. This is one of the best under-budget value addition to have. It will reflect the design and the owner's flair. The image as depicted above is just an example from a gazillion number of options you can have for your room.
You can even choose different artworks differently for each room in your farmhouse to add versatility. The customized form of artwork is also in huge prevalent that can be personalized by engraving your name on it.
6. DIY Plant Pots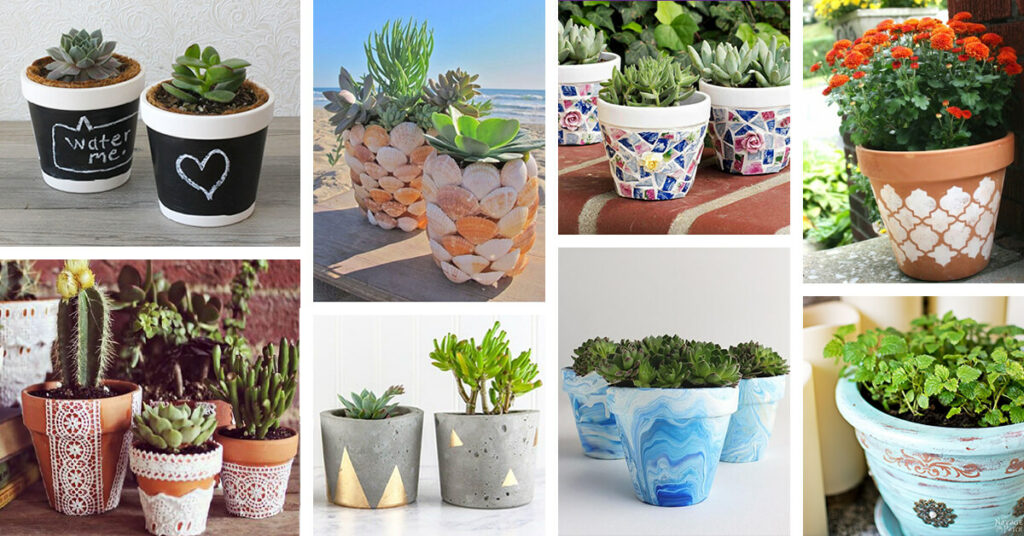 Yet another super useful and creative farmhouse decor idea is to bring the plants into use. The plants that too under a DIY plant pot can enhance the ambiance of the place wherever it is placed. Plants do not just provide new energy to the place. Rather are a great element of treatment and provide a romantic appearance.
All you require is a few flower plants and baskets, and that would be fair enough to draw spring to your farmhouse. Designing pots solely comes under your ambit, how well you can complement it with the overall theme of your room.
7. Carpets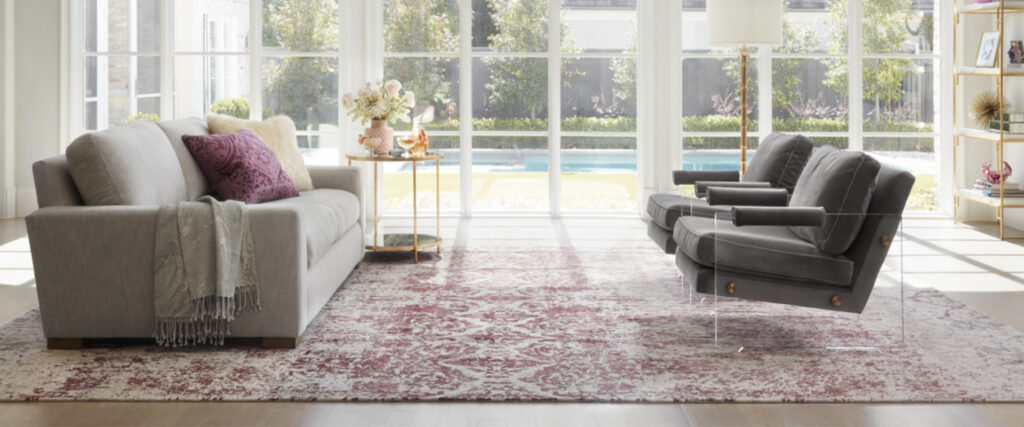 Carpets play a huge role in your home. Make sure you do justice with it to match the aesthetic of your place in the best possible manner. Make use of eye-catching designs to highlight your home. However, replacing it with a new one make sure you make all the calculations right in terms of the size.
Since the carpet in any room is placed beneath the sofa, you need to measure the size of the sofa as well so that the appropriation is well intact. Take suggestions from the family members with the design part which will help you in shortlisting the best carpet for your farmhouse decor.
8. Add Creative Light Bulbs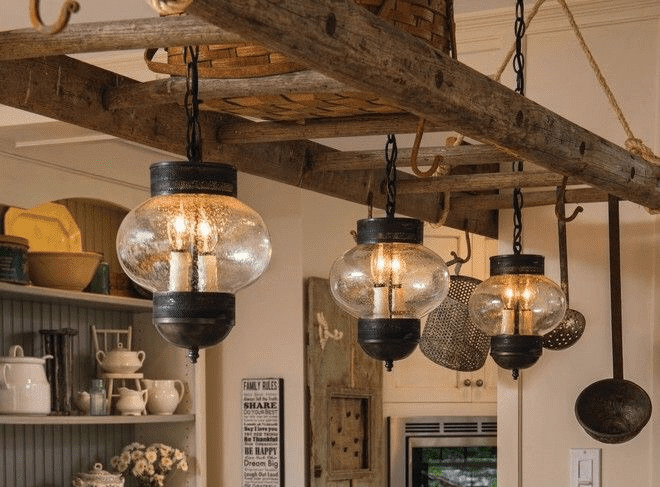 Lighting is another crucial part of the decoration. It is that measure that holds the potential to fix every other loophole in the decor part. It is highly advised that you make use of vibrant lighting to give a detailed appealing look to your place. It is a matter of great fortune that by applying a few strategies you can transform the overall look without burning a big hole in your pocket.
Make detailed research, and take suggestions from people to hold on to one particular choice that must also match the ambiance of your room's pre-existing theme through this farmhouse decor idea.
9. Rearranging Furniture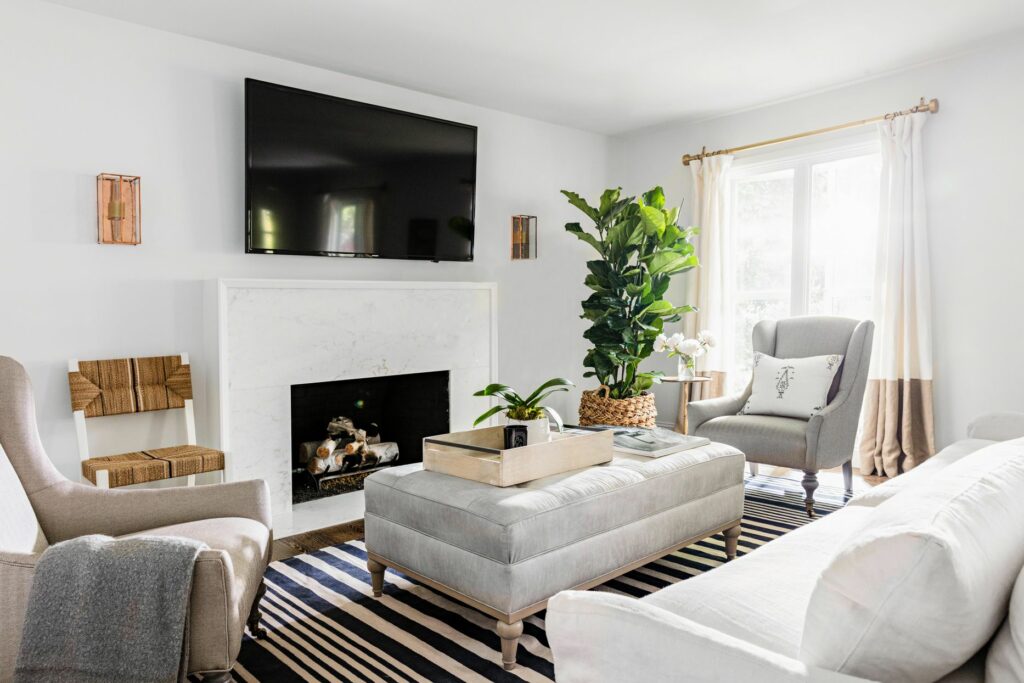 It is the right time to ponder the positioning of the furniture in your place. If you've had your furniture placed in the same spot for a while now, give your home a different look by rearranging things. To get a detailed idea before jumping on the exercise it is better to make a rough sketch on a paper.
Sit with your family members to consider the scale and dimensions of furniture and window locations, while drawing things out. Furniture sliders will be an element of great use that will make things easier and it will even be possible to do it all by yourself.
10. Finalizing Textile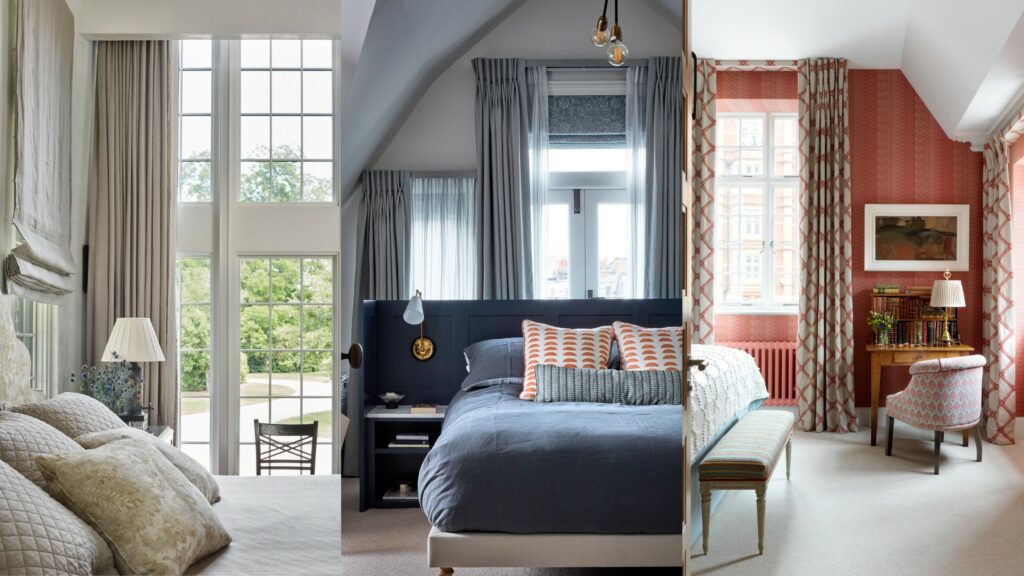 Curtains, sofas, and pillow covers have an immense role to play in the entire serenity of your farmhouse. It is fine or good to go with any textile or fabric for your setting is a bad practice that needs to be avoided at all costs. To keep all the elements perfectly in sync and match the overall ambiance it is important to find the right textile and fabric that must hit the pattern and coordination right.
You can have anything based on your wish, however, the main task is to keep things up with the budget, and to execute this, it is important to plan well in a detailed manner to get the right choice for your farmhouse.
11. Utilizing used Wooden Pallets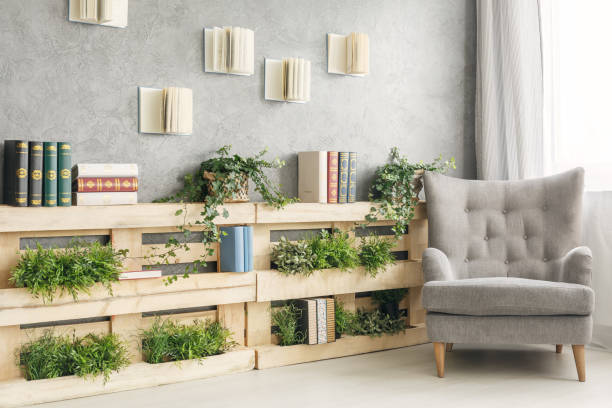 Another perfect way to add up to your style is by bringing repurposed furniture into use. Instead of throwing old wooden pallets, you can transform them into a stunning set of tables and chairs for updated farmhouse decor ideas.
If you don't have one at your home and you still want to inculcate this idea you can easily get it from websites that offer a wooden pallet at a fairly low cost. After having a bunch of such pallets you can place them in any manner and way you want in your entire farmhouse.
12. DIY with Paint Can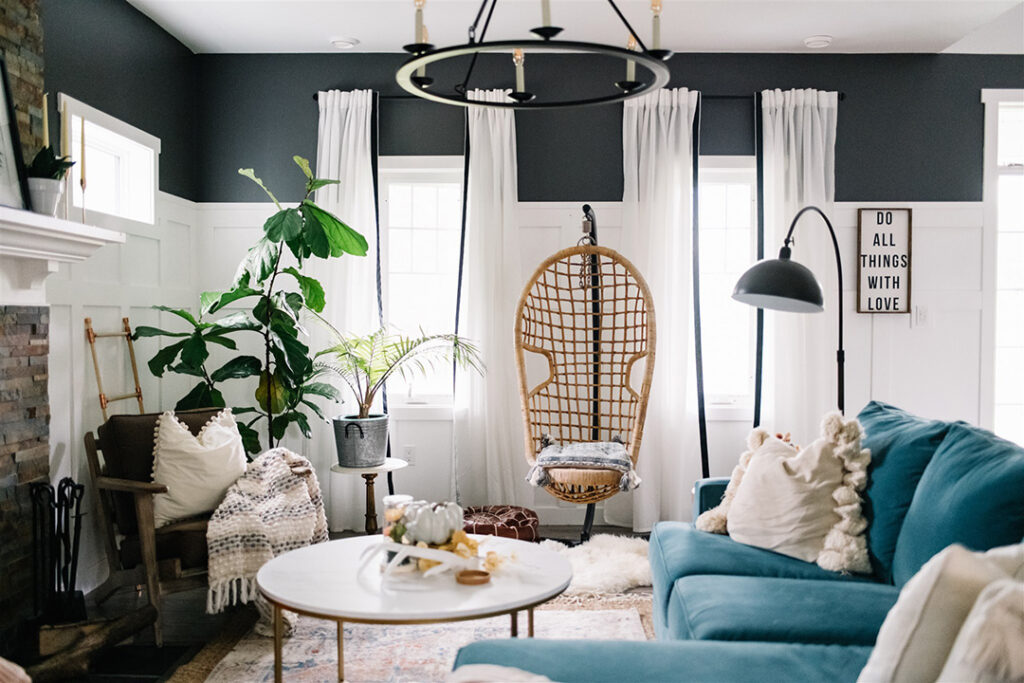 Just by having a simple spray paint can, you make a lot of changes to your house. This farmhouse decor idea is one of the best to customize stuff based on your requirements. Ivory black and bronze color with an antique touch can help in infusing fresh life into decorative objects.
It is absolutely not required to buy anything new in this idea. You can just utilize what you have, this idea fits a wide range of places, ranging from walls to items meant for decoration.
13. Adding Wood and Metal for Decor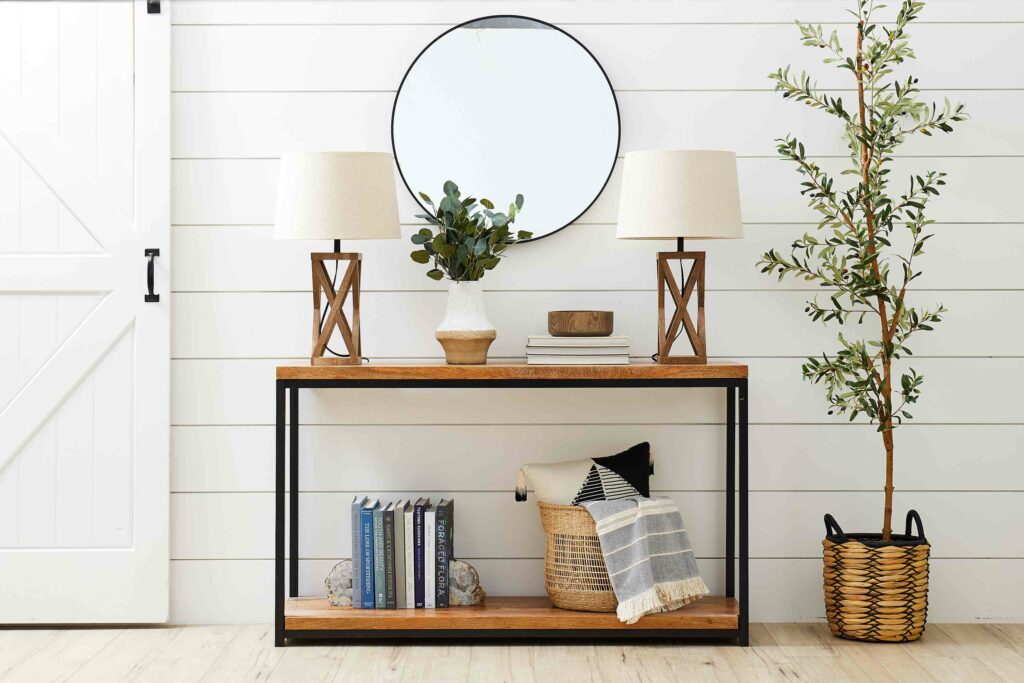 A super creative and purposeful farmhouse decor idea can be through the addition of wood and metal elements which can be done under a fairly low budget. You can consider using existing cornices to cover the large gaps.
Another way is to put an old wood window on the wall where you find painting is not that essential. You can instill flat black on the iron and metal components to give a contrasting and decent impression that will set the entire tone of the space in the best way possible.
14. Add Greenery to Your Space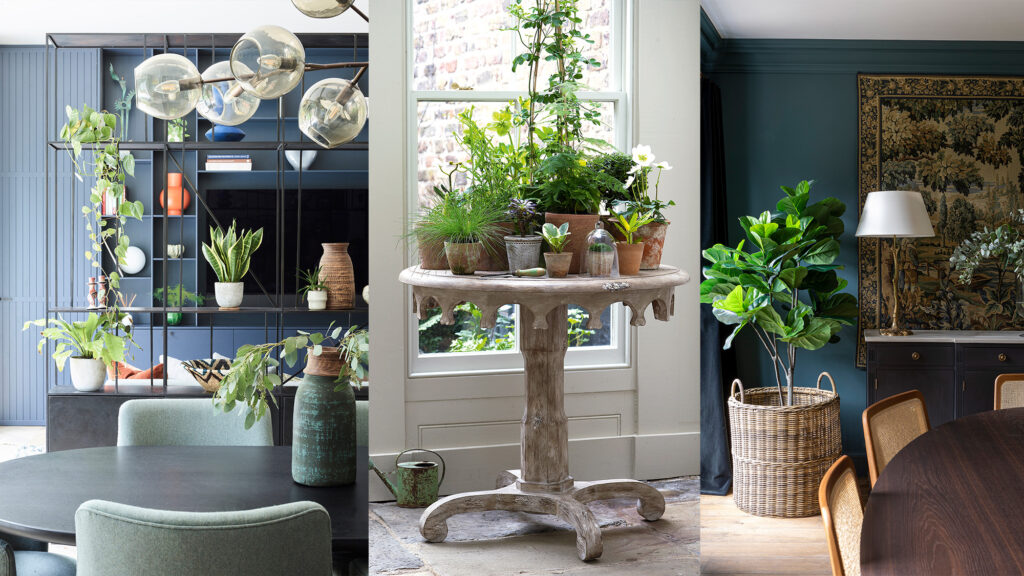 Plants and greenery are the best way to add life to any place, how can you not consider them in your farmhouse decor idea? It is the best way to give your space a country feel, besides adding a much-needed element to enhance the overall serenity. It also helps in maintaining good health and creates a positive mood.
As per several studies, it is also found that rooms with plants also have less dust than rooms without greenery. The best part of this farmhouse decor idea is that it can be imagined under a very low budget.
15. Natural Lounging Arena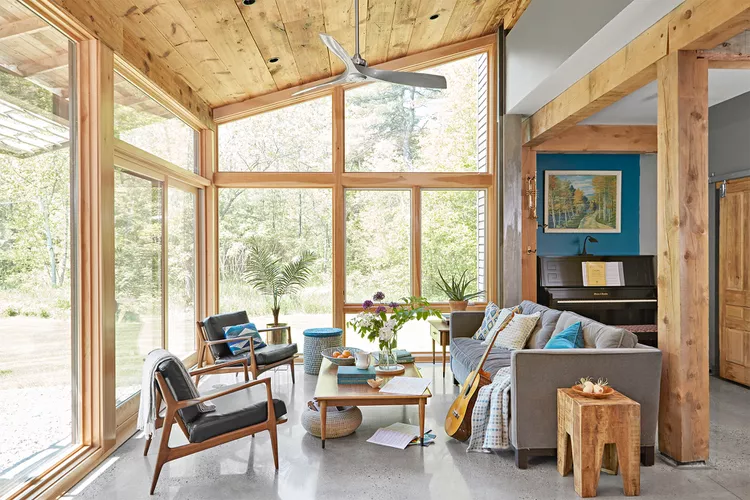 This farmhouse decor idea can compound your lounging experience to a whole new level. Create a space to lounge and relax right close to the lap of nature, if your farm has exposure to a bright surroundings. Create a frame glass panel like the one depicted in the image above.
With such an arrangement you can perfectly enjoy the weather and atmosphere for around the year. Make sure all the elements you make use of complement each other in the best possible manner. Adding a wooden touch would be the best in the overall setup.
16. Updating Fireplace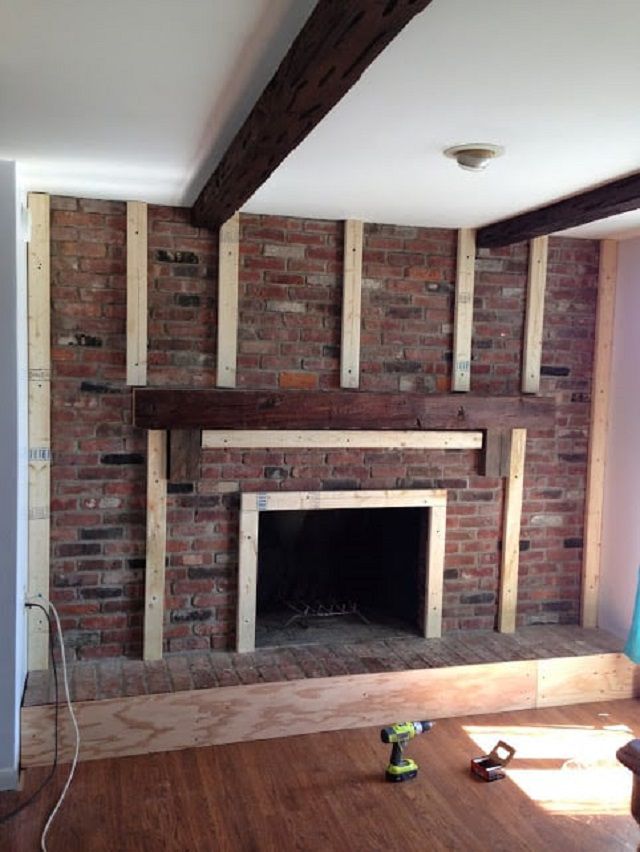 The most crucial spot to decorate the farmhouse is the fireplace, which we essentially pay the least care to. There are a lot many things that can be done to decorate the fireplace, ranging from painting the surroundings to the addition of useful elements you can play based on your suitability.
Or if you are among those who don't have a fireplace on your farm then this is the time to ponder again, it is that sweet spot that homes endless beautiful memories and adds a theme of elegance and luxury to your farmhouse decor idea.
17. Large Reclaim Wooden Dining Table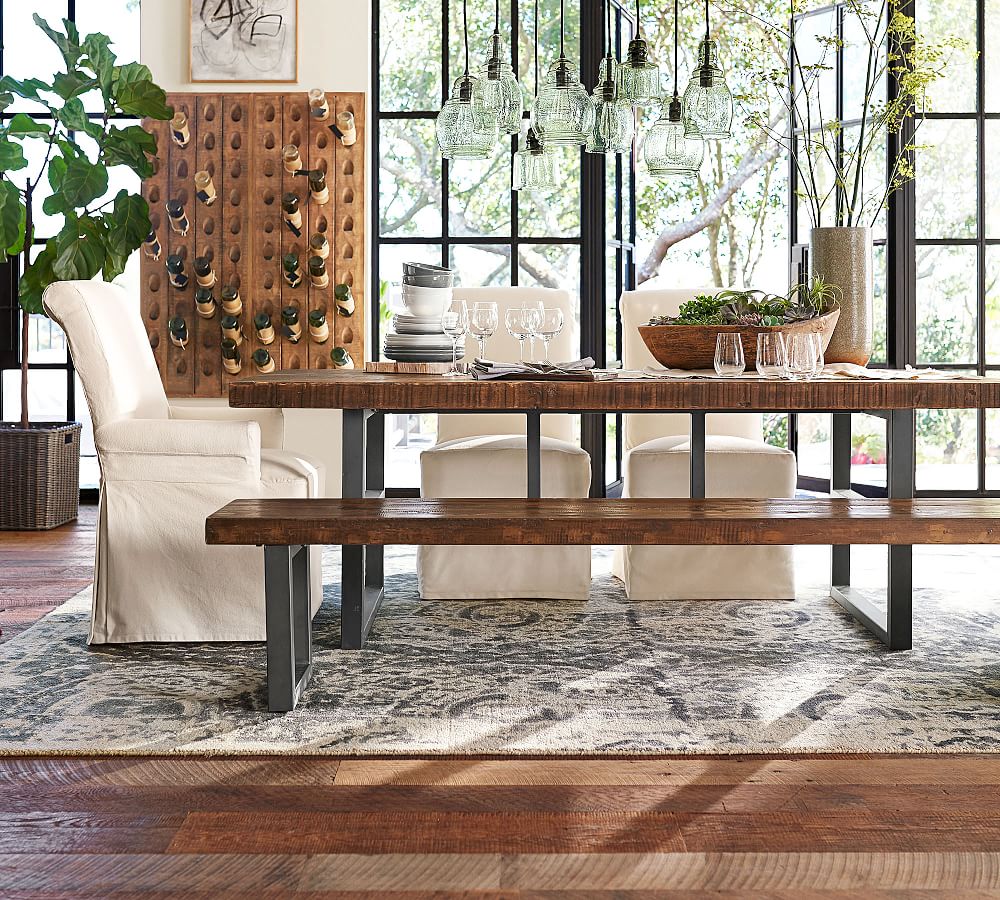 Having a large, reclaimed wood dining table is an element of a great deal to add elegance to your farmhouse. It sets the inviting texture with its durability and is an essential lifetime investment to make.
This farmhouse decor idea can become one of the true hubs of the home and a theme of the central gathering point to host your guest and socialize with friends and family.
18. Embracing Beam Ceiling Ideas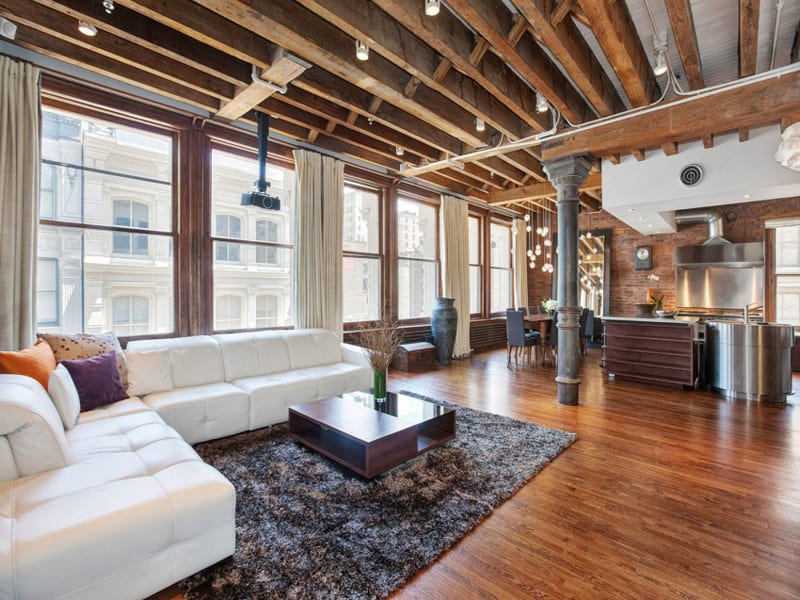 It can't be more rustic and characterful than having a beautiful beamed ceiling for your farmhouse decor ideas. It is a great element to add impactful texture, visual interest, and natural charm to the space. The original beamed ceilings can span from rustic wood to grand vaulted ceilings in a barn.
This is one of the most elegant pieces of idea you can take up to create a delightful look for your farmhouse, if you wish to have a traditional setting for your farmhouse then this is where your search has to end.
19. Storing Cookware in Style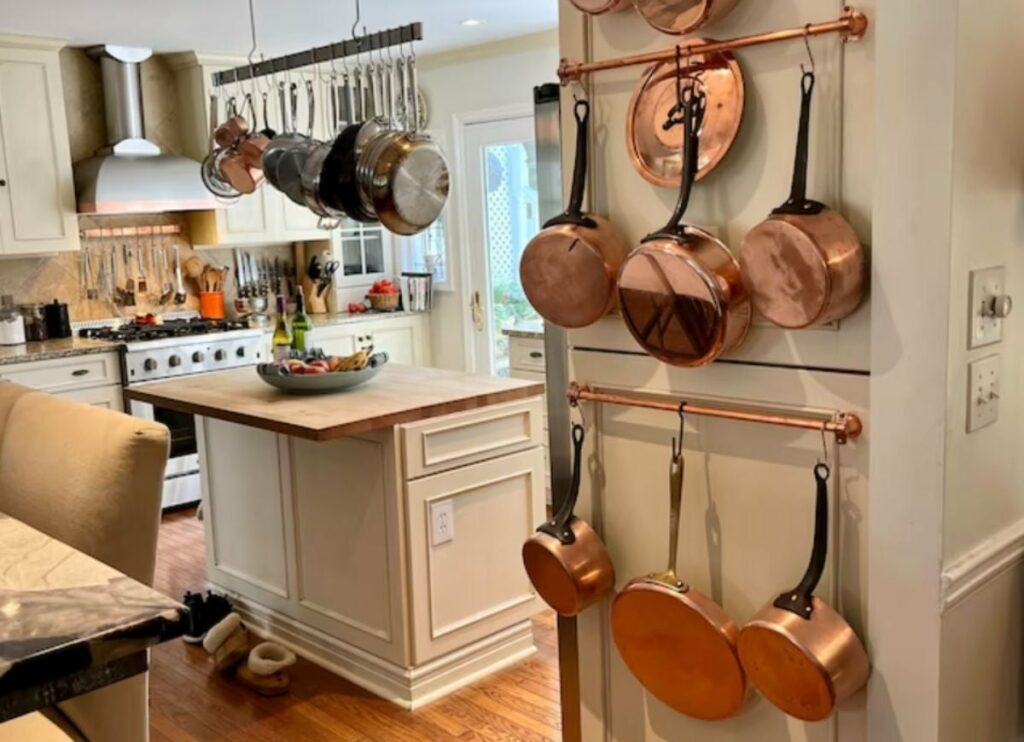 If you are finding ways into more easy ways through which you can change your entire kitchen so that it reflects the farmhouse style, then this farmhouse decor idea is an option that you must adopt. Practical and stylish pot racks were the element of the chef's kitchen was the thing of past, however, the thing stands different in the current time.
Copper cookware as shown in the image is an essential element for your farm kitchen which helps in amplifying the overall element by multiple folds, by adding a more traditional look.
20. Allow Enough Light Inside the Room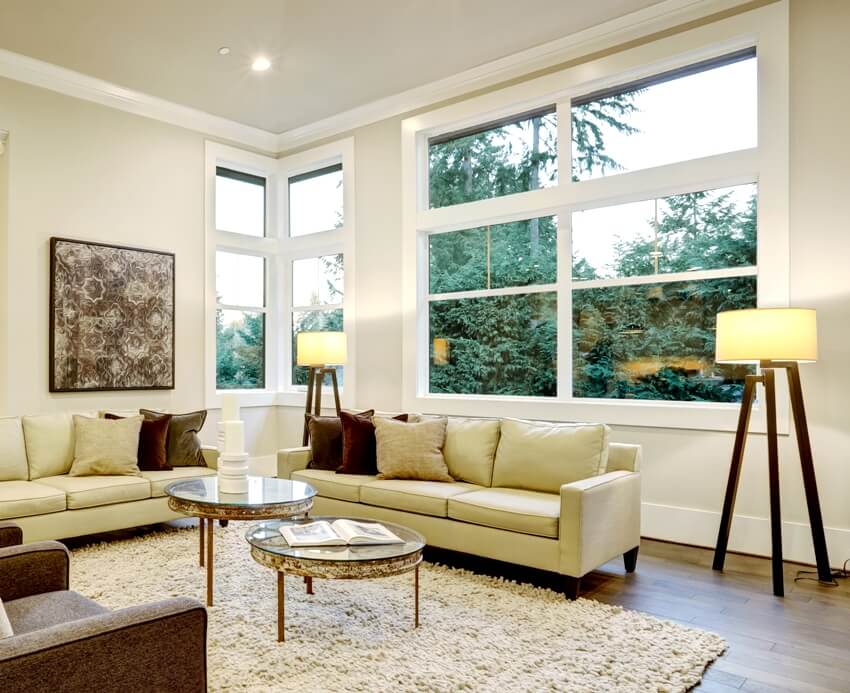 It is an essential farmhouse decor idea that needs your deliberate attention. Packing the entire room is the worst idea, it is essential to allow enough light inside the room to keep that sense of liveliness alive.
It is the light touch that sets the entire theme of farmhouse decor, which is a kind of hallmark so to speak. It is not required to keep the same setting for every room, such farmhouse decor ideas are even great as it doesn't require you to tweak much with the decoration part and you can be easy with it.
21. Defining Elegant Entrance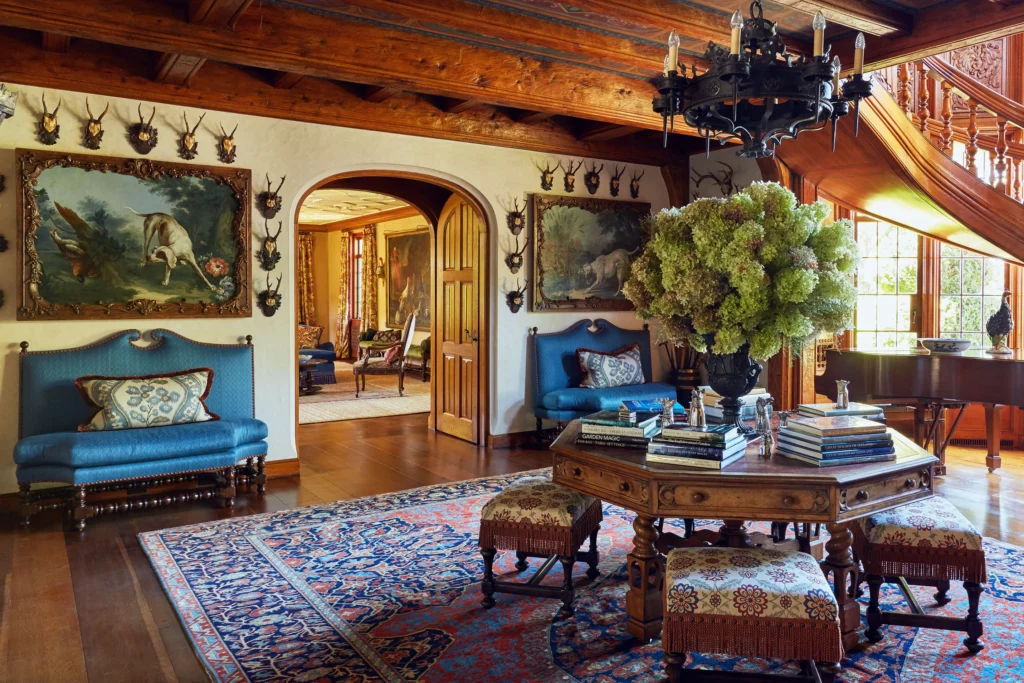 Ending the listicle with the most crucial aspect, it is very much required to set the exact tone of your home with the entrance itself. The guest or the visitor must get the best impression of how your farmhouse is exactly going to be at the entrance itself.
From a creative stairway to rich wood tones and a touch of elegance in the form of artwork would do justice to creating the opening look.
Conclusion
Farmhouse decor is one of the most crucial tasks to achieve that requires a sense of concern and intense planning. Anything can be achieved with money, however having a sharp and vigil sense to spend is the art that is essentially required to master. From the list of ideas mentioned above, it is your final call to incorporate ideas of your choice by adding DIY projects for customization.
It is essential to add natural elements such as fresh flowers and potted plants to create a breeze of liveliness that too at an affordable price. Apart from that it is required to keep a sharp check on decluttering and organizing things with creativity and resourcefulness.
Add several elements from the ideas mentioned above to recreate your farmhouse with creativity and compassion and do let us know in the comments how you feel about it.