Are you curious to know the answer to the question- why do painters wear white? Keep reading to find the answer.
The white color radiates a calm and serene energy, which is why many professionals, like painters, may have chosen this color to wear while working because their work involves focus and attention.
The answer is still incomplete because we will elaborate on many reasons (historical impact, benefits, and practical) why painters prefer white uniforms. But one thing is clear: the White uniform has become a staple among painters. There's rarely one we can find wearing any other colors.
In this blog, we have researched and compiled a list of numerous reasons why professional painters always wear white, from historical and psychological to realistic ones. Moreover, we will also bust some myths around the question, and you will find a couple of benefits at the end.
1. Theories
Many people sincerely believe painters wear white like individuals of many other professions. Let's explore them first.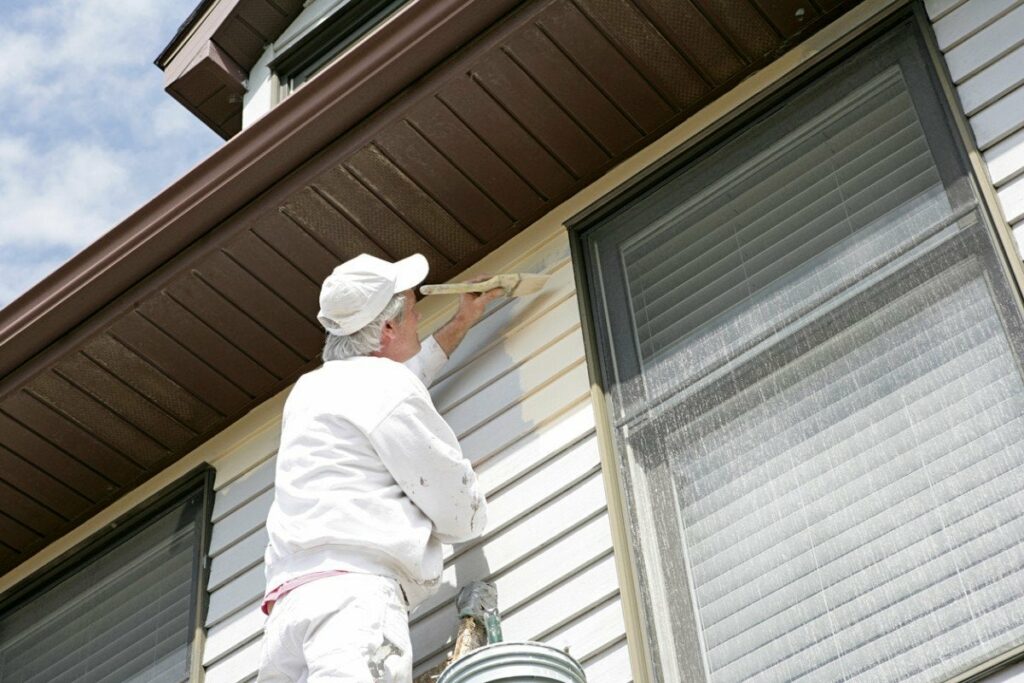 White Attracts Customers
According to a legend prevalent in the past, painters believed that white attracts everyone that walks near their shop resulting in more customers. However, this was their belief and nothing else since only those who needed a repair or paint job done would visit them for their services.
Painters also thought that white was a color that captured attraction and helped them grab potential customers. This is just a hypothesis that is still prevalent. Moreover, there was a broad sentiment that white evokes awareness. This awareness was the painter's priory because their mistress would not welcome their mister with dirty uniforms.
White Indicates Mastery
White was considered to catch people's attention. Painters chose white because they did not want to look clean. People who needed painters' services picked only those with numerous spots of different colors on their white uniforms.
Conversely, those who wore an immaculate white uniform on their first day of work were thought to have less or no experience. These beliefs are still prevalent, and according to some, it works well, and it is a possible reason they present for wearing white.
White is the Protagonist's Color
This is a vague myth spread and entertained by a particular group of individuals who believe white has superiority, which is why painters wear it. However, this tale has no logical reason to support its claim and is constantly fading.
The belief is based on the bias that prevails in many popular cultures that heroes will always wear white. It held prominence for a while, but then it started to lose meaning because it was unreasonable.
Consequently, this is not the reason why painters chose white. Nowadays, even heroes prefer black and many other colors, while villains can be seen in white.
2. Historical Reasons
History is a window to the past and answers the question: why do painters wear white? Many historical events have given reason to why painters wear white today. Some of them are mentioned below.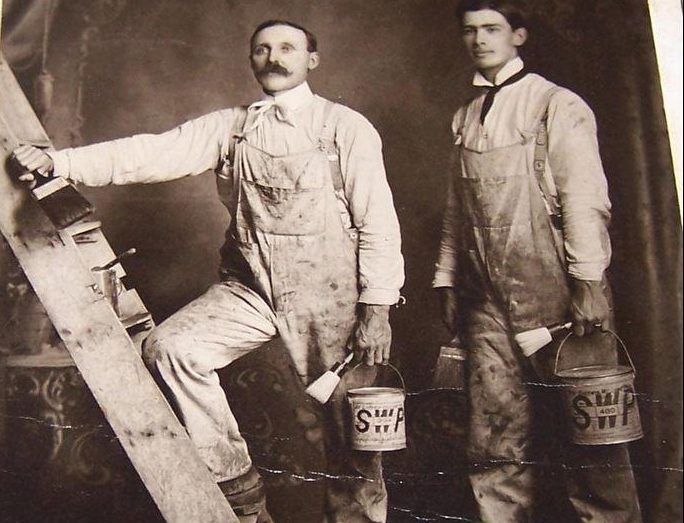 Union Members' Call
Wearing White uniforms transcended into a tradition with time. A movement proposed that painters who supported the painter's union would wear white. It was in the 19th and 20th centuries. An all-white uniform was also used to signify the painter is skilled and supports the association.
They wore white to distinguish themselves from other workers. For example, farmers wore blue, while railway workers wore pinstripes.
These days painters wear white since it is a good marketing strategy. Because on the one hand, if they have no stains on their uniform, they look professional, but if their uniform has colorful spots, they seem experienced and more seasoned.
When White Was Affordable
Around 400 years back, England took an economic measure, and the sailors started wearing loose white pants made out of canvas sails that were retained from discarded ships. At that time, the sails were found only in white color. Since these pants were made of lightweight and long-lasting materials, meaning they were cost-effective in the long run. Hence, local painters also adopted the tradition.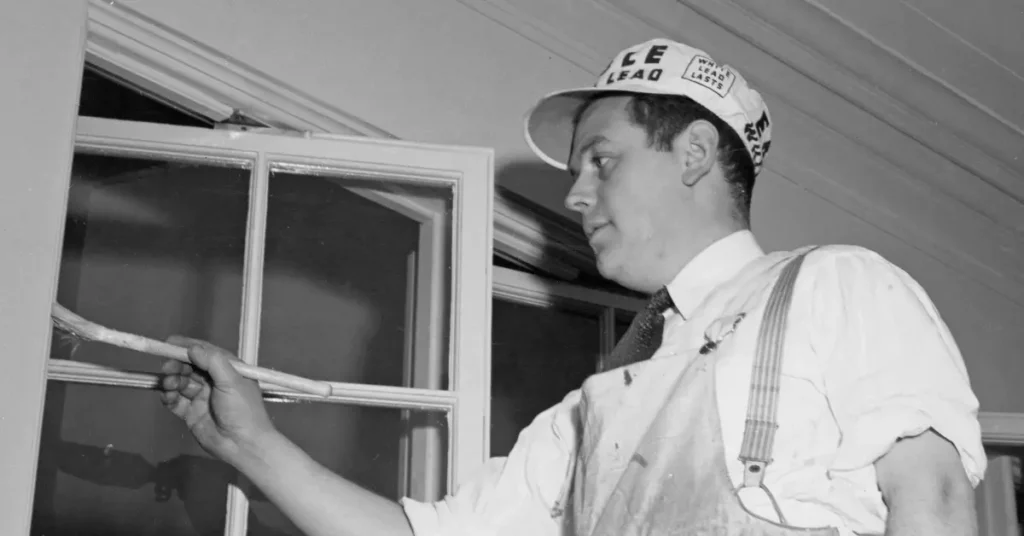 White is an affordable choice even today since the production of white clothes is much cheaper than other colors since the base color of most materials is white. Additionally, many brands follow the classic trends and make uniforms with heavy stitched seams and loose pockets that are useful for storing painting tools.
Influence of Workwear Companies
According to Dickies, a renowned workwear company, During the 1700s, most people chose white paint for their homes. Therefore, white-colored clothes were a top choice among painters, and tradespeople also started wearing white. When painters wore a full white uniform, they could work with perfection because it was easy to conceal paint splotches.
The company is still famous for making white painters' bib overalls which are pretty renowned and helpful since they have enough pockets to store painter's tools.
Dickies mens Painters Bib overalls and coveralls workwear apparel, White, 30W x 30L US
SUPERIOR COMFORT FIT: These 100% cotton denim overalls feature a generous, roomy fit with triple stitched seams for added strength, plus a large bib with practical pocket, a hammer loop, dual tool pocket & multiple other pockets for convenient storage
STURDY FUNCTIONALITY: These overalls are built for hard work & equipped for comfort & convenience with adjustable shoulder slides & loops, two-button closures at sides, traditional dual watch fob openings & roomy straight legs that can fit over boots.
TOUGH & ROOMY: Want a comfortable & extra-tough alternative to traditional belted work pants? Try our bib overalls in durable cotton duck or finely woven cotton denim. Both resist snags & tears, & sturdy triple-stitching & beltless roomy fit seal the deal
TRUSTED NAME: The world's leading performance workwear brand, Dickies has been making quality workwear & apparel since 1922. All Dickies clothing offers superior craftsmanship & unmatched value to deliver classic style & long-lasting comfort every day.
We make jeans, outerwear, school & work uniforms, sports shirts, kids wear, hats, socks, underwear, boots, gloves, belts, eyewear, backpacks, bags & much more.
3. Symbolic Justifications
Like many other colors, white also has its significance. It oozes purity, cleanliness, glory, and supremacy, which may have been why many painters chose this for their uniforms. Let's elaborate on some aspects of why painters might select white.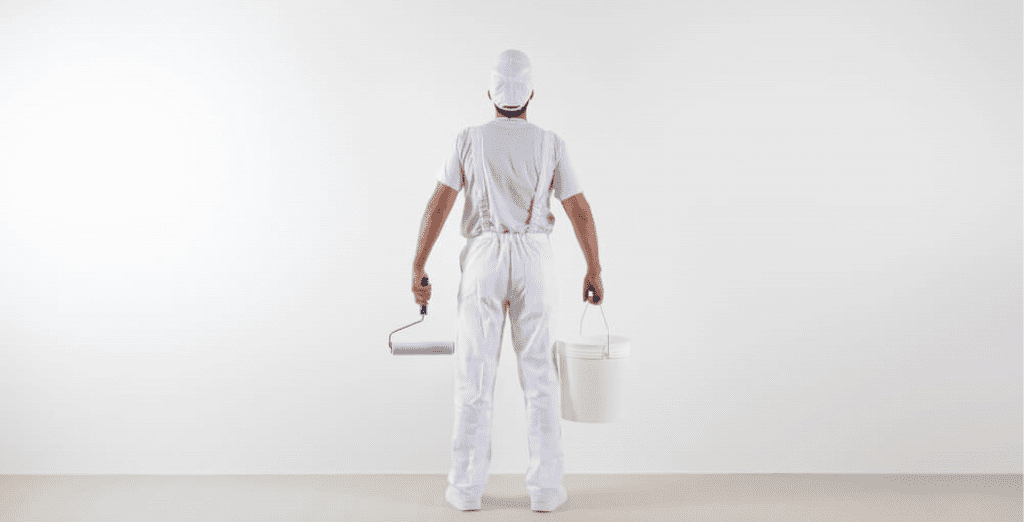 Purity
White is a symbol of purity. This soft color signifies goodness, dedication, and cleanliness. For this reason, the white color is chosen for auspicious occasions like marriage. Moreover, many buildings and professions prefer white because it signifies purity.
Many painters wear white to show they are enthusiastic about their work and do it with heart. Some wear white because they believe it emits more light, making it easier for them to spot marks and give perfection to their work. Because most houses were painted white, painters chose white to express their professionalism and dedication to cleanliness.
Glory
White has a symbolic meaning in many cultures; for example, Greeks have a myth about white that it is a color of glory. On the other hand, Asian cultures also have significance since they wear them during funerals, representing grief and mourning.
Painters, however, might wear it to show they want praise for their excellent work. They might be wearing white to convey that their work will be free from any imperfection and that they'll pay attention to every detail while working.
Cleanliness
White also denotes cleanliness which could be a reason painters wear white. They want to remember that their profession requires experience, and wearing white help them do it.
Painters wearing white represent a blank paper ready to receive artistic stocks. They wear all white to express their professionalism and priority to deliver a pristine look to your place.
White also blends with any other color and mainly acts as a stimulator in providing a soothing scene, usually chosen as a background color.
4. Practical Reasons
Practicality is something we always focus on. We all bend a bit toward a utilitarian approach while making a purchase. Let's dive into the practical reasons white uniforms are still a top priority for painters.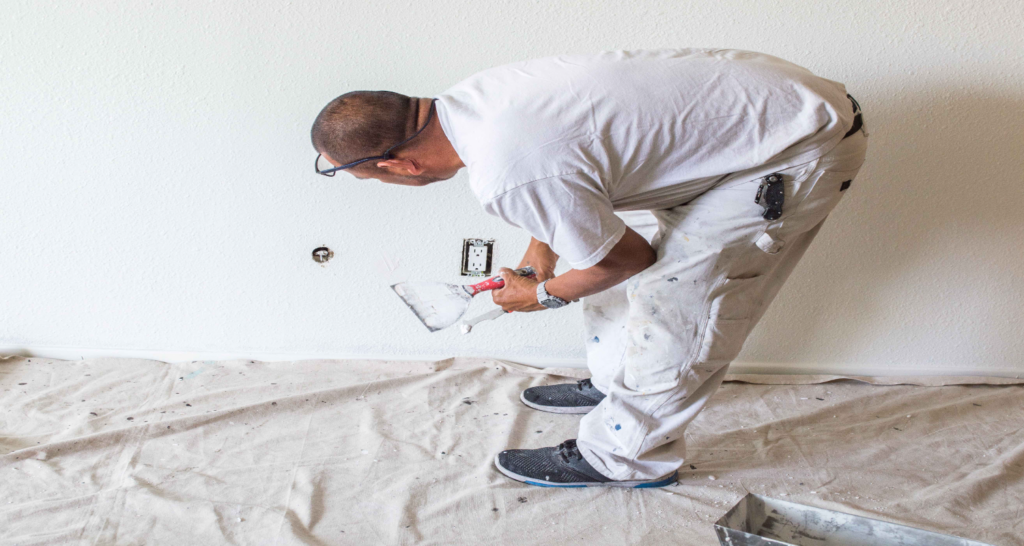 It Helps in Heat Prevention and Keeps Them Cool
Painters prefer to wear white clothes while they paint the house's exterior. The darker shades absorb more heat which is a no-no for painters working outdoors because they will sweat even more than average. Here white clothes play a crucial role in keeping them cool so they can concentrate well on their creative art.
Additionally, many houses prefer white paint for the exterior since it lowers the heat. They can easily observe dirt when they are working outside, which makes things easier for them as well as house owners. For instance, they don't have to worry about spots ruining their white clothes, and the homeowner also can keep a check if the painter entering their home has clean or dirty apparel.
It Acts as a Sign that Work Is Going On
As mentioned in the historical references, white was easy to hide splatters and spots of the same color. Additionally, painters used to mix the paint and white lead powder that kicked up during the mixing process, and they could easily hide the existence of these dust particles on their clothes.
White clothes denote that there is some serious paintwork happening. Painters have two groups; one prefers to keep their clothes clean while working, but the second group inclines toward getting as many spots as possible to convey the message that they are seasoned and have worked in numerous places. They get inspiration from history and donn their colorful vests as a badge of honor.
It Helps in Spotting Imperfections in a Painted Wall
White clothes are easy to clean with bleach, making them an apt choice for painters who want to maintain cleanliness and give a good impression to customers. Moreover, the white coveralls help them quickly spot splotches and flaws in the painted wall.
The white-colored uniform also makes them look more presentable and provides a polished impression. Ultimately, most painters wear white because they take satisfaction and pride in wearing white uniforms that help them paint better and offer flawless results.
5. Benefits
The first aspect we notice while purchasing a thing is its benefits. And painters prefer white because it has many edges. Here are some of them.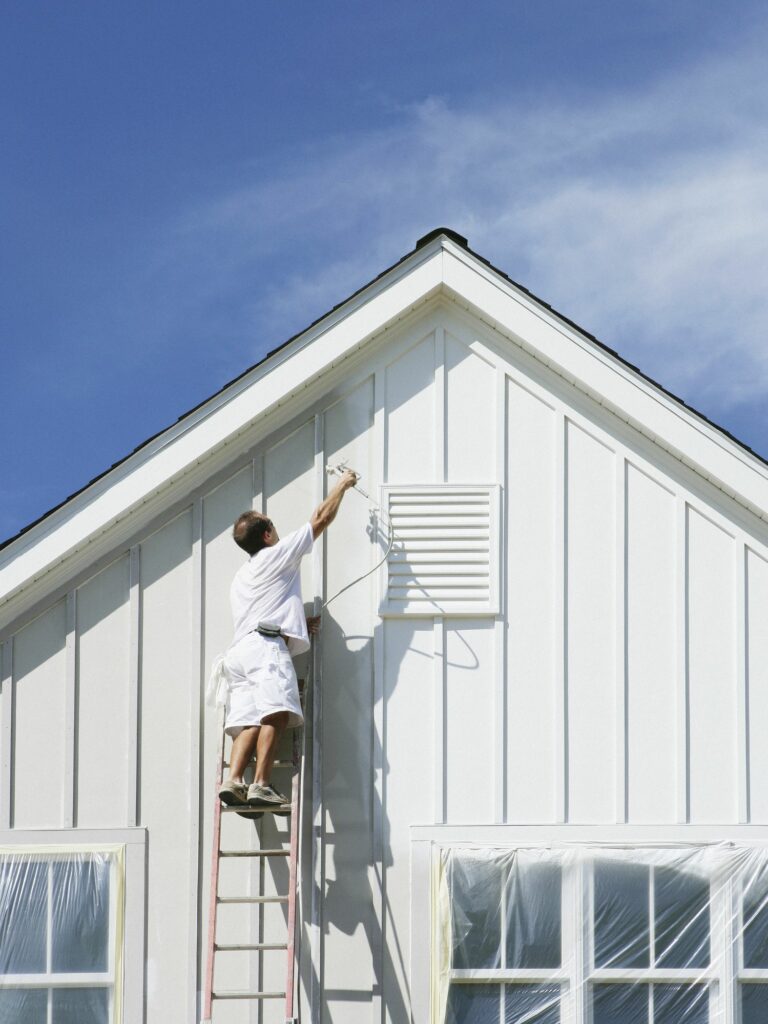 Similar Paint Color Splashes Will Not Be a Worry
Protection and cleanliness are the main things when a painter has to paint a white-colored wall. The white coverall hides the residues from materials such as chalk, primer, drywall, and plasters because they are of the same color. These spots do not affect the professional look since they submerge with the clothes' color.
Dickies is one of the best brands to buy white painter workwear. It is recommended for professionals as well as individuals. It features extra pockets for keeping work-related tools and keeps you clean.
White Invokes the Feeling that The Place Is Safe
Whenever we encounter a painter wearing white somewhere in our unconscious mind, we start thinking that there is a paint job going on around the site. Thus, we become more aware and will not touch the freshly painted surface. This will save painters time and energy while also decreasing the paintings' imperfections and possible accidents.
Consequently, it can make the place safer and save the hardship of the painter and convey the feeling that they are working in a safe environment at the same time.
Ideal for Hiding Dust and Spots and Is Easy to Clean
As mentioned earlier, most of the materials used in the painting job are white, meaning they are not a big deal for painters to hide and keep looking professional. But the extra advantage of wearing white while painting is that it is easily cleanable.
If you spattered some paint or other material on the overalls, they could be cleaned with bleach. Bleach also works as a disinfectant; however, you should only use it moderately, not to damage the fibers but to get the job done.
Conclusion
We tried to give you five reasons in the form of answers to the question- why do painters wear white? We started from the myths that shape our life and culture, which might be why painters chose white clothes.
Then we explored how historical events could impact the selection of white coveralls for painters. For example, how they started wearing white in support of the Union, and some followed the affordable trends of a particular time in British. We also mentioned the impact of a company that began making white bib coveralls in 1992.
Following that, we went deep into the symbolic significance of white and how it impacts the psyche of individuals and painters. After that, we explained some practical reasons why white was chosen. Finally, we elaborated on the benefits of wearing white.
We want to know which reason fascinated you and what you will buy next time you paint the house.