Why live in a boring home when you can add a painted brick to your home exterior?
Yes, you can now enhance the beauty of your exterior home design by painting your bricks. It's time to break the belief that bricks only look good in their original color.
Times have changed, and the exterior design has been upgraded to include a painted brick pattern. If you want to try something new and explore color options, this is the right place. It also shares an in-depth understanding of color and design in brick homes.
This blog explores 22 unique brick houses and rare shades you can add to your home design. Every design and color communicates its beauty. We take you on a journey to understand the best combinations and their importance.
1. Pink Brick House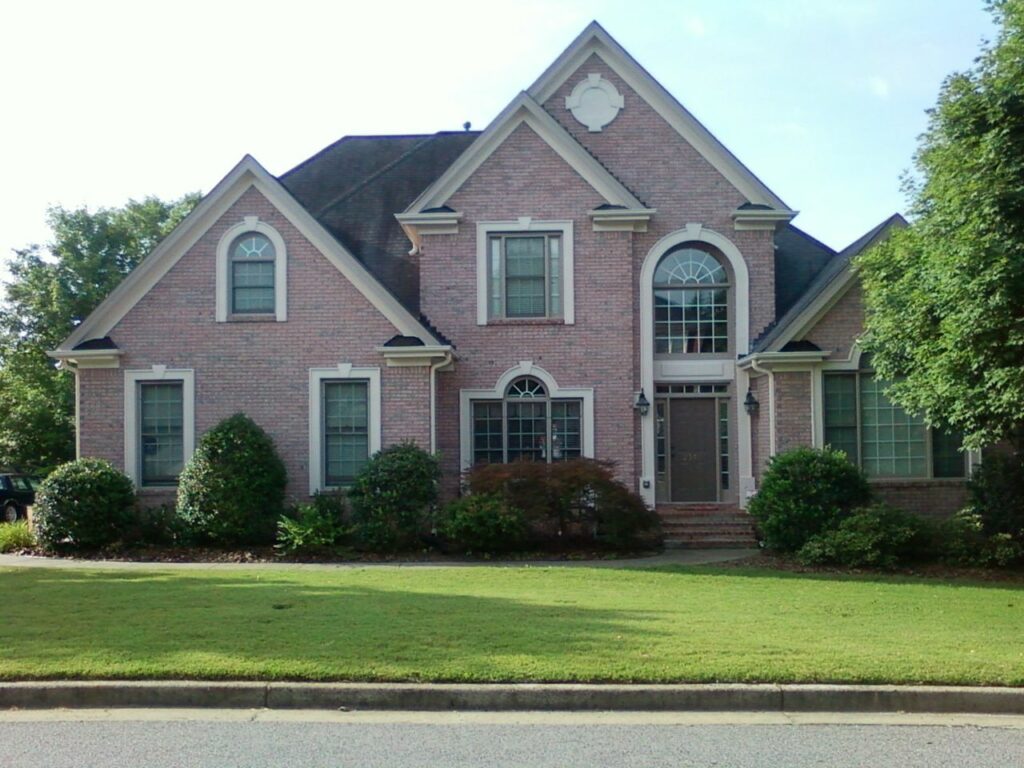 Pink is a not-so-common color when it comes to designing the exterior of houses. However, using pink-painted brick in your home exterior can make your house stand out. Don't let your assumptions about this unique color stop you from experimenting. This color comes in different shades, from a dark tone to a pastel hue. Using lighter tones will do wonders and give your home a radiant look.
Create a contrasting home exterior by merging lighter shades of pink with darker hues. The coloring in this picture is a combination of red and pink. The painted brick colors vary from different shades of pink to black. The proportion of pink is higher in comparison to the grayish ones. The brown door is a perfect shade to contrast the pink bricks on the wall. Window trim and fascia of the roof in ivory shade create a serene exterior.
2. Gracious Green Bricks
The green brick is best for nature lovers and sustainability enthusiasts. They gracefully merge with nature and give your home a charming look. The green-painted brick looks best with lighter shades. It is suitable for any style of design. This image portrays a beautiful house with green-painted bricks. The greens on the wall complement the lush green plants and garden bed.
White window trim, grid, and roof border are calm, whereas the green brick walls explode with vibrant energy. The red door adds to the vibrancy with its bold and bright shade. The light brown roof and green walls give the house a resemblance to an upside-down tree. The earthy tones in this home design make it the best for artists and creative minds. The porch and the pathway towards the door shine with silver and mustard tiles.
3. Hues of Blues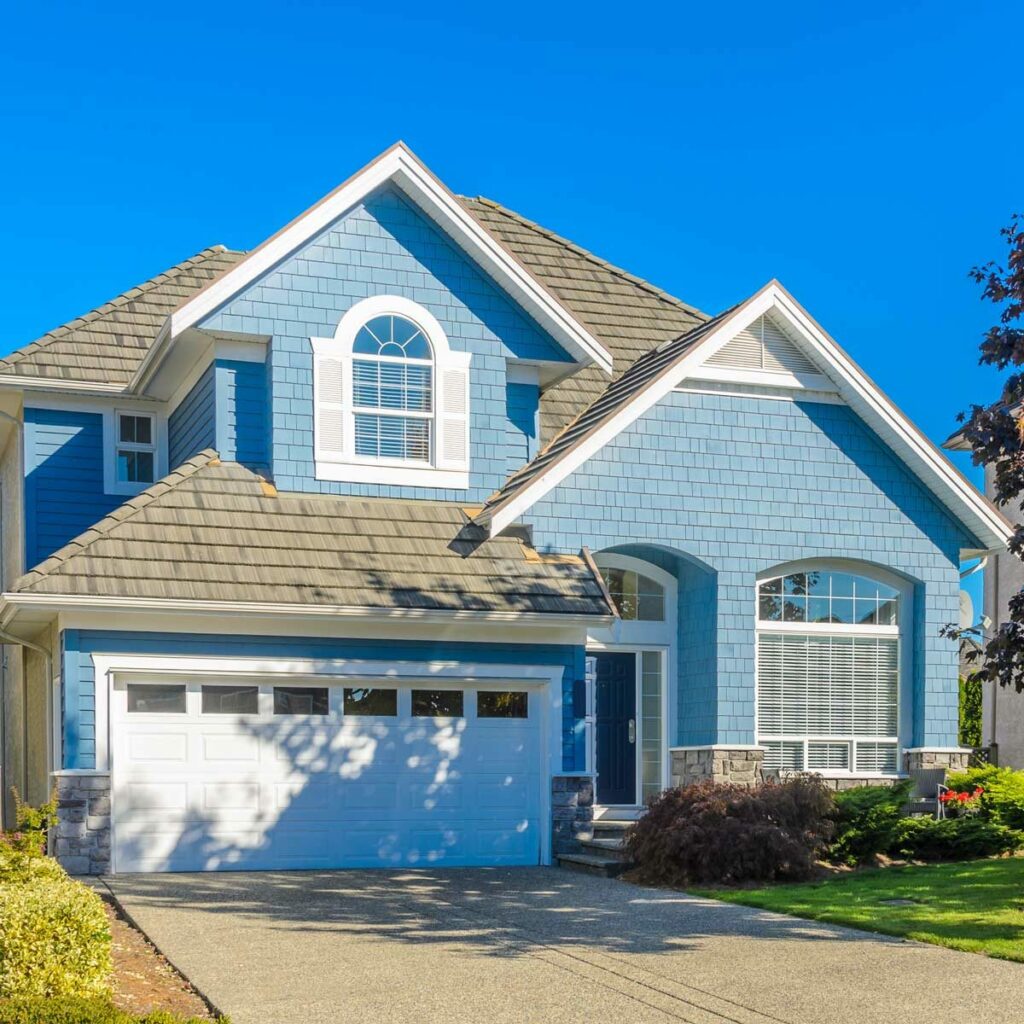 Is blue hue a good choice for bricks? Well, it is! This picture proves that painted brick with a light blue shade will give you an outstanding exterior design. This sky-blue shade brings a sense of tranquility and peace to the atmosphere. This shade of blue brings memories of water and clear skies. The white color garage, vent, windows, and gable vent complement this shade of blue. White color acts like a cloud on these sky-blue walls.
Painting your bricks blue can seem like a confusing and challenging task. However, it can be easier with a brickman stain kit. This kit comes in multiple colors and also includes a blue shade. Get your sample and try coloring your bricks with this productive kit. Don't forget to take any help from professionals if you feel confused.
Brickman Stain Kit | MCI Professional-Level Brick Staining Kit
Your permanent, easy-to-use, masonry coloration business in a briefcase
Chemically bonds with masonry materials. Original surface textures are never altered.
Permanently colors masonry (brick, block, mortar, limestone, cast and natural stone).
An advanced masonry stain that penetrates and colors masonry surfaces.
4. Gray Brick House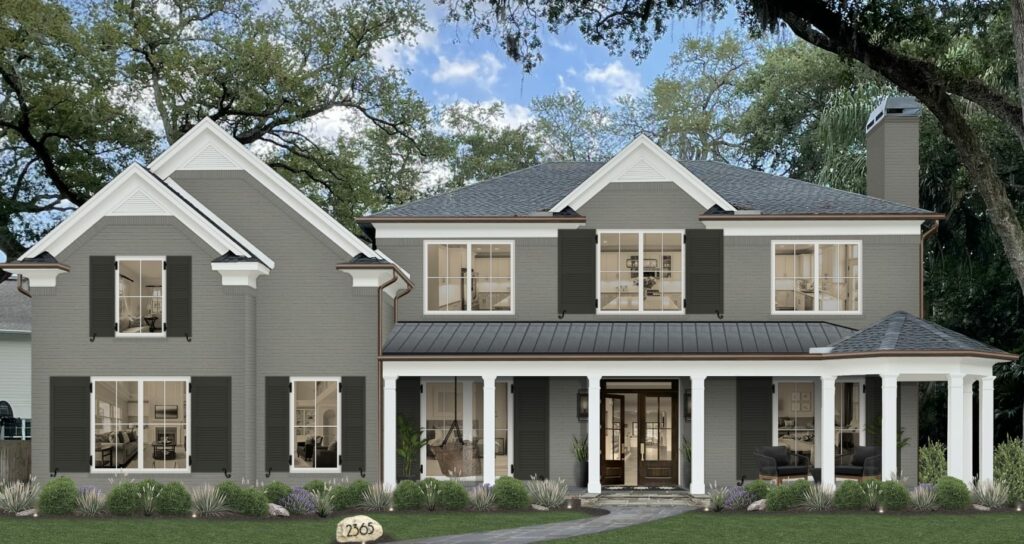 Gray is a classic color with the potential to give your home a soothing and neutral look. Different shades of gray in a single structure also enhance the beauty of architecture. This color goes best with older architecture in darker shades. A lighter shade gives a luxurious feel to trending and modern structures. The painted brick design in this structure uses a fossil shade of gray.
Both shades of gray complement each other and form the deep exterior of the house. The contrasting white on the trim, porch, and roof gives it an intriguing look. The pathway is made by stitching different shades of gray stones. It completes the look and makes the walkway feel like an extension of the home design. Two black chairs in the sitting area allow enjoying the weather while having your morning coffee.
5. Heavenly Lavender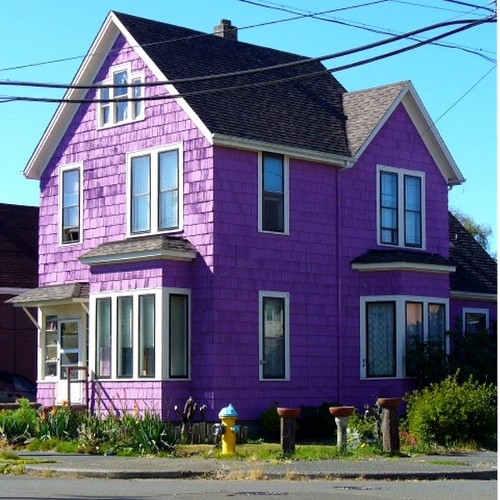 Lavender is a versatile color because it can be warm or cool. This color reminds us of a princess's house or some Barbie cartoon. However, the use of lavender is not limited to those themes. It is a symbol of luxury and prosperity when thinking about a painted brick option. Lavender is one of the most talked about colors and a must-have shade in 2023.
This shade of lavender in the above picture is a warm tone that stands out. The bold and vibrant color speaks for itself on the brick walls. The contrasting white trims and roof border bring a sense of solitude to this design.
6. Coastal Cream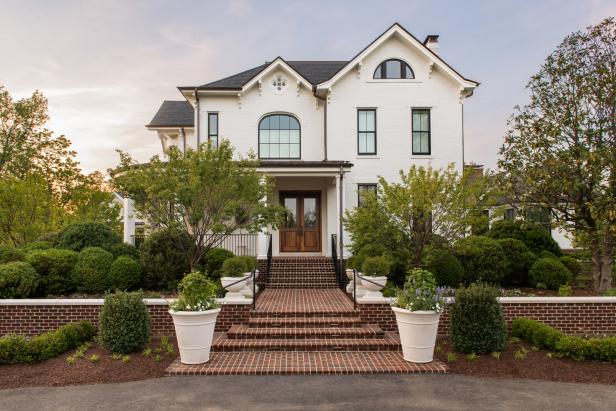 Do you want the sight of your home to give a calming effect to the eyes of the viewer? These coastal cream bricks are perfect for a beach house or any property near coastal lines. They are also the best choice to keep your home cool. The light shade of these bricks reflects the light and does not absorb the heat, keeping the home cooler than the outer environment. If you are new to the painted brick idea, this color is the best to begin with.
The perfect edges of each brick give this house a tidy look. Moreover, the white borders, stairs, and railings stand out amidst the creamy shades of the brick. Maintaining this home can be a task if you live in a dusty area. The light shade attracts a lot of sand and asks for regular cleaning. The brown fence and green plants create a natural border to this creamy home.
7. Cocoa Theme Bricks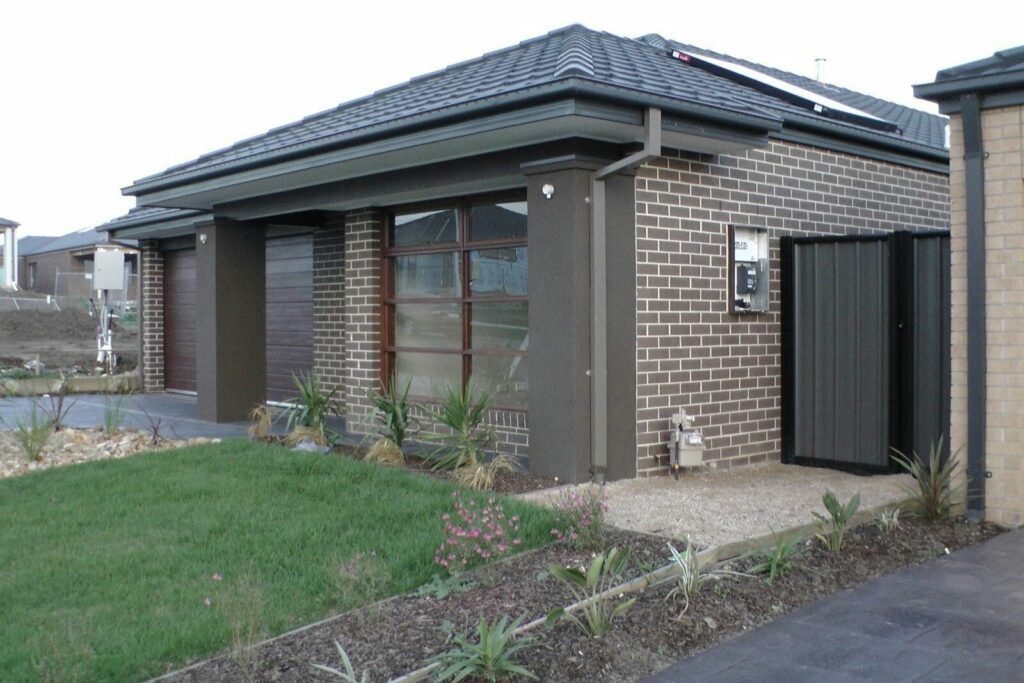 How amazing would it be if your home walls looked like a collection of mini chocolate bars? It is possible with the idea of using painted brick in your home exterior design.
Cocoa theme bricks use the darkest shade of brown to give your home this chocolaty look. The darkness of this color gives your house an unapologetic and brave vibe. The brick borders can either be black or white. The above home design uses a white border for each brown colored brick.
A white border brings a little stillness, whereas a black one further intensifies the exterior. The dark brown window grid, garage door, and black roof further strengthen the powerful vibe of the house. The small lawn in the front lightens the energy with the green shade and fresh air.
8. Brownish-Red Bricks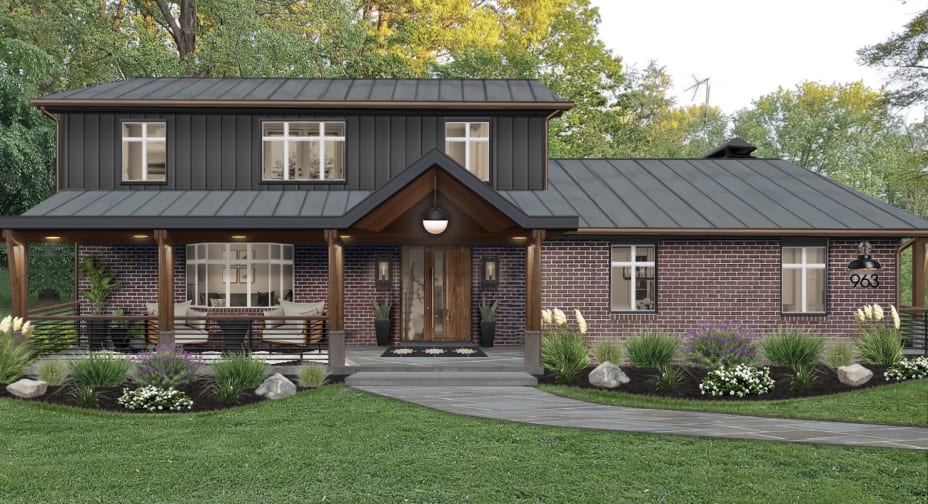 After exploring the Cocoa, we come to another unique brown shade with a hint of red. This shade is chosen for a classic and stylish look when using a painted brick pattern. The wall with brownish-red bricks beautifully stands in the front with composed and vibrant energy. The wooden door, pillars, and railings beautify the space with their composed shapes and tones.
The solid black roof and the chimney area give the house an exciting and mysterious look. The green garden, two chairs with white cushions, and flowers are the aesthetically appealing aspects of this design. The gray pathway and medium-sized stones bring a unique shade to this architecture.
9. Contrasting Shades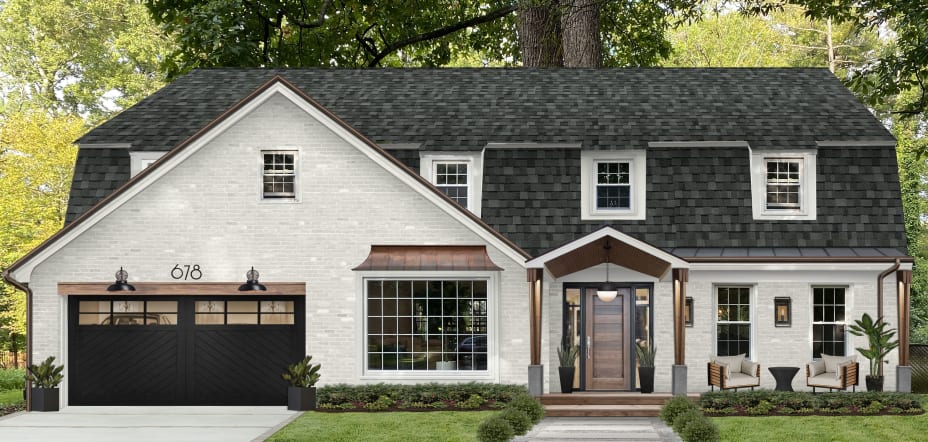 The combination of black and white is a timeless design for the home exterior. Using painted brick in your home design with contrasting shades brings out the beauty of both colors. This picture beautifully highlights the bright white and powerful black. The combination of black and white in design teaches us how to co-exist with each other along with maintaining the individual identity.
If you closely observe, the white bricks vary in color. Not all bricks have the same shade in this design. Some of them are entirely white, whereas some of them are grayish. It shows the inclusiveness of the white shade towards the black roof. White trim on the solid black is a sign of calm amidst the chaos.
From a distance, this might feel like a yin-yang structure where black and white shades stand alone and hold space for each other.
10. Tan Brick with Black Trim Design
Tan brick is a lighter shade than the original brown shade. This variety includes different shades of yellow. These bricks are in a lighter shade and have more color saturation. They mix with almost any other shade and enhance the beauty of your house. While exploring options for a painted brick, choosing tan brick is the best thing to do. The lighter tone brings a joyful and positive feeling.
The above picture is a beautiful combination of tan bricks and a contrasting black trim. It also has a rustic look in a corner where multiple stones form a rough structure. Yellow is a color of optimism, making tan bricks a source of positivity for your home.
11. Ivory Painted Brick Pattern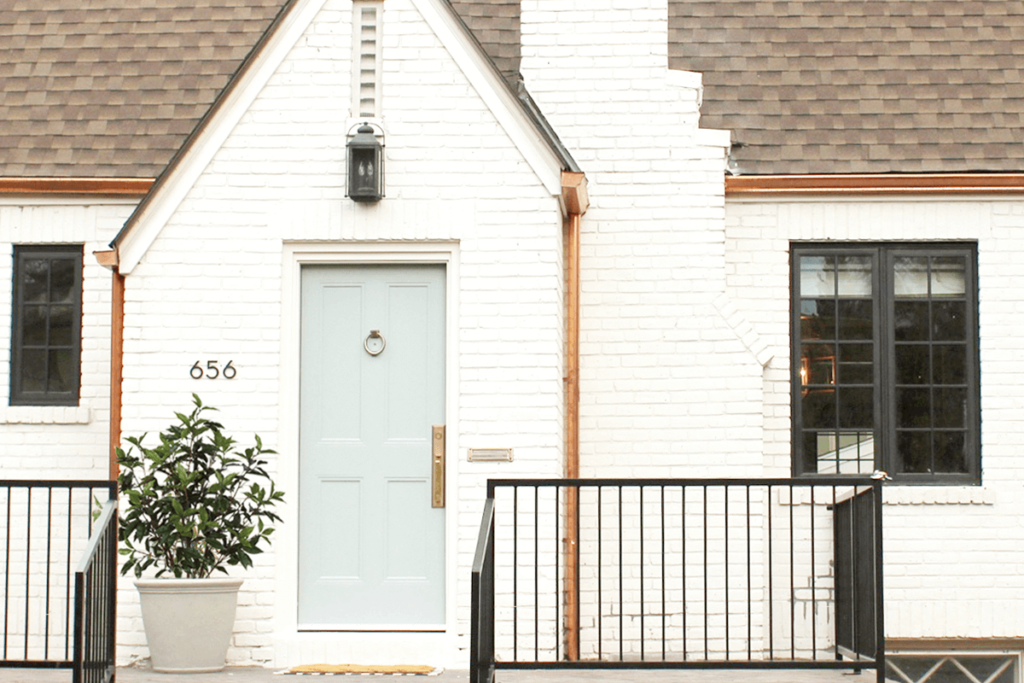 If you find simple white an extremely cold and bright shade, ivory might be the best for you. An Ivory painted brick is a popular exterior with warmth and a tinge of beige. This shade is calm and serene but also has the needed warmth to soothe your eyes. It goes best with darker shades while designing the exterior of houses.
The above picture is a combination of ivory-painted bricks, black trims-railings, and a brown roof. Simple yet elegant, this design reflects the beauty of neutral shades. This would be the first choice of colors for any minimalist designing their house.
12. Cream Brick with Black Window Grid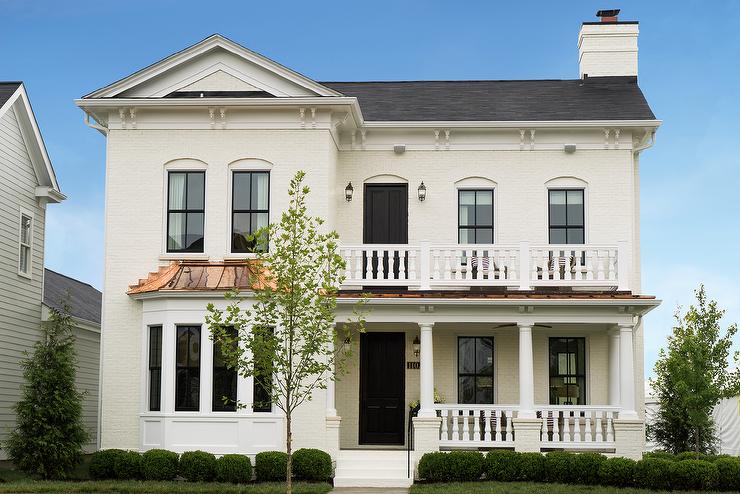 Cream and black have been explored in combination for many years. These classic shades come together to give your house a cozy and ancient look. The magnificent house in this picture sits on a beautiful lawn surrounded by grass and multiple trees. The majestic high-rise home emits an ancient vibe owing to its colors and design.
The well-constructed and heightened ceilings are visible through the external design. Windows in every corner enhance the beauty of the structure. It allows proper ventilation of the air. The beautiful brownish roof stands out amidst the calm shades of creamy bricks.
13. Sprawling House with Black Beautiful Bricks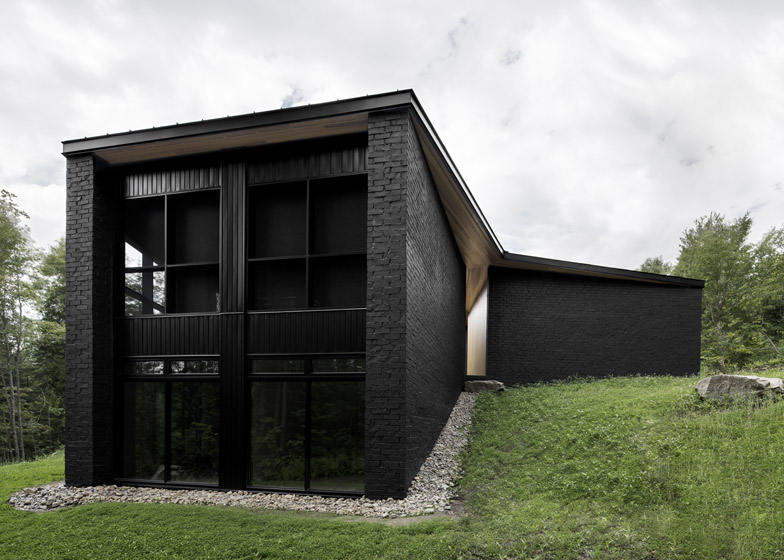 A sprawling house takes up more land than usual and spreads across a large area. The above design is a perfect example of a sprawling structure extending to a much larger land instead of building something above the base structure. The darkest shade of black makes this the most robust exterior design.
The black-painted brick is a large part of its exterior design. Such houses have huge walking space horizontally due to their structure. This dark structure surrounded by green grass is the most unique combination you can ever find.
14. Off-White Bricks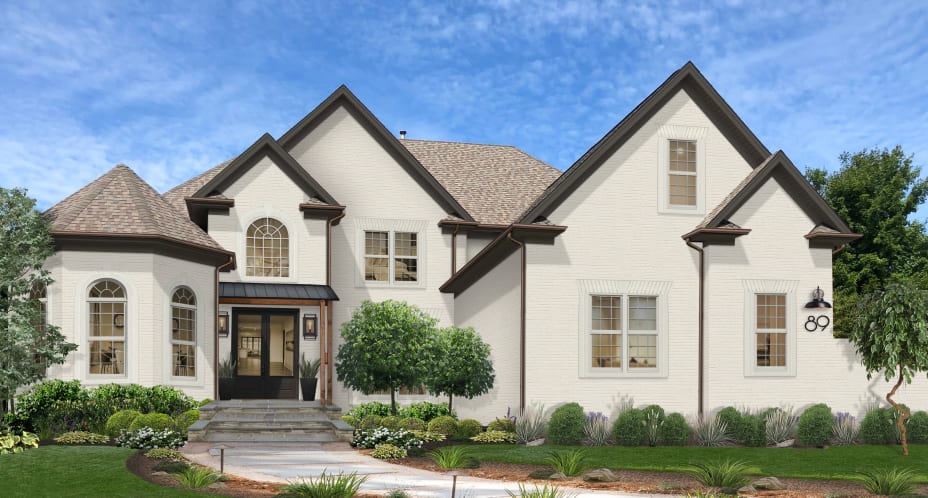 Off-white painted brick will bring a shine without giving your house a sterile look. It is a neutral exterior color that suits multiple house styles. It looks the best when used in traditional architecture. This color brings a sense of history and highlights the most intricate details of any structure.
This color looks best with darker shades like black, maroon, navy blue, dusty rose, and other similar hues. The above home design uses off-white along with brown and black to give the house a contrasting and outstanding look. The clear blue sky and lush green trees enhance the beautifully designed structure.
15. Orange Brick Houses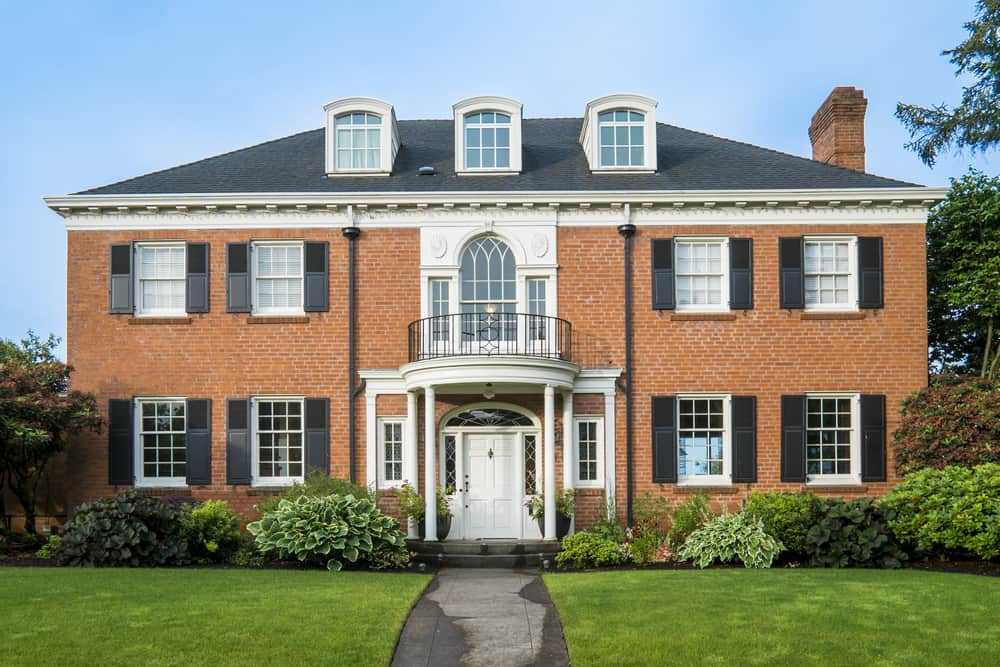 Are you looking for an eye-catching exterior that gets you the maximum attention? Then try experimenting with orange-painted brick in your space. This warm and bold color is rare in the house exteriors. However, when used as a color for painting bricks, it enhances the beauty of the whole structure. It is an energizing contemporary color that keeps your house the center of attraction for every visitor.
Using a bold citrusy orange shade will give your home a burst of youthfulness, energy, and happiness. Combine this shade with taupe, black, blue, sage, and classic white to enhance the charm of your home. The above house creatively uses orange bricks and black, blue, and white shades to highlight every structure.
16. Navy Blue Shade Bricks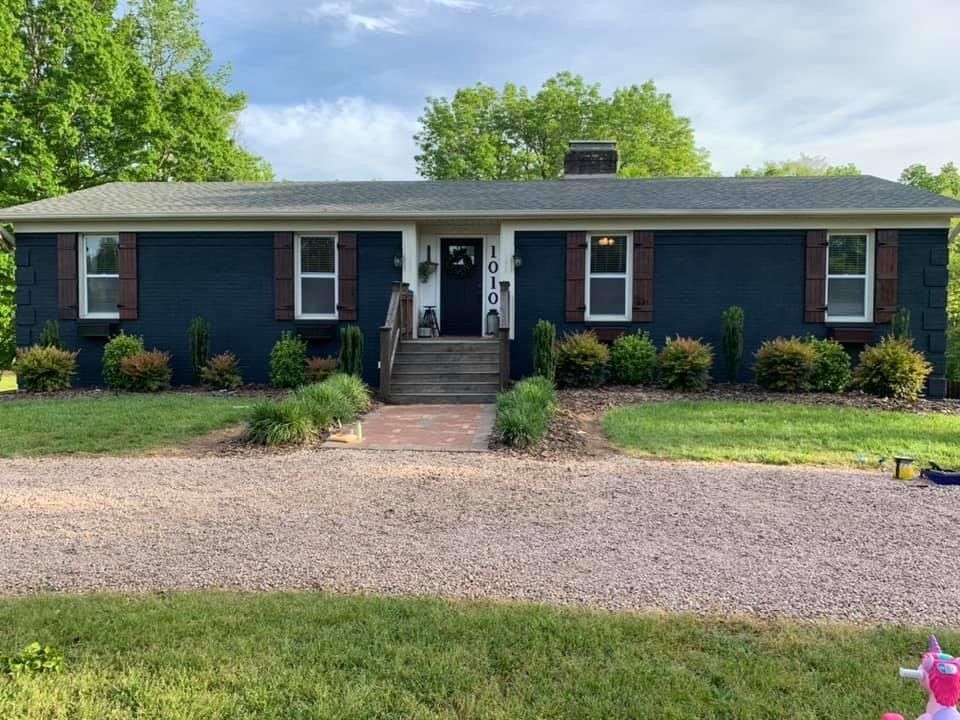 If you want to give your home a royal look, make Navy Blue your first choice! This dramatic shade reflects a majestic vibe on any structure. To enhance the intensity of your space, merge this color with purple, green, and maroon. Merge it with mustard yellow, taupe, white, ivory, bright pink, cherry red, or metallic gold for a gentle vibe.
This home design beautifully uses navy blue with wooden windows and white window trim. The white entrance stands out amongst all the dark shades in the design.
17. Charcoal Painted Exterior Bricks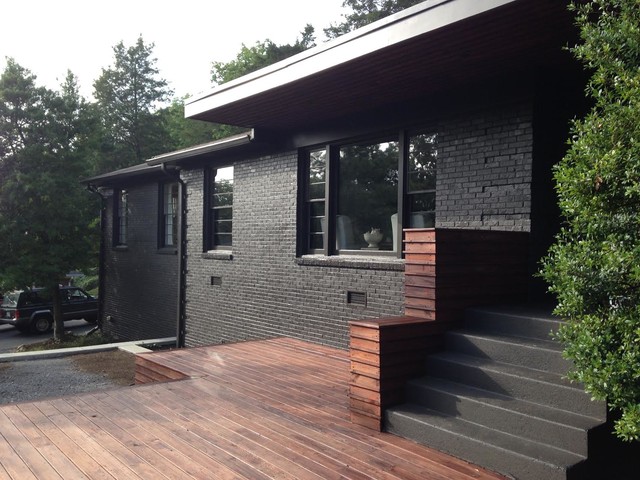 Charcoal is a shade of black with a hint of gray in it. This shade is close to black but not dark enough. Charcoal-painted brick is the best choice if you want a darker shade that does not resemble black. These gray bricks merge well with shades like blues, purples, browns, white, and greens.
This home design beautifully combines charcoal-painted bricks with wooden flooring. Despite being a darker shade, both colors complement each other well. The green plant sneaking in from the corner is a beautiful exterior decor for this charcoal-painted home.
18. Sage Green with Black and White Trim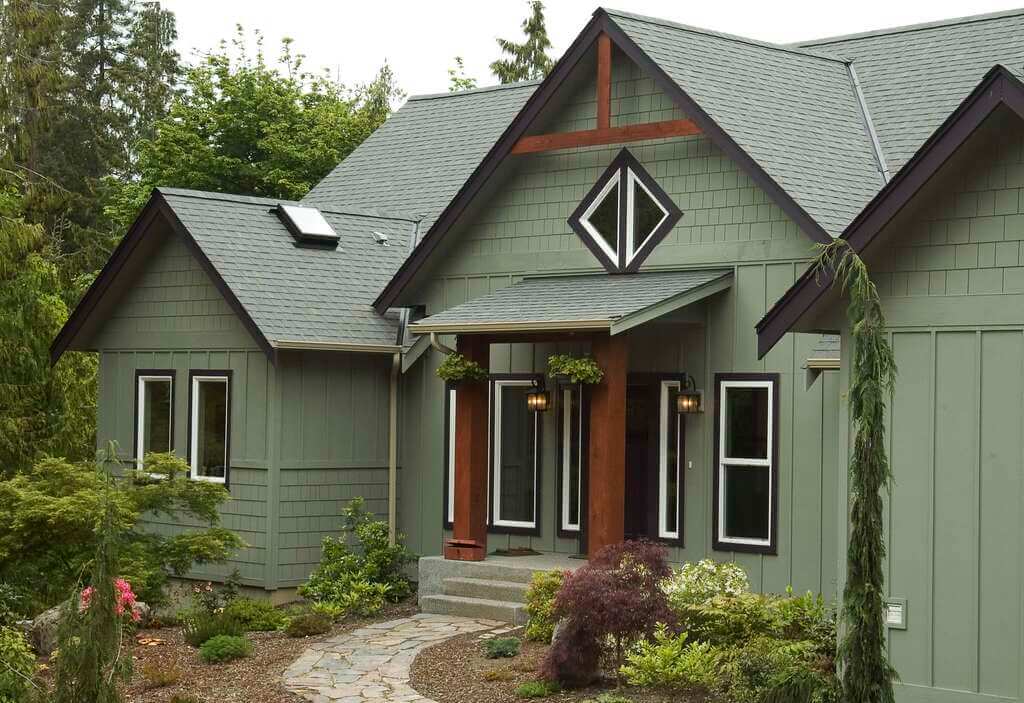 Sage green is a neutral and subtle shade that calms down the energy of your house. Painted brick with this color will give your space a natural and appealing look. It looks the best when paired with taupe, cream, light gray, mustard yellow, brown and black. This shade gives you a Christmas-like vibe for the whole year when you add a hint of red to the surroundings.
The combination of sage green, brown and black gives the above house an impressive look. The combination of black and white on the window trim highlights the perfectly drawn triangle and rectangle shapes.
19. Beige Brick House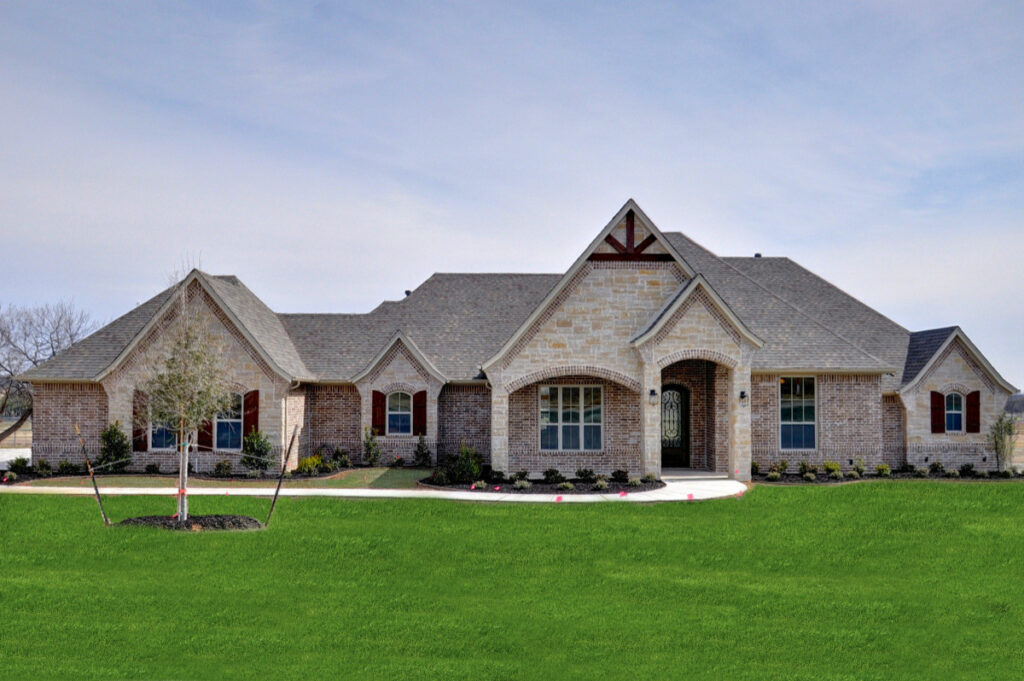 Every shade of beige has a different emotion to it. This color is so versatile that it merges with almost every shade, dark or light. This neutral color symbolizes luxury when used with proper knowledge in the right places. It can instantly enhance the feel of any space when used with the right combination of colors.
For the home exterior, beige looks best with rust, gray, black, or yellow. This home design creatively uses bricks and stones of beige, mustard, yellow, brown, and white shades. The multi-colored front wall looks beautiful in these unique shades. An absence of brick and stone placement patterns makes this structure beautifully chaotic.
20. Gorgeous Red Brick House
Red and white in this exterior represents the vibrant and peaceful vibes of the space. This delightful red is neither too strong nor too light on the eyes. It is a perfect balance of serenity and boldness.
The white trim and green branches making their way to the top are the best combination to enhance the beauty of the wall. It is a perfect example of a small yet aesthetically appealing structure that uses shades and natural elements.
21. Multiple Tones in a Single Wall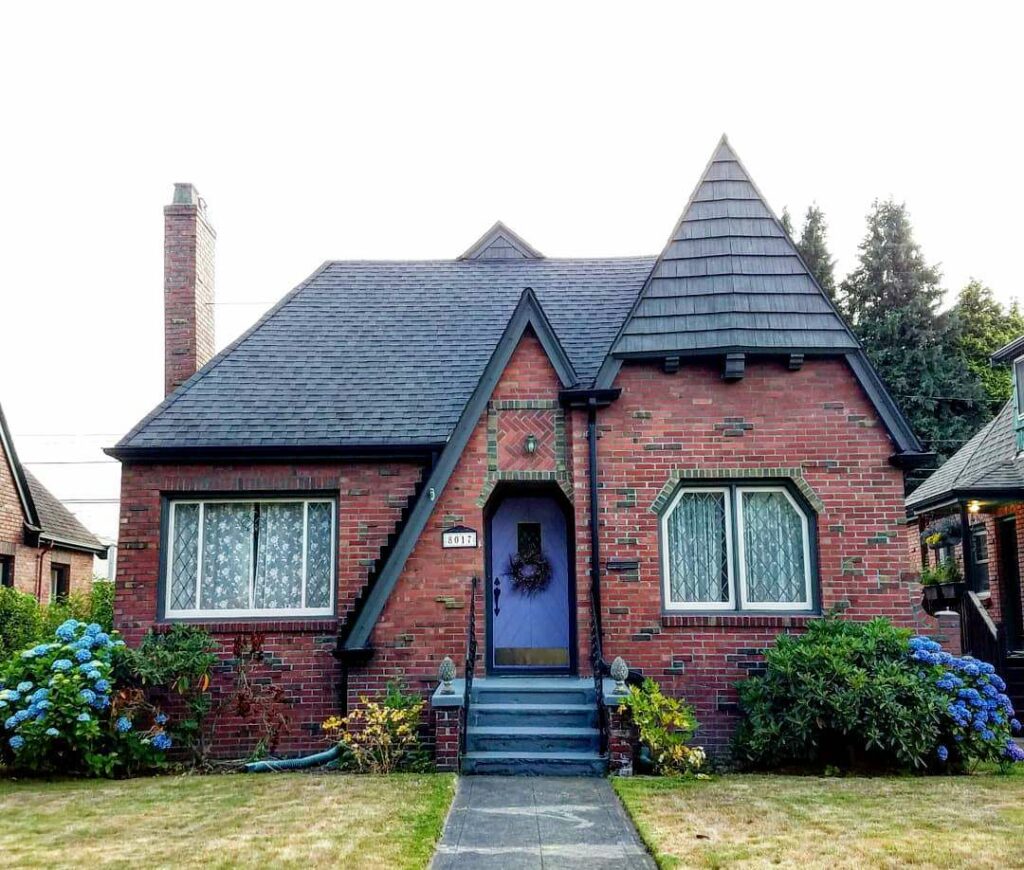 Brown, red, and green on a single wall look untidy yet charming on the sturdy wall. This design creatively uses multiple shades to paint the bricks and form a colorful structure. It combines the colonial house design with powerful colors to create a unique outcome.
The solid dark roof looks like a steady shade creating a balance for the flowing energy of many vibrant colors. The beautiful flowers on both sides of the house add a shade of sky blue, lavender, and yellow to this design. This colorful phenomenon is perfect for individuals who are willing to experiment with their home exterior design.
22. Taupe Exterior Bricks
To be honest, taupe is a shade that hides dust and grim from your exterior walls. If you live in a dusty place requiring frequent cleaning, this might be the best shade to paint your bricks. Different shades of taupe can be used in a single structure instead of merging it with other colors.
https://www.amenityhome.com/wp-admin/upload.php
The bricks in the above design use a lighter shade of taupe, and the roof uses a darker tone of the same hue.
Let Your Brick House Be the Best in Town
Still thinking if painting your bricks is a good idea or not? You won't know unless you try it on your own.
Traditional brick houses are limited to using bricks in their original color. However, times have changed, and exterior designing has come up with fantastic colored bricks to adorn your homes. The change might seem a little weird if it's new to you.
Push aside your fear of being judged and freely experiment with the colors you love. After all, it's your home, and you get to decide the vibe it emits. If adding a painted brick to your design can give your joy and satisfaction, that is the best thing to do.
So, select a shade that goes well with the surroundings and is appropriate for your living area. Get those bricks colored and flaunt your creative side through your home design.