Looking for fashionable yet affordable home decor to mark your style? No worries; there are plenty of options to explore. One of the options is, opting for Anthropologie mirror dupes. Yes, you read it correctly! The suggestion is to go for the dupe but not the original.
Anthropologie is reputed for its unique and fashionable home decor and furnishings. Although Anthropologie mirrors are undeniably gorgeous, they come with heavy price tags.
If you are looking to bring the same look into your home without going broke, you are at the right place! Here, we curated a list of the most affordable Anthropologie mirror dupes that can add a touch of elegance to any space without breaking the bank.
If you are the one to handle your interior decor budget, then it's your turn to amaze your family with savings for buying these dupes. Of course, you can win the saving back to enjoy your shopping or girls' evening!!
Why Are Anthropologie Mirrors Special Than Other Mirrors?
Due to its unique design aesthetic and attention to detail, Anthropologie mirrors are highly sought after. They are statement pieces that instantly elevate any room's interior with their intricate frames, unique shapes, and fine craftsmanship.
An extensive range of mirrors is available at Anthropologie that meet a variety of taste and aesthetic preferences, from modern and bohemian styles to retro-inspired designs to current trends.
Why Opt for Anthropologies Mirror Dupe?
Going for an Anthropologie mirror dupe is a brilliant way to get the same elegant look as an Anthropologie mirror on a budget. As with the original, the dupes also have a wide range of styles available to meet all interior and home decor needs with ease.
These mirror dupes can easily change the atmosphere of any room, whether you're trying to make a focal point in a living room, add a chic look to the hallway, or add a little glitz to a bedroom. Intriguing textures like rattan, metal, or reclaimed wood are often incorporated into the mirrors to give more depth and aesthetic appeal to the design.
Also, Anthropologie mirror dupe can be incorporated into various home designs such as Bohemian, farmhouse, eclectic, or modern styles perfectly. These dupes can be used for individuality as statement pieces or in groups to create the appearance of a well-curated gallery wall. They also come in a variety of sizes, so you can pick the ideal mirror to fit your needs and space.
Affordable Anthropologie Mirror Dupe in 2023
1. World Market Brass Vintage Mirror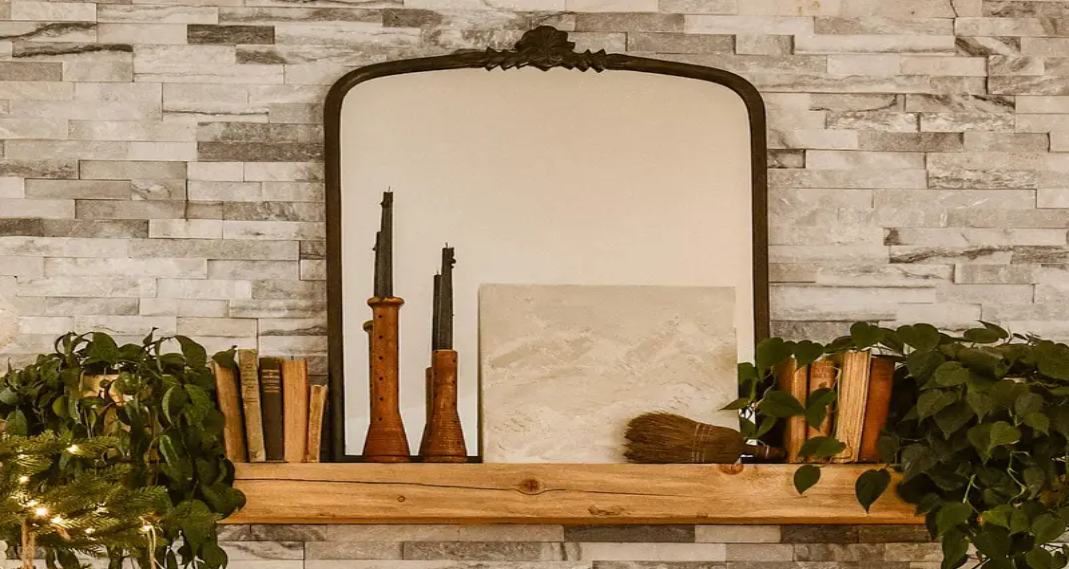 This vintage-inspired brass mirror is the best Anthropologie mirror dupe from World Market. With its brass frame, the mirror exudes a warm and welcoming ambiance that complements every interior style. Also, the antique-inspired design and elaborated details set it out as a statement piece and become a center of attraction.
This Anthropologie mirror dupe is ideal to use in bedrooms, hallways, living rooms, bathrooms, and dining rooms. With its generous size, it provides ample reflection and blends perfectly with various furniture styles, color schemes, patterns, and textures of any room.
Getting a World Market Brass Vintage Mirror is a great way to give your home a sense of character and history. It will be appreciated for years to come due to its timeless and fine craftsmanship.
2. Anglo Arendahl Traditional Accent Mirror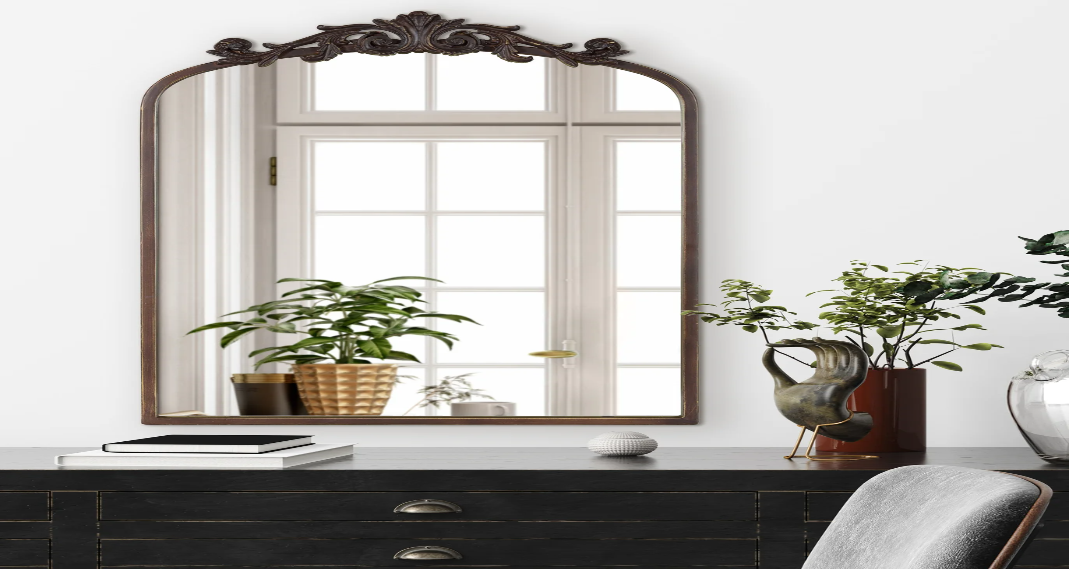 This Anthropologie mirror dupe is the ideal accent to traditional or vintage-inspired interiors because of its classic design and well-crafted detailing. You can enhance any room's interior with its ornate frame's rich and opulent finish in order to create a sense of elegance.
Anglo Arendahl, Traditional Accent Mirror, is a versatile piece that can be suited perfectly with any interior because of its size and shape. It effortlessly improves the aesthetic appeal of a space, whether you hang it above the fireplace mantel, use it as a functional element in the bedroom or bathroom, or as a decorative accessory in the living room. Its shiny surface brightens the interior by reflecting light from the outside while also giving it depth and character.
Sale
PAIHOME Gold Antique Mirror for Wall, 19x30 Inch Large Brass Arched Mirror Decorative Vintage Bathroom Mirrors, Ornate Entryway Baroque Mirror, Metal Frame, Hangs Vertically or Leaning
MAXIMALIST MODERN DECOR: The garland details on top is similar to the design of Primrose flowers. This mirror perfectly complements that style of traditional vintage furniture. The classic and practical mirror will be the most eye-catching in your room.
DURABLE&STRONG&HD MIRROR: Durable the combination of high-definition distortion-free reflection surface glass with high-grade oil rubbed gold metal craft frame. It's incredibly solid, great quality and well made, it's worth buying with confidence.
TWO WAYS TO PLACE: The mirror is equipped with pre-installed hooks, which can be easily and quickly installed on the wall or directly against the wall. Suitable for living room, master bedroom, fireplace mantle, bathroom, foyer, entryway table.
STURDY PACKAGING: This mirror comes in an extra-thick box and styrofoam packaging to ensure safe shipment. Before that mirror arrives at your location, it goes through stringent third-party testing that includes drop test. Multi-size offers(19x30, 24x36, 30x36).
ORDER WITH CONFIDENCE: If you have a mirror that arrived damaged or defective, you can request a refund or replacement in Your Orders. If the refund or replacement option is not available, you can contact us.
3. Ornate Filigree Mirror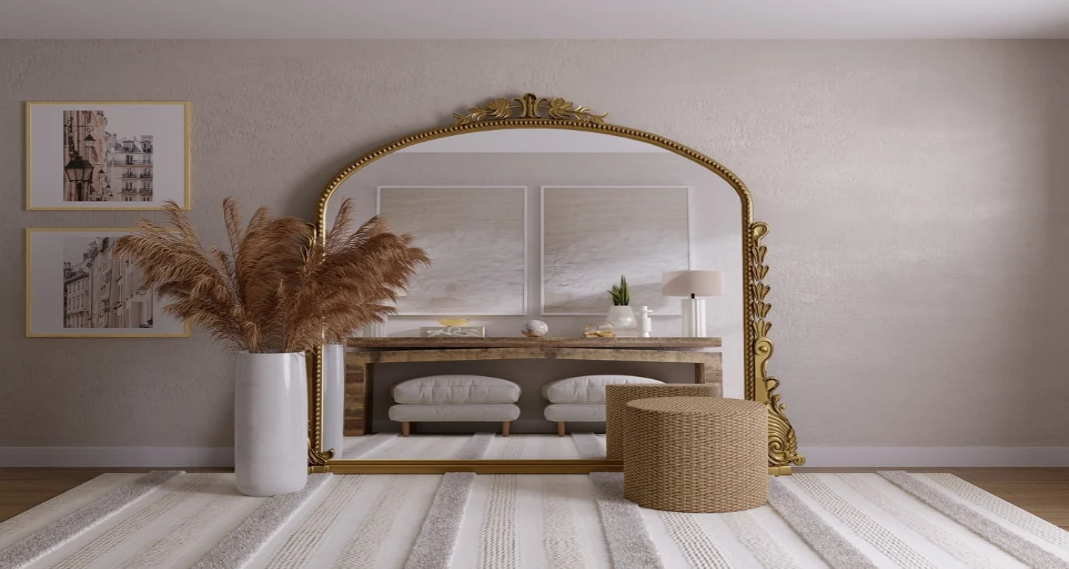 This is a decorative mirror from Pottery Barn Teen featuring great craftsmanship and intricate filigree details. The design itself is influenced by elaborated details and traditional craftsmanship from different cultures too.
Filigree is a centuries-old art form that can be traced back to ancient civilizations, including Egypt, Greece, and Mesopotamia. It requires the skillful twisting and twirling of thin metal wires to create sophisticated designs and motifs.
The Ornate Filigree Mirror requires extreme accuracy and attention to detail as its exquisite filigree patterns and soldering metal wires are the main features to adorn this mirror's frame.
4. Selene Extra Large Floor Mirror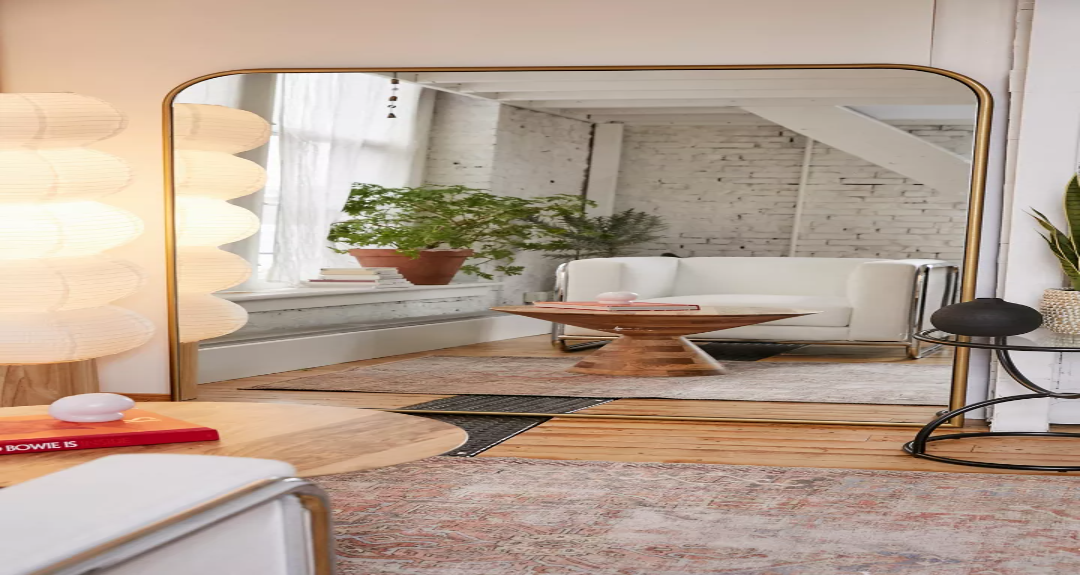 When you want to go big to add an accent to your space, Selene Extra Large Floor Mirror is a perfect choice! This Anthropologie mirror dupe is exclusively available in Urban Outfitters. It looks 55 inches wide and 65 inches tall with a modern aesthetic appeal, ensuring it stands out as a centerpiece in any room.
The sleek and smooth design of this Anthropologie mirror dupe is the best example of quality and craftsmanship. This arched mirror's sturdy iron frame creates a stunning display that will create a last-longer impression.
This mirror can be used as a functional element to complement your beauty and as a decorative accent to complement your home. Also, it merges perfectly with any interior style, from classic to modern, and creates a visually impactful presence.
5. Kate & Laurel Arendahl Mirror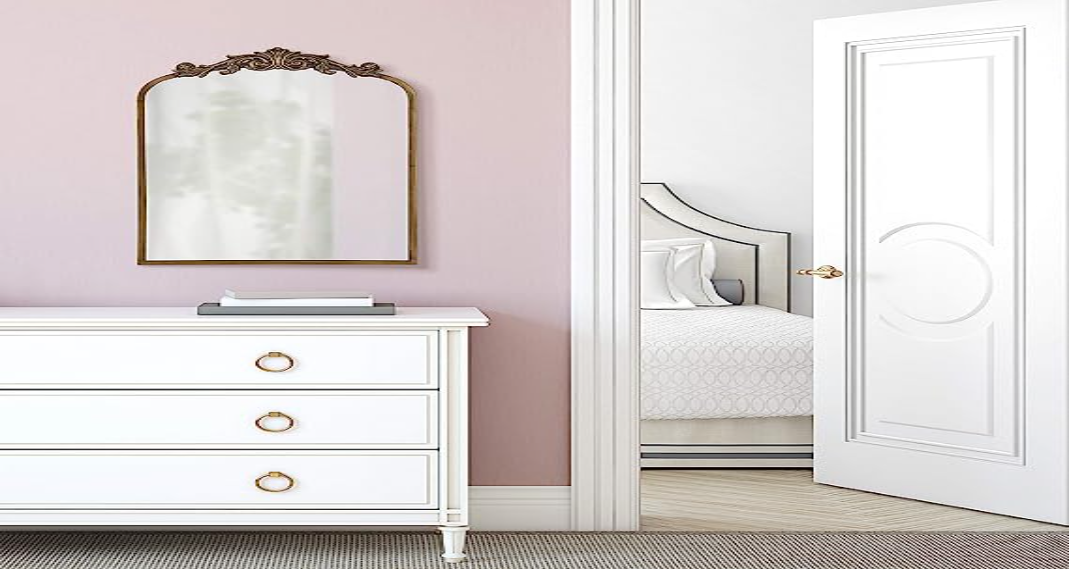 If you want to elevate your traditional home look with a timeless design, Kate & Laurel Arendahl Traditional Arch Mirror is the perfect one. This Anthropologie mirror dupe comes with an arched shape and classic design to showcase its detailed craftsmanship with rich finishing.
Every Anthropologie mirror from Kate & Laurel is unique as they are hand-crafted and care more about details. Its large mirror dimensions are 19 inches wide and 30.8 inches high. It helps reflect the natural light across the room and creates an impression that the room is bigger and brighter than it is.
6. Kirkland Antique Gold Victoria Scroll Mirror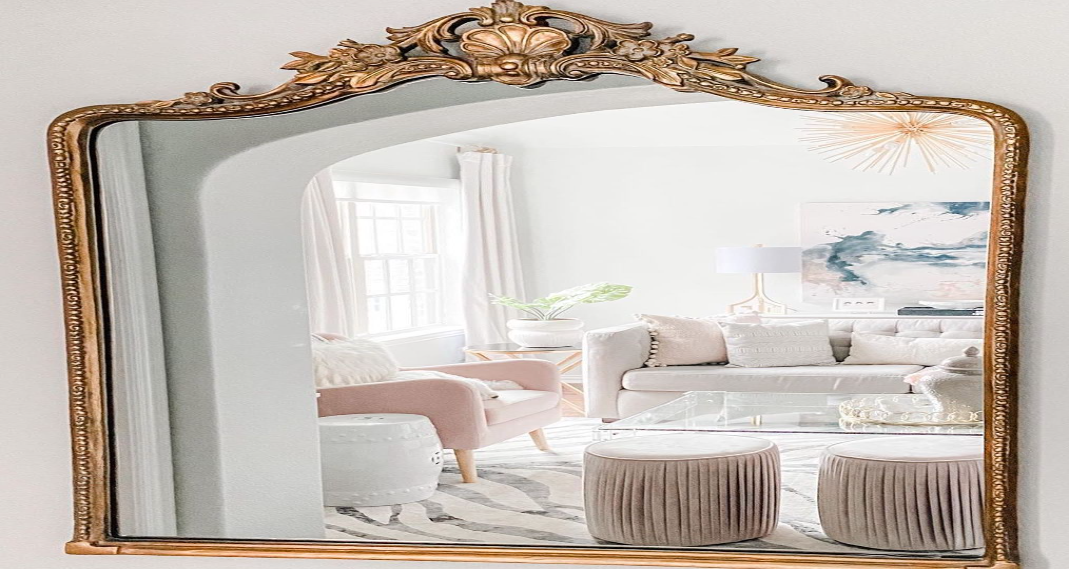 The Anthropologie mirror dupe from Kirkland is no less than any original masterpiece. This Antique Gold Victoria Scroll Mirror comes with a scroll-frame design with a decorative emblem at the top.
As Kirkland is known for its attention to detail, this mirror has well-crafted ornate lines that give a luxurious look to the mirror. Also, it is crafted of resin and glass and has an antique gold finish to add a touch of sophistication. With measurements of 36 inches in height and 24 inches in length, it perfectly suits both small and large rooms. In addition, this wall mirror is also available in other sizes to meet your needs and room interior.
7. Hobby Lobby Anthropologie Mirror Dupe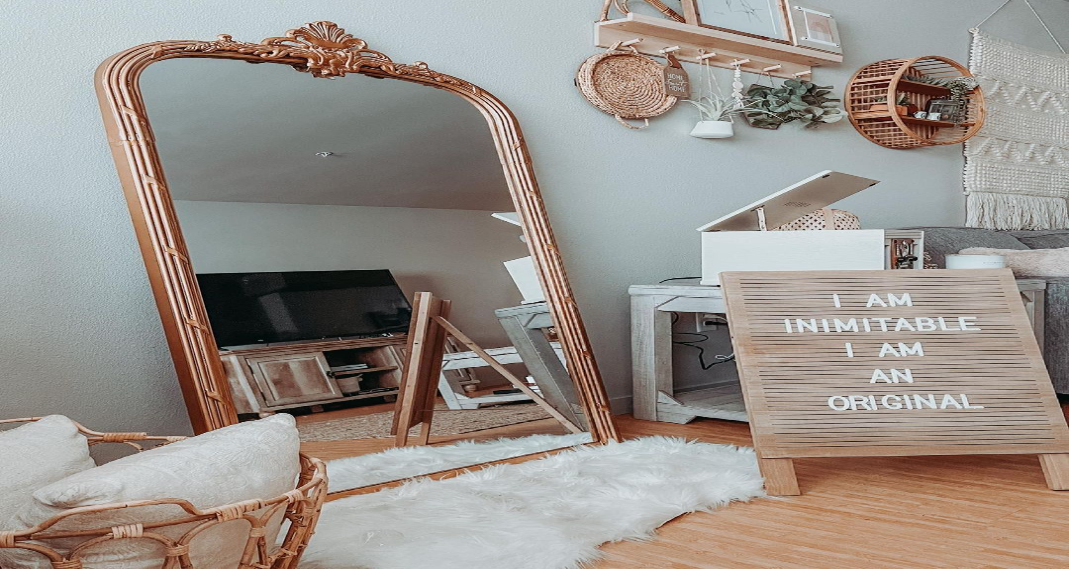 Low in budget but looking for a stylish mirror? Try these Anthropologie mirror drupes from Hobby Lobby! Yes, they are unique and stylish, yet they come at more affordable prices without compromising on quality.
With a vintage-inspired aesthetic, these mirrors are designed with a distressed and texture finish on iron and resin frames. Also, it includes a baroque-inspired theme that suits bathroom and vanity interiors more perfectly.
It comes in a dimension of 32 inches in height and 24 inches in length to perfectly suit to place above the dresses in the bathroom or storage cabinet in the living room. It's not just an Anthropologie mirror dupe but also helps achieve the same look without spending much.
8. Hamilton Hills Wall Mirror
Wall mirrors from Hamilton Hills are a perfect choice when you are looking for an Anthropologie mirror dupe. Especially the Top Gold Baroque wall mirror!
This mirror looks versatile in design with the opulence of baroque style on top and rich gold finishing. On this large mirror of 24×36 inches, it has an elaborated leafing design of about 8.5 inches with an old-world charm.
All the Hamilton Hills mirrors come with secured, backed glass within the frame to add stability and durability. Also, have D-ring hanging clips for easy installation on walls. Moreover, it gives a classy touch to any room with a modern look, which complements any simple to exquisite home decor.
9. Wooded Manor Mirror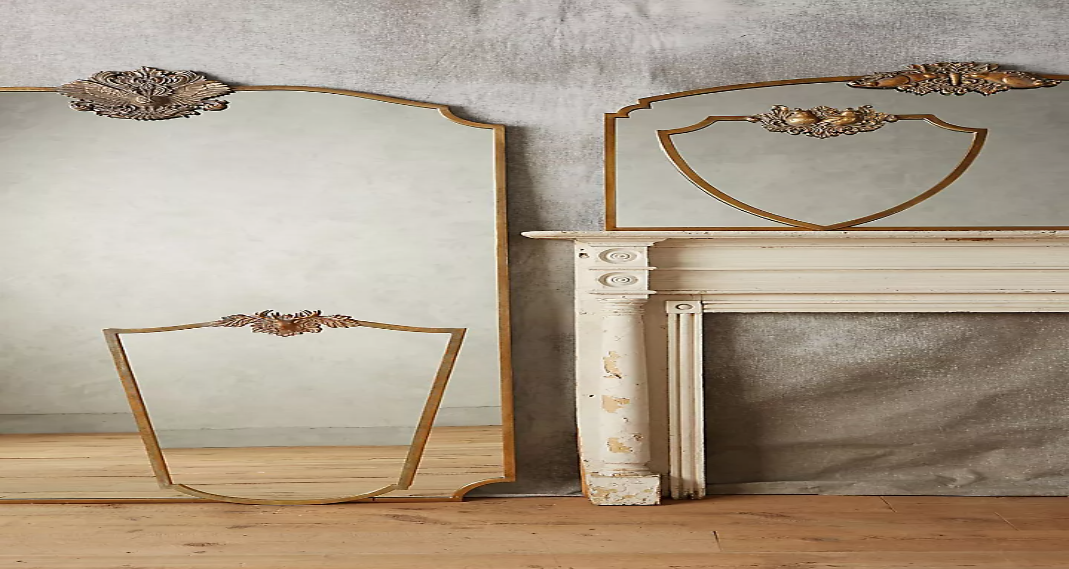 Wooded Manor mirrors from Anthropologie are one-of-the-kind mirrors that create a unique style in any space. It is quite similar to the original Gleaming Primrose Mirror of Anthropologie, so you can buy it as a dupe with more charm.
It comes in at a more affordable price yet has an elegant frame with a French Chateau-style frame and woodland creatures. This Wooded Manor mirror comes in various design styles, such as Rabbit, Bird, Deer, and Owl, to create a vintage-inspired toucan to the interiors.
10. Willa Arlo Traditional Full-Length Mirror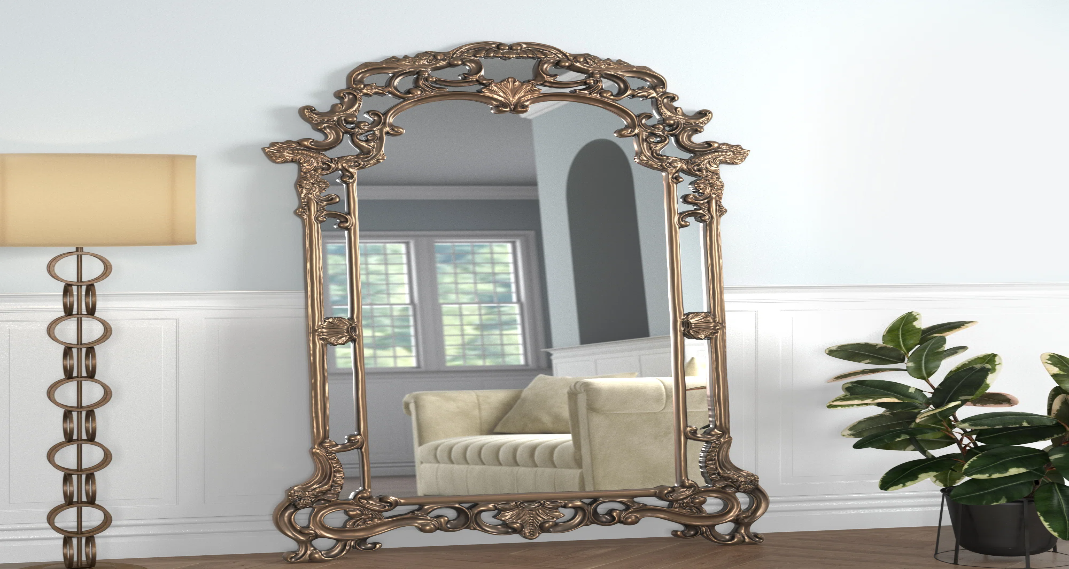 A full-length mirror is the one that women love the most! If it is one of the best Anthropologie mirror dupes, that would be more awesome to add in the bedroom.
This traditional full-length mirror from Willa Arlo is mottled with an antique bronze accent to make it more classy. This oversized ornate mirror comes with a foot-level design too, which helps to stand firm on the floor with wall support. As it is a full-length mirror, you can directly lean on the wall without any extra installation process.
So, whenever you want, you can check your outfit and overall look from head to toe with a clear reflection!
11. Walmart Morrey Mirror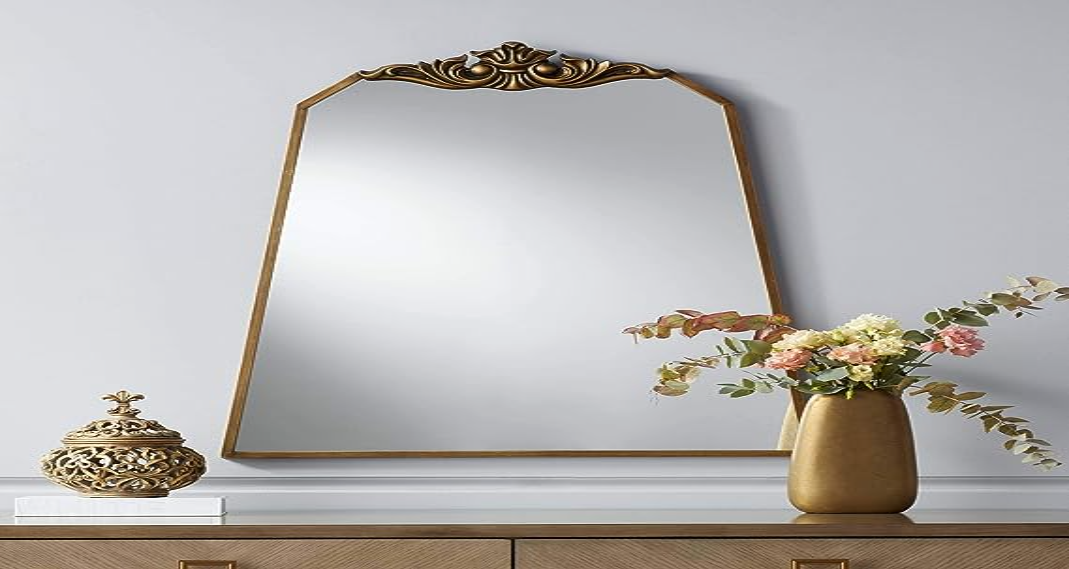 Noble Park Morrey Mirror from Walmart is a good-sized mirror with a crown top and unique shape. The craftsmanship of this mirror is truly unique as it comes in a geometrical shape.
With its elegant shape and angles, it can be considered traditional and transitional home decor. The gold finish over the metal frame and on the non-beveled glass adds more sophistication to the entire mirror, resulting in an impressive addition from Noble Park. This Walmart Morrey Mirror comes in a size of 25×34 inches and can be a good fit in any room!
12. Small Jacqueline Mirror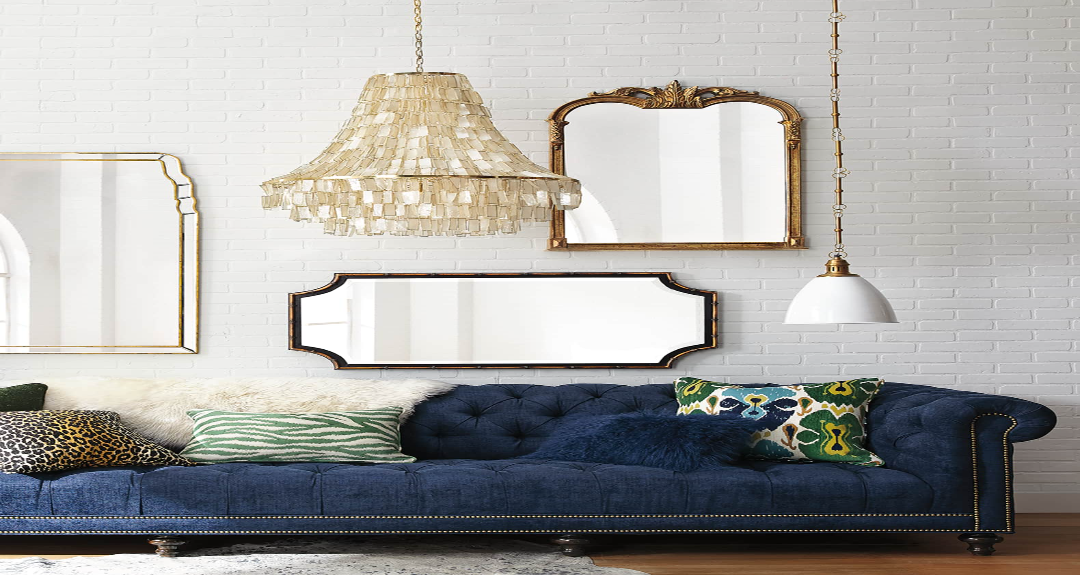 This is the closest Anthropologie mirror dupe to any other mirror! Small Jacqueline Mirror is an elegant masterpiece with Victorian-inspired wall accents to create a vintage atmosphere in the rooms.
Its vanity mirror frame is finished in a champagne silver leaf that has been cracked and aged. So, the dark undercoat can be seen through the leafing design, which enhances its classic and beautifully crafted details.
As it's available at the best prices, you can simply achieve the Anthropologie look in your home with ease!
Conclusion
Bringing Anthropologie to look into your home doesn't need to be at a hefty price; also possible at pocket-friendly prices. All you have to do is do some research for the best Anthropologie mirror dupes. However, we have already done the same for you!
So, just have a look and choose the Anthropologie mirror dupe that suits your budget, home interior, and your personal taste. As mirrors are not only for functional purposes, you can find more designs, patterns, and textures with highlighting elements to add sophistication.
By incorporating these Anthropologie mirror dupe, you can enhance the overall aesthetic and add a chic look to your entire bathroom, living space, or hallway. data-So, It is high time you choose from one of the ideas highlighted above to transform your home into a beautiful space! Do share your views on the Anthropologie mirror dupe and how'd you plan to proceed with the idea further.