Have you ever wondered what it would feel like to sleep on the cloud? A cloud bed can be a wonderful way to experience this dreamy feeling. Cloud beds are one of the most popular home decor pieces trending on TikTok.
They are platform beds with cloud-like plush upholstery around the bed. If you browse the home decor side of TikTok, you'll find that most of the "cloud beds" are puffy, white, and extend past the mattress' edge, unlike a regular bed frame. But they are very expensive, making them difficult to afford for middle-class buyers.
If you dream of having a cloud bed frame without spending a fortune, you can take a look at the best cloud bed dupes that we have curated especially for you. They are available in different fabrics and colors, so you can easily find the one per your style and preference.
Affordable and Stylish Cloud Bed Dupes
If you want to have a relaxing sleep on a cloud bed that doesn't cost a fortune, then you can consider the following cloud bed dupes.
1. The Arianna Bed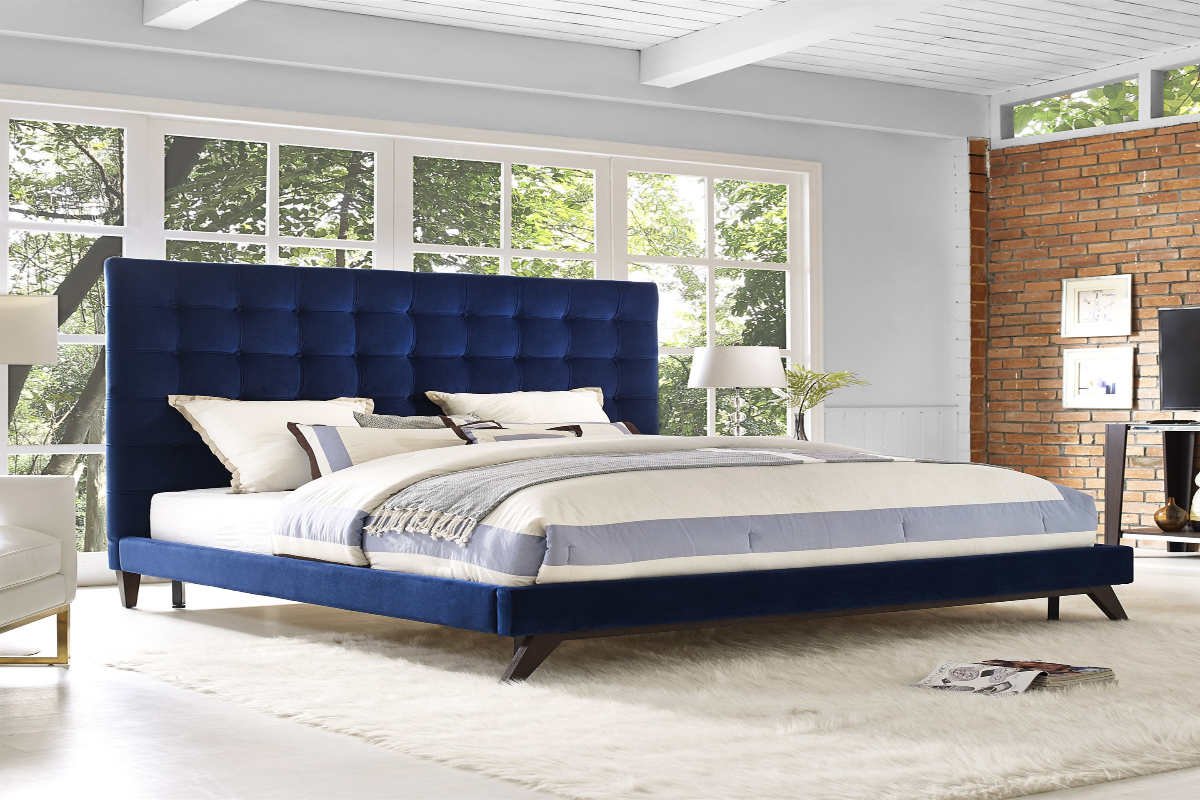 If you want to experience the feeling of waking up in the world's most luxurious bed without paying a hefty price, the Arianna bed can be your ideal choice. It is one of the best cloud bed dupes with a similar clean-line aesthetic like cloud bed. This upholstered bed will become the centerpiece of your bedroom.
It will add coastal farmhouse charm to your bedroom and will last for years. It is also lighter than the cloud bed and comes with a wooden frame that has been made in the US. The square headboard has been upholstered in cotton for a tactile touch. The low-profile design of the matching footboard makes it a one-of-a-kind home decor item.
2. Cayman Platform Bed &Headboard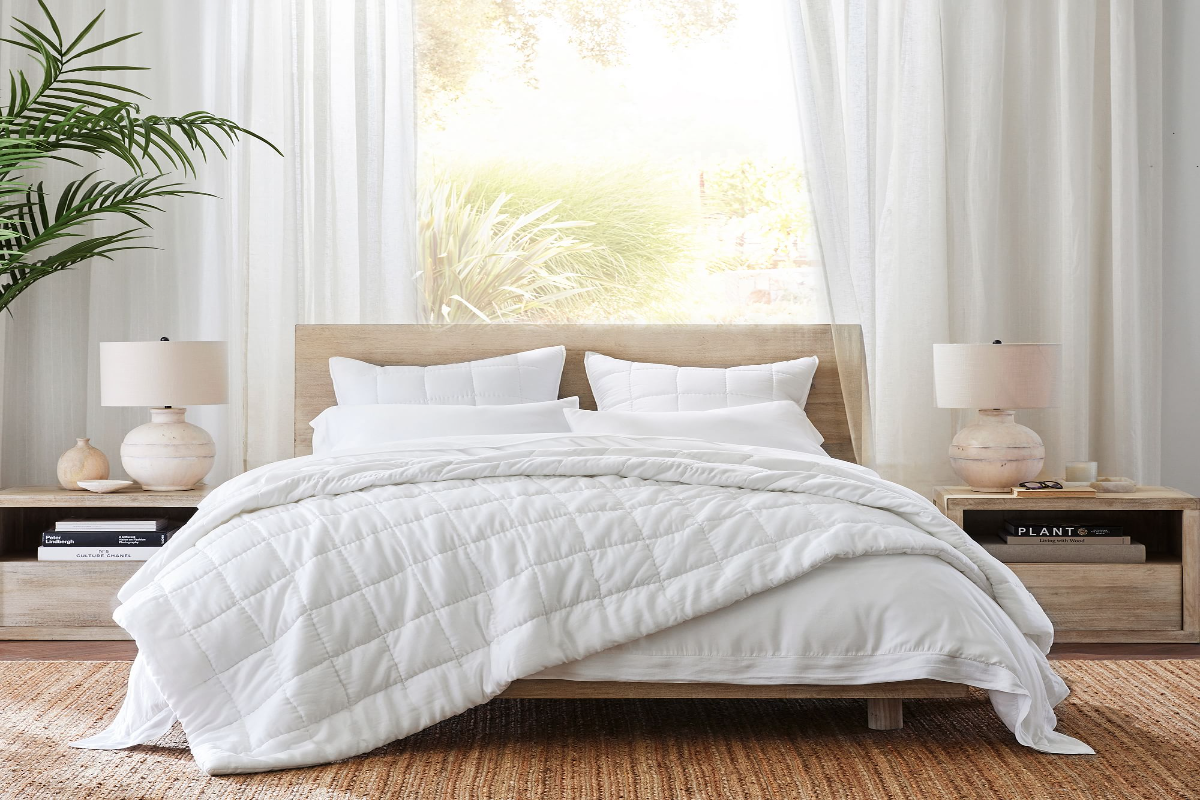 Cayman Platform Bed & Headboard is one of the most budget-friendly alternatives to cloud beds that have taken the internet by storm. It comes in three different sizes- full, king, and queen. Like cloud beds, it offers different fabric options, and you can even choose the design of the legs. It provides the perfect sleeping environment and can take your heart away with its simple detailing.
It has been made using high-quality materials and is very comfortable and luxurious. It also takes minimum effort and time to assemble and is so soft and plush that it gives you the feeling that you're lying on the cloud.
This cloud bed frame comes in three different finishes- warm black, biscotti, and coffee bean and you can choose the one that you like as per your preference.
3. Castlery Dawson Bed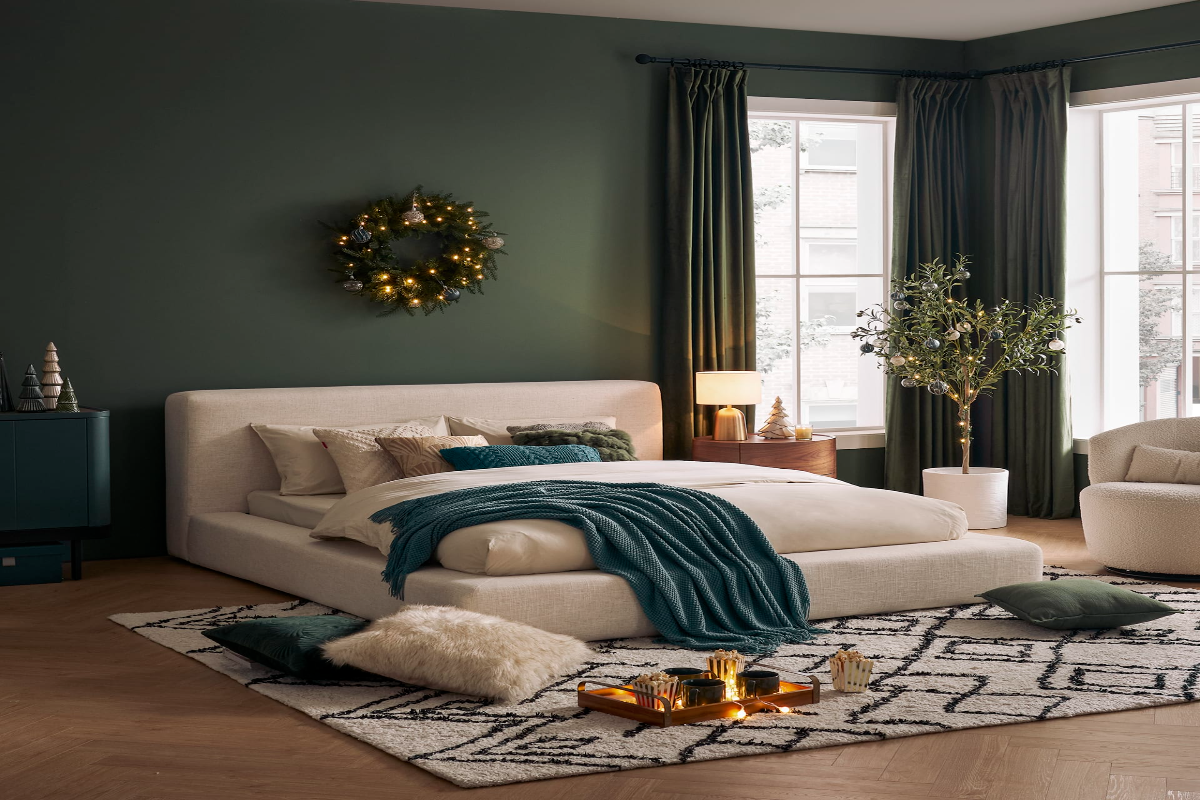 Get the luxe look of the cloud bed at an affordable price with the help of Castlery Dawson Bed. It is available in queen or king sizes and is constructed using high-quality material. Sleeping in it will make you feel like you have been transported to a high-end hotel. It is only offered in the beige shade and is easy to assemble.
The large headboard and platform extend on each side, giving the bed an ultra-glam look. It feels and looks like a designer bed frame that would cost triple the price.
You can put some beautiful pictures on the bedhead to enhance the appeal of the bed. It goes well with both contemporary and modern bedrooms.
4. Pyburn Upholstered Bed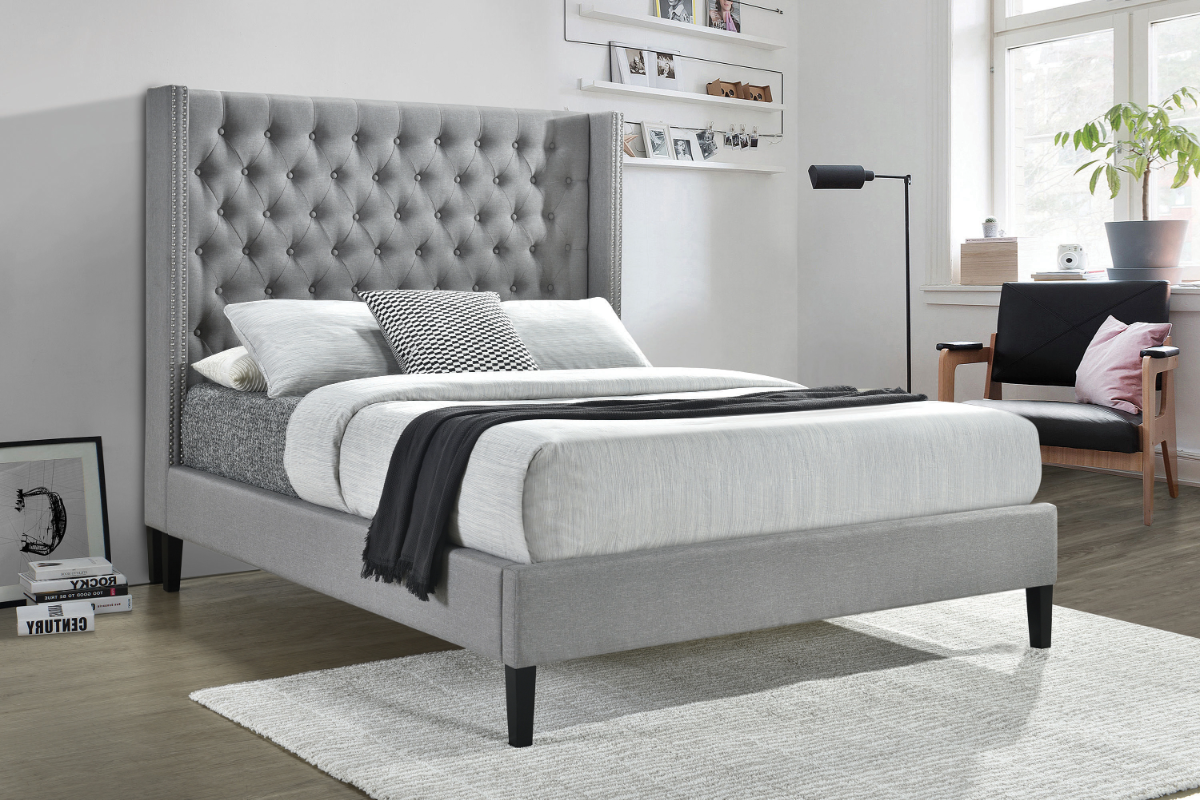 If you are taken over by the cozy, fluffy white cloud bed on TikTok but don't want to pay the huge price, you can consider the Pyburn Upholstered Bed. It replicates the look of a cloud bed and offers the utmost comfort for a restful sleep. The minimalist and clean design of this cloud bed frame makes it a timeless piece in your bedroom.
It has been upholstered with polyester and foam and linen blend fabric. The bed is supported by straight metal legs and is perfect for a modern master bedroom.
It comes with a slat kit and a high-quality frame. Full assembly is needed once it arrives. It is available in a variety of colors, making it easy to find a style that complements your space. It does not need a box spring, so you can easily get a super soft mattress and get ready to have a relaxing sleep.
5. Soft Frame Modern Platform Bed Frame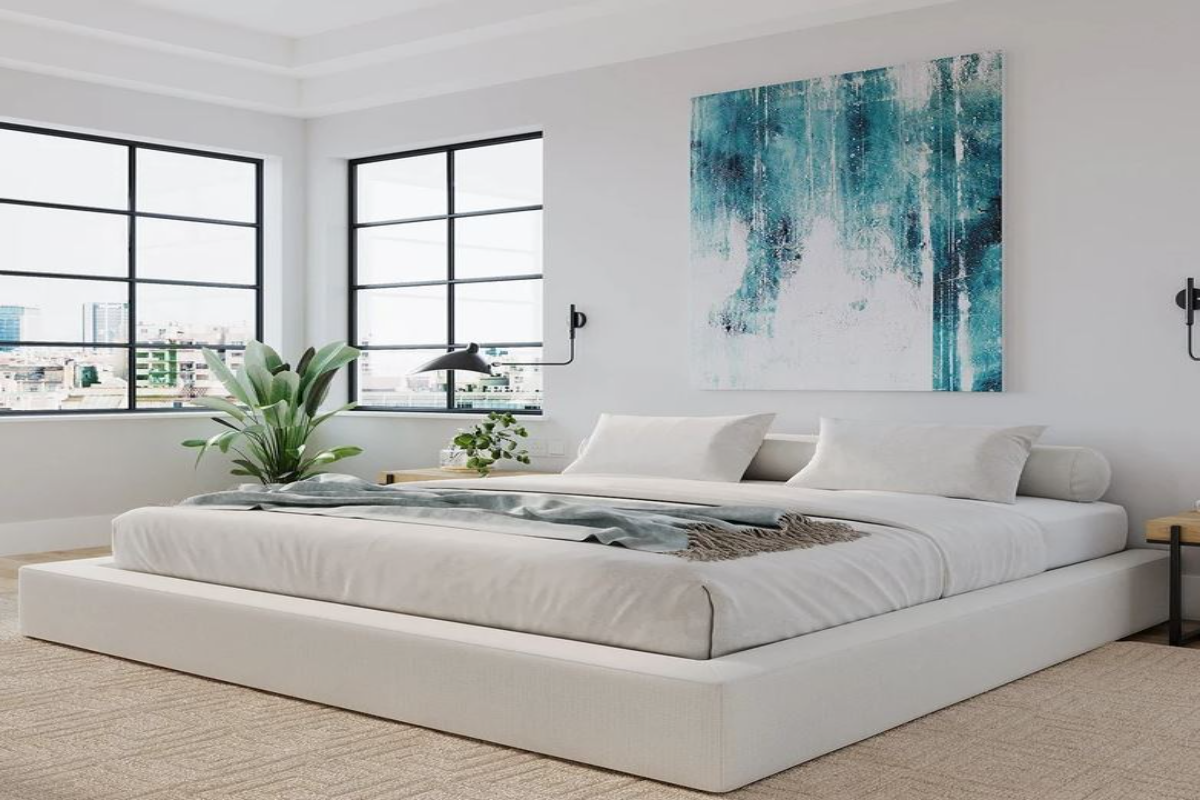 Get the classic cloud bed looks for less by choosing the Softframe Modern Platform Bed Frame. It is affordable, stylish and comes in different fabric options. It has been handcrafted with high-density foam and premium fabric and can give a high-end look to your bedroom.
It needs to be used with the box spring directly on the floor for a low platform, modern and cozy bed that opens up your space. It comes fully assembled and can be installed in a few minutes.
The soft rounded edges of this cloud bed frame prevent bruised toes. It is not an exact replica of the cloud bed people are raving about on TikTok, but it gives the desired look for less.
6. Coburn Bed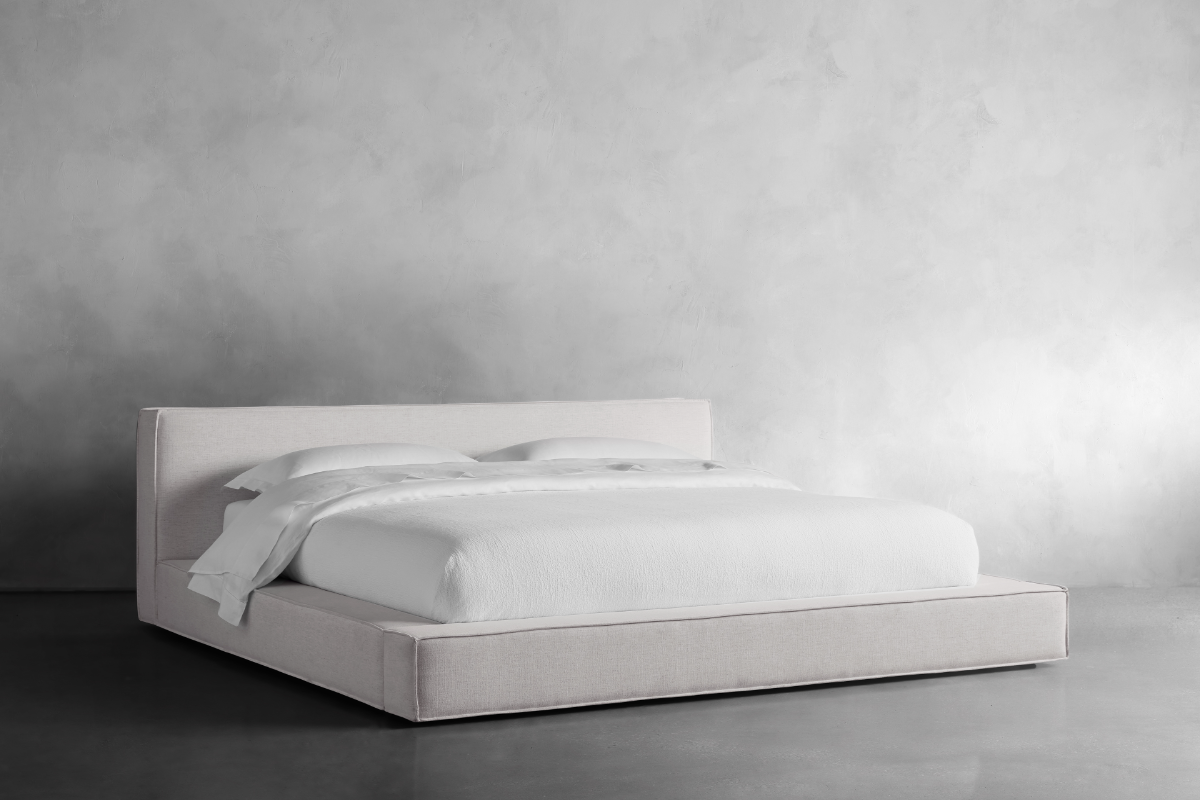 The Coburn bed from Arhaus is a stylish and functional cloud bed alternative. It is durable and moisture-resistant and looks good in all types of bedrooms. It has a hint of modern flair and has been crafted from pine wood and solid poplar framing. The whole frame is soft and upholstered, so you won't bonk your legs or head on any sharp corners at night.
The upholstered frames contain fire-retardant foam to create a plush backdrop. It is available in queen and king size and does not require box springs.
The pillow headboard is ideal for working or reading in bed. It is available in nomad snow color that perfectly matches all types of bedroom decor.
7. Simple Modern Upholstered Bed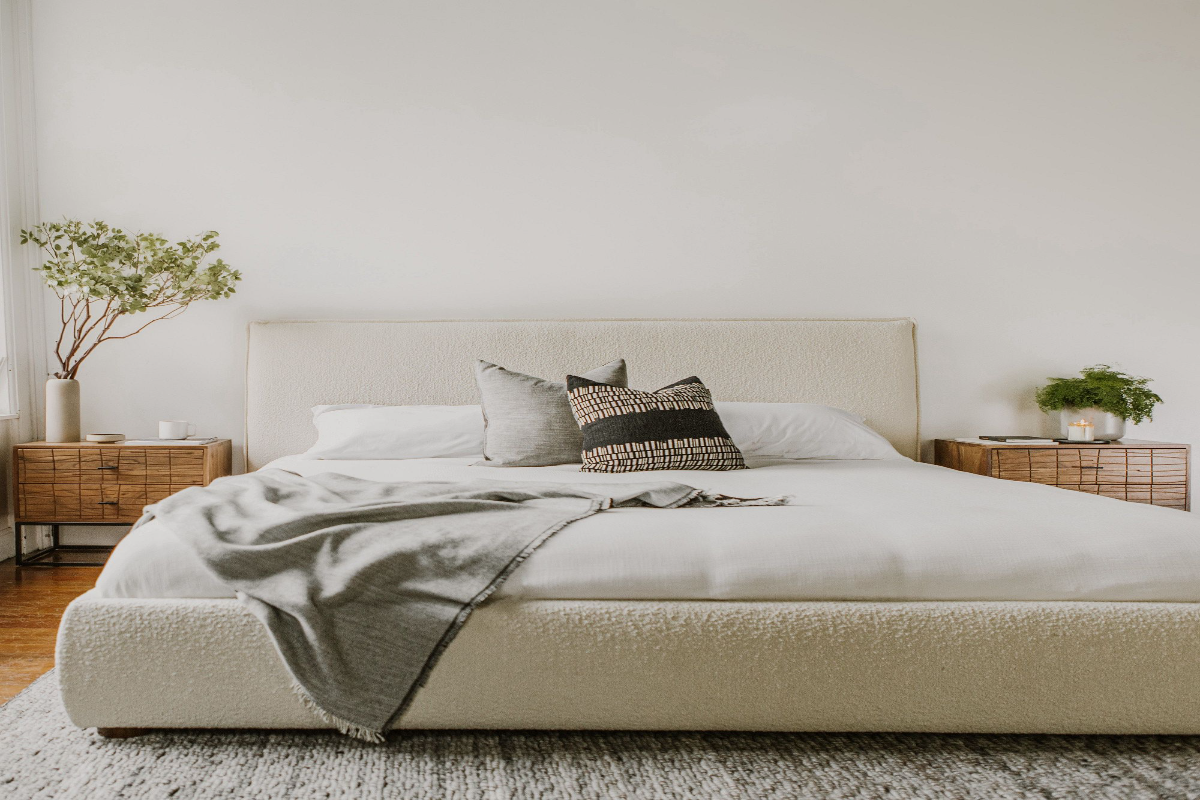 The cozy and creamy upholstery on the Simple Modern bed makes it ideal for lazy day lounging. The sides are narrower than the cloud bed, but it still looks very luxurious. It comes in various sizes so you can choose the one that suits the style of your bedroom. It accommodates most modern mattresses and comes with an optional box spring.
Solid engineered wood and pine frame and natural finish legs give the bed a luxurious and elegant look. If you're looking for a budget-friendly cloud bed dupe with an upscale and modern twist, this can be your perfect choice. Spot clean with a sponge or damp cloth to remove excess water.
It can be a bit time-consuming to assemble it, but the end results will swoon you.
8. Abbey White Upholstered Platform Bed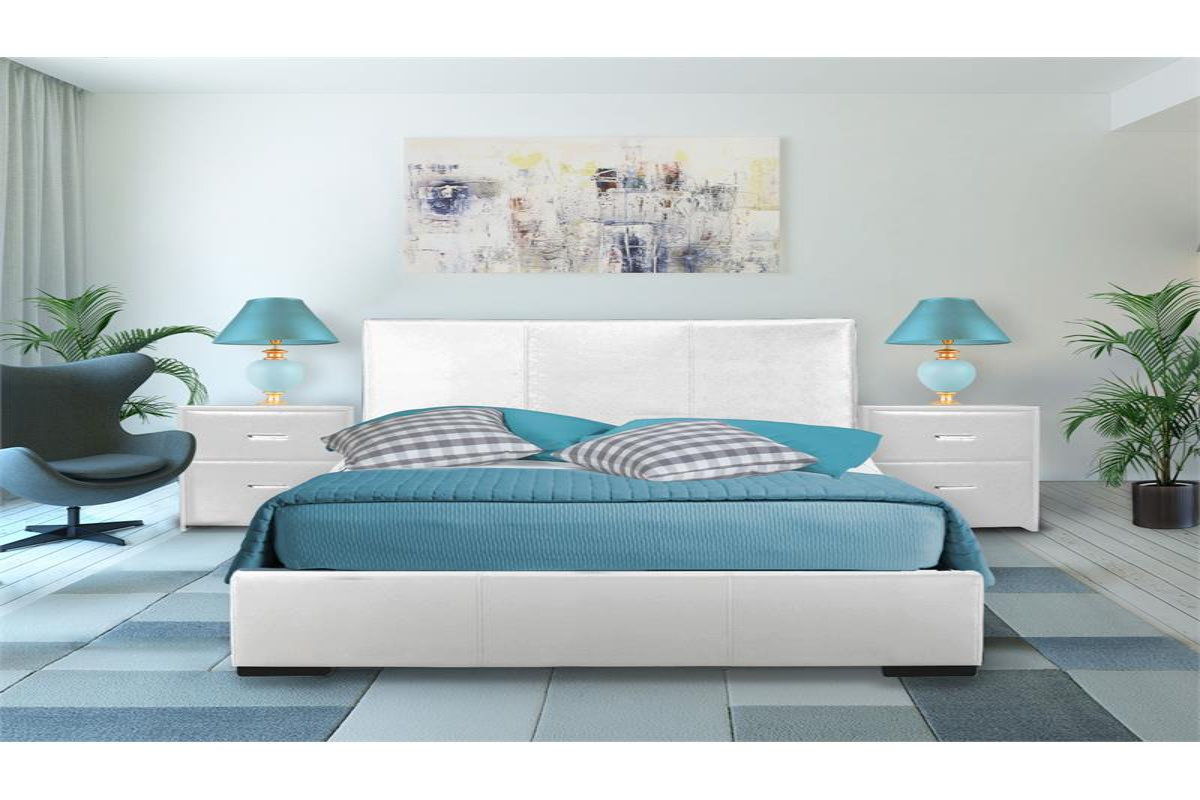 Experience the dreamy feeling of sleeping on a cloud bed without paying the hefty price by opting for the Abbey White Upholstered Platform Bed. It has a bright and modern feel and gives a contemporary feel to your bedroom. The low-profile footboard-style frame and white upholstered headboard give it a cloud bed-like appearance. It has a signature plush feeling linked to cloud comfort. Crafted with polyurethane, foam, and pine, it is very durable and lasts for a long time.
The natural finish on wood components and sleek and sultry white PU faux leather upholstery effortlessly complement your decor. The frame is fully upholstered and gives you a cloud-like feel every time you lie on the bed.
9. Haven Slipcover Bed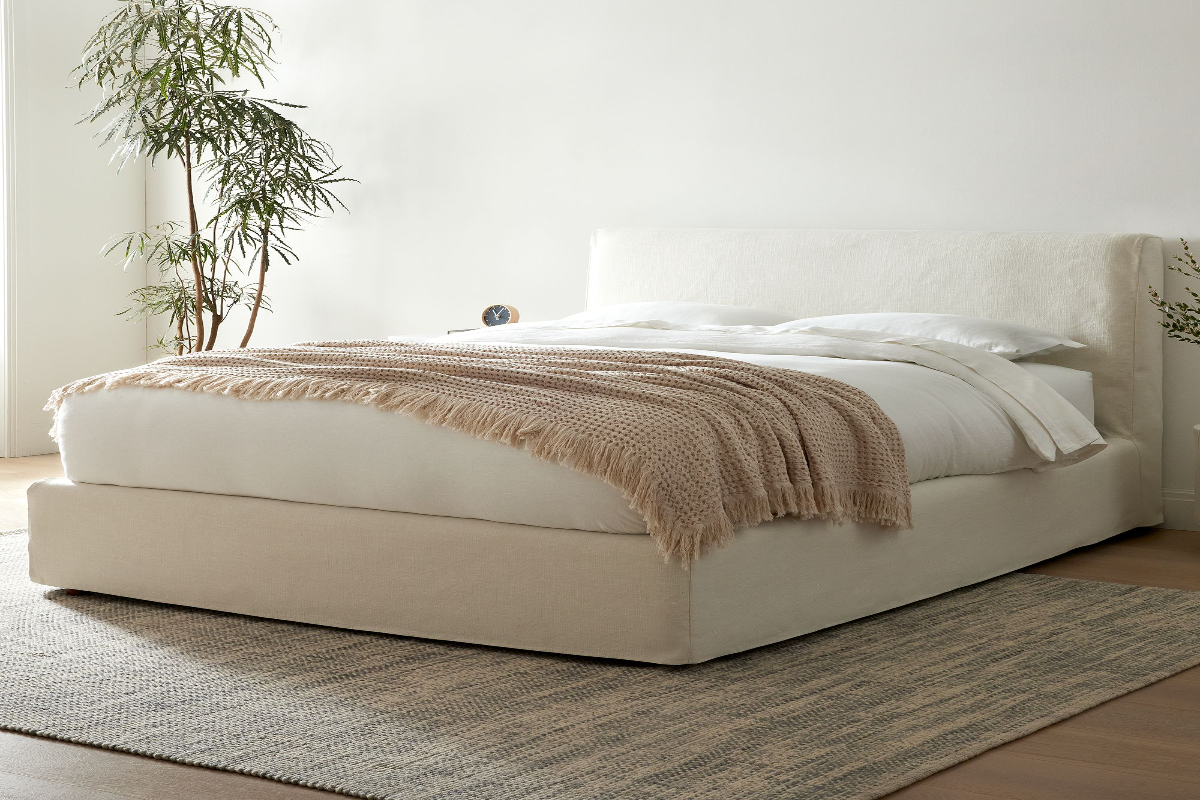 The minimalistic look of Haven Slipcover Bed is similar to cloud beds that have become a rage on TikTok. It comes with a removable slipcover and can be cleaned easily. It is available in 22 colors, so you can choose the one that matches your decor style and preference.
To ensure that the fabric and color of the cloud bed frame match your bedroom style, you can even order free swatches. Back of the headboard has been covered in black muslin to add a finishing touch to the bed.
It includes three middle support legs for California King, Queen, and King sizes. It accommodates most standard mattresses, and the slipcover is removable. Buy it now to experience the luxury and comfort offered by the top-selling cloud beds.
10. Emery Upholstered Bed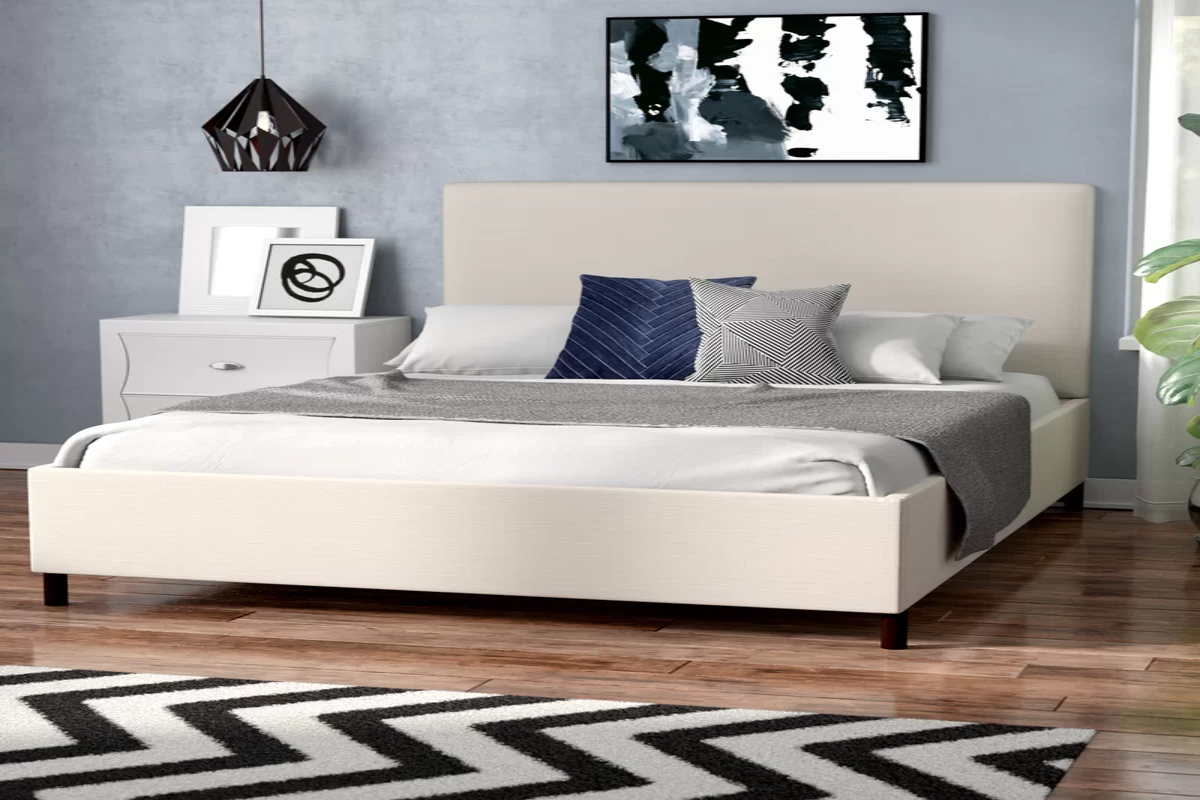 If you want to get the sleep needed to take on the day, Emery Upholstered Bed can be your go-to choice. It looks similar to a cloud bed and gives your bedroom a regal and upscale look. It is a budget-friendly way to get the luxurious look of a cloud bed that has become a hot trend on TikTok.
It has a taller headboard and a thicker bed frame and can act as a statement piece in your bedroom. Its minimalistic design and low-profile style make it identical to cloud beds.
You can choose from eight different colors and add a mattress and a box spring to complete the look. It has a rectangular headboard with foam, clean lines, and polyester filling, creating a cushioned surface to lean against and relax as you watch or read the news before going to bed.
11. Emmett Low Profile Bed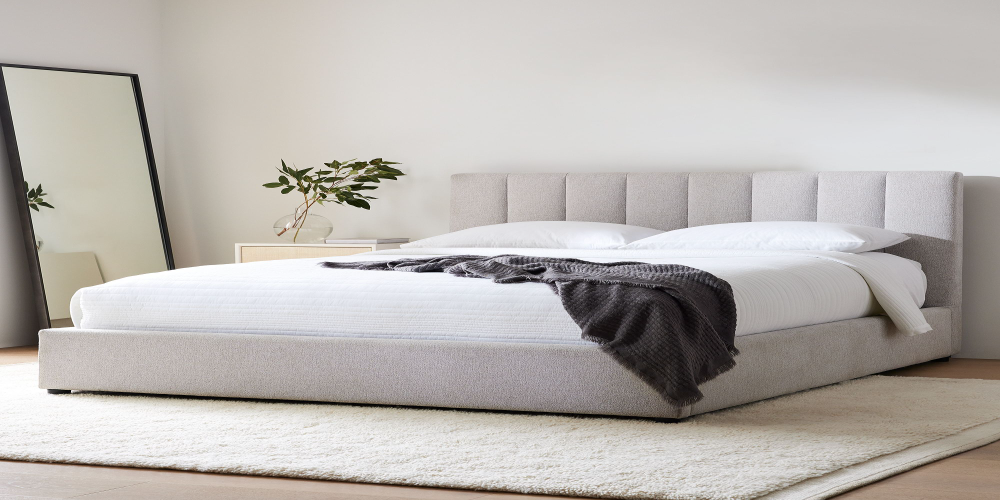 Emmett Low Profile Bed is a budget-friendly alternative to the cloud bed that the TikTok influencers proudly flaunt in their stories. It is made in Mexico and has an engineered wood and solid pine frame.
You can choose the headboard style as it comes in two options: standard and tall. The bed is tightly upholstered on all sides and comes with endless customization options.
You can choose from different fabrics and headboard tufting so that you can have a bed that is custom-made for you. It is stylish and way cheaper than the cloud bed frame. The back of the headboard is made of polyester, and the wood slats are included in the package.
Conclusion
If you're drawn to the beauty and coziness of the cloud beds but can't afford one due to their high prices, you can invest in their dupes. Check out the affordable dupes of the cloud bed frames listed above. They will deliver you the sweetest of dreams and can be the perfect way to achieve a similar look without spending a fortune.
They will add a luxurious touch to your bedroom and offer comfort like the cloud bed. They also come in different colors and fabrics and can be customized to suit your bedroom decor. Their cushy headboard, wide upholstered rail, and oversized goose-feather cushions guarantee a cloud-like sleeping experience.
So invest in them now and let them take center stage in your bedroom.
Frequently Asked Questions
What Are Cloud Beds?
A cloud bed gained popularity on TikTok in 2022 and became one of the most raved home decor pieces. It is a platform bed with cloud-like, plush, and soft upholstery around the bed. They extend past the edge of the mattress, unlike regular bed frames.
Why Should You Opt for Cloud Bed Dupes?
Cloud beds are very expensive. By investing in their dupes, you can achieve a similar style and look at an affordable price. Cloud bed dupes come at a fraction of the cost of cloud beds and are very comfortable and luxurious.
What Are the Best Cloud Bed Dupes?
There is a vast range of cloud bed dupes available in the market. You can choose any of them depending on your budget, bedroom decor, and personal preference. They also come with customization options so you can have a piece designed exclusively for yourself.