Do you want to add a bohemian flair to your bedroom? You can give your bedroom a boho look by repurposing the old and mixing objects you have gathered over the years through your personal experience. The ideal boho bedroom is layered with colors, textures, and repurposed objects to create an unconventional and quirky look. The bedroom is a personal space for relaxing and letting your imagination loose.
So if you want to flaunt your bohemian soul, the bedroom can be the perfect place to start. But before you start, remember boho decor doesn't follow any trend. So forget French provincial, mid-century modern, and all the design labels while creating the chic boho bedroom. Boho decor can be as wild as you want or extremely chic and elegant.
So turn the rule of "less is more" upside down and follow the ideas mentioned below to create the boho chic bedroom of your dreams.
Boho-Style Bedroom Ideas to Escalate Your Space
Let's take a look at the ideas you can follow to create a gorgeous boho bedroom that will radiate positivity and warmth.
1. Keep Things Airy and Bright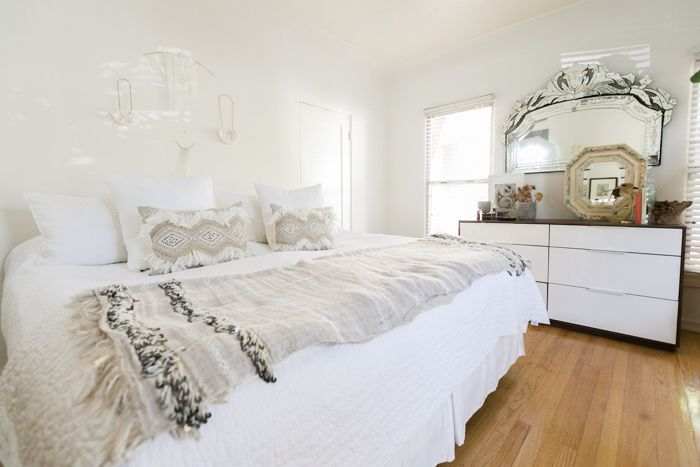 One of the key rules you should follow while creating a boho bedroom is maximizing natural light. You can use a lofty mirror and sheer drapes to amplify the light entering through your window. Avoid bulky furniture that causes shadows or blocks any daylight. Instead, opt for minimalist and low-lying furnishings and tamed-down accessories that invite you to relax. To embrace the bohemian theme, you can also use a rattan chair, a palm plant, and soft accessories.
Choose white bedding to give a fresh look to your boho bedroom. White bedding reflects light, making the bedroom feel more spacious and brighter. Use flowing drapes or sheer curtains to allow natural light to enter your bedroom.
Sheer curtains create a dreamy ambiance and add a touch of elegance and romance.
2. Follow Layering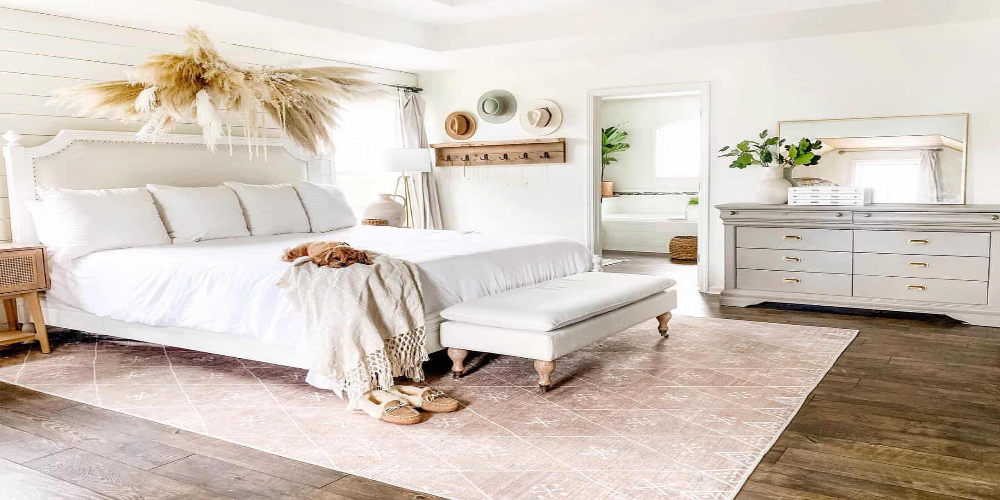 One of the best ways to add a bohemian vibe to your bedroom is by layering more and more. You can layer up your rugs, cushions, and bedding to create an elegant and unique look. But while layering, keep it minimalist and use a limited color palette like gray, cream, and beige. These colors go well with each other and look natural together. You can also layer decorative cushions and pillows in various patterns and shapes on your floor seating areas.
Mix pillows with intricate embroidery, tassels, or beading with solid-colored ones to create an inviting and cozy space that reflects the bohemian aesthetic. Rugs can look good and intensify the bohemian vibe when layered effectively. Place the main rug under your bed, and enhance the look by adding smaller area rugs or runners.
Choose patterns and colors that complement each other so that things don't clash or look over the top.
3. Create Bohemian Magic with Natural Materials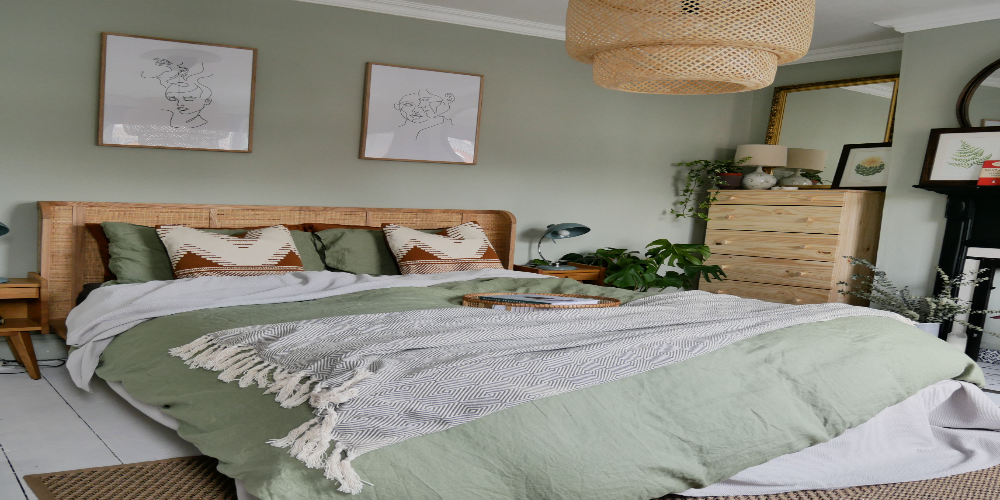 Give your bedroom a bohemian look by using natural materials like rattan and burlap. While choosing the materials, ensure they have a slightly worn look. A fur throw rug is also the perfect way to give an immediate boho feel to your bedroom. You can also incorporate DIY materials or hand-woven fabrics to customize your home décor.
Consider using a woven basket, rustic chair, or rattan headboard as a decorative storage solution. These natural materials add a relaxed and tropical vibe to your bedroom.
You can also place dried plants in your bedroom to add a desert vibe. Decorate your walls with stunning botanical prints featuring botanical illustrations, leaves, or flowers. These prints complement the bohemian aesthetic and give a natural feel to your bedroom.
4. Ambient, Understated Lighting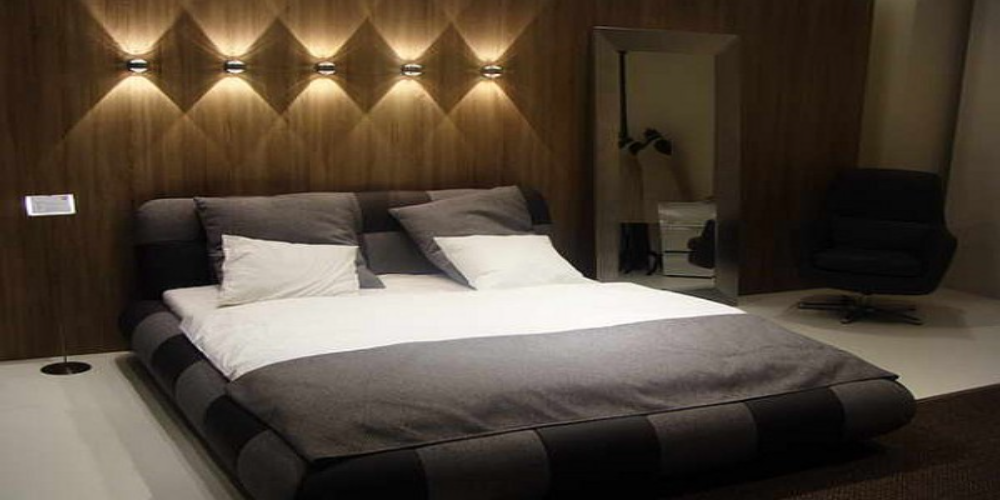 Complete the refreshing and calm feel of your boho bedroom by incorporating ambient and understated lighting. Incorporate a floor lamp in your boho bedroom to provide optimum lighting. Choose lamps with rattan shades and fabric that emit a gentle and warm glow.
Rather than using overhead fixtures, you should use multiple lanterns, tables, and floor lamps as they go well with the bohemian vibe. You can also use unscented or scented candles in different shapes and sizes to create an intimate and cozy ambiance in your boho bedroom. Place them on metal, stone, or wood-based candle holders to enhance the bohemian vibe.
You can also install dimmer switches to control the intensity and brightness of the lighting. This will be helpful in adjusting the light levels as per your preferences and mood, creating a relaxing and cozy ambiance.
5. Enhance the Bohemian Vibe with Hanging Plants and Ferns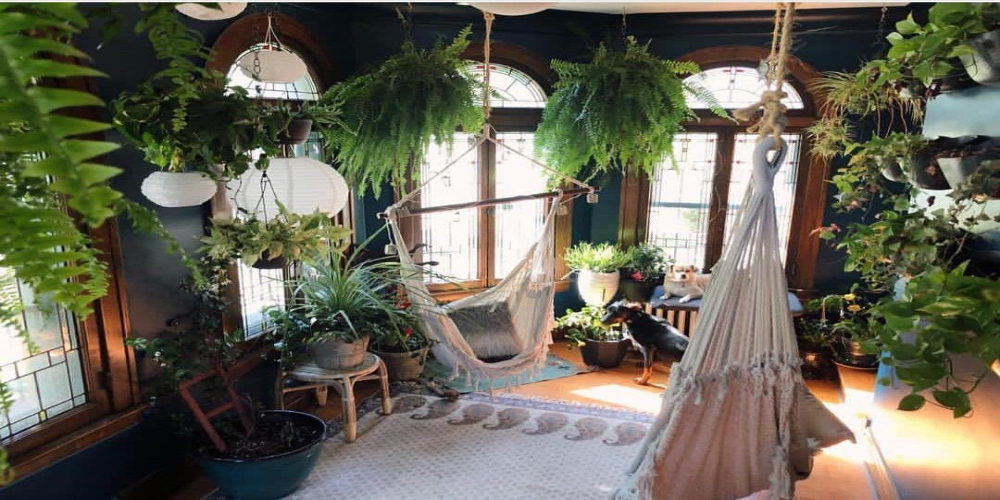 A boho-inspired plant display can enliven the ambiance of your bedroom. You can use hanging plants and ferns to bring your bedroom alive. These plants improve air quality and lend vibrancy to your bedroom. They absorb toxins and naturally cleanse the air, improving the air quality in your bedroom.
Peace lilies and Philodendron can be a good choices as they withstand different temperature levels and lighting conditions. You can also consider succulents that are available in various textures and designs. Hang plants vertically to utilize the vertical area in your bedroom. By suspending the plants or ferns from the ceiling, you can draw the eye upward, making the bedroom feel more alive. This vertical dimension adds layers and depth to your bohemian bedroom.
Choose low-maintenance hanging plants like Boston ferns and spider plants, as they thrive in all types of lighting conditions.
6. Keep It Minimal and Chic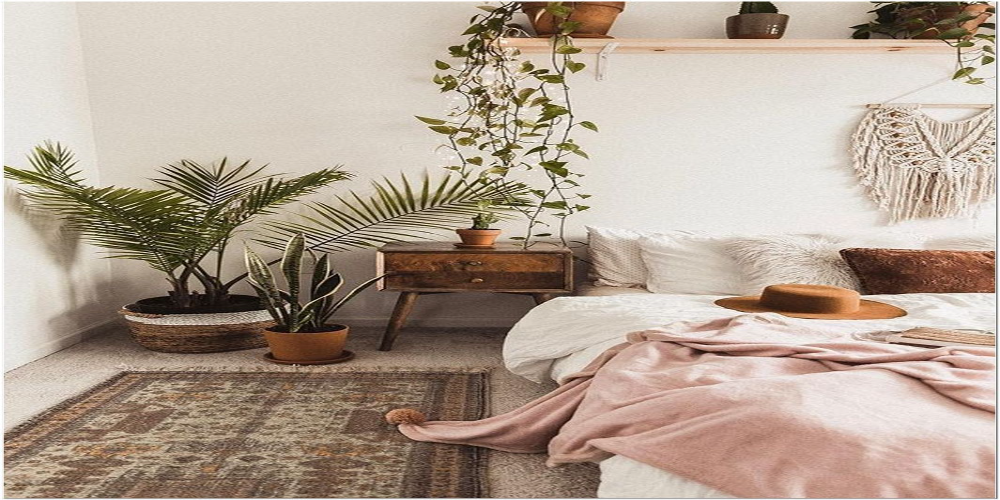 The bohemian design embraces a laid-back and casual look. You don't need to buy expensive furniture or accessories to create a boho bedroom. Don't go over the top with the colors and textures of your bedroom. Try to create a balance by utilizing a lot of neutral colors like gray, brown, and green to create a blank canvas.
But these are not the only shades that go well with Bohemian bedroom design. You can also use bright patterns and colors that add personality to your boho bedroom. Keep your bedroom clutter-free and choose carefully placed items like a minimalist alarm clock, a small vase with fresh flowers, or a scented candle.
These are small additions but will allow your bedroom to feel airy and open while showcasing your personal style. Leave some areas of your bedroom empty so that the eyes can rest and the space doesn't look overcrowded.
7. Stick to One Art Piece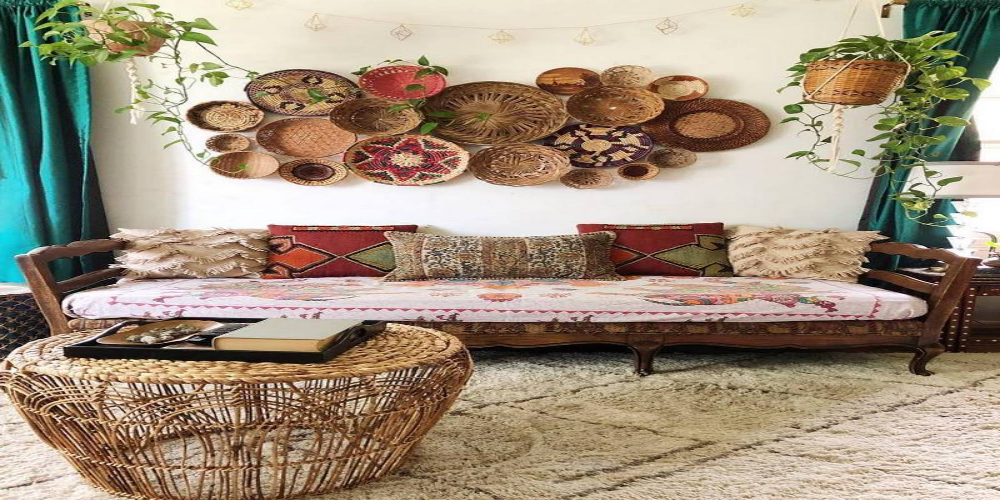 Every element in the boho bedroom has its own importance, but together they create a warm and inviting space that's beyond stunning. To make your boho bedroom stand out, you can choose an art piece that acts as the star of the room.
You can use a large art piece to brighten your walls. A larger art piece creates a bold statement, while a smaller one can act as an accent. It is important to place the art piece in a spot where it gets noticed easily, such as on a feature wall, above the bed, or above a dresser.
When selecting the art piece, ensure that it resonates with your personal style and harmonizes with the color scheme of the walls. If your bedroom has a specific motif or theme, select artwork that enhances that theme. Ornate mirrors and Macrame hangings can also be used as they have a unique boho vibe.
8. Opt for Low-Profile Beds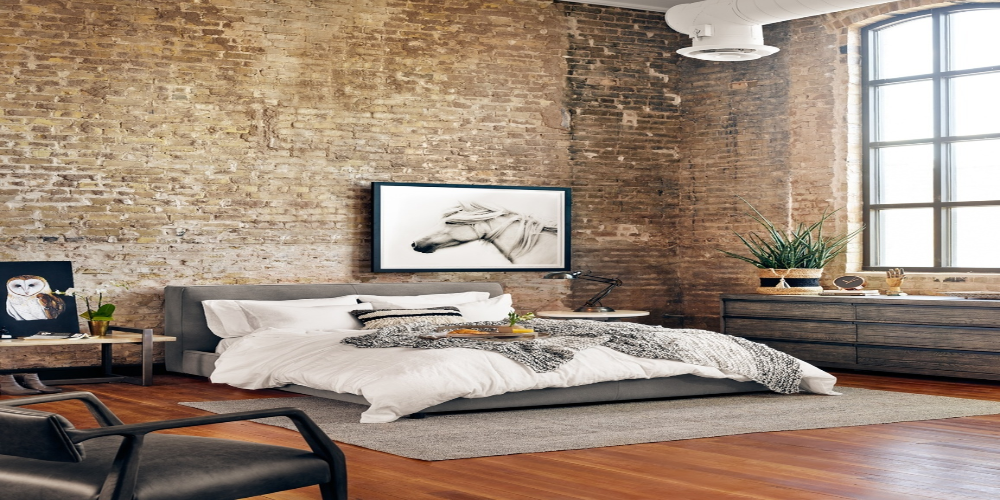 A bed is an important element of a boho bedroom, so it is important to get it right! Low-profile beds are the perfect choice for a boho bedroom. They emphasize the height of the room and create the illusion of space.
The lower height of the bed makes it easy to arrange blankets, pillows, and quilts, creating an inviting feel. Rattan and wooden beds are the perfect choices to create a boho-chic look. Look for warm, lighter wood colors and vintage styles to create a feeling of openness in your bedroom.
If you do not want to buy a new bed, give your old bed a makeover with gorgeous bedding and comfy cushions.
9. Give a Cozy Feel with a Rug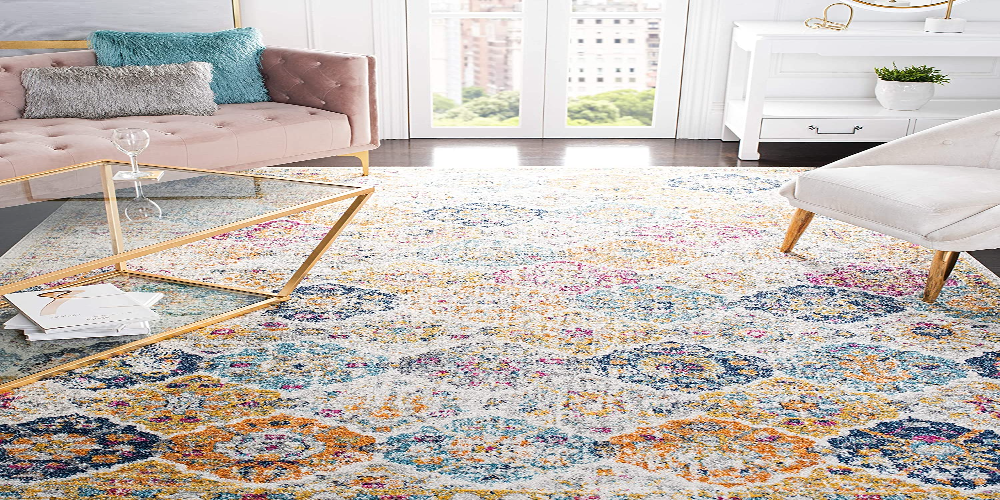 A bohemian bedroom can't be complete without a rug. With the help of a rug, you can make your bedroom feel more inviting and soft. Choose thick and well-cushioned rugs that complement your bedroom's color scheme.
You can place the rug under your bed but ensure that it is at least a foot larger. You can also showcase your personal style by selecting a rug as per your preference.
You can also layer up the rug with beautiful runners down the side of the bed. By placing a rug in front of a seating arrangement or the main entrance, you can create a designated space that adds visual interest to the room.
10. Mix and Match to Create a Unique Effect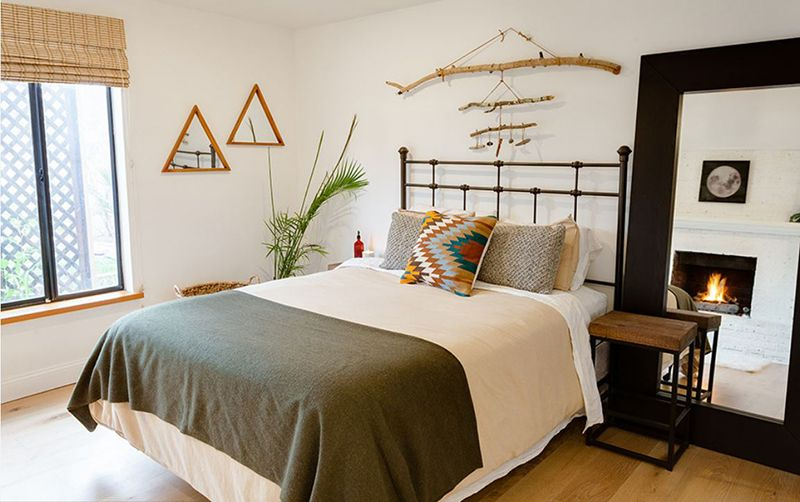 Boho bedrooms are all about appealing patterns and colors. You can mix and match different materials such as vintage pieces, distressed wood furniture, woven wood, and upholstered items to amplify the boho appeal of your bedroom. Infuse vintage charm into your bedroom with the help of thrifted or antique furniture pieces, like a retro armchair, vintage dresser, or a weathered side table.
You can even mix these pieces with contemporary or modern items to create a welcoming look. Add texture to your bedroom by incorporating outdoor rugs, wall hangings, and macrame.
You can also use vibrant accent pieces to add a pop of color to your bedroom.
Conclusion
If you want to create a warm and inviting Boho bedroom, focus on accessories and colors that evoke an effortless, homey, and natural look. Remember, bohemian spaces should create visual stimulation from every piece present in the room, such as wall hangings, worldly collectibles, and layered rugs.
You only need to consider that all the pieces come together and don't look awkward. You can also add final touches like flowers and lush green plants to soften the space.
If you need further help in designing the boho bedroom of your dreams, you can follow the ideas mentioned above.
Frequently Asked Questions
What Are Things You Need to Consider While Designing a Boho Bedroom?
If you want to have a beautiful boho bedroom, focus on creating a relaxed atmosphere. Choose a neutral palette like light blues, tans, and whites, and add texture and pattern by adding curtains, pillows, and withered furniture.
What Does Boho Chic Interior Design Mean?
Boho chic interior design is all about a mix and match of modern, rustic, and vintage elements inspired by the culture of Bohemianism. Natural materials, vibrant colors, vibrant colors, hand-painted furniture, globally inspired prints and patterns, and natural light sources are the key elements of boho chic design.
Can a Boho Bedroom be Colorful and Vibrant?
Yes, a boho bedroom can be colorful and vibrant. You can play with different patterns and colors to create a bohemian-style bedroom. The best thing about boho interior design is that it gives you the freedom to experiment and incorporate as many colors and textures as you like.