Looking for all the blue ways to paint your bedroom? We are here to help you find the perfect catalog. If you ask a random group of people what their favorite color is, more than 60% of their answers will be blue. Blue has this natural and serene vibe to it, making it one of the most beloved colors. Having the walls of your bedroom painted blue will give it a soothing feel. The calming effect of blue boosts a good night's sleep.
There are a variety of ways to make your bedroom appear blue, as there are plenty of shades to explore. Also, when it comes to selecting a paint color, you have the liberty to customize the style as per your requirements.
We are exploring some of the best blue bedroom ideas below. Explore our 'bluish' catalog to pick just the right way to paint your bedroom.
Why Choose Blue?
What do you feel when you are at the seashore on a beautiful evening? Blue bedroom styles bring about the same effect in your home. There are numerous benefits to having a blue bedroom. Studies have proven that the blue color provides a tranquil atmosphere in your room and calms your nervous system. Subtle shades of blue that resemble the sky are known to bring you quick and complete sleep.
There are literally no limits when it comes to choosing shades of blue paint for your bedroom. As blue comes in a limitless number of variations, you have plenty of options to choose from as per your desired mood for the room. Blue is known for evoking a zen-like vibe in the room, along with coastal imagery. Mixing and matching other colors along with blue can keep you busy actively customizing your bedroom forever.
Best Blue Bedroom Ideas to Transform Your Space
1. The Right Blue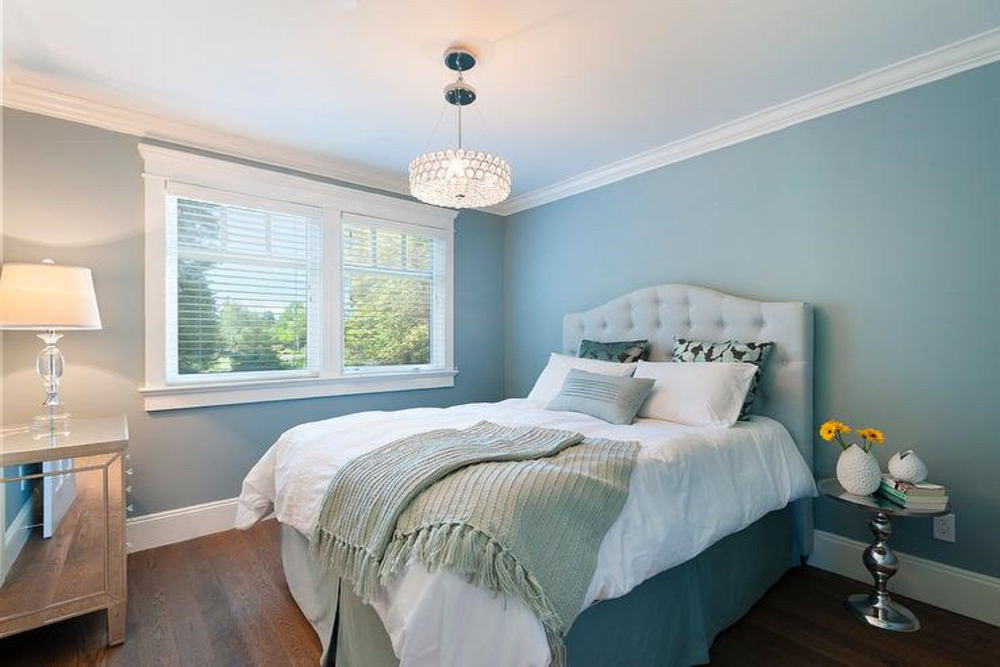 Using blue paint with a mild grey undertone will give your bedroom walls a very soothing feel. Having a relaxing vibe in your bedroom is essential, as it has a positive effect on your body and mind. This color looks just perfect for people who love a mild touch of blue on their walls. Adding the right decor and lighting will make the room appear the best. Light fixtures or a dresser with a mirror can give that final finish to the room's look.
2. Blue but Black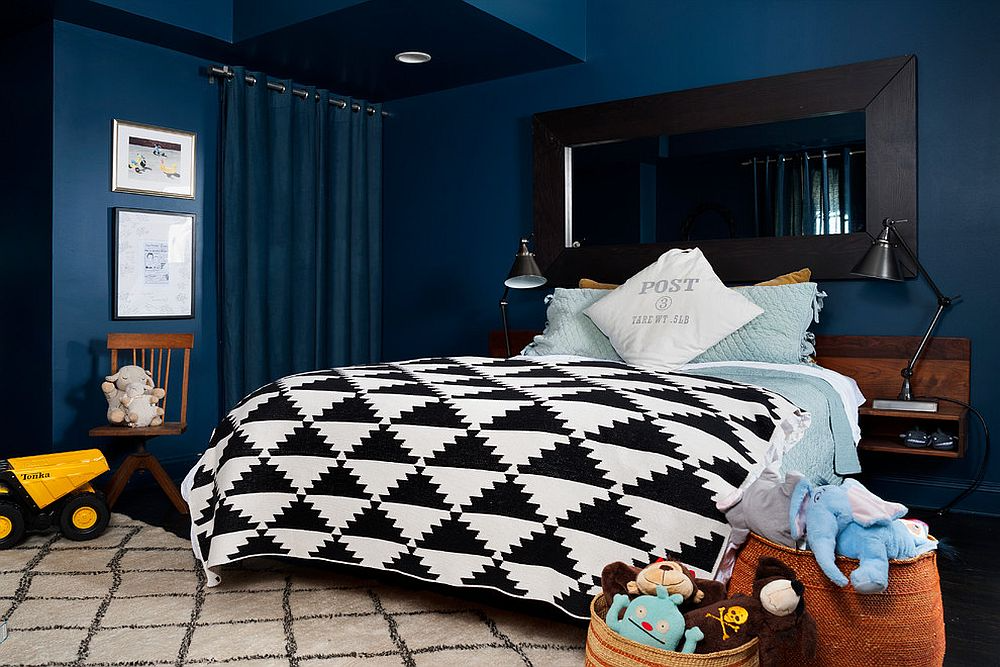 The idea of black bedroom walls was once a big no-no. But not anymore. We are not talking about bedroom walls painted black that look black! Using a deep blue shade, almost navy blue, can give your bedroom a gothic touch. Light plays a major role in this scenario. With the right setup of lighting, the room can look pitch black. This is an ideal option for people who love blue and black alike and one of the interesting blue bedroom ideas out there to consider.
3. Blue but White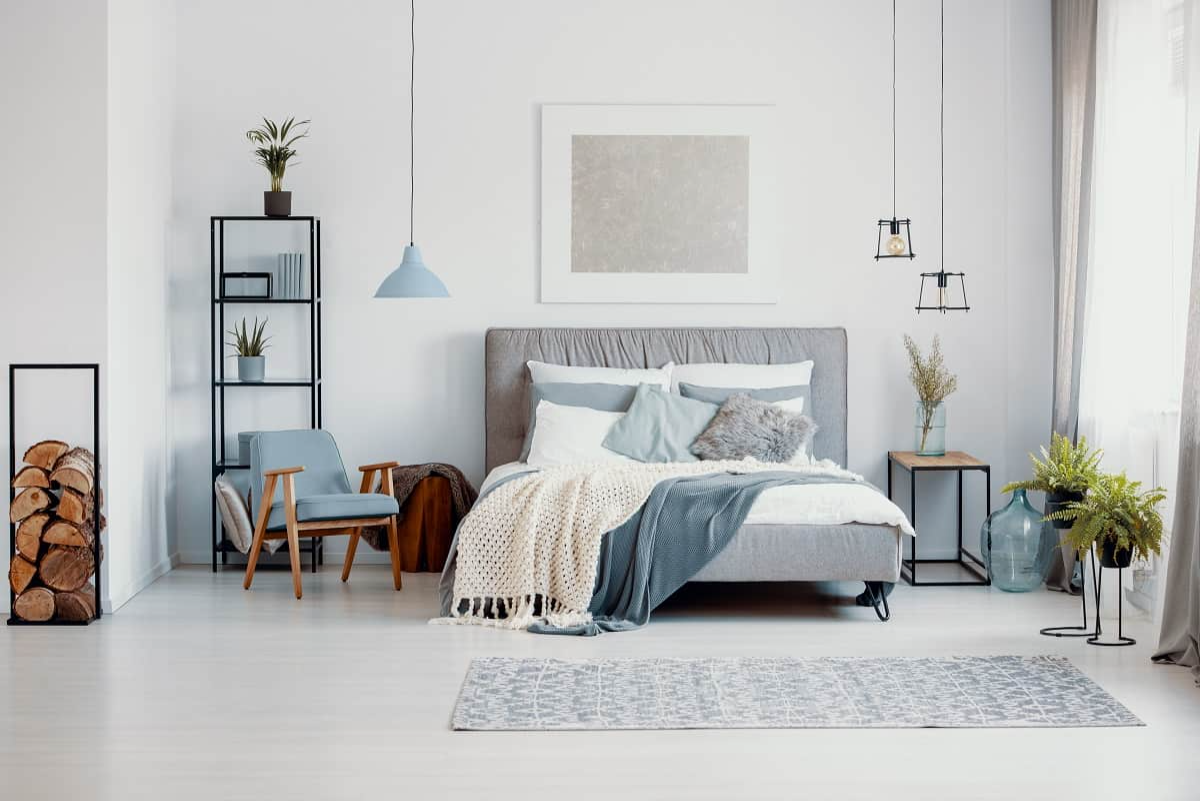 Just like blue, white is a popular shade of paint that boasts serene vibes and pure looks. Why not mix them up together if you are a fan of both? Add the ease of white to your bedroom walls while still keeping them blue. A soft wash of pale blue can do the magic! It is recommended to go with white-colored furniture and beds to make the blue part of the wall look more vivid to the eyes.
4. Blue with Orange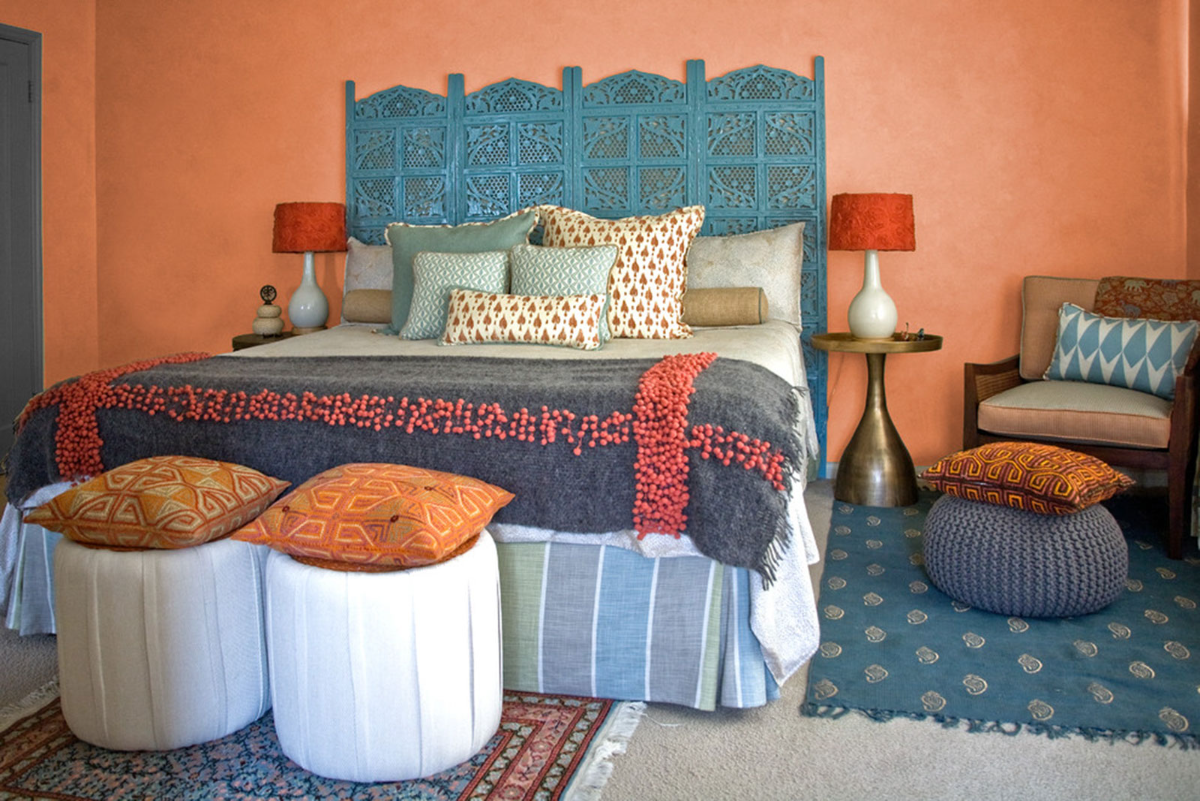 You can experiment with a variety of blue bedroom ideas by matching blue with other colors. For example, orange is a unique yet great choice to match with blue shades of paint. Blue is known to be a cool paint color. If so, why not add a touch of heat to your room? Mixing up the orange decor in a room with blue walls will add a lot of drama. You can try painting the chandeliers, fixtures, chairs, curtains, etc., orange to make the bedroom appear more vibrant.
5. Chinoiserie Wallpaper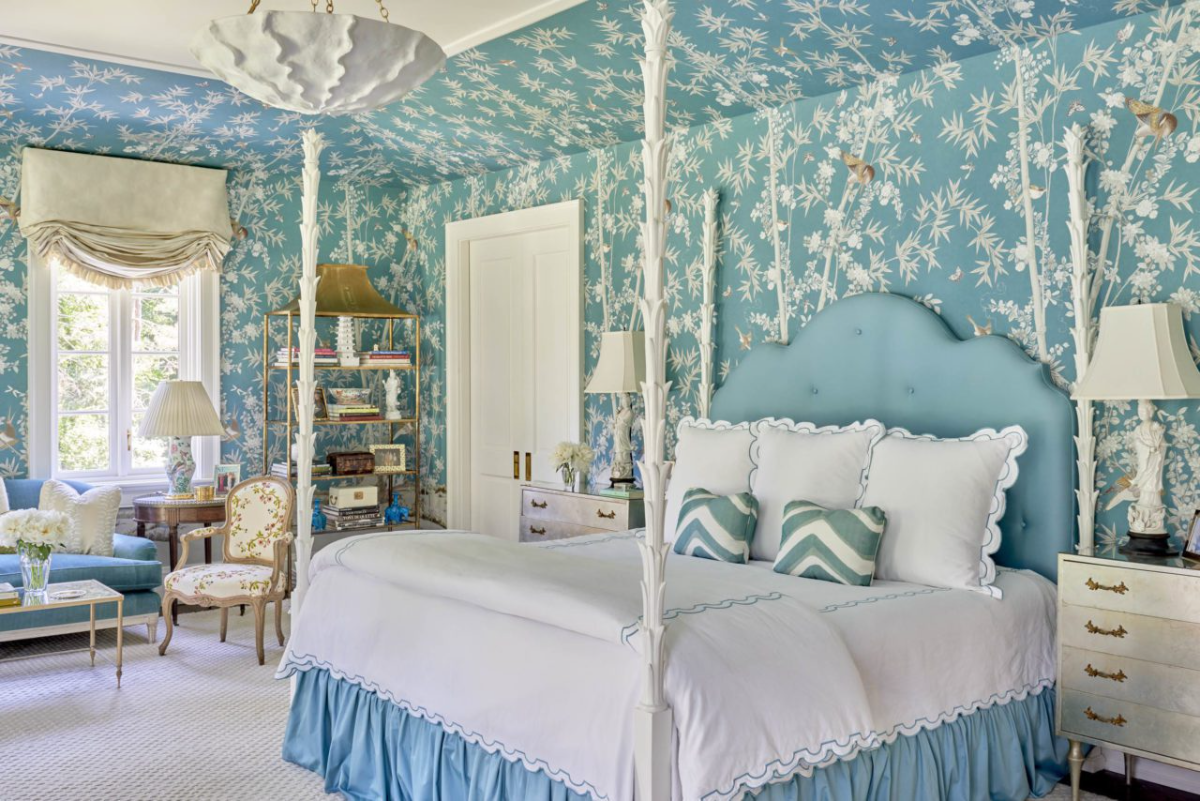 If you are into popular French designs, you must be aware of the infamous Chinoiserie wallpapers. They depict various stages of life in China as assumed by the Europeans. Covering your bedroom wall with blue Chinoiserie wallpaper will give it a beautiful yet creative look. It will be a unique way to make your bedroom walls appear blue by also making them tell tales using a classic pattern. People who are looking for one of the unique and standout blue bedroom ideas should definitely try this.
6. Mixing Blues for the Room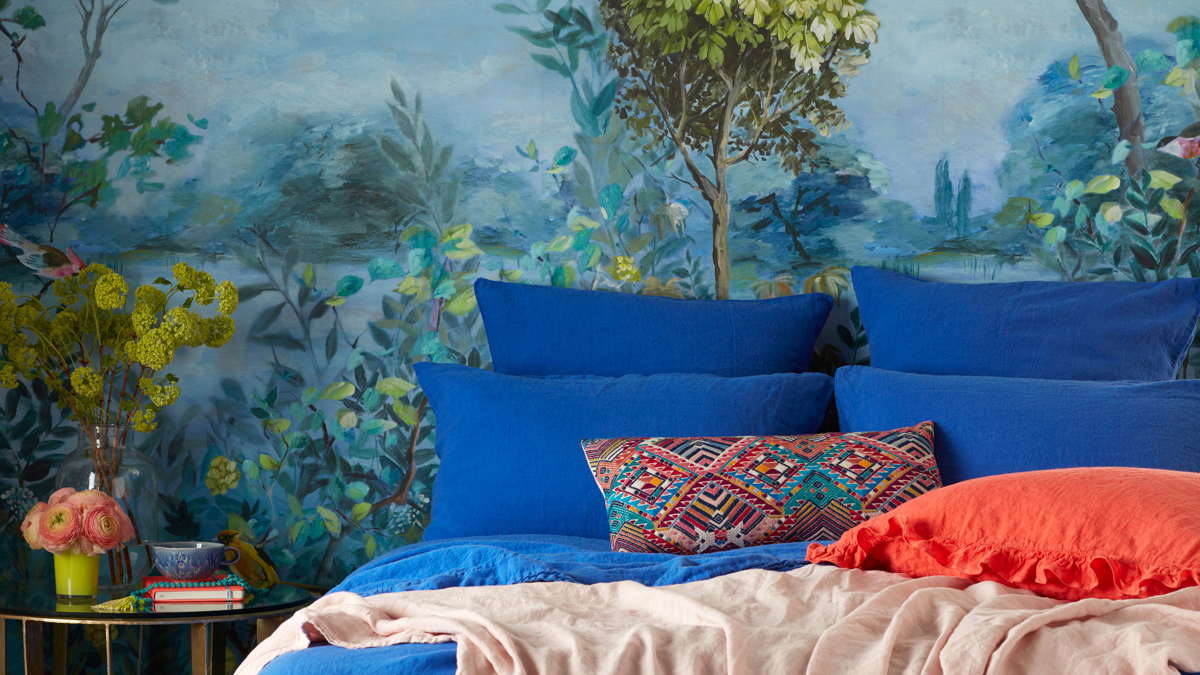 Why settle with one shade when you have such wide varieties of blue to explore out there? Experiment with adding multiple shades of blue to your bedroom while exploring stunning blue bedroom ideas. A turquoise floor is used to fit well with the walls of the bedroom, painted in a mid-blue shade. Pillows and cushions with a teal blue shade will give an oceanic touch to the colors. The rest of the decor can be selected in white, purple, or grey to make the rest of the room look offbeat.
7. Blue and Green for The Bedroom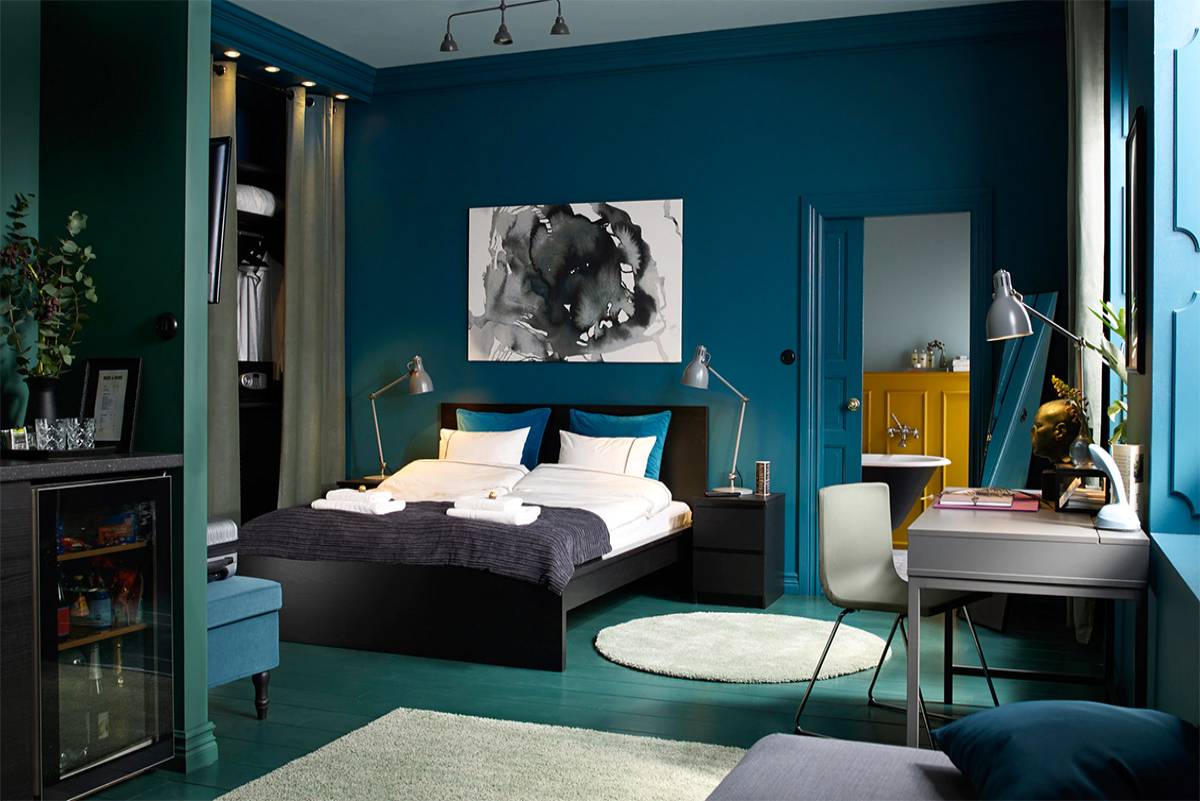 One of the best colors to pair with blue paint is green. Both colors have a lot of similarities and similar hues. Incorporating blue and green colors in your room will promise a serene atmosphere. Both green and blue are placed closely in the color wheel, and hence there is no doubt that adding some green and blue to your room will result in a beautiful visual effect. Using a watery mid-tone blue for the walls and a shade like sage green for the decor or your bed will be a good design to adapt.
8. Blue for Glamour
Blue is known for its soft, serene nature. But blue can also be glamorous and stunning! If you are thinking of adding some glamour to the bedroom, blue can be a good choice. Install a tufted velvet turquoise bed in your room that boasts all the blue in the room. A rich touch of wallpaper on your walls, probably in a golden color, and complementing decor can make your bedroom appear utterly romantic and glamorous.
9. Blue for Kids' Bedroom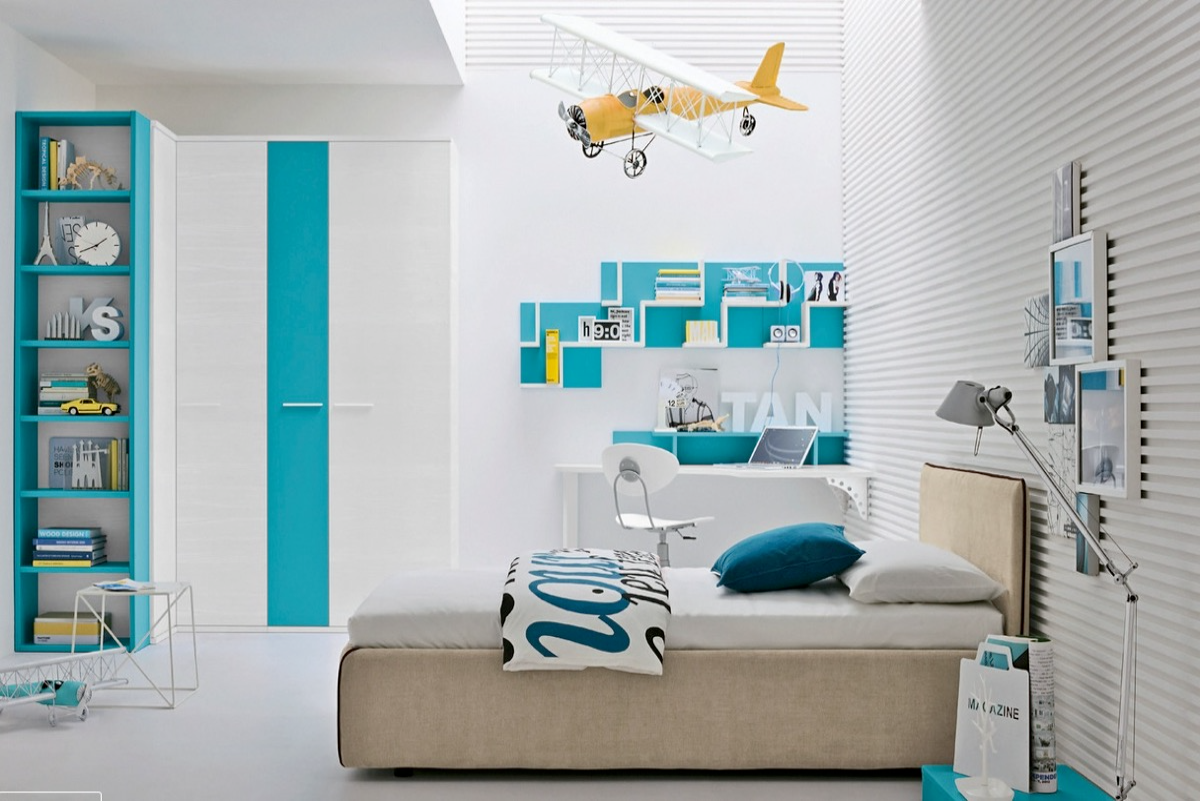 Blue bedroom ideas are not only for adults but also for kids – They will love it! Turquoise blue can be used for bookshelves, cabinets, and bedside tables. Colors like white and beige can be used to fill up the rest of the space to make the blue stand out. Such use of colors can make your kid's bedroom look quirky.
10. Blue and Purple for the Bedroom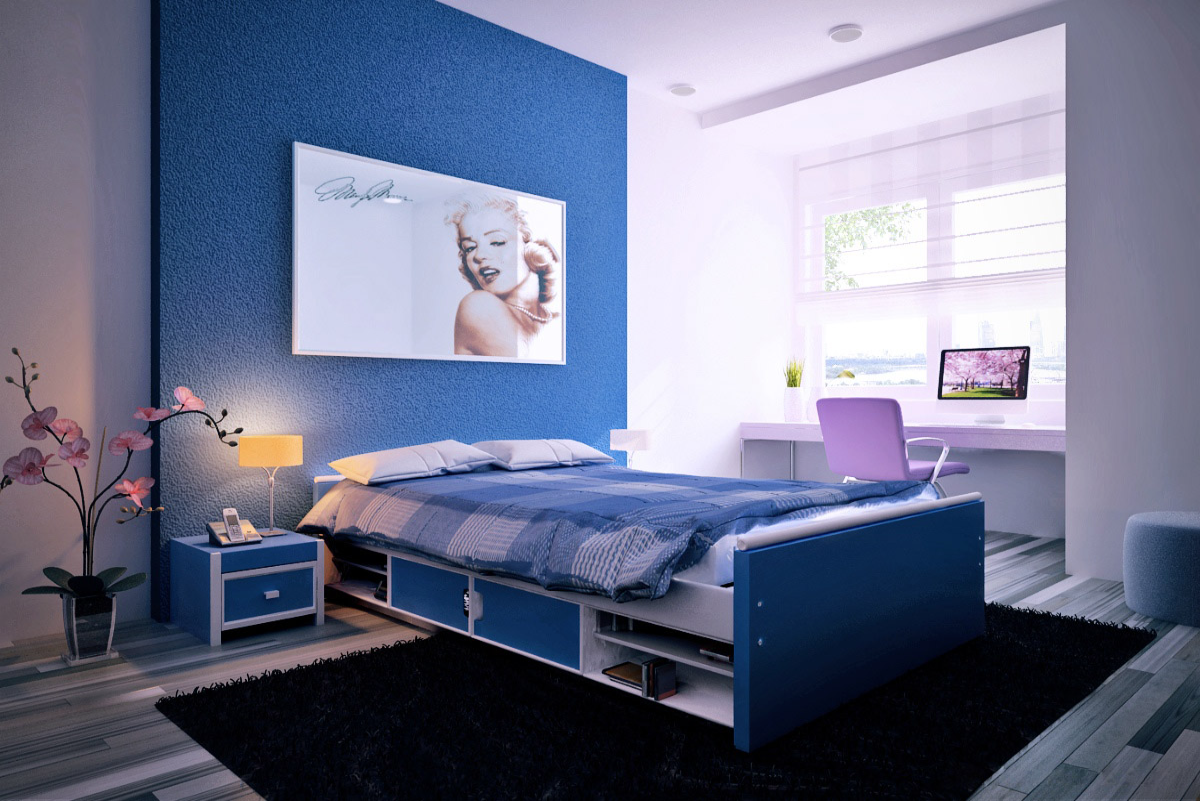 Give your bedroom an entirely different look by adding blue and purple colors. It is one of the best blue bedroom ideas to consider for girls' bedrooms. Make the main wall stand out in blue, while the rest can be painted using lilac, white, and yellow. In most cases, it is the complementing colors that give blue a stunning touch.
11. Blue with Brown for The Bedroom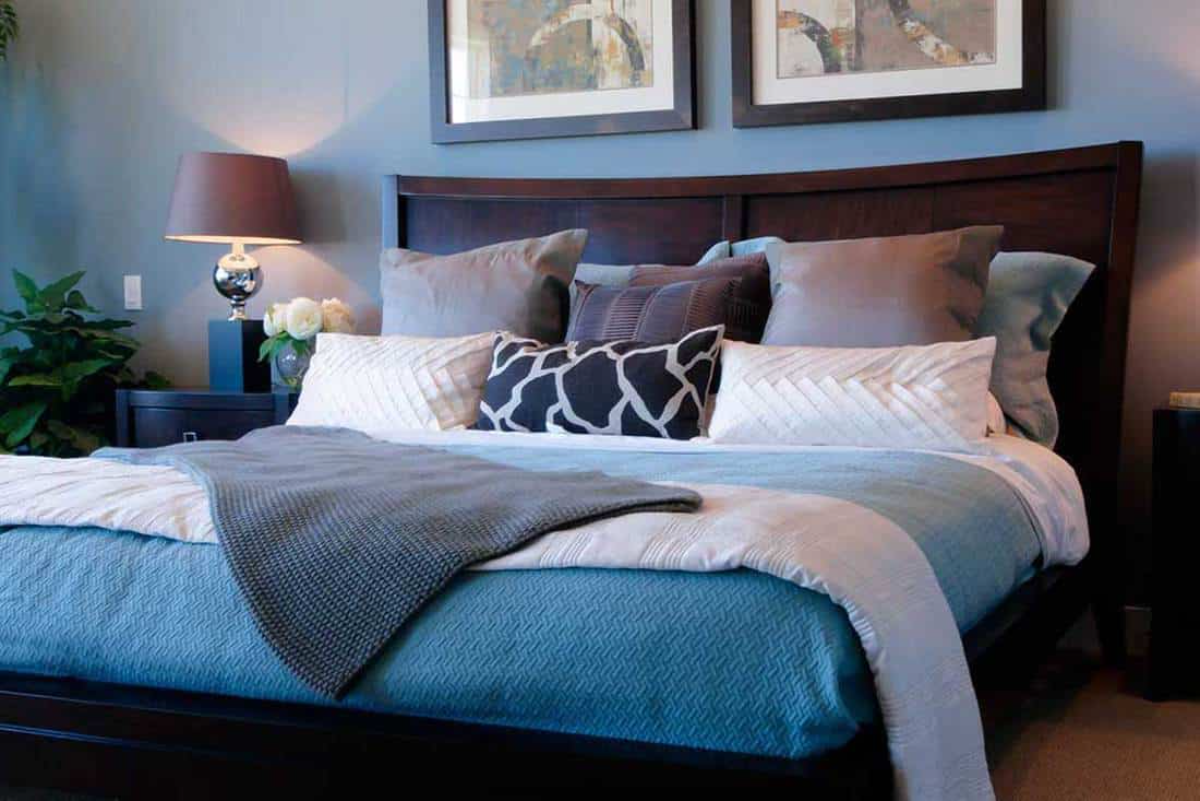 Blue and brown colors create a classic yet sophisticated look for your bedroom. This combination might look more masculine, but it is equally loved by the ladies too. The addition of brown shades with blue can give a traditional touch to your bedroom. In this design, you can notice evident and creative patterns on the walls and carpet. The rest of the space is dominated by brown-shaded decor.
12. Royal Blue Effect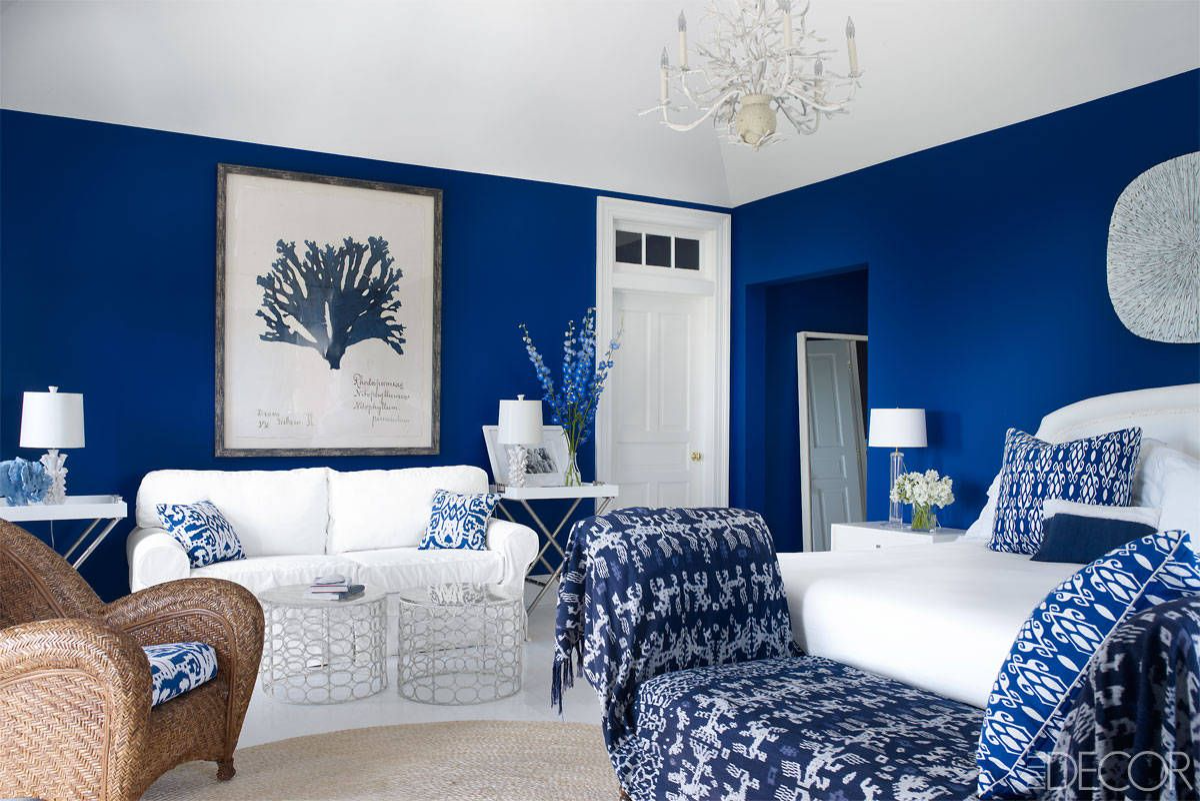 As the name implies, royal blue adds a royal touch to your walls. Blue and red paint colors can create a very dramatic effect on your room. But rather than choosing just plain blue and red colors, go with their shades for a unique style. Royal blue and burgundy can have a pompous effect on the eyes. Those who are looking for a luxurious style must consider this combination.
13. Paint the Room Using LEDs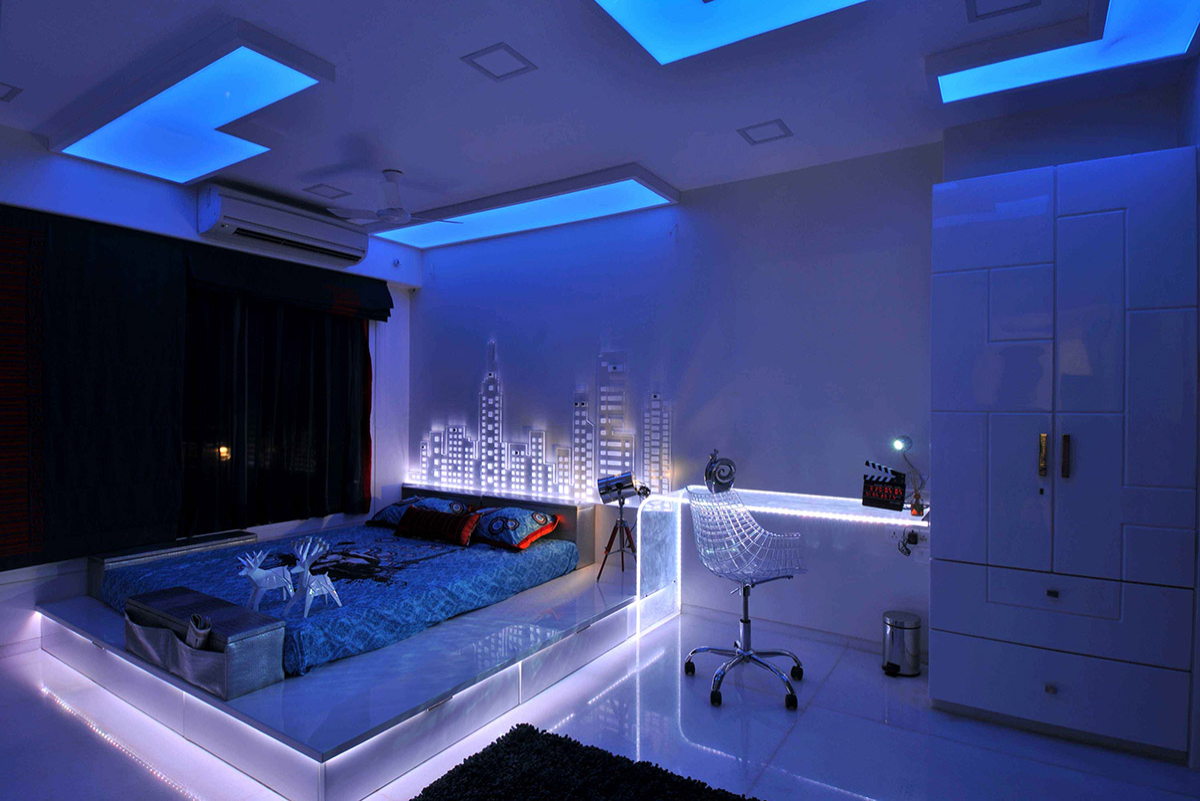 Are you a person who loves blue but doesn't want your room to look blue forever? Here is a new and unique idea to style your bedroom with blue. Keep your bedroom's walls in normal white paint, and when the night comes, you can use LED lights to make the room look blue in a beautiful way. This can be done by installing lighting panels in the ceiling around the tables and cabinets. Having the floors covered with white tiles will make the whole thing look more sleek and bluish.
14. Blue Feature Walls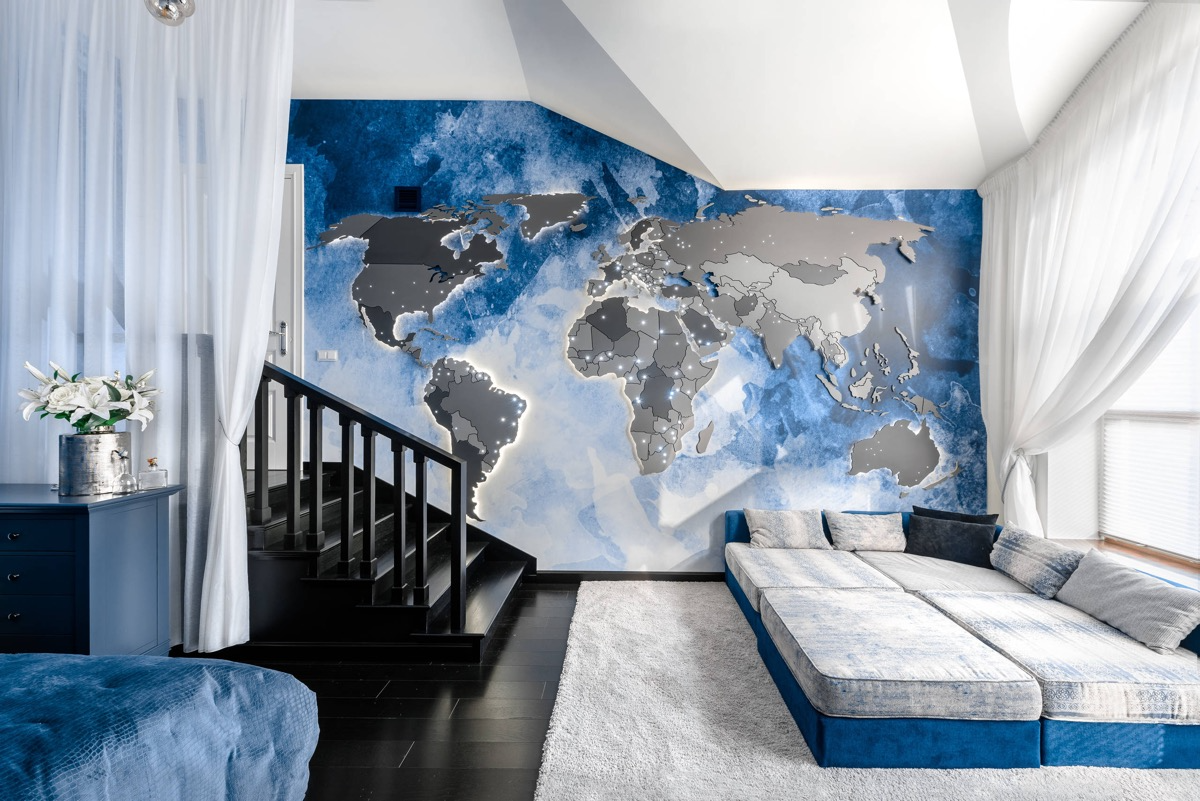 If you want to try something different than going with a shade of paint color for your wall, this idea is for you. If you like traveling, you can use a blue feature wall to depict a world map. Don't leave the blue to be present only on the wall. To make your bedroom look more blue, using different shades of blue in your decor can be a good eye-catcher. The velvet ottoman in this example acts as a color coder.
15. Blue and Marigold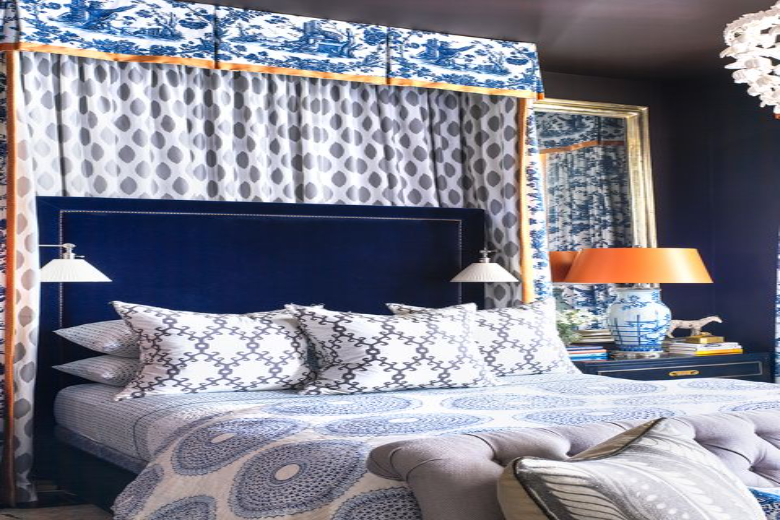 If you are a fan of dark, deep blue shades in the room, the perfect finishing touch will be to add a marigold accent to it. In this example, you can see how outstanding the overall style of the bedroom looks because of the marigold color added along with dark blue paint. The orange lampshade, along with a gilt mirror, acts as a perfect combination of decor here.
Final Word
It is good to go through a couple of options before finalizing the style of your home decor. Because of its many mental and visual benefits, having a blue bedroom is preferred by most people across the globe.
We hope this article was helpful for you to learn about various blue bedroom ideas. Incorporating appropriate decor will make your bedroom picture-perfect. Also, you must have found your favorite way of using blue color in your bedroom.
After consulting a designer, you can explore and tweak your bedroom to look more serene and stunning as per your requirements.
Frequently Asked Questions
Is Blue Color Preferred for a Bedroom?
One of the best colors for a bedroom to boost sleep is blue. Having a blue room will make you feel calm and relaxed. Lighter shades of blue have this soothing effect more than the darker ones.
What Are the Benefits of Having a Blue Bedroom?
It has been found that the color blue can have positive health effects on a person. Blue can be helpful in lowering a person's blood pressure and heart rate. After a hectic day, walking into your bedroom with a blue color overall will positively affect your health.
What Decor Fits the Best for a Blue Bedroom?
A bright silver piece of ornamental decor can look stunning on a pale blue wall. Blue walls can look more beautiful when ornamental pieces made of bright colors are added. Make sure not to overpopulate the wall, though.