If you are looking for a quick and easy way to give a new look to your living room, changing the curtains might be the answer. Not just a practical addition, but curtains are also powerful design elements that can completely transform the look of your living room.
No matter what the look of your living room is, there are so many types of curtains available that there is something for everyone. Starting from just putting your curtains up to block out light, you can also give your home a glamorous look with some gorgeous curtains.
In this article, we take you through The 21 Best Curtain Ideas For Living Room Modern Designs that will fit perfectly in any decor. Keep reading to find out all about it.
1. The Ceiling to Floor Curtains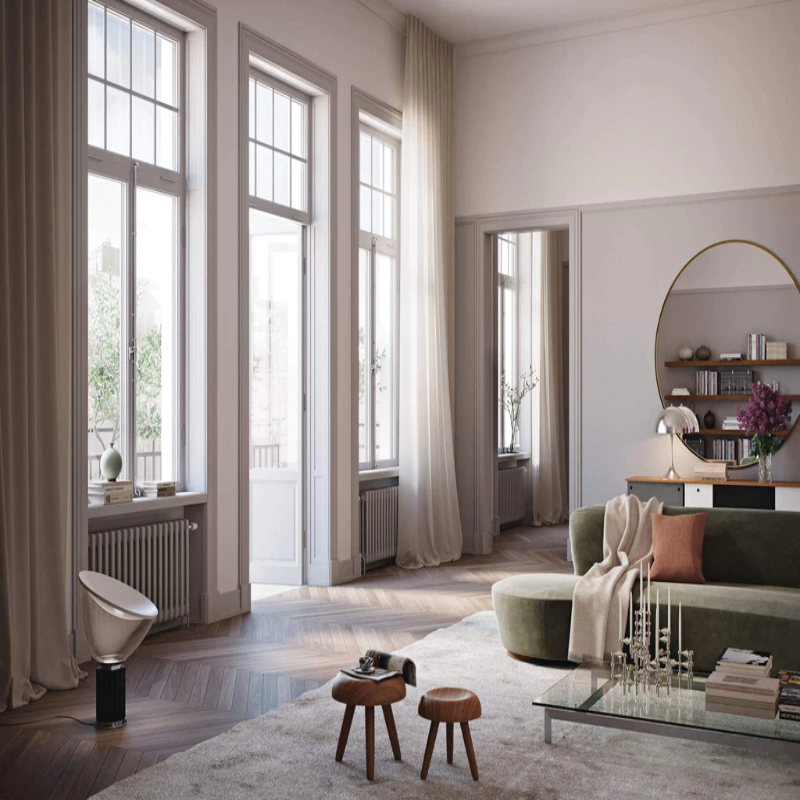 Our first pick for the best curtain for your living room is a full-length curtain that goes from your ceiling to the floor. This is a great type of curtain to use in the living room because not only it brings elegance to your room, but it also plays a little trick to the eye.
By adding floor-length curtains, you will be able to give the illusion of a higher ceiling and also provide privacy whenever needed. They are a part of the statement element in any living room. However, make sure they just kiss your floor and are not long enough to skim it. Otherwise, it will look very unfinished and off.
2. Pair It Up With Blinds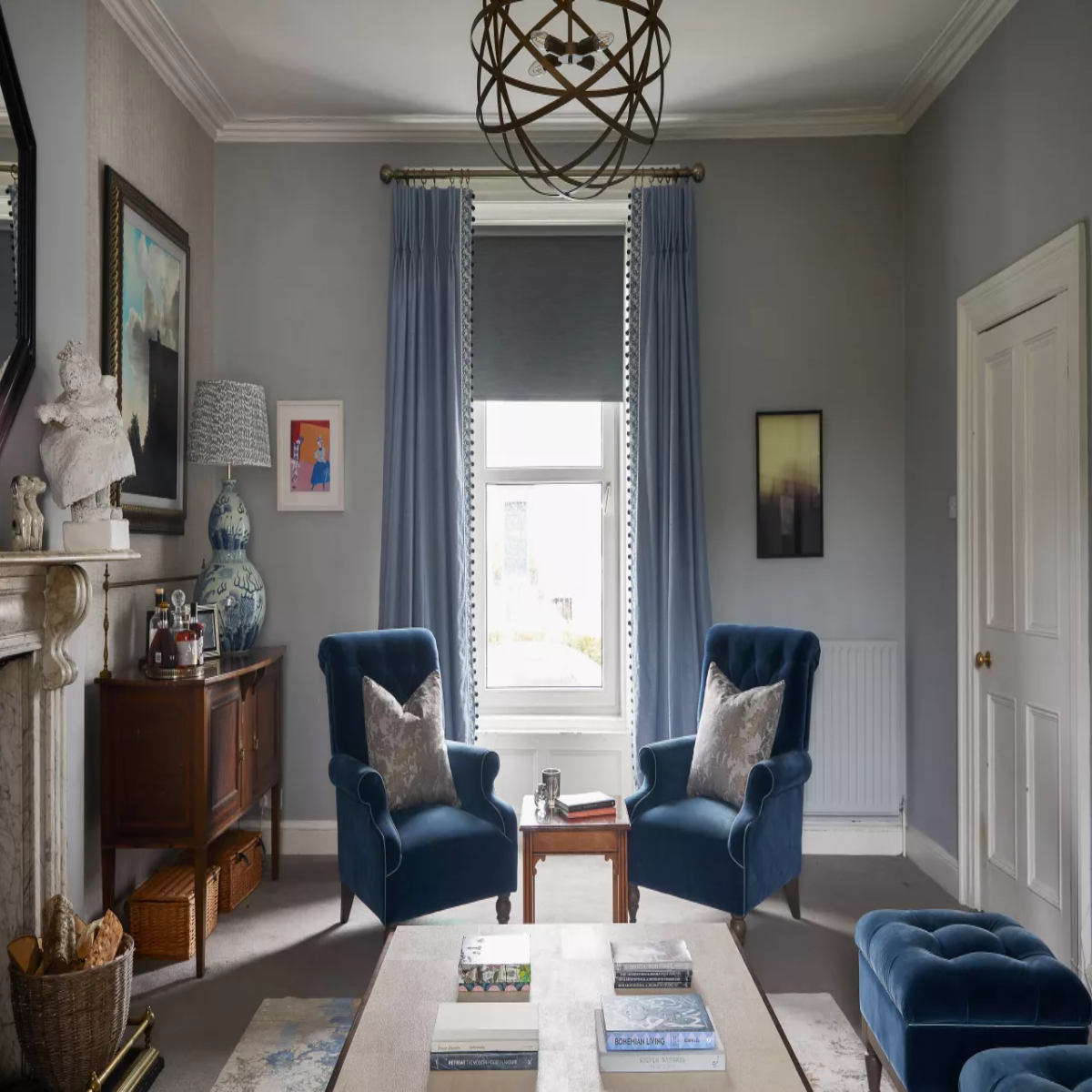 Just because you have decided to add curtains to your living room, it doesn't mean you have to let go of your blinds completely. To add a layer, you can add blinds to your curtains, and that will give you more flexibility.
That way, you will be able to control the light and privacy in your living room. Thankfully, you will find plenty of window blinds available that you can pair with different curtains depending on what suits your vibe the best. To prevent it from being overwhelming, you may want to pair patterned fabric with block color blinds.
3. A Curtain with a Fringe Would Make a Pretty Finish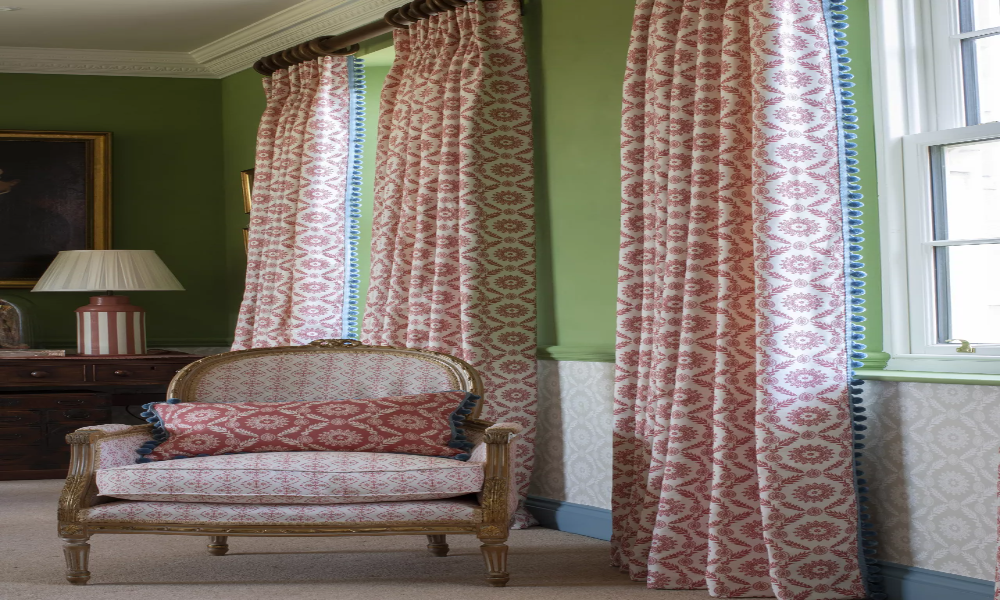 You can personalize the look of your living room with beautiful curtains that have fringes. This will add an interesting layer to your window dressing and will be particularly good for country living rooms or boho chic living rooms. Trimmings will help your curtains to fall beautifully and adds a small important detail.
4. Play with The Curtain Pleats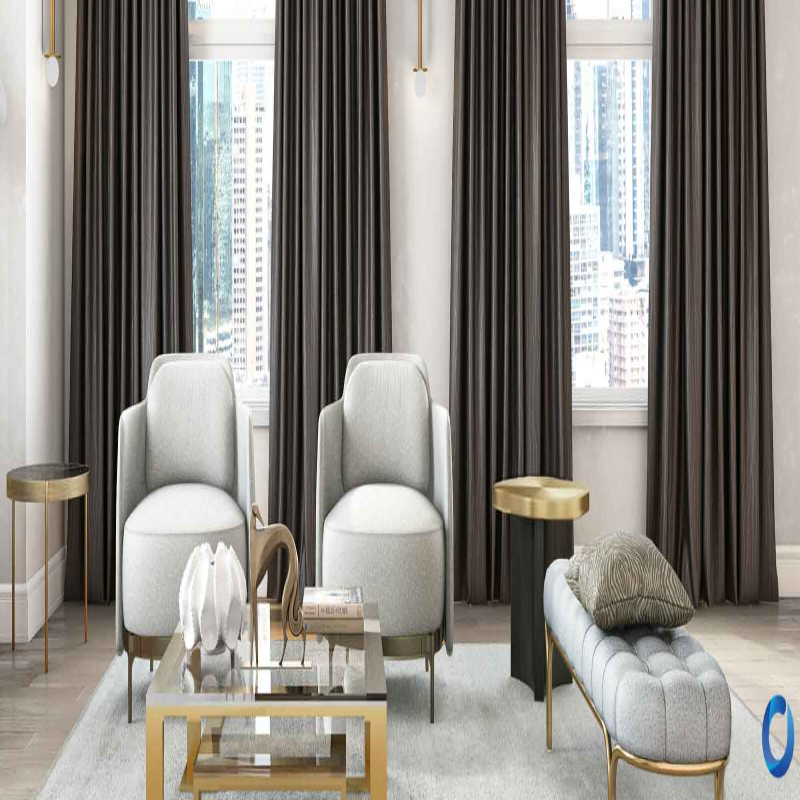 There are a number of pleats useful when it comes to curtains. Depending on the types of curtains you are using, you can very easily play with these pleats and give your curtains a great fall. Check out these beautiful curtain pleats that you can use in your living room.
Pinch Pleat: It is a very popular pleat, and they allow the fabric to flow down and give an elegant look. They are more tailored with a fuller appearance.
Box Pleat: These curtain pleats have folds that run deeper across the length of the curtain. They give full coverage and a clean look. They are great for all spaces.
Goblet Pleat: For more informal and heigh-ceiling spaces, just as the name suggests, the pleats are like a goblet. They aren't very sturdy, so if you are not going to move your curtains, you can choose these.
Pencil Pleats: Thinner and more singular pleats these work well with most curtain rods and hooks. They are casual style and very beautiful nonetheless.
Grommet Curtains: Also called the eyelet curtain style, these are open rings that support the panels. You put on the rings and slide open the curtains easily.
Rod-Pocket Curtains: Rod-pocket curtains are a curtain pleat type that you just slip on the rods through a picket and are good to go with.
5. Incorporate Patterns
Curtains are a good place to start if you are looking to add some patterns to your living room. You can choose a subtle pattern complimenting your color scheme or go for louder patterns like florals or abstract if you want them to stand out.
If you are not too afraid, you can go as far as pairing two different patterns together and give anyone's eye an opportunity to move around and give it a maximalist look. To go out on a limb, you can also pair a bold print with a subtle one to balance the two.
6. Choose Vibrant Colors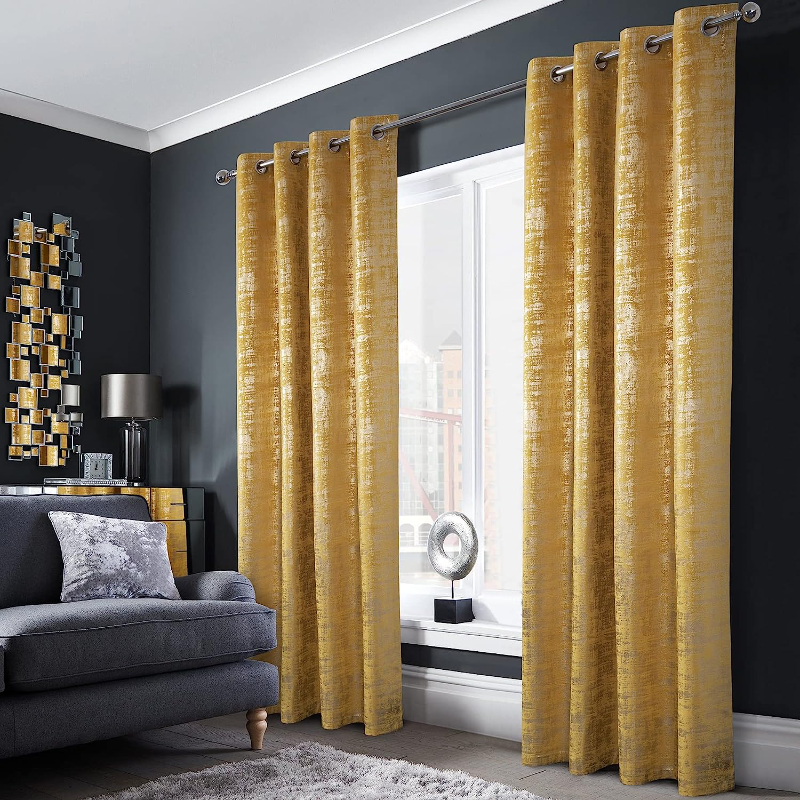 Choosing vibrant colors for small spaces can be a little overwhelming, but if you have bigger rooms, this is a great way to incorporate some color in your room and make a statement with it.
You can choose a color that goes well with your accessories and furnishings. Using bold color curtains might also help the eye move and give your guests something to talk about.
7. Use a Sheer Fabric
While most home decorators prefer using heavy fabrics like wool and velvet because it makes homes look cozy, they make rooms look heavier. If you are looking to make your living room easy and breezy, it is time to swap these heavy fabrics with lighter ones like linen and voile. They will give a more sheer look and filter the sunlight to light the whole of your living room with beautiful natural light.
Not only that, but sheer curtains will also give a beautiful dressy look to your curtains, and they are particularly a great choice for bigger windows. They are beautiful curtains that give a great look to any room.
8. Use Shorter Curtains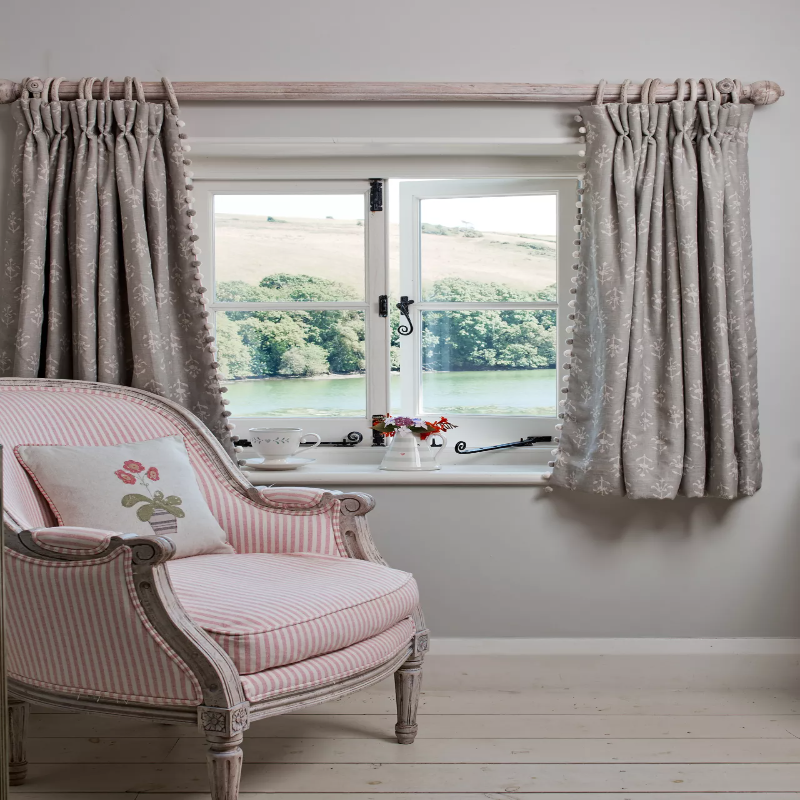 Earlier on talked about how getting long, ceiling-length curtains are a great choice, but what about getting shorter curtains? Long curtains are great for bigger rooms, but they don't look great in smaller living rooms. So, if you are decorating small spaces, these types of curtains are the best.
They will make an illusion that will make your windows look bigger, and if you decide to hang the curtain rod a little higher than the window frame and make it a little wider, it will give a great illusion. This is a great trick to really make your room look bigger and trick your and anyone else's eyes.
9. Bring in Some Two-Tone Curtains
Deciding on a single color for your living room curtains can be a little tricky, so going for two colors could be a great idea. You can find two different tones of the same color and use them to decorate your living room. However, make sure you choose colors that go great with your accessories. Complimentary colors are great in this situation.
10. Mix Different Colors to Give Your Living Room a Coastal Touch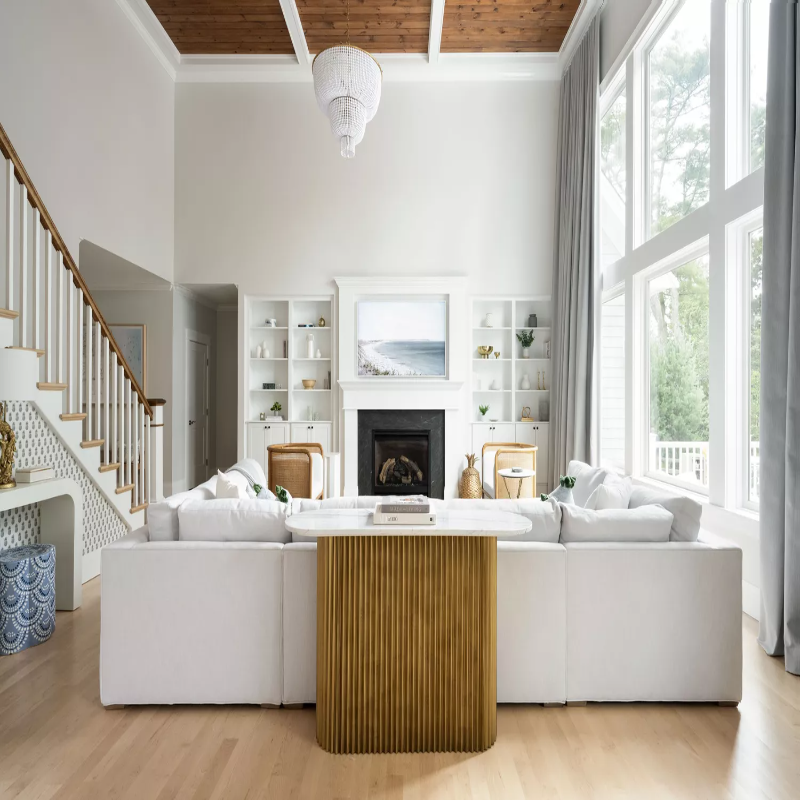 If you are in the mood for a cooler color palette for your living room and want to go nautical, it is very easy to pair and mix, matching a few curtains. Using colors like white, blue, and soft grays, you can give your living room a very breezy feel. However, make sure to achieve something with the curtains and put the curtains in a way that makes your eyes move. This is the key element in this kind of living room.
11. Color Blocking is a Great Idea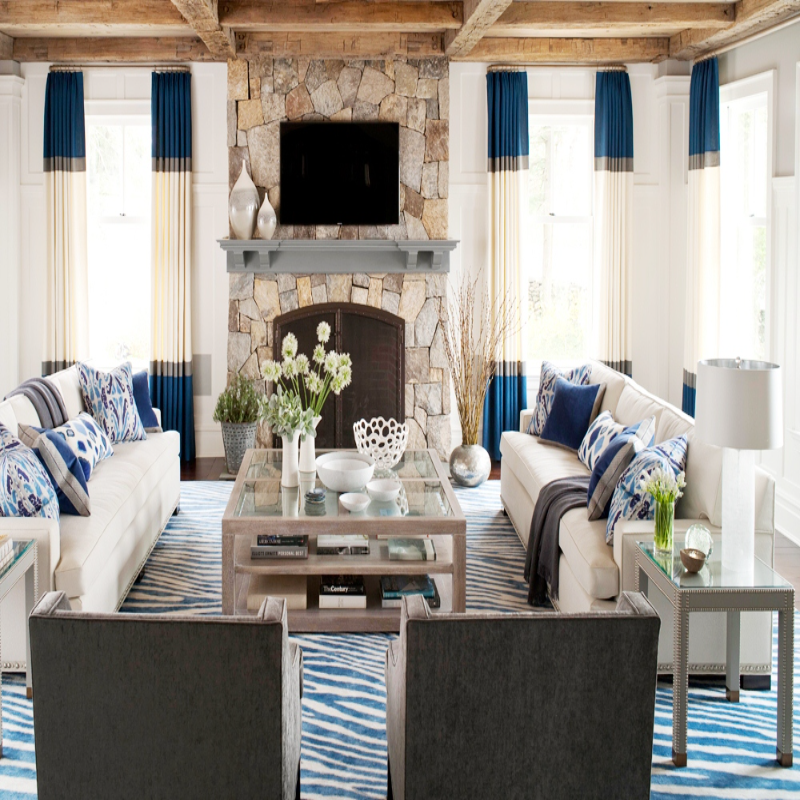 While this might not be feasible for all decors, some design aesthetics do allow you to be very creative with your curtains. For instance, spaces with contemporary styles would give you a great canvas to use asymmetrical design. Instead of having traditional curtains, you can go for colors that would stand out from one another.
Not only that, but you can also use curtains of different lengths to give it an interesting look. These techniques usually work best on solid colors. So, you might have to skip the patterns.
12. Add Texture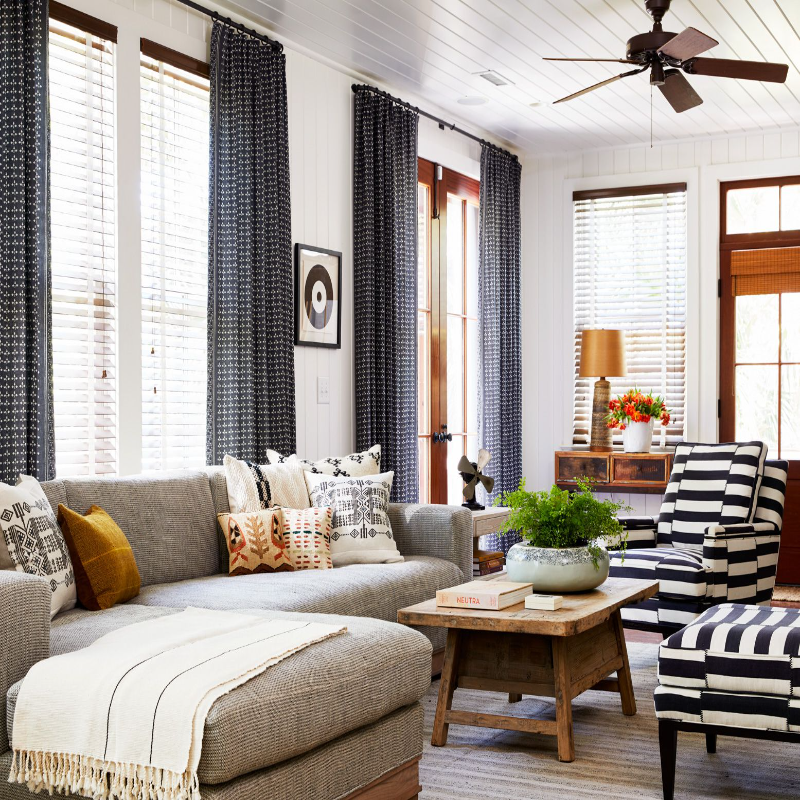 Another way to make your living room very interesting is by adding textures. A great balance of function and fashion, you can use a solid heavy curtain and layer it with sheer, lightweight curtains. It will look like an elegant tulle on your curtains and bring a lot of practicality and elegance altogether.
You can very simply just sew the two types of curtains together, and you won't have to worry about how much light gets in the room or the privacy.
If not heavy curtains, you can also use some textured, printed curtains. It is a great idea to bring subtle prints into your home and is a great addition to your interior.
13. Wall Curtains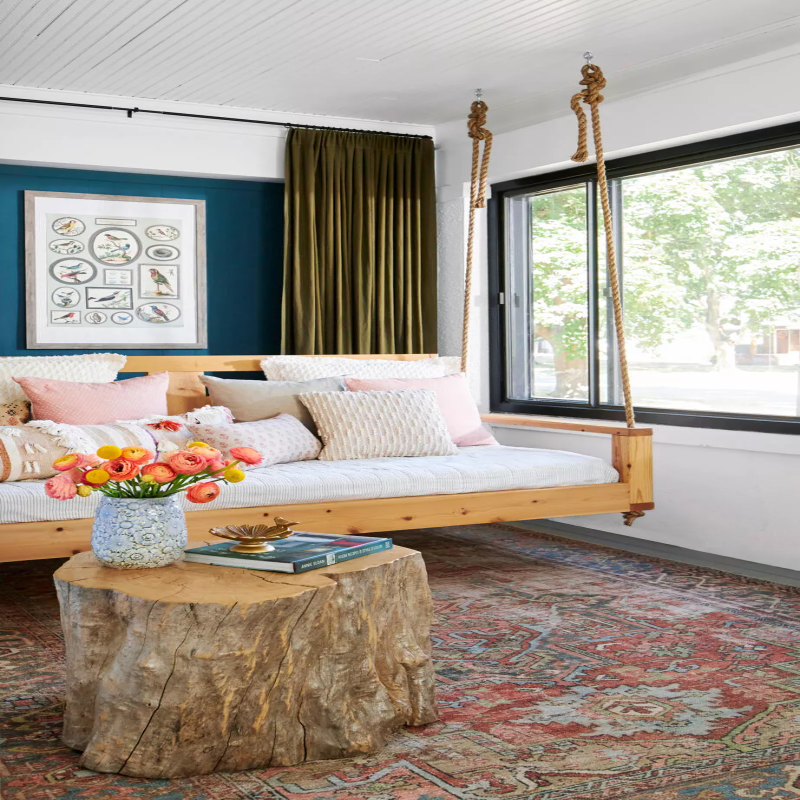 Yes, curtains are a great addition to any living room, but the windows aren't the only place where you can show your curtains off. Another great place to put your curtains is on the wall. You can use royal fabrics like velvet across a painted wall, and it will add some color and texture to your space.
You can pleat it however you want, and it will bring a sense of grandeur to your living room. It will also give you an opportunity to add an accent to your wall, and it will look royal and beautiful.
14. L-Shaped Curtains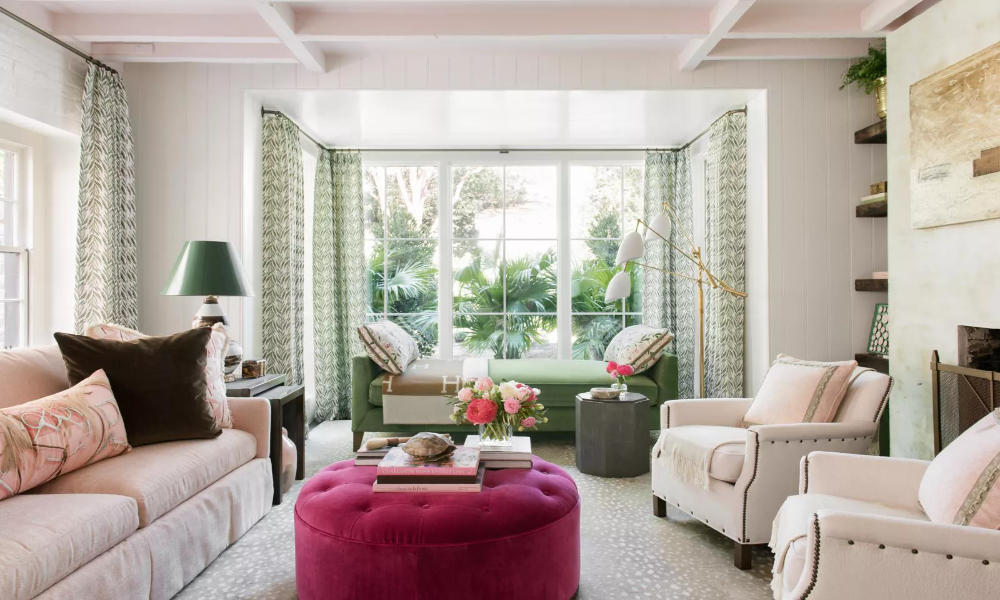 A very creative way to give your curtain a new way of hanging your curtains is by hanging them in L-shape. If you have a window seat and want to make the best use of it, hang the curtains behind it in a curved L shape. The curtains run on a rod in this type of curtain hanging and give you more room and depth altogether.
Keeping in mind the interior of your home, you can use the color and pattern for it, and you will be very happy with the results indeed.
15. Ombre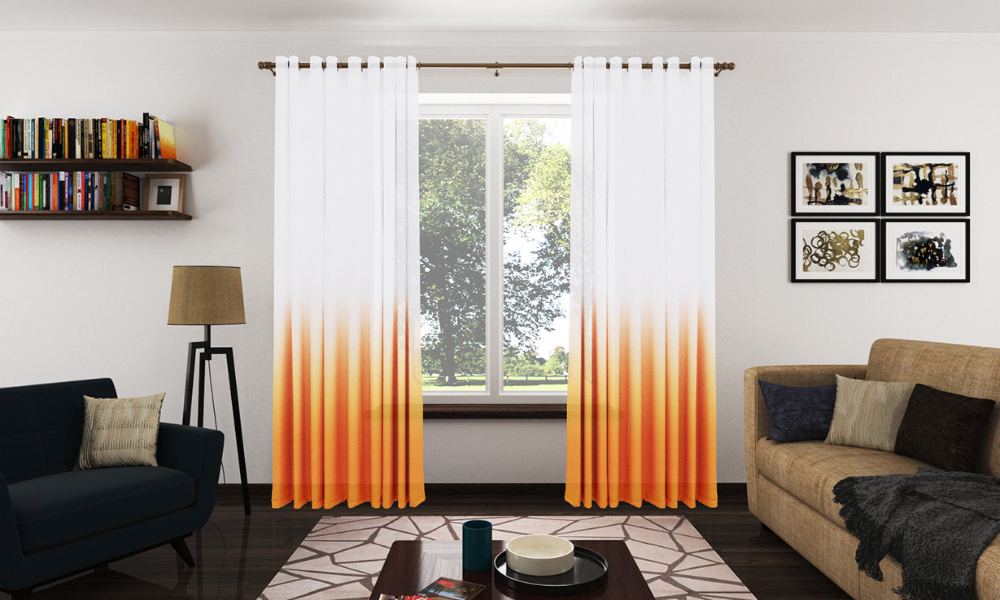 Ombre has taken over so many home design and interior decor trends that everyone is just very keen to try them out. However, if you are someone who wants to experiment but is a little skeptical about going big, curtains are a great place to start. You can get curtains that are white on the upper portion and colorful on the below.
This color can be whatever color goes with your interior and will give your living room a great pop. With that said, it is also very safe because the whites will blend into the walls, and the color will complement the decor.
16. Frills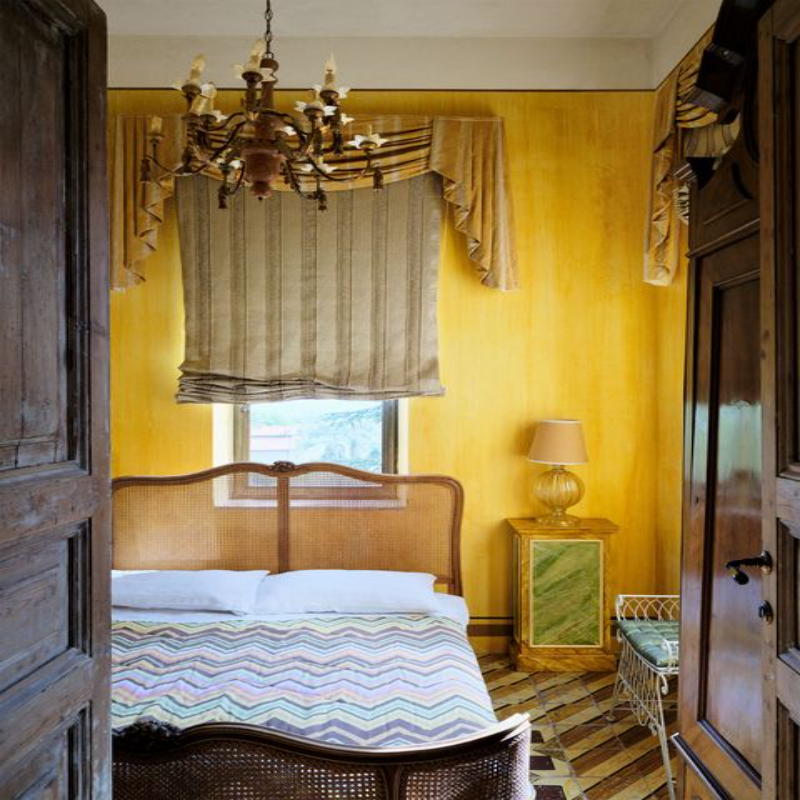 The Valence Curtains are great frills to add to your curtains. These are elegant and dramatic that will enchant you and take you to a magical world. They showcase sophistication and opulence in your living room. You will be able to add style, dimension, and formality to any space, and it gives your windows the dressy treatment they deserve.
In standard panel curtain hangings, the window hardware is visible. However, with this, you will be able to cover the hardware used to hang the rods. This type of curtain style goes behind the panels, but some people do like to hang the curtains in the front panels, much like that of stage theaters.
17. Stripes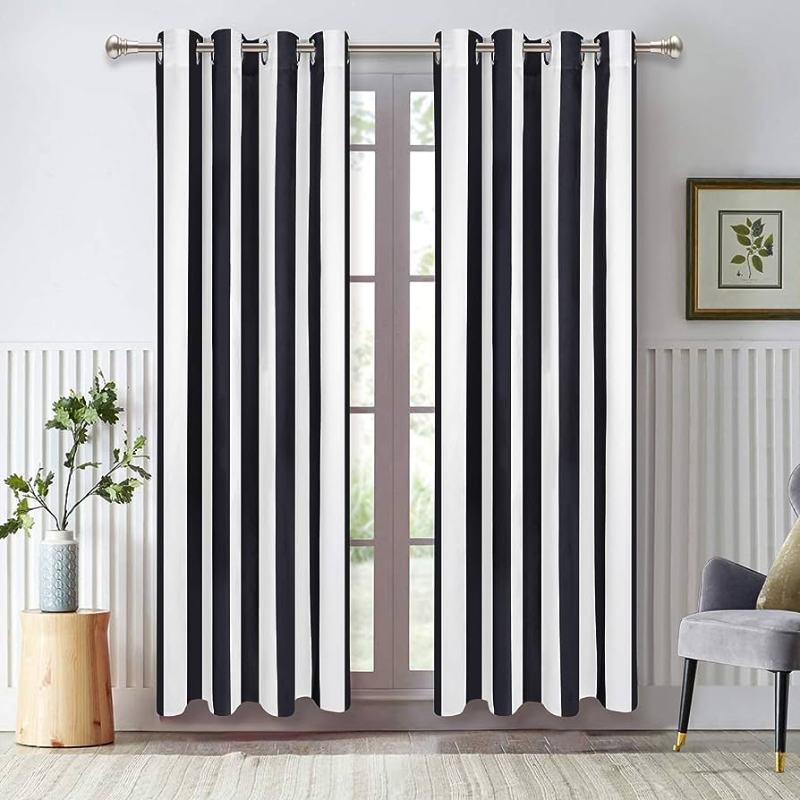 Strips are a type of curtain style that will never go out of fashion. These are simple and elegant that come in too many varieties. You can choose stripes that are thinner or wider, in color or monochrome.
They lift up the appearance of any living room in very little time. Since these are beautiful, classic styles, they will also compliment any pattern or motif you might have across your living room. This will give a very updated look to your living room indeed.
If the good old-vertical stripes feel too boring to you, you can add a little flair with horizontal stripes as well. They will give your living room the sense of oomph that you might be missing.
18. Border Curtain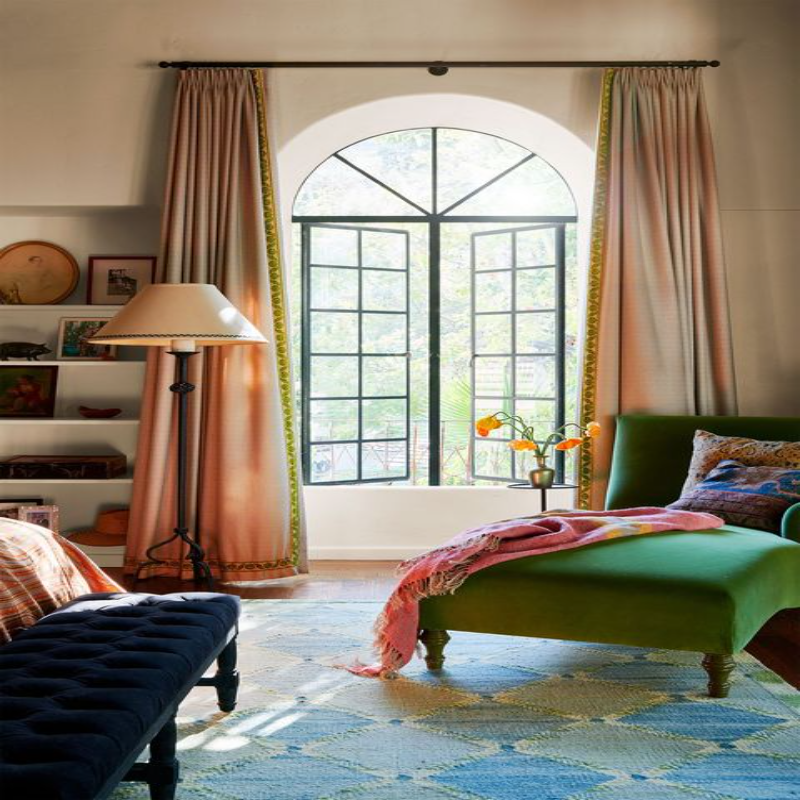 A very minimalist and beautiful type of curtain, these border curtains are a great addition to any living room. If you do not want to go big with patterns in your living room curtains, you can do it by putting up some beautiful curtains with borders.
These will bring some elevated patterns to your room without taking over the whole attention. Be sure to find a pattern that pops out but still goes well with the look of your home aesthetic.
19. Glamour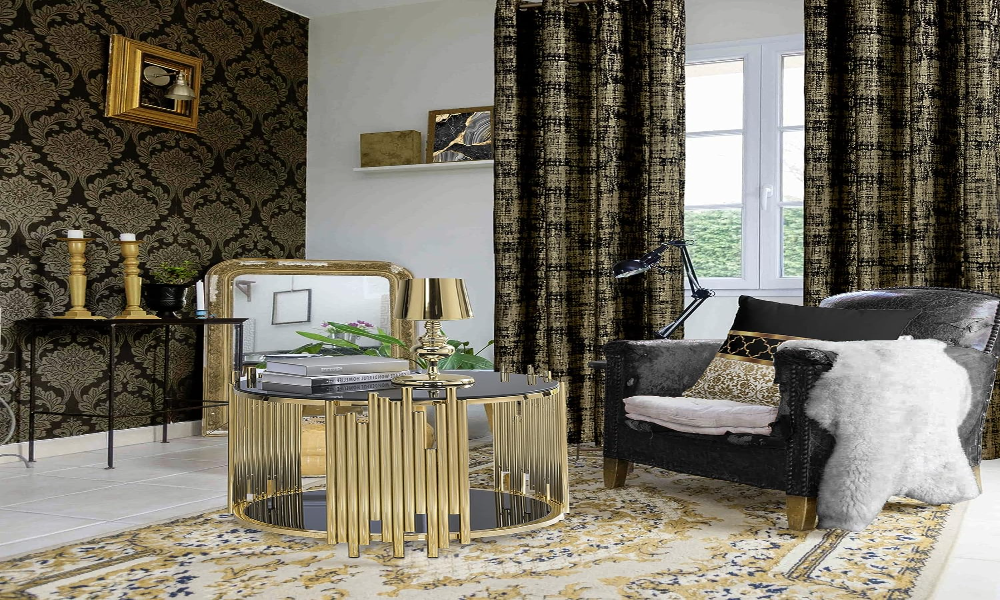 Adding some glam is always a great idea. You can do it easily by using some dramatic, eye-catching curtains. It will look more glamorous and dramatic if the colors you are choosing are darker shades like royal blue, wine shade, or even black. You can also go for some heavier fabrics like velvet to bring that glam to your living room.
20. Matching and Co-ordination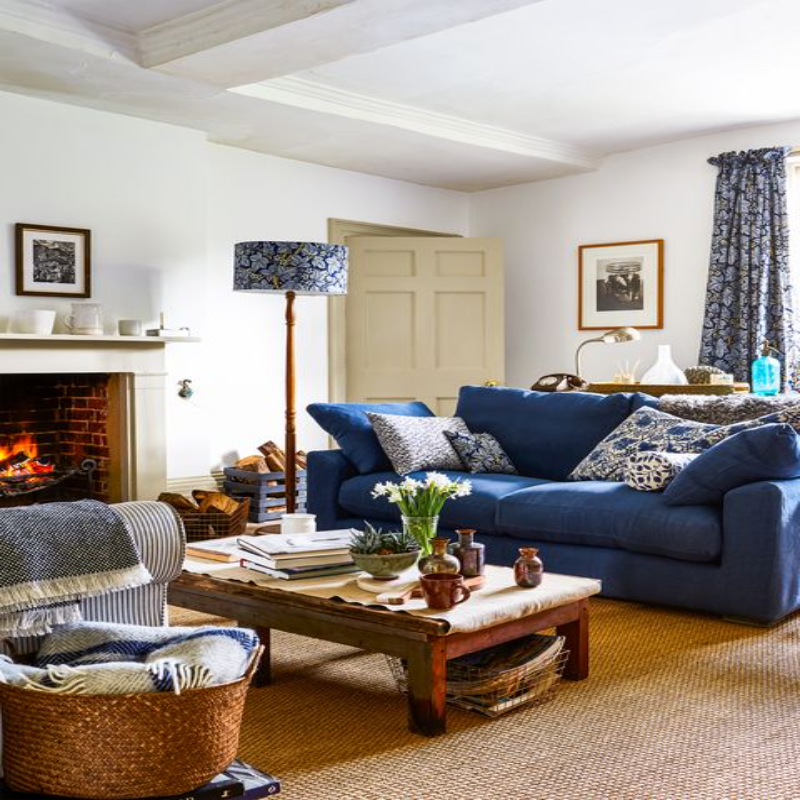 Bring a lot of sophistication and cleanness into your living room with a little coordination. By that, we mean you can match the color of your curtains with pieces of furniture around the room. One way to do it is, you can match the color of your curtains with your couches or sofa pieces. If not, you can also match the color of your curtain with the cabinet in your living room.
This way, everything will feel coordinated, and you will get a very clean look altogether.
21. Good Old Simple Look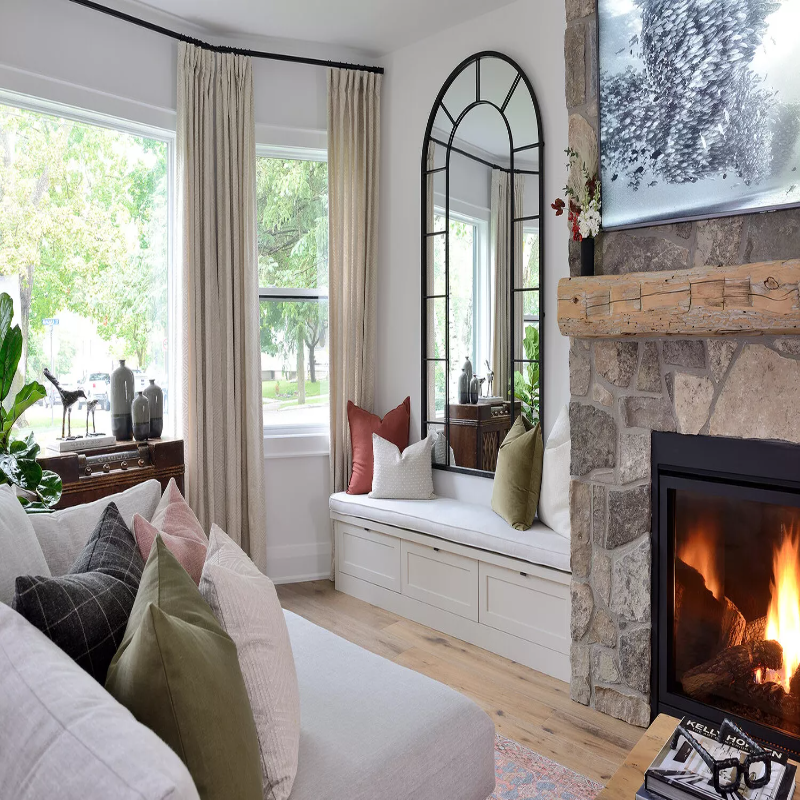 While we do suggest you try all the new living room decor trends 100%, it is completely okay if you are planning or want to go old-school and keep your curtains plain and simple. Plain white curtains bring a lot of elegance to the room and are a great choice. If you do want to take the look of those plain old white curtains up a notch, a good idea would be to use a tie-back. This will give you more control over how much light comes into your room, and it will be beautiful.
Points to Remember when Choosing the Types of Curtains for Your Living Room
If you are looking to find curtains for your living room, it is important to make sure that your curtains are cheerful but still match your decor. However, that isn't it because you will also have to figure out how much light you want in the room and hence, choose your curtains wisely. There are a couple of things that you can keep in mind when doing so.
Read further to find out.
1. Figure out The Purpose
The first and foremost thing to consider is why you are putting these curtains. That means whether you want more privacy or you want more light to come in. If privacy and blocking light are your aim, you might have to put up heavier curtains, but if you are looking to let the light shine through and use it for dress-up purposes, sheerer ones would be a great idea.
2. Whether You Want Lining or Not
Another thing to keep in mind is, would you want some lining on your curtains or not? We do suggest everyone get a lining because of the following reasons.
Lining a curtain helps you protect your curtain fabric and gives it durability.
They add volume and light to your curtain, making it fuller and richer.
It makes your curtains energy efficient. The lining will help you keep the room cooler during summer times and help keep the cold wind away in winter.
With that said, if you purposely wanted sheer curtains, lining might not be the best option for you.
3. Know the Density and Thread Count of Your Curtains
Before you go ahead and buy your curtains, make sure you know what is the density of your curtains. Thin-density curtains do not block light very successfully. A moderately dense curtain will be able to block the sunlight partially, and a heavier one wouldn't allow the light to shine through.
4. Choose a Good Color
It is important to choose a color that compliments the interior of your living room. This particularly means keeping harmony among your walls, carpet, floors, and other furnishings. The general rule here is to try to blend your curtains in the room if you already have some other statement pieces around the living room.
This way, these will not clash and give everything space to breathe. However, if you want to make your curtains the statement piece, a pop of color would be a great option.
5. Energy Saving Properties of The Curtains
With the new curtains, you get the added benefit of energy-saving properties. These curtains keep the rooms cold in summer and warm in winter, insulating the whole room. So, when looking for curtains, this is something you might want to look into.
6. Choose the Appropriate Length
The ready-made curtains come in five standard lengths that are- 63 inches, 84 inches, 95 inches, 108 inches, and 120 inches. Now, keep in mind you decide what length you want from the curtain rod depending on how long you want your curtains.
Once you know the length, you will also have to figure out the width. Standard curtains are 54 inches wide, and you will want to cover your window as well as the frame. So, make sure you choose after measuring.
There Are Three Styles of Curtains Lengths to Choose From
Hower: Where the curtain is above the floor and is the most common way to hang them.
Break: It is just the normal length of the curtains with one more inch of extra length. It gives the curtains are very dressed-up look and makes them feel designer.
Puddle: The puddle is a more relaxed style that gives a romantic and softer feel. You generally add 6 inches of fabric to your curtain and let it puddle on your floor. Generally, lighter, softer, and thinner fabrics are used in such cases.
Conclusion
As we said before, there is something for everyone here. With so many options and styles, you really get a lot of ideas on what you can do. However, always remember that whatever type of curtains you like are the best for your living room.
You must always choose the types of curtains that are better for your interior and go with your styles. Remember, curtains are not just decorative but also play an important role in practical light control of your rooms.
So, make a decision wisely. These little tips and tricks will indeed help you make a choice and help you decorate your home in a great way.