Most people in this world have white-colored kitchens or want to have white kitchens. It is popular because of the symbolic benefits the color white has, as well as because it provides a bright and airy atmosphere to the room. But sometimes, just white can be a bit boring, so to make it more interesting, people use backsplashes.
There are various designs and styles that go well with the white cabinets. You could want a subtle and calming design or a bold and colorful design. In this article, we are going to discuss 12 ideas for backsplash on white kitchen cabinets. But before moving forward, let's get to know something about backlash.
What is a Backsplash?
Backsplash can be defined as a decorative wall treatment used to cover the lower area of a kitchen wall. It is made from a variety of materials like tile, glass, stone, metal, and wood.
Backsplash plays an important role in white kitchen cabinets as it is used to add color, designs, patterns, or texture to the space. It also prevents the walls from spilling and splattering.
There are a lot of backsplash ideas with white cabinets that will give your kitchen a different look. You can either choose to have a traditional or modern look.
1. The Subway Tile Backsplash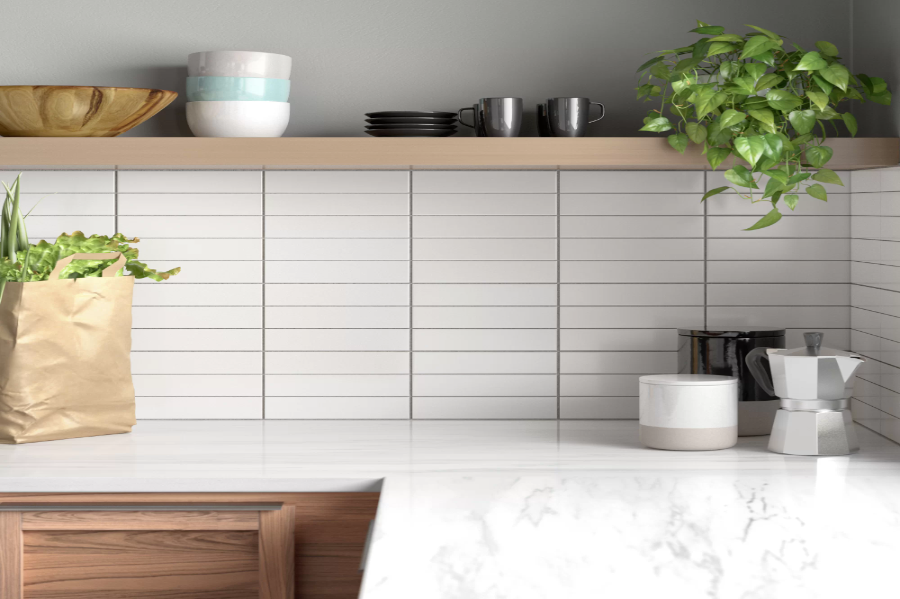 One of the most popular backsplashes for white cabinets is these ones. The idea of a subway tile was inspired by New York City's subway system in the early 1900s.
The subway tile backsplash is cost-friendly as well as stylish in its own way, as it'll never go out of style. It comes in various sizes and designs, but its most common size is 3 x 6 inches.
Designs include white tile with black or gray grout, herringbone ceramic tile, etc. The perks of using subway tile are that it is resistant to stains and moisture heat, which makes it perfect for the kitchen environment.
2. The Metro Tile Backsplash
Just like the classic subway tile, the metro style is the most demanded backsplash for white cabinets. It usually comes in a rectangular shape and has various sizes like 10 x x30cm, 7.5 x 15 cm, 10 x 20cm, etc.
The inspiration for this metro tile backsplash comes from underground train stations in the cities of New York, London, and Paris. Some of the features that make it popular among the crowd are its simple but iconic designs, affordable by the public, and super-versatile.
Some of the most used designs by customers include traditional brick, offset pattern, vertical or horizontal slack, chevron, etc. These tiles have a smooth surface, resistant to stains, as it's very easy to clean.
3. The Glass Tile Backsplash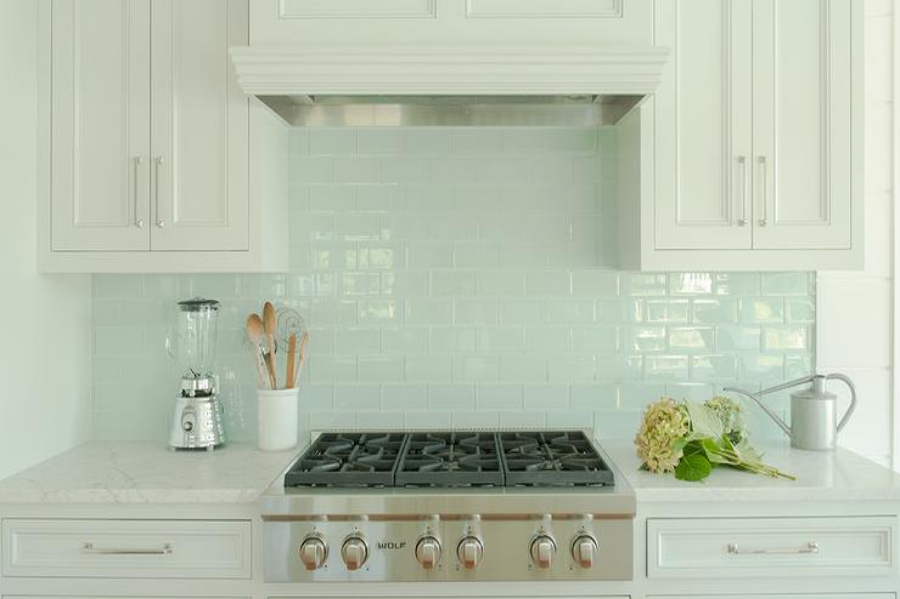 Another great backsplash idea for white cabinets is to use glass tile. It is another decorative element used commonly in kitchens and bathrooms. It comes in various colors, sizes, shapes, patterns, and designs.
The main reason behind its popularity among the people is its visual appeal as well as versatility. It also helps to add a touch of elegance and sophistication to the kitchen.
It also has a reflecting nature which creates a bright and airy atmosphere in the room. Glass tile also has various other benefits as it's very easy to maintain, resistant to water and fire, as well as longer durability.
4. The Marble Tile Backsplash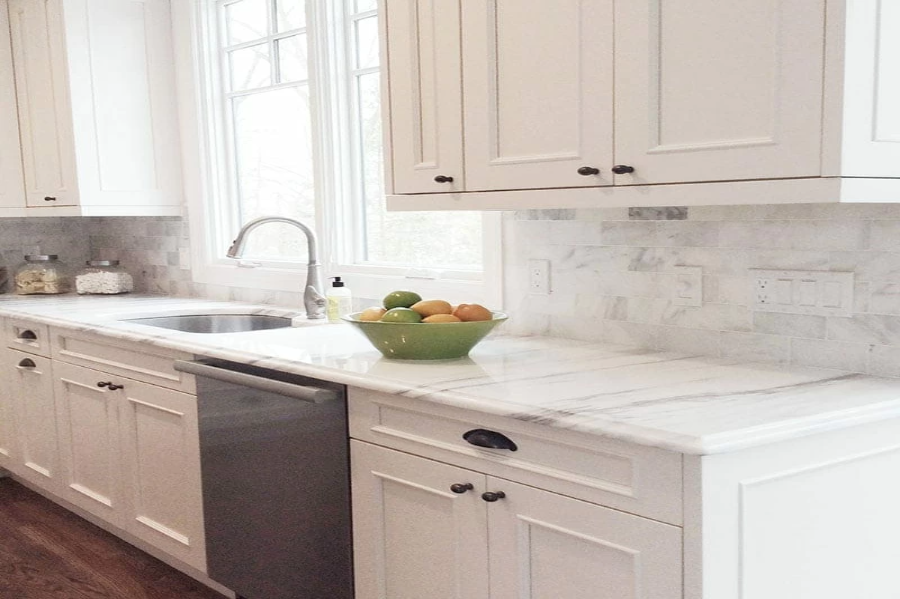 This backsplash idea for white cabinets is commonly used by people as it has a decorative and functional element in it. The marble tiles are either used as a single slab or as small pieces.
The marble tile backsplash is known for its timeless beauty and elegance, and it comes in various forms ranging from mosaic tiles to white marble tiles, etc. There are many perks of using this backsplash for your white cabinets, like its heat resistance and protection from food splatters and stains.
As marble is a natural element, its durability is for a long period of time. It also has various sizes, colors, and patterns, like herringbone or hexagonal, which creates visual interest. Marble always added a sense of luxury and sophistication.
5. The Wood Tile Backsplash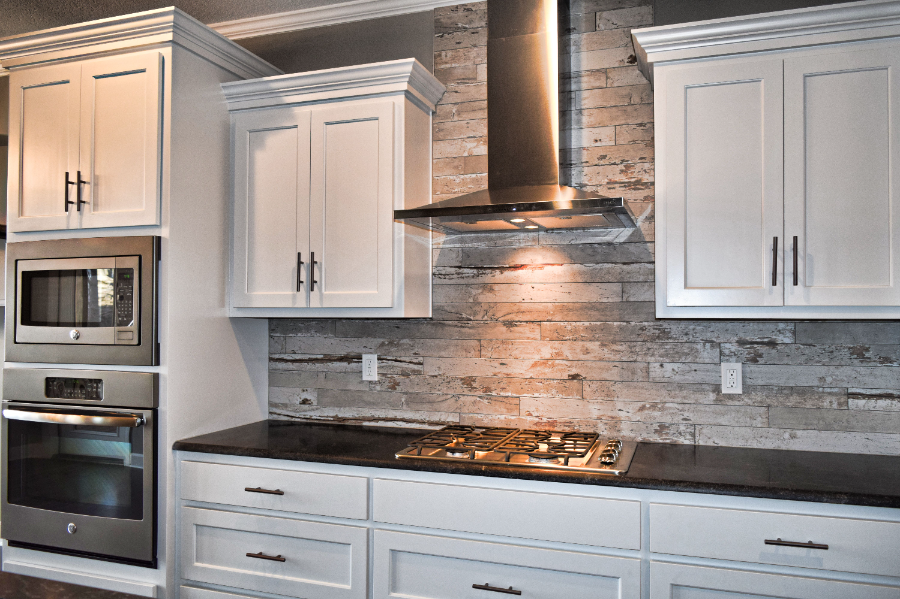 Another people's favorite backlash idea for white cabinets is the wood tile backsplash. The wood is a classic selection by the people as it helps them connect with nature.
The quality of the wood tile backsplash is very easy to maintain with its natural beauty. There are usually two types of material for the wood tile backsplash: ceramic or porcelain.
It comes in various shapes and sizes and is very light in color. It also helps the kitchen feel more airy and grasps more natural light. The installation process of the wood tile backsplashes in white cabinets is comparatively easy and is considered a DIY project.
6. The Beadboard Backsplash
This backsplash used on the white cabinets provides a timeless vibe as well as gives the kitchen a cozy farmhouse feel. It is often used on walls and ceilings because of its practical and aesthetic looks. When the beadboard backsplash is added to the white cabinets, it gives a neutral backdrop which lets the beadboard become the focal point of the kitchen.
It is also the most preferred backsplash because of its versatility and the skill to go with any other decors. There are multiple colors, sizes, patterns, and designs of this backsplash.
7. The Herringbone Tile Backsplash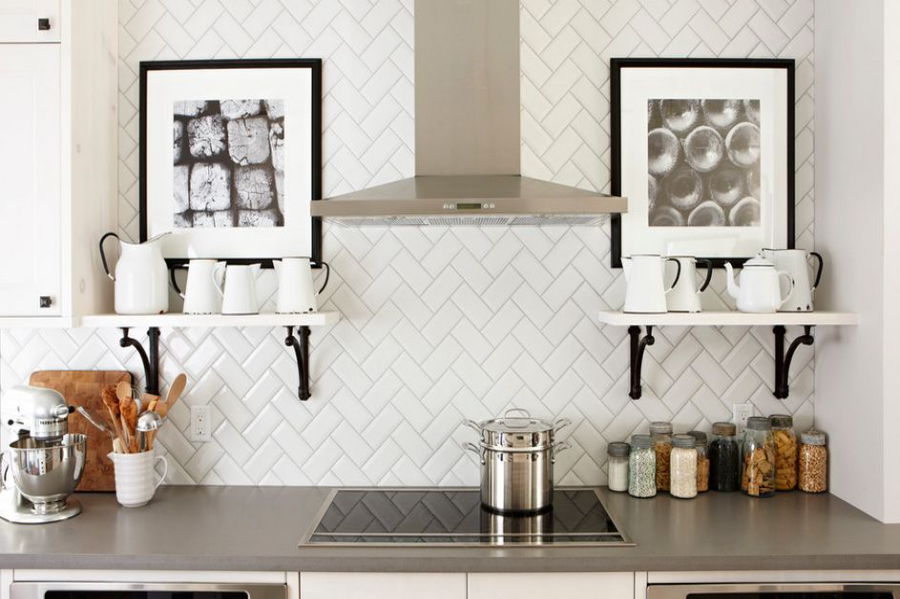 Another style of backsplash for white cabinets is the herringbone tile. Herringbone tiles are made from various materials like ceramic, porcelain, glass, etc. The pattern of this tile resembles fish bones and also protects the walls from splashes and spills. The design of the herringbone tiles on the white cabinets gives a timeless look and creates a striking look.
The tiles add texture, depth, and visual interest to the kitchen when it's added to the white cabinets. It is also known for versatility, long durability and is easy to clean and maintain.
8. The Mosaic Tile Backsplash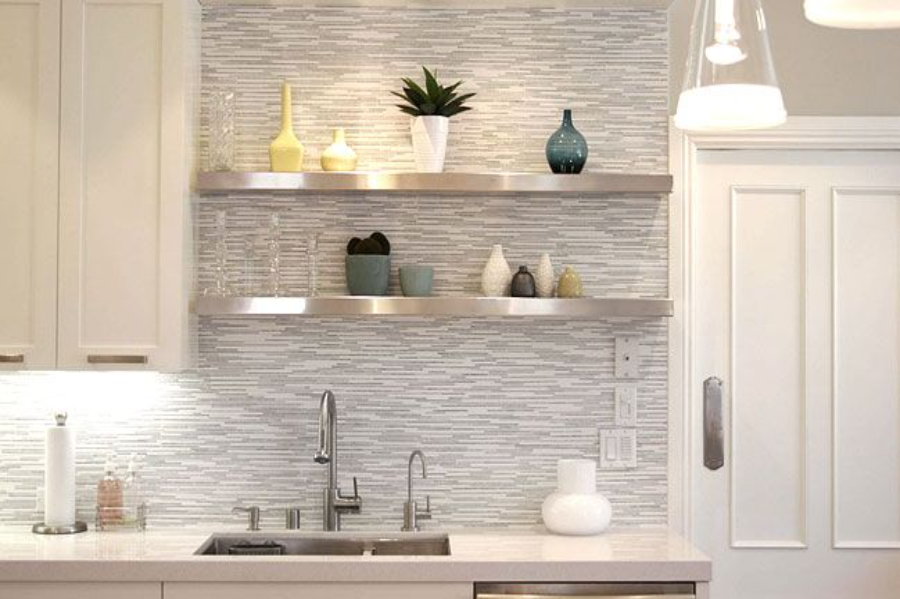 The mosaic tile backsplash will be a beautiful and eye-catching tile for white kitchen cabinets. The process of combining small tiles is a very unique and captivating process, and it enhances the aesthetics of the kitchen.
The mosaic pattern tiles come in different shapes, sizes, and colors. It is a versatile color as it provides different styles: be it classic, timeless, or bold and modern. As the white cabinets give a clean and neutral look, the mosaic tiles on top of it stand out and give an eye-catching look.
The materials used to make these tiles are of good quality with long durability. Because of its good quality, it is resistant to moisture and heat. It is also very easy to maintain and clean.
9. The Shiplap Backsplash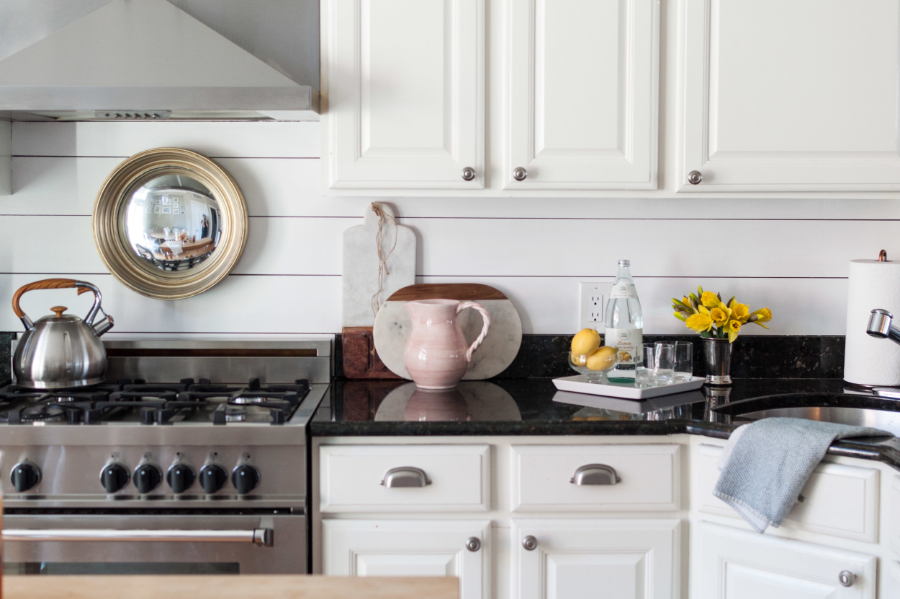 Another popular backsplash for white cabinets is the shiplap. It is a very popular wall treatment and is a type of wooden board with a groove cut from both the top and bottom. It can be easily installed and is a very convenient option for people who prefer DIY projects. The design of the shiplap is very versatile and flexible and can be combined with any design.
With its texture and visual interest, it provides a rustic, farmhouse, and aesthetic look. Shiplap backsplash is very easy to clean and maintain and can be easily wiped down, maintaining a hygienic environment in the kitchen.
10. The Stone Backsplash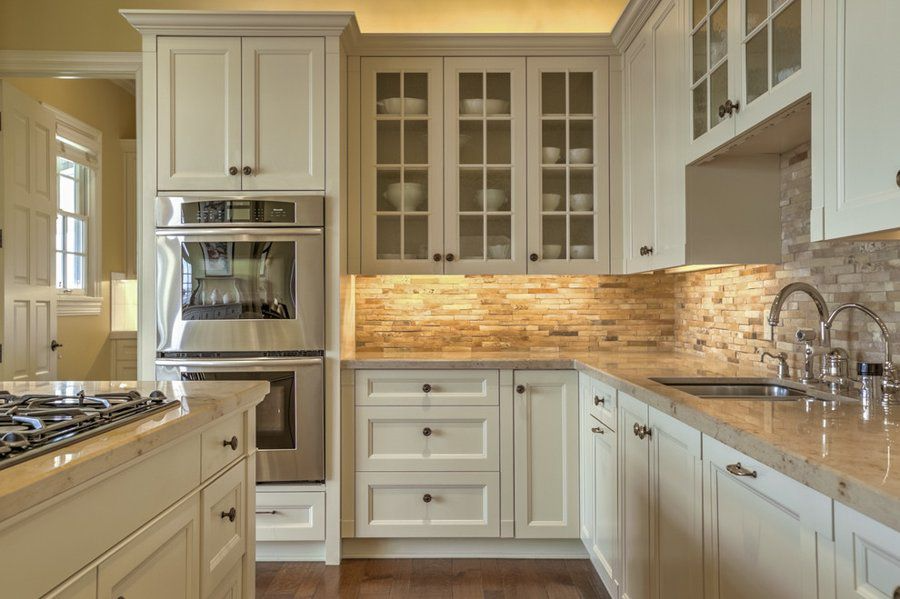 If you want a backslash that provides a natural beauty to the white cabinets and your kitchen, then the stone backsplash is perfect for you. There are many types of stone backsplashes, like marble, granite, and travertine. The stone backsplash provides a timeless style to the kitchen. It also provides an aesthetic style to the kitchen and creates a sophisticated and enduring look.
There are many colors, patterns, and textures of this backsplash that gives you the option to pick your desired pattern. The material, too, is highly durable, which meets all the demands of a kitchen from humidity, heat, stains, etc. It's very easy to maintain as all you need to wipe a stain is a damp cloth and a cleaning solution.
11. The Brick Backsplash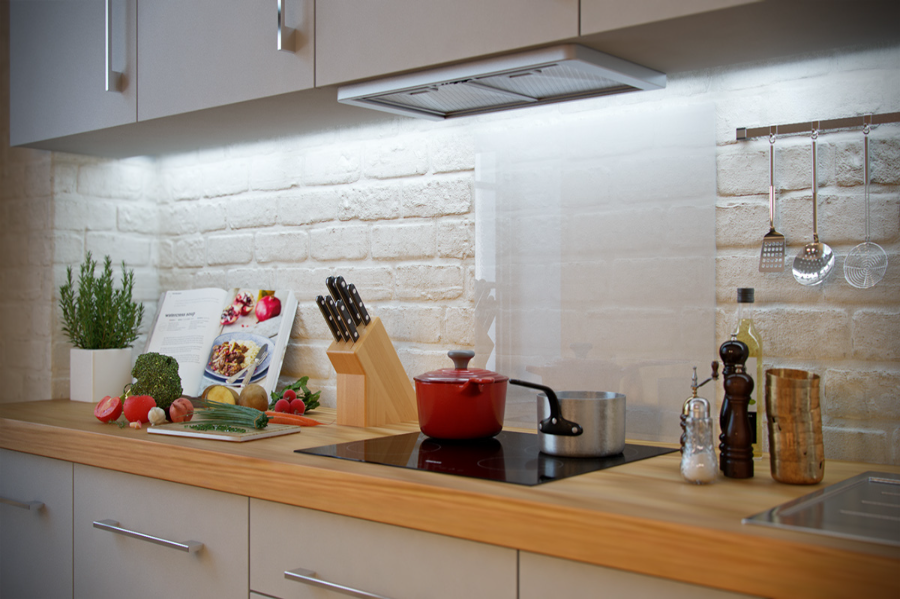 Just like the stone backsplash, the brick backsplash brings a lot of warmth, character, and texture to the kitchen. After applying the brick backlash on the white cabinets, it provides a sense of the heart and hearth of the home to the kitchen. The classic brick design adds a touch of rustic charm and also steals the limelight of the kitchen.
There are multiple designs and colors of the brick backsplash, and it can either give an old-school look or a contemporary look to the kitchen. The quality of the brick backsplash protects it from heat, moisture, and stains, which makes it perfect for the kitchen environment.
12. The Travertine Backsplash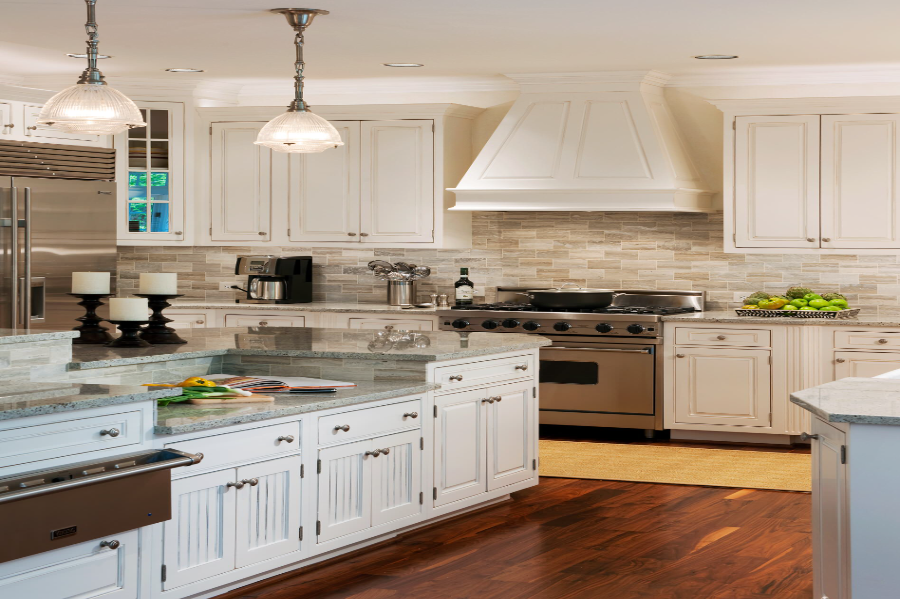 The last backsplash for white cabinets is the travertine backsplash. Travertine backsplash is a natural stone and has its own unique and earthy appearance. This material never goes out of style and has a natural beauty and elegance to it. It can go well with both traditional and contemporary kitchen designs and also provides a touch of sophistication and warmth to the kitchen.
It has better durability as well as is very easy to maintain. Lastly, travertine is a very versatile material and comes with a lot of colors and designs to select from.
Conclusion
White has always been a timeless color, and it'll never go out of style. It symbolizes purity of thoughts and action as it is often connected with moral goodness and integrity. It is also associated with minimalism and positivity, which makes it the most demanded color by the people.
There are many Backsplashes ideas for white cabinets that are practical, easy to install, and last for a long time, but the above 12 are the best and most demanded ideas in the market. Having a great backsplash design will keep the environment of the house, especially your kitchen, exciting and positive.
Comment down your views below on how we have justified our ideas!