When the unexpected happens, and your in-laws pop into town unannounced, your friend decides to crash for the night, or your little one begs for a fun-filled sleepover, there's nothing like a comfortable sleeper sofa to come to the rescue.
While they may come with a higher price tag than regular sofas in every price range, sleeper sofas are a worthwhile investment. They effortlessly transform your living room into a guest oasis, sparing you the need to rely on makeshift mattresses.
Regardless of whether you utilize the bed functionality or not, you'll still have a reliable couch perfect for Netflix binging or simply unwinding with your feet up. So bid farewell to random bedding solutions and embrace the versatile charm of a sleeper sofa!
A versatile solution for maximizing comfort in any space. With adjustable backrest angles (120-180°) and a push-pull design, it effortlessly converts into a bed. The sturdy wood frame and metal legs can support up to 600 pounds, ensuring durability and stability. Filled with high-quality foam and covered in breathable Polyester Fabric, it's both comfortable and easy to clean.
Assembly is a breeze with the included instructions. The sofa can seat up to three people for a chill time, whereas when converted into a sleeper bed, it perfectly accommodates two adult individuals for a good night's rest. Perfect addition to the living room, bedroom, offices, and other compact spaces that need a touch of effortless style.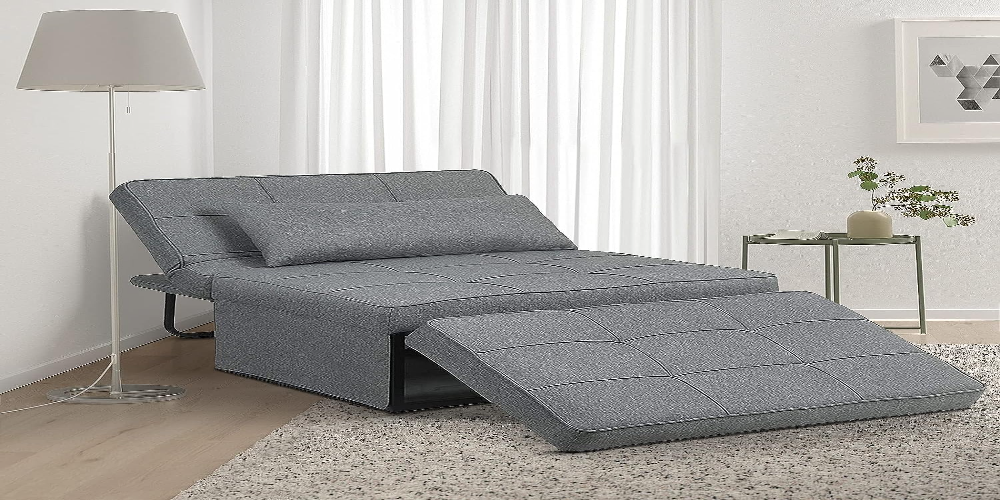 This multi-functional piece effortlessly transforms into a leisure ottoman, cozy sofa/chair, comfortable bed, and relaxing lounger, making it perfect for compact spaces like a one-bedroom apartment or an office space. Crafted with a high-quality steel frame, it offers exceptional durability making it an investment worth making.
The breathable linen fabric and high-density foam upholstery provide a soft and supportive experience to unwind after a stressful day. With 6 adjustable levels, you can find the perfect position for optimal comfort. The foldable design and included soft pillow make it convenient, space-saving, and cozy. No assembly is required – just unpack and simply enjoy its versatility and quality craftsmanship.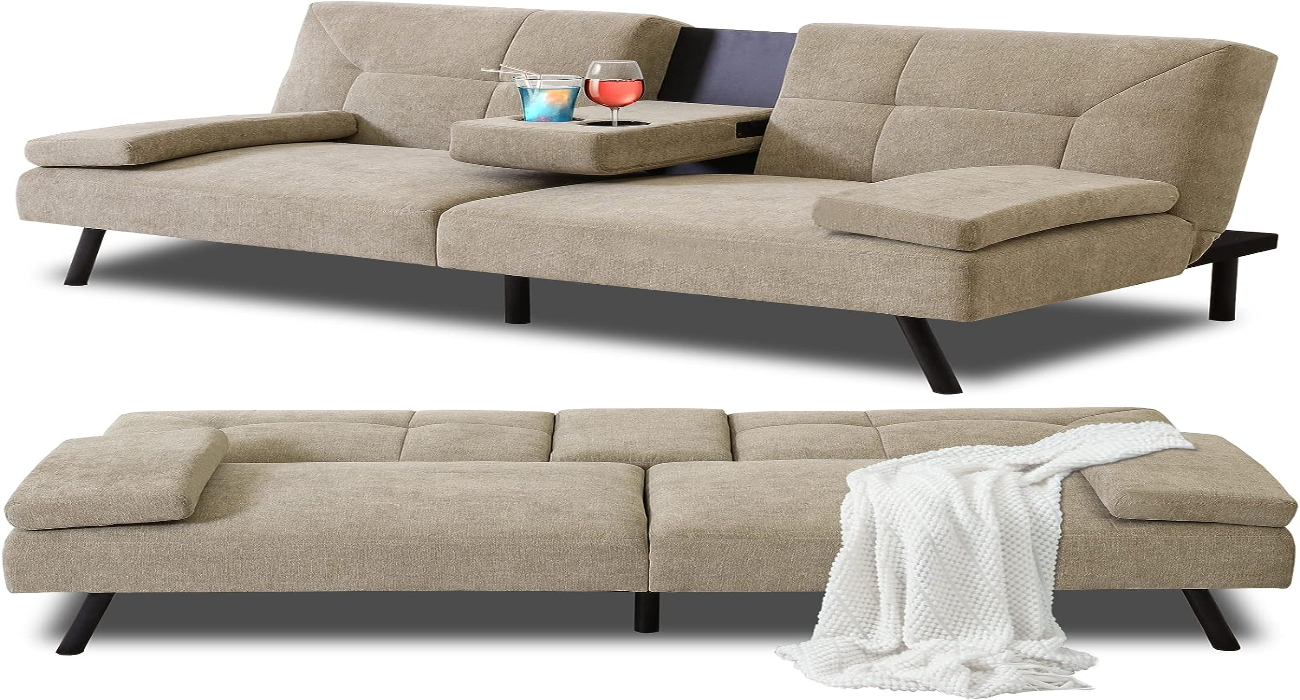 This multifunctional Futon Sofa Bed is designed to bring both style and versatility to your living space. With its effortless conversion feature, it easily transforms from a comfortable sofa to a cozy bed in seconds. The independent adjustable backrests and armrests provide customizable comfort levels for your ultimate relaxation.
Crafted with durability in mind, this comfortable sleeper sofa boasts a sturdy wood frame and a reliable filling of high-density memory foam. With a weight capacity of 600 pounds, it offers ample space for up to 3 people to lounge together. Cleaning is a breeze, ensuring a tidy and hassle-free experience after use. Its modern design effortlessly complements any bedroom, living room, apartment, or space.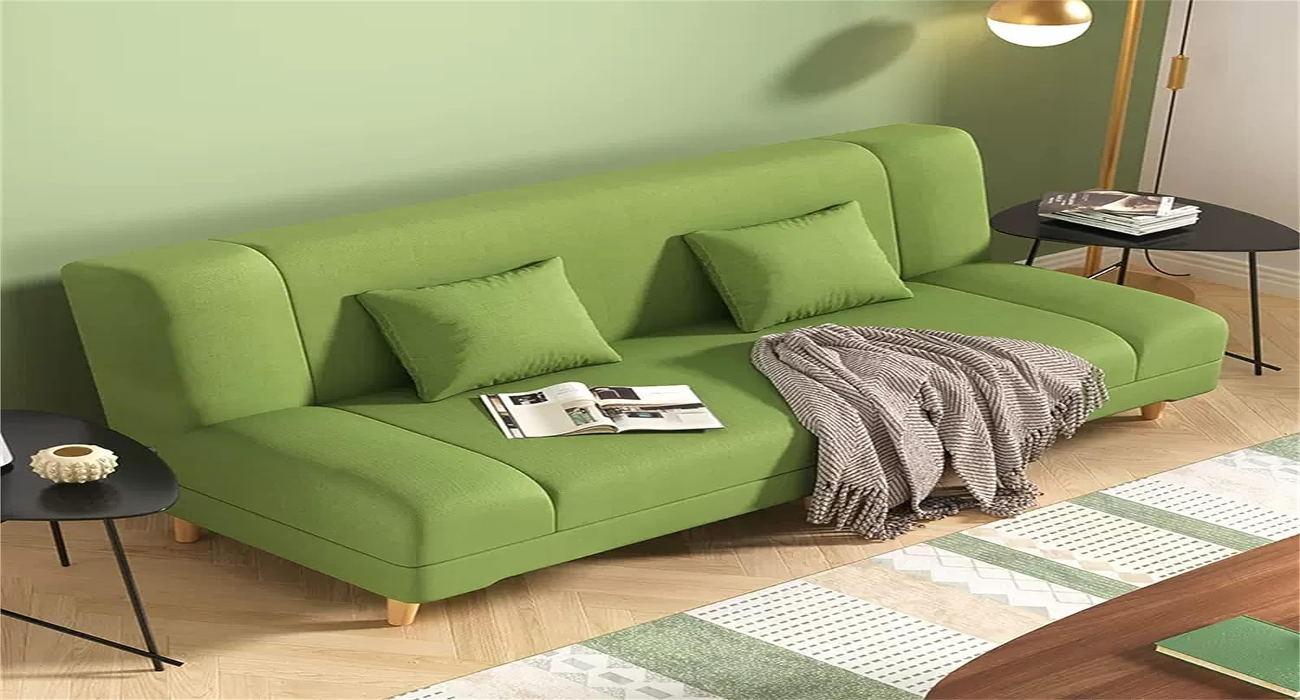 This reclining love seat is the perfect addition to your living space. This multi-function sleeper comes with 2 pillows and a folded backrest, offering 3 adjustable positions for ultimate relaxation. The soft cotton fabric provides a luxurious touch, while the memory foam-filled back and seat cushions offer both ergonomic support and comfort. The armrests of the futon couch can also be used as pillows or footrests, adding to the overall comfort experience.
With its modern design and solid wood legs, this comfortable sleeper sofa cum reclining loveseat seamlessly matches any home improvement style. It's not only perfect for your living room but also suits other spaces such as studios, apartments, dormitories, guest rooms, offices, game rooms, and more.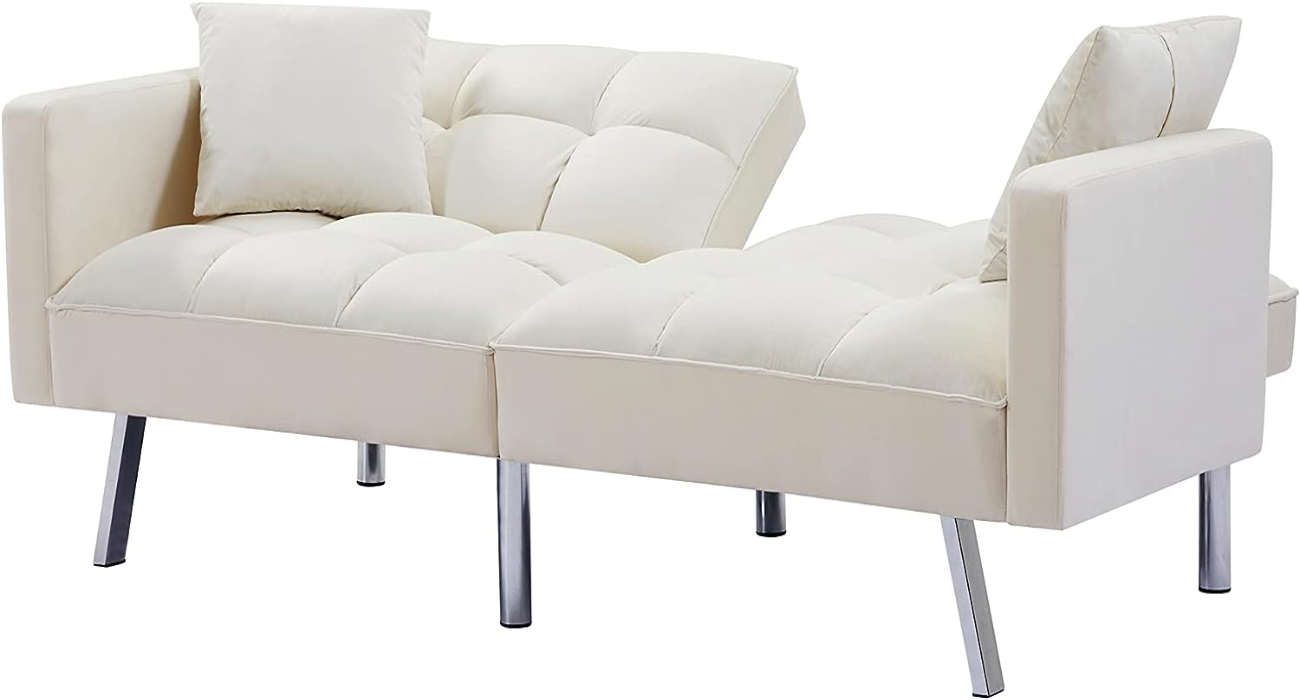 This comfortable sleeper sofa is a perfect blend of modern design and convenient functionality. With an adjustable seat, you can customize the angle to your preference, ensuring uninterrupted comfort during your bonding moments. It offers flexibility in seating options. Use it as a sofa, bed, or recliner, thanks to the split back fold-down backrest.
Crafted with a solid wood frame supported by durable metal mechanisms, this sofa features a clean-lined silhouette with an angled backrest, tight square arms, and stylish metal legs. The tailored velvet upholstery adds a touch of elegance to any space. Perfect for studios, apartments, and offices, this convertible sofa bed is a space-saving solution that provides the utmost comfort to your guests.
This reversible sectional sofa sleeper is the perfect solution for providing flexible sleeping space for your guests. It effortlessly transitions into a comfortable sleeper sofa, ensuring a convenient resting spot. Designed with both style and functionality in mind, this sectional features a reversible design, allowing you to arrange it according to your preference.
The decorative metal nails add a touch of sophistication, while the solid wood and plastic legs provide sturdy support. Crafted with comfort in mind, the foam-filled seat and tight back cushions offer a plush seating experience. Cleaning is a breeze with a damp cloth and a light, water-based cleaner. Assembly is required, but the process is straightforward and manageable.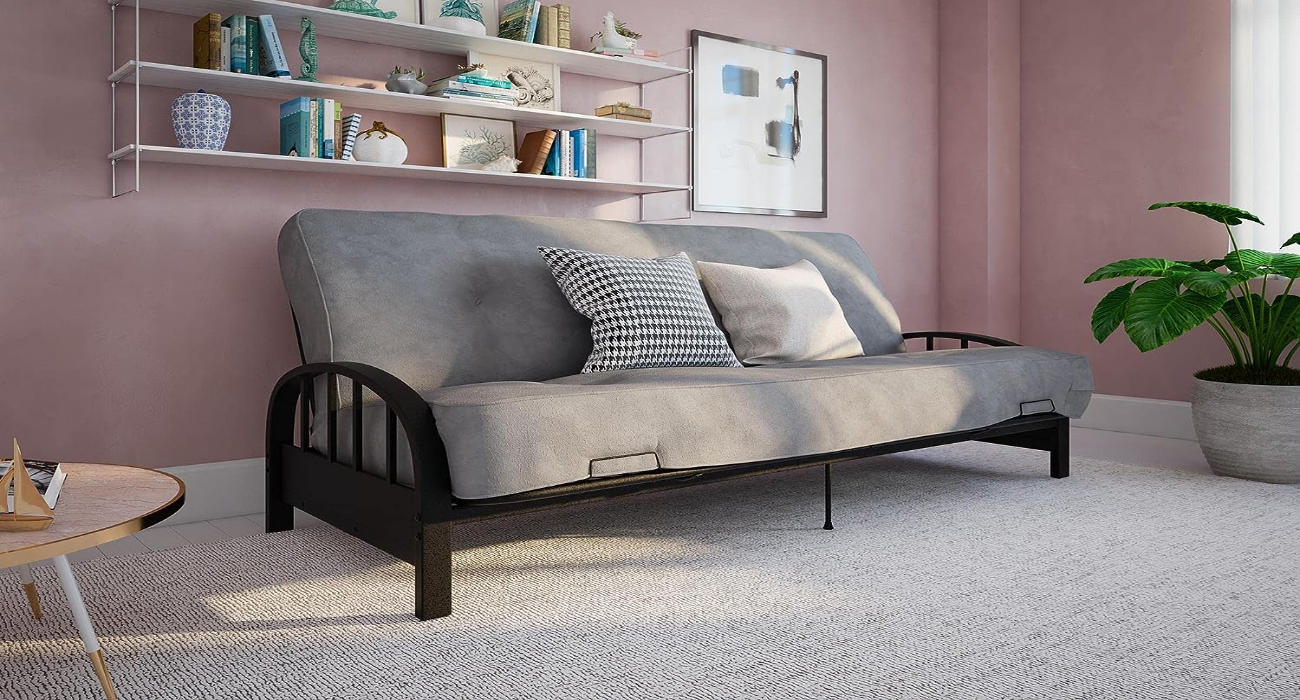 This sleek and versatile reclining metal futon bed, with its modern design and low seating profile, effortlessly complements any décor, adding a touch of contemporary style to your space. This 3-in-1 comfortable sleeper sofa offers ultimate convenience as it easily converts from a comfortable sofa to a relaxing lounger and further transforms into a full-size bed for a restful night's sleep.
The included retainer clips prevent the mattress from sliding, ensuring stability and comfort. Built with a sturdy metal frame, this futon bed guarantees optimal support and durability. It accommodates a standard-size futon mattress (sold separately), allowing you to personalize your level of comfort. Assembly is a breeze with easy-to-follow instructions.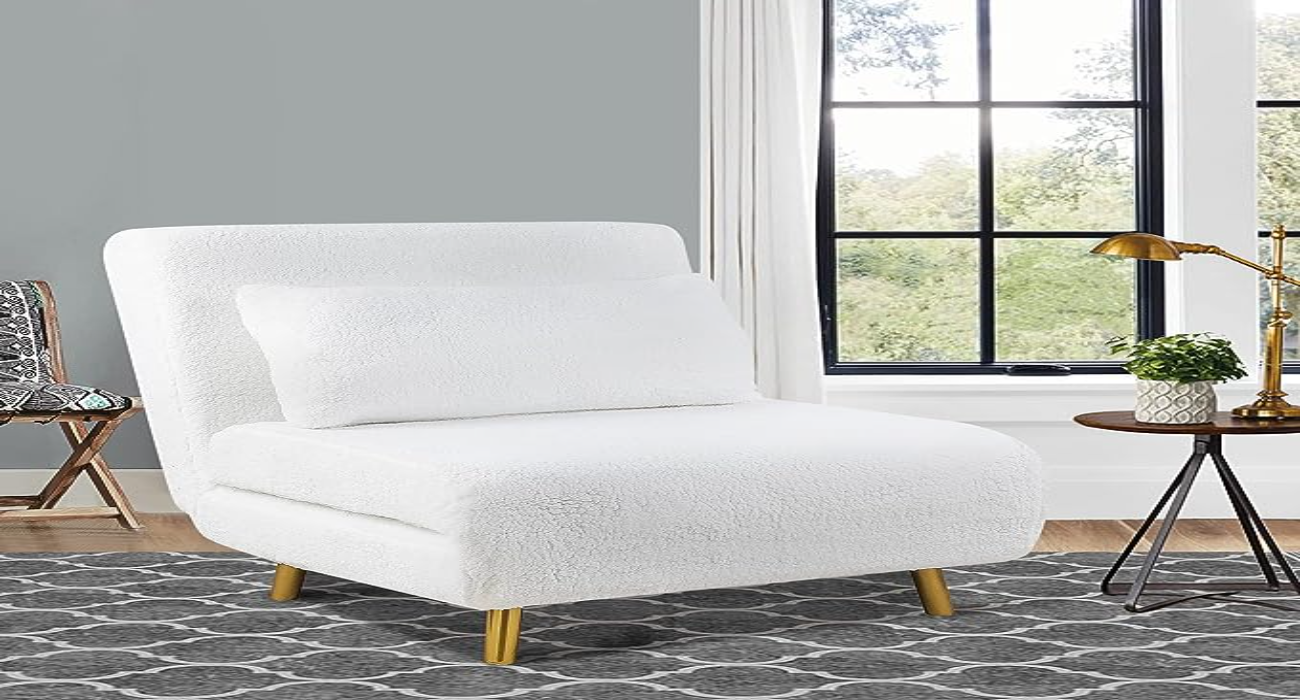 The ultimate solution for small spaces and tight quarters – is a convertible sofa bed chair. Crafted with a sturdy metal frame and filled with plush foam supported by sinuous springs, this chair offers both comfort and durability. The easy-to-care-for polyester fabric and gold-painted metal legs add a touch of style to any of your rooms.
Designed for relaxation, the sofa bed and pillow are filled with soft, high-density foam, ensuring a cozy and inviting seating experience. Whether you're streaming movies or catching up on social media, this versatile chair offers four convertible positions – a chair, 2 variations of a lounger, and a single bed, effortlessly transforming in whatever way you want to unwind for the day!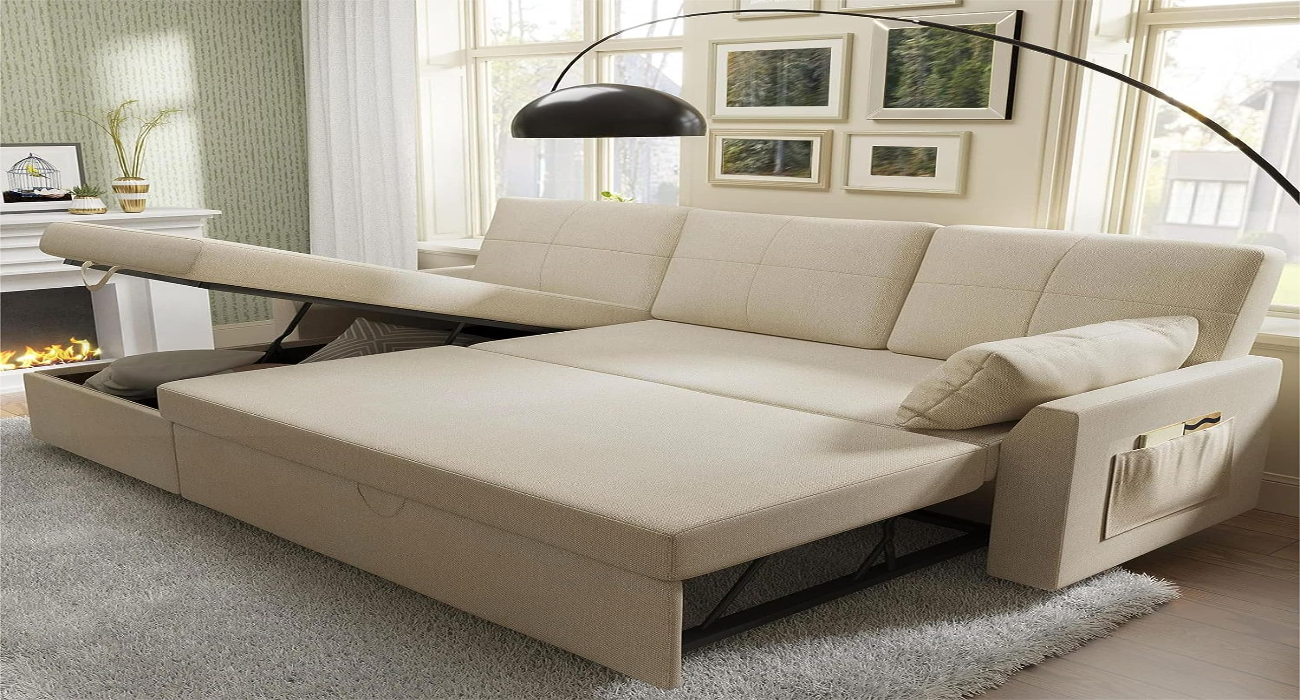 This most comfortable sleeper sofa for your living space – this sofa bed with storage may not be a budget buy but is still worth every buck. A durable and sturdy pull-out bed effortlessly transforms any room into a bedroom or guest room. The firm frame reliable support for years to come. Experience maximum comfort with the thickened cushion and arm cushion design.
The high-elasticity sponge cushion and fluffy back cushion cradle your body, relieving spinal compression and providing support at the shoulders, hips, and lower back. Maximize your storage space with the built-in storage chaise. Indulge in the luxurious feel of the fuzzy chenille fabric. Say goodbye to rough faux linen sofas and embrace the pillowy touch and soft, fuzzy texture.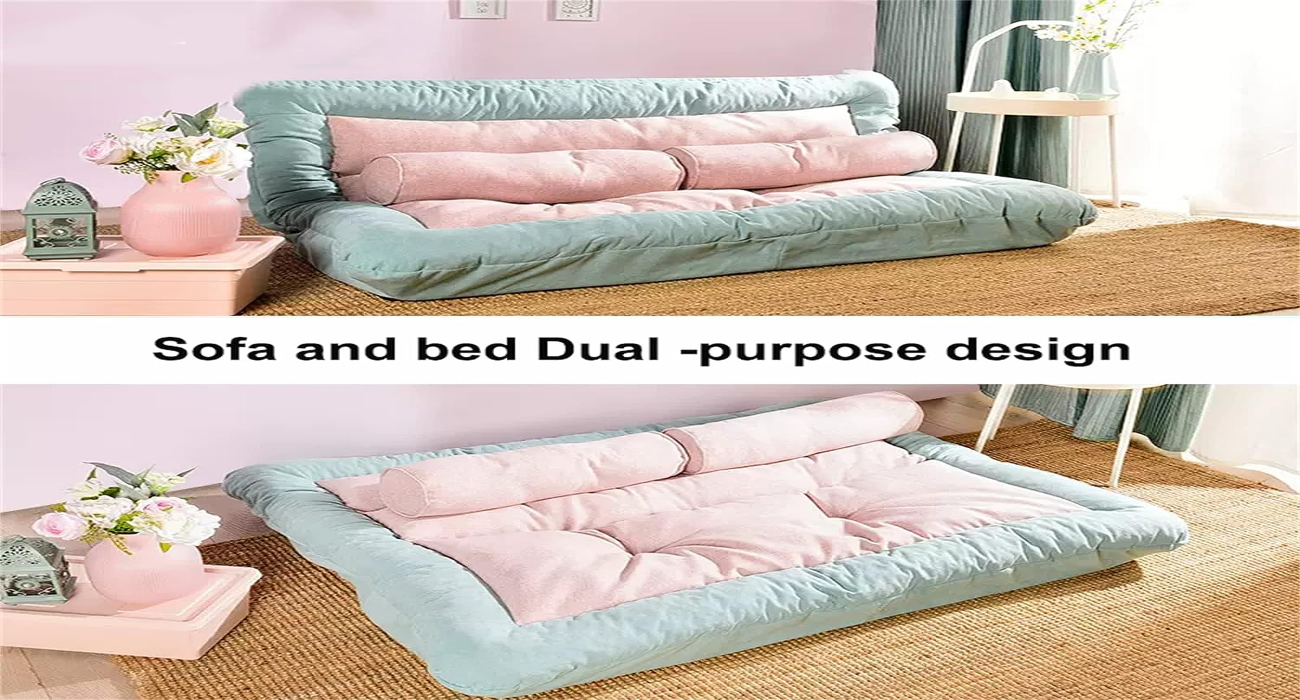 The perfect addition to your living space! Crafted with high-quality materials, the soft and composite fabric surface enhances the elegance of any room. Experience maximum comfort with the high-density foam mattress, providing a cozy and environmentally friendly resting place. With its 6 adjustable positions, this ergonomically designed sofa bed allows you to find the perfect angle for relaxation, from 90° to 180°.
Transform it from a comfortable 2-seater sofa to a spacious double bed effortlessly. Its versatile folding design makes it ideal for small spaces, serving as a sleeping mattress, a cozy chair, or a convenient guest bed. The lightweight design allows for easy lifting and folding, making it convenient to store when not in use.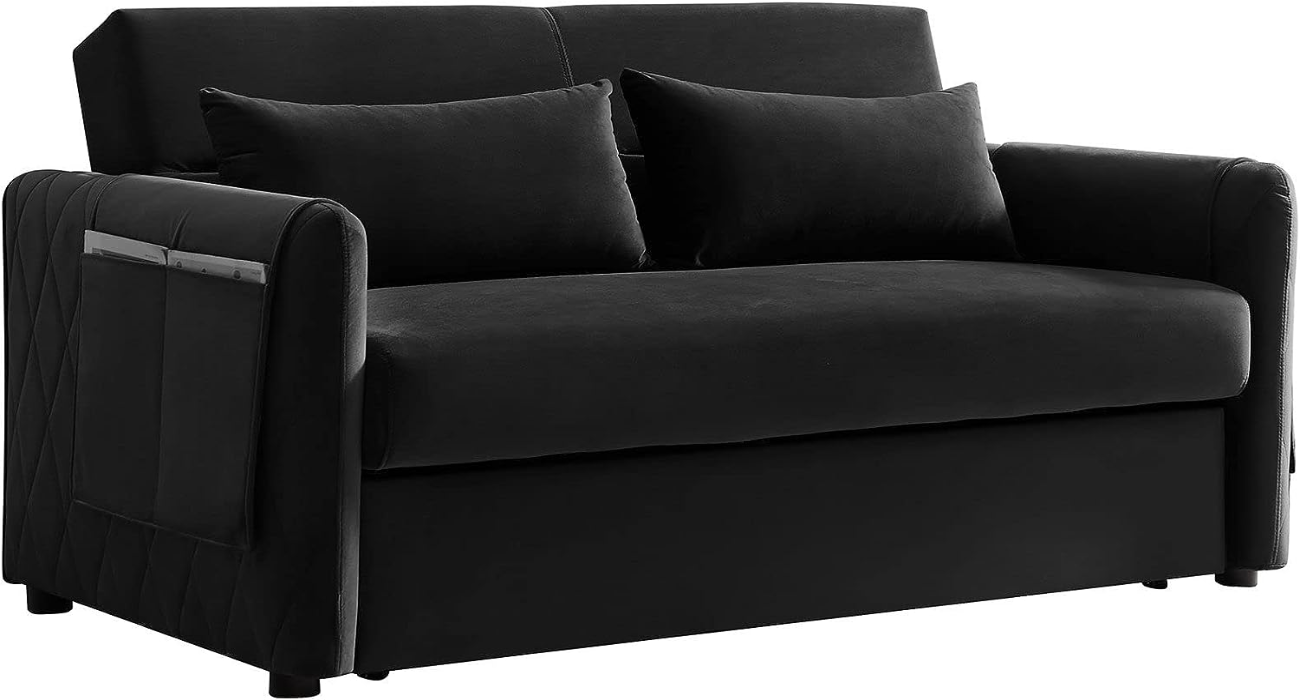 This comfortable sleeper sofa in velvet effortlessly transforms into a bed, providing a cozy space for relaxation. The adjustable backrest offers three different incline levels, allowing you to find the perfect position for reading, entertaining, or sleeping. Experience ultimate comfort with the soft and skin-friendly velvet fabric.
The sturdy wood frame and strong legs provide optimal support and durability. With its refined details and elegant design, this sofa seamlessly blends into any room, adding a touch of natural beauty. Two complementary pillows are included as a gift, enhancing the overall aesthetic of your modern home. It's an ideal choice for small rooms, dorms, apartments, studios, and offices.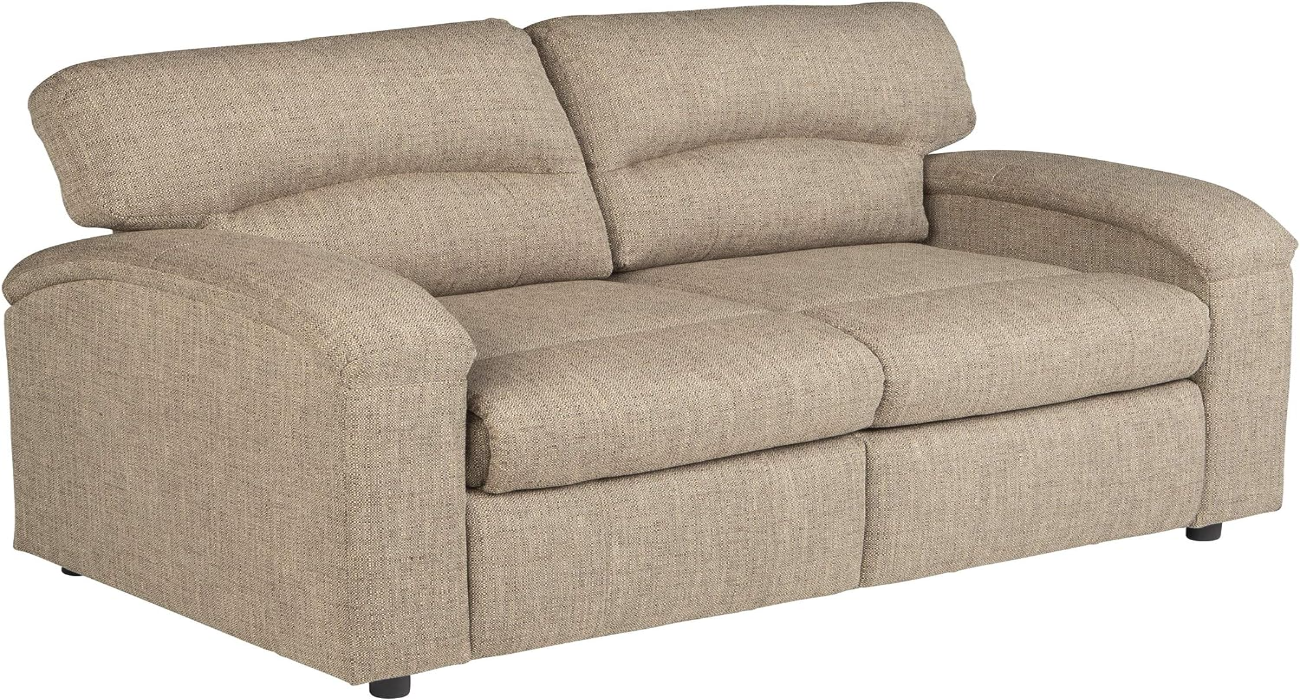 This tri-fold sofa sleeper bed offers the ultimate solution for comfort and convenience for your compact house. Say goodbye to uncomfortable hide-a-bed mattresses and easily damaged air mattresses. This comfortable sleeper sofa effortlessly converts into a supportive sleep surface with high-density foam in just four simple steps. Your family and guests will actually look forward to sleeping on the couch!
Not only does it offer exceptional comfort, but it also adds style and elegance to your house with its modern contrast stitching. Designed for low maintenance and easy cleaning, it's perfect for those with pets and kids. With its lightweight aluminum construction, minimal assembly is required.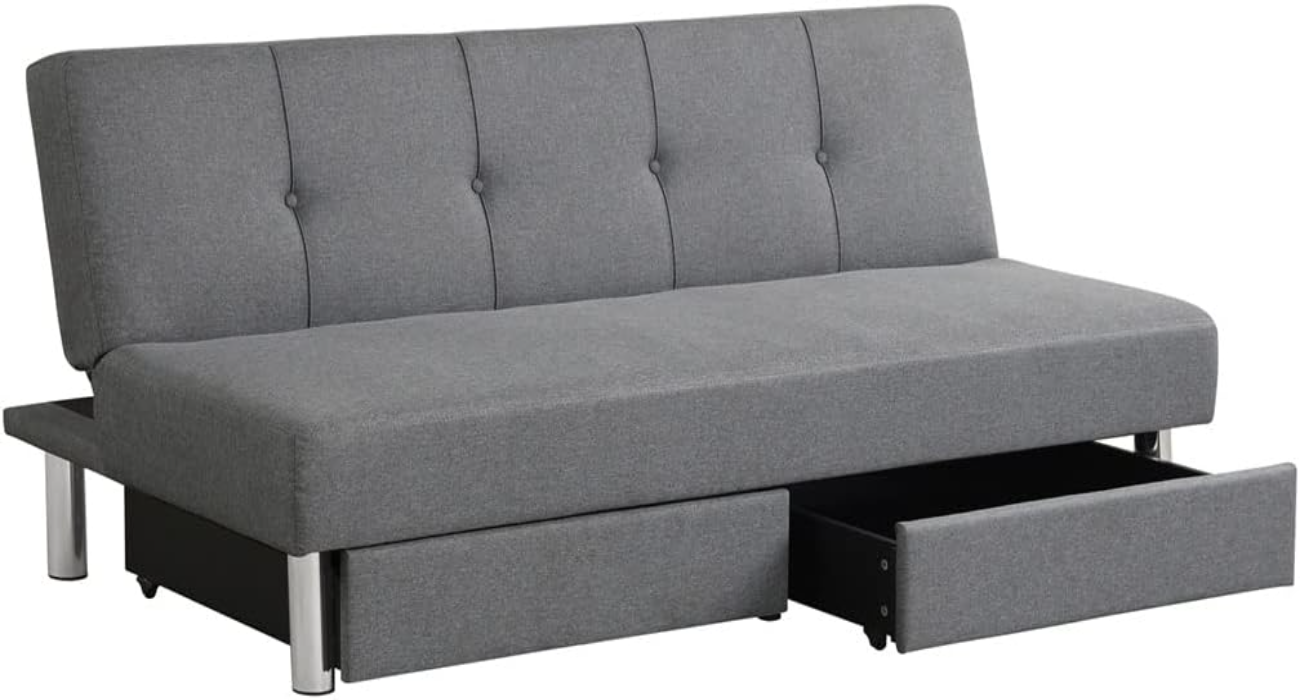 Although a little expensive, this comfortable sleeper sofa comes with ample storage making it ideal for small houses. It offers customizable comfort with its 3 adjustable backrest angles so you can chill any way you want. Whether you're watching TV, reading books, or simply taking a rest, find your favorite position effortlessly.
But that's not all – this sofa bed also features large capacity drawers, providing convenient storage for your belongings. With the added convenience of wheels, the drawers can be effortlessly removed, allowing for easy cleaning of the underneath space. Designed with your comfort in mind, it boasts an ergonomic design, breathable linen fabric, and plush sponge padding. Experience a truly cozy and enjoyable seating and sleeping experience.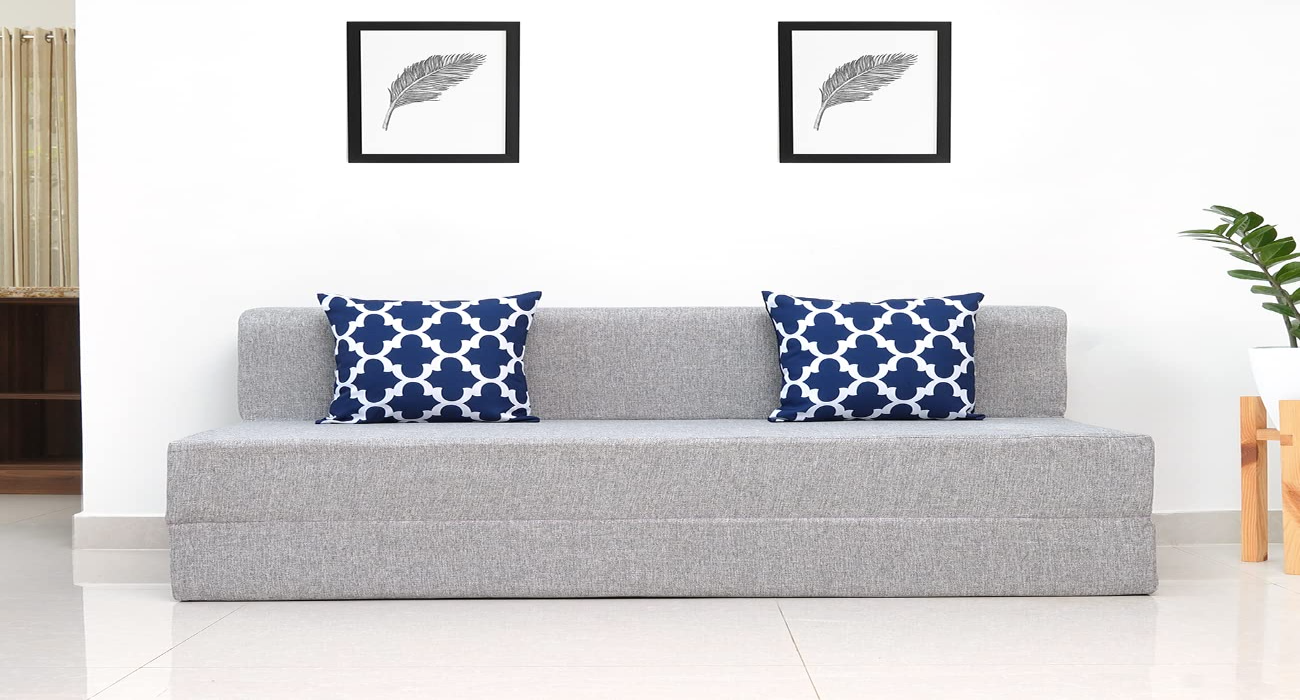 Ultimate space-saving comfortable sleeper sofa it offers the perfect blend of functionality and style. Crafted with premium breathable cotton and linen fabric, this sofa bed offers durability and a fashionable look. The high-density memory foam provides exceptional support, ensuring you won't "sink in" or feel the hard floor.
Designed with ergonomics in mind, this sofa bed perfectly contours to your body, while the included pillow offers excellent support allowing you to relax for extended periods without feeling tired. Its multipurpose design allows for easy conversion between a floor couch, chaise lounge, mattress, and footrest. The foldable and lightweight mattress makes it easy to move, store, and carry, making it an excellent choice for small spaces.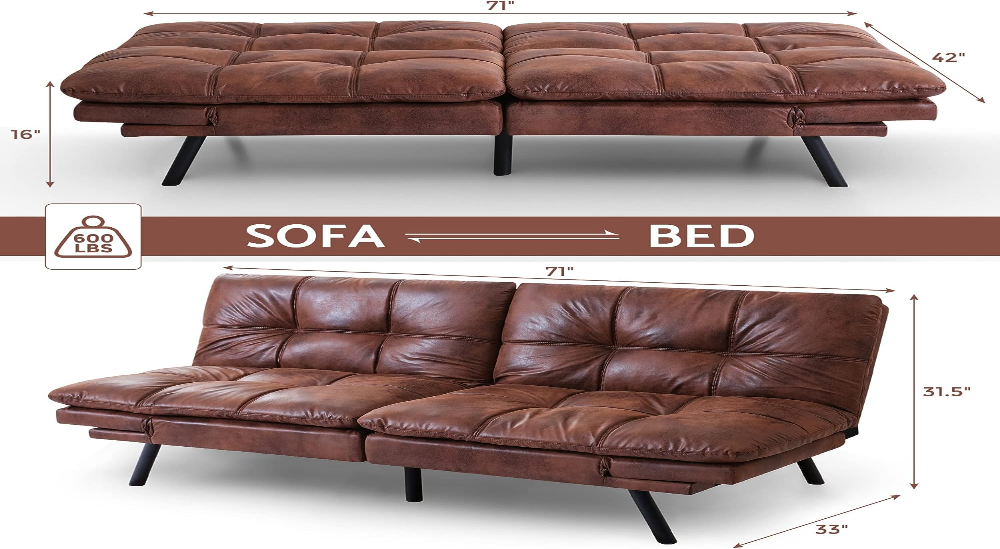 Want something in leather without the hassle that comes with true leather? This faux leather futon sofa bed is the ultimate mix of cozy and trendy. This futon adds a contemporary touch to any living space with its clean silhouette, split backrest, and tapered legs. The adjustable armrests offer four positions, serving as armrests, pillows, footrests, or accommodating extra guests.
Crafted with a solid wood frame, this futon ensures long-term durability. Ideal for small spaces, it provides a versatile solution for unexpected guests. The thickened cushion, filled with a high-density sponge, offers exceptional comfort and snugness. Experience the resilience and long-lasting quality of this futon, thanks to the evenly stressed coil spring construction.
Conclusion
When considering the purchase of a sleeper sofa or sofa bed, it is important to assess your needs and preferences carefully. Take into account the various types of sleeper sofa beds available, the materials used in their construction, their capacity to accommodate the desired number of individuals, and the space they will occupy or create in your room.
The most comfortable sleeper sofa is the one that makes your family and guests feel like they are in the coziest house that welcomes people with open arms and a big heart.
Comment down below which sofa you find the most interesting!