Are you ready to make your wooden furniture or floors shine like never before? We have got you covered! In this article, we will walk you through the process of applying polyurethane. Polyurethane is a fancy name for a protective coating. The process is quite simple, and the results are spectacular!
Now, before we dive into the step-by-step process, let's take a quick look at what polyurethane wood finish actually is. Polyurethane is a special kind of coating that comes in two types: oil-based polyurethane and water-based polyurethane.
Oil-based polyurethane takes longer to dry and has a stronger odor, while water-based polyurethane drives faster and is much easier to work with. In this article, we will focus on the water-based type since it's more user-friendly and great for beginners like us.
So are you ready to transform your word into a thing of beauty? Let's get started!
Understanding Polyurethane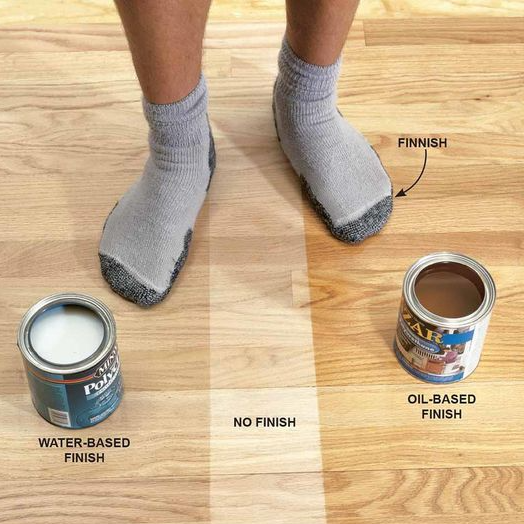 Before we jump right into the application process, it's important to know a little more about polyurethane wood finish. Let us think of it as getting to know your trusty sidekick before beginning an adventure.
Polyurethane is like a magical potion for your wood. It is a protective coating that helps preserve and elevate its beauty. If you choose to apply polyurethane, then you will not only make your wood look amazing, but you will also shield it from scratches, spells, and the wear and tear of daily life. It's like giving your wood a superpower!
There are two main types of polyurethane oil-based and water-based. Let us take a closer look at each.
1. Oil Based Polyurethane
This time takes a bit longer to dry, usually around 24 hours, and has a strong smell. Although it requires more patience, it provides a durable finish that brings out the wood's richness and depth. If you don't mind the weight and prefer a traditional, amber-toned look, then an oil-based polyurethane wood finish might be your go-to choice.
2. Water Based Polyurethane
Water-based polyurethane dries much faster than its oil-based counterpart. It usually dries within a couple of hours. It is also way less smelly, making it more pleasant to work with. Plus, it's clear and won't change the color of your wood. This makes it perfect for maintaining a natural appearance. It is the ideal option for beginners and those who want a quick and easy application process.
In this guide, we will be using water-based polyurethane, so you can enjoy the benefits of a beautiful finish without the long wait or strong odors. Are you ready to move on? Let us roll up our sleeves and get our wood ready for its magical makeover.
Preparing for Polyurethane Application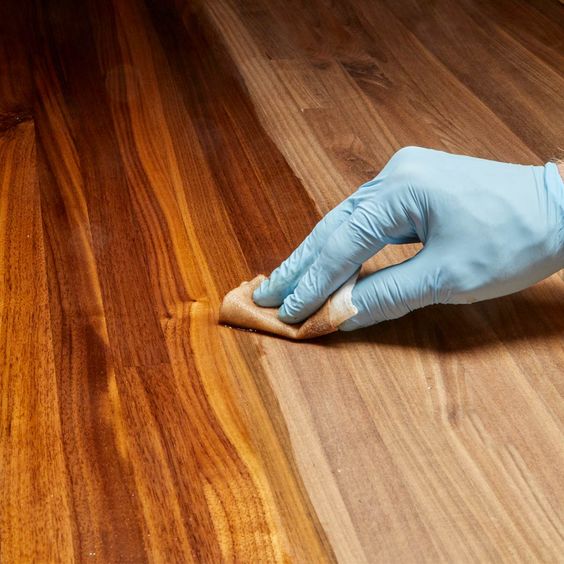 Before we head to the exciting part of applying polyurethane, we need to make sure we are prepared. Here's what you will need:
Sandpaper (180-220 grit): This will help us smoothen the wood surface, ensuring a better finish.
Tack cloth or lint-free rags: These are handy for wiping away dust and particles that could affect our beautiful finish.
Paintbrush or foam application: We will use these to apply the polyurethane smoothly and evenly.
Stir stick: This nifty tool will help us mix the polyurethane before we get started.
Polyurethane: Of course, we can't forget the star of the show! Grab a can of water-based polyurethane from your local hardware store. You must make sure it's the right type for your project.
Now that we have gathered all the materials let us prepare our workspace. We want to make sure that we have a well-ventilated area to work in, so open up those windows or use a fan to get some fresh air circulating. It is also a good idea to cover any nearby surfaces with a drop cloth or plastic sheet to protect them from any accidental spills or drips.
Okay, so let's move on to prepping a wood surface. You must remember that a little prep work goes a long way in ensuring a fantastic end result.
1. Clean the Wood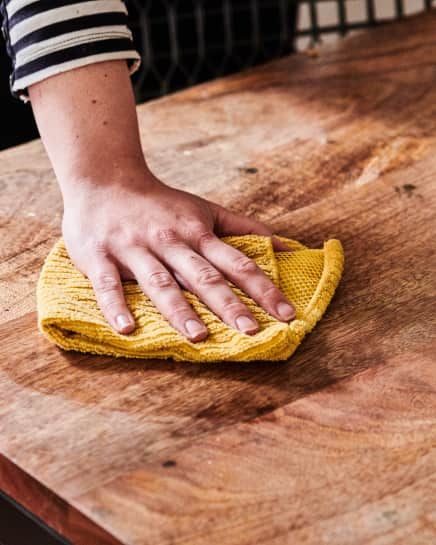 We want to start with a clean slate, so grab a mild detergent and mix it with water. Using a sponge or cloth, gently clean the wood, removing any dirt, dust, or grease. Once you are done, rinse off any soap residue and allow the wood to dry completely.
2. Sanding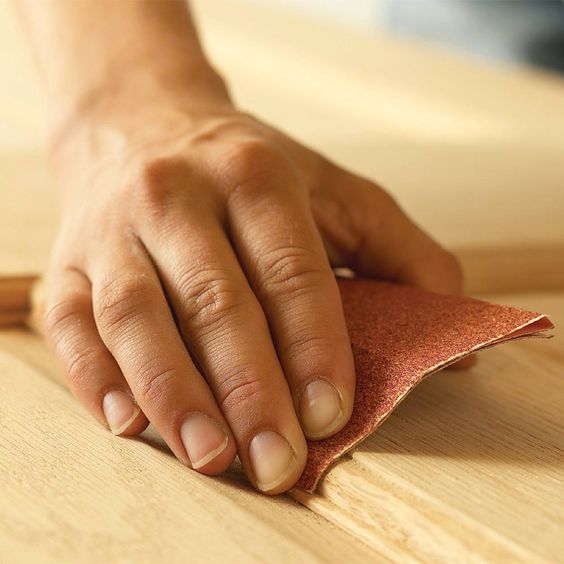 It's time to give our wood a smooth surface for the polyurethane to adhere to. You can take your sandpaper and start sanding the wood gently, and even only. You must follow the grain of the wood, using long, smooth strokes. We don't want to press too hard, just enough to remove any roughness or imperfections. Once you are done, wipe away the sanding dust with a tack cloth or a lint-free rag.
Now that our workspace is ready and the wood is trapped, it's time for the fun part, which is applying polyurethane wood finish!
Applying Polyurethane
Applying polyurethane might sound a bit intimidating but trust me, it is easier than you think! You just have to follow these simple steps, and you will be on your way to achieving a beautiful finish:
1. Open the Can and Stir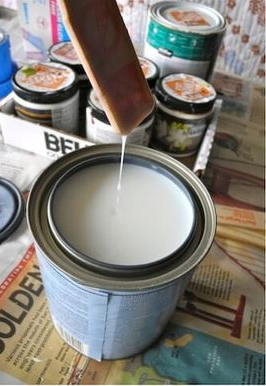 Pop open the can of polyurethane and grab your trusty stir stick. Now give the polyurethane a good stir to make sure all the ingredients are well mixed. This ensures and even finishes and maximizes the protective qualities of the coating.
2. Applying the First Coat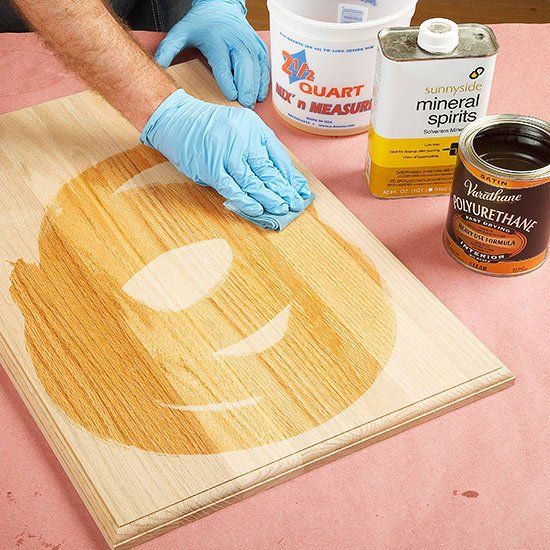 Dip your paintbrush or foam applicator into the polyurethane, but make sure to let any exes trip off. We want a thin coat for the best results. Now start applying the polyurethane in long, even strokes following the grain of the wood. You must work in small sections, covering one manageable area at a time. You should remember that less is more, so avoid excessive brushing or overlapping strokes. This will help you achieve a smooth, streak-free finish.
3. Let it Dry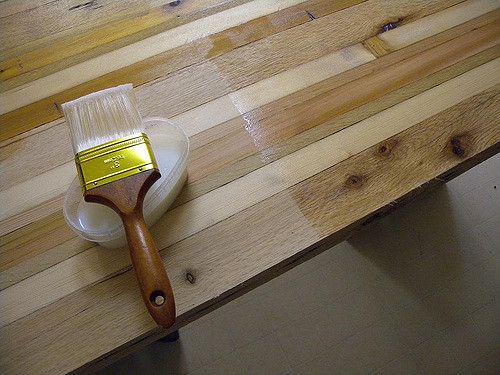 Patience is key here. You should check the product label for the recommended drying time. We want to give the polyurethane enough time to dry and cure properly. During this time, make sure you have good ventilation in the room. You must avoid touching or disturbing the coated surface to prevent any unwanted marks or smudges.
Congratulations! You have successfully applied the first coat of polyurethane. But we are not done just yet. To achieve a durable and attractive finish, we need to apply multiple coats.
4. Sanding Between Coats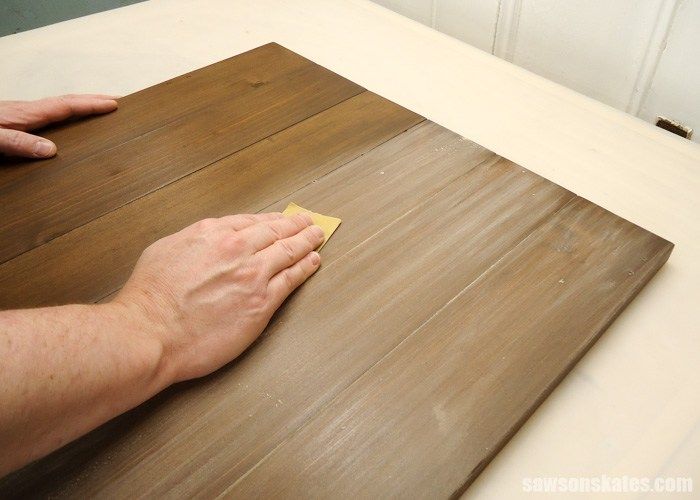 Once the first coat has dried, it is time to sand the surface lightly. This step helps create a smooth surface for the next coat of polyurethane to adhere to. You can take your fine-grit sandpaper, around 220-320 grit, and gently sand the surface in the direction of the wood grain. You must be gentle and use light pressure. The goal here is to smooth out any imperfections or razed fibers. After sanding, wipe away the sanding dust with a tack cloth or a lint-free rag.
5. Apply Additional Coats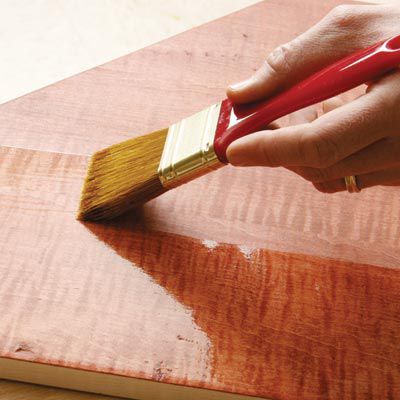 Now that we have a smooth surface, it's time to add more coats of polyurethane for extra protection and a fine finish. Follow the steps for each additional coat:
Give the polyurethane wood finish can another good stir to ensure it's well mixed.
Apply the polyurethane using the same technique as before that is thin, even strokes along the grain, working in small sections.
You must allow each coat to dry fully before applying the next one. You can refer to the product label for the recommended drying time. Also, you must be patient and resist the temptation to rush this step. It's worth it!
Remember to sand between each coat to maintain a smooth surface lightly. This helps the subsequent coats adhere better and gives us that flawless finish we are aiming for. After sanding, wipe away any sanding dust before applying the next coat.
6. Final Coat and Finishing Touches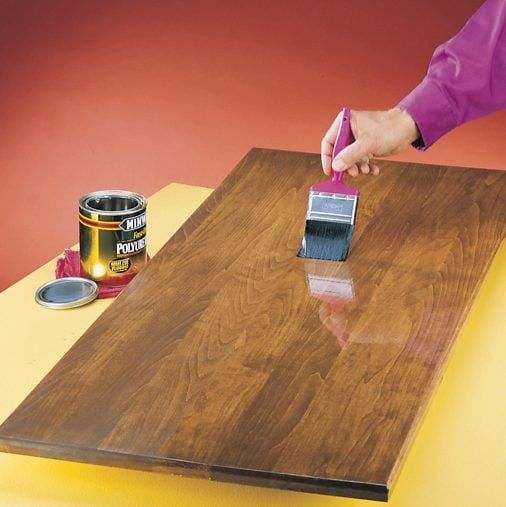 After you apply multiple coats of polyurethane wood finish and allow them to dry, it's time for the final coat. Apply the last coat of polyurethane using the same technique as before, ensuring a thin and even application. This final coat will give your wood that extra pop and protection.
Final Touches and Cleanup
You are almost there! Just a few more steps to go before you can step back and admire our hard work. Here's what you need to do:
1. Inspect the Final Coat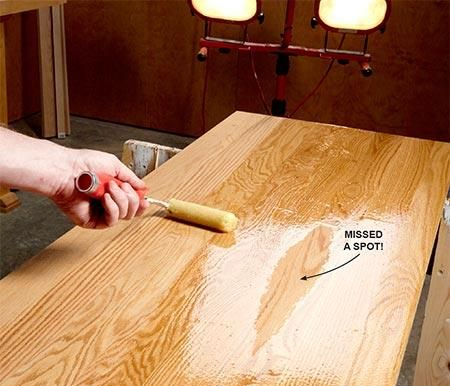 Once the last coat of polyurethane wood finish has dried, take a close look at the surface. You should check for any imperfections, unevenness, or spots that might need a little extra attention. If you spot any areas that need improvement, don't worry! We can easily fix them.
Lightly sand the problematic areas using fine-grit sandpaper.
Wipe away the sanding dust with a tack of cloth or a lint-free rag.
Apply a final coat of polyurethane to those spots for a flawless finish.
2. Properly Dispose of Used Materials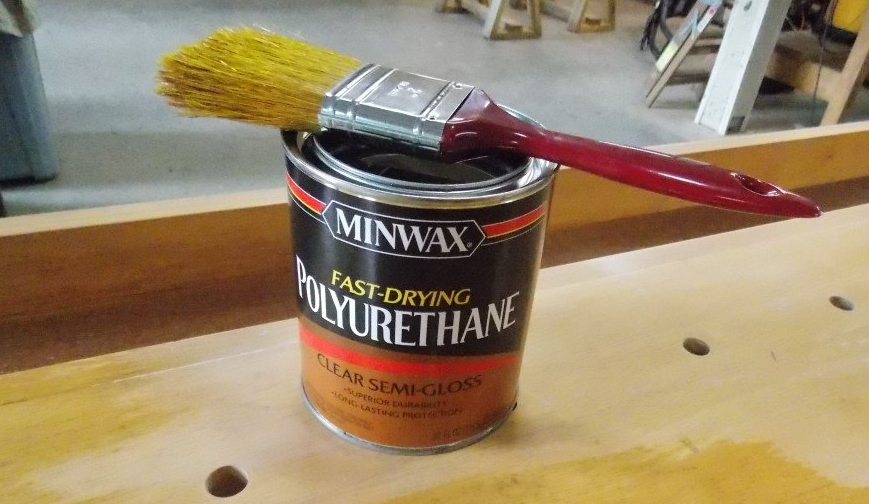 Let us make sure we clean up responsibly. You must check your local regulations for proper disposal of any used materials, such as empty polyurethane cans, paintbrushes, or applicators, as we believe that keeping our environment clean and safe is important.
3. Clean Your Brushes and Applicators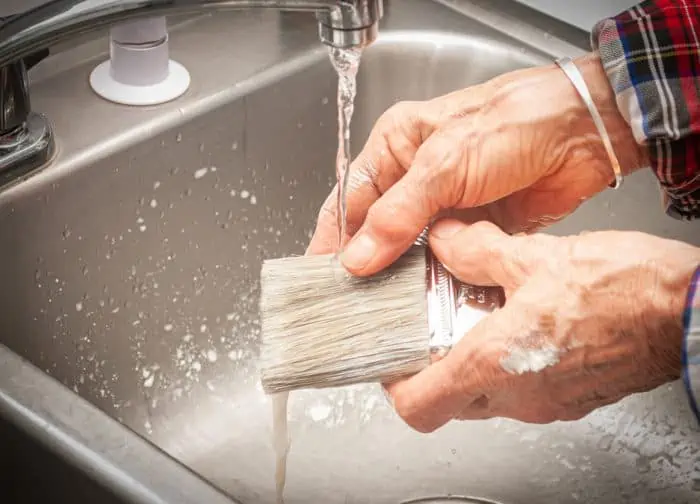 If you have used water-based polyurethane, you can clean your brushes and applicators with soap and water. You can simply rinse them thoroughly until the water runs clear. If you have used an oil-based polyurethane wood finish, you will need to clean your brushes and applicators with mineral spirits containers for proper usage and disposal.
And voila! You have successfully applied polyurethane to your wood, transforming it into a thing of attraction. Now you can take a step back and admire your hard work with a glossy finish; the elevated wood grain is truly impressive!
Now you have the knowledge and confidence to take on future polyurethane wood finishing projects. With polyurethane, you can create a professional, looking finish on any wood surface, regardless of a dining table, a hardwood floor, or a wooden cabinet.
Tips and Tricks for a Flawless Finish
Now that you have mastered the basics of applying polyurethane let's learn some additional tips and tricks that will take your wood finishing skills to the next level. These insights will help you achieve a flawless and beautiful finish and troubleshoot any common issues that may arise. Let's get started.
1. Stir, Don't Shake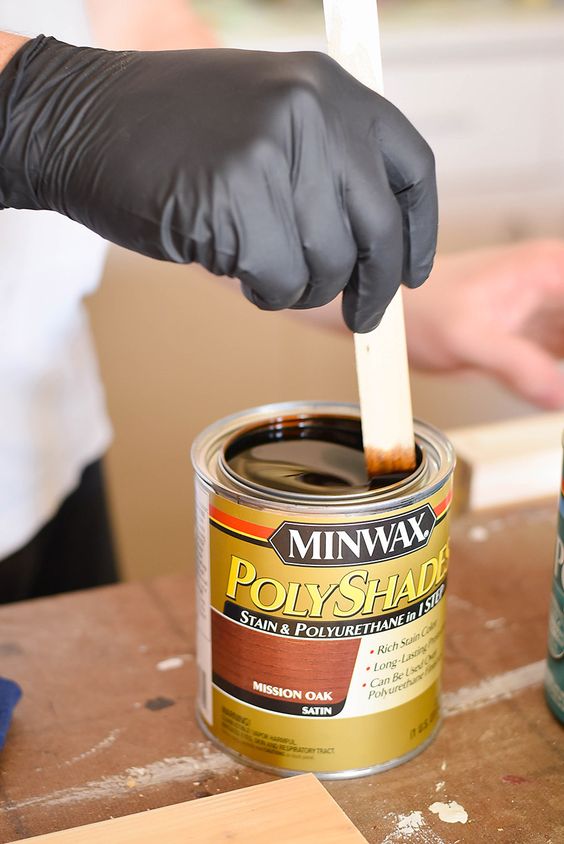 When it comes to mixing your polyurethane, avoid shaking the can vigorously. This can introduce air bubbles into the mixture, which can result iLS