Are you planning to turn your bedroom into a boho-themed bedroom? You can get plenty of options on the internet, but when it comes to affordability, they can leave you in question. No, worries, we got you covered.
Let's discuss some affordable ways to turn your boring simple room into a chic boho bedroom. Whenever we think about a bedroom transformation, the first thing that comes to mind is the bed and headboard. Getting boho bedding can be expensive, so it is a smart idea to get headboards and bedding separately.
So this way, you can transform your room the way you dreamed about it, and that too under budget. First, let us understand the boho theme and its essential elements.
What is the Boho Theme?
Boho is the abbreviation used for 'Bohemian Homeless' who were nomads from the Bohemian region and had a style different from the rest of the society. The boho style was very trendy in the 60s and 70s but faded around the 80s. Bohemian decor styling has gained popularity recently, with lots of people taking an interest.
Boho is a bridge between the Indian and Western styles. Nowadays, all we can hear about is people talking about boho dresses, fashion, and boho weddings.
So, there is no doubt why many people prefer their rooms to turn into boho bedrooms. Boho decor adds an artsy and lively vibe to the space.
If Boho style attracts you and you are planning to turn your bedroom into a boho-themed bedroom, then the key feature is to hunt for the perfect Boho headboards to keep it affordable.
Boho decor calls for a mix of a lot of textures like woven accessories, blankets, little hanging planters, and soft, knitted curtains. They add a bright, airy, and cozy vibe. But the most important is the boho bed and headboard to uplift the complete look.
As the bed is the main element of the bedroom and catches the most attention, it demands a vintage feel. People prefer beds with headboards that are great for providing support to the back while sitting on the bed.
When planning to switch to boho decor under budget, a makeover of the headboard or adding a boho headboard can do wonders.
There are plenty of headboard options available made from different materials and different styles. You can steal the ideas and get them customized for your Bohemian room look.
A Perfect Bohemian Bed
A bed is the foremost important thing when it comes to transforming the bedroom. Low-profile platform beds are the most preferred ones when one plans to go for a Boho theme. The platform beds are close to the floor, so they spread more welcoming vibes as compared to others.
There is a wide variety of bohemian beds you can choose from with different price ranges. The most popular material for the bohemian vibe is rattan and wood, along with wicker and cane.
Some star characteristics of a dream boho bed include the following.
1. Use of Natural Materials
Bohemian style is known for the use of natural materials like wood and rattan. So, if you want a boho bed, get a bed made up of these materials. Along with these, other materials used for the boho touch are cane, wicker, or leather. The warmth and pleasing texture of leather work well in a bohemian bedroom
Look for organic shapes like curvy rattan or carved wood with light-colored solid wood frames.
2. Antique and Vintage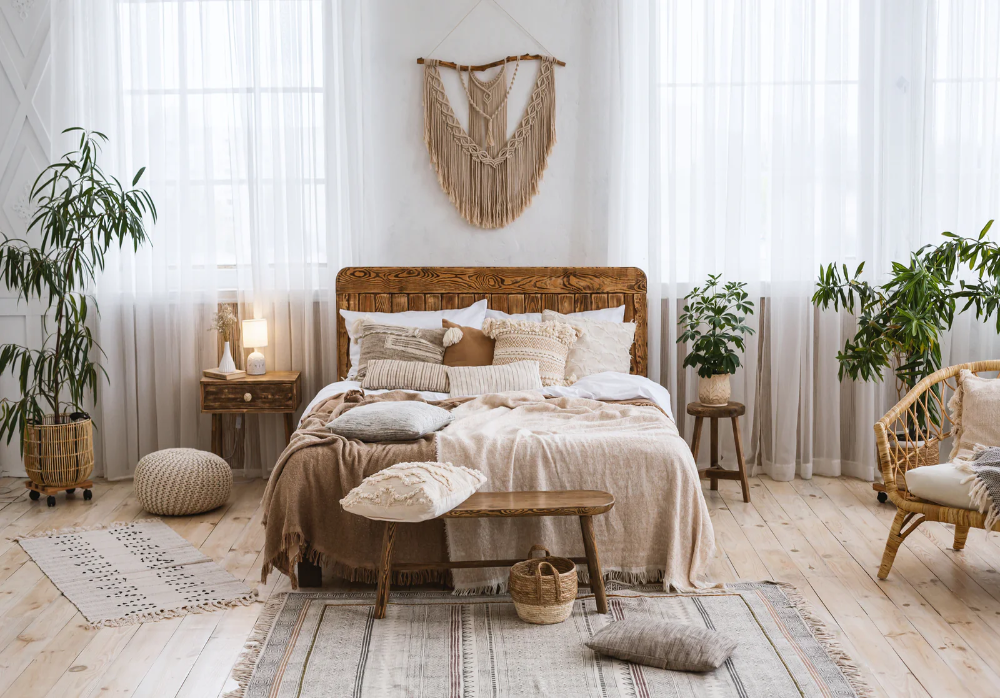 Another option for a boho-themed bedroom is antique and vintage brass bed frames. They are very affordable and scream boho loudly. Getting a complete boho bed is expensive, but giving a boho touch with vintage bed frames is an excellent choice and great addition to your room. Boho is another name for antique and vintage style, so decorating your room with vintage accessories and a headboard is what will turn into a bohemian room.
3. Low-Profile or Platform Beds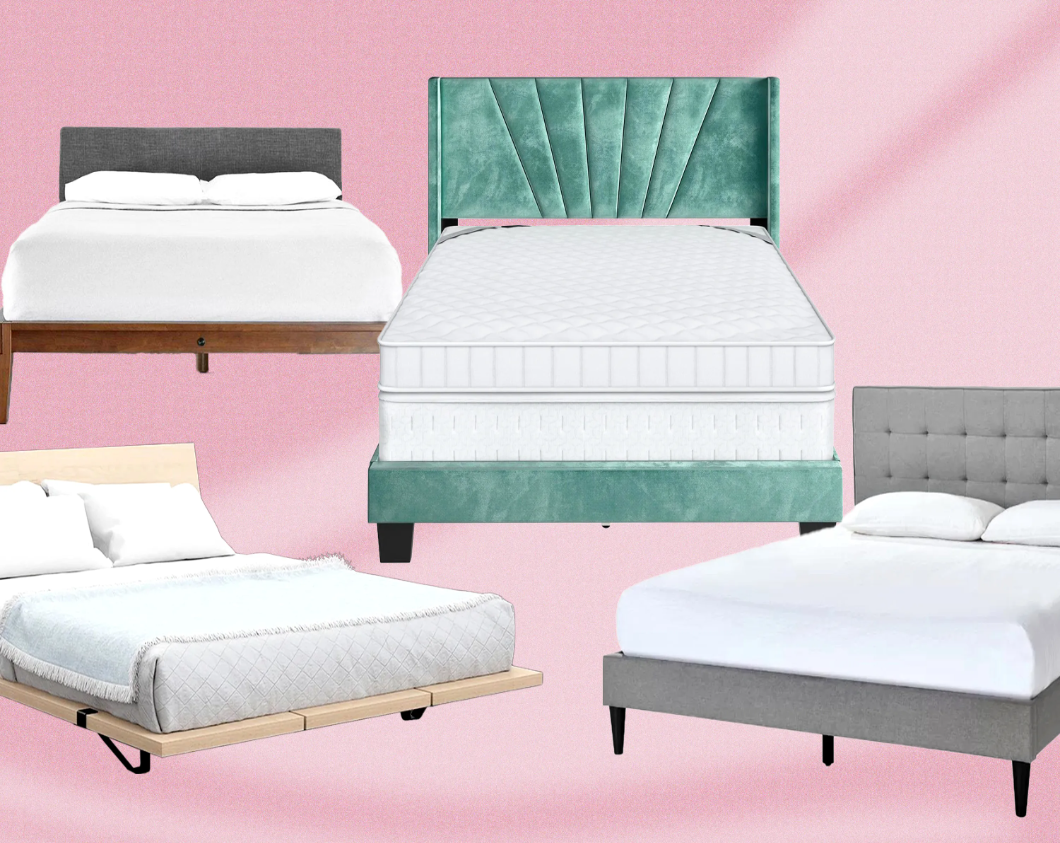 Bohemian nomads were a group of people traveling together with a statement style, so boho calls for warmth and welcoming vibes. So, when one is looking for a boho theme, low-profile beds are preferred.
Platform beds are an excellent option when you are planning to infuse boho themes into your room. Being close to the floor develops a more inviting feeling as compared to a high-rise mattress. They also make the room look bigger and spread cozy vibes making everyone comfortable.
When one decides to give their room a makeover, budget is an essential constraint. But when it is bohemian you decide to go for, there are plenty of options for beds, boho headboards, and accessories. Getting new boho bedding can exceed the budget, so let's look at some affordable options for Boho headboards that can infuse the bohemian theme quite right and are cost-effective.
Budget-Friendly Boho Headboards
The bohemian decor style is all about using natural elements to create a colorful, vintage, and eclectic interior design. Boho Headboards are a great way to elevate the aesthetics of a simple bed and turn around your complete bedroom. Boho-themed beds are expensive; an affordable option is to style up your simple bed with boho headboards.
They come in a wide variety and are truly authentic. Now wondering about affordable boho headboards, don't worry; we got you covered with all the options.
Some boho headboard options you can consider while you look for a chic boho bedroom transformation.
1. Rattan and Cane Beds and Headboards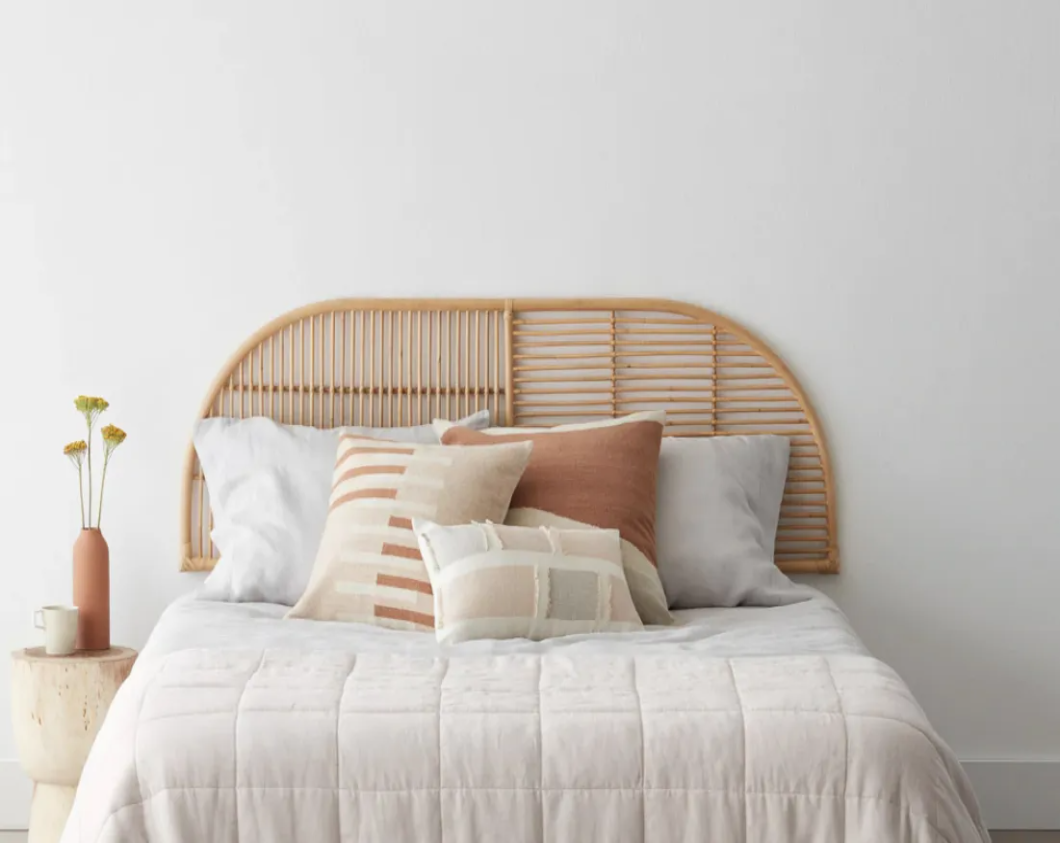 Natural materials such as rattan and cane make a power base for the boho style. There are other materials also considered, like wood, wicker, metal, and leather. But rattan wood is the most popular as they provide a textural effect to the bedroom. Beds and bed headboards with rattan wood are a beautiful base to add shine to your boho bedroom.
Boho headboards made of rattan molded into organic shapes are gaining popularity due to their uniqueness and finished look.
2. Wooden Boho Headboards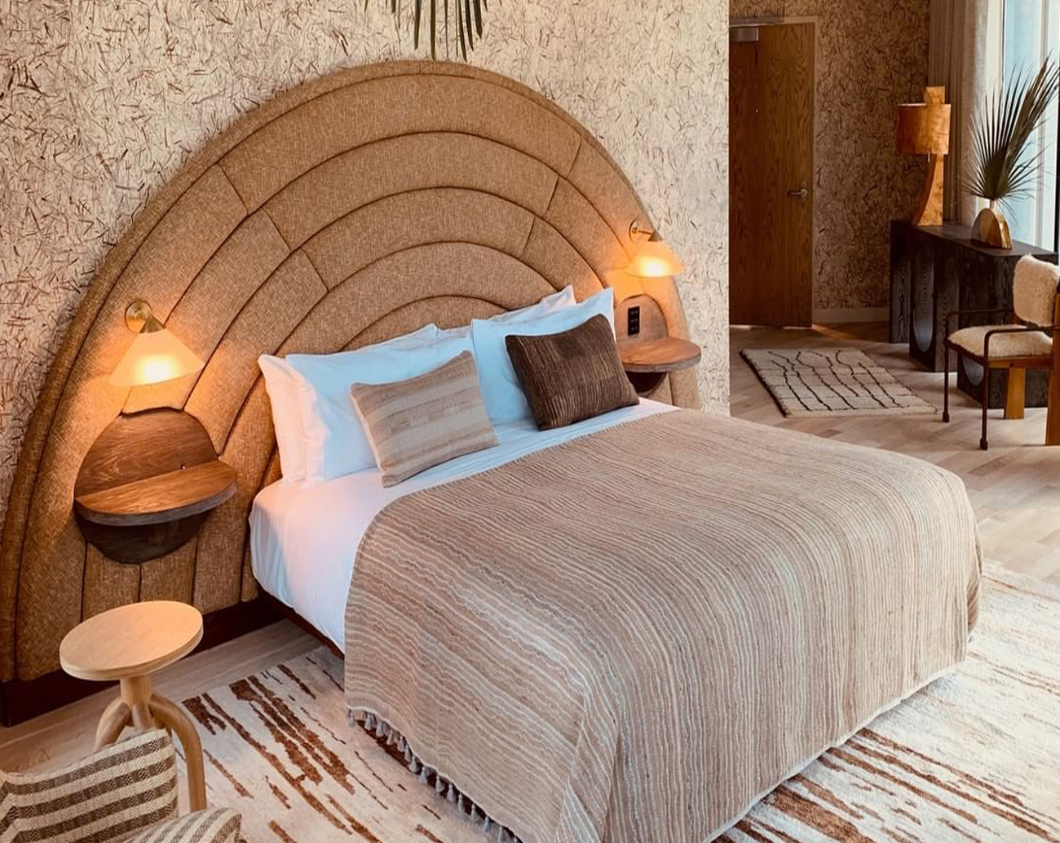 Wooden beds are a go-to for any kind of bedroom, but especially for a boho bedroom, they are most apt due to the warmth they provide people. With a simple bed, a creatively carved headboard is the best affordable pair for a boho mood.
To simplify and ease your search for an affordable boho headboard, you can easily opt for carved decorative wooden panels and hang them behind your bed to give the desired results.
3. Wicker Headboards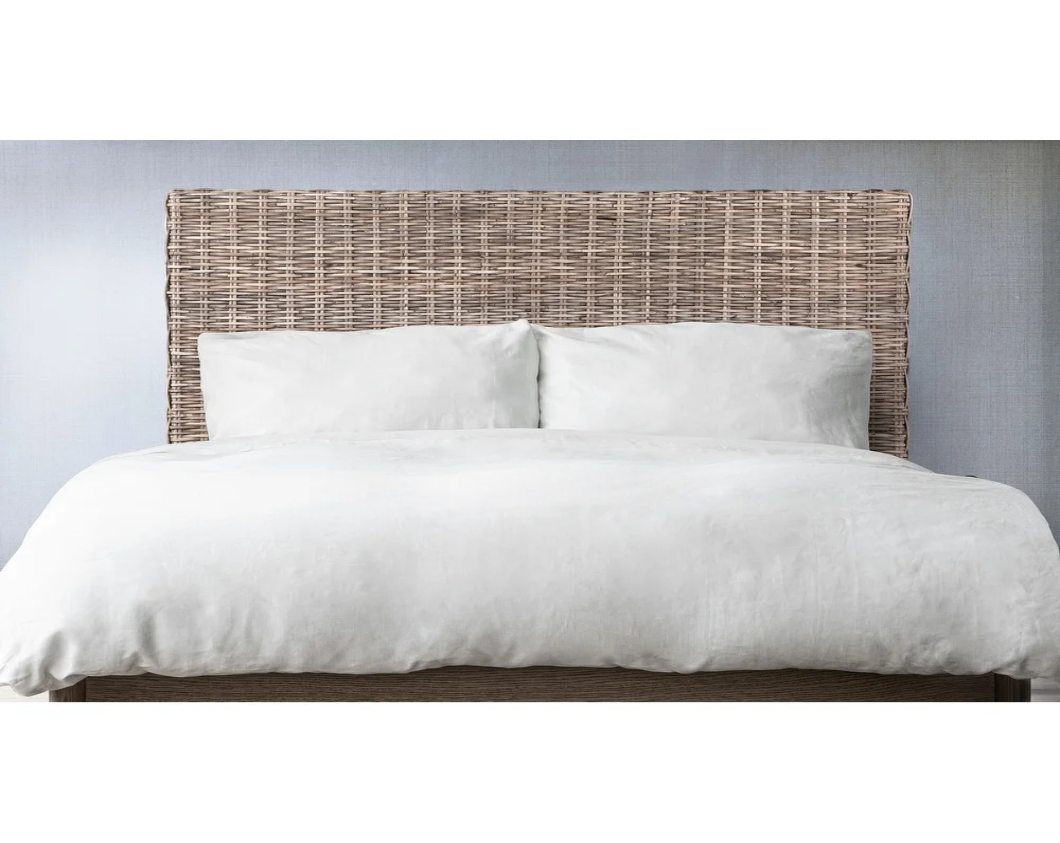 The wicker that we have all seen is mainly the white-painted wicker furniture of our grandma's garden. The painted wicker cannot match the vibe of the natural wicker.
The Boho theme screams for natural wood shade wicker headboards that have a pale, neutral wood color. Natural wicker headboards with soft curves create the perfect tropical boho vibe. The natural touch and warmth of the wicker send a welcoming and beautiful vibe to your space.
4. Leather Headboards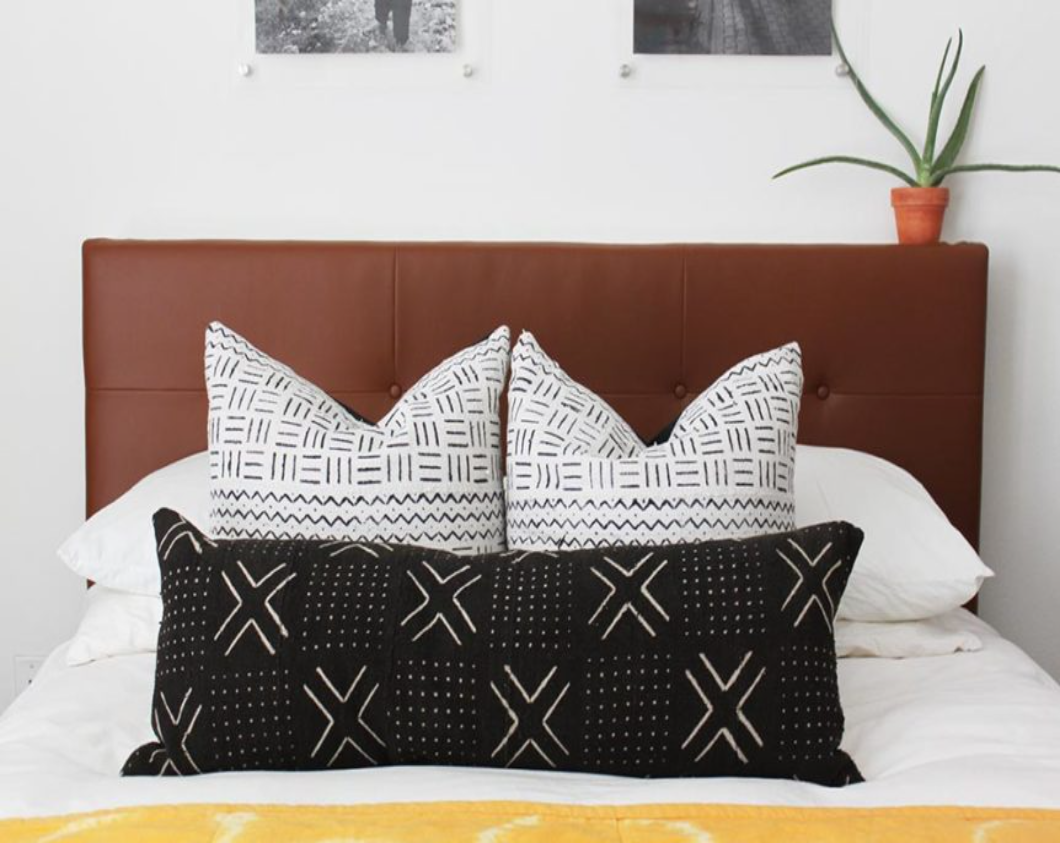 The warmth and pleasing texture of leather goes quite well for a bohemian-style makeover. Now, when you start your hunt for leather headboards, you will find faux leather and genuine leather. Faux leather is a bit more affordable when compared to real leather and can end your hunt for an affordable boho headboard. But if you want a genuine leather headboard for your boho bedroom, then that will make a great choice.
Stylish Boho Headboards
As we stated above, boho is all about antiques, different shapes made up of different materials. The textures of the headboards add a unique touch to the room and uplift the boho decor. Let's see the different kinds of headboards one can choose from.
1. Go for a Geometric frame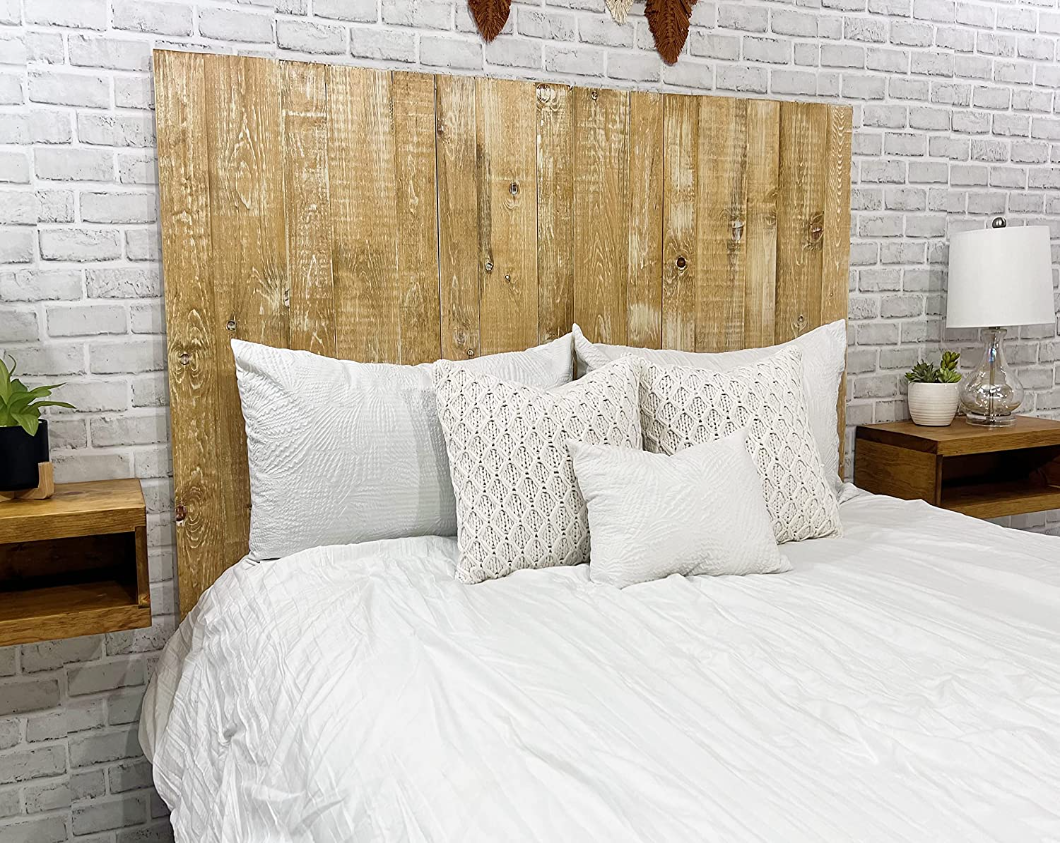 Solid square or rectangular bed frames for the back of the bed in natural, earthy tones elevates the complete look of the bed and room. Basic yet elegant is what makes your room boho and chic.
2. Round Out the Corners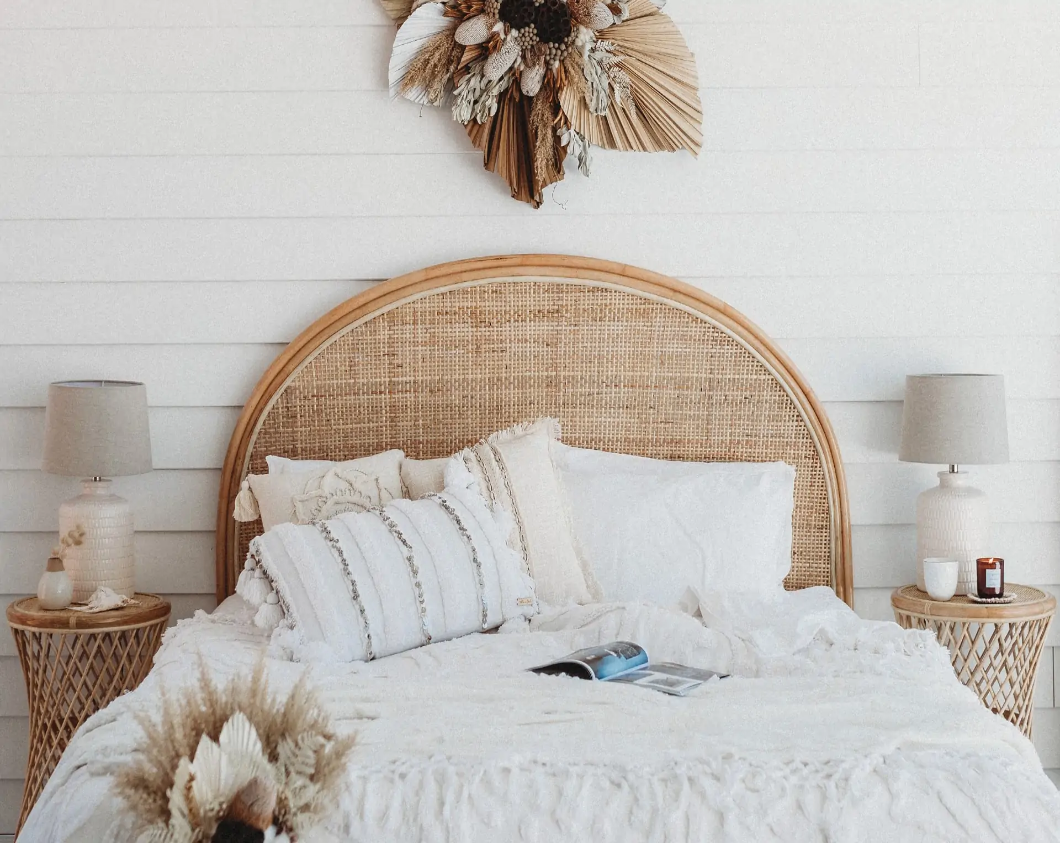 Sharp edges give a clean look, but round corners of the headboards give a clear definition to the bed and look pretty, topped up with some wall hangings or photographs on the bed stand. Round corners add softness to the room.
3. Weaved Pattern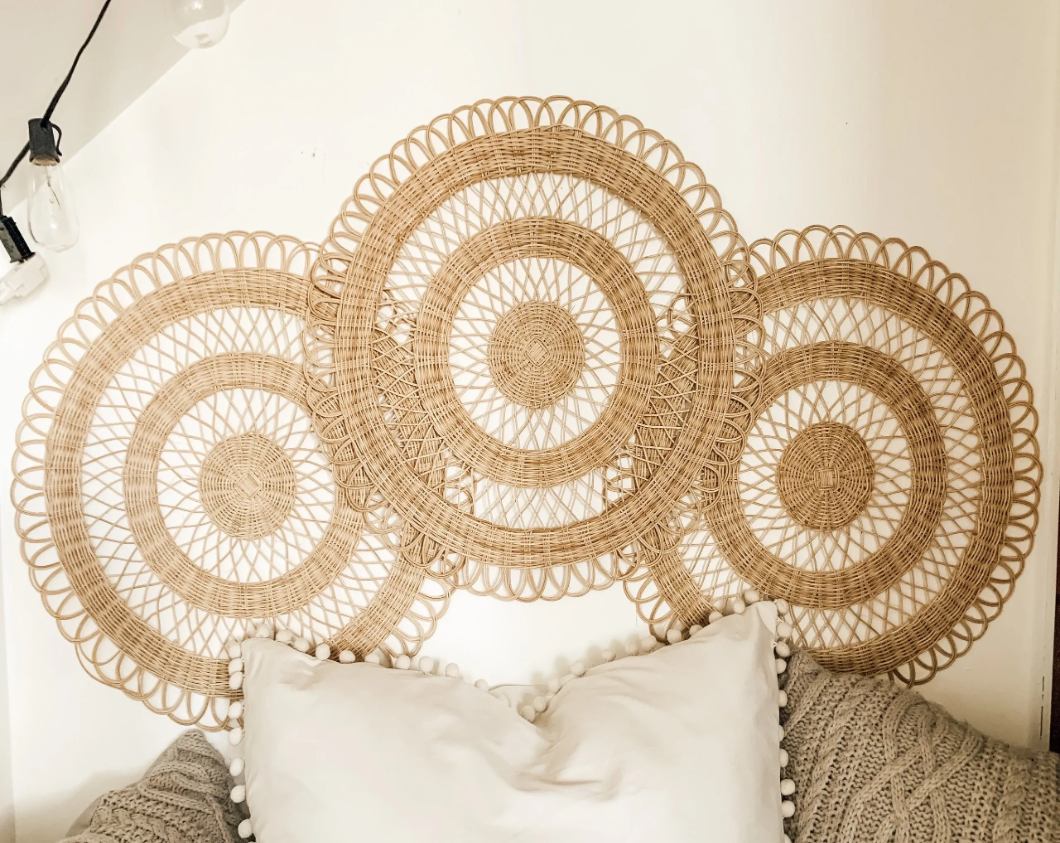 Weaved-styled headboards give a vintage and homely vibe to the room. Natural toned weave patterns look very aesthetic and top up the boring room with a vintage bohemian look.
4. Vintage Boho Headboards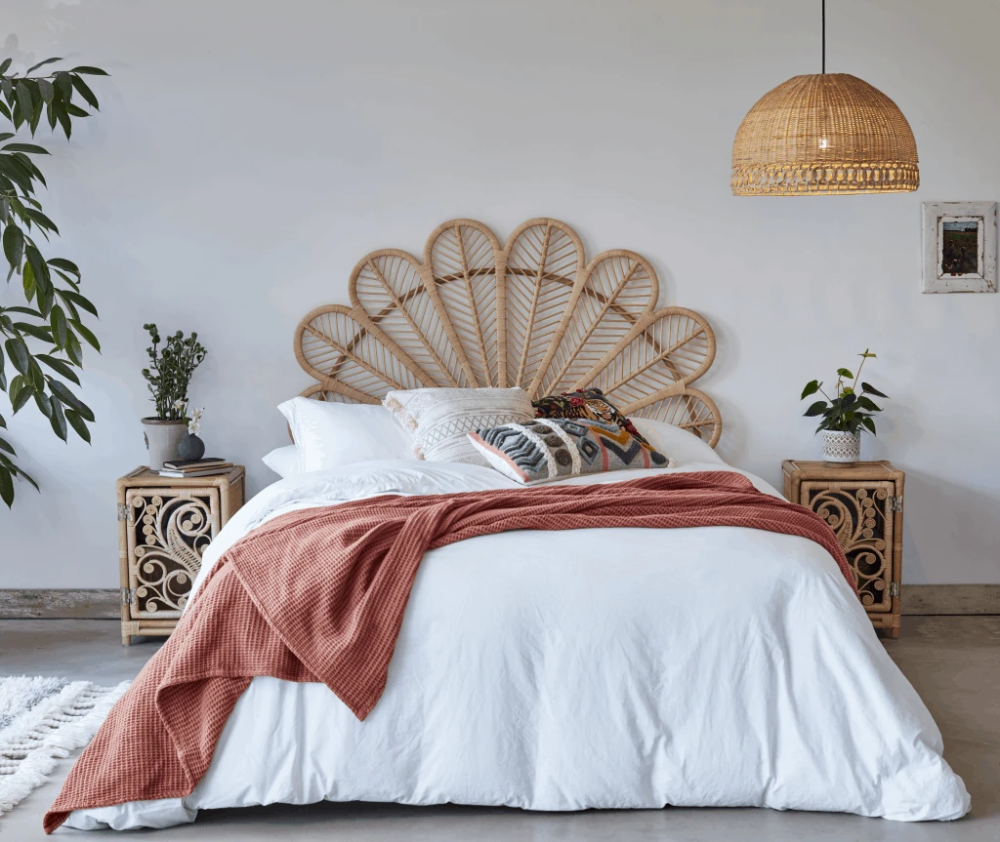 Headboards in the shapes of peacock feather and flower pattern with clean detailing uplifts any bed, and with natural tone wall colors, the result is classic.
Along with these beautiful and vintage boho beds and headboards, one can also add other elements to the room for decor, such as peacock or rattan chairs, woven baskets to store blankets, rug on the floor, and cute wooden or woven chairs,
Boho aesthetics is the new modern look over which today's generation is going mad. Interior decor in bohemian styles with a lot of pieces of furniture can be done very cost-effectively. So, it has made a huge space in the market along with boho fashion and vintage looks.
Summing up the Best Affordable Boho Headboards
We believe now you have got the idea of why boho is so hyped up nowadays, obviously due to the warmth and ecstatic feel it gives the space. So, what are you waiting for? Get your dream boho bed or headboard for your bohemian room transformation with amazing and affordable boho decor ideas.
The right style headboard can elevate the tone and direction of the whole room, giving it a new look. In this blog, we discussed all boho headboards and how you can make a bohemian transformation with a financial crunch. Boho headboards are usually of natural materials like rattan, wood, and cane and are available in a variety of shapes and curves to elevate the aesthetics of the room.
If you need some more tips on the bohemian theme, then we will be happy to help you in the comment section.