Most of us have shifted to live in cities for work or studies, or you might be one that grew up in a city. Whatever the reason, if you live in a city, you will likely live in an apartment. With limited space in an apartment set up, decorating it is a creative challenge. And, let's face it, you probably are not looking to spend a fortune on decorating.
If you want to decorate your apartment but don't want to burn a hole in your pocket, this article will help you with it. Apartments decor broadly takes care of a few things; lighting, utilizing most of a space, and adding character to it; this article will take you through ideas that will take care of all three.
You will also learn some fun tips that will help you make your best design decisions. Let's not delay any further and get started with 14 such super creative apartment decor ideas that will enhance the overall elegance of your space by multiple folds.
1. A Pop of Color for The Living Space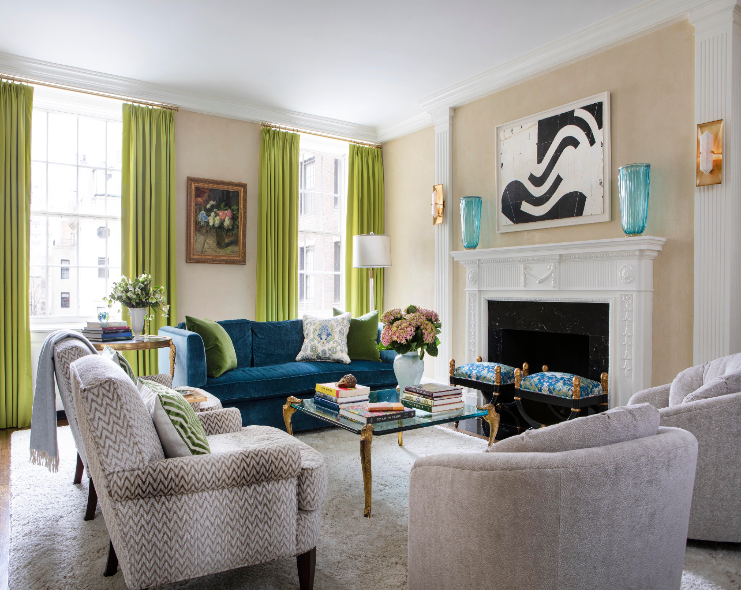 Often when one thinks of decorating apartments, given the mall space, people shy away from using colors. When decorating your apartment, a pop of color brings to it a bright, playful, and distinct look.
If you have painted your apartment a classic white, introduce pieces of furniture with texture and color. Look at those beautiful velvet sofa chairs; don't they add so much personality to the apartment? Pair that with a cream and white patterned rug, and your apartment space will look beautiful and distinctive.
Tip; In small spaces, lighting can make a lot of difference; you can repurpose old mason jars to make a statement light fixture. Keep the lighting warm and soft; it makes the space warmer and more inviting.
2. Minimalist Apartments Decor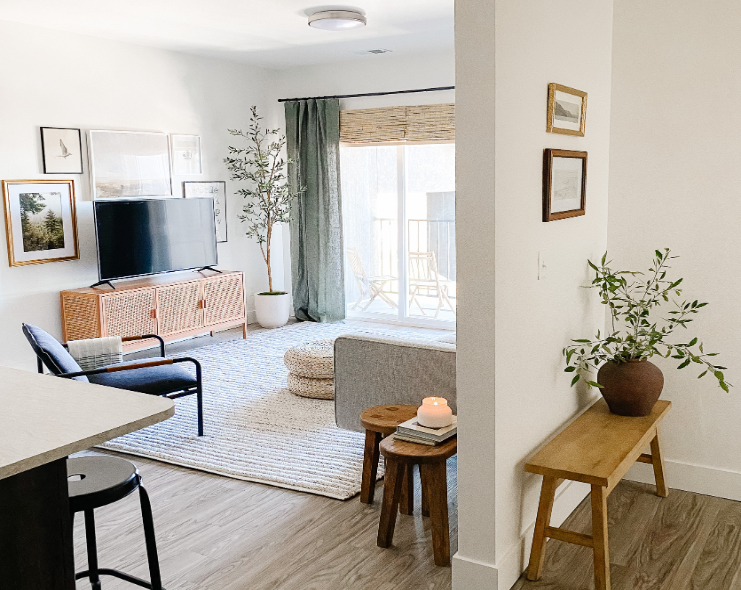 If you are decorating your apartment to make it feel homely, but you don't want to invest too much in it, here are some tips.
Go for a minimalist, clean look. To add some coziness to the space, place a soft rug in a neutral color of your choice, which will soften the space.
When it comes to furniture, your best bet is lightweight, simple wooden furniture. Make use of those side tables to keep pots and books and add lamps to them. Scented candles can help alleviate the look and feel of the apartment. The smell is as important a part of apartment décor as the look.
Since apartments won't usually have sprawling spaces(unless you're one of the ultra-wealthy, then good for you!), furniture that folds or a sofa that can extend into a bed is a perfect choice.
Tip; Hang your curtains a little higher; that will give length to the room and make it appear more spacious.
3. Friendly House Plants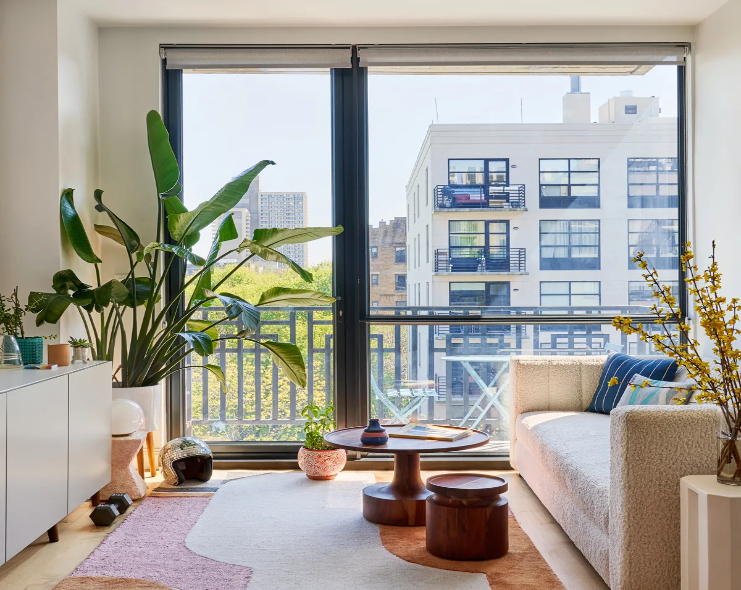 If you live in an apartment, chances are you are a city dweller. And as much as we love our cities, who doesn't miss the fresh air of the suburbs or countryside?
One of the cheapest and most effective ideas in apartment decor is introducing some house plants. They do wonders to liven up a small space, and I must say that they are great companions. They need a little care, but I see that as a plus point, for it adds something humane to your routine.
You can choose among a range of house plants; keep them near the sun or add some edge with a few potted cacti.
Wooden furniture like a wood table will be perfect for the look of the apartment. It can serve the purpose of a coffee table or a side table and a small dining space.
Tip; A colored rug can add that hint of color to your apartment. It also helps in softening up the space and making it more inviting.
4. All The Natural Light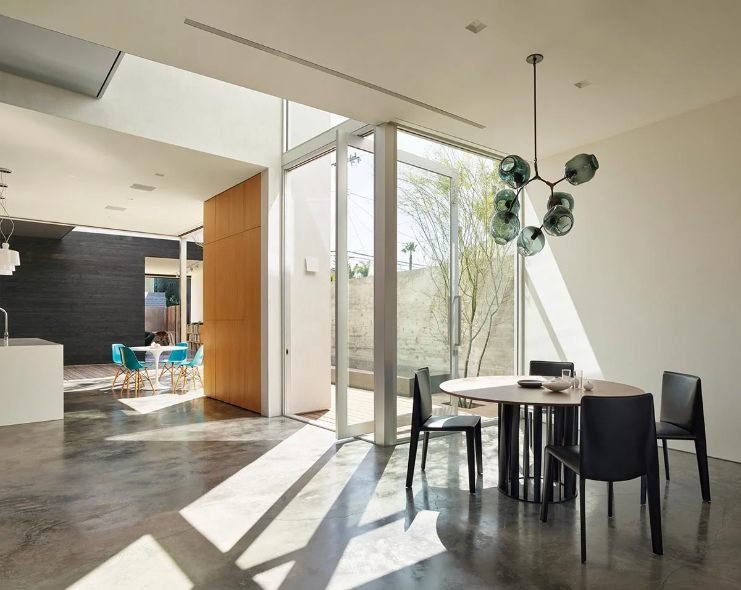 Take this as a rule for all apartment décor, utilize as much of the natural light that graces your apartment as you can. As we have discussed above, apartments are relatively smaller spaces, so you must ensure that it doesn't appear closed off or boxy. One of the most important ways to ensure an open apartment space is to prioritize good natural lighting.
Mostly for apartments, we would recommend against very heavy drapery. Go for lighter colors and fabrics for the curtains.
To give your apartment a special look, we would suggest your visit your local drapery and crafts shops. You can find some beautiful and unique pieces and fabrics. You will also help keep the business of local artisans alive. Such pieces add character to your apartment. This is what will make your apartment unique and soulful.
Tip; Cotton curtains that are hand embroidered are a dying art; if you happen to find local artisans making them, they will be a good investment. You can also go for cotton curtains with lace ends. Both of them add the delicacy of old craftsmanship to your apartment.
5. A Rustic Touch to Apartments Decor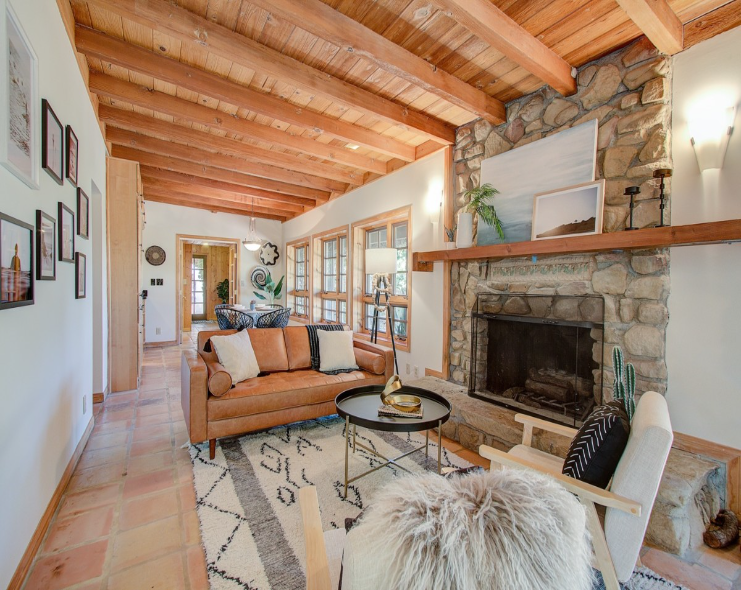 Do you like to stand out and want your apartment to reflect that about you? Or maybe you just admire the crude and natural textures. Either way, a rustic touch to an apartment would serve your needs.
Apartments are a product of modern urban housing needs, but that doesn't mean we can't add a farmhouse look to it. Go for a natural wood accent table for an eating space. This table can double up as a coffee station or a crafts or study table, according to your needs.
Add some fun with the doors in your apartment; use repurposed wood or an old door to turn it into a barn door.
Tip; Old doors with chipped paint would be perfect, and they will bring a story to the space. Just make sure that the old door is not termite infested, or it will be trouble.
6. The Glass Wall Modern Apartments Decor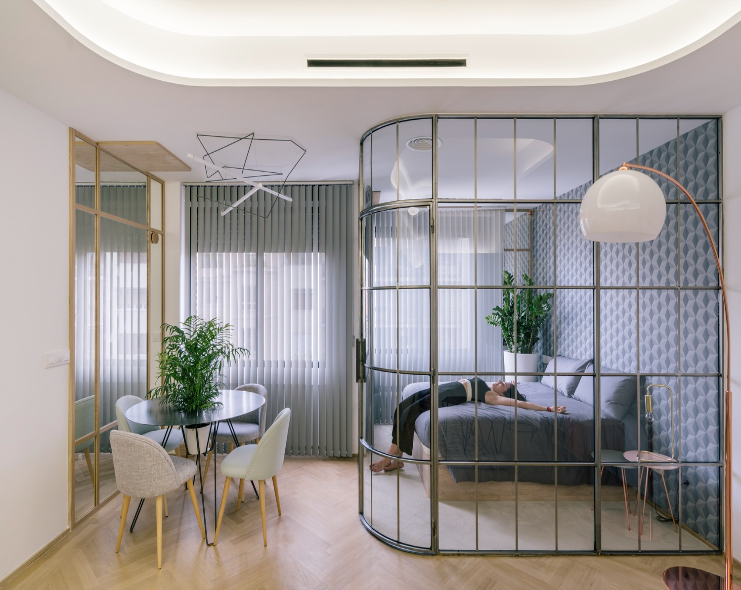 Apartments, especially studio apartments, can feel confined and, for that reason, less welcoming. There is a smart way to solve that problem. Glass screen walls can serve as a partition for your bedroom. Not only do they help keep the space open, but they also look chic. You can choose to have two of these walls to close the bedroom for a more pronounced partition.
Glass walls, like in the picture, are a gift of modern design; the frame of the wall also adds length to the room. You can decorate the glass wall with fairy lights and faux ivy vines to add a warm natural feel to the space.
Tip; if you have dark corners in your apartment that doesn't receive enough light, adding a full-length mirror will do wonders in adding visual space. Mirrors in front of lights can also lighten up the space better.
7. The Metallic Accents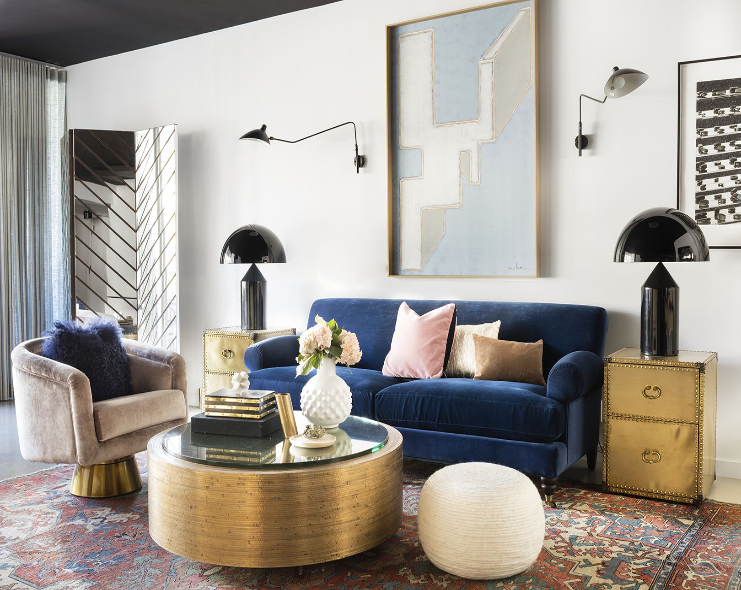 White is a classic color for apartment decor; it lightens up the space, ensures enough light in the room, and opens up the space. However, by itself, white can look plain, and your apartment can be at risk of looking boring.
Metallic accents add that interesting note to your apartment and alleviate its elegance. Use metallic accents for your light fixtures, handles on the cabinets, faucets, and maybe for the frame of your painting. These little details can add a lot to your space and help it look chic.
Tip; With white interiors, a little color here and there can help enhance the look of the space. A green plant alleviates the clean white decor.
8. A Fun Artsy Wallpaper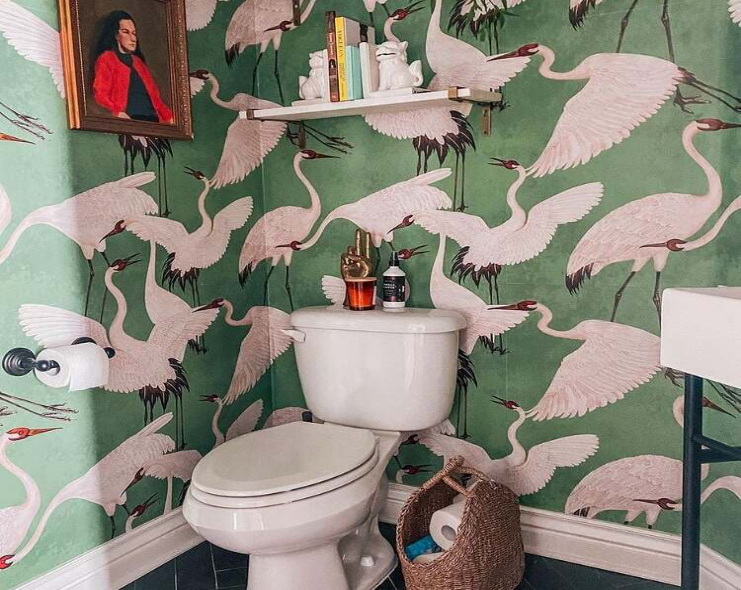 Apartments decor can seem like a costly affair, but that doesn't have to be the case. While you cannot change the walls of your apartment, you can add an artistic flair to them. Choose a bold, interesting wallpaper for small nooks and corners or a washroom. We don't want any sad corners in the house. A space that would otherwise be ignored can be made a statement space by adding an interesting and unique wallpaper.
An artistic wallpaper will make a regular space interesting. You don't have to do much else with the decor. The wallpaper is the star of the space, and it sure will earn you some compliments. I would recommend that you keep everything else simple and neat with that bold choice of wallpaper.
Tip; Choose a wallpaper that speaks to your quirky personality; doing that would personalize the space and make it more special.
9. The Gallery Wall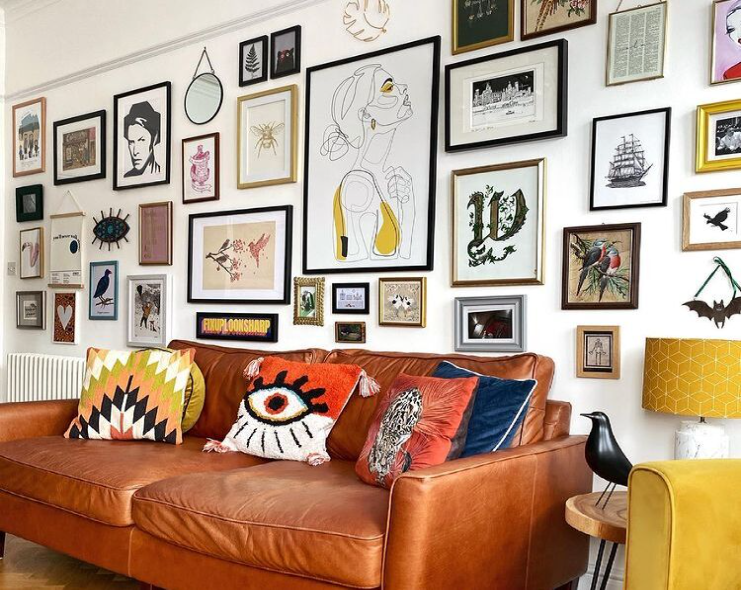 Whether you have a small or fairly spacious apartment, this idea works for every kind of space. This is a way to shake up the monotony of a simple apartment space.
A gallery wall with adding so much character to the space. It also does wonders for personalizing a space and making it look more like a home. Choose your favorite artworks and display them on the wall. If you are artistic yourself, create as many pieces of art as possible and display them all on the wall.
With a gallery wall, either you can use similar design frames for all paintings of varied sizes, or you can even use different kinds of frames. It looks artistic and interesting.
Ensure that you don't turn a heavily textured wall into a gallery wall, or there will be too much going on, and it will just look untidy.
Tip; Instead of paintings, you can also have a wall of personal artistic photographs.
10. Kitchen Items as Decor
In apartment decor, the kitchen is a space that should never be ignored. However busy one's life is, beautifully designed cooking can inspire one to cook for oneself. This can help one find more appreciation for not just the cooking art but also for wholesome home-cooked foods.
We love a deep green color for the kitchen with classic white cabinets. An accent wall needs some decoration. Use old wooden ladles and spools and decorations on the wall. You might want to use an old brass coffee pot as a flower pot.
Do you know what might help your kitchen space, a small window box full of fresh herbs, like parsley, mint, or lemongrass?
Another interesting idea is to preserve the pieces of broken china to create a mosaic piece. Now that it is a kitchen, one would want to flaunt, and small apartment spaces could use some flaunting.
Tip; A herringbone-style wooden tile flooring would just be a cherry on top, but that can be a little more work to install if you don't already have one.
11. Don't Ignore the Nook Under the Stairs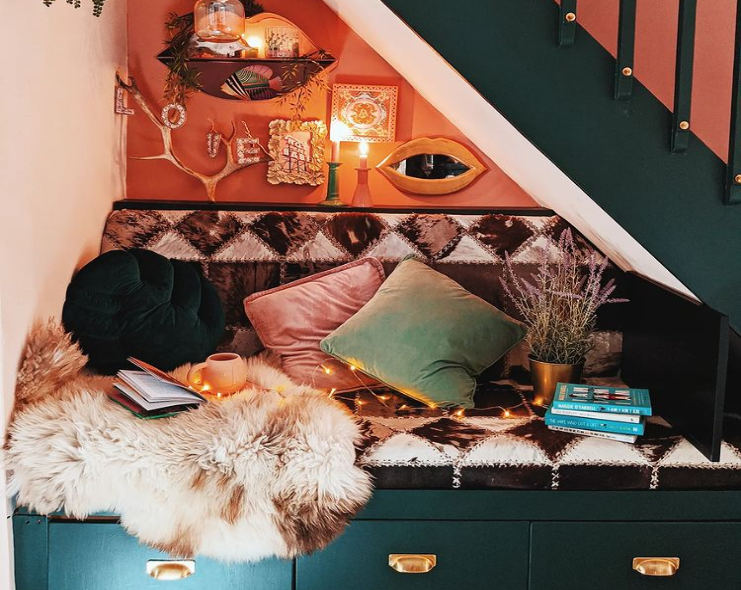 With apartments, you need to be smart about the way you utilize every space because there is not much to spare. If you are a harry potter fan, that nook under the stairs is a special space and must not be ignored. It applies even if you're not a Potter fan.
Make a comfortable seating space under the stairs where you can relax, read, or hide in comfort after a hard day(adulthood brings many of those). You will need this extra space, one that is just for yourself.
Since we are talking about utilizing space, make sure the seating table is one that has storage. Any storage space will always come in handy; you will never regret it.
Tip; Add comfortable cushions, a soft blanket, some soft lighting, candles, fairy light, and anything else that makes this space cozy and appropriately magical.
12. The Green Accent Open Shelf Wall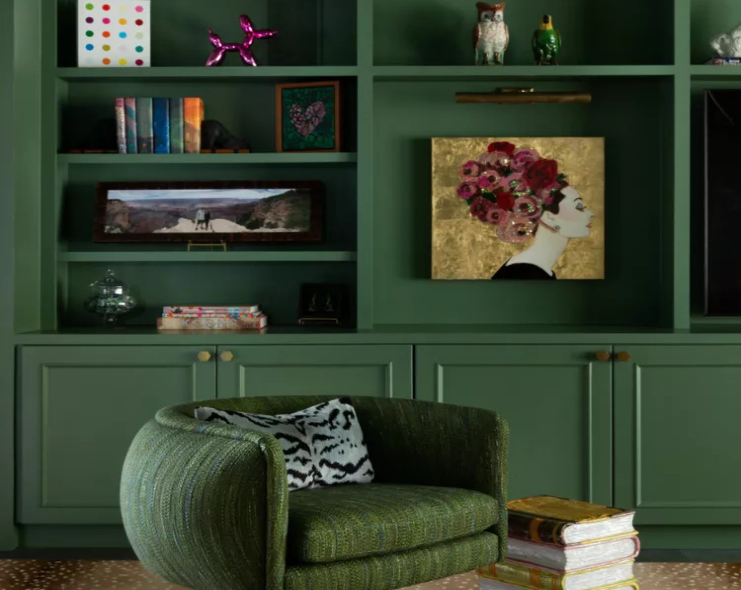 If you want to draw everyone's eyes and add character to your apartment, you must think boldly. The deep green color palette is one of my favorites for an accent wall. Green look regal and refreshing at the same time. Choose a deep green shade like the one above for your accent wall. Complement that with a green sofa chair of the same shade.
An open cabinet wall is a great choice; it gives you a place to store as well as a showcase. Your display open shelf wall can add so much personality to your apartment.
Every time you go somewhere, bring a piece that you can display on the wall. It could be a painting, a photograph, a ceramic sculpture, or an old kettle. You could make art pieces for it yourself.
Tip; Keep a section for books, framed postcards, or tickets from your travels. It is a great way to make an apartment a home.
13. Add Some Visual Height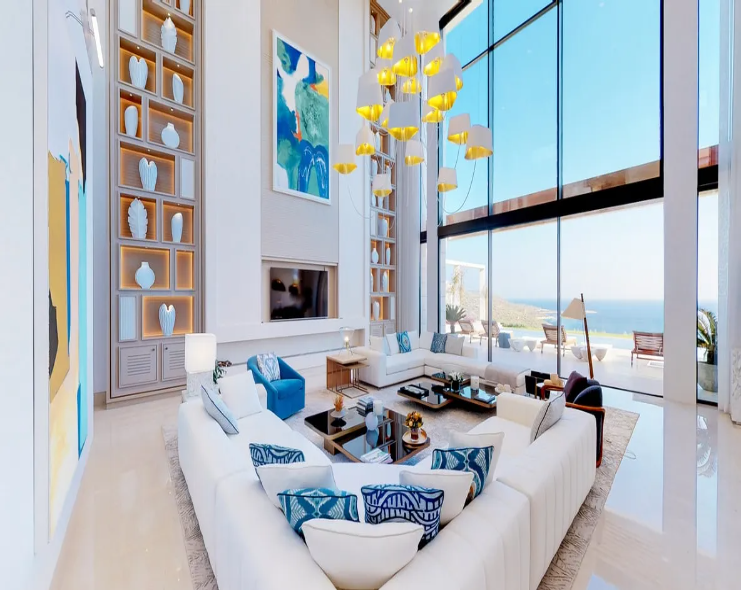 Apartments are smaller spaces but do not need to look small or restricted. Apartments decor can help with that. Prioritize enhancing the height of the apartment to make it look spacious and open.
One way is to use colors of a lighter color palette, like whites and creams. Secondly, ensure no sources of natural light are blocked. These were the obvious tips.
Add some visual height to the apartment by enhancing the vertical lines. You can do that by adding a vertically aligned painting or hanging potted plants from the curtains.
Tip; You can even go for one with a metallic accent if you want to. A vertical corner shelf could also help with the visual height.
14. Embrace Contrasting Colors
If you want an apartment that will wow everyone who enters it and leave an impression on people, I have an idea for you!
We have seen this with many apartment decors; more apartments go for a white or neutral color scheme. But if you want to shake things up, you must embrace a bold and contrasting color scheme. Keep the doors and the windows white; it will frame the bold-colored wall beautifully. Go for a deep blue or a deep green color. Greenhouse plants will enhance the color of the wall more. The white doors and windows provide a nice crisp contrast but go for a bold, bright contrasting color for the sleeves, fridge, or table.
Look how striking that orange looks against the deep blue wall. Your apartment will look like an art installment. There is so much personality edge to this look.
Tip; Add paintings framed in a white frame on the wall. Go for some interesting light fixtures. This apartment will turn some heads for all the right reasons.
Conclusion
Apartments decor is an exciting area, forcing one to be creative and mindful of the limited space. That is one of the golden rules for apartment decor, to utilize every space and make the apartment look spacious.
Invest in folding furniture; it allows one to transform one space into another. A living area can double up as a bedroom with a sofa that turns into a bed.
If you are choosing a white color scheme for the walls, add metallic accents to make the space interesting. If you are a bit bolder, a bold-colored accent wall would be perfect for your space. A step further is to use bold contrasting colors to make a statement.
We don't need to stress enough how important the space under the staircase is; utilize it. We hope these tips helped you, and it's time now to start decorating!