A fire pit is an aesthetic addition for the enhanced outlook of your backyard or garden. Not only will it enhance the beauty of the garden, but it will also become a great evening spot where you can spend quality time with family and friends in the warmth of the fire. A fire pit has the potential to become the center of attraction of a house if selected carefully.
From bricks to stone and from concrete to steel, there is abundant material available from which you can choose the appropriate material for your fire pit. If you are looking for a cost-effective option, then a cinder block fire pit would be the perfect choice. They are strong, durable, and easy to maintain.
So what to wait for? Grab the required material, and get started.
Plan for Creating a Functional as Well as a Durable Cinder Block Fire Pit
Before you begin the construction of a cinder block fire pit house, you need to plan certain things ahead of time so you do not end up wasting money and effort. Below mentioned are a few things that you should plan efficiently while constructing a fire pit.
1. Finalize the Location: The very first step that you need to work on is deciding the location where you want to construct the fire pit. Select a place that is away from the house so that in case of an accident, the house is saved from any damages.
2. Decide the Size and Shape of The Fire Pit: Once you have finalized the location, the next step that comes is deciding the size of the fire pit and the shape in which you want to construct it. If you are making it for the first time and are doubtful, then; you can go for a smaller fire pit.
3. Assemble the material: Before you begin with the process, you should assemble all the materials like the shovel, trowel, cinder blocks, mortar mix, paints, etc. This will save you from the headache of unnecessary running and gathering things at the last moment.
box*https://www.amazon.com/sspa/click?ie=UTF8&spc=MTo1NjcyODc5MTE3ODQyNzk5OjE2ODcyNTk3MTk6c3BfYXRmOjIwMDA4ODg4MjYzMjg5ODo6MDo6&url=%2FBerry-Bird-Transplanter-Cultivator-Transplanting%2Fdp%2FB0B246R411%2Fref%3Dsr_1_1_sspa%3Fcrid%3D1TZSUT3Q6HNT8%26keywords%3Dtrowels%2Bfor%2Bdigging%26qid%3D1687259719%26sprefix%3Dtrowels%2Bfor%2Bdigging%252Caps%252C452%26sr%3D8-1-spons%26sp_csd%3Dd2lkZ2V0TmFtZT1zcF9hdGY%26psc%3D1
box*https://www.amazon.com/sspa/click?ie=UTF8&spc=MTo1NzEwODMwOTExNjU2MzU0OjE2ODcyNTk2NDQ6c3BfYXRmOjIwMDAyMTcxOTYzNjM4MTo6MDo6&url=%2FInsulating-Brick-Ovens-Fireplaces-Forges%2Fdp%2FB07XVRTMHC%2Fref%3Dsr_1_1_sspa%3Fcrid%3D3T83O7UCZ6GCX%26keywords%3Dcinder%2Bblocks%26qid%3D1687259644%26sprefix%3Dcinder%252Caps%252C418%26sr%3D8-1-spons%26sp_csd%3Dd2lkZ2V0TmFtZT1zcF9hdGY%26psc%3D1
Sale
QUIKRETE Construction Grade Mortar Mix of Masonry Cement and Graded Sand for Laying Brick, Concrete Units, and Stone, 10 Pounds
Contractor-grade mortar mix designed for bricklaying, concrete masonry units, stones, and more
Pre-blended mix of masonry cement and graded sand designed to meet ASTM C 270 for type N mortar
Simple to use formula just requires the addition of water and mixing for a minimum of 5 minutes
Apply a full bed of mortar onto the base at approximately 1/2-inch to 3/4-inch thick for ideal application
Use for repairs on barbeques, pillars, walls, planters, and for tuck-pointing mortar joints; Refer to datasheet for precautions, installation, and physical properties
Here are a few basic and simple ideas to assist you in creating a stunning cinder block fire pit.
1. Circular Cinder Block Fire Pit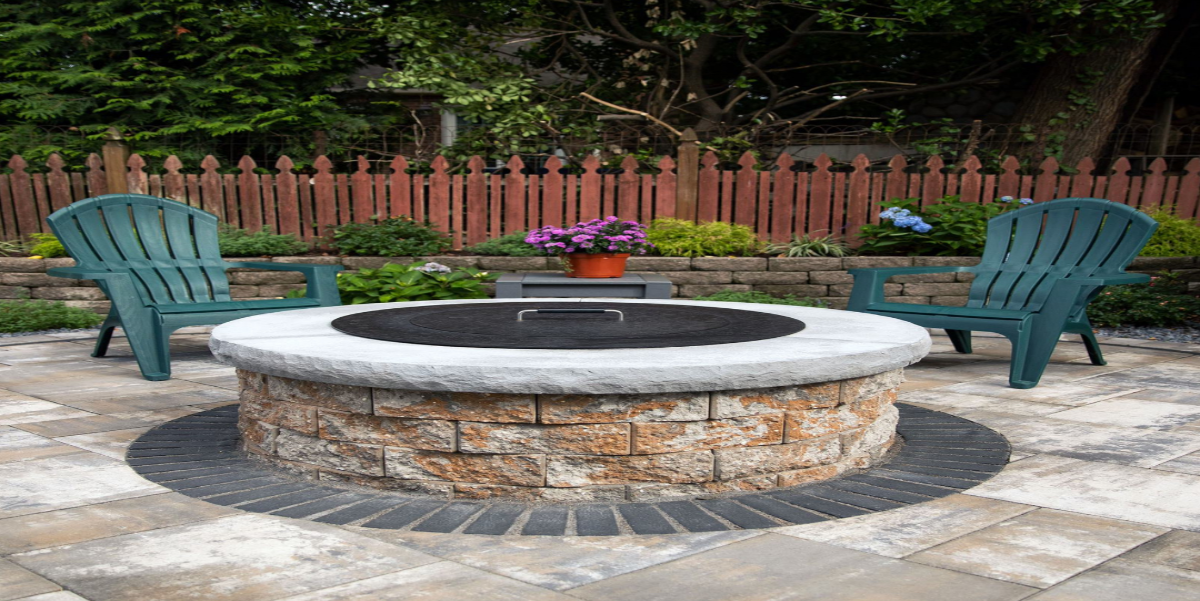 A small circular cinder block fire pit will serve as a fantastic addition to your garden, becoming the center of attraction of the garden. This small circular cinder block fire pit is easy to set up within a few hours. If you are running short on budget, then; you can opt for this fire pit. It can be constructed with less material and will still look stunning when installed in the garden because of its shape.
Once done with the work, you can enjoy evenings with your family chit-chatting and enjoying the warmth of the fire on a cold day.
2. Painted Fire Pit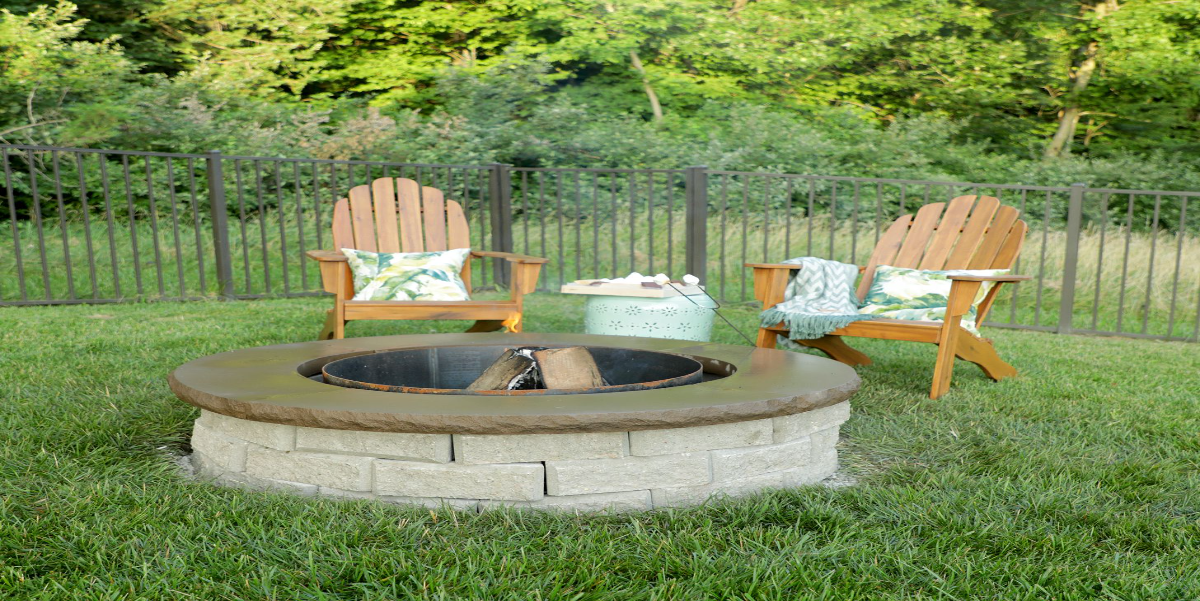 To make the cinder block fire pit aesthetically appealing, consider painting it with a suitable color that best matches your interests. Painted fire pits will have a better finish than unpainted ones. They will also look more appealing as compared to the basic and unpainted ones. Another plus point is that you don't require much time to paint it.
If your fire pit is small, you can complete the painting work within an hour. When you are done painting your cinder block fire pit, you can enjoy a nice outing with your family and friends sitting around the fire pit.
3. Fire Pit Open from One Side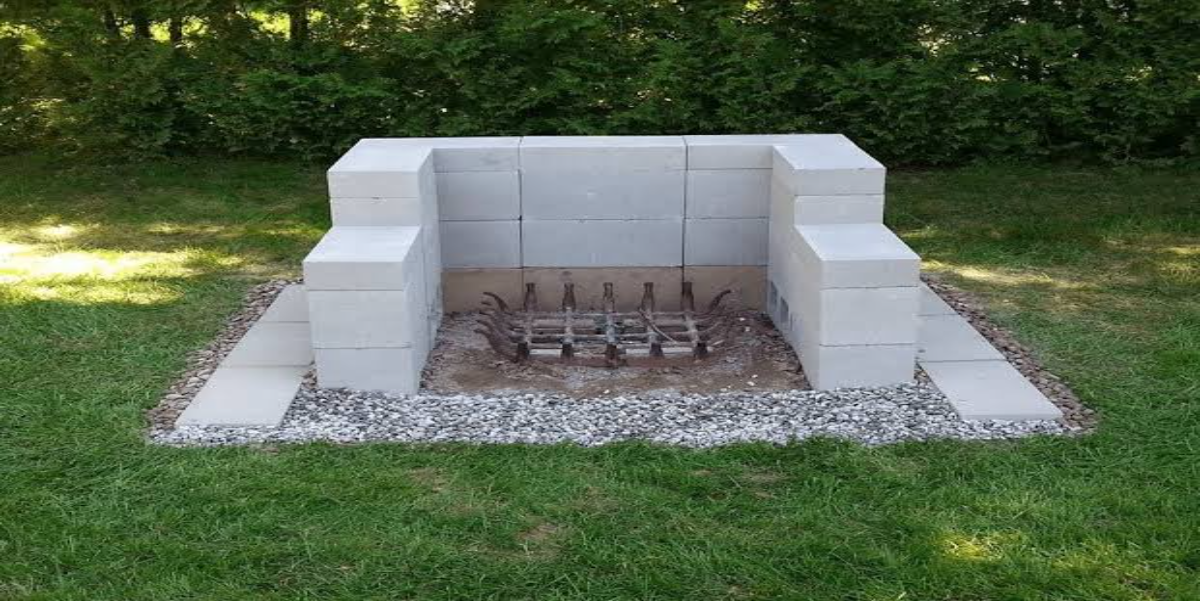 If you are looking for a quick and easy DIY cinder block fire pit that can be made within an hour, you should opt for this fire pit. The fire pit does not need to be surrounded by cinder blocks from all four sides. If you are looking for something different and unique, then; you need to try this idea. It would perfectly fit in your backyard or your garden.
You can either paint it or keep it natural to retain the natural texture of the cinder block. This idea is a new concept hence get ready to receive appreciation for this unique fire pit.
4. Oversized Fire Pit
If you want to create a statement using a cinder block fire pit, then; how about this oversized fire pit? This fire pit is undoubtedly a unique addition to your backyard. If there are no budget constraints, then there is no harm in going for an oversized fire pit. If you want to keep things simple, go for larger blocks instead of the smaller ones, as it will take less time to set up these blocks.
To complete the look further, you can paint it and receive tons of compliments from your friends and family when you invite them for a cozy gathering at your house.
5. Temporary Fire Pit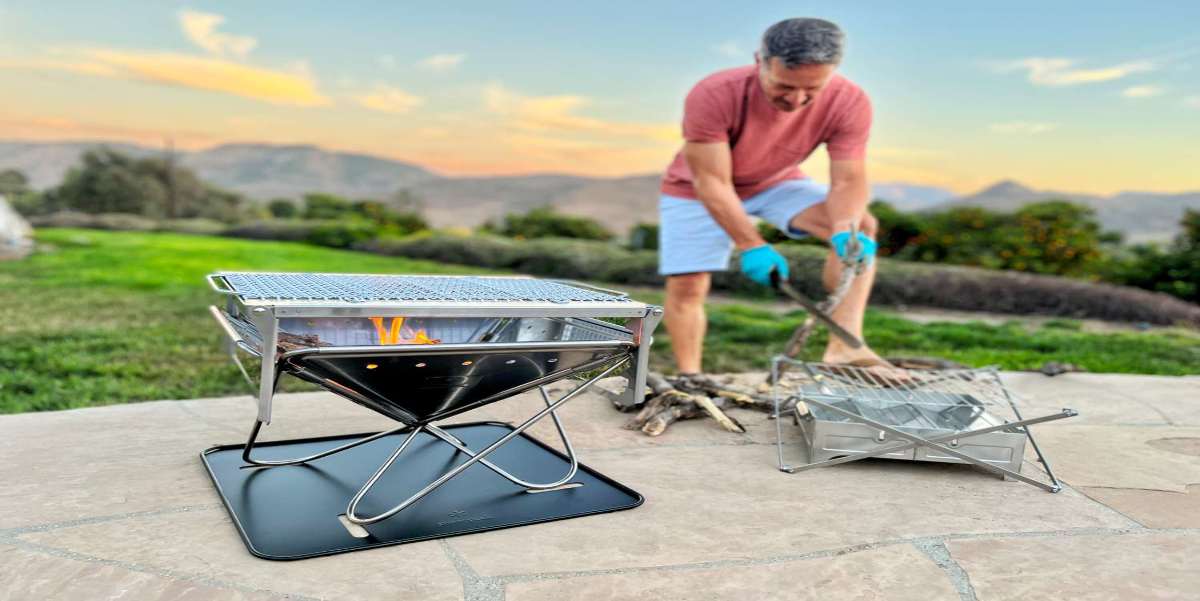 If you have a party to host within a couple of hours and you don't have a fire pit in your backyard, then you can construct a temporary cinder block fire pit within 2 to 3 hours and then front it among your guests. Temporary cinder block fire pits can be installed easily within a few steps. They can also be a great idea for people who are uncertain about constructing a fire pit in their garden or backyard and want to have a rough idea about how their backyard will look with a fire pit.
If you find the idea of a fire pit good for your backyard, then; you can go for a permanent one later on.
6. In-Ground Fire Pit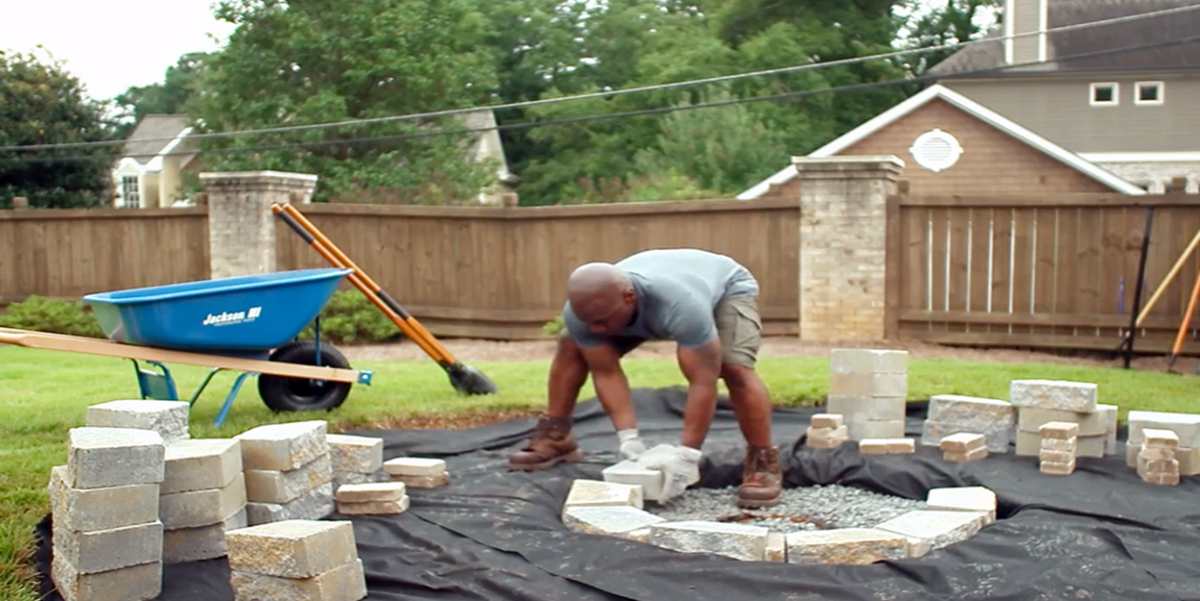 An in-ground fire pit will save you from the tension of the flames getting blown away by the flames. Though these firepits take more time to build as compared to the conventional ones, the results are awesome. If you are constructing a permanent fire pit, then; you can go for the in-ground fire pits, as they would be more beneficial than the normal ones. They are also a safer and more stable option in comparison to the ones built on the ground.
One thing that should be kept in mind while constructing the in-ground fire pit is that the cost of installation is high, so if you are running short on budget, then you should not opt for this fire pit.
7. Multicolored Fire Pit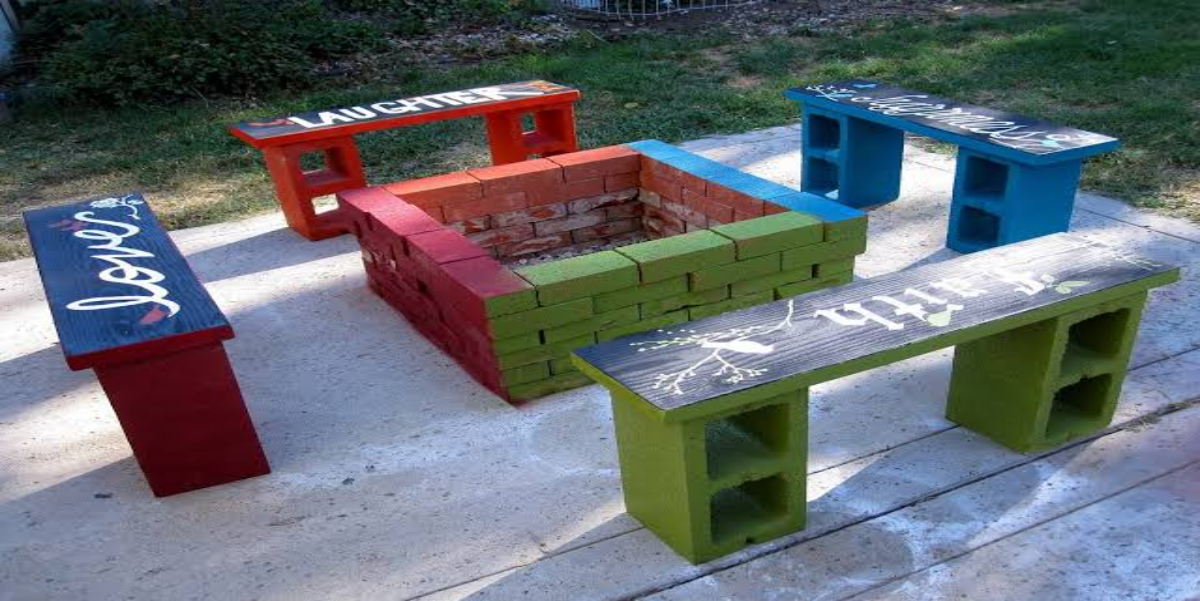 Who says that the fire pit cannot be exciting? You can make the fire pit by adding a few add-ons to it. One such innovative way to upgrade the boring cinder block fire pit is by adding colors to it. Colors help to make a place more lively, and similar can be done with the fire pitch too. It will make the backyard more attractive and welcoming to the guests, especially children. The colors can be selected as per your preferences.
If you want to create a neutral vibe, you can use light color paints like a creme, and; if you want to give it a bold look, you can go for darker shades like black.
8. Fire Pit Made of Hollow Blocks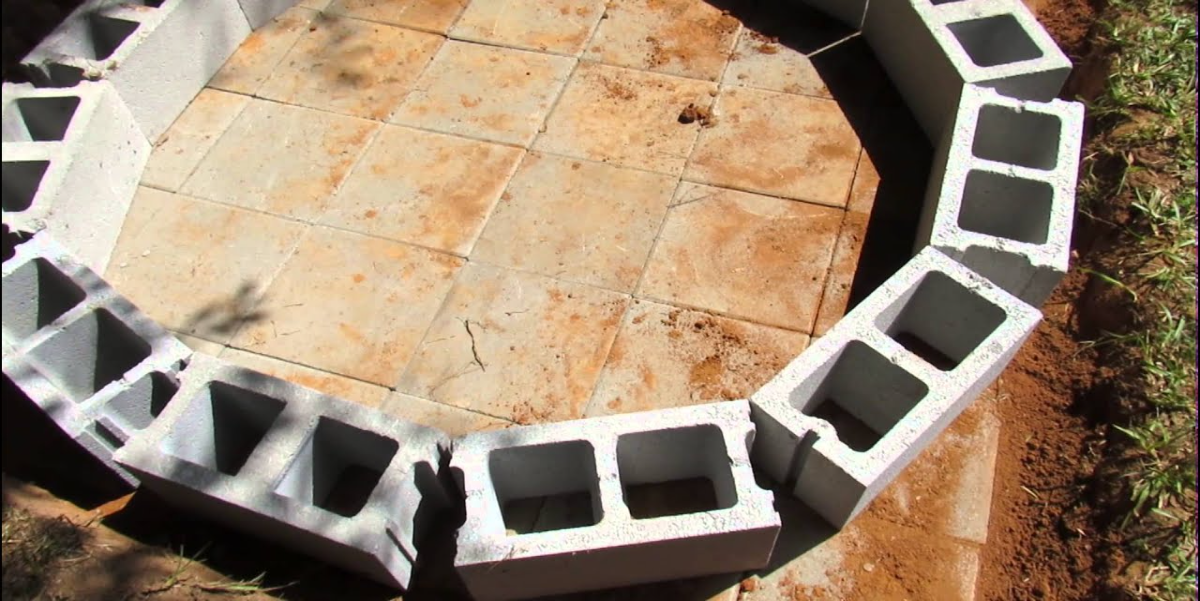 Hollow blocks are used to construct a fire pit to make it lightweight and allow the passage of air through the fire pit. They are a better option for areas like fire pits as they have better insulation properties and are fire resistant. If you wish, you can add stones and gravel in the hollow area to make it both functional and stylish.
Even if you want to experiment, you can first place a layer of solid blocks and then hollow bricks on the top to create an aesthetic effect. If you are still not satisfied with the look, then; you can paint the fire pit to complete the look.
9. Dual-Purpose Cinder Block Fire Pit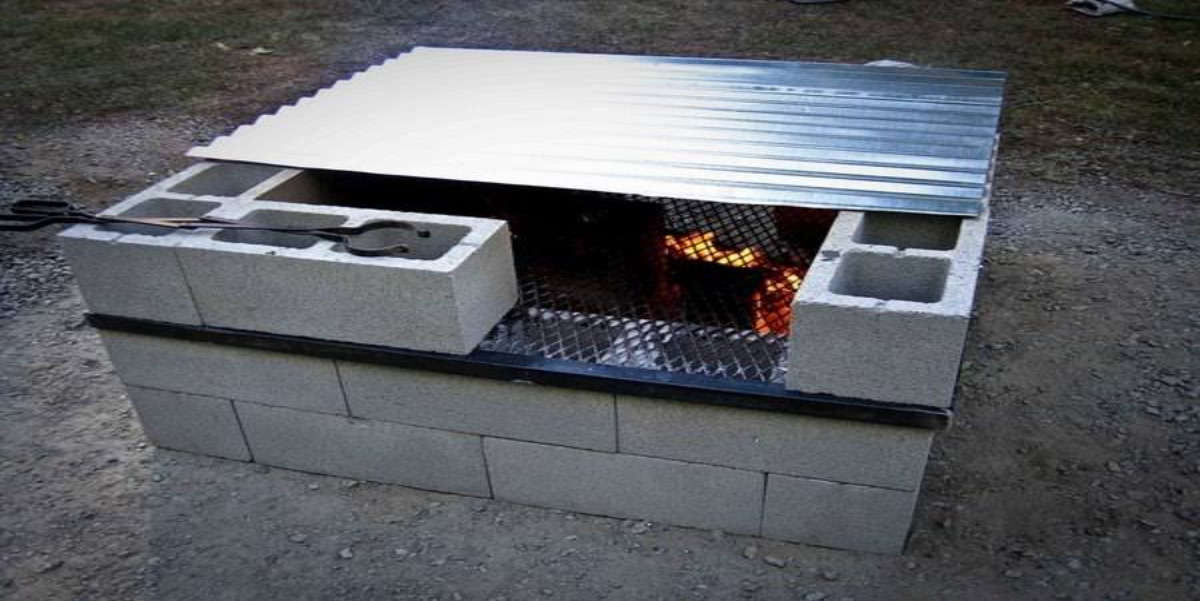 Dual-purpose fire pits can be a great addition to your backyard. With these fire pits, you can enjoy both the warmth of the fire and the taste of delicious food at the same time. These fire pits will strengthen familial bonding, and you can enjoy cooking with your family. To construct a dual-purpose fire pit, you can place a grill grate on the fire pit.
This will ensure that flames do not directly come in contact with the food and that food will not burn. You can even divide the fire pitch in half, where one half can be utilized for cooking and the other half for enjoying the coziness.
box*https://www.amazon.com/sspa/click?ie=UTF8&spc=MTo0NzUwNDI1ODA0NjcwMjIwOjE2ODcyNTk3NzA6c3BfYXRmOjIwMDAyOTMwMzE4NjU5ODo6MDo6&url=%2FLineslife-X-Marks-Portable-Campfire-Cookware%2Fdp%2FB09H58TNXW%2Fref%3Dsr_1_2_sspa%3Fcrid%3D28Y2JJT1QGM7Q%26keywords%3Dgrill%2Bgrate%2Bfor%2Bfire%2Bpit%26qid%3D1687259770%26sprefix%3Dgrill%2Bgrate%2Bfor%2Bfire%2B%252Caps%252C503%26sr%3D8-2-spons%26sp_csd%3Dd2lkZ2V0TmFtZT1zcF9hdGY%26psc%3D1
10. Going Minimal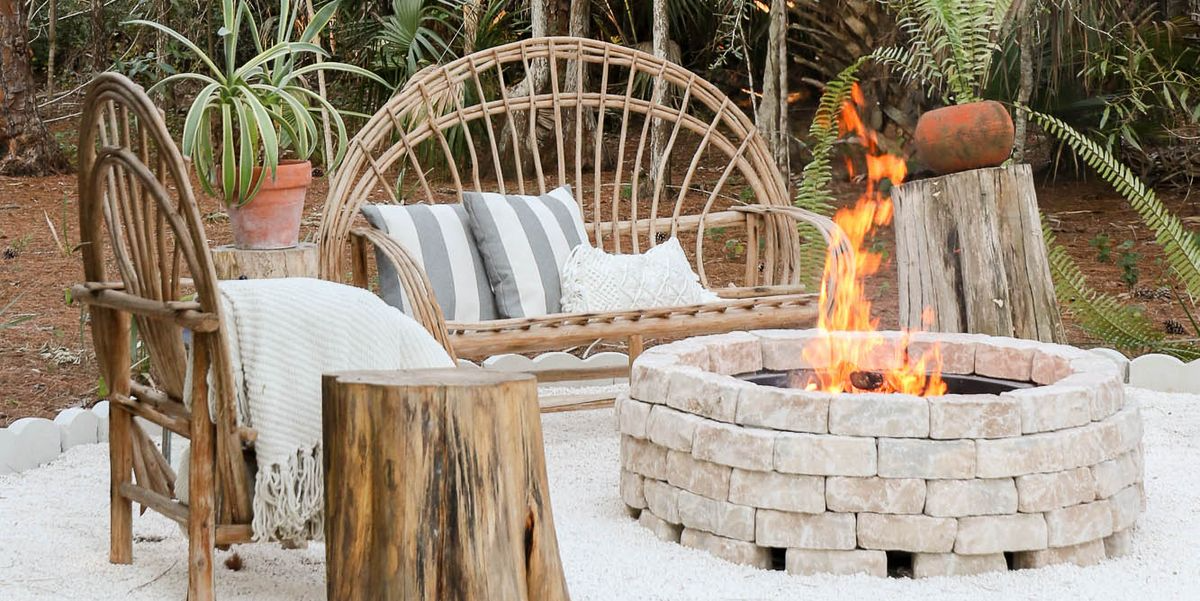 You can go minimalistic with almost everything, including the fire pit. For this, all you need is to have a creative approach toward things and the proper selection of material. For example, to create a minimalistic fire pit, you can choose bold colors like black as it will help you to achieve a minimalistic look for your fire pit.
Opting for solid blocks instead of hollow ones will also help in the same. If you wish, you can layer the topmost layer with hollow bricks to create an impact. If you wish, you can arrange permanent seating arrangements around the fire pit to set up and enjoy with family and friends.
box*https://www.amazon.com/dp/B0BDMSKQC6/ref=twister_B0BDMVNWRG?_encoding=UTF8&psc=1
As you have come across some unique cinder block fire pit ideas, it is also essential to know the pros and cons of the blocks so that you can decide whether you want to install the cinder block for your house or not.
Below are the pros and cons of the cinder blocks.
Pros of a Cinder Block Fire Pit
Cost-Effective: This is one of the main pros of a cinder block fire pit. These blocks are relatively cheaper in comparison to other materials like stones, concrete blocks, steel, etc. If you are low on budget, then you can go for cinder blocks.
Easy to Create: You can set up a block fire pit within a few hours following the simple steps. The installation process is easy, and as the blocks are large, therefore, a single block can cover up the large area.
No Skills Required: Cinder block fire pit construction is easy, so there is no skilled supervision required while constructing the firepit. You just need to follow the simple steps mentioned, and you can easily create an aesthetic or simple fire pit by yourself.
They Can Resist High Temperatures: This is another desirable property of these blocks that makes them an ideal material for fire pits. By using cinder blocks, you need not worry about the blocks getting damaged due to excessive heat.
You Can Set a Fire Pit without Actually Fixing the Blocks: Yes, that's possible. Since these are dense, therefore, you can arrange them in the required design without actually using any binding agents to hold them together. It is an advantage for the people installing fire pits for some time only.
Cons of a Cinder Block Fire Pit
You Might Not Achieve the Desired Look: Since a cinder block fire pit is a DIY process, therefore; you need to follow every step with proper focus%LS