Are you thinking about painting your kitchen cabinets? Do you feel like it's nothing better than just wishful thinking?
The kitchen is the place where majorly women and sometimes men too spend most of the time of their days. You need to give it an attractive look, but sometimes budget constraints stop you from converting your boring kitchen into an interesting one. It is not necessary to renovate your space every time to get a new look.
Instead of transforming your whole kitchen furniture and restructuring them, you can go for the easy option, like painting on a budget to change the scene of your kitchen. The truth is painting kitchen cabinets is not a luxury but a necessity. This could be the easiest way to give your old and damaged kitchen cabinets a complete makeover. It will transform the look of your kitchen without even remodeling it.
We are going to explore possible ways for an affordable cost to paint kitchen cabinets.
Cost for Painting Cabinets Tips
The best way to decide the cost of painting your cabinet is to decide the price per cabinet surface. This method will help you to get rid of taking any measurements and the calculation of square footage etc.
First, you need to count the drawers and doors of the kitchen furniture. This will help you to understand the exact number of Cabinet surfaces that we have to paint in the kitchen.
From this calculation, you will understand whether your kitchen falls under small, medium, or large size categories. If your kitchen consists of less than 20 cabinet drawers and doors, then it is considered to be of small size.
Medium size kitchens have 21 to 40 numbers of cabinet drawers and doors. More than 40 cabinet drawers and doors are considered a large size of the kitchen.
The cost will be increased by 10% if you have detailed designs and glass on the cabinet surface.
Cost to Paint Small Size Kitchen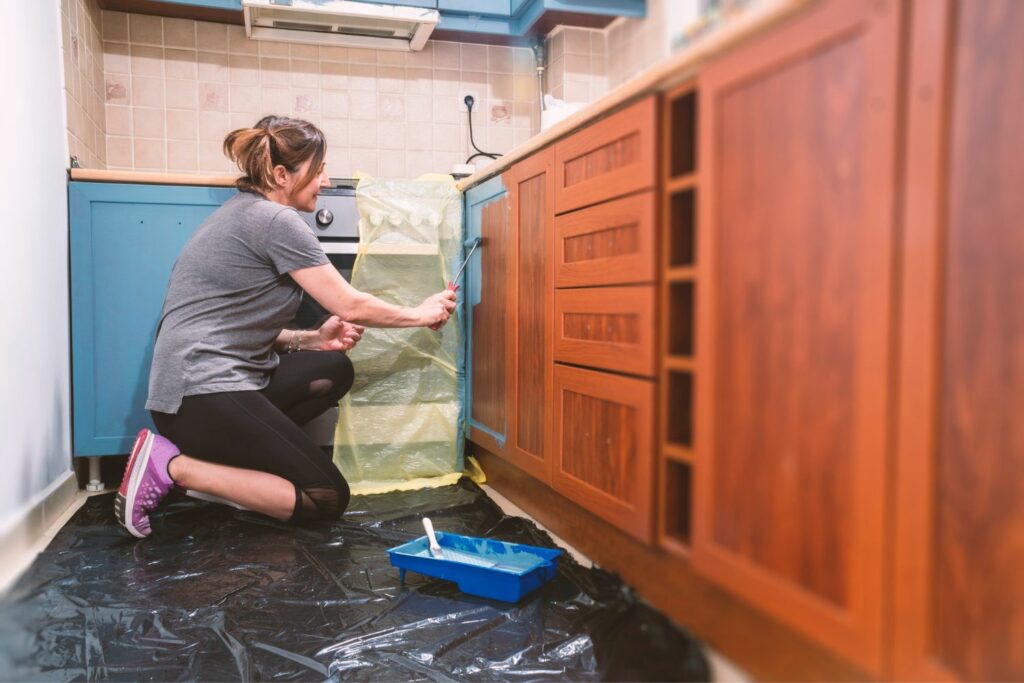 Well, the painting cost for a small kitchen varies based on the condition of your kitchen. Sometimes it costs you a higher amount due to renovation work and covering up all the damages are happened. The painting cost also depends on the brand of paint you select. The cost will be reduced if the condition of the cabinets is good and we do not ask for any repair.
Usually, small kitchens cost you more than the large reason. The primary reason for this difference is the volume of the work. Large kitchens naturally have more work volume than smaller size kitchens. You can avail of the discount on large work volumes, which is rarely possible in small-size kitchen work.
Cost to Paint Medium Size Kitchen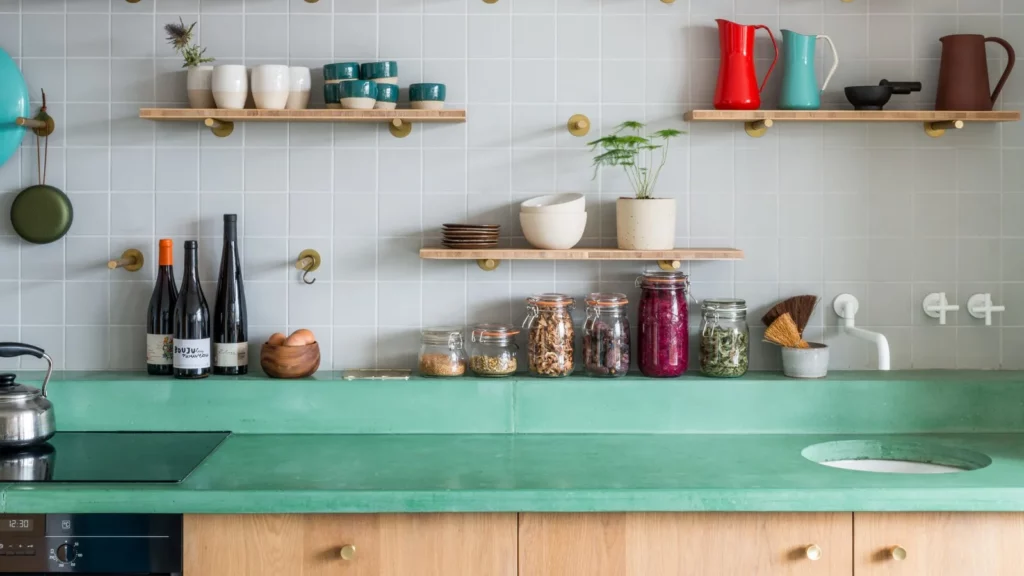 Well, it is obvious that the painting cost is depended upon the number of cabinets acquired by your medium-sized kitchen and their condition. If your whole kitchen cabinets are in good condition and only demand for a single fresh coat of paint, then it will cost you minimal. Sometimes you can avail of the discount, and sometimes you will not be able to get it.
Cost to Paint Large Size Kitchen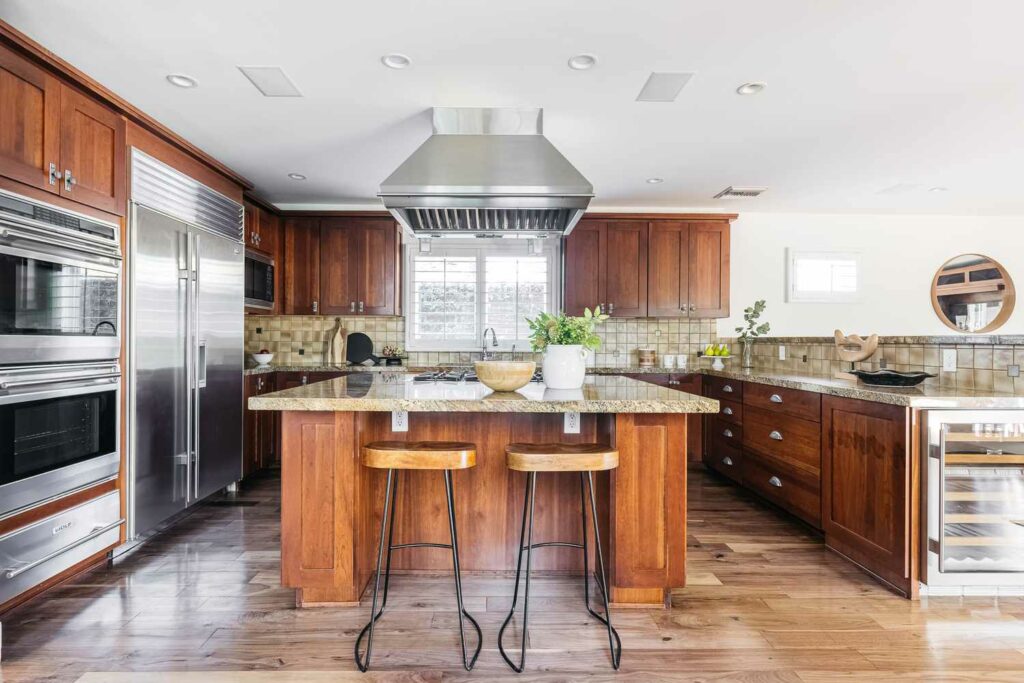 Surprisingly, Large kitchens have the lowest price as it offers the maximum discounts. Well, this happens because the work volume is higher, and when there are big projects to work on then, you get a high rate of discounts. Along with the cabinets, there is also a wine rack or island or both included in the kitchen painting cost. Also, the kitchen condition, the material used to give a new look to your kitchen space, and labor charge affect the cost of painting. Have thorough research and invest wisely.
Cost to Paint Kitchen Cabinets DIY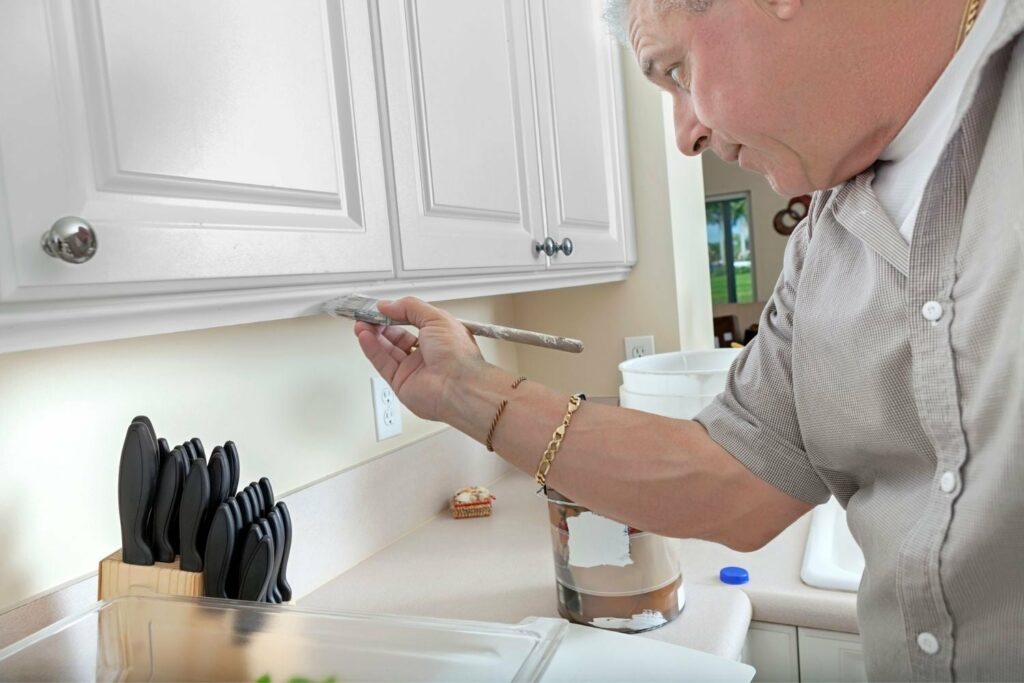 If you decide to paint your kitchen on your own, then it will help you a lot of money. But there are certain disadvantages you must consider before deciding to do it on your own. The whole project is very time-consuming, even for professionals, and if you are someone who is new to this, then it may not help you to get a desirable outcome. You have to move the stuff priory and rearrange them after completion.
The finishing look of the kitchen furniture clearly depends upon the quality of the color brand you decide to look at. So if you want to have a classic and rich look for your kitchen space, then opt for the premium brand quality color paint. This will help you to get a wishful look and sustain for long years or even decades.
Why You Should Consider Painting Your Kitchen Cabinets
Painting the kitchen cabinets is a new way of thinking that can bring new life into your kitchen space.
Budget-friendly: If you want to replace your kitchen cabinets entirely, you have to spend a fat amount of money. However, painting your kitchen cabinets allows you to achieve a new look without spending too much on buying new cabinets. The cost to paint kitchen cabinets is affordable enough.
Reflects Your Personality and Preference: While painting your kitchen cabinets, you have the freedom to choose from a variety of colors. You can also decide on the finishes and techniques that match your style and taste. This is an excellent way to create your own kitchen just as you imagined.
A Treat for The Eyes: Over time, the kitchen cabinets become old, faded, and outdated. Painting them allows you to rejuvenate the space and bring a modern touch to your kitchen. You won't be able to recognize your old kitchen just by looking at it when the painting is done.
Increases the Value of Your Home: Just when you are thinking about selling your home, updating your kitchen can significantly increase its value. Since the kitchen is the central point of any home, a stylized one can definitely help draw potential buyers.
Achieve Different Styles and Moods: Versatility is necessary to give your kitchen cabinets a makeover. You can choose a glossy finish, matte finish, or farmhouse style. You can select from a variety of options, such as contemporary, rustic, or vintage vibes. With the right color of paint, the style and mood of your kitchen alter completely.
Easy to Maintain: Newly painted cabinets are easy to clean and maintain when compared to the old ones. A coat of paint works as a barrier to spills, stains, and dust, making it easier to wipe away messes. This keeps your cabinets clean and fresh.
Temporary and Low-Cost Solutions: In case a full kitchen renovation is not something you can afford right now, painting them is the next best thing. It offers a temporary solution to update the space. It will transform your kitchen without the long-term commitment of replacing cabinets.
Factors Affecting the Cost to Paint Kitchen Cabinets
There are multiple factors that affect the cost of painting kitchen cabinets. Let us study and get useful knowledge about it.
1. Determine Who Is Doing the Work
If you are planning to do it yourself, then you will not have to spend a lot of money after labor. Then only material cost will be implied for you. However, if you are planning to have the labor from outside, then you have to research what is the average cost running in your area and hire accordingly. You have two options for the same, either hire bulk workers who are able to finish your work faster or hire less labor, but the work completion period will be increased. So you can decide this on your budget and the time you wish to complete it.
2. Paint Brand
This is one of the most important factors which affect the cost of painting your kitchen cabinets. There are multiple brands, from cheaper prices to premium prices, available in the market. For long-lasting survival, you need to opt for the premium brand paint color. If you are looking for affordable prices, then select flat or matte finish colors; for medium or moderate prices, you can go for satin or eggshell finishing colors, and for the highest quality, you can opt for glossy finishing colors.
3. Opted color
Well, this is quite surprising, but yes, opted color to paint your kitchen cabinets also widely affects your budget; let's see how. If your kitchen cabinet color is a darker shade and you want to convert it into a light shade, then this dark-to-light transition will double your price as you need to spare extra for hiding the darker shade and showing off the light color shade.
4. Kitchen Cabinet Type
It is an easy deal to paint cabinets with flat panels, whereas it costs higher compared to this if they do not have flat panels. You need to keep your budget a little high if your kitchen cabinets are with ornate edges or grooves.
5. The Condition of The Cabinets
If your kitchen cabinets are in good condition and they do not need any repairing work, then it will cost you in limit. If your kitchen cabinets are damaged and require repairing, then it will increase and affect your budget.
6. Your Kitchen Layout
Some kitchens possess intricate layouts like hidden corners or multiple layers in the cabinet; then this also affects the cost to paint kitchen cabinets in major ways. This kitchen condition will increase the work of your labors and ultimately affect your pockets too.
Types of Cabinet Materials
You need to determine your budget depending on the materials of your kitchen cabinets. Here's a list of the estimated cost to paint kitchen cabinets determined by the materials.
1. Wood Cabinets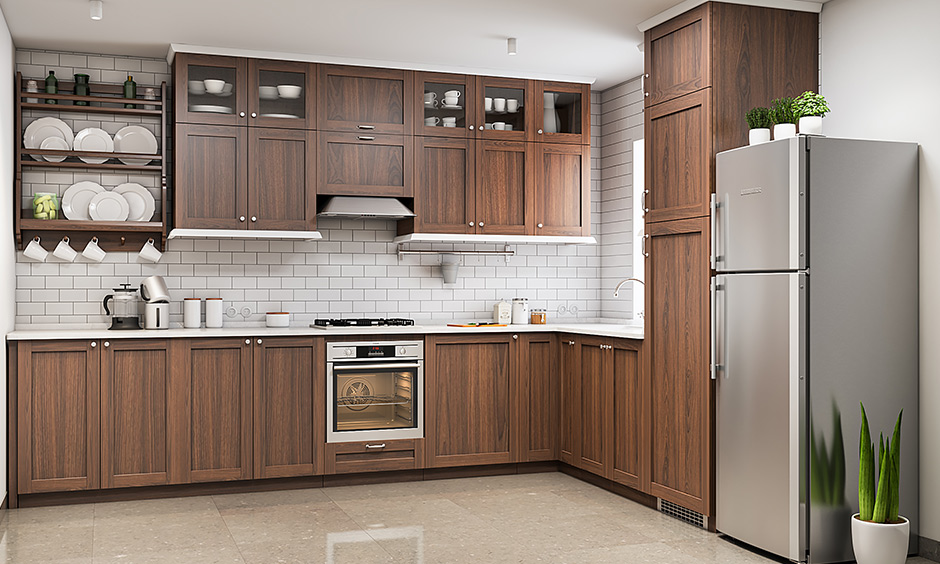 Wood cabinets are the most common and popular types of kitchen cabinets. These are relatively easy to paint. The wood cabinets bring their own kind of advantages to your kitchen. They are useful for long years of time and very easy to maintain. They provide luxurious look and make your kitchen attractive.
2. Wood Veneer Cabinets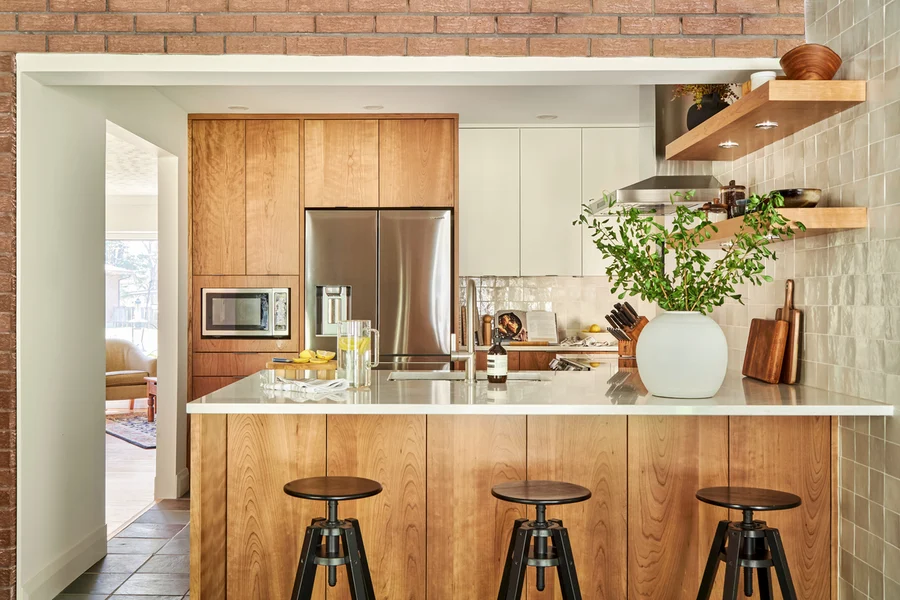 Painting wood veneer cabinets is somewhat tricky since you have to invest in a primer. You need to use sandpaper and check for dents or other kinds of impurities before starting to paint. These are affordable types of cabinets and provide large kind of varieties for selection. These are easy-to-maintain kind of kitchen cabinets.
3. Laminate Cabinets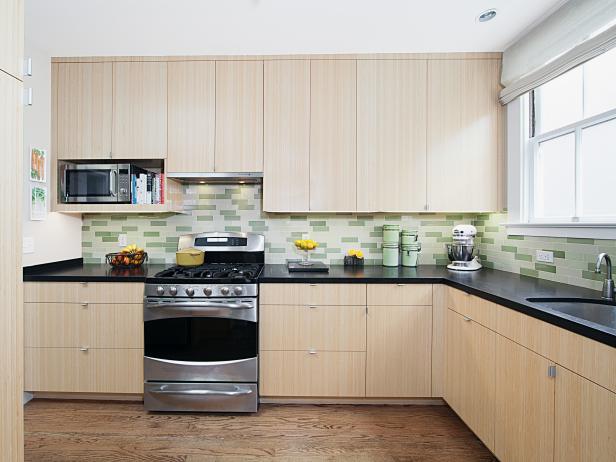 Laminate cabinets have a smooth surface that calls for special preparation before painting. This includes cleaning, sanding, and an application of primer to ensure that the paint sticks properly. Laminated kitchen cabinets offer a large variety of colors and styles. They are comparatively easy to maintain and durable.
Final Words
The look of the kitchen cabinets is much underrated. The cost to paint kitchen cabinets depends on a number of factors, like the size of the kitchen, the number of cabinets your kitchen is holding, and other requirements. However, investing in a professional painter or handling the project all by yourself can be worthwhile for sure.
You can convert the whole look of your kitchen according to your choice while staying strict with your pockets. So don't be afraid to do something new to enhance the looks of your kitchen cabinets.
All the prices mentioned above are estimated. It varies on the situation of your kitchen and your location. It is highly recommended to have in-depth research before making decisions about anything, whether it is about hiring professionals or doing the work by yourself, color, brand, etc.
You must carefully calculate your whole cost to paint kitchen cabinets.